PFF previews Super Bowl 55, highlighting storylines to watch while also taking a fantasy football and betting approach to offer insight for every NFL fan.
Headline of the game: It doesn't get much better than Patrick Mahomes vs. Tom Brady in a game that will impact both quarterbacks' legacy
It's hard to get off to a better start to a career than Mahomes has through his first three seasons as the Chiefs' starting quarterback. In 2018, he torched the NFL en route to an MVP Award, with Kansas City falling just short of the pinnacle with a loss to the New England Patriots in the AFC championship game.
Mahomes and the Chiefs eventually got their Lombardi Trophy last year thanks to multiple double-digit comebacks in the postseason. And now, they're well-positioned to make it back-to-back Super Bowl titles. 
Mahomes is the highest-graded quarterback in the NFL since 2018 (95.2); he's passed for a league-high 8.4 yards per pass attempt and a passer rating of 109.3 that slots in behind only Drew Brees. He has been the best quarterback in the league across his first three seasons as a starter. 
Of course, he also dropped into an ideal situation with Andy Reid and Eric Bieniemy running an offense headed by Travis Kelce and Tyreek Hill, but that shouldn't diminish the fact that Mahomes is the reason they have hosted three consecutive AFC championship games and found themselves in the Super Bowl each of the past two years. 
Standing in the way of Mahomes' second Super Bowl title is the quarterback who has more rings than any other quarterback in league history. 
At 43 years old, Brady has played at a level that few would have ever believed. He has earned the second-highest grade at the quarterback position through the conference championship games this season — a higher mark than even Mahomes — and he has done so in an offense that offers little resemblance to the one he ran for so many years in New England. 
The deep ball is the bread and butter in Tampa Bay, with Brady posting a league-high 9.7-yard average depth of target and showing no signs of his arm failing him on those downfield passes.
If there were a quarterback to stand in this Chiefs team's path, it's Brady. It sets up for a fascinating matchup between the most accomplished quarterback in NFL history and the only player in the league right now who seems to have a chance of chasing him down. 
Fantasy
The Kansas City Chiefs are setting out to become the first team since the 2003-04 New England Patriots to repeat as Super Bowl champions. Their success will likely fall on the shoulders of quarterback Patrick Mahomes, who is the most expensive player on DraftKings at $12,000. 
We saw Mahomes light up this defense the last time he faced them back in Week 12 — three passing touchdowns, 462 passing yards, career-high 37 completions — so it's going to be difficult to fade him altogether in the single-game Showdown Contest. 
The Buccaneers just gave up a massive fantasy day to Aaron Rodgers in the NFC championship game (24.8 fantasy points, 346 passing yards, three touchdowns), and they are the quintessential "pass funnel" defense. Tampa Bay has faced the highest pass-play rate (72%), allowing just short of 42 passing attempts per game from opposing offenses since Week 10. 
A heavy pass attack means there should be plenty of fantasy points to go around for the likes of Tyreek Hill ($11,000) and Travis Kelce ($10,400). Ideally, DFS gamers would like to play both of the Chiefs' top pass-catchers, but it's going to be tough due to their high salaries.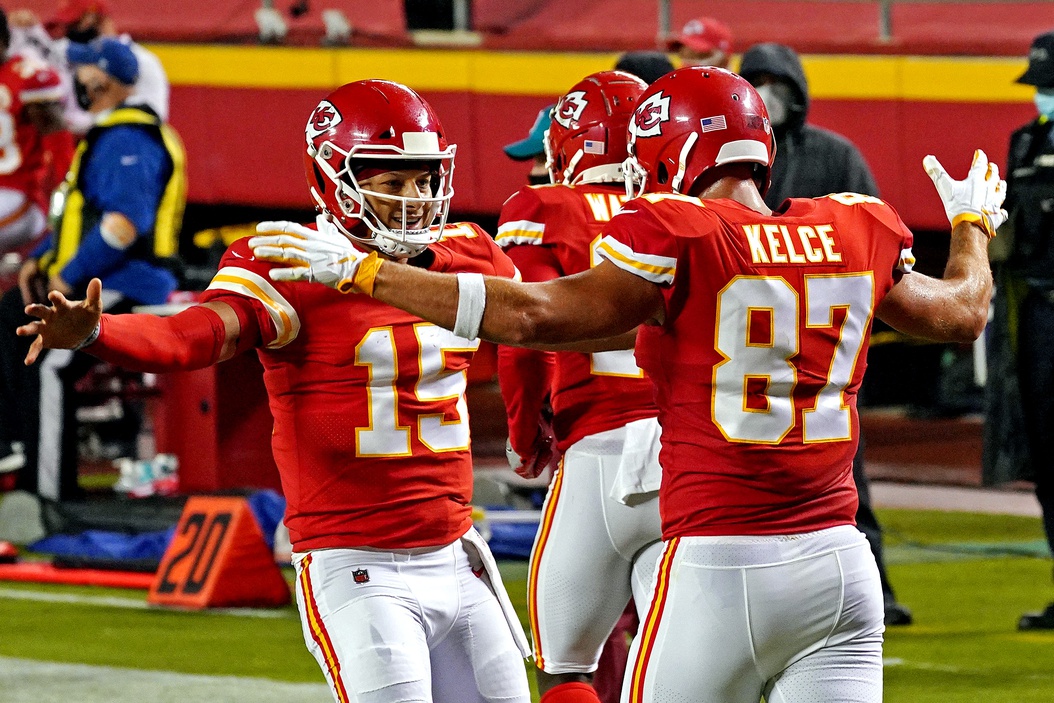 With their projected ownerships coming in almost identical at both the captain slot and the FLEX, it's best to look for the player with the better matchup. Kelce fits the mold because the Buccaneers haven't been great at limiting tight end production.
They allowed the seventh-most receptions to the position during the regular season. That will ensure that Kelce maintains his team-leading 30% target share since Week 15. The Chiefs tight end also has a vice grip on the team's end-zone target share (31%), further solidifying his touchdown upside versus a defense that is vulnerable in the red zone.
No team has allowed a higher percentage of passing touchdowns (70%) compared to rushing touchdowns (30%) in the red zone than the 2020 Buccaneers. 
It might seem strange to lean Kelce over Hill, who roasted this defense for over 200 receiving yards in just one quarter when these teams first met. But the Bucs have been much better at limiting opposing No. 1 wide receivers over the last four games.
Davante Adams (21.7) barely outscored Marquez Valdes-Scantling in the NFC Championship game. Michael Thomas, Terry McLaurin and Calvin Ridley were all outscored by lesser receivers on their respective teams when they faced the Buccaneers defense. 
Tampa Bay will get a huge boost to its secondary in the form of Jamel Dean, who did not play in this team's first matchup. Dean possesses 4.3 speed, which gives him the best chance of any Tampa corner to keep up with the cheetah. 
Clyde Edwards-Helaire ($7,000) might be my favorite contrarian DFS option because he could be lower-owned relative to his fantasy expectation. The fact that he split work pretty evenly with Darrel Williams in the AFC Championship game could scare people off, but if we take a deeper look at when his snaps occurred, there's no debate that CEH was the starter. 
CEH played a 70% snap share through the first three quarters and out-carried Williams six to three. He also ran 19 pass routes to Williams' eight. Williams got all the work in the fourth quarter, which inflated his final stat line. Edwards-Helaire didn't play at all in the final quarter of the game.
Considering the Buccaneers allowed the most catches to running backs in the regular season, we should see the rookie running back make solid contributions in the passing game. It would be the perfect way to combat an elite Bucs pass rush that will be pinning its ears to come after Mahomes.
It's not clear who will lead each of Tampa Bay's three skill positions in fantasy points in the Super Bowl.
At running back, playoff Leonard Fournette ($7,800) is more costly than Ronald Jones ($2,200). Fournette will get all of the receiving work, but Tampa Bay will ride the hot hand when it comes to carries. This means Fournette is more likely to score more points, but Jones should be the better value.
The two have seen close to even opportunities in the run game over the last two weeks. Fournette has rushed six more times, with a lot of that coming in the fourth quarter. Tampa Bay has typically gone with whoever has the hot hand that day. Fournette has played better in recent games, but Jones has played better on the season. 
Jones was still showing up on the injury report with quad and finger issues before the conference championship game, but he should be good to go now. Now healthy, he should play better, giving him a shot to earn more work. 
Jones also has a better chance of scoring a rushing touchdown — he has more goal-line carries than Fournette in the games both were active, including the only goal-line carry over the last two weeks. Kansas City gave up the eighth-most fantasy points to backs during the regular season, while Tampa Bay has given up the sixth-fewest. This makes Jones a potentially better option than any of the backs for Kansas City.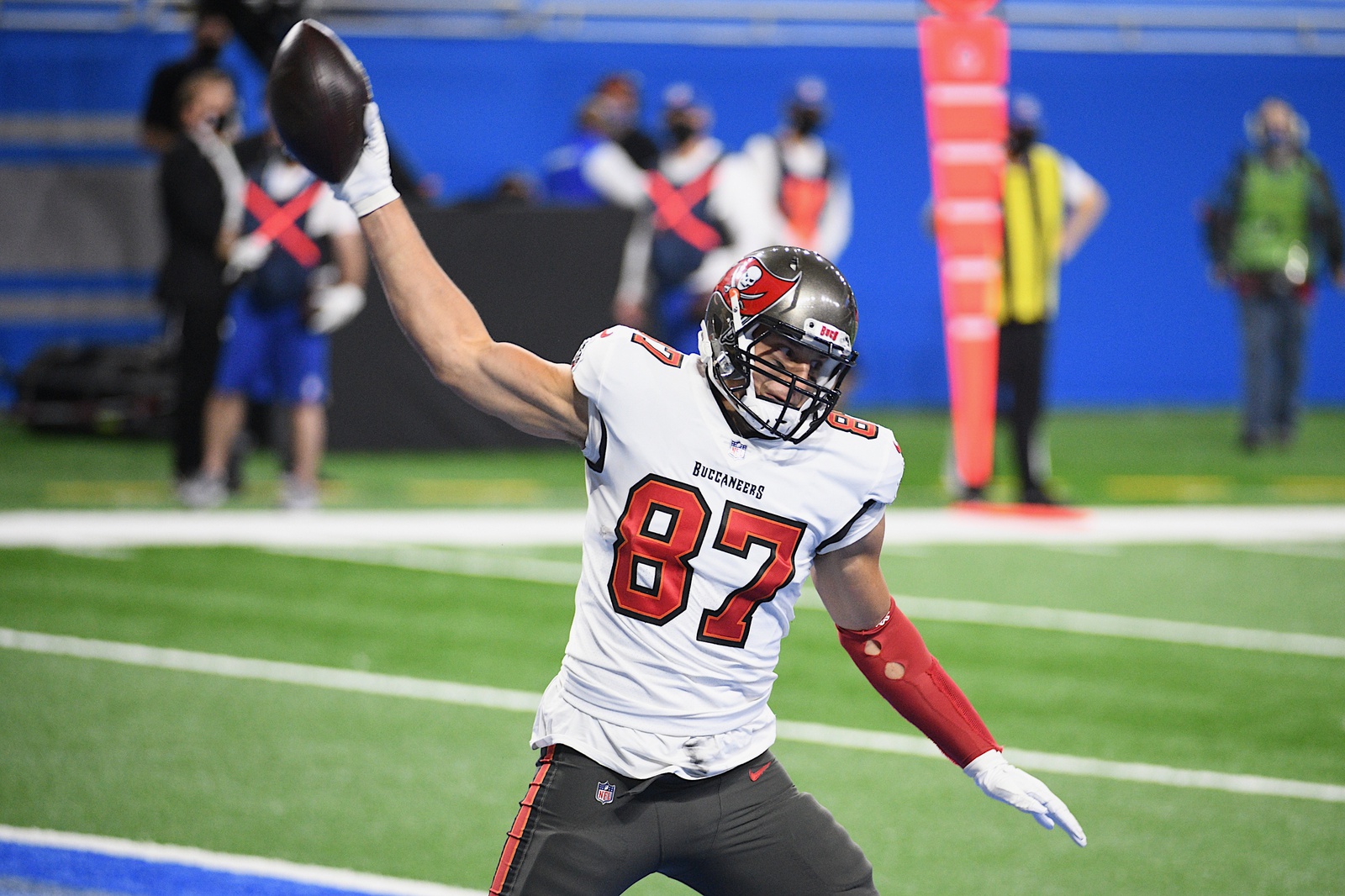 The Buccaneers tight end situation has also been one to watch in recent weeks. Cameron Brate ($4,800) leads Rob Gronkowski ($3,000) in targets, receptions and receiving yards over the last five games. Brate also ran more routes in the first four games of this stretch, but that trend ended in the conference championship game.
Gronkowski ran 23 routes compared to 12 by Brate in their last game, and that's closer to where the two tight ends were for most of the regular season. Gronkowski should see the majority of the receiving work in the Super Bowl.
Gronkowski received more red-zone targets throughout the regular season and during the five-game stretch when Brate saw more overall targets, so he's more likely to score a touchdown. Kansas City gave up the sixth-most fantasy points to tight ends in the regular season, which offers even more reason for optimism for Gronkowski despite recent play.
Betting
Spread
Opened at -3 (-115)

The best line if you want to bet on Kansas City is Chiefs -3 (-107)
The best line if you want to bet on Tampa Bay is Buccaneers +3.5 (-105)
63% of the cash and 64% of the tickets are on the Chiefs
Total
Opened at 56.5 (-108)

The best line if you want to bet the over is OVER 56 (-106)
The best line if you want to bet the under is UNDER 56.5 (-108)
48% of the cash and 61% of the tickets are on the OVER
The Super Bowl is a betting event like no other in football: By now, the full-game lines are stale, but derivatives and props offer opportunities unmatched by any other game. 
PFF always has you covered, with additional categories added to the player props tool and PFF's predictive model (PFF Greenline) identifying the best betting markets to target. It's impossible to cover the full list of available wagers, but we have already released — or are set to release — numerous articles honing in on the best bets to make. 
We've already discussed Chiefs -3 and the over 56. Greenline doesn't recommend either of these options currently, but line shopping can create value. The majority of Buccaneers-backers prefer the moneyline, as it has a slightly higher ticket percentage than the spread. Anything greater than +145 would offer value on the moneyline, but it's hard to bet against a dynasty officially emerging in Kansas City. 
Player props are the easier market at this point, and we have already identified promising wagers on Patrick Mahomes, Darrel Williams and Mike Evans. Look for further articles on touchdown props, derivative bets and the best player props still available on game day. 
If forced to choose only one wager for the Super Bowl, Travis Kelce to score an anytime touchdown is the gift that keeps on giving this season. And the one evergreen piece of advice is to make sure your bets wagered align with your belief for how the game will play out.