Pro Football Focus offers a lot of great tools to PFF Edge and PFF Elite members, including our Mock Draft tool, which lets you complete full mock drafts — based on custom league settings — in less than 10 minutes.
Earlier this week, I used the Mock Draft tool to put the Zero RB strategy to the test. This time, we'll do the opposite: What happens if you go running back heavy?
If you have any of the first four picks in this year's draft, odds are you'll start with a running back — either Le'Veon Bell, David Johnson, Todd Gurley, or Ezekiel Elliott. Even later in the first round, guys like Alvin Kamara, Saquon Barkley, Melvin Gordon, Kareem Hunt, and Leonard Fournette are in play.
Here's how a running back-heavy draft went down in my mock in a 12-team PPR league with a starting lineup of 1 QB, 2 RBs, 2 WRs, 1 TE, 1 Flex, 1 K, and 1 DST. I drafted from the No. 4 spot.
Round 1: Ezekiel Elliott, RB, Dallas Cowboys
If you have the No. 4 draft spot in a PPR league, you'll probably end up with Elliott, because he's not in the same category as Bell, Johnson, and Gurley as a receiver. But Elliott could easily lead the league in rushing attempts, yards, and touchdowns, and he'll add 40-50 receptions through the air. You should have no qualms with drafting Elliott at No. 4.
Freeman is a strong RB2 with borderline RB1 potential going toward the end of the second round. He was last year's No. 14 overall running back in 14 games with nearly 1,200 total yards and eight touchdowns while severing as Atlanta's primary goal-line back. You can expect more of the same in 2018.
McKinnon was going in the second round before a preseason injury put the start of his season in doubt. I'll happily snag him at this discounted price, as he's still expected to be the main man in San Francisco while racking up receptions as well.
Elliott is our No. 4, Freeman is our No. 12, and McKinnon is our No. 13 on the PFF consensus running back rankings as of this writing. The "RB-heavy start" is off and running.
My fifth-round pick (Brandin Cooks) is actually ranked higher than my fourth-rounder (Gordon), but the law of supply and demand right now indicates that if I want Gordon, I need to spend a fourth-round pick on him. Given that I went so RB-heavy to start the draft, I need a wideout with WR1 potential, which isn't easy to find at this point in the draft. Gordon was a top-20 receiver in his five games last year with 335 yards and a score on 18 receptions. His ceiling is obviously much higher.
I apparently drafted a lot of Cooks in mock drafts throughout this offseason, and my reasoning there is the same as it is here: " I started a lot of our mock drafts with running backs early, and when that is how my drafts unfold, I try to find WR2s or WR3s with legitimate WR1 upside. Cooks fits that mold."
Edelman is sidelined for the first four games, but once he returns, there is no doubt he'll be one of Tom Brady's primary targets again. New England's receiving corps is essentially Chris Hogan and then nobody else. The last time Edelman played (2016), he was the No. 14 receiver in PPR leagues with only three touchdowns. He should produce as a WR2 once he returns to the field.
Barber has been running away with the running back job in Tampa Bay this preseason. His 5.8 YPC demolishes all of his teammates (the next-closest is 3.4). He has two touchdowns; all other Buccaneers running backs (combined) have one. He has six first down; all others have four. He has two runs of 10-plus yards; all others have none. He's averaging 4.07 yards after contact; no other Buccaneers running back is averaging over 2.
Round 8: Duke Johnson, RB, Cleveland Browns
I must like Johnson in the eighth round; this is exactly where I picked him in the previous mock. Here's what I wrote about him before:
Johnson finished last year as the No. 11 fantasy running back in PPR leagues thanks to his 74 receptions (fourth among RBs) and 693 receiving yards (third). Knowing that kind of ceiling is even possible from an eighth-round pick is enough to pique my interest. The Browns should be much-improved this year, though, so there likely won't be as much garbage time duty for Johnson. Even still, he'll be a solid flex option at worst, and he provides a very safe weekly floor.
I drafted Luck in Round 10 in my mock draft earlier in the week, but I didn't think he'd be around by the time I drafted in the 10th round, and I felt comfortable taking him here in the ninth. He's going to be a top-10 fantasy QB with potential to put up top-three numbers. Not bad for a ninth-rounder.
Round 10: Jack Doyle, TE, Indianapolis Colts
I don't go into drafts seeking quarterback-pass-catcher combinations, but I'm not against it. Doyle is the ideal late-round tight end target in drafts this year. He was a top-six tight end last year after posting a line of 80-690-4. Eric Ebron is now in town, but there will still be plenty to go around, and Doyle will produce as a top-10 tight end.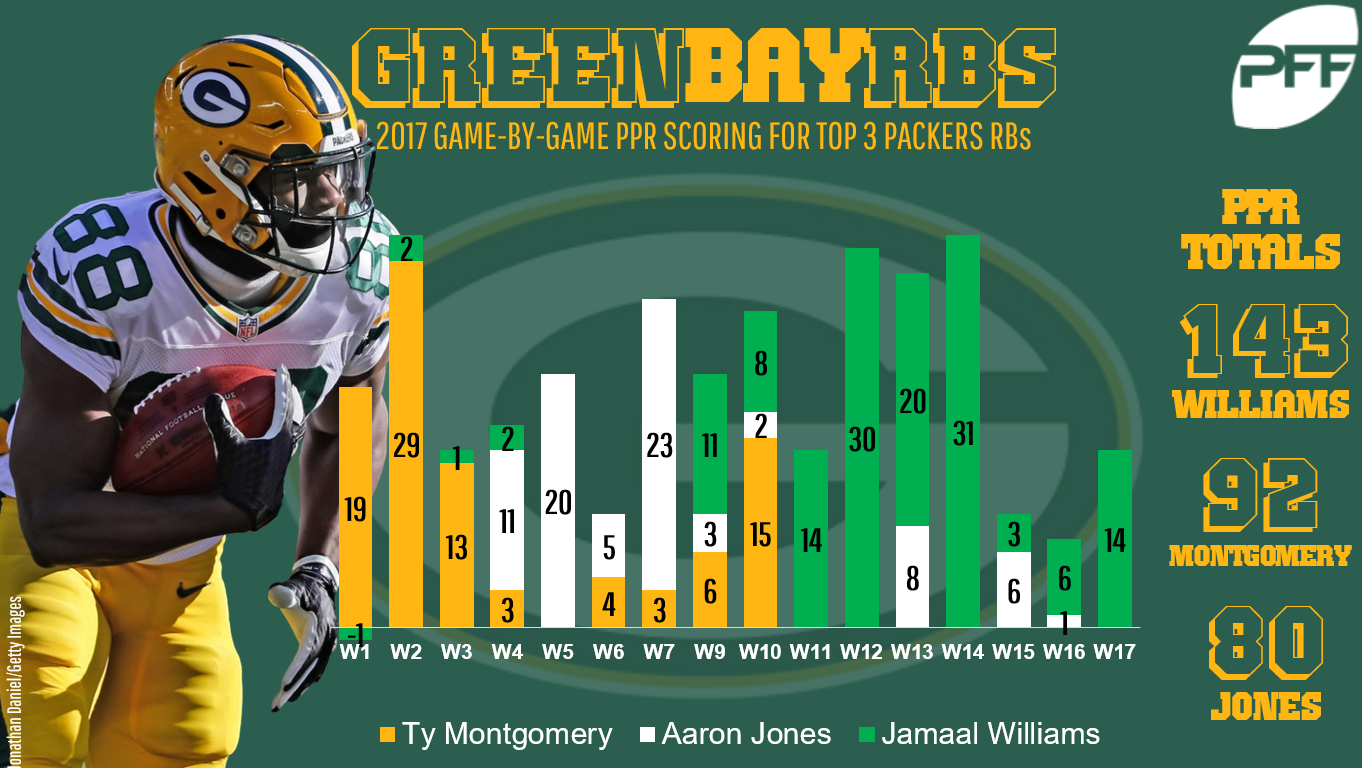 In most of my drafts this year, I exit with a lotto ticket from the Packers backfield. This go-round, it ended up being Montgomery. Even in a worst-case scenario, Montgomery operates as the team's third-down back and is a viable bye week fill-in option. In a best-case scenario — even if it's unlikely — he becomes the Packers' bell cow.
Lockett has been trending up this year, and for good reason. Outside of Doug Baldwin, who is already nursing an injury that will linger all year — and is admittedly only about 85 percent — the Seahawks have nobody to throw the ball to other than Lockett. Lockett usually hovers around the 50 reception, 600-yard club and has been a fantasy WR4. We can consider that his floor this year.
Ross shot up draft boards after doing this:
John Ross juked the Bills D into next week on this TD catch!

(via @nfl)pic.twitter.com/eKOpy3CUw1

— NFL on ESPN (@ESPNNFL) August 26, 2018

Ross is a big-play threat and is merely a flier, but once you get to Round 13, that's what you should be looking for.
Doctson is another late-round flier with upside. He was tied for fifth among all wideouts last year with end zone targets (targets while standing in the end zone) with 17. He has been on the field with the first team this preseason — a promising sign if you're hoping for a breakout season.
Final rounds
You should draft the highest-ranked kicker and DST on your board in these final rounds — but not before. If you're a DST streamer, you can use these rounds to identify a defense that has an easy Week 1 matchup (or perhaps a good matchup the first few weeks of the season).