The NFL is a matchup-driven league. Offensive coordinators are always looking to scheme their playmakers into one-on-one situations against a defender, while defensive coordinators will attempt to do anything in their power to upset the timing and rhythm of the opposing QB.
---
Click here for more PFF tools:
Rankings & Projections | WR/CB Matchup Chart | NFL & NCAA Betting Dashboards | NFL Player Props tool | NFL & NCAA Power Rankings
---
Despite the obvious impact that defenses have on opposing offenses, fantasy players and fans alike are often left with one-way metrics to describe offenses and defenses that they are then forced to compare against each other in an attempt to identify mismatches.
The goal here is to provide easy-to-decipher charts and notes to define each week's key matchups and advantages on both sides of the ball in:
Explosive Plays

Pace

Pressure

Yards Before Contact

Passing Game

EPA
The following charts display matchup-specific information meant to highlight the largest mismatches in these ever-important facets of football to ultimately gain actionable betting and fantasy takeaways. And, of course, to have fun.
Note: Data is from Week 1-5, 2021. There are obviously plenty of limitations to this due to the small sample size at hand; key discrepancies will be highlighted in the ensuing paragraphs and the metrics will get stronger as the season continues.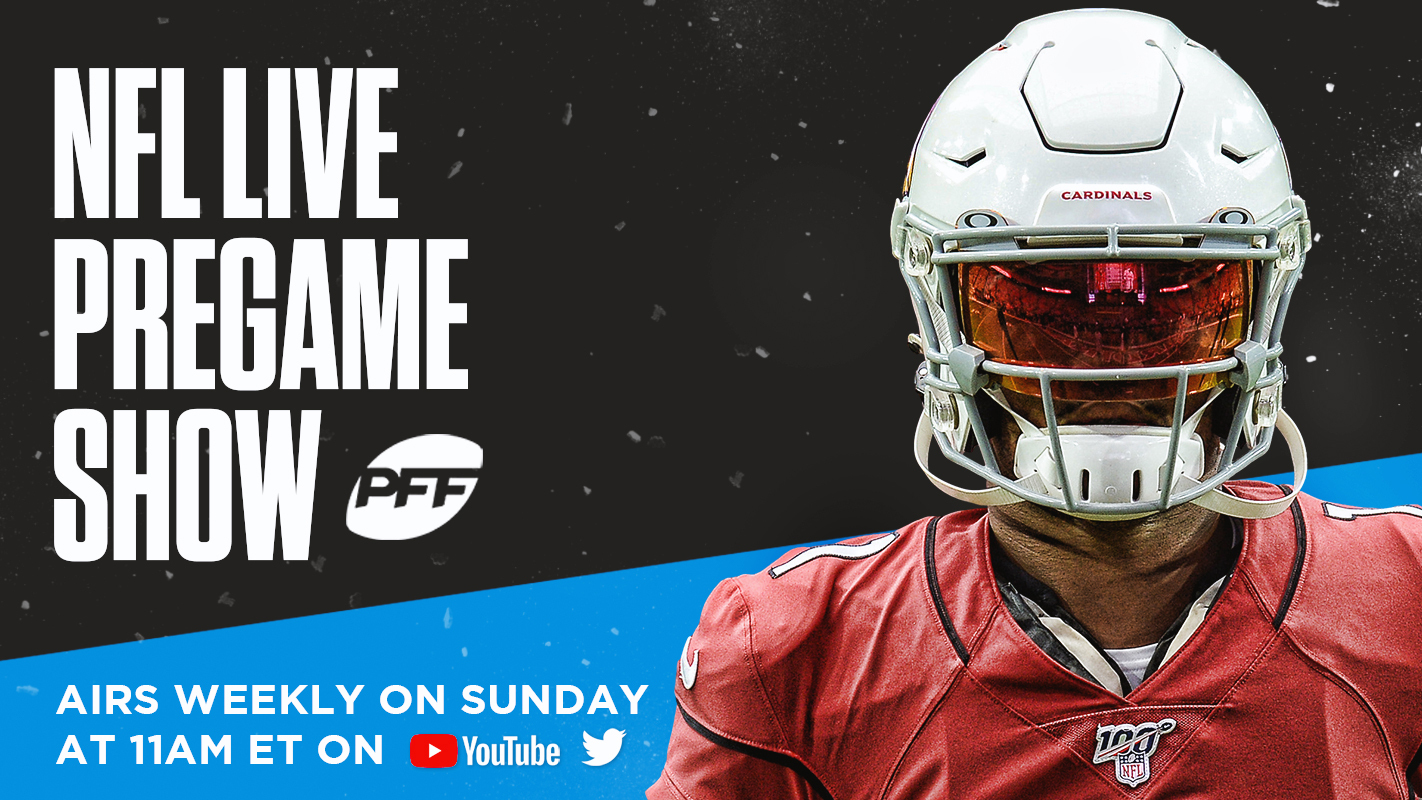 Explosive Plays
Big plays make the football world go round. Matchups between explosive offenses and leaky defenses are exactly what we're looking for when compiling game stacks in DFS, or when betting an over.
Explosive Pass Rate

: The sum of an offense's rate of 20-plus yard completions per pass attempt and the opposing defense's rate of 20-plus yard completions allowed per pass attempt. A higher percentage is better for offenses (blue is good, red is bad).

Explosive Run Rate

: The sum of an offense's rate of 15-plus yard gains per rush attempt and the opposing defense's rate of 15-plus yard runs allowed per rush attempt. A higher percentage is better for offenses (blue is good, red is bad).
Mismatch Manifesto Week 6: combined explosive play rate.

Higher or lower % = large or small combined sum of the pass/rush big-play rate from the matchup's offense and defense (blue = good, red = bad)

Big pass play: 20+ yds
Big run play: 15+

All data from 2021, PFF pic.twitter.com/Ub9qG5krOJ

— Ian Hartitz (@Ihartitz) October 13, 2021
These offenses breed explosive plays: The only offenses to rack up an explosive pass play on at least 11% of their dropbacks this season: Rams, Ravens, Seahawks, Buccaneers, Cardinals and Raiders. Oh, so that running back who plays quarterback for Baltimore can throw?
Lamar Jackson might mess around and win another MVP: Monday night's heroic effort was just the early cherry on top of what Jackson has accomplished all season. Overall, he leads the league in yards per completion and ranks third in yards per rush. Madness. Defenses are forced to account for every square inch of the field with the 2019 NFL MVP under center, and this has grown increasingly difficult with Jackson displaying some borderline erotic ability as a passer when given the benefit of a clean pocket.
PFF passing grade when not pressured: 90.8 (No. 6 among 34 qualified quarterbacks)

Big-time throw rate: 5% (No. 13)

Turnover-worthy play rate: 1.5% (No. 24)

Yards per attempt: 9.7 (No. 2)
Too often Jackson is slandered for his passing ability; the man has been nothing short of fantastic despite his receivers missing on more than a few opportunities. A date with Brandon Staley's ever well-schemed defense won't be easy, but the days of doubting Jackson in just about any matchup have been over for quite some time now.
Good offense beats good defense in today's NFL: Offenses set up the most favorably through the air feature the Bengals, Rams, Cardinals and Colts. Sorry not sorry, but one of these quarterbacks is simply more fun to watch than the others.
Size doesn't matter (at quarterback): Nobody has a higher catchable deep-ball rate than the Cardinals (70%) through five weeks. Hell, the Cowboys (65%) and Bears (62%) are the only other offenses in the same stratosphere at the moment.
The arm angle and point of balance might change nearly every time Kyler Murray uncorks the football downfield, yet time and time again it seems to inevitably find its way to a spot where only the receiver can catch it.
Kyler Murray doing Kyler Murray things pic.twitter.com/yyxAdwVFf8

— Ian Hartitz (@Ihartitz) October 11, 2021
Myles Garrett and company have the potential to make things difficult for just about anybody; just realize Murray is among the game's most unstoppable players when everything is clicking.
Offense is easier when the defense sucks: The clear-cut bottom-four defenses in explosive pass play rate allowed are the Lions, Jaguars, Dolphins and Texans. Perhaps the Jaguars' and Dolphins' respective mediocre passing attacks will cancel each other out, while it's tough to expect Carson Wentz to repeat his more than solid Monday night performance. Interesting: That leaves Mr. Joe Burrow and the frontrunner for rookie of the year (Ja'Marr Chase) with the week's single-best matchup.
What in the hell are they putting in the water inside the LSU wide receiver room: At this point, it's unclear if God could slow down Ja'Marr Chase in man coverage. The ridiculously talented rookie joins LSU teammate Justin Jefferson as young ballers who aren't just producing stellar numbers relative to their age, but truly functioning as legit top-10 players at the position. Chase has posted the following numbers through five weeks:
PFF receiving grade: 82.1 (No. 8 among 54 qualified receivers

Receiving yards: 456 (No. 7)

Receiving touchdowns: 5 (tied for No. 1)

Yards per route run: 3 (No. 4)

PPR points: 98.4 (No. 8)
Chase is overachieving as just the WR32 in expected points, but his league-high 51% air yard share and evident baller ability makes him the sort of candidate to sustain outlier production. Consider: Chase (5 receiving touchdowns) has outscored every other rookie wide receiver combined (3).
The ceiling is the roof for Chase if the Bengals ever decide to truly unleash Burrow; either way, he's earned must-start treatment as an upside WR2 at worst with this sort of condensed volume. The losers from the equation are Tee Higgins and Tyler Boyd, who are better approached as lower-end WR3 types as long as Chase continues to function as the passing game's undisputed No. 1 target.
Not every passing attack is meant to fly: Quarterbacks who are projected to have a rough go in creating big plays this week include Baker Mayfield, Teddy Bridgewater and especially Ryan Tannehill. Luckily, each signal-caller possesses the sort of alpha wide receiver to put up some numbers in just about any spot.
You down with ODB?: Odell Beckham is one of just 10 receivers to have more than 20 fantasy points below expectation over the past three weeks. Friendly reminder OBJ was open for not one, not two, but three scores in Week 4.
Pain pic.twitter.com/sVNiy75Tcb

— Ian Hartitz (@Ihartitz) October 4, 2021
Have the Browns considered having Beckham change jerseys with Rashard Higgins or Donovan Peoples-Jones before the game starts without telling Baker Mayfield? I wish I was kidding.
Ultimately, Beckham and Mayfield's lack of chemistry could be due to a number of issues, namely the former still getting back into the groove of the offense and the latter playing through a torn labrum. Cautiously continue to fire up OBJ as an upside WR3 that remains fully expected to lead the league's sixth-ranked scoring offense in the majority of receiving categories. This is especially true for however long Jarvis Landry (knee) remains sidelined.
Air yards, for lack of a better word, are good: Courtland Sutton continues to rack up an egregious amount of air yards. Just seven receivers have racked up over 600 air yards through five weeks:
Sutton posted a brutal 1-14-0 line in Week 1 in a tough shadow date with James Bradberry. Then he ripped off a 9-159-0 performance before going 5-37-0 on just five targets during a 26-point blowout win. His 3-47-0 line in Week 4 was a ramification of the Drew Lock experience, while many fantasy managers missed out on Week 5's 7-120-1 performance due to the Broncos' No. 1 receiver being a game-time decision with an ankle injury.
Lock in Sutton as an upside WR2 as long as 1.) Jerry Jeudy (ankle, IR) remains sidelined, and 2.) Bridgewater remains under center. Tim Patrick is worthy of WR3 consideration as well; just realize he's not in the same ballpark as Sutton when it comes to expected points (WR21 vs. WR37).
Monday night football might just produce some fireworks: Tre'Davious White was asked to shadow Terry McLaurin in Week 3 but wasn't assigned to a specific receiver against the Steelers, Dolphins, Texans or Chiefs. Perhaps White will track A.J. Brown this year after the Titans' stud No. 1 receiver torched ex-Bills CB Josh Norman to the tune of 7-82-1 in Week 5 last season.
Don't panic on AJB, people. He went 4-49-1 in Week 1, 3-43-0 in Week 2 due to two key drops, was injured eight snaps into Week 3 and went 3-38-0 in Week 5 on just six targets in an easy victory. Note he was tackled just short of the goal line on one of his receptions.
Julio Jones (hamstring) is due back soon; either way, the time to buy low on Brown is meow. Friends don't let friends forget AJB Is truly a freak among freaks at wide receiver; early-season injuries suck, but patience is needed when analyzing the outlook of a true top-10 talent at the position.
Life might not be easy for the Titans against the Bills' No. 1-ranked scoring defense; still try and squeeze Brown into starting lineups of all shapes and sizes. The same is true for Jones to a lesser extent; this is the sort of game flow that should (finally) force Ryan Tannehill to really open up the passing game and show some solid volume.
Don't let these run games get hot: Rushing attacks set up to break off some big runs this week feature the Browns and Ravens above all else. The Titans, too, because Derrick Henry is an alien who doesn't have time for silly things like regression and wearing down. 
Feed the big dog: Henry has ripped off 35-182-3, 28-113-0, 33-157-1 and 29-130-3 rushing lines over the past four weeks. Madness. What exactly is going to happen once winter comes? 300-yard performances? 400 yards? 10 touchdowns in a single game? The ceiling is the moon for the league's most-fed back; Henry is on pace to tack up an asinine 530 touches this season; you don't need me to tell you he's fantasy's overall RB1 (if Christian McCaffrey (hamstring) remains sidelined) ahead of next Monday night's potential shootout against the Bills.
These offenses might just want to pass the ball: Run games that could have some tough sledding this week include the Texans, Cardinals and Bears. Friends don't let friends concern themselves with the Houston backfield in fantasy football. The situation in the Southwest is a bit more intriguing, however.
Buy-low szn: Chase Edmonds was a game-time decision leading up to Sunday due to a shoulder injury, but the issue didn't seem to limit his usage at all. Through five weeks, Edmonds is the overall PPR RB17 and RB13 in expected points; his floor is as a low-end RB2 as long as he remains the lead pass-down back inside of the NFL's fourth-highest scoring offense.
Of course, Edmonds' ceiling is limited as long as James Conner continues to do vulture things. His touchdown in Week 5 came after Rondale Moore's dazzling touchdown was rather inexplicably reversed. The ex-Steelers grinder looks to be pushing 250 pounds these days and has converted five of his six carries inside the 5-yard line into touchdowns this season. Nobody in the NFL has more touches without a score than Edmonds (72).
An injury to Conner would elevate Edmonds to high-end RB1 status; the Cardinals have fed him a true workhorse 90% snap role when the team's lead back has missed time in past years. Until then, fire up the Cardinals' receiving-friendly back as a low-end RB2, and Conner as a TD-dependent RB3 who seems to again have a good chance of finding paydirt with the Cardinals-Browns' matchup boasting the week's fifth-highest implied game total.
Pace
Fast-paced games lead to more plays, which lead to more points. Every week usually consists of at least a few games that could resemble a track meet based on their combined situation-neutral pace (Football Outsiders).
Combined Situation-Neutral Pace

: Represents the combined situation-neutral pace between each matchup's two offenses. A lower number indicates fewer average seconds per play (blue = fast-paced game), while a higher number indicates more average seconds per play (red = slow-paced game).
Mismatch Manifesto Week 6: combined situation-neutral pace.

Low combined numbers (blue) = two fast-paced offenses
High combined numbers (red) = two slow-paced offenses

Data from 2021, Football Outsiders pic.twitter.com/kedSxoUron

— Ian Hartitz (@Ihartitz) October 13, 2021
Get ready to see a track meet: Thursday Night Football easily features the fastest projected game of the week between the Buccaneers (No. 6 in situation neutral pace and the Eagles (No. 4). The Rams (No. 3) at the Giants (No. 9) also figures to see plenty of plays for both offenses, although the potential absence of Daniel Jones could certainly lead to a more conservative game plan for the giraffe, Mike Glennon.
We'll be moving plenty fast elsewhere too: Additional matchups expected to move with a sense of urgency include Dolphins-Jaguars, Chargers-Ravens and Bills-Titans. Solid two out of three primetime games this week. I guess you could imagine how Seahawks-Steelers might look good on paper six months ago. Either way: sheesh.

Unfortunately some offenses are slow and lame: The two slowest matchups of the week are courtesy of the Texans (No. 20) at the Colts (No. 32) as well as the Bengals (No. 31) at the Lions (No. 27). Seeing Joe Burrow on this list is truly the worst. Does Zac Taylor simply hate fun? It's a fair question to ask at this point.
Seriously, what are you waiting for: More projected slow-paced matchups include Packers-Bears, Vikings-Panthers and Raiders-Broncos. The nostalgia in me appreciates the presence of the former and latter matchups on this list, but the fantasy part of my heart simply wants these folks to hurry the hell up already.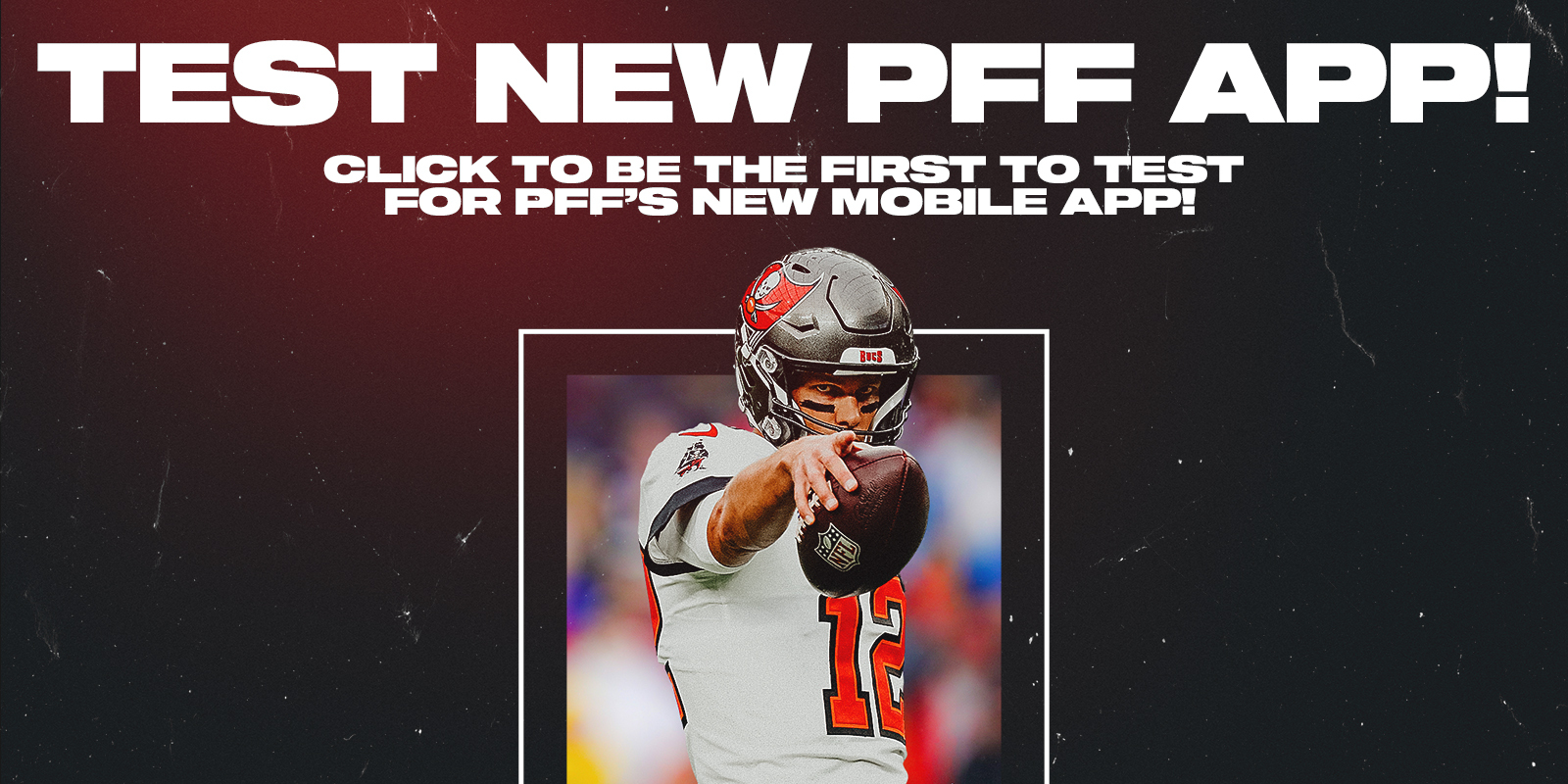 Pressure
An overmatched offensive line can result in poor fantasy days for all skill-position players involved. Meanwhile, QBs with all day to throw can help generate points in bunches. We can determine which offensive lines might be especially better (or worse) this week with help from PFF's offensive and defensive pressure statistics.
Combined Pressure Rate

: The sum of the offensive line's rate of pressures allowed per dropback and the opposing defense's total pressures generated per dropback. A higher percentage (red) is better for defenses and indicates that quarterback could be under fire, while a lower percentage (blue) indicates that matchup's quarterback could face reduced pressure.
Mismatch Manifesto Week 6: combined pressure rate

Sum of pressure rates between opposing offenses and defenses.

Higher percentage: that offensive line could be in trouble (red)
Lower percentage: not expecting much pressure on QB (blue)

Data from 2021, PFF pic.twitter.com/2UKZ49M85Y

— Ian Hartitz (@Ihartitz) October 13, 2021
Under pressure: good song, bad for fantasy football: Sam Darnold, Teddy Bridgewater and Kirk Cousins stand out as the top three quarterbacks most likely to face severe pressure this week. This is particularly bad news for the latter quarterback. Why? I'm glad you asked.
Dr. Kirk and Mr. Cousins : There aren't many quarterbacks better than Cousins when given the benefit of a clean pocket:
PFF passing grade: 931 (No. 2 among 35 quarterbacks with at least 25 non-pressured dropbacks)

Yards per attempt: 8.6 (No. 11)

Adjusted completion rate: 87.6% (No. 2)

QB rating: 118.8 (No. 7)
Here's the catch: Things go south in a hurry for Cousins and this passing game when the opponent is able to disrupt the line of scrimmage. Overall, Cousins has been the fourth-most sensitive quarterback in terms of largest dropoff in yards per attempt when kept clean vs. under pressure.
Don't be surprised if the going isn't as easy as usual next Sunday for this Vikings passing game if Brian Burns and company are able to instill their will.
How many early-season layups can one quarterback get: Darnold will once again have the opportunity to put up some numbers against anyone's idea of a bad secondary, as the Vikings boast quite possibly the NFL's worst one-two punch at outside corner:
Note that the above numbers allowed in coverage would be even worse had Baker Mayfield been able to throw the ball in Odell Beckham's general vicinity back in Week 4.
Christian McCaffrey (hamstring) is tentatively expected to return this week, while D.J. Moore is PFF's seventh-highest-graded wide receiver through five weeks. Darnold doesn't need to be great in order to enable some of his exceptional teammates to high-end production, particularly in relatively soft matchups such as this one.
Some offensive lines and quarterbacks are just more prone to pressure: Four teams have allowed a pressure rate over 40% through five weeks: Saints (48%), Colts (43%), Jets (41%) and Broncos (41%). Thankfully, Jameis Winston and Zach Wilson have a week to get things together. Here's to hoping Carson Wentz can stay upright enough to get the ball to the offense's rising second-year receiver.
24 years of age and already crushing: Michael Pittman has largely done nothing except ball the hell out in recent weeks:
Week 1: 3 receptions-29 yards-0 TD, PPR WR76

Week 2: 8-123-0, WR13

Week 3: 6-68-0, WR32

Week 4: 6-59-0, WR38

Week 5: 6-89-1, WR14
Scholars might point out that Pittman probably should have been ruled down at the 1-yard line on his spectacular Monday night touchdown; either way, the talented second-year receiver has earned weekly WR3 upside for however long T.Y. Hilton (neck, IR) remains out of commission, especially against a Texans secondary that simply doesn't have a starting cornerback within five inches or 15 pounds of matching Pittman's size; he's my overall WR29 on the week. Note that Hilton did return to practice on Wednesday and is eligible to play this week.

Sundial joke about having a ton of time to throw: Signal-callers expected to have all day in the pocket this week include Tom Brady, Justin Herbert, Matthew Stafford and Ben Roethlisberger. So, is Father Time ever going to take care of business in Tampa Bay?
44 years of age and still crushing: The Buccaneers are sitting pretty atop the NFC South with a 4-1 record and the league's third-ranked scoring offense. TB12 has thrown 15 touchdowns against just two interceptions, continuing to look more like he's 24 as opposed to 44 along the way.
One of the more impressive parts of Brady's twilight has been the consistent ability to stay healthy; availability is the best ability, after all. This has been a combination of both Brady getting the ball out quickly (2.41 seconds — second-quickest mark in the league) as well as PFF's fourth-highest-graded offensive line in pass-blocking generally laying waste to whoever is lined up in front of them.
Add it all together and you get Tampa Bay's league-low 22.2% pressure rate. Credit to the Eagles defense for boasting the league's 12th-best pressure rate, but the continued absence of stud DE Brandon Graham (Achilles, IR) certainly wouldn't help matters.
Pass rushes that haunt the dreams of your favorite quarterback: Five defenses have posted a pressure rate of at least 35% this season: Panthers (41%), Browns (41%), Vikings (37%), Football Team (37%) and Eagles (35%). The Vikings finished dead last in pressure rate last season at 22%. It's almost like that Danielle Hunter guy is pretty good.
The league's finest individual rushers of the passer: Just five defenders have already racked up at least 25 pressures this season: Maxx Crosby (31 pressures), Myles Garrett (30), Harold Landry (29), Aaron Donald (28) and Danielle Hunter (27). Per PFF's Mike Renner: Landry is the only player in the NFL with at least five pressures in every single game this season.
Trench Battles
RBs receive most of the praise for an offense's rushing output, but an overmatched offensive line can thwart a team's run game before it even has a chance to get started. We can determine the offensive lines that might be especially better (or worse) off this week by looking at yards before contact.
Combined Yards Before Contact Per Rush

: The sum of an offensive line's adjusted line yards per rush and the opposing defense's adjusted line yards allowed per rush. A higher number (blue) is good for running backs, while a lower number (red) indicates that matchup's offense could have some trouble consistently running the ball.
Mismatch Manifesto Week 6: combined yards before contact per rush

Sum of each offense and defense's YBC/carry.

High number: Good run-blocking o-line vs. bad run-defending D (blue)
Low number: Bad run blocking o-line vs. stout D against the run (red)

Data from 2021, PFF pic.twitter.com/kf50A1IHPD

— Ian Hartitz (@Ihartitz) October 13, 2021
Great day to be a great running back: The Ravens, Chiefs, Football Team and Bills stand out as the four backfields set up for the most success this week. Good things every backfield is healthy at the — OH MY GOD NO.
A new starter in Kansas City: Clyde Edwards-Helaire suffered a sprained MCL on Sunday night and is expected to miss "a few weeks" per ESPN's Adam Schefter. This was confirmed with the Chiefs placing him on injured reserve Tuesday afternoon.
Darrel Williams instantly becomes one of the week's top waiver options, but don't get carried away. Edwards-Helaire isn't dealing with a season-ending injury, and his role wasn't exactly the most fantasy-friendly schtick in the first place. From last week's article:
"CEH has posted back-to-back RB12 finishes after many left him for dead following a disappointing first two weeks of the season. Still, Edwards-Helaire comes in as just the RB30 in terms of expected points through four weeks: he's largely overachieved thanks to converting two of his eight targets into scores. It'd make sense if the lead back in the Chiefs' second-ranked scoring offense manages to buck expectations more weeks than not; just realize Andy Reid's past RB1s like Brian Westbrook, Jamaal Charles and LeSean McCoy weren't forced to share an offense with two target hogs on the level of Tyreek Hill and Travis Kelce."
Please don't mistake this as a victory lap for CEH getting injured. Rather, it's a reality that the 2021 edition of the Chiefs offense simply isn't that great of an environment for a high-end fantasy back.
The fourth-year veteran received touch counts of just 17, 14 and four in three postseason appearances last year with CEH either sidelined or extremely limited. It'd make sense if Williams makes more out of his opportunities than usual against the Football Team's 31st-ranked scoring defense, but the exact nature of his role is a bit murky with Jerick McKinnon involved. Fire up Williams as a borderline RB2 thanks to the likelihood that he gets 10-plus touches for however long Edwards-Helaire is out; just realize he's not set up to have the same sort of every-down role as fellow waiver wire darlings DeVontae Booker or Alex Collins should their respective team's starting backs remain sidelined.
In my unprofessional opinion, stress fractures don't sound fun: Antonio Gibson found the end zone twice in Week 5 despite continuing to play through a stress fracture in his shin, demonstrating the sort of high-end fantasy asset he can be even without the luxury of a legit receiving role. Similar to Jonathan Taylor: Gibson will remain a weekly borderline RB1 with this sort of workload, while top-five status is nothing more than a pipe dream as long as J.D. McKissic continues to steal away most of the pass-down work.
Game-script concerns are clear against the Chiefs, although their rush defense might just be weak enough for Gibson to make the most out of limited touches. Kansas City has largely benefited in terms of not giving up too much production to single backs thanks to facing committee backfields for most of this season; don't be surprised if Gibson bucks this trend in a major way should Taylor Heinicke and company manage to (somehow) build a lead.
The Football Team's status as 6.5-point underdogs seemingly sets up McKissic for ideal negative game script; just realize he carries a scary-low weekly floor and remains nothing more than a low-end RB3 even in full PPR formats.
Jaret Patterson's four carries were as many as he had in Weeks 1-4 combined, but it's dubious to think he'll carve out any sort of standalone value. Still, he's a fine bench stash in deeper leagues due to the potential for him, not McKissic, to see most of the offense's early-down touches should Gibson miss any game action.
Personal note: Check out my Week 6 Backfield Report for more specific information on the league's ever-evolving running back stables.
More running backs expected to have a little thing called success: Additional rushing attacks that should see plenty of big holes include the Rams, Browns, Panthers, Jaguars and Broncos. I have a bone to pick with the latter offense.
What more does a man have to do to win the job: It's become increasingly annoying to see Melvin Gordon get used ahead of the Broncos' stud second-round pick. Overall, Javonte Williams holds advantages in missed tackles forced per carry (0.35 vs. 0.17) and yards after contact per carry (3.1 vs. 2.8) while simultaneously providing more juice as a receiver in terms of yards per route run (1.17 vs. 1.01).
Gordon hasn't been performing terribly; there are more egregious usage patterns across the league. Still, the reality that Williams has been the NFL's single-most slippery back on a per-carry basis makes his general lack of usage incredibly frustrating. The rookie has truly been a problem with the ball in his hands all season.
Free Javonte Williams pic.twitter.com/7Ljh2Sb3L8

— Ian Hartitz (@Ihartitz) October 12, 2021
The Raiders hardly present the sort of defense to worry about when it comes to firing up fantasy running backs, but even then it's tough to treat either player as more than a high-end RB3 as long as their usage remains essentially cut down the middle.
An actual live Ram running the football would be pretty terrifying: To say Darrell Henderson has consistently supplied fantasy goodness would be an understatement:
Week 1: PPR RB14

Week 2: RB12

Week 3: Injured

Week 4: RB16

Week 5: RB20
Note that Sony Michel turned in an RB28 finish in Week 3. Both backs have largely made the most out of their opportunities, but Henderson has received the incumbent nod as the starter and is thus the preferred fantasy option moving forward.
Fire up Henderson as a true RB1 against the Giants' seventh-worst defense in PPR points per game allowed to opposing backs; he has weekly 20-plus touch upside inside of the game's eighth-ranked scoring offense. Michel isn't a realistic standalone option while Henderson is healthy, but coach Sean McVay's demonstrated willingness to turn the backfield over to the ex-Patriots talent makes him one of the game's more valuable handcuffs.
Gotta love a good run game scheme: The top-five offenses in yards before contact per carry feature the Chiefs (2.42), Bills (2.14), Eagles (1.98), Ravens (1.89) and Cowboys (1.85). It's almost like having a dual-threat quarterback helps open up wider rushing lanes. Unfortunately in fantasy land: mobile signal-callers are usually a red flag for their associated running backs.
Best Steven Tyler voice: Run away, run away from the pain yeah, yeah, yeah, yeah, yeah: Backfields not expected to have much room to run are headlined by the Raiders, Texans and Patriots. It's best to avoid the latter two backfields, particularly if Damien Williams (chest, ribs) is expected to be limited come Sunday. It looks like Josh Jacobs might be matchup-proof at this point with 18 and 20 combined carries and targets over the last two weeks despite extreme negative game script; we'll have to see what his usage looks like in this post-Gruden offense and once Peyton Barber (toe) returns to truly crown him, though.
Passing Game
Some pass offenses are obviously more efficient than others, while certain secondaries are seemingly capable of shutting down any aerial attack. We can determine the week's biggest mismatches in the passing game using each offense and defense's pass yards per dropback.
Combined Passing Yards Per Dropback

: The sum of an offense's passing yards per dropback and the opposing defense's passing yards allowed per dropback. A higher number (blue) is good for quarterbacks and receivers, while a lower number (red) indicates that matchup's pass offense could be in trouble.
Mismatch Manifesto Week 6: combined pass yards per dropback

Sum of offense's pass yards/dropback with defensive rate.

Higher number: efficient pass offense vs. bad pass defense (blue)
Lower number: inefficient pass offense vs. good pass defense (red)

Data from 2021, PFF pic.twitter.com/6SHdF4JXF5

— Ian Hartitz (@Ihartitz) October 13, 2021
I don't like it, I love it: Two passing games stand far above the rest in projected efficiency: the Rams and Bengals. The former group looks poised to run roughshod over a secondary that hasn't lived up to reputation through five weeks.
Will Matthew Stafford ever visit Detroit again?: The Giants didn't have James Bradberry or Adoree' Jackson specifically track Amari Cooper or CeeDee Lamb last week, so it'd make sense if they again mostly stick to their respective sides of the field. This is especially likely vs. a duo like Robert Woods and Cooper Kupp, who each spend plenty of time in the friendly confines of the slot.
Ultimately, boasting one of the league's better one-two punches at corner hasn't helped the Giants slow down opposing wide receivers:
PPR points per game allowed: 41.9 (No. 23)

Explosive pass-play rate allowed: 23.4% (No. 21)

Yards per attempt allowed: 9.02 (No. 21)

QB rating allowed: 110.6 (No. 22)
Kupp is the overall PPR WR1 this season, while Woods' massive Week 4 was big enough to boost him to WR22 status. It'd make sense if this disparity closes a bit in upcoming weeks; either way, both receivers (especially Kupp) should be in an overwhelming amount of starting fantasy lineups. Only the Chiefs, Bills and Buccaneers are implied to score more points than the Rams this week.
DeSean Jackson works behind Van Jefferson from a snaps perspective, but guessing which one will emerge as a fantasy-relevant factor on a week to week basis has proved difficult. Ultimately, this passing game is built to flow through Kupp and Woods with some deep shots to the complementary receivers thrown in here and there; neither D-Jax nor Jefferson are more than desperation darts in most fantasy formats.
The government calls it a passing league for a reason: Additional passing games expected to move up and down the field include the Chargers, Texans, Football Team, Cardinals and Seahawks.
60% of the time, these Chargers receivers work every time against the Ravens: Both Mike Williams and Keenan Allen rank among the position's top eight target hogs; the 2021 edition of the Chargers offense is prolific enough to enable two high-end fantasy receivers. Williams has been the "luckier" option so far: he's worked as fantasy's overall WR3 despite being the WR7 in expected points, while Allen is the WR17 in reality and WR5 in expected points.
Either way: The likelihood that Williams comes back to Earth in upcoming weeks doesn't imply he'll necessarily fall out of fantasy's top 12 producers. Justin Herbert has made a strong MVP case through five weeks; it makes sense that he can foster two highly productive receivers on a fairly regular basis.
This week's matchup against the Ravens appears particularly juicy for Williams considering he'll be facing a trio of cornerbacks each standing 6-feet or shorter and weighing under 200 pounds. At this point I do have Williams (WR11) ranked slightly higher than Allen (WR14); regardless neither should be put anywhere near the bench in fantasy land.

Passing games that might be a bit rough n' rowdy: The two passing games that especially stand out as screwed this week include the Bears and the Titans. Seriously Matt Nagy: what the hell.
You hear that? Bears. Now you're putting the whole station in jeopardy: Justin Fields has targeted an open or wide open receiver on just 32% of his pass attempts this season — the single-lowest mark among 37 qualified quarterbacks. Nobody else is below even 40%. Not great, Bob.
On the one hand, Fields deserves part of the blame for not getting the ball to more open receivers; Andy Dalton has posted a 56% rate on 50 pass attempts this season. On the other, the extreme lengths the Bears have gone to "protect" their rookie quarterback might be a net negative. This has been most prevalent with the downfield passing game: Chicago boasts the league's third-best rate of catchable passes thrown at least 20 yards downfield, but ranks 31st in actual deep ball attempts.
We're still working with small sample sizes here: Fields' 57 combined pass attempts over the past three weeks aren't enough to drive any super meaningful conclusions from, nor are his nine total rush attempts. Still, there will come another time when Fields is forced to lead this offense in a negative game script; here's to hoping Matt Nagy and company eventually find a way to get the most out of their rookie quarterback when the going gets tough.
Not so fast my friend: More quarterbacks that aren't expected to have an easy afternoon at the office include Jared Goff, Kirk Cousins and Teddy Bridgewater. Still, it's tough to see this matchup truly slowing down Cousins' No. 1 receiver.
Why be a king, when you can be a God: To say Justin Jefferson should be able to handle Donte Jackson's projected shadow coverage is an understatement; there might not be a corner in the game at the moment capable of tracking the Vikings' stud second-year receiver for a full 60 minutes. What makes Jefferson's electric start to his career all the more ridiculous is the reality that he's functioned as one of the league's best receivers regardless of age:
PFF receiving grade: 91.5 (No. 2 among 148 wide receivers with 25-plus targets since Week 1, 2020)

Receiving yards: 1,862 (No. 3) 

Yards per route run: 2.57 (No. 5)

PPR points: 371.8 (No. 4)

PPR points per game: 17.7 (No. 6)
Jefferson is my overall WR5 on the week, while Adam Thielen (WR26) is still someone who should be in more starting lineups than not. My larger issue with trusting Thielen this week has more to do with the aforementioned potential for this passing game to sink against the Panthers' gaudy pass rush.
Dope secondaries always have the best nicknames: Just six secondaries have allowed fewer than 6.0 pass yards per dropback: Bills (4.5), Raiders (5.4), Panthers (5.4), Eagles (5.7), Cardinals (5.9) and Broncos (5.98). And Carolina added Stephon Gilmore. Cool cool cool.
EPA
Points are ultimately what wins football games. We can measure the expected points of every play on offense and defense by considering the down, distance and field position before factoring in the result. Estimated points added (EPA) is thus the value of a play that takes context into account and thereby better measures efficiency at the play level.
Combined EPA

: The sum of an offense's EPA/play and their opposing defense's EPA/play allowed. A higher number (blue) is good for offenses, while a lower number (red) indicates that offense could be in trouble.
Mismatch Manifesto Week 6: combined EPA per play

Sum of EPA/play of matchup's offense and defense to see biggest potential overall mismatches

High numbers indicate efficient offense vs. inefficient defense (blue), lower numbers are bad for o (red)

Data from 2021, PFF pic.twitter.com/M7HvG9PZlY

— Ian Hartitz (@Ihartitz) October 13, 2021
Blowout alert: Games featuring the largest difference in combined EPA favor the Bills over the Titans, Cowboys over Patriots, Bengals over Lions and Rams over Giants. I'd prefer not to spend my hard-earned cash hoping Davis Mills plays well two weeks in a row, but the Colts standing as 9.5-point favorites over the Texans certainly seems a bit steep.
Over alert: Chargers-Ravens, Rams-Giants and Chiefs-Football Team stand out as the top three potential highest-scoring matchups. The latter game features a week-high 55.5 point game total. I guess that's what happens when the league's 31st- and 32nd-ranked scoring defenses square off.
Under alert: Matchups that simply don't look poised to put up a ton of points feature Vikings-Panthers, Packers-Bears and Bills-Titans. To be fair, the latter matchup is more so due to Buffalo absolutely annihilating everyone (except the Steelers somehow) they've faced so far. Overall, the Bills boast an NFL-best +108 point differential through five weeks — the Cardinals are in second all the way down at +62. 
Upset alert: Teams that are expected to have a larger offensive advantage, but are underdogs, include the Panthers (+1), Chargers (+3), Cardinals (+3) and Seahawks (+4.5), although obviously switching from Russell Wilson to Geno Smith plays a massive factor in the latter game. Qualifiers from the last three weeks have put up a more than solid 6-5 record straight up despite their status as underdogs.