After months of speculation, rumors, trades and hot takes, we've finally made it to the 2021 NFL Draft, when we can actually see where all the players we love will land.
Everyone has players they like more than most for fantasy football. After watching tons of IDP prospects over the past few months, I've zeroed in on a handful of players I would like to acquire in as many IDP rookie drafts as possible.
View PFF's 2021 NFL Draft position rankings:
QB | RB | WR | TE | T | iOL | DI | EDGE | LB | CB | S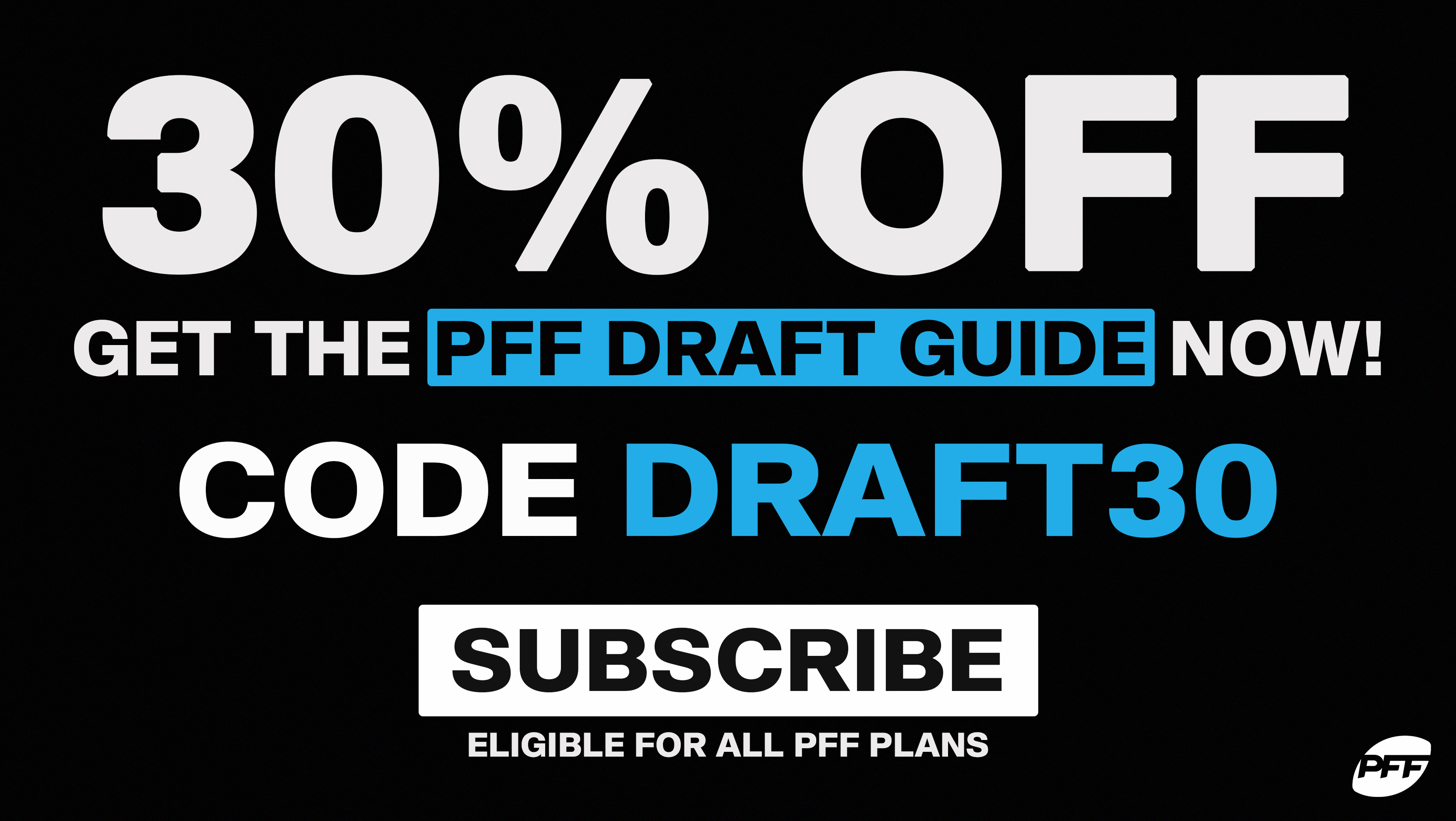 These are players who I think can provide significant value in rookie drafts, especially if they land with the right NFL teams. Some are even preferable to the consensus top player(s) at their positions.
Without further ado, here are "my guys" for 2021 IDP fantasy football.
IDP Pre-Draft Rookie Ranking: LB2 | IDP2
Collins has been making headlines lately because of his size, having recently weighed in at 270 pounds at 6-foot-4. That puts him among the biggest off-ball linebackers in recent years. The general consensus seems to be that his size won't affect his ability to play off-ball in the NFL, as his playing weight at Tulsa ranged in the mid-260s anyway.
Another common misconception that I see/hear about Collins is that his size is a hindrance to his ability to cover. This feels like an assumption that doesn't hold up when you watch the tape. Collins moves like a much smaller player on the field, covering ground well, and his instincts and athleticism allow him to minimize plays made against him when targeted.
Here's how Collins fares in coverage against the rest of the top 10 linebackers in this class since 2019:
| | | |
| --- | --- | --- |
| Stat | Figure | Rank |
| Coverage grade | 93.4 | 1st |
| Forced incompletion percentage | 17.2% | 2nd |
| Yards allowed per reception | 7.5 | 1st |
| Passer rating allowed | 56.9 | 1st |
| Interceptions | 4 | T-1st |
The only real downside to Collins' impressive coverage numbers is that he faced fewer targets as the primary defender compared to the rest of this class. His 29 total targets is the smallest sample size of this group, but after watching each play (and many more where he isn't targeted) I see plenty of potential that he can be a good coverage linebacker in the NFL.
Surprisingly, Collins' biggest issue came as a run-defender, where he was unable to utilize his size and power to get off of blocks in the second level — something that showed up quite a bit in 2020 and led to a 65.7 run-defense grade. With such size and strength at his disposal, that aspect of his game should develop in a scheme that will allow him to thrive, such as Pittsburgh, Denver or even Miami.
LB4 Zaven Collins⚡️

Highest coverage grade we've ever recorded by a LB

— PFF Draft (@PFF_College) March 18, 2021
IDP Pre-Draft Rookie Ranking: ED1 | IDP3
Phillips has been my No. 1 edge defender in this class ever since I turned on his tape back in January. While I'm no longer in the minority, I'm still happy to plant my flag on him as one of "my guys."
The biggest concern for Phillips heading into this draft involved his health, as he's already had to retire once from football due to concussion issues. However, after returning to the game in 2020 with a new program in Miami, Phillips looked as healthy as ever. He played over 500 snaps and worked his way back to the top of the edge defender discussion.
Injury concerns aside, Phillips didn't really show any weaknesses in his game from a grading standpoint in 2020. When compared to the other top edge rushers in this class, Phillips is inside the top five for every defensive grading category (overall, pass-rush, tackling, run-defense) when using the data from each player's final college season. He is the only top-10 edge defender from the class to accomplish that.
Not only did Phillips grade well in 2020, but he also has the statistical numbers to back it up. Phillips was the only top-10 edge defender from this class to finish inside the top three for each major statistical category, demonstrating a consistency that further separates him from the pack.
Jaelan Phillips rank among top-10 2021 edge defenders (final college season)
| | | |
| --- | --- | --- |
| Statistic | Total | Rank |
| Sacks | 9 | T-3rd |
| Pressures | 46 | 3rd |
| First contact | 46 | 2nd |
| Defensive stops | 28 | 3rd |
| Tackles for loss/no gain | 11 | T-2nd |
| Total tackles | 46 | 3rd |
What separates Phillips from other edge defenders in this class is the variety of ways that he wins as a pass-rusher. No other edge wins with quite as many pass-rush moves as Phillips, whether he's using speed to bend around the edge, spinning off of tackles or hitting offensive linemen with an elite inside swim move. The repertoire is already top-notch.
Coupled with some of the best pro day numbers among all edge defenders, Phillips has likely earned his way into the first round and made those injury concerns significantly less of a worry.
Really liked seeing these three plays from #Miami EDGE Jaelan Phillips. All in the first quarter vs. Virginia Tech.

Creativity is already there as a pass rusher and even though he's lanky, he's physical as a run defender. pic.twitter.com/TGvwjHQFiF

— Jordan Reid (@Jordan_Reid) December 11, 2020
IDP Pre-Draft Rookie Ranking: LB3 | IDP4
I don't think I'm necessarily higher on Bolton than the consensus, so it's hard for me to call him "my guy," but he has easily become one of my favorite players to watch in this entire draft.
Bolton moves around the field so quickly, attacking the ball carrier on every play. His aggressiveness combined with his instincts consistently have him around the ball and in a position to land on the stat sheet — an attribute that will make him an IDP darling in the NFL.
Those quick instincts and aggressiveness show up in the numbers for Bolton as well, as he was second among all draft-eligible Power Five linebackers in making first contact with the ball carrier (73) in 2020, though he also tied for eighth in missed tackles (13). While his missed tackle rate is on the higher side at 12%, he is around the ball enough to make up for it from an IDP perspective, as evidenced by his 98 total tackles on less than 600 snaps in 2020.
In 2019, Bolton was the second-highest-graded linebacker in the Power Five behind only Micah Parsons. He did this while adding a 90.4 coverage grade for the year, which also ranked second among Power Five linebackers.
Bolton has shown a ton of versatility on tape over the past two seasons, including coverage ability in both man and zone. While he doesn't have the type of speed to cover receivers one-on-one, he is more than capable of picking up most tight ends and running backs out of the backfield, taking them away as an option.
There is certainly an argument to be made that Bolton is the second-best linebacker in this class, and landing with the right NFL defense could be the key to unlocking his full potential.
Nick Bolton rank among top-10 2021 linebackers (since 2019)
| | | |
| --- | --- | --- |
| Category | Figure | Rank |
| Overall grade | 91.2 | 2nd |
| Run-defense grade | 90.0 | 2nd |
| Coverage grade | 87.0 | 4th |
| Defensive stops | 98 | 1st |
| Total tackles | 224 | 1st |
| Tackles for loss/no gain | 31 | 1st |
| Pass breakups | 11 | 1st |
| Forced incompletion % | 17.7% | 1st |
Most people in IDP rookie drafts seem to gravitate toward Parsons and Jeremiah Owusu-Koramoah. I will be more than happy to grab Bolton after them as the better value.
NICK BOLTON: LB3

Led the SEC in stops in 2019 & 2020.

— PFF Draft (@PFF_College) March 16, 2021
IDP Pre-Draft Rookie Ranking: ED3 | IDP7
While PFF is high on Oweh, ranking him as the No. 2 edge defender in this class, the IDP fantasy football world seems to be a bit lower because of his lack of production in 2020. But Oweh's low sack total certainly wasn't a result of poor pass-rushing.
One of the keys to Oweh's pass-rush game is his percentage of unblocked or cleanup pressures compared to PFF's top 10 edge defenders in their final college seasons. While Oweh had just 20 total pressures, he did so in only seven games. Plus, only 20% of those pressures could be considered as unblocked or cleanup, which was the second-lowest percentage from that group.
Only Payton Turner had a lower rate, but he only had 11 total pressures on the year. Gregory Rousseau's 2019 season checks in with the highest percentage of cleanup and unblocked pressures among this group. A whopping 53% of Rousseau's pressures were either cleanup or unblocked — a full 21 percentage points higher than the next-highest rate.
Cleanup and unblocked pressure percentages | 2021 draft class
| | |
| --- | --- |
| Payton Turner, Houston | 0% |
| Jayson Oweh, Penn State | 20% |
| Ronnie Perkins, Oklahoma | 22% |
| Joseph Ossai, Texas | 24% |
| Jaelan Phillips, Miami | 26% |
| Rashad Weaver, Pittsburgh | 27% |
| Azeez Ojulari, Georgia | 32% |
| Kwity Paye, Michigan | 32% |
| Carlos Basham Jr., Wake Forest | 32% |
| Gregory Rousseau, Miami* | 53% |
* 2019 season (2020 opt-out)
There is a certain degree of luck involved in notching a sack. As I've pointed out before, Oweh may have been the unluckiest defensive lineman of 2020.
He is also incredibly raw, but consider this note from PFF's Mike Renner: "He boasted the single freakiest pro day at the edge position I've ever seen and only started playing football in 2016."
The athletic tools are there as Oweh continues to learn the position. I have zero doubt that the best is yet to come from a pass-rush standpoint.
One of the overlooked aspects of Oweh's game is his run defense — he can provide value on early downs against the run and put up decent tackle numbers. This was showcased in 2020 as he improved his run-defense grade significantly, going from a 59.5 in 2019 to an 89.7 in 2020.
This allowed him to be the second-highest-graded run defender among the top 10 edge defenders while also putting up 34 total tackles against the run (second) with just an 8% missed tackle rate (tied for first). I would be pushing all my chips into the middle of the table betting on Oweh to have success at the NFL level and as an IDP asset. 
IDP Pre-Draft Rookie Ranking: S2 | IDP14
I'm not against putting Grant as my No. 1 IDP safety once the dust settles from this draft weekend, but I need to be sure the landing spot and draft capital allows for it. This safety class seems to be one of the harder groups to figure out, as Trevon Moehrig appears to be the only consensus first-round pick of the bunch. Everyone else is ranked quite differently among analysts.
Grant may be a bit older at 23 years of age, but this has allowed him to put plenty of snaps on tape at UCF, showing just how productive he can be on the football field. While college production can be fool's gold for many IDP prospects coming out, it's worth noting that Grant has put up strong PFF grades over the past few years to help his case.
Grant has graded particularly well as a run defender, especially this past season when he managed a 90.0 run-defense grade, which was tops in the country among safeties that played at least 20% of snaps. He did this by coming up with 75 total tackles — first among PFF's top safety prospects — with just a 7% missed tackle rate, also the best of the group.
As one of the most versatile safeties in this class, Grant's ability to put up big-time tackle numbers from all over the field and play such a strong role in run support gives me a lot of hope that those numbers will be stable and translate to the NFL.
Grant also has shown the coverage ability to stick with wide receivers and tight ends, along with a strong understanding of zone concepts. He has earned an 89.4 coverage grade on over 1,200 coverage snaps since 2018. In that time, Grant has managed a forced incompletion rate of 16.2% and 10 interceptions, while allowing just a 43.0 passer rating when targeted. If Grant lands on a safety-needy team like Atlanta or Philadelphia, it could be a huge boost to his potential IDP value.
IDP Pre-Draft Rookie Ranking: S3 | IDP15
I might be highest on Sherwood than any other player on this list in relation to consensus rankings. Still, that's not going to stop me from putting his name out there as much as I can in hopes that it lands him in the perfect spot to thrive as an NFL player and IDP asset.
Sherwood has the build and tackling ability to be an NFL linebacker/box safety. However, showing that he can cover those short and intermediate routes as a versatile safety are what really excited me watching his tape. While he likely won't be asked to cover much in the NFL, his 73.3 coverage grade during his Auburn career suggests that he won't be a liability.
Make no mistake, Sherwood's biggest strength comes from his ability to stuff the stat sheet with tackle opportunities. Sherwood was able to put up 69 total tackles in 2020, including two sacks, putting him behind only Grant among PFF's top 10 safeties.
Sherwood's draft capital will be hurt by the fact that he's more than likely slated for a designated box safety role, which isn't great for his NFL value. However, if he were to overcome that, this is how he stacks up in key IDP categories against PFF's top 10 safeties in this class in their final year:
Jamien Sherwood rank among top-10 2021 safeties (final college season)
| | | |
| --- | --- | --- |
| Statistic | Figure | Rank |
| Run defense grade | 71.1 | 5th |
| Tackling grade | 91.2 | 1st |
| Total tackles | 69 | 3rd |
| Missed tackle rate | 5.6% | 1st |
| Defensive stops | 17 | 3rd |
Obviously, I'm pretty invested in Sherwood at this point in the pre-draft process, but I can easily imagine a scenario where the NFL just doesn't see the value in a box safety early enough in the draft, ultimately crushing my hopes and dreams. Either way, I'll be "banging the table" for Sherwood come Day 2 of the NFL Draft when any team in need of safety help is on the clock.
IDP Pre-Draft Rookie Ranking: LB7 | IDP22
McGrone is more of a long shot but someone I find myself coming back to when going over this rookie linebacker class. The Michigan junior isn't usually mentioned among the top linebackers in this class, which is not entirely surprising after he really struggled in coverage as a two-year starter.
McGrone has been unable to post a coverage grade above 66.7 in any single game over the past two seasons, leaving him with seasonal coverage grades below 50.0 in each year. It also didn't help that McGrone is now coming off of his second ACL tear, which kept him from working out at Michigan's pro day.
Enough of the negatives. Let's get into what makes McGrone a player of interest: He plays a lot like the previously mentioned Nick Bolton, flying around the field and making big hits with good sideline-to-sideline range to chase down wide runs. He is not quite as strong in coverage as Bolton, but he does possess traits that make him a sleeper on Day 3 of the draft and, in turn, IDP rookie drafts.
What McGrone lacks in size, he makes up for with his explosiveness and textbook ability to wrap up ball carriers without issue. He's the only draft-eligible linebacker who did not miss a single tackle in 2020. McGrone's biggest strengths are definitely his tackling ability and his run defense, and he'll still be just 20 years old when drafted. This tells me we've yet to see all that the former five-star recruit might become.
McGrone was even able to showcase some blitzing on his 2019 tape, which could generate interest. He managed five sacks and 23 pressures as a first-year starter. He'll still likely end up being a Day 3 player come draft time, but there could at least be some consideration a bit earlier.
Cameron McGrone rank among top-10 2021 linebackers (since 2019)
| | | |
| --- | --- | --- |
| Category | Figure | Rank |
| Overall grade | 67.0 | T-9th |
| Run defense grade | 77.6 | 4th |
| Tackles for loss/no gain vs. the run | 14 | 6th |
| Average depth of tackle vs. the run | 2.75 | 2nd |
| Sacks | 5 | T-5th |
| Missed tackle rate | 9% | 3rd |
---
More of PFF's 2021 NFL Draft tools here: 
2021 NFL Draft Big Board | 2021 NFL Draft Guide | 2021 NFL Draft Stats Export | NFL Mock Drafts | NFL Mock Draft Simulator