With less than two weeks to go before the 2021 NFL Draft, there is no hotter topic in the football world than where each of the top prospects will end up. And while landing spot is going to be a massive indicator for fantasy football purposes, it can also be helpful to see where players rank based on skill alone — without the landing spot filter creating a bias.
After writing up and ranking some of the top IDP prospects by individual positions (linebacker, defensive line, safety), it's now time to see where they stack up within the combined group of defensive players.
View PFF's 2021 NFL Draft position rankings:
QB | RB | WR | TE | T | iOL | DI | EDGE | LB | CB | S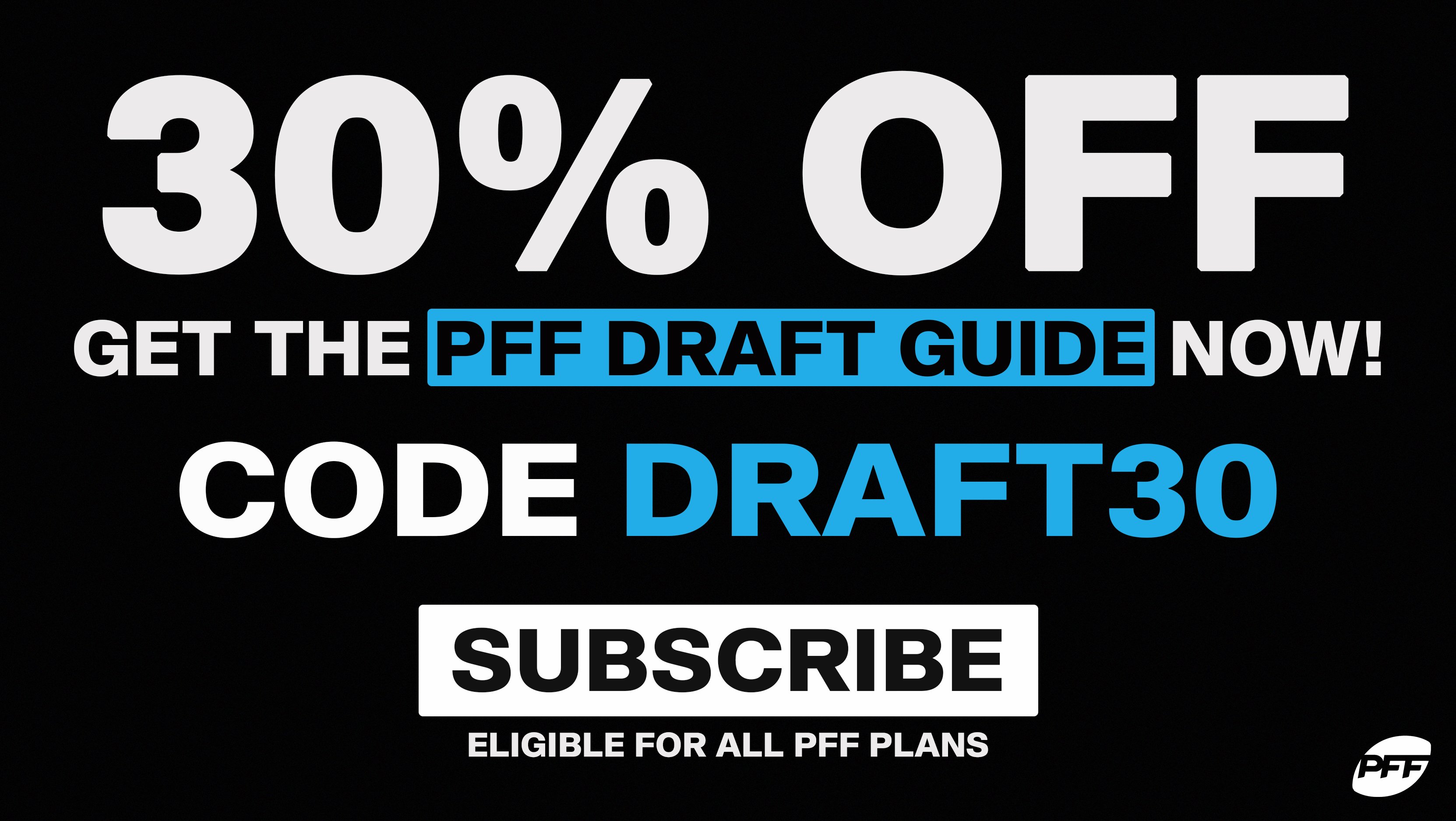 The goal here is to evaluate each individual defensive player on what he can bring to the table from a fantasy perspective, considering playing time, tackling ability, playmaking skills and of course overall talent. There is no doubt that these rankings will change post-draft, as they've already been slightly altered since writing up each initial position. For now, this is how I see the top 50 IDPs in the 2021 NFL Draft.
Note that this list excludes the cornerback position, as it tends to be more landing spot-dependent and volatile for IDP purposes.
Regardless of whether he falls on draft day, Parsons is arguably the best defensive player in this entire class. His athleticism, ability to shed blocks, make tackles and rush the passer are all keys to him being the top rookie IDP in 2021.
Before opting out of the 2020 season, Parsons posted top PFF grades as a tackler (90.0), in run defense (94.8) and as a pass rusher (86.8), all of which allowed him to be the top-graded linebacker overall (91.6) in 2019. Parsons brings a pass-rushing upside that could potentially raise his fantasy ceiling, with PFF's lead draft analyst Mike Renner speculating that he could be the first edge rusher taken in this class if he were to switch positions. It's hard to imagine Parsons making it out of the first round, as his every-down potential should give him the best opportunity to put up fantasy points on every single snap.
There aren't many players in this draft class I'm more enamored with than Tulsa's Zaven Collins, who won the Chuck Bednarik award as college football's best defensive player in 2020. He was also PFF's highest-graded linebacker overall (90.5) and in coverage (93.0). Adding an elite pass-rush grade (90.6), Collins is bringing some top-tier tools with him to the NFL.
Perhaps the most intriguing thing about Collins is his size. At 6-foot-4 and 260 pounds, he's big enough to impact the run game, although that is an area that will need improvement after earning just a 65.7 run defense grade in 2020. I have little doubt that he can get better with NFL coaching. His ability to move like a much smaller player and cover tight ends and running backs out of the backfield will allow him to be a three-down player in the NFL and a serious contender for IDP rookie of the year.
I'm a big believer in Jaelan Phillips thriving in the NFL as long as health checks out, which seems likely at this point given his 2020 season. Phillips played over 500 snaps as a full-time starter, accumulating nine sacks (second in the ACC), 42 pressures (third) and a 20.4% pass-rush win rate, among the best in the class.
Phillips brings a variety of ways to win his pass-rush reps, making him more than just a one-dimensional pass rusher. The versatile skill set will help him translate to the next level. He's also one of the best run defenders of this group (83.0 run defense grade), creating more opportunity to rack up tackles on early downs.
#FFIDP – Best average depth of tackle vs the run since 2019 among some of the top EDGEs in the 2021 #NFLDraft (per @PFF):

1. Jaelan Phillips, Miami- 0.77
2. Payton Turner, Houston- 0.87
3. Azeez Ojulari, UGA- 1.00
4. Quincy Roche, Miami/Temple- 1.04
5. Ronnie Perkins, OU- 1.26

— Jon Macri (@PFF_Macri) April 19, 2021
Bolton very much feels like your typical linebacker to target in IDP — he can fly around the field, make big hits and be the first player to the ball-carrier on any given play. Landing on a linebacker-needy team in the draft will almost certainly allow him to put up strong tackle numbers right out of the gate as a rookie and hopefully develop his coverage skills so he can hold down that job for years to come.
Bolton is right up there with Parsons as far as best run-defending linebacker in the class, boasting a combined run-defense grade of 90.0 over the past two seasons, second to only Parsons among this list. Bolton has also managed 30 tackles for a loss or no gain since 2019, which is tops in the SEC during that time.
Like Phillips, Kwity Paye has a number of strengths that can make him a fantasy asset coming off the edge. PFF's top-ranked edge rusher in this class has all the physical tools and athleticism to become a star, we just need to see it more on the field. Paye relied a lot on his bull rush and outside move in 2020, which worked well, but he'll need to develop more counters or a variety of ways to win in order to be more consistent in the NFL.
In run defense, Paye utilizes his power to move offensive linemen into the backfield and disrupt plays, creating plenty of opportunities to put up strong tackle numbers on those early downs. Paye could easily be the first edge player off the board come draft day, giving him a nice landing spot to put in plenty of work as a rookie and continue to progress as an athletic edge.
Davis has been rising up NFL draft boards over the last couple of months, mostly due to his elite athletic scores. In turn, he's risen up my linebacker ranks as we move closer to the draft. Davis was LB6 when I initially did my rankings, but knowing that he could work his way into the first round conversation because of those pro day numbers, I've become more interested.
Davis brings sideline-to-sideline speed combined with a strong tackling ability, which will make plenty of IDP fantasy managers happy. Davis had just a 7.0% missed tackle rate in 2020 (top-10 among draft-eligible linebackers), an 84.7 tackling grade (fifth) and led all draft-eligible players in total tackles (109) last season.
Kentucky LB Jamin Davis says he heard from the NFL advisory committee that he was a "fourth or fifth round" draft grade.

Over the course of the 2020-21 season, and after a dazzling Pro Day, his draft stock has skyrocketed.

???? @BBNTonight pic.twitter.com/kZgrLhsCU8

— The Athletic (@TheAthletic) April 8, 2021
While Oweh is a very raw prospect, he has flashed elite athleticism and pass-rushing ability that can separate him long-term, should he continue to develop. Coming off a 2020 season with zero sacks, Oweh could be slightly dismissed among this edge class. But in my opinion, it would be unwise to write him off so soon.
Oweh managed a 16.6% pass-rush win rate (seventh among Big Ten edge defenders) and an 80.3 pass-rush grade (also seventh). Watching Oweh on tape, you see how easily he could have had plenty of sacks, but unfortunately sacks require quarterbacks to still have the ball in their hand once the rusher gets there. Oweh was incredibly unlucky in that regard. Eighty percent of his 20 pressures last season came in 2.5 seconds or less, but the quarterback was often able to get the ball out even quicker, which kept him from filling the stat sheet. Combined with a huge improvement in his run-defense grade — going from a 59.5 in 2019 to an 89.7 in 2020 — the best is certainly yet to come for Oweh. Fantasy managers shouldn't ignore him because of his low college production numbers.
Arguably the best pure pass rusher in this class, Ojulari has been a nightmare for SEC offensive linemen trying to keep up with his perfected outside speed rush. There may not be a pass rusher in this class as dangerous with one move as Ojulari is using his bend and speed around the edge. He enters the draft with PFF's highest pass-rush grade for draft-eligible edge defenders (91.7) and tied for third in overall grade (90.0). Ojulari is a sound run defender, often just setting the edge and playing an outside contain role but doing it well enough that he is not a liability in the run game.
For his prospective NFL future, and to raise his IDP floor, he'll likely need to develop more than just the speed rush and also prove he can be an asset on early downs. If we start to see Ojulari introduce more power and versatility to his game, he will undoubtedly raise his IDP stock as a long-term option.
Owusu-Koramoah has a decent chance to be the first linebacker taken in this draft because of his versatility, should Parsons fall. He also could fall out of the first round because of concerns over his size, having measured at under 6-foot-2 and 220 pounds — among the lowest percentiles for his position.
Owusu-Koramoah makes up for size with his ability to cover. He played mostly overhang linebacker/slot corner during his time at Notre Dame and could play more of a box safety/linebacker hybrid role in the NFL. This will allow him to utilize his coverage skills and spend less time as a true stack linebacker, where he could have some difficulty. Landing spot and utilization are going to be huge for Owusu-Koramoah, but he does possess the skills necessary to stay on the field for all three downs.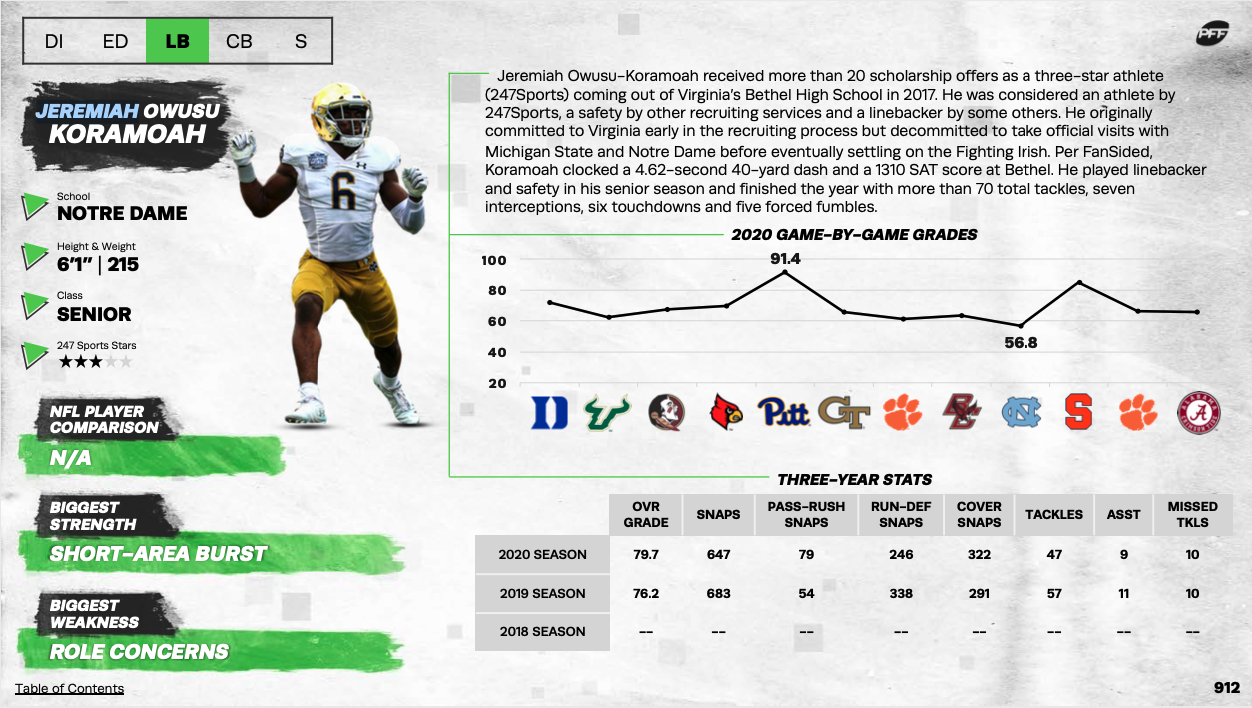 Cox holds the second-highest coverage grade (91.5) among draft-eligible linebackers from the past two seasons, and he did it in two different programs. After beginning his career at North Dakota State, Cox transferred to LSU for the 2020 season and was able to maintain his top-notch coverage grades, even though he was playing a very different role from previous seasons against tougher competition.
Cox went from playing mostly as a slot corner during his time in the FCS to more of a true off-ball linebacker role at LSU, which wasn't without its growing pains. Getting more time in the box and having to shed blocks to make tackles was a bit of a rude awakening for Cox, as he struggled in that regard and ultimately finished 2020 with a 55.0 run-defense grade. He does have good size and coverage ability that will help him stay on the field and develop as a true linebacker, which in turn will allow him to be a more intriguing IDP asset.
Barmore is the defensive interior player in this draft — he had the highest pass-rush grade (91.5) for defensive interior players in 2020 and the best overall grade (89.5) among SEC interior defenders.
He also led SEC defensive tackles in sacks (8), pressures (39), pass-rush win rate (18.9%) and defensive stops (30).
A 2020 opt-out after putting up 16 sacks in 2019, Rousseau projects to be in the mix as a potential top edge rusher in this class but is very much a work in progress. With impressive length at 6-foot-6, Rousseau still needs to get better at bending the edge and winning on the outside against opposing tackles. Rousseau's pass-rush win rate goes from 21.1% when lined up as an interior player to 15.5% when lined up outside the tackles.
Likely to be the first safety off the board, Moehrig is more than just a typical deep safety, as he brings the kind of versatility that can keep him involved in the action on a play-to-play basis. Being one of the biggest playmakers in this class doesn't hurt, as he had six interceptions (tied for second among draft-eligible safeties) and 22 forced incompletions (first) over the past two seasons.
For IDP, we love box safeties who can make plays in the run game and rack up tackles. In this class, that is Richie Grant. He has the highest run-defense grade (90.0) and fourth-lowest missed-tackle rate (7.7%) among draft-eligible safeties. He can also make plays on the ball, as evidenced by his 19 pass breakups and 10 interceptions during his UCF career.
Auburn's Jamien Sherwood is basically a linebacker playing safety, and he led all safeties in run stops (12) in 2020. He also had the best missed tackle rate (5.6%) among all draft-eligible safeties. For a player that may very well convert to linebacker at some point in his NFL career, these are very promising numbers for IDP.
After playing off-ball linebacker in 2019, Ossai converted to a full-time edge player in 2020 and managed an 80.5 pass-rush grade in his first season at the position. He's considered quite raw but comes with a good amount of promise as an IDP if he can develop as a full-time NFL player. Ossai brings excellent run-defense ability because of his time at linebacker, finishing 2020 with an 81.1 run-defense grade, and he has tackling upside no matter how he is utilized in the NFL.
Basham has been one of the most productive edge rushers of the past three seasons of college football. He has managed 23 sacks and 137 pressures since 2018. Basham had a 27.7% pass-rush win rate in 2020 on true pass sets, which was fifth in the ACC among draft-eligible edge defenders.
Nasirildeen has an 84.0 run-defense grade over the past three seasons (top-15 among draft-eligible safeties) and an 81.9 coverage grade over that time, all while splitting his time between playing deep and in the box. Showing that he can be effective in two major aspects of FSU's defense, combined with top-tier size, could get him drafted with a chance to start in his first two NFL seasons.
This pick from Florida State's Hamsah Nasirildeen is hilarious. Nos. 10 and 71 just never stood a chance haha

No. 10, btw, is listed as a 6-foot-2, 230-pound wide receiver lol — baby kelvin benjamin pic.twitter.com/4L0nzvele7

— Austin Gayle (@PFF_AustinGayle) July 17, 2020
Deablo brings size, speed and coverage skills to his potential strong safety/linebacker position in the NFL. It wouldn't be surprising to see him make the move to linebacker full-time, and he'll bring a top-five coverage grade (84.4) among draft-eligible safeties, helping to make the case that he can stay on the field every down.
Hufanga didn't make my initial safety rankings, but after getting a chance to watch him more, I believe he has value as an IDP. He had the highest coverage grade (86.8) among safeties in this draft class in 2020.
Perkins earned a 90.4 pass-rush grade and a 90.7 run-defense grade for an overall 90.4 grade in 2020. He only played 262 snaps, however, in what turned out to be his best college season by far. He's still young and may take some time to develop. 
McGrone finished the 2020 season with an 88.8 tackling grade and zero missed tackles for the year. While he projects to be an early down run-stopper, he's still just 20 years old and will have time to develop his coverage ability, which was a lowly 41.1 in 2020.
Much like McGrone, Browning may spend the initial part of his NFL career as an early-down player only. His best performance was in the National Championship game versus Alabama (74.5 overall grade and 95.3 pass-rush grade), but even that came with some issues as he struggled in the run game with a 45.6 run-defense grade. He could potentially also be used as an edge rusher in the NFL given his size and athleticism.
Moses was one of the more intriguing freshman IDP prospects back in 2017 but has struggled since that time. Coming off an ACL injury that caused him to miss the 2019 season, he finished 2020 with just a 56.4 overall PFF grade. Moses does possess the size and athleticism to be an NFL linebacker, but his most recent tape is concerning.
Toney had four seasons of good PFF grades at Penn State, with 21 sacks and 117 total pressures since 2017. He likely projects to be a rotational pass-rusher to start his NFL career.
Surratt had 32 total pressures in 2020, which was the most among draft-eligible linebackers this past season.
Hamlin's 87.2 run-defense grade in 2020 is the second-highest among draft-eligible safeties. 
Rumph owns the highest pass-rush win rate (26.2%) among draft-eligible Power-5 edge defenders since 2019. 
Gillespie's 33.3% forced incompletion rate was the highest among all draft-eligible safeties in 2020.
Wallow's 87 defensive stops versus the run are the most among draft-eligible Power-5 linebackers.
---
More of PFF's 2021 NFL Draft tools here: 
2021 NFL Draft Big Board | 2021 NFL Draft Guide | 2021 NFL Draft Stats Export | NFL Mock Drafts | NFL Mock Draft Simulator