The search for some of the top defensive prospects in the 2021 NFL Draft class continues with the big guys along the defensive line. After projecting seven of the top linebackers for IDP in this year's class, I'm going to attempt to do the same for defensive line players. I'll also contemplate ideal landing spots where they might flourish as IDP dynasty prospects.
Landing spot is a major deciding factor in player value for most drafts, but I find it helpful to gather some thoughts on how players would be ranked before the draft solely based on talent and what they can bring to the IDP landscape.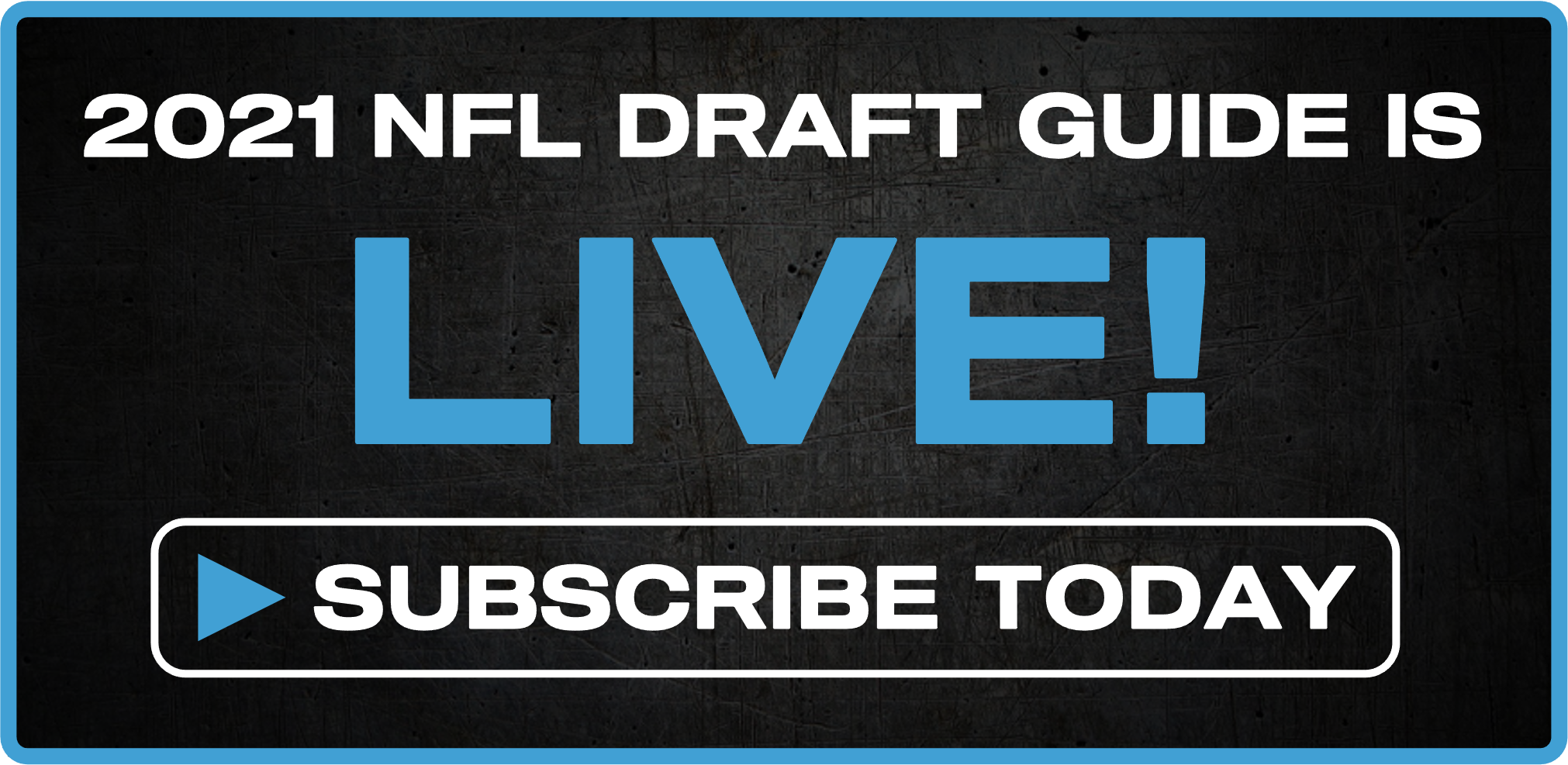 We'll look at the defensive linemen first by their pass-rush skills, since sacks are king for IDP, then run-defense ability — that keeps them on the field for more downs and raises their tackle floors.
One of the first things that comes up when talking about Phillips is his scary injury history, which includes multiple concussions that caused him to "retire" for a year before returning to play in 2020. I certainly understand the concern, but I'm going to assume good health after Phillips played over 500 snaps in 2020. He appears to be cleared going forward.
If you watched Phillips in Miami this past year without knowing about that injury history, I think he would be the No. 1 edge rusher on most people's boards. The variety of ways Phillips can win as a pass-rusher stands out over the rest of this class. While a lot of the 2021 edge-rusher prospects can do one thing really well, Phillips was able to showcase his wins with speed, power and both inside and outside.
The year off and the move to the ACC seemed to do wonders for Phillips, as he significantly improved his game across the board. Putting up nine sacks (second in the ACC) and 42 pressures (third) was great for his production numbers after seeing too little opportunity at UCLA to showcase his skills. Phillips did this on a 20.3% pass-rush win rate, which was top-five among all ACC edge defenders.
One aspect of Phillips' game that could be seen as a negative is that almost all his snaps came lined up on the right side of the offensive line against a right tackle, which is usually not a college team's top tackle. But this is a minor concern when factoring in his ability to win in a variety of ways. Phillips put up an 83.0 run-defense grade in 2020 — top-five among ACC edge defenders — which increases the likelihood that he can play all three downs at the next level.
The Browns are in need of another big edge rusher opposite Myles Garrett, and grabbing Phillips in the back half of the first round could make for a perfect match. Olivier Vernon is now a free agent, and the Browns utilized him quite a bit as a run-defending edge player. Phillips' size and athleticism against the run could help the Browns on top of pass rushing.
Even with just one real season of production, Phillips landing in Cleveland does nothing to hurt his No. 1 edge rank for me in this class. The chance to learn from an elite talent like Garrett, and perhaps benefit from the attention he sees every play, could allow the former five-star recruit to produce right away as an NFL rookie.
Jaelan Phillips, Miami (6'5", 260)

▪️ 36" vertical (81st percentile)
▪️ 10'5" broad (90th)

▪️ 4.56s 40-yard dash (93rd)
▪️ 1.59s 10-yard split (88th)

▪️ 4.13 SS (96th)
▪️ 7.01 3C (80th)

MY. GUY.pic.twitter.com/kTQOCQFjwH

— Austin Gayle (@PFF_AustinGayle) March 29, 2021
Arguably the most athletic defensive lineman in this draft class, Paye comes in as a close second for me behind Phillips. A common theme among this group of pass-rushers is that none of them are finished products, and most could use some more development. Paye is a prime example of that.
While Paye seemed to win a lot of his 2019 pass-rush reps with an inside move, he appeared to go away from that in his four games in 2020, relying much more on winning to the outside with speed. This appeared to be his go-to move this past season, which led to the best pass-rush grade of his career (87.1) and 22 total pressures in just four games (16% pressure rate). A big positive for Paye is that he has continued to get better. While there is still room for improvement as a pass-rusher, the expectation is that he will continue to utilize his athleticism to further improve his game as a pro.
Perhaps the best part of Paye's game right now is his ability to have an impact on run defense. He boasts a very good 88.5 run defense grade over the past three seasons and racked up 51 defensive stops against the run. That's a real benefit for any team looking to add an edge who can do more than rush the quarterback. Paye's physical tools and power have made him one of the best run-defending edge prospects in this class, which is going to be key in keeping him on the field to raise his fantasy floor.
The Vikings were without star edge rusher Danielle Hunter for all of the 2020 season, and the defense certainly felt the effects. Minnesota's edge defenders combined for the worst run-defense grade (45.8) in the league last season and were among the bottom-five teams in pass-rush grade (61.2) as well. Adding Paye, along with the return of Hunter, would immediately catapult Minnesota out of the basement in those categories and allow the rookie plenty of opportunity to develop in Mike Zimmer's defense.
Highest pass-rush win % in the Big Ten last season

1. Kwity Paye, Michigan – 25.8% pic.twitter.com/gxHj5DN3L4

— PFF Draft (@PFF_College) March 26, 2021
There are two ways to look at Oweh as a pass-rusher: 1) he had zero sacks in 2020 on 171 pass-rush snaps, or 2) he still managed 20 total pressures on those snaps, flashing a variety of pass-rush moves and athleticism that can potentially translate better to the NFL than just college production numbers. I am choosing to believe the latter — after watching his 2020 tape, I've become a big fan.
Oweh comes within a split second of a sack on so many of his pass-rush wins — he may have been the unluckiest pass-rusher last season. Even after managing five sacks in 2020, Oweh didn't necessarily look worse this past year. He looked better in at least a few games, including a 10-pressure performance against Indiana in the season opener. Oweh is still likely to be considered more of a "raw" talent, but given his athletic tools there is hope that he can develop into a more polished pass-rusher.
Oweh was a decent run defender in 2020 (89.7 run defense grade), but his run-defending tape as a whole causes some concern that he may not play an every-down role early in his career. He showed a tendency to be moved off his spot or out of his gap a little too often when overpowered, which is likely to be more evident in the NFL with bigger and better linemen.
The Titans added free agent pass-rusher Bud Dupree this offseason, but there are enough snaps up for grabs for Oweh to make an IDP impact early in his NFL career. Harold Landry played over 1,000 snaps last season — the most of any edge defender in the league — and he wasn't particularly efficient given the snap share. The Titans need to give Landry more help and a break from time to time, which ultimately could help him in the long-term. Oweh comes in as an admittedly raw prospect but one that has flashed versatility and athleticism that can develop behind two established starters like Landry and Dupree.
There may not be a pass-rusher in this entire class who has perfected one move better than Ojulari's cross-chop/speed rush to the outside of opposing tackles. Among the SEC's starting edge defenders (min. 100 snaps), Ojulari was No. 1 in pass-rush win rate (24.0%) and No. 3 in pressure rate (20.7%), almost always doing so with just one move. If he can start to develop some counters or more pass-rushing tools, we could easily see him become a consistent threat to take down the quarterback in the NFL. But his slighter frame and tendency to lean on just one move drops him to No. 4 on this list for now.
Speed is Ojulari's biggest strength, whether he's rushing on the outside or trying to stunt inside. He wins by not letting offensive linemen lock him up. While this is something that can work in the NFL, it will certainly be more difficult without adding some power to his game as well.
Even with a slighter frame, Ojulari was a decent run defender, usually playing an outside contain role — and playing that role well. He earned a 78.1 run-defense grade over the past two seasons. Ojulari rarely lost contain versus the run, showing a good understanding of his role and making him more of an asset than a liability in that regard. He can utilize his speed if left unchecked on the backside of runs to help clean up tackles, which raises the fantasy floor a bit if he does get some play defending the run at the next level.
Ojulari looks like many of the Ravens' recent pass-rushers, including Yannick Ngakoue, and maybe more specifically Tyus Bowser. They all have similar builds as stand-up edge rushers and possess the versatility to drop into coverage if needed. Having just lost Ngakoue in free agency, Baltimore could look to replace him with a similar style of player like Ojulari in Round 1.
Barmore is the only interior defensive player I would consider worthy of drafting in IDP rookie drafts at this point. He showcased an elite pass-rush ability in 2020 as PFF's No. 1 graded pass-rusher among interior defenders (91.5) and has shown off a plethora of pass-rushing moves after just one real season as a starter. He looks like he can be a physically imposing force along any defensive line in the NFL.
If Barmore's opposing blocker can't lock him up right away, then it is already too late, as he can win with a combination of speed and power. Barmore even had a chance to show off some outside pass-rush moves this season, lining up on the edge against tackles and tight ends and getting around them with speed.
Barmore's consistency as a pass-rusher, along with strong run defense, makes him a good bet for plenty of snaps in the NFL at a position that can be hard to find this level of talent, especially for IDP. He is likely to face more double teams in the NFL, something that most interior defenders struggle with, but he has shown success when facing multiple blockers already. That's a concern for all defensive tackles in IDP.
Christian Barmore among SEC interior defenders
| | | |
| --- | --- | --- |
| Overall defensive grade | 89.9 | Rank: 1st |
| Sacks | 8 | 1st |
| Pressures | 39 | 1st |
| Pass-rush win rate % | 18.9% | 1st |
| Defensive stops | 30 | 1st |
| Total tackles | 38 | 2nd |
The Cardinals are already stocked up on veteran defensive linemen, with J.J. Watt and Chandler Jones on the edge, so they could benefit from a youthful compliment in the middle. The Cardinals' interior defenders have caused the team to finish among the bottom 10 in the league for overall grade in each of the past four seasons (ever since Calais Campbell left). Barmore could really help complete the Cardinals' defensive line sandwiched between two all-time greats on the edge.
Rousseau is one of the many 2020 opt-outs I'd like to have seen more tape on. He racked up 16 sacks as a redshirt freshman in 2019, which was second among Power-5 schools behind only Chase Young (18).
During that season, Rousseau saw 14% of his snaps lined up as Miami's nose tackle, which was a high rate for an edge rusher. More surprisingly, I found that a lot of his more impressive pass-rush wins came against interior offensive linemen as opposed to tackles. This isn't to say he didn't have wins on the outside, but the majority of his best reps were against the typically weaker offensive linemen. This is where another year of tape would have really benefited Rousseau.
That being said, Rousseau did show off his impressive length and size, often winning by getting hands on his blocker first, but also stretching out and making plays that a less-lengthy rusher likely couldn't make. It would be good to see Rousseau develop more as an edge, but in the meantime he could benefit from being moved around a versatile defensive line in order to get the most out of talents as an IDP.
Indianapolis could deploy Rousseau similarly to how it has utilized Denico Autry or Tyquan Lewis in past seasons. Run defense wasn't necessarily Rousseau's strong suit, but the Colts have some better pieces like DeForest Buckner and Grover Stewart in place who can help with that aspect and give Rousseau some more time to develop.
Basham comes out of Wake Forest as one of the most productive edge defenders of the past three seasons of college football. He totaled 23 sacks and 137 pressures — top-10 marks in the country in both categories.
A bigger defensive end at 285 pounds, Basham isn't one to necessarily utilize speed to get around the edge, but that doesn't mean he lacks finesse. He typically won his pass-rush reps with a very nice inside swim move that helped him affect plays in the backfield often. Basham had a tendency to rely on that inside move a lot, though. He'll need to develop at least one other pass-rush move to avoid easy scouting from NFL offensive linemen.
Despite his size and significant numbers of snaps played, Basham was not as effective against the run in 2020 as we would like to see, but that doesn't mean he can't do it. After grading in the 70s and above for run defense in his first three years, he seemed to be taken off his game a lot easier in 2020. Basham was often moved a little too easily; maybe it was fatigue from playing so many snaps. It's unlikely that he'll see those 70-80% snap shares early in his NFL career, which will allow him to focus on doing what he does best: getting after the quarterback. 
The Bills have some aging veterans like Jerry Hughes and Mario Addison currently atop their depth chart, and that may be the perfect pair to learn behind for Basham as an NFL rookie. Addison and Hughes are both larger ends, as is their second-round pick from last season, A.J. Epenesa. Basham could fit right into that defensive line room. There's really no need for Buffalo to run Addison and Hughes out there for 700-plus snaps again this season, which opens up some opportunity for Basham and Epenesa to get more work as situational pass-rushers before taking over as the future starting edges in Buffalo.
Wake Forest DL Carlos Basham Jr. beats the oversetting blocker back inside with the counter club/arm over.@Almighty_Basham earned first team All-ACC honors last season with 11 sacks #PassRush #GoDeacs pic.twitter.com/9cXO59vOe9

— DLineVids (@dlinevids1) March 30, 2020