The Fantasy Focus is a weekly column that breaks down everything you need to know to set your fantasy football lineups. Make your start and sit decisions with fantasy facts, injury information, matchups stats, predictions for the week and more.
November is here, and that means we've officially entered the third quarter of the fantasy season. Just like an NFL game, a lot changes from one quarter to the next. It's vitally important to be aware of these changes and to anticipate the direction things are moving in the NFL.
At this point last year, we had only just started to pay attention to Nick Chubb. He went on to shred the league in November and December and was a league-winner for a lot of teams. I wish I could tell you who that player is going to be this year, but my crystal ball is in the shop. But what I can say is that there will be players who emerge over the next two months. They always do.
So it's key to be proactive as you manage your roster. Look to churn the end of your bench each week on waivers adding deeper names at running back and wide receiver. Trim the fat on your roster by cutting loose players with limited fantasy ceiling. And for the love of all that good is holy, don't waste your bench spots on defenses or kickers.
Just like we saw in the NFL this week, fantasy trade deadlines are approaching in many leagues. So that's another opportunity to bolster your roster for the stretch run. The best piece of advice I've ever received regarding trades is surprisingly simple: trade to make your team better.
Trading a wide receiver and a quarterback for a wide receiver and a quarterback doesn't make your team better. It's a lateral move. If you need help at wide receiver, look to move another piece of your roster. Maybe you have good depth at running back. Okay, then start putting offers out to trade a running back for a wide receiver.
However, with running back very thin in fantasy right now, be careful you don't shoot yourself in the foot. For the fantasy playoffs, you need more than two running backs on your roster. To be comfortable, aim to have four running backs you'd feel confident in starting each week. Sure, two will be on your bench, but you have the depth to sustain any calamities that may happen down the stretch. Better yet, those backs can't be used against you if you don't trade them away.
Greenline: HST -2.7, O/U 45.9
Fantasy facts: Leonard Fournette was one of last season's biggest fantasy disappointments, but the Jags running back has bounced back in a big way and enters the week fifth among running backs in fantasy scoring. A big reason for his success has been the heavy volume he's seen in the red zone. Only Ezekiel Elliott has seen more red-zone carries than Fournette's 34 through the first eight weeks of the season. Those are high-quality touches than mean RB1 production is likely to continue from Fournette.
Matchup upgrade: D.J. Chark has been one of the biggest fantasy breakouts of 2019. The second-year man enters the week fifth among wide receivers in fantasy scoring, thanks in large part to six receiving scores. Chark is a good bet to continue his productive ways this week. Houston has one of the league's worst secondaries even with the recent addition of former first-round pick Gareon Conley. Chark should see his share of Conley this week, and that's a very good thing. In seven games played, Conley has allowed four touchdowns with opposing wideouts averaging 14.9 yards per catch in his coverage.
Of course, Gardner Minshew has been a big reason for Chark's success. The rookie quarterback has been a revelation both for the Jags and for fantasy football purposes. He's very much in play this week as a streamer option against the Houston defense that is allowing 2.3 passing scores per game to opposing signal callers.
Matchup downgrade: None
Key injuries: Will Fuller has already been declared out for this contest. Fuller is dealing with a hamstring injury that should keep him sidelined for the next few weeks. Kenny Stills failed to impress as Fuller's replacement last week, but that doesn't mean we should throw the towel in on him. He's worth a look as a boom-or-bust WR3 option this week.
Greenline: BUF -7.9, O/U 37.2
Fantasy facts: The Buffalo backfield has yet to flip to Devin Singletary in the lead, but there continue to be signs that the young back is ready for primetime. Last week, he notched 49 scrimmage yards on seven touches and flashed upside on a touchdown reception. So far this season, Singletary has as many runs of 15-plus yards (6) as Frank Gore, but has done so on 75 fewer carries. Gore has notched 95 carries this season and averages 4.4 yards per tote. Singletary as currently at 8.6 yards per carry. And yes, that's on an extremely small sample size, but his explosive ability screams league winner for the fantasy stretch run.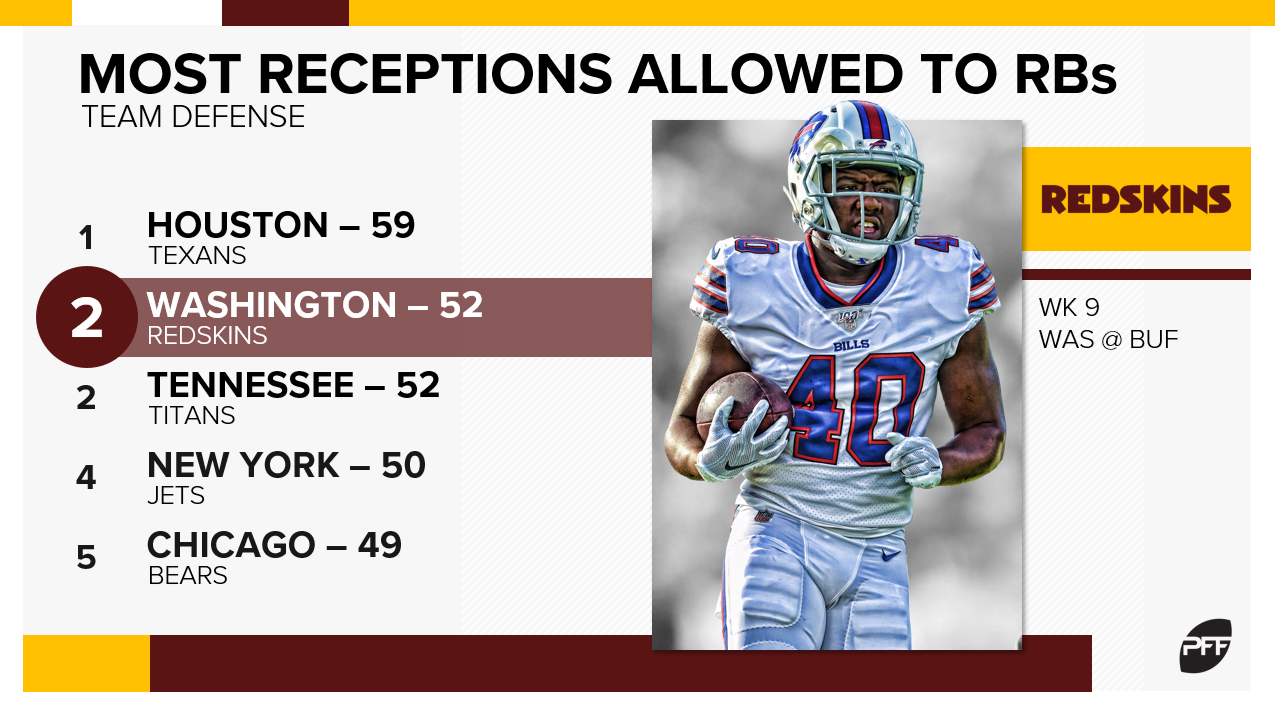 Matchup upgrade: Speaking of Gore and Singletary, both backs draw a favorable matchup this week. Washington has not fared well against the run this season and enters the week as the No. 5 matchup for running backs. The Redskins have been especially vulnerable to pass-catching running backs, with an average of 6.4 catches per game surrendered to the position. That's the second-highest in the league.
Matchup downgrade: The future is bright for Terry McLaurin, but the present is bleak. Not only does he have uncertainty at quarterback this week, but he also draws a tough matchup against this Bills secondary. Tre'Davious White isn't quite a household name, but the former LSU corner has been rock solid this season, allowing just 20 catches and zero touchdowns on 35 targets thrown into his coverage.
Key injuries: Keep an eye on Adrian Peterson's Friday practice status. The veteran back has yet to practice this week with an ankle injury. If he doesn't practice, he's likely to sit. With Chris Thompson also banged up, there's a chance Wendell Smallwood will be the lead back. There isn't much appeal to him for fantasy purposes. … And part of that is because the overall state of the offense could be ugly with the chance that Dwayne Haskins is the starter. Case Keenum remains in the league concussion protocol, and Haskins has been receiving first-team snaps in practice. Haskins under center will sap all fantasy value from the Redskins skill-position players.
Greenline: MIN -1.3, O/U OFF
Fantasy facts: Stefon Diggs has exploded over the last three weeks with seven catches and at least 143 receiving yards in all three outings. Diggs enters the week as the league leader in yards per route run at 3.54. That number speaks to Diggs' efficiency, but it also indicates regression is likely coming. Over the past five years, we've only seen one player finish the year over 3.00. That of course, is Julio Jones, who is the only player to top that mark multiple times for a season (he's done it three times). And it isn't just Diggs' yards per route run that suggests regression. If we look at his expected production, receivers in the past who have seen targets at the same depth and distance from the end zone have averaged 423.6 yards. Diggs is exceeding expectation by a whopping 67% with 706 receiving yards. Players just don't continue with that sort of efficiency in the NFL, so this is a good time to sell high on Diggs.
Matchup upgrade: You don't need a reason to start Dalvin Cook in season-long leagues, but this matchup is a reason to pay up for him in DFS contests. The Chiefs are the No. 2 fantasy matchup for running backs and allow a league-high 4.94 yards per carry to the position. Cook should feast on Sunday.
Matchup downgrade: There aren't any major downgrades in this contest.
Key injuries: Patrick Mahomes has continued to get limited work in at practice but is all but guaranteed to sit out again this week. With the Chiefs bye week looming in Week 10, it makes a lot of sense for the Chiefs to roll with Matt Moore for one more week. Moore's presence doesn't help the cause for the Chiefs' skill position players, but he was solid enough over the last two weeks. There's no reason to overthink things for Tyreek Hill and Travis Kelce.
Greenline: NYJ -3.0, O/U 41.7
Fantasy facts: With Kenyan Drake out of the mix, the Dolphins have turned to Mark Walton as their feature back. Unlike Drake, who Miami never really seemed to trust as a ball carrier, Walton looks to have the coaching staff's confidence. Last week, he notched 11 of the Dolphins' 14 running back carries and also saw six of the seven running targets. That's 81% of the opportunities in the backfield going to Walton, which is what the kids call a three-down workload. While running backs on bad teams typically aren't the best fantasy options, Walton appears to be locked in as an every-down back, which should give him RB2 value going forward.
Matchup upgrade: And that's especially true this week for Walton. The Jets enter the week as the No. 8 fantasy matchup for running backs. Of course, things are also good on the other side of this matchup for Le'Veon Bell. Things haven't quite worked out for the veteran so far in New York, as Bell sits just 19th among running backs in fantasy scoring. But we're willing to give him one more shot here against a Miami defense that allows the most rushing yards per game to running backs at 140.7.
Matchup downgrade: Once you get outside of the top half-dozen tight ends, the pack really bunches up. Mike Gesicki isn't at the front of that group, but he is a player who could be a deep streamer at points during the season. However, that isn't the case this week. The Jets have defended tight ends well, and currently allow the fifth-fewest fantasy points per game to the position.
Key injuries: None
Greenline: PHI -5.7, O/U 42.4
Fantasy facts: There's a lot of panic among the fantasy masses over Zach Ertz. The Eagles tight end has certainly regressed after last season's historic production, but Ertz owners should take a deep breath. Philly is still using Ertz on more routes run than Dallas Goedert, and the expected production numbers paint a very interesting picture. Ertz enters the week with 424 receiving yards and a score. His expected production is 486 yards and two scores, so he's underperforming by 14.2% on expected fantasy points. On the other hand, Goedert is overperforming by 19.2%. Those numbers suggest it's a good time to buy low on Ertz.
Matchup upgrade: Following a down year last season, Allen Robinson has bounced back in a big way and currently ranks in the top 10 among wide receivers in targets and catches. Robinson gets a big-time WR/CB matchup boost this week against a porous Philadelphia secondary that has consistently gotten torched by opposing wideouts this season, with the Eagles surrendering an average 13 catches, 186 yards, and 1.5 touchdowns per game to the position.
Matchup downgrade: David Montgomery finally got off the schneid last week with 27 carries for 135 yards and a score. While those numbers are certainly encouraging, Montgomery owners are going to want to temper expectations this week. The Eagles run defense remains one of the toughest in the league. Only five teams allow fewer fantasy points per game to running backs.
Key injuries: DeSean Jackson is finally back in practice for the Eagles, but he's far from a lock to play this week.
Greenline: IND -1.5, O/U 42.8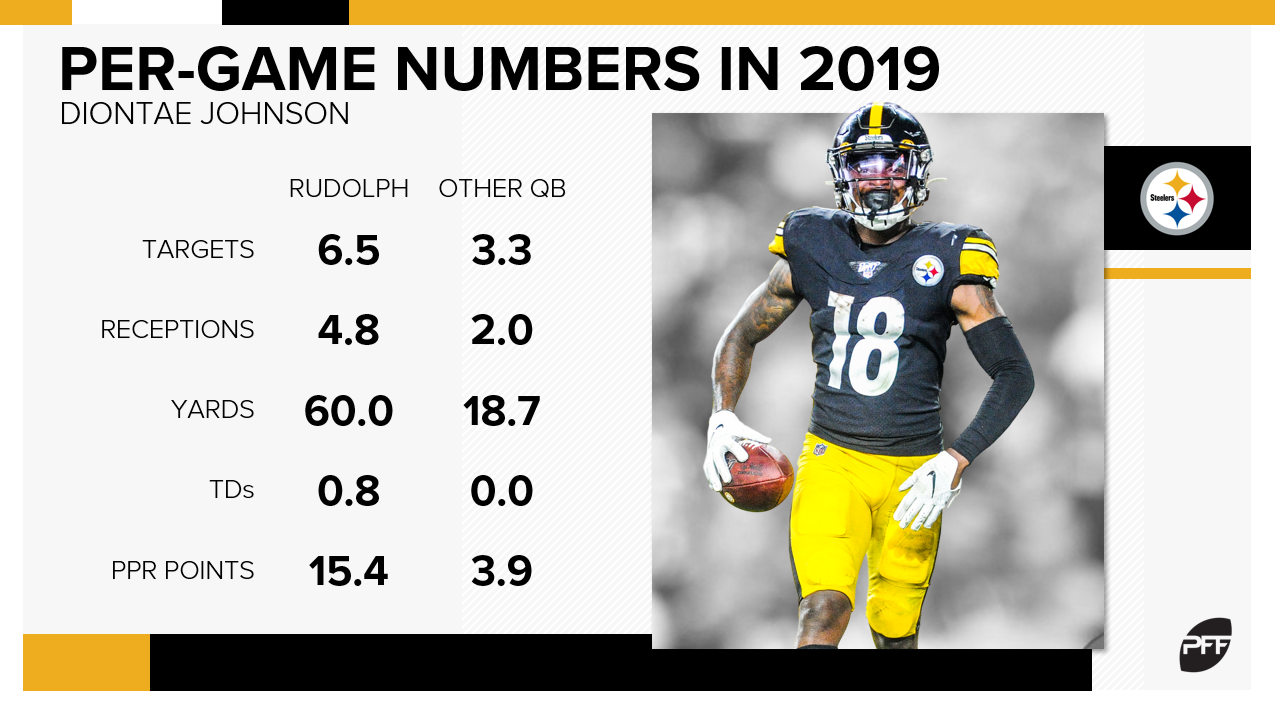 Fantasy facts: The Steelers look like they nailed yet another wide receiver draft pick. Diontae Johnson is coming off a strong performance last week and has trended up into fantasy relevance. Better yet, he's seeing consistent looks from Mason Rudolph. Here are Johnson's target numbers over the last four games Rudolph has started – 6, 6, 7, and 7. Johnson is still just a flex option in season-long, but he's an interesting DFS play this week given his price point.
Matchup upgrade: If you're in a pinch at tight end, this is the week to look at Vance McDonald. Indy has been a fantasy-friendly matchup for the position with opposing tight ends averaging the sixth most fantasy points per game against the Colts.
Matchup downgrade: Pittsburgh enters the week as the No. 2 run defense in PFF grades, and that certainly isn't good news for Marlon Mack owners. The Steelers have held opposing running backs to just 3.7 yards per carry this season. Mack is a downgrade and should only be considered a mid-range RB2 this week.
Key injuries: The Colts have some injury issues we should keep a close eye on. Eric Ebron popped up on the Thursday injury report with an ankle injury. Midweek downgrades often lead to players sitting out. If that happens, Jack Doyle will be a prime streamer option. … T.Y. Hilton hurt himself in practice this week and will miss the game. … The Steelers also have their share of injury issues, with the big one being James Conner. The Pittsburgh back injured his shoulder in Week 8 and has yet to practice this week. With Benny Snell out for the next few weeks, we could be looking at Jaylen Samuels as a three-down back this week. Keep in mind that this isn't the best matchup, but Samuels would still be at least an RB2 play.
Greenline: CAR -3.1, O/U 41.9
Fantasy facts: We have two very different running backs in this contest. Christian McCaffrey is arguably the most explosive back in the league, whereas Derrick Henry is on the opposite end of the spectrum. But did you realize that Henry has more runs of 15-plus yards (10) than McCaffrey (9)? Not what you would expect, but 100% true. The key takeaway here is that the perception of Henry isn't quite the reality, and he has more upside than people realize.
Matchup upgrade: And that's certainly true for Henry this week. Carolina has struggled against the run this season and currently allow 4.91 yards per carry to running backs. Henry should see a healthy workload this week and is in play as a top-12 option at running back.
Matchup downgrade: We've been able to stream Ryan Tannehill over the last two weeks, but that isn't the case in this matchup. Carolina may struggle against the run, but they've held opposing passing games in check with quarterbacks averaging just 239 net passing yards and 1.3 touchdowns per game against the Panthers.
Key injuries: Delanie Walker has yet to practice this week and is looking unlikely to play. His absence would put Jonnu Smith in top-15 territory among fantasy tight ends. Smith would be a priority streamer.
Greenline: OAK -1.7, O/U 49.9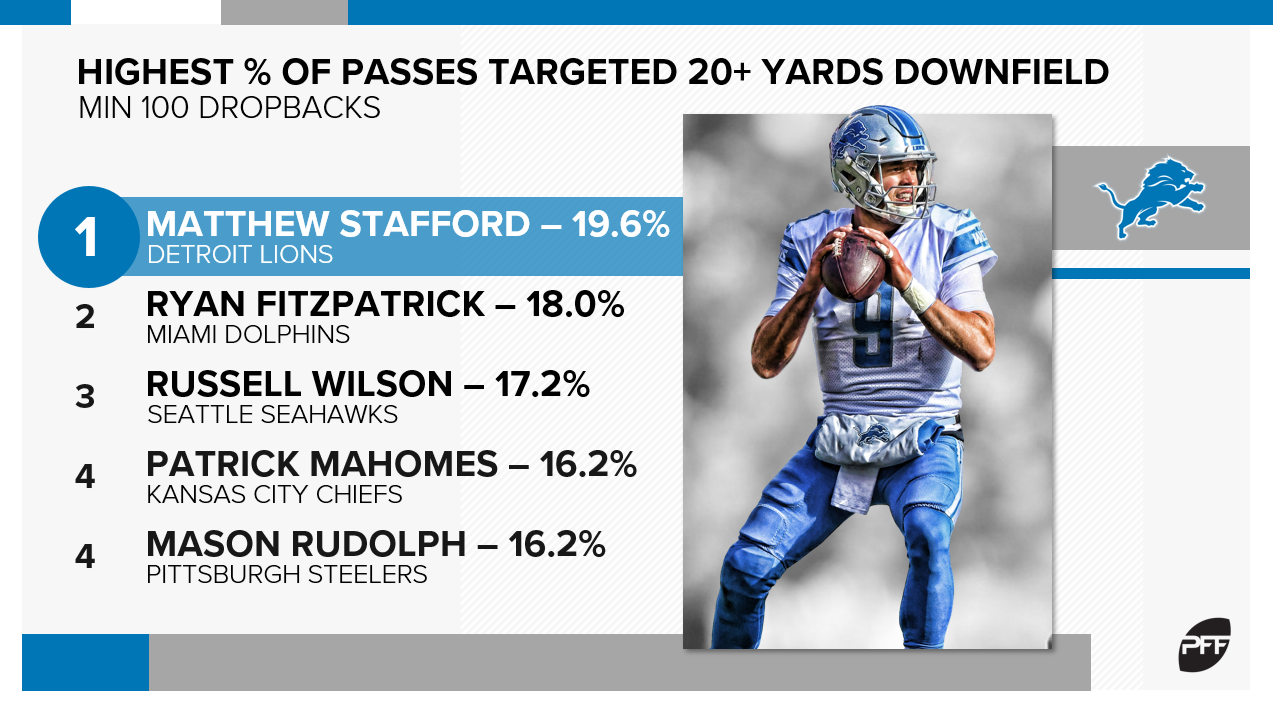 Fantasy facts: Matthew Stafford is in the midst of a fantasy revival this season, and he enters the week as the No. 10 fantasy quarterback. A big reason for the success is the overall change in offensive philosophy in Detroit. Their recent tendency of dinking and dunking has been replaced by more downfield throws. Stafford leads all quarterbacks with a deep ball throw on 19.6% of his attempts. All those deep passes mean fantasy upside, especially in this week's matchup.
Matchup upgrade: Rookie Josh Jacobs gutted it out last week and played through injury. Jacobs has been limited in practice this week, but there's little doubt that he'll suit up. And that's a good thing for Jacobs owners this week. The Lions have been gashed by opposing running backs this season and allow the third-most fantasy points per game to the position.
Matchup downgrade: None
Key injuries: The Lions backfield is a complete mess, but there is at least a glimmer of hope for anyone who blew a big chunk of their FAAB budget on Ty Johnson. Tra Carson popped up on the injury report on Thursday with a hamstring. If Carson is unable to go, we should see more Johnson this weekend than we did in Week 8.
Greenline: SEA -5.9, O/U 51.4
Fantasy facts: Rookie D.K. Metcalf has been Russell Wilson's favorite red-zone target all season, and currently leads the league with a massive 12 end-zone targets. Metcalf found pay dirt twice last week and is a good bet to do so again this week given his heavy usage in the red zone.
Matchup upgrade: Start all your wideouts in this one. Metcalf and Tyler Lockett both get upgrades against the suspect Tampa secondary. No team has allowed more fantasy points per game to opposing wideouts over the last five weeks. Seattle isn't as good of a matchup, but Mike Evans showed us last week why we never sit him. Chris Godwin gets a tasty matchup out of the slot against Jamar Taylor, who allowed all six of his targets to be caught last week against the Falcons.
Matchup downgrade: While the Bucs may struggle against the pass, they've been one of the toughest matchups for running backs all season. Tampa enters the week as the No. 30 matchup for the position, which is bad news for Chris Carson owners. Carson still figures to see plenty of volume, but he's a good bet to struggle from an efficiency standpoint. The Bucs are allowing just 2.97 yards per carry to running backs.
Key injuries: O.J. Howard sat out last week with a hamstring injury and is out again. Cameron Brate is also banged up but did get limited work in on Thursday. He's a low-upside streamer option if he's able to play.
Greenline: CLV -2.4, O/U 39.1 
Fantasy facts: The Browns have given their running backs 146 carries this season. Nick Chubb has 134 of them. That's a whopping 92%. Of course, you already know that Chubb is seeing almost all of the work, but there are a lot of folks who are concerned about how this will change when Kareem Hunt comes off of suspension next week. While Hunt will certainly get worked in immediately, Chubb owners shouldn't panic. Hunt figures to factor more in the passing game, which is where Chubb already doesn't do much Sure, Hunt may steal a couple of carries from Chubb, but it won't be enough to move Chubb out of RB1 territory. Think of Hunt as a rich man's Duke Johnson in this offense.
Matchup upgrade: The best matchup in this contest would have gone to Joe Flacco, but the veteran signal-caller is out for at least a month. Denver will turn the keys over to Brandon Allen this week, and we want no part of that for fantasy purposes.
Matchup downgrade: Another game, and another bad matchup for Odell Beckham. After having to face the Patriots secondary last week, Beckham now has to contend with shadow coverage from Chris Harris Jr. The Broncos corner has been as good as ever this season. Harris is allowing just 2.3 catches per game with just one touchdown scored on him in 299 routes covered. And keep in mind that Baker Mayfield will be facing the third-toughest fantasy matchup for quarterbacks, so fade the Browns' passing game if you can.
Key injuries: Phillip Lindsay has been limited in practice this week, but he doesn't appear to be at risk of sitting.
Greenline: GB -2.8, O/U 49
Fantasy facts: Austin Ekeler has remained productive even with Melvin Gordon back in the lineup thanks to his hyper efficiency. So far this season, Ekeler has racked up 507 yards and five scores as a receiver. That way overshoots the expected production of backs who have seen targets in the exact same locations as Ekeler. Looking at those numbers we see an expectation of 326 yards and two touchdowns. Unfortunately, those numbers suggest regression will likely be coming for Ekeler over the second half of the season.
Matchup upgrade: After a rough stretch of games, Gordon actually showed some signs of life, getting into the end zone against the Bears. But despite the touchdown, he finished outside of the top 24 running backs for the week. Over the last four weeks, he ranks a lowly 33rd at the position in fantasy scoring. While it's certainly tempting to just wipe our hands of Gordon, it's wise to give him one more look. Green Bay has been one of the best matchups this season for running backs and currently allow the second-most yards per carry to the position.
Matchup downgrade: Davante Adams is practicing in pads for the first time since Week 4 and looks like he's trending toward playing this weekend. While it will be good to have him back, Adams owners should be aware that shadow coverage is likely to come from Casey Hayward. The former Packers corner has been one of the league's best shadow corners over the last few seasons. In 2019, Hayward is allowing just 53% of his targets to be caught and is coming off a shutout last week against the Bears where he surrendered zero catches on three targets.
Key injuries: None.
Greenline: NE -3.5, O/U 45.1
Fantasy facts: It hasn't been the sexiest fantasy season for Sony Michel, but he's remained locked in place as the Patriots' preferred ball carrier. While Michel ranks just 22nd among running backs in PPR scoring, he is second in the league in goal-line carries with 12 and third in the league in red-zone carries with 30. Those high-value carries suggest Michel is an interesting buy-low candidate. It's wise to see if you can get him on the cheap for the fantasy stretch run.
Matchup upgrade: Good luck finding a good matchup in this one.
Matchup downgrade: One of the biggest questions in fantasy circles this week is whether or not you should brave the Patriots defense and start Lamar Jackson. There are viable concerns here, as the Pats allow the fewest fantasy points per game to quarterbacks. That said, there are times where it's best to roll with your stud. This is one of those times. Jackson comes in at No. 5 in the PFF staff consensus fantasy football rankings. If you also have one of the four quarterbacks ahead of Jackson, then go with them. Otherwise, sticking with Jackson is your best play.
Landing with the Patriots was certainly a good thing for Mohamed Sanu's fantasy stock, but this isn't the week to fire him up as a starter. Sanu draws a tough WR/CB matchup against another recently traded player in Marcus Peters. Entering Week 9, Peters grades out as the No. 4 corner in the league. He's been thrown at just 16 times in 241 routes covered this season. It'll likely be a quiet day for Sanu this week.
Key injuries: Marquise Brown looks like he has a good shot at returning to the field this week. Brown certainly has major fantasy upside, but it's tough to get behind starting him this week against the Patriots secondary.
Greenline: DAL -7.5, O/U 47.4
Fantasy facts: The Cowboys are feeding Ezekiel Elliott in the red zone. So far this season, Elliott has racked up nine goal-line carries, scoring on five of them. That's just two fewer goal-line carries than he saw all last season. Elliott's red-zone usage gives him one of the highest ceiling/floor combinations in the league.
Matchup upgrade: Of course, you're going to start Amari Cooper every week, but we also want to make sure to fire up Michael Gallup this week. The Cowboys duo draws a fantastic WR/CB matchup against the Giants secondary. Both receivers will see coverage from Janoris Jenkins, who ranks sixth among this week's starting corners in fantasy points allowed per route run.
Matchup downgrade: Daniel Jones is coming off a four-touchdown day last week, but don't let that performance fool you into starting him this week. The Cowboys have been tough on quarterbacks this season and enter the week as the fifth-toughest matchup for the position. Dallas surrenders just 0.9 passing scores per game.
Key injuries: None.