The Fantasy Focus is a weekly column that breaks down everything you need to know to set your fantasy football lineups. Make your start and sit decisions with fantasy facts, injury information, matchups stats, predictions for the week and more.
Staring at your roster isn't going to reveal a magical set of answers to the test that will tell you all the "right" plays to make this week. I know. You want to squeeze every possible point out of your lineup, and that's fair. But sometimes, you get thrown a curveball that you didn't see coming. There really isn't anything you can do there because no one sees those coming in fantasy football.
So what do you do? Set your lineups with the highest percentage plays and roll into battle. How do you determine these plays? Believe it or not, it's actually pretty simple. Take a peek at the PFF fantasy football rankings and start the guys ranked highest. If it's close between two of your players, consult our fantasy football matchups charts and start the player with the best matchup. If it's still too close, you can become a PFF Elite subscriber and put the question out there to our Elite Facebook group.
Otherwise, you've done everything you can to this point. The rest is out of your hands. Best of luck to you this weekend, and don't forget to enjoy the games. We only just over a month away from the NFL offseason.
Greenline: HST -0.6, O/U 49.5
Fantasy facts: Jameis Winston is on a heck of a run over the last three weeks. Tampa's signal-caller leads all quarterbacks in fantasy scoring during that span with an eye popping 1,182 passing yards. Winston is now just 427 yards away from becoming just the eighth quarterback in NFL history to top 5,000 passing yards. Of course, that's beside the point for fantasy purposes. Should we start Winston this week even though he'll be without Mike Evans and Chris Godwin? The short answer is yes. While the Bucs are decimated at wideout, Winston draws the No. 2 fantasy matchup for quarterbacks and showed us last week that he can still get it done even with his wideouts dropping like flies. Don't overthink this one.
Matchup upgrade: Good news for anyone who owns DeAndre Hopkins: The Bucs are the No. 1 fantasy matchup for wideouts on the season, with a massive 202 receiving yards per game allowed to the position. Hopkins is an elite play this week. Will Fuller is a little trickier given his nagging hamstring injury, but his big-play ability gives him a boom-or-bust WR3 profile this week. We're also upgrading Deshaun Watson in this matchup. Tampa Bay is one of just six defenses currently allowing more than two passing scores per game.
Matchup downgrade: While the Houston passing game is in a good spot this week, it's tough to like this matchup for Carlos Hyde. Tampa has stifled the run all season and enter the week as the No. 30 matchup for the position. This isn't the week to roll with Hyde.
Key injuries: All the Tampa injuries at wideout opened the door for Breshad Perriman to be an unlikely top fantasy wideout in Week 15. With Evans, Godwin, and Scotty Miller all out, Perriman figures to see a heavy workload. While it's easy to fall in love with last week's numbers, be careful. Perriman essentially only has that one big game in what has otherwise been an extremely disappointing career. Perriman could certainly go out and do it again, but it's best to view him as more of a WR2 option given his extreme volatility.
Greenline: NE -7.9, O/U 38.4
Fantasy facts: Generally speaking, 2019 was a big success for Josh Allen from a fantasy standpoint. The Bills signal-caller was widely selected as a late-round option, and he enters the week as the No. 6 fantasy quarterback. Sure, the passing numbers don't impress with just 2,876 yards and 18 scores through the air, but Allen's ability to run shouldn't be understated. His 467 rushing yards ranks third in the league among quarterbacks and he leads the position with a massive nine rushing scores. Allen did find the end zone as a runner against New England in Week 4, but he also threw for just 153 yards and three interceptions. He was the No. 25 fantasy quarterback that week. In other words, don't start him this week.
Matchup upgrade: The schedule makers weren't kind to us with this one. There's isn't a good matchup to be had.
Matchup downgrade: John Brown has quietly had an impressive season in 2019. The Bills wideout topped 1,000 receiving yards for the season last week and currently ranks 19th among wideouts in fantasy scoring. But it's tough to have much confidence in him with the Patriots on the schedule this week. Brown saw a shadow from Stephon Gilmore in this same matchup back in Week 4. While he did see nine targets against Gilmore, Brown only caught four of them and was generally bottled up for most of the day. Likewise, it's tough to love Devin Singletary in this matchup. The rookie should see enough volume to crack the top-25 running backs in fantasy scoring, but his ceiling is seriously capped.
Key injuries: Julian Edelman has been limited in practice this week, but doesn't appear to be at risk of sitting out. He remains a high volume WR1 play.
Greenline: SF -5.2, O.U 44.4
Fantasy facts: Tyler Higbee has been a fantasy revelation over the last three weeks. After being lightly used for the first 12 weeks of the season, Higbee took over as the primary pass-catching tight end with Gerald Everett sidelined, and proceeded to rack up three-straight 100-yard performances. Higbee leads the position in fantasy scoring over that span and moved up from the No. 35 fantasy tight end in Week 12 all the way up to the No. 10 for the season. While Everett is practicing in full and expected to play, the genie is out of the bottle on Higbee. Consider him an elite fantasy even against a tough 49ers defense.
Matchup upgrade: This is another contest where you'll have a hard time finding a matchup upgrade.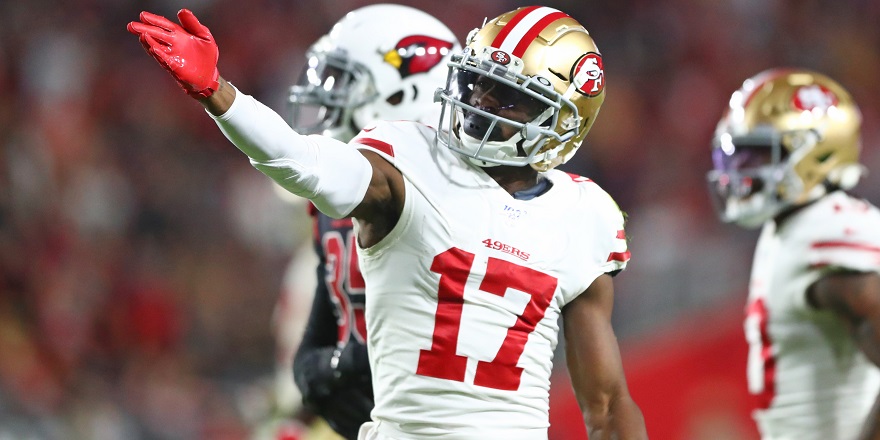 © Mark J Rebilas-USA TODAY Sports
Matchup downgrade: It's been a bit of a fantasy roller coaster ride for Emmanuel Sanders over the last month with the 49ers wideout posting a big day in Week 14 and then crashing back to earth last week. Fantasy owners shouldn't be optimistic that Sanders will bounce back on Saturday night. With the Rams on the schedule, Sanders is a good bet to draw a shadow from Jalen Ramsey. Over the last month, Ramsey is seeing just 2.5 targets per game thrown into his coverage. Expect a quiet day from Sanders.
We're also downgraded essentially everyone on the Rams outside of Higbee. Todd Gurley may have scored twice last week, but he was horribly inefficient. It's tough to trust him as anything more than an RB2 play. Robert Woods and Cooper Kupp might also be in the mix for folks making their start/sit decisions. Let's be clear that neither has a particularly good draw here, but both have the potential to return WR2 numbers.
Key injuries: We never mention kickers in this column, but there's a first time for everything. Greg Zuerlein looks like he'll miss this contest, so adjust according if you were somehow using him.
Greenline: ATL -7.3, O/U 46.9
Fantasy facts: Over the first seven weeks of the season, Matt Ryan was on a roll. The Falcons signal-caller ranked sixth among quarterbacks in fantasy scoring and had already tossed 15 passing scores. An untimely ankle injury had him out in Week 8, and since then Ryan ranks a disappointing 19th at the position in fantasy scoring. While it's unlikely you ran your way through the playoff gauntlet with Ryan, he does draw a favorable matchup this week with the Jags allowing the 11th-most fantasy points per game to quarterbacks. He's in the mix as a QB1 option.
Matchup upgrade: There was a bit of fantasy buzz surrounding Devonta Freeman entering the season, but the Falcons running back has generally been a disappointment outside a decent performance against the Panthers just a few weeks ago. That said, Freeman does get a positive draw this week against the Jags. Jacksonville allows a massive 5.3 yards per carry to running backs this season. That being said, it's still tough to rely on Freeman as anything more than a back-end RB2.
Matchup downgrade: Unlike the last two games, all of the matchups in this one are neutral or better. That said, it's tough to start any of the Jaguars with any confidence, with the one notable exception of Leonard Fournette.
Key injuries: We're keeping an eye on D.J. Chark's status. The breakout wide receiver managed to get limited work in on Wednesday and Thursday, but is far from a lock to suit up this week. Chark owners should view it as a pleasant surprise if he manages to suit up.
Greenline: BLT -9.1, O/U 48.5
Fantasy facts: Nick Chubb leads the league with seven 100-yard rushing performances this season. Last year only two running backs hit that number – Saquon Barkley and Ezekiel Elliott – and no one did in 2017. While this matchup is far from optimal for Chubb, fantasy owners need to keep going back to the well. He remains a top-12 option this week.
Matchup upgrade: You aren't going to find any upgrades here, but it isn't terrible for most players in this contest with the exception of the Browns passing game.
Matchup downgrade: Odell Beckham Jr. may be staying with the Browns in 2020, but that doesn't mean you should start him with any confidence this week. The Ravens secondary has been outstanding over the second half of the season, with all three starting corners grading out in the top 35 in PFF grades. As crazy as it would have seemed four months ago, Beckham is best viewed as a WR3 play this week. As for Baker Mayfield, there's simply no way you can stream him this week in 1QB leagues.
Key injuries: None
Greenline: NO -2.7, O/U 49.9
Fantasy facts: Volume is king in fantasy football. Case in point: Derrick Henry. We saw the Titans back go on an absolute tear last December after Tennessee finally decided to feed him. That workload thankfully continued in 2019, as Henry currently leads the league with 271 carries and is now just 11 touches shy of 300. When running backs see this many touches, it's almost impossible for them not to finish in the top-12 at the position. Henry currently sits sixth and essentially locked in as RB1 this season regardless of how he finishes. To be clear, this isn't the best matchup, but Henry remains in play as a solid RB1 option.
Matchup upgrade: Sure, it's been somewhat of a disappointing fantasy season for Alvin Kamara, but the Saints back does still rank 11th among running backs in fantasy score. He also has the chance to finish out the fantasy season in style. The Titans were one of the league's top run defenses earlier in the year, but they're the No. 7 matchup for the position since Week 10. Opposing running backs average one rushing score per game over that span.
Matchup downgrade: A.J. Brown has had a meteoric rise over the second half of the season. The rookie wideout has been a top-12 fantasy receiver over the last month and a half and ranks second at the position over the last three weeks. There's some debate as to whether Marshon Lattimore will shadow Brown this week. Lattimore shadowed last in Week 13, and teams have historically shadowed Corey Davis. But that was before Brown emerged. We certainly could just see Lattimore and Eli Apple play their sides. While this has the chance to be a slight downgrade, there just isn't enough here to warrant downgrading Brown significantly. If you own Brown, you should start him this week unless you're completely loaded at wideout.
Key injuries: Henry is the only injury of note to skill position players. He missed practice on Thursday, but we've seen this out of him over the last few weeks. Henry isn't likely to be sidelined this week, but it's a good idea to keep an eye on his status on Sunday.
Greenline: IND -6.5, OU 46.9
Fantasy facts: Marlon Mack ended more than a few fantasy playoff runs last week, but the Colts back could end up being a hero in the championship round. Carolina simply can't stop the run. The Panthers have allowed 167 rushing yards and two rushing scores per game to running backs over the last month and are now the No. 1 matchup on the season. Sure, Mack comes with some risk, but the matchup pushes him up into fringe RB1 territory.
Matchup upgrade: A lot of D.J. Moore owners are concerned by the Panthers shift from Kyle Allen to Will Grier, but it's wise to relax a bit if you're in that camp. Grier is not a significant downgrade from Allen, and if anything, he has a better arm to get the ball downfield. Better yet, the Colts are the No. 1 fantasy matchup for wideouts over the last six weeks. Moore remains a WR1 play.
Matchup downgrade: Tight end has been brutal yet again this season, but we have been able to rely on Jack Doyle at various points down the stretch following Eric Ebron's season-ending injury. Unfortunately, this is not one of those times. The Panthers have done a good job against tight ends this season and allow the second-fewest fantasy points per game to the position.
Key injuries: Greg Olsen cleared the league concussion protocol and will play this week. That takes Ian Thomas out of the streamer conversation. Olsen isn't worth stream either. Also, keep an eye on Curtis Samuel's status. The wideout popped up on the injury report on Thursday with an ankle.
Greenline: CIN -0.4, O/U 45.8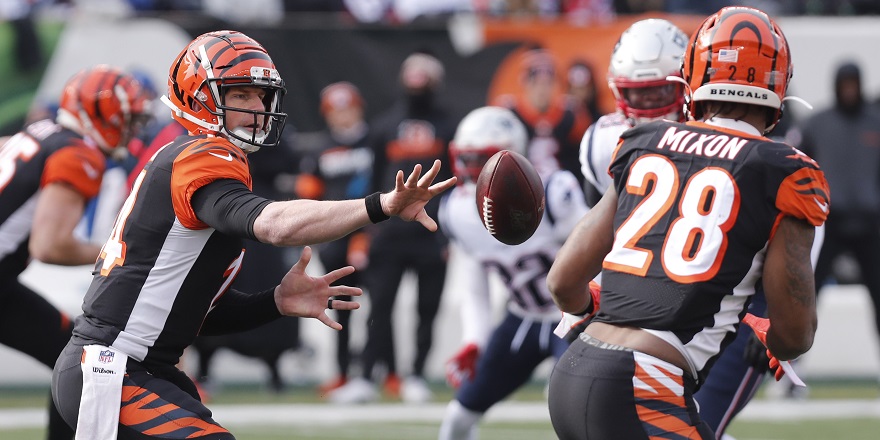 © David Kohl-USA TODAY Sports
Fantasy facts: Joe Mixon leads all running backs in rushing attempts since Week 10 with 130. He's second among running backs in rushing yards (605) and fourth in at the position in fantasy scoring over that span. Those numbers are likely going to get lost when we roll into fantasy draft season next August, as Mixon ranks just 15th among running backs in PPR scoring on the season. While the Bengals are going to look very different next year, Mixon's late-season volume is very encouraging for the future and will likely make him a decent value in 2020 fantasy drafts. Oh, and if you own him, he's a top-five play this week.
Matchup upgrade: Ryan Fitzpatrick is one of the most volatile fantasy quarterbacks in recent history. Any week, he can go out and post a top-five fantasy performance or finish as one of the worst signal-callers of the week. It's important to keep that in mind if you're considering streaming him this week. Yes, the Bengals are a great matchup for him, but his wide range of potential outcomes makes him extremely risky with the fantasy championship on the line.
Matchup downgrade: It's all good in this one.
Key injuries: A.J. Green remains allergic to playing football.
Greenline: PIT -2.3, O/U 38.1
Fantasy facts: Jamison Crowder may have had the fourth-most PPR points among wideouts last week, but don't beat yourself up if you didn't start him. Even after that performance, he still only ranks as the No. 35 wideout on the season. In other words, he was a WR4 entering last week, which means he was almost certainly going to be on your bench no matter what. There will likely be a few surprises this week as well, but there's no way to see them coming. That's why they're surprises. With that in mind, make sure you're checking out our fantasy football rankings to make sure you're making the best plays possible.
Matchup upgrade: There isn't a ton to love in this contest, but those looking for an upside DFS option make want to consider James Washington. He has four catches of 40-plus yards on the season and gets a favorable draw against Nate Hairston. The Jets corner is allowing a 75% catch rate with three touchdowns scoring in his coverage over his last four games.
Matchup downgrade: Yes, it's a Le'Veon Bell revenge game, but don't get too excited about it. Bell gets a brutal draw with the Steelers allowing the fourth-fewest fantasy points per game to running backs on the season. Opposing backs average just 3.8 yards per carry against the stout Pittsburgh run defense. Bell is a back-end RB2 this week.
Key injuries: JuJu Smith-Schuster got a full practice in on Thursday. While this is certainly encouraging, it's almost impossible to roll him out there as a fantasy starter this week. Better days are ahead of Smith-Schuster in 2020.
Greenline: WAS -1, O/U 41.7
Fantasy facts: Saquon Barkley posted 143 scrimmage yards and two touchdowns last week. His 31.0 PPR points were his most of the season. That may be too little too late for some teams who drafted him first overall this year. But if you managed to get into the championship round with Barkley on your squad, the Giants running back is posed to finish the season with a bang. Washington got absolutely shredded by Miles Sanders last week, so expect another big day from Barkley.
Matchup upgrade: We correctly predicted Terry McLaurin's big day last week, so let's do it again. McLaurin faces one of the league's worst secondaries with the Giants starting a cast of never-have-beens. They're the No. 4 fantasy matchup for wideouts this season, making McLaurin a rock-solid WR2 option with a high ceiling in this contest.
Matchup downgrade: None
Key injuries: Adrian Peterson didn't practice on Thursday, but this has been a pattern for the veteran. He's a good bet to play and makes for a low-ceiling RB2 option against the Giants.
Greenline: DEN -6.3, O/U 38.1
Fantasy facts: Kenny Golladay has had 20 targets over the last three weeks with David Blough under center. Danny Amendola has 29 over that same span. Now, that's not to say that we're starting Amendola over Golladay, but we should think twice before just blindly starting Golladay. In addition to the decreased volume, Golladay will also likely have to deal with a shadow from Chris Harris Jr. At best, we're considering him a back-end WR2 play.
Matchup upgrade: Phillip Lindsay struggled in the snow last week along with the rest of the Broncos offense, but he's poised to bounce back against the Lions. Detroit allows the sixth-most fantasy points per game to running backs, positioning Lindsay as a solid RB2 in a game where Denver is now heavily favored.
Matchup downgrade: Courtland Sutton really took a step forward this season, and is poised to be a top-20 option for the next several seasons. However, being the clear No. 1 also means that you often draw the toughest coverage. That's certainly the case this week, as we expect a shadow for Sutton from Darius Slay. While Slay isn't necessarily an elite corner this season, he is holding opposing wideouts to a 57% catch rate and saw just two balls thrown into his coverage last week.
Key injuries: Will Kerryon Johnson get back on the field this week? We don't know just yet, but he certainly trending that way. Regardless of his stats, it's just too risky to start Johnson with a fantasy title on the line.
Greenline: LAC -7, O/U 45.3
Fantasy facts: With Josh Jacobs out, the Raiders will again turn to DeAndre Washington as their league back this week. The good news is we have a good sense of Washington's usage, as he started just two weeks ago. In that contest, he has 20 touches and finished the week as the No. 9 RB in PPR. Don't get too carried away here, but Washington does have the potential to provide RB2-plus production this week.
Matchup upgrade: Philip Rivers isn't likely a quarterback you'll be relying on this week, but the veteran does get a favorable draw. Oakland's secondary has gotten picked on for most of the season, and the Raiders enter the week as the No. 3 matchup for quarterbacks.
Matchup downgrade: Derek Carr also isn't likely a quarterback you'll be relying on this week, and for good reason. The Chargers have been one of the toughest matchups for signal-callers this season with only the Patriots, Bills, and Ravens allowing fewer fantasy points per game to the position.
Key injuries: None
Greenline: DAL -0.5, O/U 46.5
Fantasy facts: Zach Ertz had one end-zone target over the first 11 weeks of the season. He's had seven over the last four games. All that work in the red zone is almost certainly a byproduct of the Eagles being absolutely decimated at wide receiver. But let's not overthink this one. Ertz is an elite play in all fantasy formats this week. We're also upgrading Dallas Goedert, who had four catches for 69 yards and a score when he faced Dallas back in Week 7.
Matchup upgrade: Amari Cooper pulled a Houdini and disappeared from the box score last week with just one catch for 19 yards against the Rams. While that stat line certainly doesn't instill much confidence in Cooper, his matchup is just too juicy to pass up. Cooper faces a lackluster Eagles secondary that has consistently gotten torched by opposing wideouts this season. Jalen Mills is allowing a jaw-dropping 20.7 yards per catch over the last month. Cooper bounces back in a big way.
Matchup downgrade: Sure, this is technically a downgrade for Ezekiel Elliott, but he's locked into starting lineups in season-long leagues no matter what. Better yet, when these two teams squared off back in Week 7, Elliott went for 111 yards and a score on the ground and chipped in six catches for 36 yards as a receiver.
Key injuries: Nelson Agholor and Jordan Howard look like they'll again be sidelined for the Eagles. Their absence means more of Greg Ward and Miles Sanders. Ward is still a risky play in season-long leagues, but Sanders is a fringe-RB1 option this week.
Greenline: SEA -10.3, O/U 49.8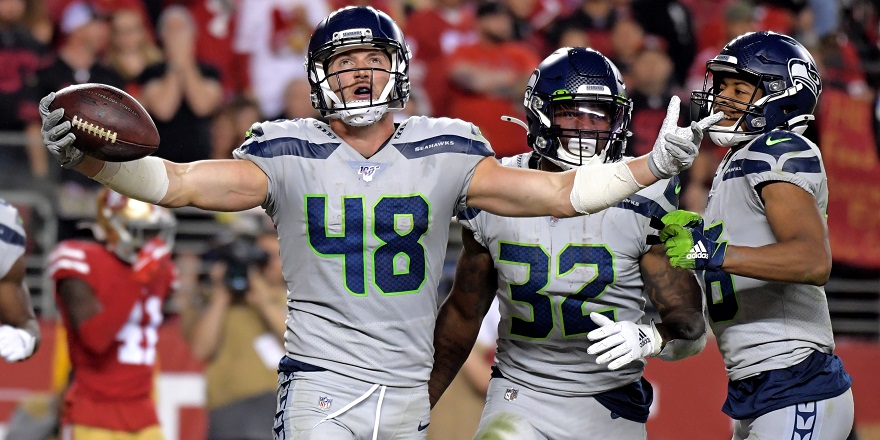 © Kirby Lee-USA TODAY Sports
Fantasy facts: Opposing tight ends averaging 6 catches, 73 receiving yards, and 1.1 receiving touchdowns against the Cardinals. It's no secret that this is a phenomenal matchup. But what does that mean for Jacob Hollister? While it's tempting to roll him out there over someone like Hunter Henry, that is a bit too ambitious of a move. Hollister is the top streamer of the week, but starting him over one of the top-10 fantasy tight ends is getting too cute.
Matchup upgrade: Getting Patrick Peterson back has not mattered for the Cardinals. Since Week 7, Arizona has surrendered the fourth-most fantasy points per game to opposing receivers, with wideouts averaging 195 yards against the Cards. That's great news for Tyler Lockett owners. Lockett is a top-15 play this week. We may also want to give D.K. Metcalf a long look. The rookie comes with major touchdown upside and is worth consideration as a back-end WR2 play.
Matchup downgrade: None
Key injuries: None
Greenline: KC -5.2, O/U 45.1
Fantasy facts: The bounceback season for Allen Robinson just keeps getting better. Over the last month, Robinson leads all wideouts with 46 targets, two more than Michael Thomas. That heavy volume has helped Robinson post a healthy 26 catches and two 100-yard games over that span. While this is a tough matchup on paper, there's just no way you can fade Robinson this week given his recent workload and production.
Matchup upgrade: It certainly hasn't been the best rookie season for David Montgomery, as the Bears back ranks just 22nd among running backs in PPR scoring. However, he does offer some appeal in this matchup, as the Chiefs have struggled against the run in 2019. Opposing backs average 4.9 yards per carry against Kansas City, giving Montgomery RB2 appeal this week.
Matchup downgrade: Sure, this isn't the best matchup for Patrick Mahomes, but come on. You didn't draft him in the second round back in August to bench him, did you?
Key injuries: Damien Williams has gotten limited work in at practice this week, but he isn't a fantasy option even if he does return to the field on Sunday.
Greenline: MIN -5, O/U 47.1
Fantasy facts: Dalvin Cook leads the league with 21 goal-line carries this season. Cook is almost certainly not going to play on Monday night, and Alexander Mattison is trending toward being out as well. That leaves Mike Boone, who was also used heavily in the red zone last week with six carries in the red zone and one goal-line carry. While Boone certainly isn't as good a player as Cook or Mattison, he's fresh and showed last week that he can get it done if given the opportunity. Boone has the chance to be an unlikely fantasy championship winner for a lot of teams this week.
Matchup upgrade: Davante Adams entered 2019 as one of the top receivers in fantasy, but the Packers got off to a slow start and also missed time with a toe injury. But Adams has been able to right the ship down the stretch and is coming off a big performance against the Bears last week. Adams gets a bit upgrade against the struggling Vikings secondary especially when he draws Xavier Rhodes in coverage. Rhodes has allowed a massive 54 catches on 64 targets with four touchdowns surrendered on the season.
Matchup downgrade: While the Vikings struggle against the pass, they have fared well against the run. Aaron Jones has been uber volatile this season showing both one of the highest fantasy ceilings and lowest fantasy floors among all running backs. However, even in a tough matchup, it's really hard to get away from not starting him. And let's not forget that one of Jones' three 100-yard rushing games this season did come against the Vikings.
Key injuries: The Cook and Mattison injuries are the big story here, and neither player looks likely to suit up.