The Fantasy Focus is a weekly column that breaks down everything you need to know to set your fantasy football lineups. Make your start and sit decisions with fantasy facts, injury information, matchups stats, predictions for the week and more.
Don't get cute in the fantasy playoffs. Start your studs.
You've heard that one before, I'm sure. But far too often, people hit me up with horror stories of how they overthought a matchup and benched a fantasy starter for a bench guy in a good matchup. That sort of play rarely works. When it does, you feel like a genius. But when it doesn't, well, you feel like an idiot.
Sure, sometimes the wrong plays end up being the best plays. However, far more often, the right plays are better. Make those plays, and you're going to win more often than you don't. It isn't worth trying to outsmart fantasy football because you're never going to be able to do so on a consistent basis.
So play your studs, and beyond that, start your best players. For each start/sit decision you have this week, think about it over the long term. How likely is one player to outscore another player if you played this week out 100 times? Sure a deeper upside guy might be the higher scorer 35 times, but that means the other player is the better start 65% of the time. That's a big-time edge that shouldn't be faded.
But hey, if it doesn't work out for you, don't take it too hard. If you made the right plays and someone blows up on your bench, that's out of your hands. At that point, it's not your fault. The good news is that there's always more fantasy football ahead.
Greenline: ATL -3.3, O/U 47.1
Fantasy facts: Things might not be going right for the Panthers as a whole with Ron Rivera now fired, but you wouldn't know it by looking at D.J. Moore's stats over the last month. The second-year wideout has been on fire over that span, ranking first among wideouts in targets with 46 and third in fantasy scoring. Moore has moved all the way up to WR1 territory for the fantasy stretch run.
Matchup upgrade: The preseason fantasy buzz for Devonta Freeman didn't quite come to fruition this season, but there's still hope for Freeman. The Panthers enter the week as the No. 2 matchup for running backs and are coming off a Week 13 contest where they surrendered 248 rushing yards to the Redskins. That said, don't get too carried away with Freeman. He's still just an RB2 play.
Matchup downgrade: Julio Jones looks like he'll get back on the field after missing last week's contest. Expect Jones to see a shadow from James Bradberry just like he did back in Week 11. In that game, Bradberry tracked Jones on just under 75% of his routes with Jones catching 2-of-4 targets for 30 yards in Bradberry's coverage. Sure, that doesn't sound great, but season-long owners of Jones shouldn't overthink this one. Jones Is still a WR1 play.
Key injuries: With Greg Olsen in the league concussion protocol, there's a chance we see a lot of Ian Thomas this weekend. Thomas would be a priority streamer who offers top-15 fantasy potential. … Both Austin Hooper and Julio Jones managed to get limited work in at practice this week and could return to the field for Sunday's contest. While it's always tricky with injuries, both players need to be started in season-long leagues if they do suit up.
Greenline: BLT -6, O/U 44.3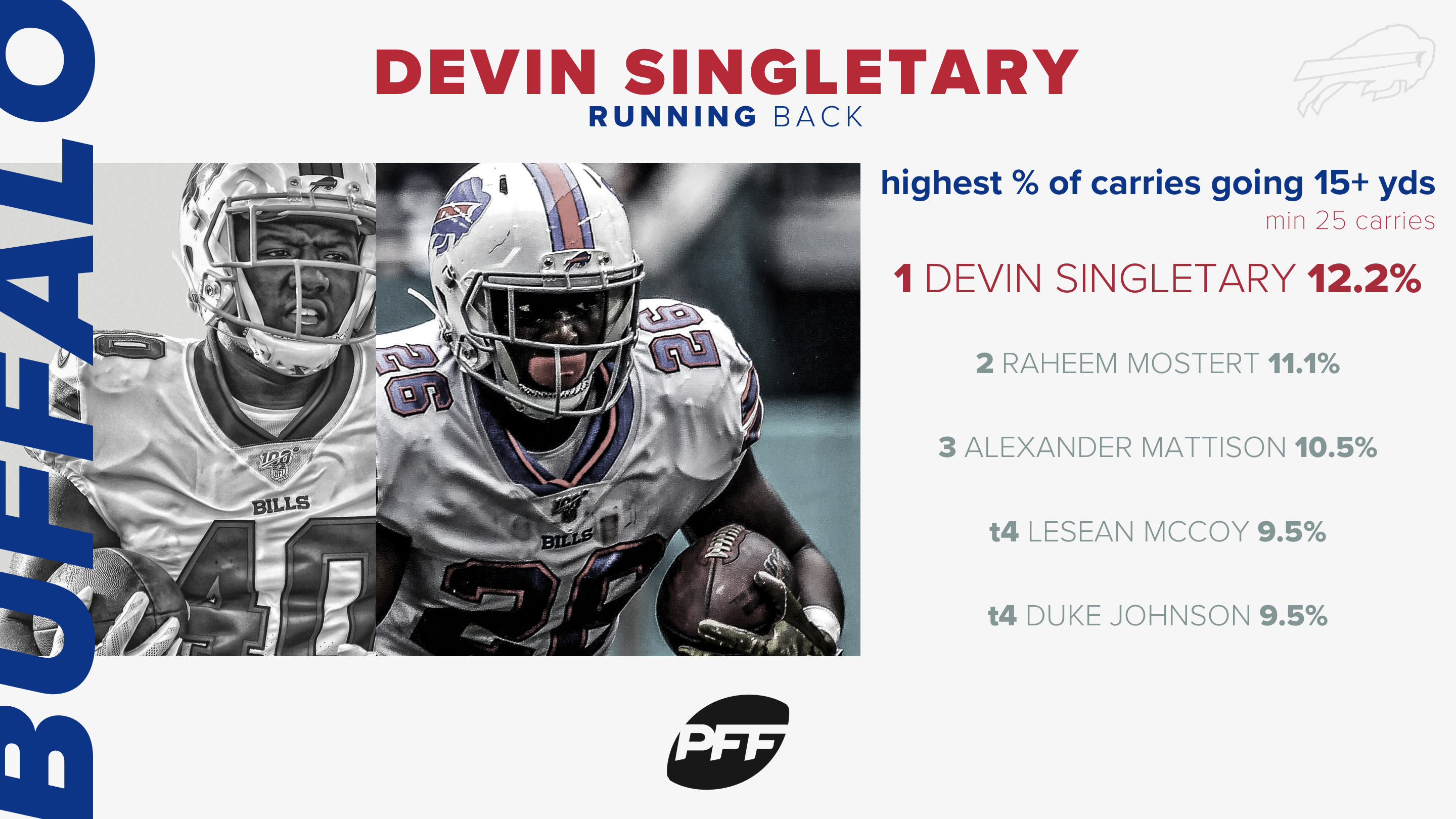 Fantasy facts: This is a tricky week for a lot of fantasy players out there, because a bad decision could mean the end of your season. While there's no way to guarantee you'll be right with every decision you make, you can at least give yourself the best chance with the highest-percentage plays. Devin Singletary might not be a slam dunk of a play in this matchup, but the rookie comes with a high ceiling, as is evident from his 12 runs of 15-plus yards this season. That ceiling makes Singletary an RB2 play against a Ravens defense that did just give up a big day to Raheem Mostert.
Matchup upgrade: There aren't any good matchups to be found in this one. That said, Lamar Jackson owners shouldn't overthink it. He's an every-week elite play regardless of matchup.
Matchup downgrade: The Bills made a great offseason signing with John Brown, as the veteran receiver enters the week with 61 catches for 882 yards and five scores. Most weeks, Brown is in play as a solid WR2 option, but he gets a rough draw against the impressive Ravens secondary. Brown will see his share of Marcus Peters, who has been nothing short of spectacular since being traded from the Rams. In six games with the Ravens, Peters is allowing just 10.8 yards per catch. At best, Brown is a fringe-WR2 play.
We're also downgrading Marquise Brown in this contest. Sure, the rookie wideout has big-time upside, but he's a good bet to draw a shadow from Tre'Davious White. The Bills standout has been stingy in shadow coverage Over the last five weeks, holding in check Terry McLaurin, Odell Beckham, Courtland Sutton, and Amari Cooper. Fade Brown this week.
Key injuries: None
Greenline: CLV -7.2, O/U 41.3
Fantasy facts: No quarterback has thrown the ball to the end zone more often over the last month than Baker Mayfield. Sure, it hasn't been the season many had hoped for the former Heisman winner, but Mayfield is showing signs of life for the fantasy playoffs with his 14 end-zone throws over his last four games. Better yet, Mayfield gets plus matchups with the Bengals this week and the Cardinals next week.
Matchup upgrade: Not that Nick Chubb owners need a reason to start him, but the Browns back gets a reasonably favorable draw in this one. But be careful. Earlier in the season, the Bengals were essentially a fantasy cheat code for running backs, but they have steadied the ship over the last five weeks. During that span, Cincinnati actually ranks as the fifth-toughest matchup for the position. That said, Chubb should see heavy volume yet again this week.
Matchup downgrade: It hasn't been the best season for Joe Mixon, but he has surged in the middle of the year. Over the last five weeks, Mixon ranks ninth among running backs in PPR scoring. That said, it's better to view him as more of an RB2 option this week, as the Browns are relatively tough on opposing running backs. Cleveland enters the week as just the 22nd-best matchup for the position.
Key injuries: It's official. A.J. Green is allergic to playing football.
Greenline: GB 12.3, O/U 42.3
Fantasy facts: Since returning from injured reserve, Derrius Guice ranks seventh among running backs in fantasy scoring. That would be impressive enough if Guice was the primary back, but he's put up these numbers on the short end of the backfield committee with Adrian Peterson. Over that span, Peterson has seen 35 touches, four more than Guice. But the young back has been extremely explosive and efficient, averaging a massive 6.85 yards per carry.
Matchup upgrade: So that raises the question: should we start Guice this week? While we don't expect the backfield committee to change this week, Guice does offer some sneaky appeal given the matchup. Green Bay has been very fantasy friendly for opposing running backs this season and enter the week as the No. 4 matchups. Opposing backs average a healthy 4.9 yards per carry and 1.1 rushing touchdowns per game against the Packers. Guice is far from safe, but he's worth consideration as a flex option.
Matchup downgrade: The Redskins are banged up at wide receiver with both Trey Quinn and Paul Richardson out of practice. Ordinarily that might have us on Terry McLaurin, but Dwayne Haskins really takes the wind out of the sails of McLaurin's fantasy prospects. Likewise, he could also draw some reasonably tough coverage from Jaire Alexander. McLaurin is a boom-or-bust WR3 who doesn't offer the safest fantasy profile this week.
Key injuries: Jimmy Graham is dealing with a calf injury and missed practice Wednesday. Even if Graham does suit up, it's a good idea to look elsewhere for a streamer.
Greenline: MIN -12.2, O/U 43.7
Fantasy facts: The initial timetable of six weeks for Matthew Stafford seems like it's holding true. Stafford remains week-to-week and could certainly miss the remainder of the season. That means the Lions will continue to use David Blough under center for the foreseeable future. There's a common misconception that young quarterbacks tend to dink and dunk the football, but we often observe the exact opposite. That was certainly the case for Blough last week, as he averaged a healthy 9.2-yard average depth of target on Thanksgiving. His propensity to push the ball downfield isn't enough to make Blough fantasy-relevant, but it does keep the wideouts in play this week.
Matchup upgrade: Kenny Golladay showed last week that he can still get it done with a third-string quarterback under center. Golladay is a good bet to continue to roll against divisional rival Minnesota. The Vikings secondary has been extremely suspect in 2019 with the once-formidable Xavier Rhodes becoming one of the league's better matchups. Rhodes enters the week allowing a massive 87% of his targets to be caught. Golladay slots in as a high-ceiling WR2. We're also viewing Marvin Jones as an upgrade as a WR3 play.
Matchup downgrade: Given the Lions' man-coverage tendencies, we fully expect Darius Slay to shadow Stefon Diggs in this contest. Slay is holding opposing receivers to a 52.7% catch rate on the season. Of course, it's easy to overthink things in season-long leagues. If you own Diggs, this matchup is not enough to warrant benching him. Diggs is still a fringe-WR1.
The Seahawks may have run all over Minnesota last week, but that doesn't mean you should fire up Bo Scarbrough with any confidence. The Vikings allow just 0.3 rushing scores per game to opposing running backs. Given Scarbrough's lack of homerun hitting ability, he's the type of player who really needs to find the end zone to offer fantasy value. That isn't likely this week, so Scarbrough is a low-upside flex play.
Key injuries: All eyes are on Dalvin Cook, after the star running back left last week's contest with a shoulder injury. Cook managed to get limited work in on Wednesday, which is a good sign for him suiting up this week. However, if he suffers any setbacks, Alexander Mattison would be a top-10 play. … Cook's teammate, Adam Thielen, looks much iffier after not practicing on Wednesday. Thielen was trending toward playing last week, but appears to have suffered a setback. Thielen owners should plan for him to not play. … T.J. Hockenson went to injured reserve this week. There isn't a tight end worth a look on the Lions roster.
Greenline: NO -4.5, O/U 46.9
Fantasy facts: If you play preseason DFS (yes, people do that), you've likely known about Raheem Mostert. He's been one of the league's best preseason performers over the last half-decade. Here are some of his statistical highlights over that span: 87 rushing attempts at 5.2 yards per carry and two scores to go along with 21 catches at 18.4 yards per reception. Sure, it's the preseason. Who cares? Well, we should. Often, players who flash in the preseason can eventually flash in the regular season if they get the opportunity. Mostert got the opportunity and seized it last week. That said, it's extremely risky to start him this week. It's best to view Mostert as a strong bench hold who could potentially be in play next week.
Matchup upgrade: All the matchups are either neutral or worse in this one.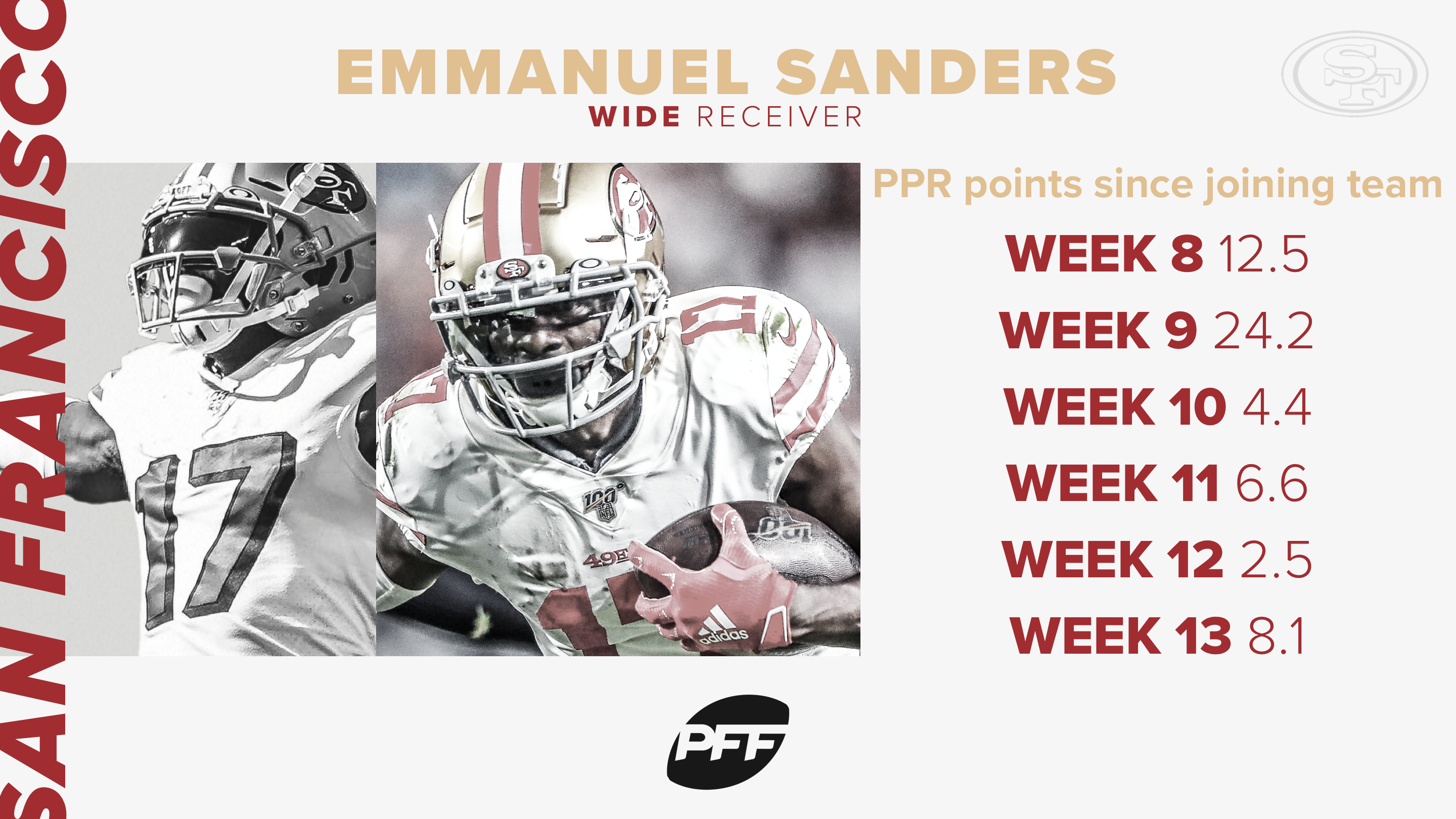 Matchup downgrade: Emmanuel Sanders got off to a hot start over his first two games with the 49ers, but since then he's battled injury and his fantasy stock has crashed. Since Week 10, he ranks a lowly 68th among wide receivers in fantasy scoring. That fact plus a good chance he sees a shadow from Marshon Lattimore make Sanders a fade candidate in season-long leagues this week.
Key injuries: Last week was frustrating for George Kittle owners. The fantasy stud managed just two catches for 17 yards. Kittle clearly wasn't 100% and remains limited in practice. While this is far from an optimal situation, Kittle owners will essentially have to start him if he goes. Kittle at 80% is still better than most tight ends in the league.
Greenline: NYJ -5.8, O/U 44.8
Fantasy facts: Over the last month, only five non-quarterbacks have scored more fantasy points than DeVante Parker. Over that span, Parker has 25 catches on 38 targets for 454 yards and two touchdowns. He also leads all receivers with four catches of 40-plus yards over that span.1 While Parker's breakout has gone somewhat overlooked in fantasy circles, you have yourself a borderline WR1 option if you managed to pick up Parker earlier this year.
Matchup upgrade: It's tough to not like all the Jets skill position players in this matchup. Sam Darnold has emerged as a viable streamer over the second half of the season and is in play against a Dolphins defense that allows the fourth-most fantasy points per game to opposing quarterbacks. Of course, that also means good things for Robby Anderson. After it looked like Anderson was fading from the fantasy spotlight, the Temple University product has exploded over the last two weeks with 11 catches for 187 tards and a score. He'll likely see a shadow from Nik Needham, who has surrendered four receiving scores since Week 9. We'll also go back to the well with Le'Veon Bell. He isn't the highest ceiling play of the week, but Bell should have no problem putting up top-15 numbers.
Matchup downgrade: Mike Gesicki has worked his way into the streamer conversation with touchdowns in each of the last two weeks. Of course, this week's matchup may be a reason to fade Gesicki, as the Jets have been relatively tough on opposing tight ends this season. Only four teams have allowed fewer fantasy points to the position this season.
Key injuries: With Kalen Ballage going to injured reserve, the Dolphins will now roll with Patrick Laird is their primary back. Laird has emerged as a bit of a cult hero among the fantasy cognoscenti, but he doesn't offer much juice in redraft leagues. It's best to view him as a flex option for the fantasy playoffs.
Greenline: TB -3.2, O/U 46.6
Fantasy facts: Jack Doyle and Eric Ebron combined for 89 targets over the first 12 weeks of the season. Put that together and you have more targets than all but one tight end saw over that span (Zach Ertz had 95). With Ebron on injured reserve, Doyle saw 12 targets last week. You don't need a TI-86 to work out this math. Look for Doyle to see another healthy workload this week. Better yet, the Bucs are the No. 4 fantasy matchup for tight ends.
Matchup upgrade: With T.Y. Hilton still sidelined, look for Zach Pascal to again get a No. 1 receiver workload. Pascal also has the benefit of facing the still suspect Bucs secondary. Over the last five weeks, Tampa is allowing an average of two receiving scores per game to opposing wide receiver corps. That's also good news if you're forced to use Jacoby Brissett. He's far from the best play on the board this week, but does at least offer a high ceiling in this matchup.
Matchup downgrade: Marlon Mack is trending toward getting back on the field after missing the last two weeks with a broken hand. The injury shouldn't hamper him, but the matchup certainly will. Tampa has been one of the league's toughest matchups for running backs for much of the season. The Bucs allow a league-low 3.26 yards per carry to running backs this season.
Key injuries: Hilton's nagging calf injury doesn't seem to be improving. There's certainly a chance he doesn't play again this season.
Greenline: HST -8.2, O/U 43.1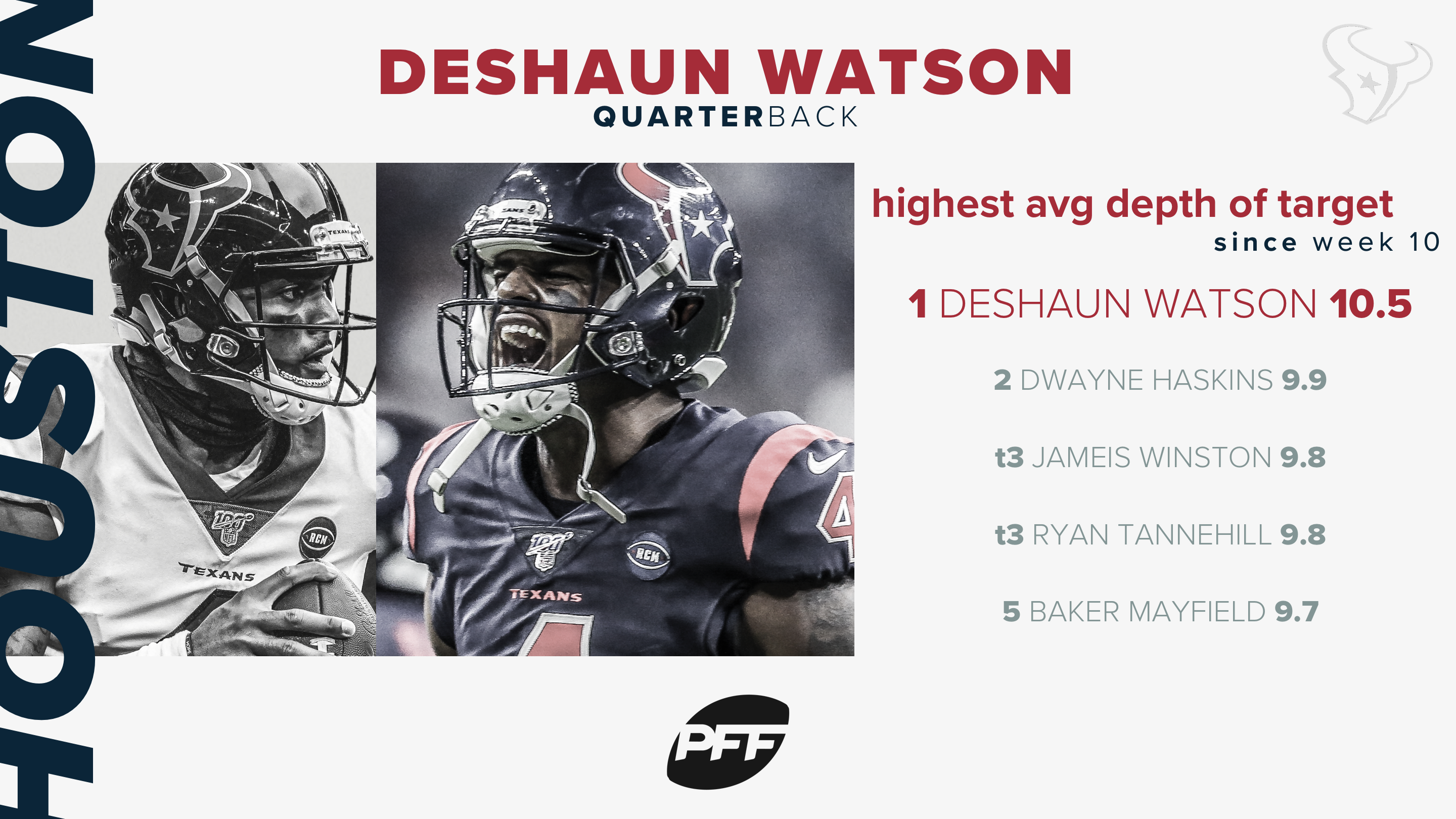 Fantasy facts: It hasn't been the most consistent season for the Deshaun Watson, but the Texans signal-caller showed massive upside in a tough matchup against the Patriots last week and accounted for four touchdowns in that contest. Over the last month, Watson leads the league with an average depth of target of 10.5 yards. That deep target depth means big-time upside from Watson as we head into the fantasy playoffs. While Denver was a tough matchup for quarterbacks earlier in the season, the Broncos have allowed the 10th-most fantasy points per game to quarterbacks over the last five weeks. Fire up Watson with confidence this week.
Matchup upgrade: With DeAndre Hopkins in a poor matchup (see below), Will Fuller becomes very interesting this week. He'll draw Isaac Yiadom for much of this contest with Chris Harris tracking Hopkins. Yiadom enters the week with opposing receivers averaging a 75% catch rate and 14.0 yards per catch in his coverage.
Matchup downgrade: The aforementioned Hopkins does get a rough matchup this week against Harris. The veteran Broncos corner is being thrown at just 3.7 times per game this season. While that might suggest a quiet game for Hopkins, we don't want to go that far. Hopkins remains one of the highest-volume receivers in the league and should not be faded in season-long leagues.
Key injuries: None
Greenline: LAC -3.1, O/U 43.6
Fantasy facts: It's tough to trust much in Jacksonville for fantasy purposes these days with the Marrone regime seemingly circling the drain. Of course, the Leonard Fournette is the one exception. The Jags back is one of this year's biggest fantasy bouncebacks. A big part of that success is due to all the volume he's seeing. Fournette enters the week second in the league in touches per game with 23.75. Look for that to continue in this contest. Fournette remains a rock-solid RB1.
Matchup upgrade: Melvin Gordon made us wait before finally taking the field in the middle of season. And even then, it looked like he wasn't worth our patience. But with a bad string of matchups out of the way, Gordon has steadied as a fantasy option and slots in as a top-12 play this week. The Jags give up yards in bunches to opposing running backs with a league-high 5.3 yards per carry surrendered.
Matchup downgrade: D.J. Chark was one of the hottest fantasy receivers over the first two months of the season, but the wheels seem to be coming off in Jacksonville after last week's benching of Nick Foles. Chark is coming off a down performance in the contest with just two catches for 47 yards. To make matters worse, he's a good bet to see a shadow from Casey Hayward. The Chargers corner has been one of the league's best this season, and enters the week seeing just 3.3 targets per game thrown into his coverage.
Key injuries: None
Greenline: TEN -2.2, O/U 46.3
Fantasy facts: There are countless examples of preseason hype candidates going bust in the history of fantasy football. Darren Waller is not one of those players. The Raiders tight end has been the exact opposite and enters the Week as the No. 3 fantasy tight end. Among tight ends he's second in yards, third in catches, and third in targets. You're obviously starting him in Week 14, but Waller is an interesting case study in the merits of potentially waiting at tight end in fantasy drafts. Expect to see more on this idea in the offseason.
Matchup upgrade: Ryan Tannehill has been everything we hoped Marcus Mariota would be for fantasy purposes, and perhaps more. The former Dolphins signal-caller is a top-10 fantasy option since Week 7 and is actually in play as a QB1 this week against the Raiders. Oakland is allowing 2.3 passing touchdowns per game and 8.2 yards per attempt. Knock on wood if you're with me.
Matchup downgrade: All the matchups are neutral or better in this matchup.
Key injuries: Derrick Henry sat out Wednesday's practice session to rest his hamstring, but fantasy owners shouldn't be worried. Henry played through the injury last week and was an absolute fantasy monster.
Greenline: NE -3.7, O/U 50.9
Fantasy facts: Sure, I pointed out in this very column last week that Tom Brady lacks upside. He enters the week 11th among quarterbacks in fantasy scoring thanks in part to just 18 passing scores on the season. However, his 3,268 passing yards are actually the sixth-most in the league. While upside is certainly ideal in the fantasy playoffs, your main objective is always to score the most points. Brady may not have as high of a ceiling as some other options, but his high floor makes him a safe play as a fringe-QB1 this week.
Matchup upgrade: James White finished the week as fantasy's No. 1 running back last week thanks to two score as a receiver and 177 scrimmage yards. He did see an uncharacteristic workload as a runner, but it's likely we see more of him on the ground again this week thanks to the potential gamescript in this contest. White is very much in play as an RB2 option against a Chiefs defense that allows the most fantasy points per game to running backs.
Matchup downgrade: What a week to own Chiefs skill position players. It's obviously tempting to look elsewhere if you have Patrick Mahomes on your squad. Of course, there are two strong rebuttals to this line of thinking: 1) Did you really draft him in the second round just to bench him in the first week of the playoffs?, and 2) The Patriots did just give up a big week to Deshaun Watson. I know, the matchup is far from optimal, but Mahomes remains anchored in starting lineups this week, as does Tyreek Hill, who should see a shadow from Jonathan Jones, and not Stephon Gilmore.
Key injuries: Damien Williams missed practice on Wednesday and Darrel Williams went to injured reserve. If Damien is unable to suit up, LeSean McCoy will lead the backfield. That said, Darwin Thompson offers more fantasy upside.
Greenline: PIT -2.6, O/U 43.5
Fantasy facts: James Conner was ruled out Thursday, which means Benny Snell will again serve as the primary ball carrier in Pittsburgh. Over the last two weeks, Snell is tied for the fourth-most carries among running backs with 37. He's averaging 4.4 yards per carry with a healthy 3.4 coming after contact. Snell is far from a sexy play this week, but he should see more than enough volume to be an RB2 option.
Matchup upgrade: Apparently going duck hunting with your quarterback can pay dividends. James Washington has shown a strong connection with Devlin Hodges over the last two weeks and should continue to roll in this extremely favorable matchup. Even with Patrick Peterson back, the Cardinals have been one of the best matchups in the league. Over the past five weeks, wide receivers average 237 receiving yards and 1.3 scores per game against Arizona. Washington is a WR3 play with big-time upside.
Matchup downgrade: We've reached the point where David Johnson is droppable. But this week, you can't even roll with Johnson's replacement Kenyan Drake. The Dolphins castoff is coming off a lackluster Week 13 performance and has to face one of the league's better run defenses. At best, Drake is a flex play this week.
Key injuries: JuJu Smith-Schuster is trending toward being sidelined again this week. One has to wonder when he'll get back on the field for the Steelers. It isn't outlandish to consider dropping him in non-keeper redraft leagues if you're in a pinch and need the bench spot.
Greenline: SEA -0.3, O/U 47.3
Fantasy facts: What a difference a year makes for Todd Gurley. At this time last year, he was the in the fantasy MVP conversation, and now he's largely an afterthought as an RB2 play. But Gurley has surged over the last month, ranking 12th among running backs in fantasy scoring over that span. A bit part of his production has been his use in the red zone. Over that span, Gurley ranks third in the league with 12 red zone carries. All those opportunities have Gurley poised to be a fantasy factor for the fantasy post-season push.
Matchup upgrade: With Gerald Everett out, Tyler Higbee had a career day in Week 13. Of course, his massive fantasy numbers came in a pushover of a matchup against the Cardinals. But the good news is if you did pick up Higbee, he's in play as a streamer again. Not only does it look like Everett will remain sidelined, but he also draws the No. 2 fantasy matchup for tight ends against the Seahawks.
Matchup downgrade: Sorry, Tyler Lockett owners. Things are likely going to get worse before they get better. Lockett is a good bet to see Jalen Ramsey in shadow coverage in this contest. It's not that Ramsey is a completely unbeatable matchup. The Rams corner is allowing a 71.4% catch rate since coming over to Los Angeles. However, he's also seen just three targets thrown into his coverage over the last two games. It's likely going to be a quiet day for Lockett, so downgrade him to WR2 territory.
Key injuries: Other than Everett, there are no other major injuries to monitor on the offensive side of the ball in this contest.
Greenline: PHI -9.8, O/U 45.9
Fantasy facts: Miles Sanders only has three runs of 15-plus yards, but those carries have accounted for a massive 114 of his 513 rushing yards. That's a massive 22.2%. With Jordan Howard still sidelined, Sanders is again in play as an RB2 option. His major big-play ability is especially appealing in a game where the Eagles are heavily favored.
Matchup upgrade: It's been an up-and-down season for the Eagles passing game, but Alshon Jeffery is coming off a massive performance against the Dolphins last week where he racked up 9 catches on 15 targets for 137 yards and a score. Jeffery gets another favorable draw against the Giants this week with primary coverage likely to come from Janoris Jenkins and DeAndre Baker on the outside. So far on the season, Jenkins is allowing 14.1 yards per catch and Baker has surrender six touchdowns in his coverage.
Matchup downgrade: Saquon Barkley was widely selected as the No. 1 pick in 2019 fantasy football drafts. Fast forward to December and injuries and a lackluster surrounding cast have Barkley sitting just 18th among running backs in fantasy scoring for the season. He certainly isn't a bust, but he is a disappointment. To make matters worse, Barkley has to face a solid Eagles run defense that has held opposing backs to just 3.6 yards per carry this season. To be clear, Barkley is still an RB1 play, but he's far from the elite option many of us thought he'd be entering the year.
Key injuries: Daniel Jones will be out in this contest, which opens the door for Eli Manning to have a curtain call against his long-time rival. Manning's presence on the field really doesn't change much for the fantasy outlook in this contest. The Giants look like they'll have Evan Engram back for this game, but risk adverse fantasy players may want to fade him in case he isn't able to suit up. … Jordan Howard remains sidelined with a shoulder injury. Another missed game will position Sanders as a high-ceiling RB2.