The Fantasy Focus is a weekly column that breaks down everything you need to know to set your fantasy football lineups. Make your start and sit decisions with fantasy facts, injury information, matchups stats, predictions for the week and more.
A lot of factors impact success in fantasy sports, but the No. 1 thing you can do to improve your chances of winning is simple: Don't be your own worst enemy. This column has led with various nuggets of fantasy wisdom that I've gained in my two decades as a player, but almost every piece of fantasy advice I can give comes back to that one central tenet.
There's a lot of uncertainty in fantasy sports. It's the nature of the game. We set starting lineups without knowing what the ultimate outcome will be. Matt Ryan was locked in fantasy lineups last week, and that didn't work out so well. But you know what? Starting Ryan was the right move. While we may not have been able to see a bad game coming, we do know that Ryan had one of the top matchups on the board. So we started him. If we play out last week 100 more times, you'd start him 100 more times.
How often have you been in a situation where one of your better players is in a bad matchup and one of your marginal players is in a good matchup? This happens all the time. And how often do you bench the good player for the marginal player? There's a good bet you've done that a few times. And how often has it worked for you? I'm willing to wager that it's worked far less often than it's backfired.
There's a secret in fantasy sports that the pros know and the casual player doesn't. It's actually surprisingly simple: Good NFL players are more likely to perform better than marginal players. Sure, they don't always outperform their marginal counterparts, but they do so far more often than they don't. A skilled fantasy player knows this and realizes that he or she won't be right with every play they make, but they put themselves in a position for success by making the best play every time.
So here's where we become our own worst enemy. If you think you're going to outsmart fantasy football, you're kidding yourself. You may get a creative play right once in a blue moon, but more often than not, fantasy is going to come right back around and bite you.
Greenline: CHI -4.4, O/U 39.2
Fantasy facts: No one is going to mistake Bo Scarbrough for an upside dynamo, but the former Alabama back has emerged as a surprise workhorse for the Lions. Over the last two weeks, Scarbrough is tied for eighth among running backs with 32 carries. Sure, he hasn't exactly set the fantasy world ablaze, but Scarbrough's 21.3 PPR points over that span is tied with Devin Singletary for 17th among running backs. Scarbrough doesn't have the highest ceiling, but his heavy workload as a runner will keep him in at least the flex conversation going forward.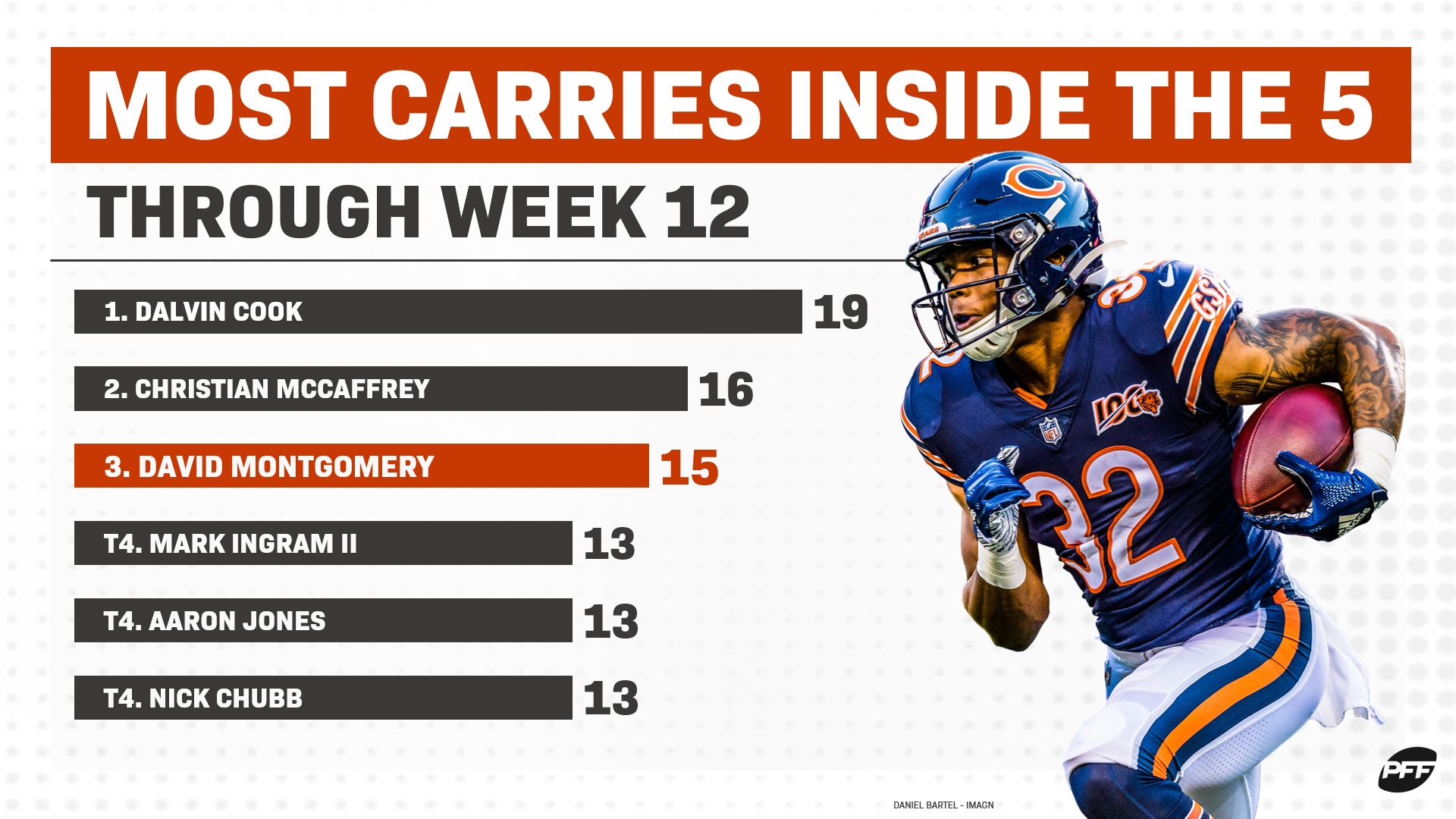 Matchup upgrade: It's been tough to trust David Montgomery for a good chunk of the season, but this is a week where you may want to fire him up as an RB2 option. Detroit enters the week as the No. 3 fantasy matchup for running backs, thanks in part to the 0.9 rushing scores per game the Lions yield to the position. Montgomery has been one of the most heavily used backs in the goal-line region this season. His total of 15 goal-line carries ranks third in the league, so there's a good chance he finds paydirt this week.
Matchup downgrade: Allen Robinson had one of the more predictable big fantasy performances last week against the suspect Giants secondary. The Bears wideout draws much more challenging coverage this week with a shadow likely to come from Darius Slay. The Lions corner has been one of the league's better shadows this season and enters the week with a stingy 51% catch rate in his coverage.
Key injuries: With Matthew Stafford out and Jeff Driskel dealing with a hamstring injury, there's a chance the Lions will have to turn to David Blough. If you had to look him up, you're not alone. The rookie went undrafted out of Purdue and could be in way over his head if he has to start. Blough under center would put a major damper on the already-lowered fantasy prospects for Marvin Jones and Kenny Golladay.
Greenline: DAL -6.9, O/U 47.2
Fantasy facts: Tony Pollard only has 55 attempts on the season, but the rookie has made the most of his touches. Pollard averages 4.67 yards per carry, with a massive 3.95 yards after contact per attempt. With Ezekiel Elliott fully healthy, Pollard isn't a fantasy starter. However, he's a great player to tuck away on your bench. If Elliott got hurt, Pollard would be an instant top-15 fantasy running back with very real top-10 potential.
Matchup upgrade: Speaking of Elliott, the Cowboys back should feast on Thanksgiving. While Buffalo has fared well against the pass this season, they've also been susceptible to the run. Elliott's an obvious every-week start in season-long, but he's also worth paying up for in Thanksgiving DFS contests.
Matchup downgrade: Amari Cooper is coming off a fantasy goose egg in Week 12 and is set up for another tough matchup in this contest. The Bills have used Tre'Davious White as a shadow corner in each of their last four games. Over that span, only DeVante Parker managed to post decent numbers against White. Last week, White almost completely shut down Courtland Sutton, with the Broncos wideout catching just one ball on seven targets in White's coverage.
Key injuries: None
Greenline: NO -6.8, O/U 48.6
Fantasy facts: Over the first six weeks of the season, Matt Ryan ranked fifth among fantasy quarterbacks in fantasy scoring. He topped 300 passing yards in all six of those contests and led the league with 15 passing scores. Since then, Ryan has just one 300-yard game and ranks a lowly 30th in fantasy scoring. Sure, he did miss time with an ankle sprain, but even over the last three weeks, Ryan is 17th in fantasy scoring. In other words, it's very tough to trust Ryan as a consistent fantasy starter going forward.
Matchup upgrade: As if he needed it, Michael Thomas gets an upgrade against Isaiah Oliver in this one. Thomas is on an impressive five-game streak with at least 100 receiving yards. Of course, one of those contests came against the Falcons just three weeks ago, when Thomas put up 13 catches for 152 yards. Thomas' historic season continues this week. He's locked in as the top wideout on the board.
Matchup downgrade: It looks like the Falcons with get Devonta Freeman back this week, but that doesn't mean we should get too excited for fantasy purposes. The Saints are a relatively tough matchup for running backs, and enter the week surrendering the sixth-fewest fantasy points per game to the position. At best, Freeman is a back-end RB2 play this week.
Key injuries: All eyes are on Julio Jones' status, as the veteran wideout is dealing with a shoulder injury that has kept him out of practice this week. There's still a good chance Jones plays, but it's wise to downgrade expectations for Jones to WR2 territory. Austin Hooper also remains sidelined for the Falcons. Expect him to sit out one more week and return to the field for the kickoff of the fantasy playoffs next week.
Greenline: NYJ -2.8, O/U 41.8
Fantasy facts: With Andy Dalton under center over the first eight weeks of the season, Tyler Boyd ranked a very respectable 16th among wide receivers in fantasy scoring. With Ryan Finley under center, Boyd's production dropped off fairly significantly. In those three games, Boyd averaged just four catches and 54 receiving yards per game. Believe it or not, getting Dalton back is actually a good thing for Boyd. He's a WR3 option or better going forward.
Matchup upgrade: Le'Veon Bell hasn't quite been the fantasy standout that he once was, but the Jets back does enter the week 12th among running backs in fantasy scoring. Better yet, he draws an extremely favorable matchup against the Bengals. Cincinnati allows the fifth-most fantasy points per game to running backs with opposing backs averaging a healthy 4.7 yards per carry against the Bengals. Bell goes off this week.
Matchup downgrade: Tight end has been a mess for much of the season, but those looking for a streamer this week won't want to consider Tyler Eifert. The Jets have done a great job of containing tight ends this season and enter the week as the fourth-toughest matchup for the position.
Greenline: IND -3.4, OU 44
Fantasy facts: Narratives have the potential to be very problematic in fantasy football if they are a) incorrect, and b) believed by enough people. There's been a widespread narrative that a running back can't be an RB1 in PPR if he doesn't catch many balls. This idea was used to pooh-pooh Derrick Henry back in fantasy draft season. Well, Henry currently sits as the No. 7 fantasy running back in PPR, and if we go back over the last 16 regular-season weeks of the NFL, only Christian McCaffrey and Dalvin Cook have more fantasy points.
Matchup upgrade: With Eric Ebron on injured reserve, Jack Doyle is now the clear top pass-catching tight end for the Colts. While Doyle isn't a high-upside option, he now offers a reasonably high floor and should be considered a fringe-TE1. This is certainly a week where we want to roll with him in starting lineups. The Titans allow the 12th-most fantasy points per game to tight ends this season.
Matchup downgrade: This isn't the best matchup for the aforementioned Henry, as the Colts enter the week allowing the seventh-fewest fantasy points per game to opposing running backs. Of course, Henry owners shouldn't panic. He's averaging a massive 18.7 carries per game, which is more than enough volume for him to put up respectable fantasy numbers even in a matchup downgrade.
Key injuries: It's been a lost season for T.Y. Hilton, as the Colts receiver just can't seem to get healthy. Hilton was on a snap count last week and could end up sitting out this contest.
Greenline: PHI -8.5, O/U 44.4
Fantasy facts: It's no secret that Kalen Ballage has been bad this season. The Dolphins running back averages just 1.54 yards after contact per attempt. That's far and away the worst number in the league. His inability to generate yards independent of his blocking makes Ballage a complete fantasy liability who shouldn't be trusted anywhere near your starting lineups.
Matchup upgrade: Don't look now, but DeVante Parker is quietly in the midst of a breakout season. The Dolphins receiver enters the week 23rd among wideouts in fantasy scoring with 46 catches for 695 yards and four scores. Parker should pad those numbers this week against the lackluster Eagles secondary. Eagles corner Jalen Mills is coming off an ugly performance where he allowed 101 receiving yards and a score.
We're also going to give Miles Sanders one more shot as an RB2 play this week. Jordan Howard is trending toward not playing again this week, which means Sanders will again serve as the lead back. The Dolphins are allowing a league-leading 129.2 rushing yards per game to opposing running backs on the season. Sanders big-play upside makes him an appealing DFS option.
Matchup downgrade: The biggest downgrade goes to Ballage, but we aren't starting him.
Greenline: GB -6.6, O/U 45.4
Fantasy facts: Aaron Rodgers hasn't been an elite fantasy quarterback this season, but the Packers signal-caller is taking ample shots to the end zone. So far this season, only Russell Wilson and Jameis Winston have more end-zone throws than Rodgers' 33. That's a big-time number that means major upside in the right matchup. This week is certainly one of those matchups.
Matchup upgrade: This year hasn't been very kind to Davante Adams fantasy owners, but keep going back to the well with the Packers receiver. Not only has Adams seen a massive 48 targets over his last four games, but he also gets a major upgrade against the Giants secondary. Opposing wideouts have shredded New York on an almost-weekly basis. Outside corners Janoris Jenkins and DeAndre Baker have surrendered a combined nine touchdowns this season.
Likewise, it hasn't been a standout season for those who took Saquon Barkley at No. 1 overall. Barkley has battled injury and stacked boxes all season. However, the Giants back gets a nice matchup boost against a Packers defense that allows the second-most PPR points per game to opposing running backs.
Matchup downgrade: There are times where we can stream Daniel Jones, but this isn't one of those times. Green Bay has fared well against the pass and allow just 1.3 passing scores per game this season.
Greenline: CLV -1, O/U 39
Fantasy facts: Benny Snell got back on the field last week and completely dominated touches in the Steelers run game with James Conner sidelined. Snell was on the field for 22 running plays compared to just two for Jaylen Samuels. With Conner trending toward not playing again this week, look for the Steelers to again feed Snell. That said, it's tough to trust him as anything more than a flex play with Devlin Hodges under center.
Matchup upgrade: There isn't anything to get too excited about among the skill position matchups in this contest.
Matchup downgrade: Pittsburgh's run defense has been one of the better units in the league and allow the fifth-fewest fantasy points per game to running backs. That could be a reason to fade Nick Chubb in DFS, but those in season-long leagues should continue starting Chubb with confidence. If anything, gamescript should favor a heavy workload for Chubb.
Greenline: CAR -8.9, O/U 40.2
Fantasy facts: Over the last month, D.J. Moore ranks second among wide receivers in fantasy scoring. Over that span, the Panthers wideout has racked up 30 catches for 442 yards and two scores. With his breakout in full swing, Moore is a top-10 fantasy play this week.
Matchup upgrade: This is a tricky one, because on paper the matchup upgrade goes to the Redskins backfield. Carolina is a top-five matchup for the position, but that doesn't mean you should jam Derrius Guice in your starting lineups. Despite Guice's upside, Washington seems set on using a committee with both Guice and Adrian Peterson. Keep Guice on the bench this week.
Matchup downgrade: There aren't any major downgrades in this contest.
Greenline: TB -0.6, O/U 47.6
Fantasy facts: Sure, Jameis Winston has tossed a massive 20 interceptions this season, but does that really matter for fantasy? Nope. In most leagues, you only lose a point for each of those picks. On the other hand, Winston has also posted a league-high eight 300-yard games. He averages 308.2 passing yards per game and ranks third with 22 passing scores. Put that all together and Winston is the No. 7 fantasy quarterback. Fantasy doesn't always meet reality, and that's a good thing if Winston is your fantasy quarterback.
Matchup upgrade: D.J. Chark has been one of the biggest fantasy surprises of 2019, as the Jags wideout currently sits in fifth place among receivers in fantasy scoring. Chark is very much in play as a top-10 option this week thanks to a juicy matchup against a Tampa defense that allows an average of 205 receiving yards and 1.6 receiving touchdowns per game to opposing wideouts. Likewise, we're also going to pick on this matchup with Nick Foles as a streamer option.
Matchup downgrade: Tampa Bay has been one of the toughest matchups for running backs for much of the season. The Bucs allow a league-low 3.3 yards per carry to the position. That certainly sounds bad, but don't overthink things if you own Leonard Fournette in season-long leagues. The Jags fed Fournette a massive 33 touches last week and should see another healthy workload this week.
Greenline: BAL -5.3, O/U 47.7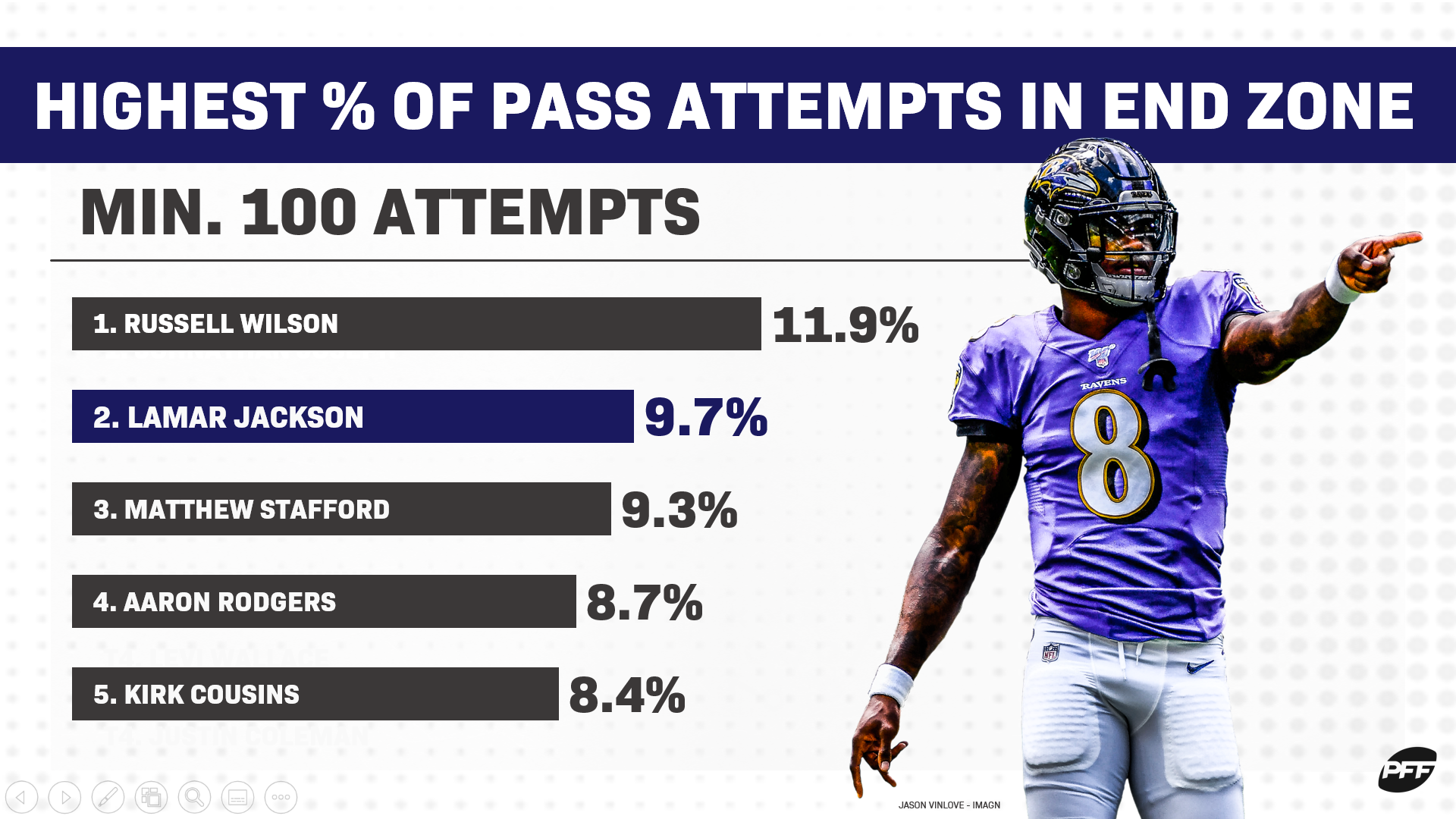 Fantasy facts: We all know that Lamar Jackson is awesome, but there are some numbers that really underscore just how outstanding he's been this season. Jackson currently leads the league in runs of 20-plus yards with nine. That's right. He has more than Christian McCaffrey or Dalvin Cook or Nick Chubb. But it isn't just his legs. Jackson is getting done with his arm as well. While he isn't putting up massive yardage numbers, he enters the week fourth in end-zone throws with 29. All those shots to the end zone mean a high fantasy ceiling to go along with the high floor that comes with his legs.
Matchup downgrade: We could really highlight a number of players here, but let's shine a light on Marquise Brown. He had the Rams number Monday night, scoring twice in that contest. But don't expect a similar performance here. San Francisco's secondary has been one of the league's stingiest matchups with their trio of starting cornerbacks allowing just 9.2 yards per catch and only 3 receiving scores on the season.
Greenline: LA -4.2, O/U 48
Fantasy facts: The Arizona backfield is a complete mess. Heading into this week, we think we'll see Kenyan Drake in the lead with David Johnson as the No. 2. However, Chase Edmonds will also be in the mix this week. There's certainly a scenario where Johnson is actually the third back of the bunch, so be prepared if you have him on your bench. So far this season, he's been the most ineffective runner of the three. Here's how they far in terms of yards after contact per attempt: Edmonds 2.95, Drake 2.94, Johnson 1.99. That number for Johnson is one of the worst in the league. How the mighty have fallen.
Matchup upgrade: While it's tough to trust Jared Goff after the Rams quarterback failed to throw for a passing scoring in November, this is actually a good matchup. The Cardinals have been extremely fantasy-friendly to quarterbacks, allowing 8.3 yards per attempt and 315.5 net passing yards per game. That said, starting Goff is just too risky at this point in the year. However, Cooper Kupp owners should get him in as a WR1 play with a potential bounceback on tap.
Matchup downgrade: Jalen Ramsey hasn't necessarily been spectacular this season, but a lot of times the receivers he covers end up seeing reduced targets. That could very well be the case for Christian Kirk this week, as we expect a shadow from Ramsey. Kirk has flashed at times this season, but it's a good idea to leave him on the bench this week.
Key injuries: Keep an eye on Gerald Everett's status heading into this contest. The Rams tight end is dealing with a knee injury that he suffered on Monday night. If Everett sits, Tyler Higbee would be in play as a sneaky streamer in a very favorable matchup against the Cards.
Greenline: LAC -3, O/U 39
Fantasy facts: One of the most important things we can do in fantasy football is recognize exactly who each of our players are as actually football players. Not all players are created equally and knowing how each player profiles will help us set realistic expectations. Mike Williams is a great example. The Chargers wideout is sometimes maligned in fantasy circles for his inconsistencies, but that's exactly what his player profile tells us he's going to be. Williams average depth of target is 17.5 yards. That's very deep downfield. Players with deeper aDOT numbers are almost always going to be boom-or-bust fantasy options.
Matchup upgrade: Gamescript may not be the best for the Denver run game, but the matchup is good enough to keep Phillip Lindsay in RB2 territory. The Chargers are the No. 8 fantasy matchup for running backs with an average of 97.7 rushing yards and 0.9 rushing scores allowed to the position per game.
Matchup downgrade: This isn't the best contest for the top wideouts, as both Courtland Sutton and Keenan Allen draw tough coverage. The Chargers haven't shadowed since Week 7, but they did use Casey Hayward on Sutton back in Week 5. Sutton managed just one catch for six yards against Hayward in that contest. Meanwhile, Allen is a good bet to draw a shadow from Chris Harris Jr. The Broncos veteran is seeing just 3.6 targets per game thrown into his coverage.
Greenline: KC 9.9, O/U 51.1
Fantasy facts: Not that he needs it, but Patrick Mahomes draws a nice upgrade in this matchup. The Raiders have been one of the most fantasy-friendly matchups of the season and let's not forget that Mahomes put up a massive 443 passing yards and 4 scores when he faced Oakland back in Week 2.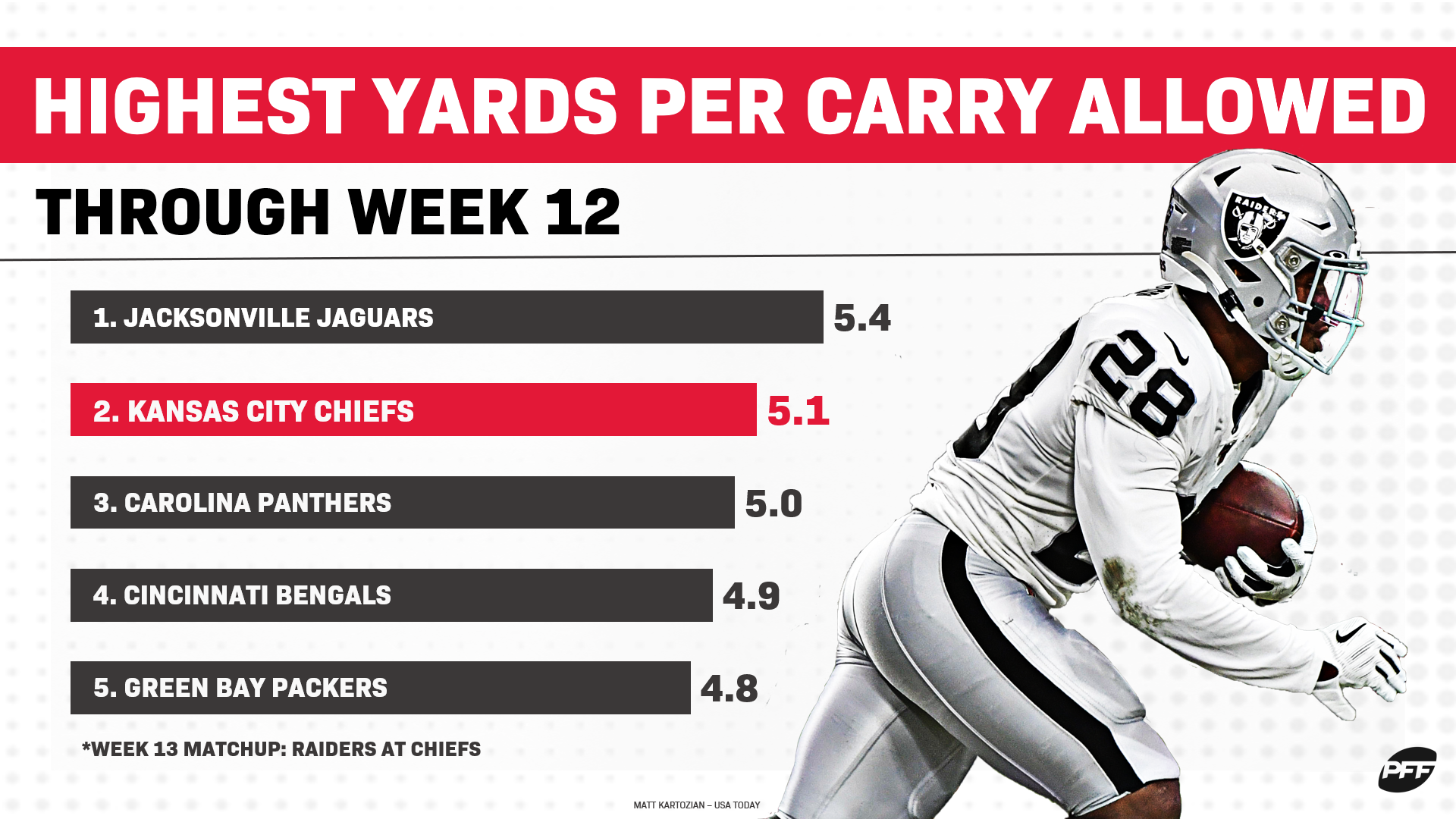 Matchup upgrade: We're also upgrading Josh Jacobs on the other side of this matchup. Kansas City has been downright dreadful against the run this season, allowing a massive 5.05 yards per carry to opposing running backs. Jacobs is in play as a top-10 option at the position.
Matchup downgrade: Good matchups nearly across the board in this one.
Key injuries: Damien Williams was banged up before the Chiefs bye and did not practice Wednesday with a rib injury. If Williams is unable to play, LeSean McCoy would slide in as a potential RB2 option this week.
Greenline: NE -3.6, O/U 46.3
Fantasy facts: Heading into Week 13, Tom Brady is just on the edge of QB1 territory, ranking 12th in fantasy scoring. That's decent enough, but there have been very few big plays from Brady and company this season. A big part of the problem is he simply lacks the weapons to push the ball downfield. Brady's average depth of target current sits at just 7.7 yards, 28th in the league. For fantasy purposes, that means Brady isn't a high-ceiling option for the final month of the season.
Matchup upgrade: With the Patriots getting healthier along the offensive line, Sony Michel showed signs of life last week. Michel is in play as a high volume RB2 option. Houston allows the 10th-most fantasy points per game to running backs with opposing backs averaging a healthy 4.5 yards per carry against the Texans.
Matchup downgrade: DeAndre Hopkins exploded out of his midseason slump last week, notching two receiving scores against the Colts on Thursday night football. While that's certainly what you wanted to see if you own Hopkins, it's wise to temper your expectations this week. Hopkins is all but guaranteed to see a shadow from Stephon Gilmore. The Pats corner hasn't allowed a single touchdown in his coverage this season and is holding opposing wideouts to a 45% catch rate.
Greenline: SEA -3.6, O/U 49.3
Fantasy facts: The times, they are a-changing in the Seahawks backfield. Chris Carson's fumbling issues last week opened the door for Rashaad Penny, and the second-year back came storming through. In the process, Penny flashed major big play upside, which is what we should continue to expect from him. Over half of Penny's rushing yards this season have come on runs of 15-plus yards. Penny only has five of them on the season, but they've accounted for 159 of his 296 rushing yards. At this point, it looks like Seattle will still use Carson as the lead back, but Penny offers major fantasy upside for the fantasy stretch run.
Matchup upgrade: Entering this season, the Vikings looked like they were going to be one of the league's better secondaries, but that just simply hasn't been the case. Minnesota has consistently gotten lit up by opposing wide receiver corps and allowed the third-most fantasy points per game to the position. Look for Tyler Lockett and D.K. Metcalf to bounce back in this one.
Matchup downgrade: Not only is Carson very likely to lose carries to Penny this week, but he also draws a rough matchup. Minnesota may struggle against the pass, but they've been one of the toughest defenses on the run. Opposing running backs have scored just two rushing touchdowns against the Vikings.