Week 5 of the 2020 NFL season finally came to a close with the Titans' Tuesday night win over the Bills. With the regularly scheduled Week 6 Thursday night game (Chiefs-Bills) rescheduled for Monday, we're in the midst of the longest stretch between NFL games of the season. 
With another couple days to wait for the Sunday slate, let's take a look through some of the fantasy stats I came across while preparing my Week 6 fantasy football rankings.
Arizona Cardinals – DeAndre Hopkins has avoided nine tackles on catches this season — that's the most for all wide receivers and only three less than his career-high for a season.
Atlanta Falcons – Calvin Ridley has 239 receiving yards on 10 catches on plays where the time to throw is over 3.0 seconds. That's the most yards in the league. The rest of Atlanta's wide receivers have combined for 10 catches for 165 yards.
Baltimore Ravens – Mark Andrews' nine red-zone catches have led to five touchdowns. Both numbers lead all tight ends. He's exactly halfway to the number of red-zone catches and TDs he had last year, which also led all tight ends. 
Buffalo Bills – The Bills have run 73 plays in the red zone — the most in the league and 20 more than league average. Last year, they ran the seventh-fewest red zone plays at 144.
Carolina Panthers – Fifty-four percent of Teddy Bridgewater's passing yards have come from his receivers creating yards after the catch. That's the third-highest rate among quarterbacks. Last season, he had the second-highest rate at 54.8%.
Chicago Bears – Allen Robinson has 15 catches on 21 targets from play-action passes, which both lead all wide receivers. They've led to 13 first downs, which is also tied for the league lead.
Cincinnati Bengals – Giovani Bernard has 69 receiving yards on third-down catches. That leads all running backs. He has more targets on third downs (seven) than teammate Joe Mixon has run routes on third downs (six).
Cleveland Browns – On passes where the quarterback rolls out, Odell Beckham Jr. has three catches for 70 yards and a touchdown. That is the most receiving yards on roll-out passes for a wide receiver. Jarvis Landry is second in the league at 69 receiving yards. In 2019, Beckham caught one pass on these plays, while Landry finished sixth-most at 111 yards.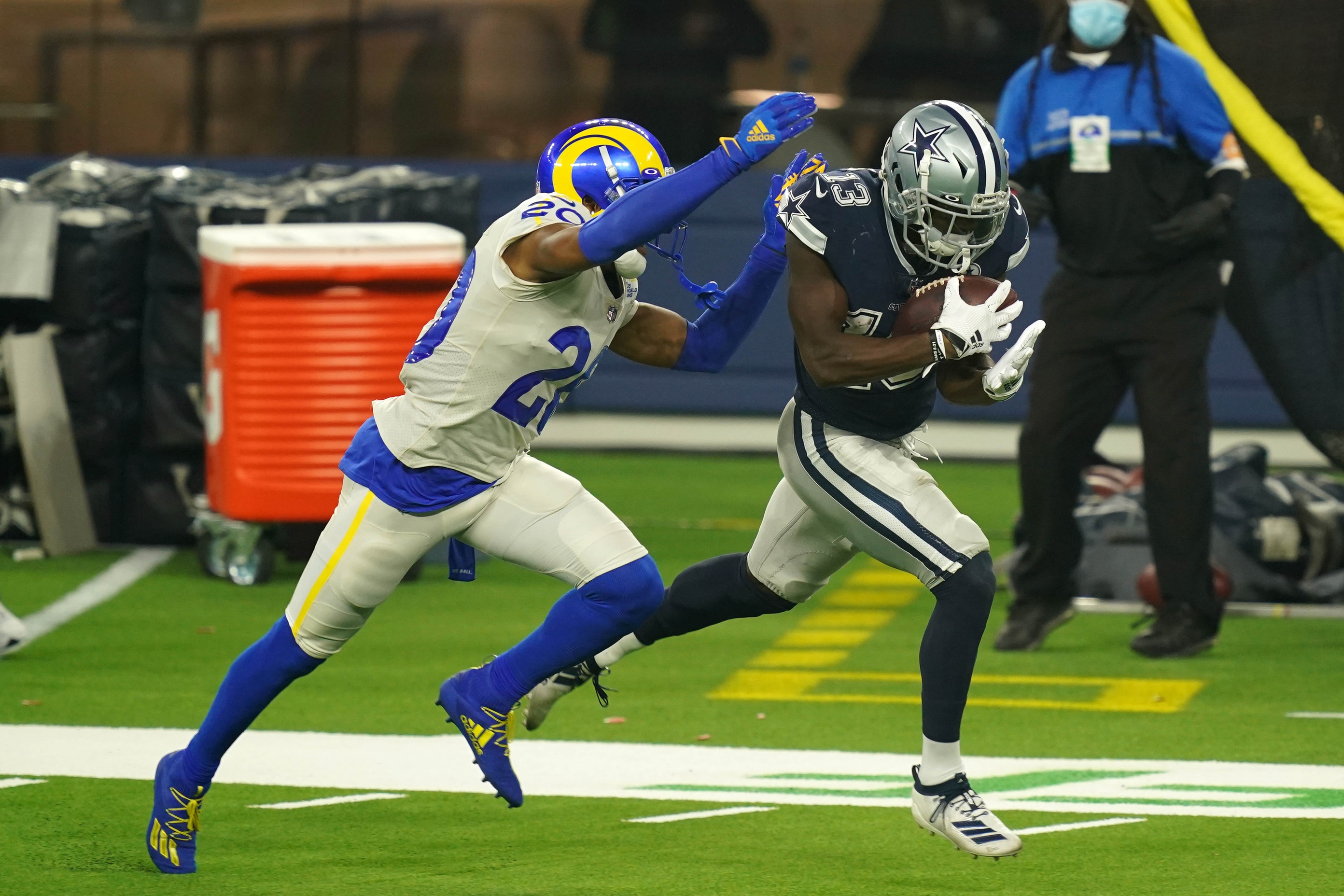 Dallas Cowboys – Michael Gallup has been the king of catching passes in close coverage. He's caught seven of 12 targets for 191 yards and a touchdown in those situations. That is 87 more yards than any other wide receiver.
Denver Broncos – Noah Fant's 6.5 yards after the catch per reception ranks second-highest. He had the highest mark last season at 8.3. 
Detroit Lions – Matthew Stafford is the only starting quarterback to throw past the sticks on over 50% of his passes over the last calendar year. He's done this on 50.9% of his passes.
Green Bay Packers – Aaron Jones has 103 receiving yards on plays where he is the first read, which is the third-most for running backs. Teammate Jamaal Williams isn't far behind, ranking seventh-most with 81 yards.
Houston Texans – Deshaun Watson has thrown past the sticks on a league leading 49.7% of his throws. Last season, he was closer to league average at 42.2%
Indianapolis Colts – The Colts' highest-graded running back regardless of snap count has been Jordan Wilkins. Their highest-graded wide receiver is Ashton Dulin and highest graded tight end is Mo Alie-Cox. Wilkins saw the third-most snaps for the Colts running backs this past week, while Dulin had the fourth-most for the wide receivers and Alie-Cox third-most among tight ends.
Jacksonville Jaguars – Laviska Shenault Jr. has avoided six tackles on receptions this season — the most for rookie wide receivers and third-most among all wide receivers.
Kansas City Chiefs – The Chiefs have a league-leading 22 deep passing attempts in the first half of games. They are followed by the Packers and Buccaneers. Last season, they had the third-most at 57, just behind the Packers and Buccaneers.
Las Vegas Raiders – Derek Carr has the third-most passing yards over the last calendar year at 4,378. Among the 16 quarterbacks with at least 500 passing attempts during that time, his 8.3 yards per attempt is the highest.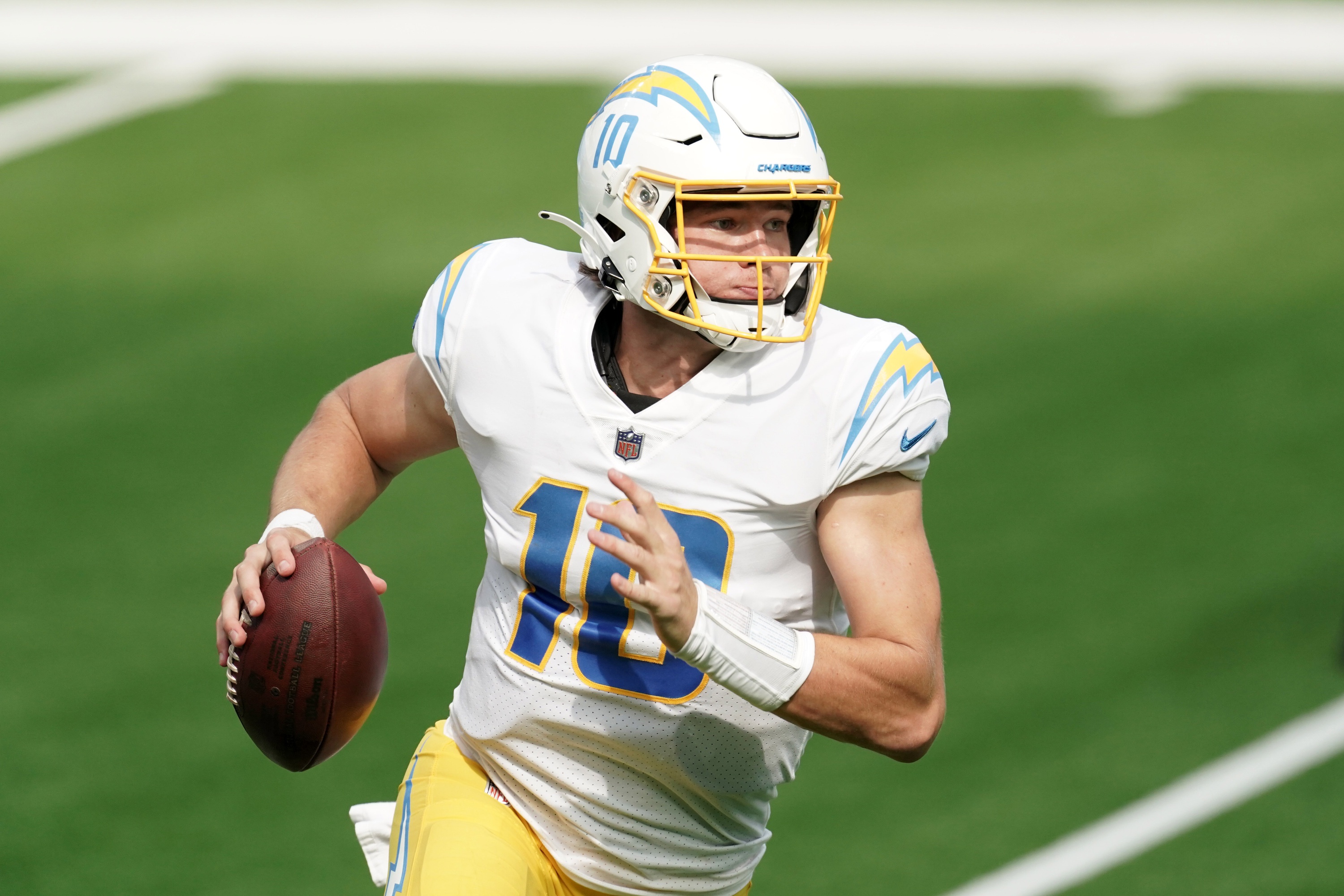 Los Angeles Chargers – Justin Herbert has three touchdowns on passes of 50 yards or more. Only seven quarterbacks had that many over all of 2019.
Los Angeles Rams – Cam Akers is averaging 4.15 yards after contact per carry. That's the third-most for running backs and over 1.5 yards more than either of the other Rams backs.
Miami Dolphins – Mike Gesicki has the third-most end zone targets for tight ends at five. He's only been able to convert one of them into a touchdown. Last season, he was also in third with 10.
Minnesota Vikings – Justin Jefferson has 202 receiving yards from six deep catches. That's the third-most receiving yards on deep passes for a wide receiver this season. It's also the second-most for a rookie wide receiver through five weeks over the last 15 years, just behind A.J. Green and just ahead of DeSean Jackson.
New England Patriots – The Patriots are the only team to run on more than 50% of their plays in the first half — they're at 54.6%. The last team to finish an entire season above 50% was the 2011 Broncos, led by Tim Tebow.
New Orleans Saints – Alvin Kamara has a league-leading 144 yards after contact on his catches. If you remove all of Kamara's receiving yards before contact, he would still be seventh among running backs in receiving yards.
New York Giants – Daniel Jones has been under pressure on 43.8% of his dropbacks, which is the highest rate among quarterbacks this year. Last season, he was tied for the most at 41.9%.
New York Jets – Joe Flacco has a 66.4% accuracy percentage over the last calendar year. That is the second-best among the 42 quarterbacks with at least 100 attempts in that time. Sam Darnold has been just below average at 58.0%.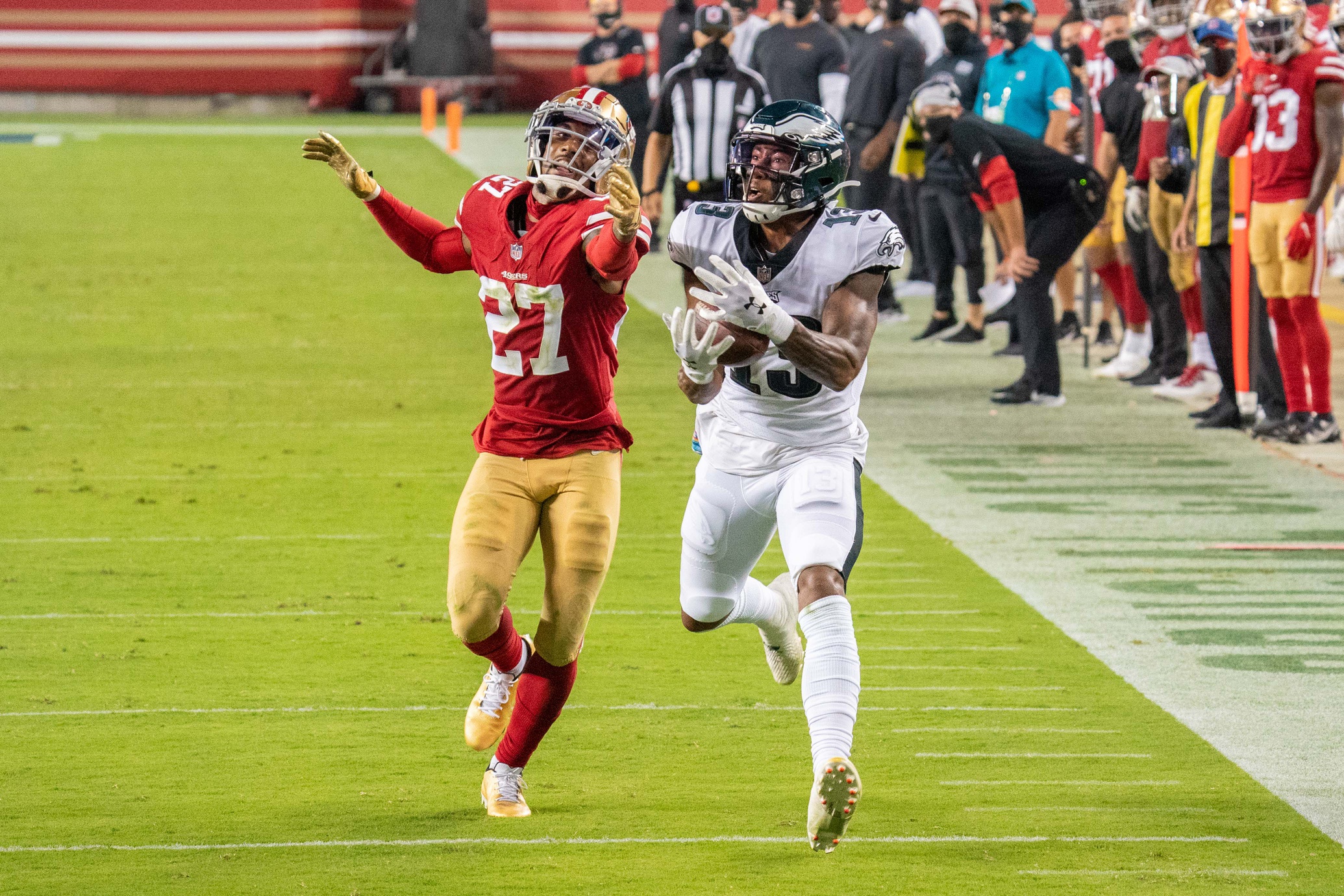 Philadelphia Eagles – Travis Fulgham has a league-leading 3.8 yards per route run. That figure is the third-highest for all receivers with at least 50 routes through Week 5 in the last decade. Only DeSean Jackson in 2018 and Wes Welker in 2011 had more.
Pittsburgh Steelers – Chase Claypool has averaged 3.53 yards per route run. That's the most for a rookie wide receiver with 50 or more routes run through the first five weeks of the season over PFF's 15 years of data.
San Francisco 49ers – Raheem Mostert returned to the starting lineup for the 49ers last week. Over the last calendar year, he has averaged 6.0 yards per carry — the highest among running backs.
Seattle Seahawks – On passes where the quarterback ends up scrambling due to the pass rush, David Moore has the most receiving yards for any wide receiver at 75 thanks to two catches. Tyler Lockett has the second-most yards at 62 and the most catches in these situations with six. Teammate D.K. Metcalf has been targeted once on 29 routes on these plays for a 7-yard catch.
Tampa Bay Buccaneers – Leonard Fournette has avoided 21 tackles as a receiver over the last calendar year. That's the second-most for all players regardless of position.
Tennessee Titans – Kalif Raymond has the highest yards per route run over the last calendar year (3.05) for all wide receivers with at least 100 routes.
Washington Football Team – Both J.D. McKissic and Antonio Gibson are in the top 10 in receiving yards for running backs at 45 and 40, respectively. McKissic got there by having the second-most targets for running backs on third downs at nine. Gibson got there by only running three routes on third downs, being targeted on one and catching it for a 40 yard gain.