The Fantasy Focus is a weekly column that breaks down everything you need to know to set your fantasy football lineups. Make your start and sit decisions with fantasy facts, injury information, matchups stats, predictions for the week and more.
It's time to trim the fat. With nearly half of the fantasy regular season in the rearview mirror, take a long, hard look at your rosters for any dead weight. You know the type of players I'm talking about. Guys who are good enough to not be on waivers but will never start in your lineups. These players are preventing you from stashing upside options who are potential difference makers down the stretch.
Take Michael Crabtree for example. Sure, the veteran receiver is essentially 1 and 1A with John Brown in the Ravens target pecking order. Heck, he saw 12 targets last week. But he's shown limited fantasy upside this season and that isn't likely to change going forward. Crabtree is a fantasy space eater who is limiting your roster's fantasy upside.
On the other hand, there are players like Nick Chubb. Following his breakout Week 4 performance, Chubb had just three carries for two yards against the Ravens last week. Carlos Hyde racked up 17 carries, which was 61% of the team's total. Should you cut Chubb based on these numbers? Absolutely not. Unlike Crabtree, Chubb has displayed an enormous fantasy ceiling. That upside is exactly what you want on your bench.
Fantasy championships aren't won with middle-of-the-road players. You win your leagues with players who get hot down the stretch, especially running backs and wide receivers. At this time last year, you could have easily stashed players like Kenyan Drake, Alex Collins, Jamaal Williams, Marquise Goodwin, and Cooper Kupp. All five were widely available after Week 5 and ended up being top-20 fantasy options at their positions over the last four weeks of the fantasy season.
It's hard to cut loose players like Crabtree, but be real with your roster. If you have fantasy space eaters, get rid of them. Stash for upside right now to give yourself the best chance of taking down your league in December.
Fantasy facts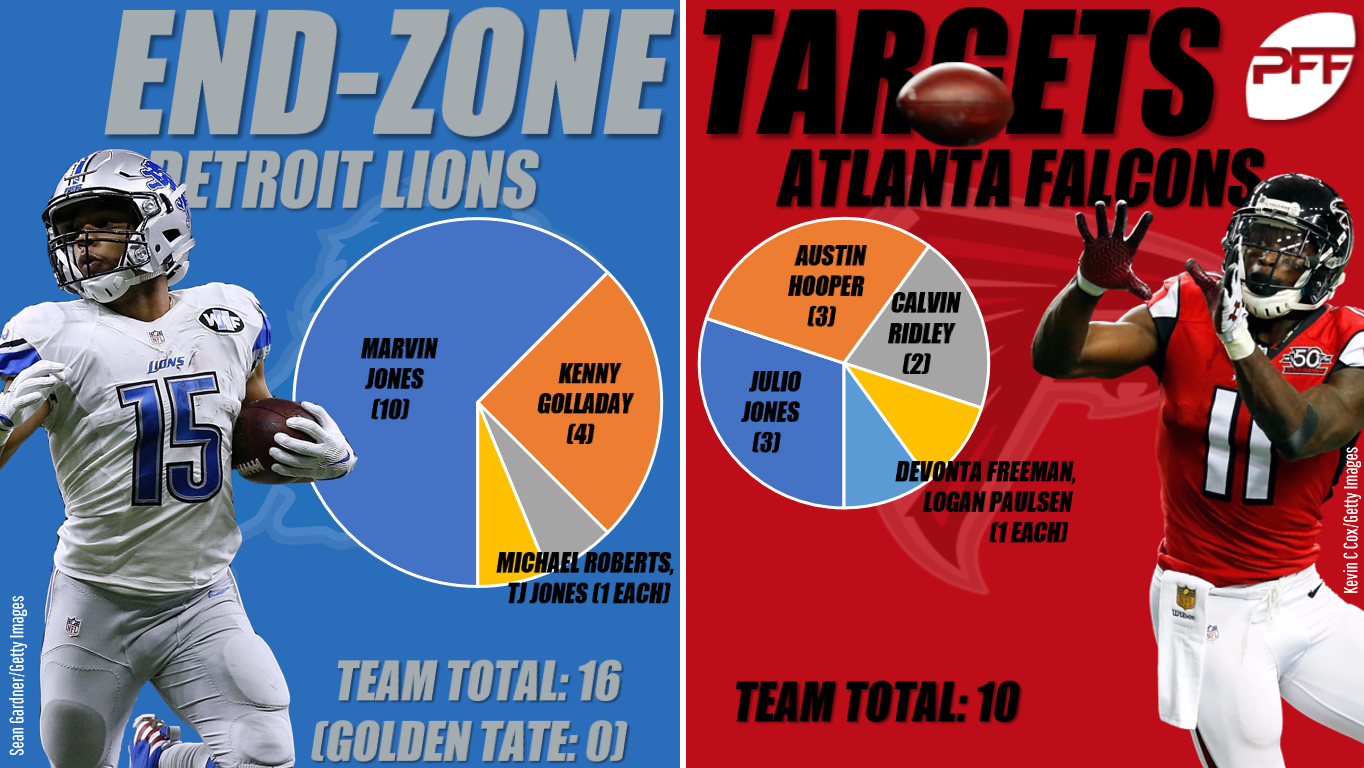 So far this season, 172 players have seen at least 1 target in the end zone. Golden Tate is not one of them. Here are the Lions' end-zone targets in 2018: Marvin Jones Jr. 10, Kenny Golladay 4, Michael Roberts 1, TJ Jones 1, Tate 0. These numbers show that Jones is clearly the go-to guy in the red zone with Golladay also seeing a respectable amount of looks. Given this usage, Jones will continue to be a boom-or-bust back-end WR2. In terms of Tate, not seeing work in the red zone makes him extremely volatile from a fantasy standpoint. Yes, he's scored three catch-and-run touchdowns this season, but those are unsustainable in the NFL. It wouldn't be shocking if Tate doesn't find the end zone again the rest of the season.
Antonio Brown has seen 11 end-zone targets this season. That's tied for the league lead with … Eric Ebron. While there's an argument to be made that Ebron's offensive explosion is due to Jack Doyle being sidelined, that isn't entirely fair. Ebron was heavily used in the red zone even when Doyle was playing earlier in the season. A tight end finding the end zone is often the difference between a good and bad fantasy week. Ebron's usage suggests he'll continue to have plenty of chances to score even after Doyle manages to get back on the field. He's the preferred fantasy tight end in Indy going forward.
Brown jumped into the lead in end-zone targets thanks to the five he saw last week. That's an enormous number of looks to see in the end zone in just one game. But what's more striking is that he wasn't the only receiver to see five end-zone targets last week. The other was Courtland Sutton. On the season, Sutton has seen seven end-zone targets, which is tied for sixth entering the week. His teammates Emmanuel Sanders and Demaryius Thomas have one end-zone target each. Sutton is a prime player to stash right now.
It's now a long running joke in fantasy circles that Julio Jones doesn't score touchdowns. A big part of the problem is his usage in the red zone, right? Well, not really. Jones was heavily used in the red zone last year with 16 targets in the end zone. Okay, but what about this year? Calvin Ridley has six scores and Jones zero, so Ridley must be the preferred red-zone option, right? Well, not really. Here are the Falcons end-zone targets in 2018: Jones 3, Austin Hooper 3, Ridley 2, Devonta Freeman 1, Logan Paulsen 1. Jones is still seeing the most work in the red zone, even if three end-zone targets isn't that inspiring. However, the numbers show that it's a team thing. The Falcons has thrown to the end zone six fewer times than the Lions (who are listed above). That's more than one end-zone target per week that the Falcons receivers haven't seen, which really starts to add up.
Like end-zone targets, goal-line carries are vital to fantasy production. So it shouldn't come as any surprise who leads the league in that category: Todd Gurley. Last week, he carried the ball seven times inside the 5, converting three for touchdowns. That brings his total to 13 on the season to go along with a massive 32 carries in the red zone. This usage is likely to continue going forward, which is going to make it very hard for any other running back to outscore Gurley in fantasy this season.
There's still a frustrating committee in the Titans backfield. Dion Lewis touched the ball 15 times and Derrick Henry had 11 touches in last week's loss to the Bills. What do you do if you own either of these players? Well, nothing. You can't trade them because neither has enough value for you to get anything decent in return. You also can't drop them. The lack of depth at running back on waivers means you'd essentially be handing over depth to your league. So your best move is to stay the course for now and keep them tucked away on your bench.
Speaking of running back committee conundrums, we continued to see a fairly even touch split in the Dolphins' backfield with Kenyan Drake getting 13 touches and Frank Gore seeing 12. All of Gore's were carries, whereas Drake was the preferred pass-catcher, with seven catches on nine targets for 69 yards and a score. Here's the thing: this isn't going to change any time soon. Gore isn't the player he was 10 years ago, but he's still capable on early downs. So if you own Drake, you're going to have to view him for what he is: an upside flex option.
David Johnson has 88 of the Cardinals' 177 touches this season. That's the second-highest touch share in the league. Johnson is starting to heat up for fantasy as he's being used more, which is a good thing for his owners. Stay the course with Johnson. You have a mid-range RB1 on your hands.
We've talked about end-zone targets and goal-line carries, but another stat to keep your eye on is end-zone throws. Deshaun Watson stands out here, as the Texans signal-caller keeps throwing to the end zone. Through five games, he's targeted receivers in the end zone 22 times, which leads the league. At the same time, he's only thrown for eight scores, which puts him well outside of the top 10. But touchdowns have a way of regressing to the mean. If Watson keeps taking this many shots to the end zone, we should expect his touchdown conversion rate to increase. That means a potential fantasy explosion is brewing.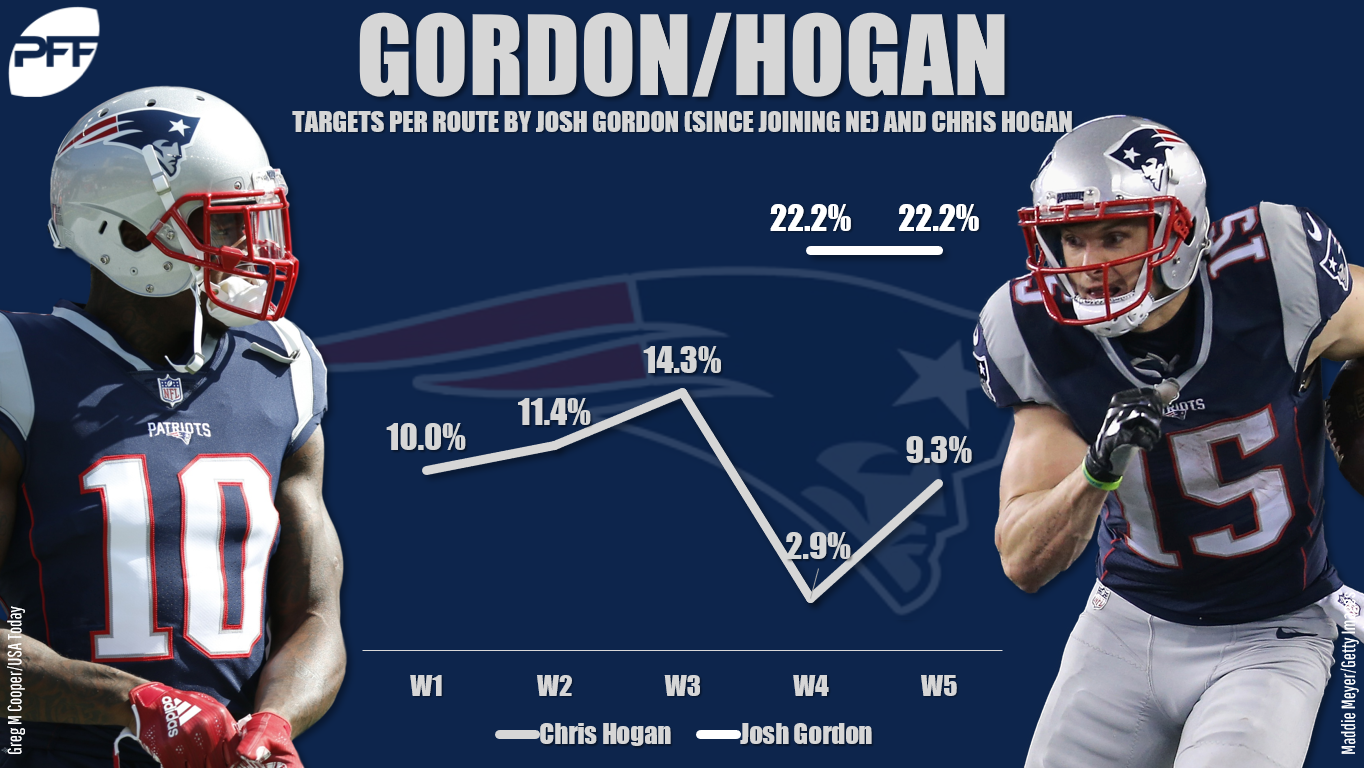 Josh Gordon ran 18 pass routes and saw four targets last week. Chris Hogan ran 43 routes and saw four targets. The usage trend is clear. The scales are tipping toward Gordon, but there are two things to discuss here. First, it's time to drop Hogan. We had a good run with him, but as the kids say, "he gone." The other question here is how we should value Gordon going forward. The touchdown last week was enticing, but Gordon is still getting ramped up in the offense. At best he's a flex option this week. That being said, his value will increase going forward and he should be solidified as a high upside WR2 by the time the fantasy playoffs roll around.
MORE: Listen to Jeff Ratcliffe's PFF Fantasy podcast for fantasy rankings heading into Week 6
Injuries
It's been a frustrating season for Dalvin Cook owners, but the Vikings back looks to be on track to return to the field this week after sitting out Week 5. We last saw Cook the week before when he managed just 20 rushing yards on 10 carries. On the season, Cook is averaging just 2.7 yards per carry after ripping of 4.8 last season. Fantasy football is a "what have you done for me lately" culture, but Cook owners should exercise patience. He's a talented lead back in a potent offense, which typically translates to fantasy success. He's an RB2 this week with RB1 potential going forward.
The troubles at running back are widespread right now. Devonta Freeman is sidelined with a foot injury and looks very iffy for Week 6. If Freeman sites, Tevin Coleman will see the bulk of the work with Ito Smith sprinkling in for about 30-35% of the touches. Leonard Fournette will not play this week and could be sidelined through Week 9. T.J. Yeldon will handle lead duties with veteran Jamaal Charles making his debut with the team this weekend. And Isaiah Crowell hasn't practiced this week and is in danger of missing the Jets' contest against the Colts. If Crowell doesn't play, Bilal Powell will be an RB2 play after seeing 20 carries last week.
Tight end is brutal this season, and injuries to players like O.J. Howard haven't made things better. Howard has been limited in practice this week but is less than two weeks removed from spraining his MCL. Typically that recovery takes players 2-4 weeks, so it's going to be a major stretch for him to get back on the field. If Howard doesn't go, Cameron Brate will be in play as a TE1. However, if Howard suits up, it's wise to fade both Tampa Bay TEs.
Speaking of tight end, it looks like Greg Olsen is going to play after getting a full practice in on Thursday. Olsen suffered a foot injury in Week 1 that look like it could have landed him on injured reserve. It's remarkable how quick Olsen has been able to recover, and he's right back on the fantasy radar. If you own Olsen, it's advisable to sit him this week in case the Panthers manage his reps
Both Cooper Kupp and Brandin Cooks suffered concussions last week for the Rams. Concussions are always tricky, but the good news is that both players participated in Thursday's practice. While neither has officially cleared the concussion protocol, this is a good sign that they'll be active this week. Simply put, you start them if they play. If either player isn't cleared, Josh Reynolds would be the next man up for the Rams.
More injury notes: It's tough to trust Larry Fitzgerald after a sluggish start to the season, but the veteran looks like he'll continue to play through his hamstring injury after getting a limited practice in on Thursday. … Sony Michel has been limited in practice this week, but fantasy owners shouldn't be worried. The Patriots are likely managing his reps. … Will Fuller remains limited in practice but looks like he'll play again this week. Fuller didn't put up big numbers last week but was an every-down player. He's best viewed as a boom-or-bust WR3 until he's fully healthy. … The Texans look like they'll get Lamar Miller back this week. Expect him to see the lion's share of the touches, but Miller's limited upside makes him an unappealing back-end RB2. … Adrian Peterson is dealing with a shoulder injury, but the veteran looks like he'll suit up this weekend. He's a back-end RB2 against the solid Panthers' run defense. … Keep an eye on Eric Ebron's status. He's yet to practice this week, which often is a bad sign. … The Packers had both Randall Cobb and Geronimo Allison back in practice on Thursday. Marquez Valdes-Scantling will go back to a fantasy bench stash if both receivers are able to return to the field.
Wide receiver matchups
Despite what appeared to be a favorable matchup, Julio Jones was held in check last week. What we didn't see coming was the Steelers using shadow coverage for the first time this season. Joe Haden tracked Jones on 76% of his routes, with Jones catching 5-of-7 targets for 62 yards against him. The good news is that even if the Bucs shadow Jones, he should have no problem going off this week. Brent Grimes, Carlton Davis, and M.J. Stewart are arguably the league's worst starting cornerback trio. The veteran, Grimes, has allowed seven catches on eight targets for an average of 16.6 yards per catch and grades out a lowly 108th out of 111 qualifying corners this season. Upgrade Calvin Ridley and Mohamed Sanu as well this week.
Davante Adams is coming off a big game last week and is poised for another strong outing. He projects to see primary coverage from Jimmie Ward. The 49ers have called Ward into action over the last two weeks and he's proceeded to allow six of his eight targets to be caught with two of them going for touchdowns.
The Bucs return from bye this week and there's a lot to like about their matchup, especially for Mike Evans. He'll see Desmond Trufant in primary coverage this week. Once a name who struck fear into any fantasy owner with a receiver in his coverage, Trufant has actually been a plus matchup this season with 20 catches allowed on 29 targets. He has also surrendered two touchdowns in the last three weeks.
We pointed out last week that Amari Cooper was a major downgrade against Casey Hayward, and that ended up being sound advice. However, Cooper owners will want to find a way to get him in lineups this week with a favorable matchup ahead against the Seahawks. This Seattle secondary is far from the Legion of Boom
If you're looking for upside in deep leagues on in DFS, Courtland Sutton is worth consideration. Not only is he seeing heavy usage in the red zone, but he also gets a plus matchup against a hobbled Marcus Peters. He's gutting it out and playing through injury, but Peters has been a liability in coverage for the Rams. Over the last three weeks, he's allowed 14 catches on 17 targets for 255 yards and five touchdowns.
Another deeper name to consider this week is Chester Rogers. The Colts wideout has 11 targets and eight catches in each of the last two weeks, and he gets a tasty matchup against the Jets. When Rogers is lined up in the slot, he'll draw Buster Skrine. Opposing receivers have caught 75% of the targets thrown into Skrine's coverage this season.
DeAndre Hopkins figures to draw a shadow this week from Bills CB Tre'Davious White. Buffalo has called on White to track opposing No. 1s in each of the last two weeks with matchups against Davante Adams and Corey Davis. But it's important to note that he did not follow either player to the slot, so there will be times where Hopkins isn't in White's coverage. Regardless, Hopkins is an every-week fantasy starter no matter who is covering him.
As was mentioned above, the Steelers used Joe Haden on Julio Jones last week, and the Falcons avoided Haden's coverage for much of the day. Look for Haden to shadow again this week on A.J. Green. While that may not sound great if you own Green, don't worry too much. Green has been heavily used in the red zone this season with a massive 10 end-zone targets. He's still in play as a solid WR1.
It's been a fantasy roller coaster ride for Stefon Diggs owners this season, and that isn't likely to stop here in Week 6. Diggs will have his hands full against the Cardinals with primary coverage projected to come from Patrick Peterson. The veteran corner has been excellent so far this season, grading out third among corners with just 8.1 yards per catch allowed. Diggs is a fade candidate in DFS this week, but those in season-long should continue to start him.
Corey Davis has been one of the league's most heavily targeted wideouts this season, though it should be noted that he has a tough matchup on tap against the stout Ravens secondary. Marlon Humphrey is in the midst of a breakout year with just 18 catches allowed on 33 targets. That said, Davis' volume and upside still keep him in consideration as a back-end WR2.
Xavien Howard has been an interesting corner to follow this season. He shut down Amari Cooper in Week 3, but then surrendered two touchdowns in Week 4. So it isn't necessarily a bad thing that Allen Robinson will see plenty of Howard this week. We expect a shadow situation here, but don't fade Robinson. Howard has allowed 24.8 yards per catch in his coverage in 2018.
The Jaguars wide receiver group has been somewhat tough to predict this season, but a lot of fantasy players have Keelan Cole on their rosters. Cole is coming off a solid performance in Week 5 where he saw nine targets against the Chiefs, but it's tough to trust him with rough matchup ahead. Cole figures to see plenty of Byron Jones, who is in the midst of a breakout season and currently is the No. 1 cornerback in PFF grades. Keep Cole on the bench in Week 6.
While we expect Torrey Smith to line up more frequently against Josh Norman, the matchup is worth noting for Devin Funchess owners. Funchess will see his share of Norman, who has been targeted on just 10% of his routes covered this season. Expect Funchess to be quiet when he's in Norman's coverage.
After a hot start to the season, Antonio Callaway's fantasy stock has dipped over the last two weeks. His role has decreased, as he ran just 77% of the Browns pass routes in Week 5. To make matters worse, Callaway should see plenty of Casey Hayward in this contest. Last week, Hayward shut down Amari Cooper, who had just one catch for 10 yards in Hayward's coverage.
Matchup stats to know
Game script is always a factor when it comes to running back production, and that's especially true for Sony Michel this week. If the Patriots lean on the run game, he's poised to have a big fantasy week. Kansas City has been extremely generous to running backs this season with an average of 5.5 yards per carry surrendered to the position. The Chiefs have also allowed four rushing scores to running backs over the last four weeks.
Is this the week to use Ronald Jones? The Falcons are the No. 2 fantasy matchup in PPR leagues for running backs. But despite what the matchup stats say, keep Jones on your bench. We aren't sure exactly what his role will be going forward, and it's important to note that a lot of those fantasy points have come for running backs as receivers. Atlanta is allowing nearly nine catches per game to running backs, which is by far the most in the league. Jones certainly has upside in this contest, but the risk that he won't be heavily used is too much to justify starting him.
There's still a full-blown committee in the Seahawks backfield, but Chris Carson is an appealing RB2 this week. The Raiders are one of just four defenses allowing over 5.0 yards per carry to running backs and have surrendered four rushing scores to the position over the last two weeks. While Mike Davis isn't the lead back, he's still seeing enough work to be considered a desperation flex option in this matchup.
This isn't the week to rely on Kenyan Drake. Sure, the Dolphins back got off the schneid last week, but he gets an absolutely brutal matchup against the Bears. Chicago has yet to allow more than 60 rushing yards to an opposing backfield and no running back has found the end zone against the Bears. They're the only defense who can make that claim through the first five weeks of the season.
The Ravens haven't been quite that repressive on opposing running backs, but the matchup has been a rough one this season. Baltimore has only allowed one rushing score to the position and surrenders the second-fewest fantasy points per game to running backs. That means it's another week to fade Derrick Henry and Dion Lewis.
Tight ends are torching the Steelers this season. Pittsburgh is giving up a league-high eight catches per game to the position. Last week, we saw Austin Hooper catch nine balls on 11 targets for 77 yards against Pittsburgh. So if you're looking for help at the position, you could certainly do worse than C.J. Uzomah.
The Ryan Fitzpatrick era ended as quickly as it began in Tampa Bay, and Jameis Winston will be back under center for the Bucs this week. Winston is likely going to be streaky this season, but he's in play as a QB1 option this week. The Falcons are a top-five fantasy matchup for quarterbacks with three passing scores surrendered in each of their last three games. Expect Winston to get in on the action in a potentially high-scoring affair.
Likewise, Matt Ryan is an extremely strong play on the other side of this contest. The Buccaneers have allowed a massive 9.4 yards per attempt this season with opposing quarterbacks tossing 13 touchdowns and just one interception against the Tampa secondary. Ryan offers an enormous ceiling at home this week.
Another name of note at quarterback this week is Andy Dalton. Teams are passing like crazy against the Steelers this season with 40-plus attempts in four of their five games. Pittsburgh has also surrendered 300-plus passing yards in each of their last four games and are currently tied for the league lead with 13 passing scores allowed.
Don't expect an encore from Mitchell Trubisky this week. He has a tough matchup ahead on the road in Miami. Through the first five weeks of the season, only the Jags allowed fewer fantasy points per game to quarterbacks. Opposing signal-callers have topped one touchdown pass just once this season against the Dolphins.
It's tough to trust Philip Rivers as a fantasy starter this week. Rivers has to travel to Cleveland to face a Browns defense that has held quarterbacks in check for much of the season, with the seventh-fewest fantasy points allowed to the position. Two of the last three signal-callers to face Cleveland have failed to throw for a touchdown.
(READ MORE: Playing DFS this weekend? Check out our tournament guides on DraftKings and FanDuel.)