Picking from the early position is an advantage in 2022, but fantasy managers often lose focus after the first few picks and ruin a great start.
This week, I entered my first Footballguys Players Championship (FPC) drafts at the FFPC to put all of my draft strategies and tier articles into an actionable format. To make things even more interesting, this wasn't your typical draft; it is nicknamed "The Hard Way" because it is chock-full of some of the industry's best high-stakes fantasy drafters (shoutout to @TheOGfantasy for the invite).
In this article, I will walk you through my strategy for tackling pick No. 2, including:
Roster construction goals

When to be aggressive vs. ADP

When to wait for value vs. ADP


Money-week game stacks

Which sleepers to target
My co-host of the Fantasy Football Hustle, Brian Drake, jumped on the airwaves with me to record the entire draft, which you can find here.
For those unfamiliar with the FPC format, it is one of my favorites because the tight-end-premium scoring (1.5 PPR) and dual-flex spots allow for deploying many strategies. You must be strong at the flex, and tight ends matter more than ever.
FFPC OVERVIEW
Starters: 1QB, 2RB, 2WR, 1TE, 2FLX (RB, WR, TE), 1K, 1TDST
Scoring: PPR for all positions except TE, which receive an additional .5 per reception
Format: Re-draft
Teams: 12
Roster spots: 20
Regular Season: Weeks 1-12
League Playoffs: Weeks 13-14 ($1,500 to first)
Championship Round: Weeks 15-17 ($500,000 to first)

Entry fee: $350
Draft position: Pick 2
Team name: Play for Blood
Four teams advance to the league playoffs, and the 1-seed (best record) and 2-seed (most remaining points) automatically go to the championship round from Weeks 15 to 17 versus the top seeds from all other leagues. The 3 or 4 seed can also punch a ticket by winning their league. First place is $500K, which I have just missed three times.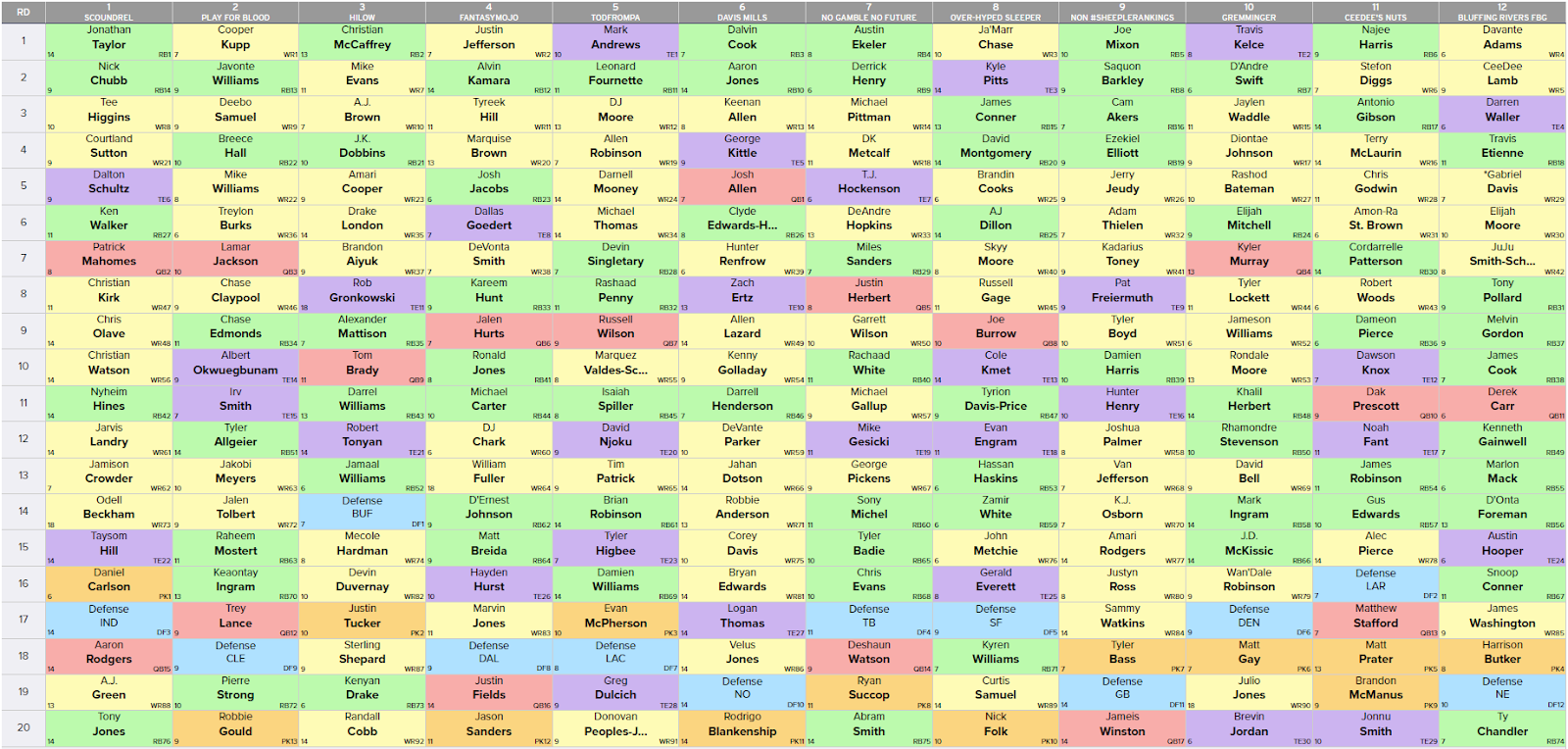 All ADP information is per Fantasy Mojo.
Targets: RB Tier 1A, WR Tier 1A and Christian McCaffrey
Coming away with a running back in the first two rounds isn't an issue that has to be forced, but it is my preferred option because it provides flexibility in the coming rounds.
Had Jonathan Taylor slipped, he would have been the pick because he is hard to acquire without the No. 1 selection. However, he is on bye during Week 14 in the league championship game, which is worth $1,500 and could be necessary to advance to the championship points race if your team is a 3- or 4-seed. Taylor is a strong No. 1 pick but not perfect due to the late-season bye and lingering questions around his role in the receiving game.
McCaffrey was a strong consideration in the first round because his PPR per-snap output rivals Taylor (0.49 vs. 0.47), and his 34% targets per route run (TPRR) and 2.91 yards per route run (YPRR) demonstrate his upside in the receiving game. On the other hand, the Panthers back has a Week 13 bye in the league playoffs, and there are enough Round 2 options at running back to pivot to wide receiver.
I have Justin Jefferson and Kupp in the same tier, but technically I have Jefferson ranked one spot higher. I decided to go with Kupp for two reasons:
Kupp is harder to get at picks 3-6, where Jefferson's exposure can be made up later

The Rams play the Packers, Broncos and Chargers in Weeks 15 to 17, providing blowup potential and some easy game stacks that don't require reaching based on ADP from this draft position
Targets:  RB Tiers 2A/2B, WR Tiers 1C/2A and Kyle Pitts
Squeezing out a Tier 2 running back from the two-hole was a close call, but I felt good about James Conner serving as a failsafe if needed (Round 3, Pick 4 ADP). My preferred targets were Leonard Fournette, Aaron Jones and Williams, with the latter being the most likely to make it back.
The second-year back crept into the late-first round before the Broncos brought back Melvin Gordon but has since drifted to the back-end of Round 2. Gordon will be a factor but is another year older and has 1,549 career rushing attempts, including the penalties and the playoffs. 
Conner projects for a more significant role but doesn't have the same talent profile as Williams, who could grow his role throughout 2022, given the milage on Gordon. 
Williams vs. three-year NFL average in underlying efficiency metrics
| | | |
| --- | --- | --- |
| Missed Tackles Forced per Attempt | Yards After Contact per Attempt | Explosive Rush % (10-plus yards) |
| 31% (+14%) | 3.42 (+0.49) | 12% (+1.5%) |
Williams possesses league-winning upside should he take over 65% of the work (51% of snaps in 2021), which may not happen out of the gate, but an eventual takeover later in the season is also in the range of outcomes.
Rookie RBs since 2011 to eclipse

1. Three yards after contact per attempt
2. 20% missed tackles forced per att
3. 11% explosive carries per attempt (10-plus yards)

with a minimum of 175 attempts:

Kareem Hunt
Nick Chubb
Javonte Williams

— Dwain McFarland (@dwainmcfarland) June 2, 2022
The Broncos back is another pick within the tier framework that also provides significant upside in Weeks 15-17, with the Broncos facing off against the Cardinals, Rams (against Kupp) and Chiefs.
Targets: Samuel, Tyreek Hill, Tee Higgins
Samuel began the offseason as a late-first to early-second second-round selection but recently slipped down boards thanks to a potential holdout and concerns over a crowded receiving room on a run-heavy offense. Those are valid points, but buying the dip on the fourth-year receiver is the sharp move on a receiver whose ADP is likely to rise once his contract situation is resolved.
Year 3 wasn't a fluke. The explosive playmaker flashed immense potential in his first two seasons before his 338 PPR points (WR3) in 2021.
Year 1: WR3 finish, WR2-worthy YPRR (2.04)

Year 2: WR7 finish (injury), but WR2-level PFF receiving grade (81.1) and YPRR (2.97) plus a WR1 TPRR (25%)
Higgins was the most likely receiver to be available to me, and I would have also been happy slightly reaching beyond ADP on a Year 3 talent with immense breakout potential plus matchups against the Buccaneers and Bills in the championship round. Chris Godwin, Gabriel Davis, Russell Gage, Rob Gronkowski, James Cook, Rachaad White and Jamison Crowder all make friendly game stack options with Higgins and are draftable in spots that don't require reaching way past ADP.
Targets: WR Tier 2D
My original plan at this pick was to double-tap receivers with Courtland Sutton and Mike Williams — two players on ascending offenses who were reasonable bets to make it to my draft position. However, as the draft unfolded, my sights became fixed on George Kittle and Hall, who were sliding past their ADPs of 31 and 35, respectively.
Hall was a slam-dunk selection for the squad as the 22nd back off the board at pick 47. The Jets' high second-round pick demonstrated every-down ability throughout his collegiate career and is an excellent fit for the wide-zone scheme. Michael Carter will likely remain involved thanks to his prowess as a pass-catcher, but Hall was one of the best receiving threats in the class and has the upside to handle 60-70% of the workload as an every-down back.
Early-round recap
RB: Javonte Williams, Breece Hall
WR: Cooper Kupp, Deebo Samuel
My expectation was waiting on running back after getting Williams, but the gift of Hall provides maximum flexibility moving forward. I don't have to worry about a run on backs leaving me scrambling in the middle rounds, which will be nice because quarterback and tight ends are still needs.
Targets: Courtland Sutton, Mike Williams, Jerry Jeudy and Josh Allen
I thought I had a good chance of Sutton or Williams sliding back to me after getting a steal on Hall, and that is just what happened. Williams is the third player to fit within my tier structure and ADP while adding upside to my roster in the big-money race from Week 15 to Week 17. 
The Chargers play the Titans, Colts and Rams over that stretch — all playoff or contending teams from 2021. In Week 17, I will have a Kupp vs. Williams game stack if I can make it through to the championship round.
Jeudy was a backup option to Sutton, but I am beginning to lean toward Sutton because of his safer role in two-wide receiver sets. The Broncos will use plenty of heavy personnel groups with their new running game in 2022 under Nathaniel Hackett, which could restrict Jeudy's routes.
Allen was also in play here as value past ADP, but there are just too many quarterbacks that I love remaining on the board.
Targets: Tier 3 WRs, Tier 3A/3B RBs, game-breaking QBs
With the receivers quickly drying up, I made my first slight reach of the draft by taking Burks a half-round early. Team 1 only had two wide receivers rostered, meaning a WR/WR turn was a possibility (even though they went RB/QB). With DeAndre Hopkins, Michael Thomas and Drake London all peeling off the board right in front of me and only DeVonta Smith and Burks remaining in my upside-WR3 Tier, I didn't want to risk missing one.
With Mike Williams already on the team, I leaned to Burks over Smith, thanks to a Week 15 matchup between the Titans and the Chargers. 
Targets: Tier 1A/1B QBs, DeVonta Smith
This was the most challenging draft selection — I was torn between Smith and an elite quarterback. However, I decided to go ahead and grab the only quarterback with 1,000 yards rushing in his median projection. Kyler Murray is one spot ahead of Jackson in my tiers, but the Cardinals' Week 13 bye (league playoffs) was enough to swing me to Jackson in this format.
Looking back, I could have waited and landed the Jackson arbitrage play in Jalen Hurts in the eighth to pair with Smith.
Targets: Rob Gronkowski, Zach Ertz, WR Tier 4A/4B, RB Tier 3D
Grabbing one of the last tight ends in Tier 1C was a priority, but Team 4 (@Hilow) sniped Gronkowski right in front of me, causing me to shift my focus back to WR and RB. With Burks currently slotted as one of my flex options, I decided to beef up my receivers with more upside by taking Claypool.
With Team 1 only rostering two receivers to this point, I felt confident he would turn two with his picks, so I prioritized the receiver over the backs. I selected Claypool 13 spots ahead of ADP, but he grades out in the same tier as a few guys that go ahead of him. The Steelers' third-year receiver still carries sneaky breakout upside and gets a matchup in Week 17 against my QB (Jackson).
Targets: Edmonds, James Cook and Albert Okwuegbunam
Not having a tight end yet was a bit worrisome, but four factors helped me decide to push it another round:
Okwuegbunam's mid-Round-11 ADP (11.6)

Only one other team didn't have a tight end yet and one already had two

Dawson Knox was still on the board, (higher ADP than Okwuegbunam) providing a cushion

Edmonds and Cook were the last two upside receiving backs remaining on my board and they weren't coming back to me
Targets: Okwuegbunam, Knox, Irv Smith Jr.
The calculated gamble to pass on Okwuegbunam worked out with only two tight ends coming off the board (Knox and Cole Kmet) after my selection of Edmonds. However, seven backs were taken, including James Cook.
Okwuegbunam is in a crowded offense but should see a career-high in routes this season, and his underlying YPRR (1.94) and TPRR (24%) comp favorably to the best tight ends in the game. This pick is loaded with upside and provides another Week 16 game stack against Kupp.
Current Roster Construction
QB: Lamar Jackson
RB: Javonte Williams, Breece Hall, Chase Edmonds
WR: Cooper Kupp, Deebo Samuel, Mike Williams, Treylon Burks, Chase Claypool
TE: Albert Okwuegbunam
FLEX: Mike Williams, Treylon Burks/Chase Claypool/Chase Edmonds
The balanced construction enables the flexibility to strengthen the skill positions and flex options based on how value falls. Adding another tight end is a high priority given that this is a tight-end premium league, and as much as I love Okwuegbunam, his sample size isn't huge.
Targets: Smith, Tyler Allgeier, Isaiah Spiller, Khalil Herbert
I could feel a running back and tight end run looming based on the way value set up, but I decided to pull the trigger on Smith as my second tight end, given my roster construction. If, for some reason, both tight end picks hit, this isn't a waste like it might be in some formats because you can flex the position.
Smith's underlying data profile doesn't thump as hard as Okwuegbunam's, but he is a former second-round pick who delivered a TE1-worthy PFF receiving grade in his second season (75.4).
With Adam Thielen heading into his age-32 season and declining across YPRR and TPRR data points, there is a chance the No. 2 option in the passing game is Smith, and I am thankful I pulled the trigger. Six tight ends came off the board before it was my turn again.
Targets: Tier 4 RBs and Tier 5 WRs
Allgeier doesn't carry great draft capital (Round 5), but the Falcons backfield depth chart is soft outside of Cordarrelle Patterson, who could spend more time outside at receiver in 2022. He was the best remaining back in Tier 4, and there were multiple receiver options still on the board.
Targets: Tier 5 WRs
Meyers isn't getting enough love for a player who has already flashed WR2-level talent in PFF receiving grade and TPRR for consecutive seasons. He isn't an explosive playmaker, but he knows how to uncover and destroys man coverage (28% TPRR). 
If the third-year receiver scores five to six touchdowns, he could post a WR2 fantasy finish and is an easy pick to smash in Round 13 of drafts. Additionally, the Patriots play the Dolphins in Week 17, providing a potentially sneaky game stack with Chase Edmonds.
The other name I considered at this spot was Hassan Haskins, who I love as an upside cuff to the over-worked Derrick Henry. However, I thought I had a good shot at him falling back to me with his ADP of 169.
Targets: RB Tier 5A and WR Tier 6
Haskins didn't even make it out of Round 13 as @OverHypedSleepr scooped him up, which then cascaded into a massive run on the position. After the run, I decided to pivot back to grab one more WR. 
Tolbert needs an upgrade to Tier 6 in my rankings. I find myself consistently wanting to draft him given the opportunity he will have with Michael Gallup recovering from a late-season knee injury. He has a good quarterback, plays in a high-volume offense and gets a Week 17 match against Treylon Burks.
Current construction
QB: Lamar Jackson
RB: Javonte Williams, Breece Hall, Chase Edmonds, Tyler Allgeier
WR: Cooper Kupp, Deebo Samuel, Mike Williams, Treylon Burks, Chase Claypool, Jakobi Meyers, Jalen Tolbert
TE: Albert Okwuegbunam, Irv Smith Jr.
FLEX: Mike Williams, Burks/Claypool/Edmonds/Meyers/Smith
ROUNDS 15-20
Over the final rounds, I needed to add more depth to my running backs while reserving two picks for kicker and defense.
Raheem Mostert will be over 30 years old this season but was an explosive back in his time with San Francisco. This was less about an Edmonds handcuff and more about adding a playmaker in an offense that could be much better in 2022.
Keaontay Ingram doesn't carry much draft capital (sixth round), but James Conner has an injury history, and the Cardinals have shown a willingness to feed one back if injury strikes. Darrel Williams — who went in Round 11 —  is the favorite for the backup role but is just a guy. If Ingram can't beat out Williams, he makes an easy preseason cut candidate where the first waiver wire run will be piping hot thanks to an early draft.
Trey Lance wasn't in the plans, but a Round-17 price tag was too good to pass up. All signs point to Lance as the starter for the 49ers, and he could provide a similar upside to Lamar Jackson thanks to his ability as a runner. I didn't want to allow one of my league mates who waited at quarterback to gain access to that type of ceiling. If injury strikes with Lamar, Lance is one of the few options that make it worth drafting a second signal-caller, and he creates a stack with Deebo Samuel.
The Browns defense opens the the schedule against four questionable quarterback situations in the Panthers, Jets, Steelers and Falcons, which is a recipe for big-play turnovers.
Pierre Strong Jr. provides another young back to monitor heading through preseason, where a lot can happen. The fourth-round pick is an exceptional inside and outside zone runner and the Patriots are without a fullback for the first time since 2013. Last year New England led the NFL in gap run concepts (72%), but there is a chance that evolves as their roster changes. He is another easy cut should things not go his way in camp.
Robbie Gould wasn't my primary option, but Team 11 accidentally took a second kicker. My targets were Brandon McManus, Nick Folk and Jason Sanders. Still, Gould plays in a solid offense and has provided fantasy value in the past. Most likely this position will be addressed on the wire once McManus is cut.
FULL TEAM
QB: Lamar Jackson, Trey Lance
RB: Javonte Williams, Breece Hall, Chase Edmonds, Tyler Allgeier, Raheem Mostert, Keaontay Ingram, Pierre Strong Jr.
WR: Cooper Kupp, Deebo Samuel, Mike Williams, Treylon Burks, Chase Claypool, Jakobi Meyers, Jalen Tolbert
TE: Albert Okwuegbunam, Irv Smith Jr.
FLEX: Mike Williams, Burks/Claypool/Edmonds/Meyers/Smith
DST: Cleveland Browns
K: Robbie Gould