When building DFS lineups for fantasy football, knowing who to play is crucial. But perhaps just as crucial is knowing who not to play, which players you should cross off your list for that slate. Paring down the player pool makes the rest of the lineup decisions that much easier.
Each week in this space, using the information and data available to PFF subscribers, I'll highlight the players in that week's main slate that I think should be crossed off for that week, or at least used very sparingly. These are the Week 8 fades.
(A note on the Week 7 fades: They were terrible. I advised fading Aaron Rodgers and Darren Waller and they were the week's leaders at their respective positions. Week 7 was a massive tilt week. I apologize to everyone who listened to me.)
Quarterback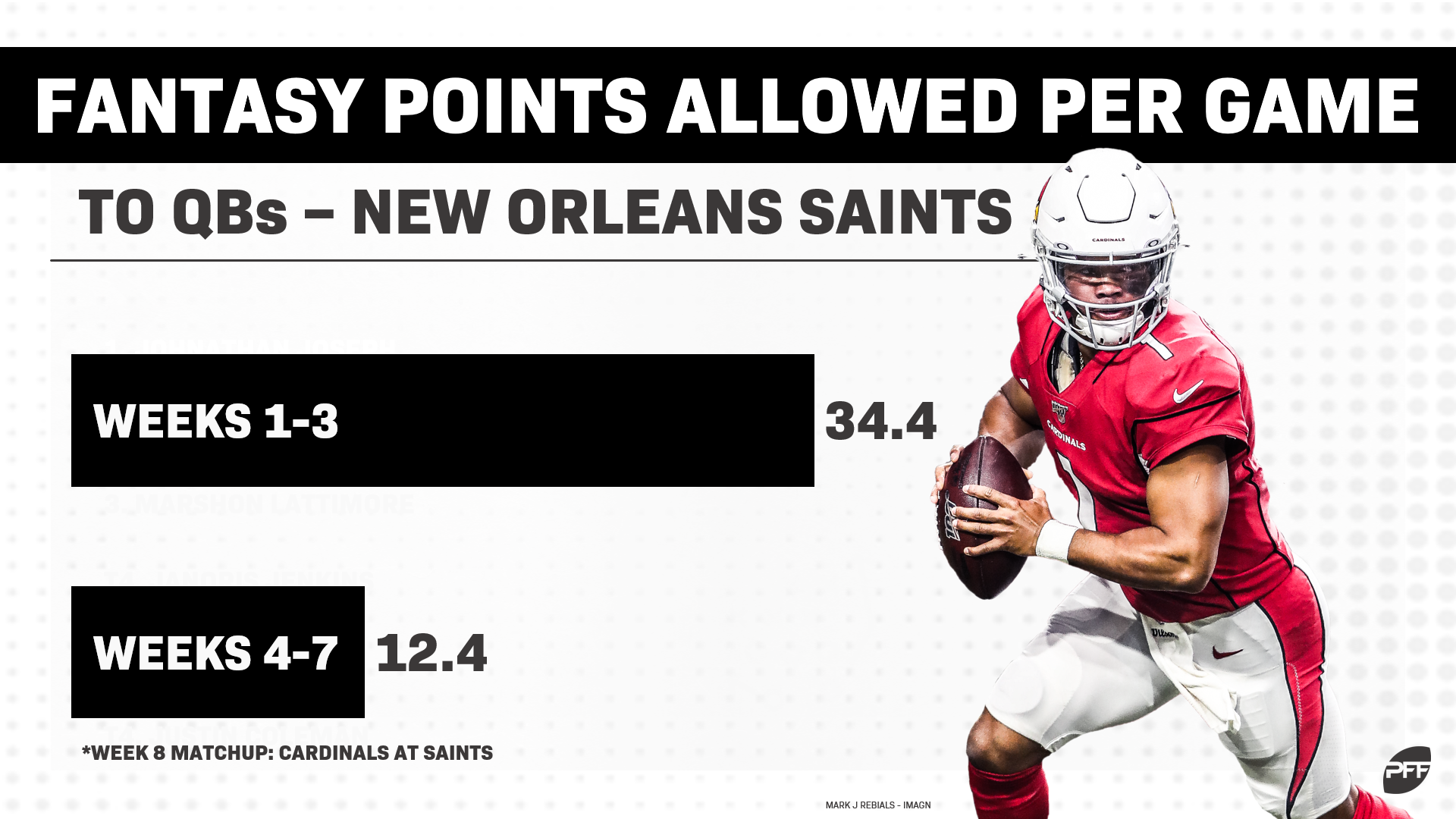 If you look at full-season fantasy points allowed, you'll see that the Saints have allowed the sixth-most points per game to opposing quarterbacks and perhaps conclude that this is an excellent matchup for Murray. But dive a little deeper and you'll see that it's been a tale of two seasons for New Orleans so far. In Weeks 1-3, the Saints allowed 31.4 points per game to the position, worst in the league. Since, that number has dropped to a fifth-best 12.4, with Marshon Lattimore turning his season around in the secondary. Murray has been very opponent-dependent this year, feasting on the Bengals and Falcons and struggling against the other defenses he has faced.
Our DFS ownership projections don't foresee massive ownership for Brissett this week, but some will be on him in an act of point-chasing after his massive Week 7 has him leading the league in touchdown passes per game. But against a run-funnel Denver defense that has allowed the third-fewest fantasy points per game to quarterbacks and wide receivers, point-chasing is a good way to strike out on Brissett this week.
Running back
Let's get this out of the way: You're never wrong to use McCaffrey in DFS, and having a small piece of him this week isn't a bad idea. But if you're only playing one or two tournament lineups, this is a good week to look elsewhere. The only team to allow fewer PPR points per game to running backs than San Francisco is … oh, no one. That alone isn't enough to fade someone as dominant as McCaffrey has been, but his ridiculous salary (he's $1,000 more than any other running back on FanDuel, $1,400 more than any RB but Saquon Barkley on DraftKings) means you're clogging your roster with a guy whose upside is at a low point.
Someone will have a big week against the Patriots this year. The law of averages more or less dictates it. But betting on a specific guy to do it is a bad investment. Steer clear.
Henry is the No. 12 PPR back so far this year, but he's been more touchdown-dependent than you'd like out of a top-tier back, only topping 100 yards once all year and with only 3.7 yards per carry on the year, including less than half a yard per carry before contact, thanks to a struggling offensive line. This week, he faces a Tampa Bay run defense that hasn't allowed a running back to top 62 yards on the ground all year and has only allowed two guys (McCaffrey and Todd Gurley) to score a rushing touchdown.
The best ability is availability. It's a cliché, but that doesn't make it wrong. And while that's typically applied to health concerns, it also works from a playing time perspective. Lindsay hasn't even been playing 50% of the Broncos' offensive snaps this year (48.1%). That number has gotten worse as the season has gone on, with Royce Freeman outsnapping Lindsay almost 3:2 over the last month.
This is definitely an opinion that has me on an island. And to be fair, Johnson is a ridiculous value. But after spending all offseason and training camp talking about Johnson's potential as a pass-catching back, suddenly Kerryon Johnson gets hurt and Ty is getting talk about a workhorse? I expect there to be far too much of a committee between Ty Johnson, J.D. McKissic, and maybe even Tra Carson and Paul Perkins for any great value to emerge, especially in a game that seems geared for the Lions to attack through the air.
Wide receiver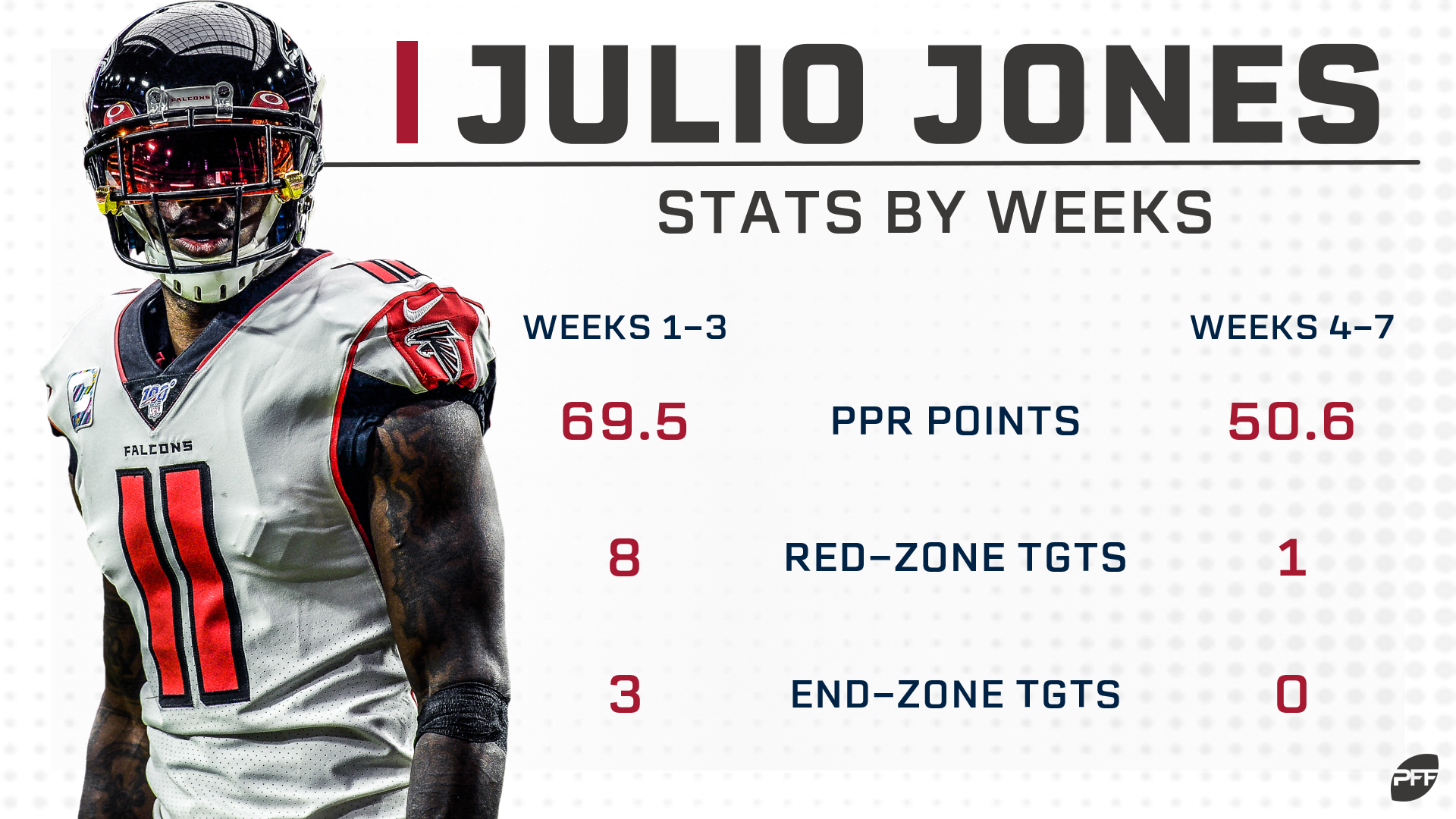 A matchup against the Seahawks shouldn't be too intimidating, even with the addition of Quandre Diggs this week. But after a massive and especially valuable first three weeks (8 red-zone, 3 end-zone targets), his valuable targets have disappeared (1 red-zone target over the last month, none in the end zone). And Matt Ryan's ankle injury could keep both receivers' upsides in check.
T.Y. Hilton, Indianapolis Colts (vs. Denver)
The aforementioned concerns about Jacoby Brissett filter down to Hilton as well, with our WR/CB matchup chart predicting shadow coverage on the receiver from Chris Harris Jr., who is allowing only 1.13 yards per route covered so far this year.
This is more of a game-theory play than an analytic one, but it's hard to imagine spending full value on a receiver only five days into his tenure on a new team. Even with Josh Gordon gone, Sanu is one of several mouths to feed in the New England offense, certainly behind Julian Edelman in the pecking order and likely James White as well. There is enough for him to be productive in the long run, but it's probably better to give him a week or two in the fold before putting DFS money behind him.
Tight end
I've discussed my issues with Ertz's workload this elsewhere this week (he's still leading tight ends in targets but at barely half his target load at this time last year), so for these purposes I'll look at the DFS considerations. Ertz is still the fifth-highest-priced tight end on the main slate for both sites, and our DFS ownership projections have him pegged to be the third­-highest-owned tight end. For a guy whose ceiling is pretty clearly far below what it was last year, that's just a bad investment.
T.J. Hockenson, Detroit Lions (vs. NY Giants)
Hockenson is averaging a wholly respectable 8.7 PPR points per game this year, 13th among tight ends and a top-20 rookie total all-time. But that's predominantly because of a big Week 1 against the TE cheat code Cardinals — since then, Hockenson's average has dropped to 5.4 (28th this year, barely top-100 against rookies all time). Until he shows he can put up big numbers a team other than a cheat code, Hockenson's off the board.