Opponents matter in fantasy football. Exactly how much they matter is fair to debate, but you know you'd rather an offensive player facing Team X than Team Y. You'd rather a defense facing Miami than Kansas City. We know this.
Each week in this space, I'll be taking a look at some of the key matchups to exploit in a given week, good or bad, at each position. And we'll start things off with my mismatch of the week.
Mismatch of the week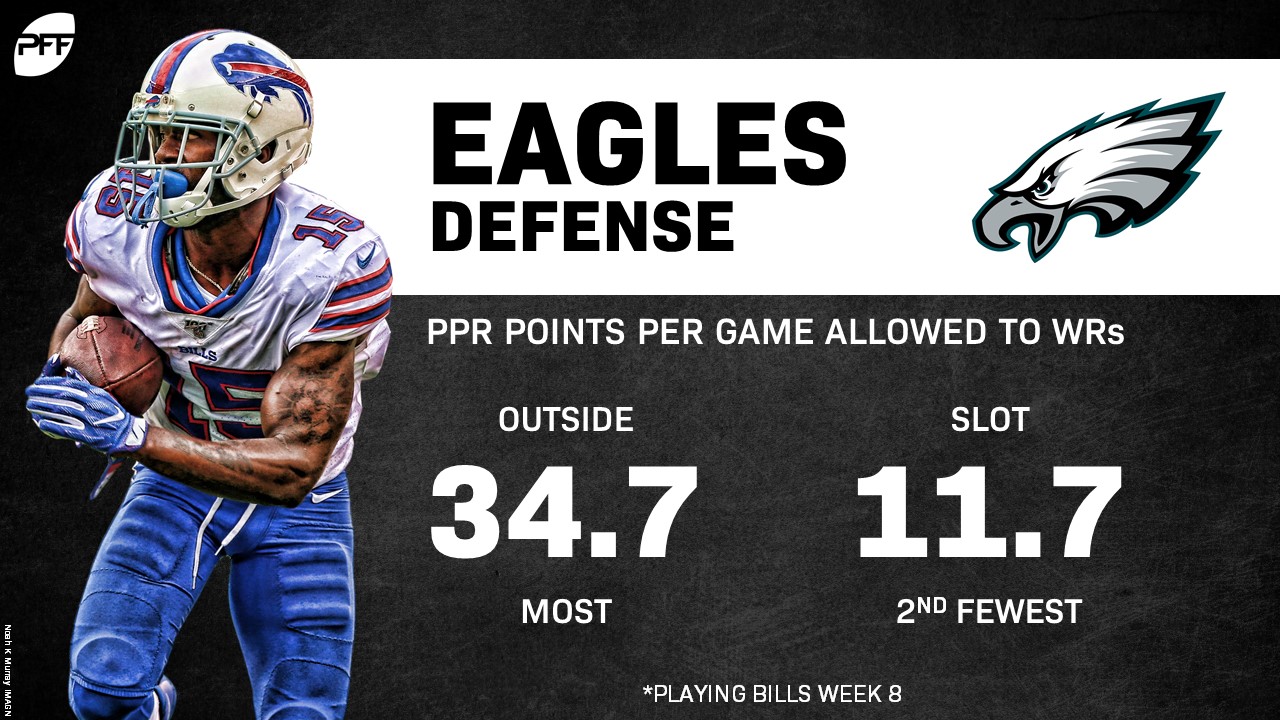 John Brown, WR, Buffalo Bills (vs. Philadelphia): No team is allowing more PPR points per game to outside wide receivers so far this year than the Eagles' 34.7. Their overall receiver PPG allowed is actually not as daunting as you'd think, because the team is allowing only 11.7 (second-lowest) to slot receivers. The Bills have two receiver weapons we care about — Cole Beasley, who runs 78% of his routs from the slot, and Brown, who … doesn't. Expect him to get multiple shots Sunday.
Best situations
Matthew Stafford, QB, Detroit Lions (vs. NY Giants): The Giants have been the most boom-or-bust opponent for quarterbacks this year. In five of seven games, they've allowed 20-plus fantasy points to the position. In the other two (Weeks 4 and 7), they've allowed a combined 10.5 to rookie Dwayne Haskins and Kyler Murray. Overall, though, the Giants have PFF's fifth-worst coverage grade so far. And Stafford will be without his top rushing weapon in Kerryon Johnson, which will likely lead to an increase in reliance on the pass.
Saquon Barkley, RB, New York Giants (@ Detroit): Barkley's return from injury Sunday was … fine. He scored a touchdown and managed 17.0 PPR points. Still, 80 yards from scrimmage was the third-lowest for a full game in his career. But now that we've seen Barkley back in action, the next step is to see him at full strength. And with Evan Engram still banged up, Sterling Shepard no guarantee to return yet (both could play Sunday, but we might not have 100% from either), and a Lions defense opposite him allowing more than 31 PPR points a game to running backs, Barkley should get going Sunday.
D.K. Metcalf, WR, Seattle Seahawks (@ Atlanta): You know how bad the Falcons are on defense, and now that the Mohamed Sanu trade signals a team moving on from 2019, it might only get worse. So I won't rehash those numbers here. But it's worth noting that, while the results were only sort of there for Metcalf in Week 7 (4 catches, 53 yards), his first game without Will DIssly featured a career-best 8 targets. More targets means more shots at big numbers.
Jonnu Smith, TE, Tennessee Titans (vs. Tampa Bay): Everything coming out of Tennessee since Delanie Walker essentially missed Week 7 (he started the game, but left without a target) seems to indicate there's at least a better-than-average chance he sits out Week 8. That would leave the tight end role to Smith, who filled in for Walker Sunday and put up a career-high 64 receiving yards, and he'd get a Tampa Bay defense that is allowing the second-most PPR points per game to opposing tight ends.
Worst situations
Kirk Cousins, QB, Minnesota Vikings (vs. Washington): Cousins went from totally forgettable for fantasy through the season's first month to fantasy monster the last three. With Adam Thielen almost certainly out for Thursday and the Vikings the biggest favorites of the week at 15.5 points, this looks like a definite Dalvin Cook game. Expect more of the first-month Cousins than the recent vintage.
Phillip Lindsay, RB, Denver Broncos (@ Indianapolis): In Weeks 1-3, Lindsay played 113 offensive snaps, compared to 107 for Royce Freeman. Close, with a slight edge to Lindsay. Since, in Weeks 4-7, Lindsay has played 108 in four games, while Freeman has played 145. Freeman has played more snaps than Lindsay in five of seven games. Lindsay still has the fantasy advantage overall, with slightly more yards and a 4-1 touchdown advantage, but Lindsay has the reputation of a solid-plus RB2, but the workload of a risky flex, and with the Colts allowing the sixth-fewest PPR points per game to running backs, that light workload could bite Lindsay.
Chris Godwin, WR, Tampa Bay Buccaneers (@ Tennessee): Godwin has made himself into a bona fide WR1 this season and comes into this game off a week's break. Working against him, though, is a matchup against a Titans team allowing the fifth-fewest PPR points per game to opposing receivers … and they do their best work against the slot (where Godwin gets a lot of his work), where our points allowed positional matchup chart shows that they are sixth-best against slot receivers but much worse against outside receivers, where we're likely to see more Mike Evans.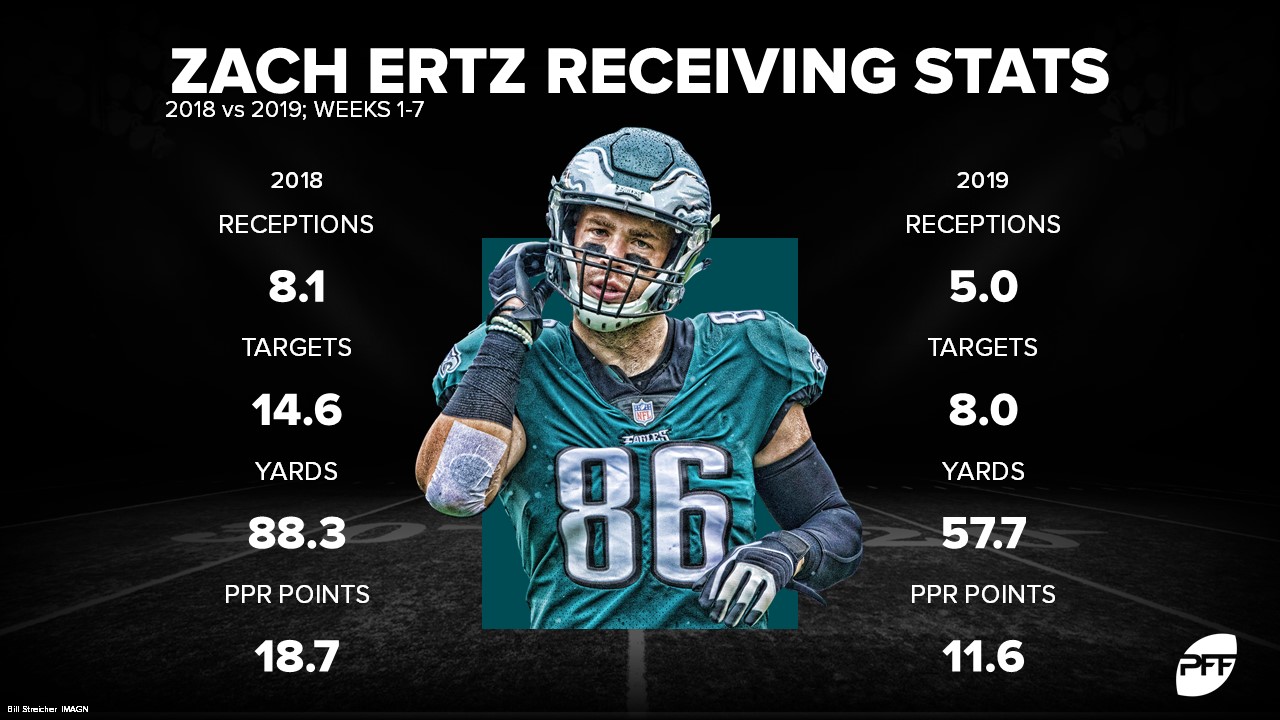 Zach Ertz, TE, Philadelphia Eagles (@ Buffalo): As I noted in Tuesday's rankings risers and fallers piece, Ertz' best game this year by receiving yards would be worse than his average yardage in 2018. Through the same point in the season, his targets per game are down 6.6 from last year, his receptions down 3.1, his yardage down 30.6, and his PPR points down 7.1. And this week he gets a Buffalo defense that hasn't allowed a tight end touchdown yet.