When building DFS lineups for fantasy football, knowing who to play is crucial. But perhaps just as crucial is knowing who not to play, which players you should cross off your list for that slate. Paring down the player pool makes the rest of the lineup decisions that much easier.
Each week in this space, using the information and data available to PFF subscribers, I'll highlight the players in that week's main slate that I think should be crossed off for that week, or at least used very sparingly. These are the Week 12 fades.
Quarterback
Week 11's inexplicable second-half meltdown by the Broncos defense helped make Kirk Cousins the first quarterback all season to reach even 18 fantasy points or 280 passing yards against Denver. And crucially for this matchup, the Broncos haven't allowed a rushing score to a quarterback this season or more than 34 rushing yards. For a quarterback who derives so much of his value from his legs, that's bad news for Allen.
There's an argument for using a boom-or-bust quarterback like Jones has been in DFS tournaments, because of the "If you ain't first, you're last" nature of such games. But Jones' booms and busts haven't exactly been unpredictable; all of his big games have come against poor pass-rushes, and all of his bad games have come against good pass-rushes (seriously, it's been that simple). Against the Bears' strong pass-rush, don't expect a big Jones week.
Running back
Okay, okay, calm down. It's never (never) a bad idea to use McCaffrey. But this week is as close as we're likely to come. He's facing a Saints team that, per our points allowed matchup chart, has allowed the fourth-fewest PPR points per game to opposing running backs. And yes, McCaffrey is not like any other fantasy back in the league, but between that and the fact that he's an amazing $2,300 more expensive than any other running back on this week's main slate on DraftKings, $2,100 on FanDuel, means that this is as close as McCaffrey will come to not being worth it.
Assuming he stays healthy, Fournette will score another touchdown this year. He more or less has to. That said, it's not just luck that has him stuck at one touchdown this year. For all the work he's getting (third in the league with 229 touches), the Jaguars don't do much work near the end zone (they've run all of 11 plays inside the 5 this season, tied for second-fewest in the league), and Fournette hasn't gotten much work there (only four carries inside the 5, tied for 32nd in the league, fewer than, among others, Dare Ogunbowale). Meanwhile, McCaffrey is the only running back with a 100-yard rushing game against the Titans this year.
Jacobs has seen his receiving work increase ever so slightly of late, with at least 3 targets in four of his last six games after no more than 2 in his first four. Note how low our threshold for improvement is, though — he's eighth in the league in percentage of touch opportunities coming on the ground (min. 100 opportunities). For a running back to have success against Jets (who have allowed the lowest yards per rush in the league), he needs to be able to contribute through the air, and that hasn't been Jacobs as a rookie.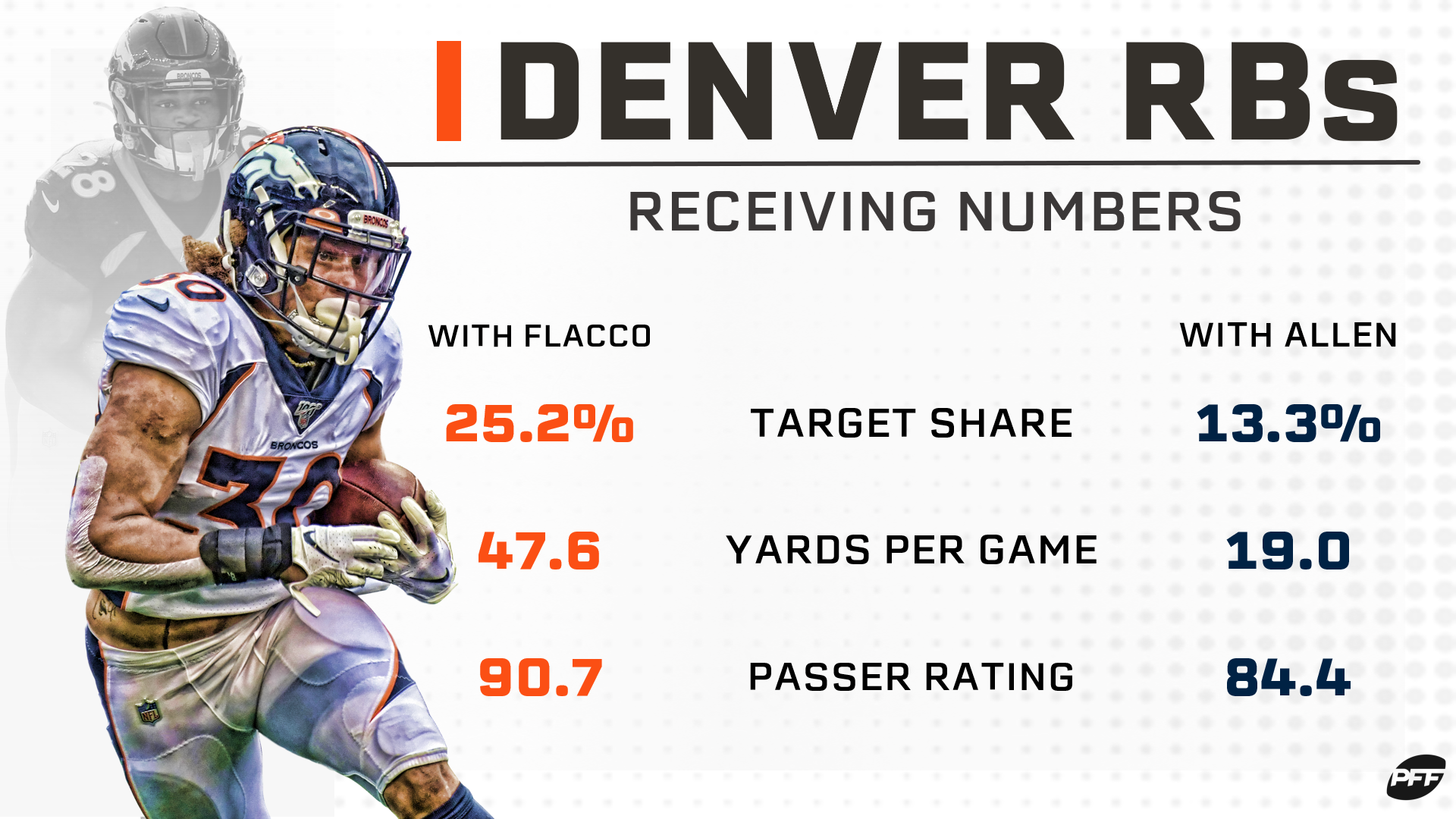 Speaking of running backs not very involved in the passing game, the receiving work for the Denver backfield has disappeared since Brandon Allen became the team's starting quarterback. With Joe Flacco as the starter, the Broncos targeted running backs on 25.2% of their pass attempts, including 20-plus percent in six of eight games. With Allen starting, that number has been 10.0% and 15.0% in two games, with Lindsay and Freeman getting only a pair of targets each in the two games. Between their work split and the lack of receiving work, it's hard to imagine trusting either of the Broncos running backs.
Wide receiver
John Brown, Buffalo Bills (vs. DEN)
Our WR/CB matchup chart foresees shadow coverage from Chris Harris Jr. on Brown this week. Harris has shadowed five times this year and allowed a combined 10 receptions for 184 yards to Allen Robinson, Davante Adams, T.Y. Hilton, Odell Beckham Jr., and Stefon Diggs.
And the shadow situations continue in this game with Sutton likely to see a lot of Tre'Davious White in this game. White has excelled in shadow situations as well, holding Beckham, Terry McLaurin, and DeVante Parker to 11 receptions for 134 yards. White has allowed a 60.8 passer rating into his coverage this year, ninth-best for cornerbacks with at least 200 coverage snaps.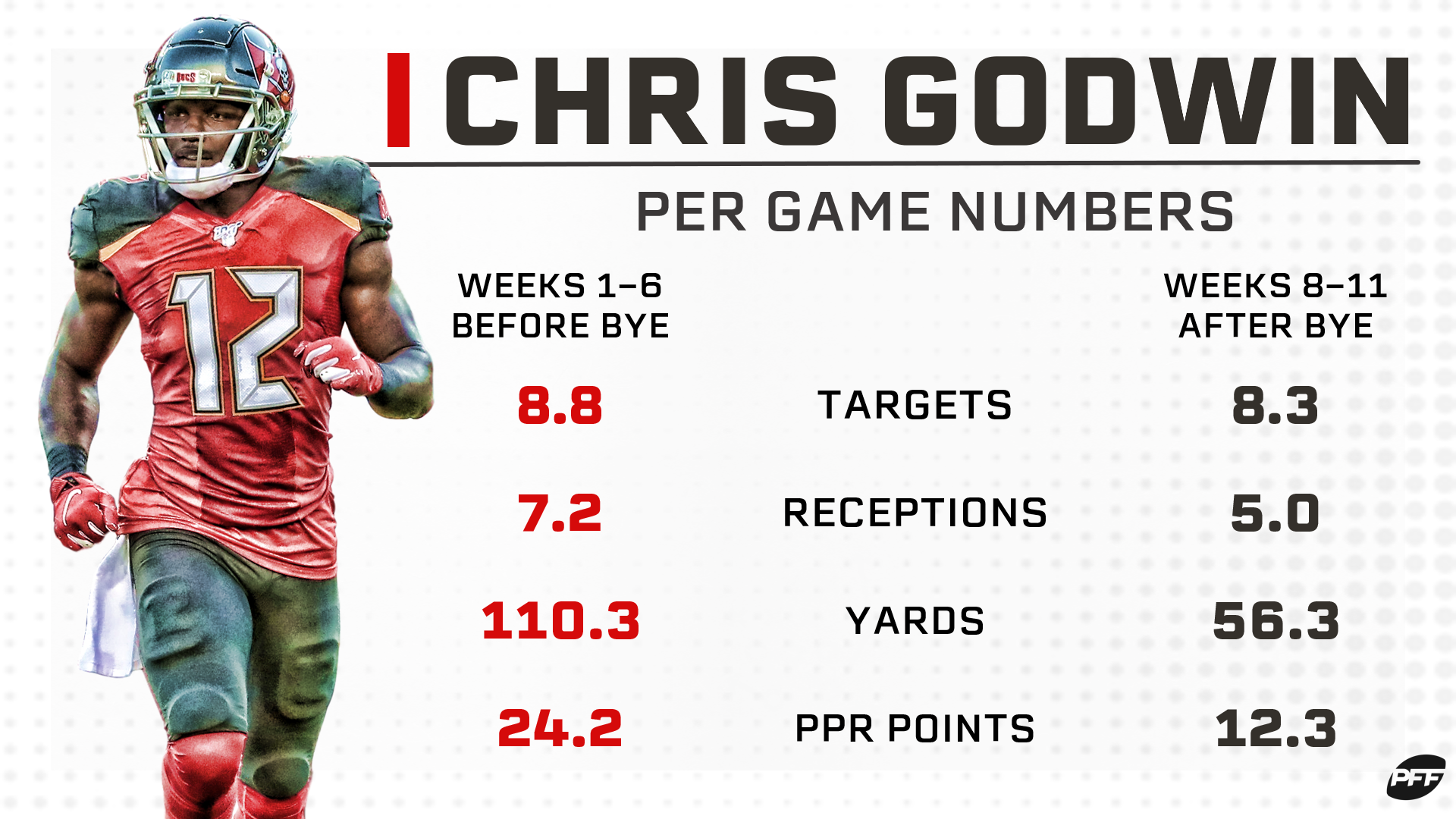 It's still too early to call the Falcons suddenly a formidable defense, even after two weeks of excellent performances coming out of the bye. So we aren't downgrading Mike Evans too much in this matchup, even if there's a bit more nervousness than there might have been a few weeks ago. But Godwin's situation is different. First, his numbers have dropped off a bit since his ridiculous start to the season. After lighting the league on fire through the Buccaneers' Week 7 bye (24.2 PPR points per game), he's been much more average since (12.3). And perhaps more important than that arbitrary-endpoint analysis, Godwin spends most of his time in the slot (64.5% or his routes have been lined up there), where our points allowed matchup chart shows the Falcons are better than average in fantasy points allowed. Meanwhile, they allow the second-most points per game to outside receivers.
Continuing the same sort of analysis we offered on Godwin, Lockett runs even more routes from the slot (69.6%), the Eagles are similarly tough against slot receivers, and the Eagles have allowed the most points per game to outside receivers … for the third year in a row. Add in a 1 p.m. ET start for a West Coast team heading east, and this is a bad setup for a player coming off injury.
Tight end
McDonald is much more name than production at this point. He's only missed one game this year (a common problem for him in the past), but is still only 23rd among tight ends in fantasy scoring. He only has a touchdown in two games, and he has yet to have a single game with more than 40 yards. Every other tight end in the top 40 at the position has done that at least once, but McDonald hasn't. There's just no fantasy ceiling there, and any upgrade you'd give him because of the Steelers' injury concerns is offset by the problems with Mason Rudolph at quarterback.