Continuing our series looking at fantasy football consistency, today we are looking at wide receiver.
Tight end has been a real position of haves and have-nots in recent seasons. (For the full methodology, check out the intro in the quarterbacks piece from Wednesday. We've also hit running backs so far.) Four quadrants exist at any given position: high-risk/high-reward, high-risk/low-reward, low-risk/low-reward, and low-risk, low-reward. This visualization and sorting of RBs into the four quadrants allows for an easy understanding of players' scoring and consistency. Once we're able to observe the most consistent or volatile players given their average fantasy production, you can more effectively maximize your team's upside without carrying too much weekly risk, which is crucial for constructing a premier fantasy football team.
Before the NFL became so pass-heavy with the incorporation of analytics and offense-friendly rules, the fantasy football world was dominated by bulky, bell-cow RBs while WRs were often overlooked. As a result, many leagues adopted various PPR formats to help offset the disadvantages that WRs had in fantasy compared to RBs. Although this helps merge the two position groups, fantasy football has now been bombarded with WR3s — boom-bust options who are almost indistinguishable from one another — as NFL teams adapted with more 11 personnel sets and creative play-calling. As such, many fantasy footballers may be misguided by WRs' aggregated end-of-season totals that frustrate their owners on a weekly basis due to their crazy volatility. I'm sure many of you remember Tre'Quan Smith's massive 10-catch, 157-yard, and one TD performance against the Eagles in Week 10 … which was preceded by a zero-target outing in a 37-point route against the Bengals and followed by a combined two targets for zero catches over the next two games. Receivers like Smith display so much potential, but there are seemingly a dime-a-dozen throughout the NFL; players that can single-handedly win you one week and completely cost you in the next. Finding the perfect match of scoring upside with somewhat reliable weekly floor is critical in the 2019 season as WR scoring becomes more fragmented and scattered.
(An important note: Raw fantasy point totals are enormously susceptible to the effect of touchdowns, which are themselves very dependent on luck. So tracking by fantasy point totals is not the be-all, end-all approach. The information here is one data point.)

The data
Utilizing Fantasy Football Calculator's highest-drafted WRs (excluding rookies) per ADP in 12-team, PPR leagues as of Aug. 26, we can visualize the average risk-reward ratios of this position across a dataset of the most likely drafted players. On average, these WRs produced 12.7 PPG — with a minimum of four opportunities (defined as targets plus rushes) to qualify as a game and at least three games played across the entire season — with a standard deviation of 7.5 points, equaling a 59.1% coefficient of variation, which is a statistical measurement of variance. In the context of fantasy football, the lower the CV, the safer the player given his scoring output. Considering these data, the average drafted WR should generally score between 5.2 and 20.2 PPG, which may appeal to the more risk-seeking drafter; however, many others would be evade this type of player (I'm sure Amari Cooper owners over the past couple of years can attest to this). Fortunately, Figure 1 below illustrates the general spread of several-dozen WRs that should be drafted in your leagues this season, indicating where they fall within our four clusters.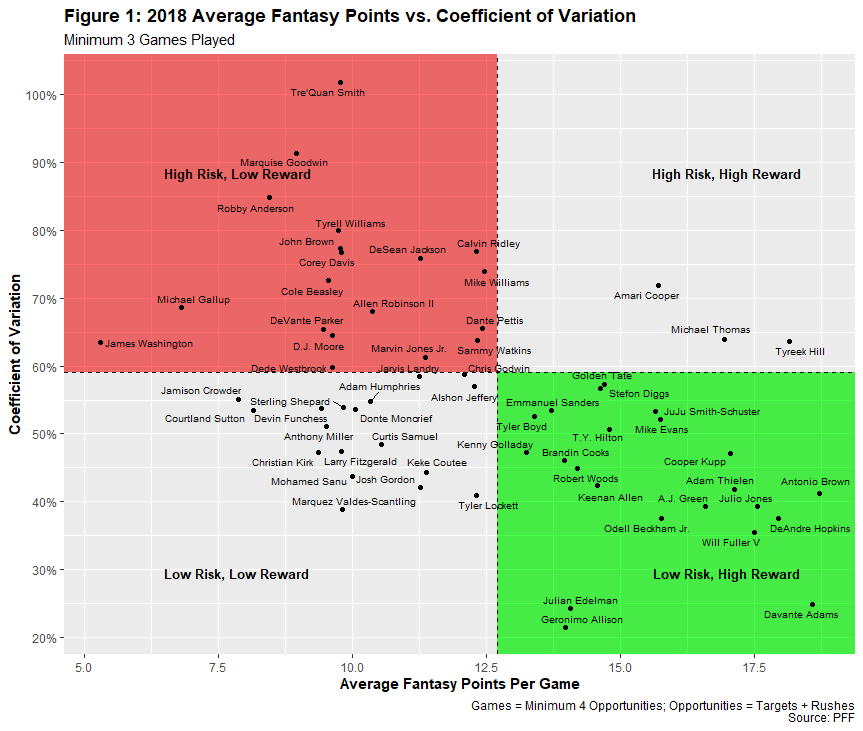 The WR position presents more LRHR players than the other positions. There are 22 — or a bit more than 33% of our entire sample — WRs who fell within the desirable quadrant (at least on a per-game basis), indicated by the green shading. This means that these preferred players performed better than the average WR in the dataset. The above illustration conveys that there's a ton of opportunity available for you to profit throughout the first several rounds of your draft. While your opponents may reach for the likes of Keenan Allen or Kenny Golladay in the second through fifth rounds, you can simply wait and take Emmanuel Sanders or Geronimo Allison for much cheaper prices to provide similar WR2 production and lower volatility.
Looking deeper, however, we see much greater variance of data throughout our sample. Specifically, Figure 2 utilizes the same calculations from the prior data; however, it's limited to just the top 24 WRs projected to be drafted per FFC (DeAndre Hopkins through A.J. Green). Several players who previously fell within the desired LRHR quadrant now find themselves on the outside looking in — such as Stefon Diggs, JuJu Smith-Schuster, and Tyler Boyd. This doesn't necessarily mean that you shouldn't target these WRs, but it does suggest that among certain WR1s and WR2s simply provide enhanced value over their peers. Additionally, adjusting our dataset drives the average PPG to jump from 12.7 in Figure 1 to 15.5 in Figure 2 — a 22.0% spike — while causing the average CV to fall by 15.1% from 59.1% to 50.2%. Limiting our dataset substantiated what we expected: WRs drafted earlier generally score more and maintain less weekly volatility.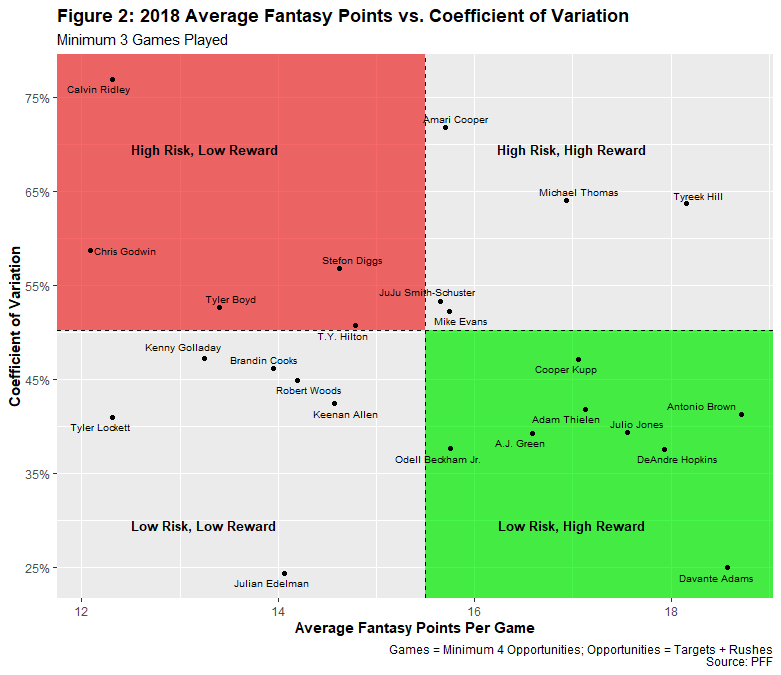 Among the top 24 WRs, 33% remain as truly desirable players that produce elite scoring upside with below average weekly risk. However, this doesn't necessarily mean that we should avoid the remaining 16 players outside of the green quadrant. In fact, pairing players like Julio Jones with Cooper or Robert Woods may be a recipe for success depending on your team make-up and risk tolerance. It's all about roster construction to maximize upside while minimizing risk and cost considering the other players on your team. Nonetheless, all the players in this sample provide certain advantages after incorporating FFC's ADP data.
Players to target
WRs have seemingly been a more volatile fantasy football position than QBs or RBs — TEs are a whole other animal. However, certain WRs transcend this notion, producing great numbers with limited risks, such as Jones, Hopkins, and Davante Adams. I'll avoid talking about these types of players and instead focus on others that have remarkable upsides with depreciated costs. Generally speaking, the following players all reside within the LRHR quadrant but appear to be overlooked by the fantasy football community in my opinion based on ADP.
(18.7 PPG, 7.7 SD, 41.3% CV)
I can't believe how low Brown's ADP is, even in consideration of his foot injury and wacky offseason. Brown is among the players I find myself drafting the most as he presents immense value with a depreciated ADP of just 2.10 — or 22nd overall — in 12-team PPR leagues. He's currently going as the 10th WR taken on average. Did Brown lose a step last year? Although many may argue yes in terms of real NFL performance, he scored the most points, on average, in 2018 in games he received at least four opportunities. He's an absolute beast and now is the perfect time to capitalize on the mass hysteria throughout the fantasy football community.
(17.1 PPG, 8.0 SD, 47.1% CV)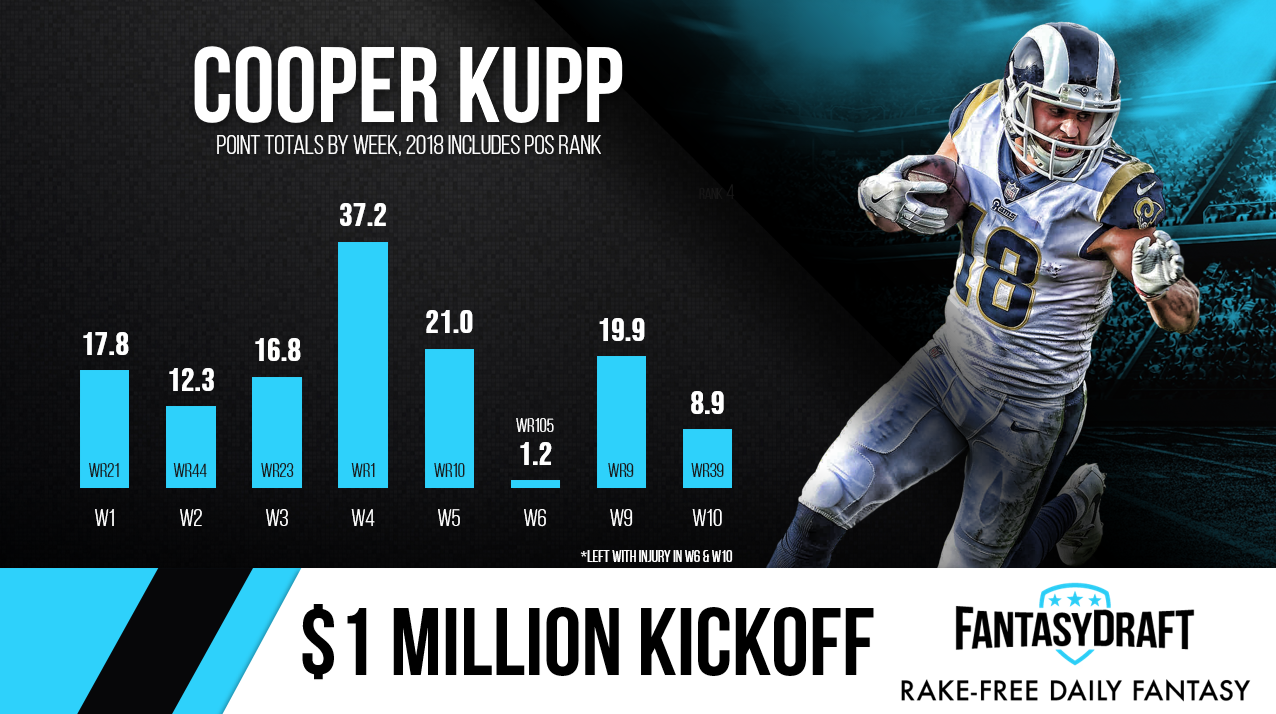 Luckily for us, we've waited until the last week before the regular season starts in order to hold our drafts. Perhaps weeks ago, the uncertainty around Kupp's recovery from his ACL tear from last season would intimate you. However, reports have suggested that Kupp fully recovered from his injury and is generally good to go for Week 1. Although it's reasonable to assume he may start off slow, as many players do after ACL tears, Kupp was impressive last season and maintains a depressed ADP of just 4.11, 46.9 overall. Coincidentally — or not — the Rams offense and Jared Goff specifically sputtered when Kupp went down. He's the cog that elevates the offense to elite territory and I want him at his current price.
(17.5 PPG, 6.2 SD, 35.5% CV)
Fuller is another one of my favorite players this year — another WR recovering from an ACL tear last season. Fuller produced among the best when healthy, especially during Deshaun Watson's tenure as the Texans' starting quarterback — and corroborated by his status in the LRHR quadrant of Figure 1. However, that's been a big "if" for Fuller. Fortunately, he carries an extremely favorable ADP of just 7.08, being drafted alongside the likes of Christian Kirk, Curtis Samuel, and Sterling Shepard. Are you kidding me? Give me Fuller's WR1 upside — with pretty low downside, when healthy — any day of the week over those dart-throws.
Players to avoid
The following WRs are already elite players or potential stars; however, all possess relatively — or in some cases, incredibly — high weekly volatility. After considering their draft capital, these three WRs most likely won't find themselves on any of my fantasy football teams this season unless they fall to me.
(16.9 PPG, 10.8 SD, 63.9% CV)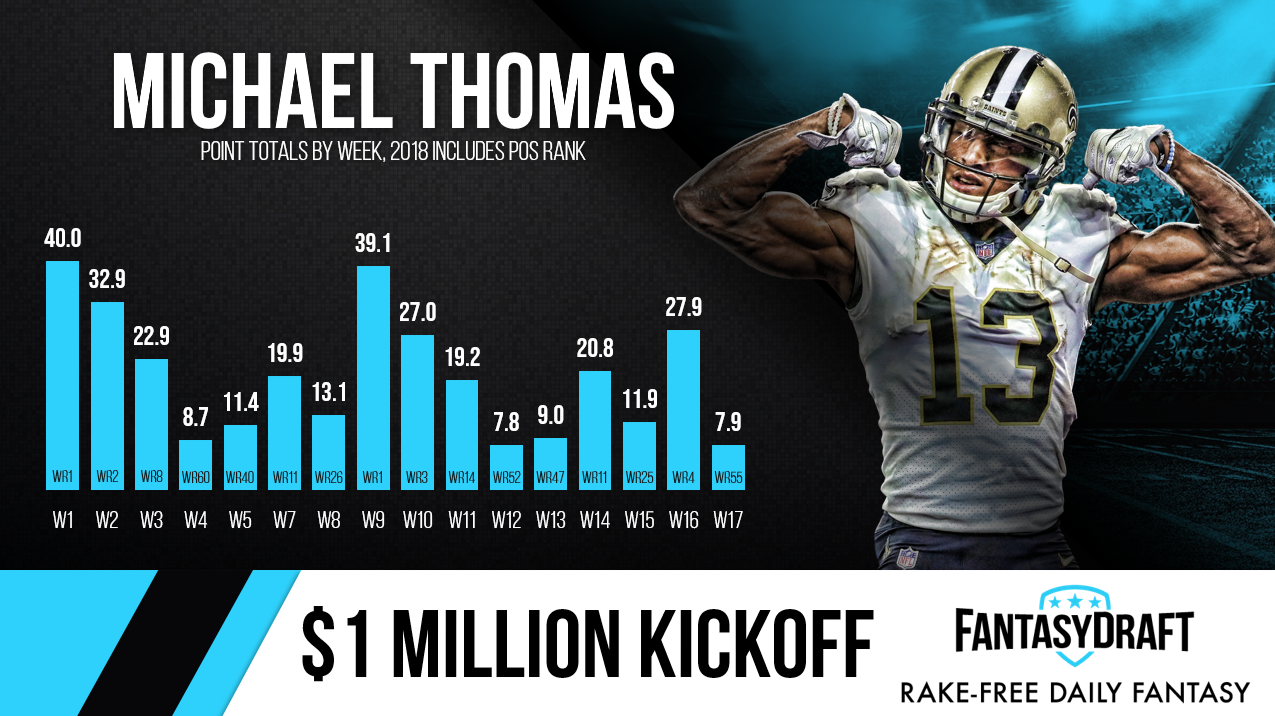 Thomas is amazing and clearly among the elite WRs in the league. In fact, PFF behind only Hopkins and Jones. He's so good. Unfortunately, his ADP of 1.10 in 12-team PPR leagues is too expensive considering Thomas simply carries too much risk with just moderate weekly upside; he ranked eighth overall in terms of PPG last year among WRs when given at least four opportunities. If I were drafting near the turn in the latter part of the first round — or even in the beginning of the second — I'd much rather choose Odell Beckham Jr. as my WR1; one of the top options at RB, such as Todd Gurley or James Conner; or even Travis Kelce if I want to lock down the TE position.
(12.1 PPG, 7.1 SD, 58.7% CV)
Godwin has sky-high potential this year with all the vacated targets in Tampa following the departures of DeSean Jackson and Adam Humphries. This doesn't even include the anticipated improvement of the offense overall following the hiring of Bruce Arians, a known offensive guru in the NFL. However, Godwin was way too volatile last year for my liking and his current ADP of 4.05 — or 41st overall — is just too expensive for my tastes. He's being drafted around the likes of Brandin Cooks and Woods and before the aforementioned Kupp, all of whom I'd rather take than Godwin. Even if you dislike the Rams' WR trio, you can still wait a round or two and select WRs like Tyler Boyd, A.J. Green, Mike Williams, or Josh Gordon.
(8.5 PPG, 7.2 SD, 84.9% CV)
The human string bean, as Christopher Harris recently called Anderson during a film analysis, was one of my favorite targets earlier in the preseason following his and Sam Darnold's impressive end to the regular season. Several months later and after reviewing lots of data, I'm no longer on the Anderson hype train at his current ADP. Being drafted as the 29th receiver overall at 68.1 overall, I'd much rather select other players in this range, such as Alshon Jeffery or Allen Robinson. However, I wouldn't be surprised if Darnold takes the next step in his professional career into superior QB territory — like Carson Wentz and Goff did two years ago — which would surely lead to loftier numbers for the young WR. If he were to drop a round or two, I'd grab him for sure.