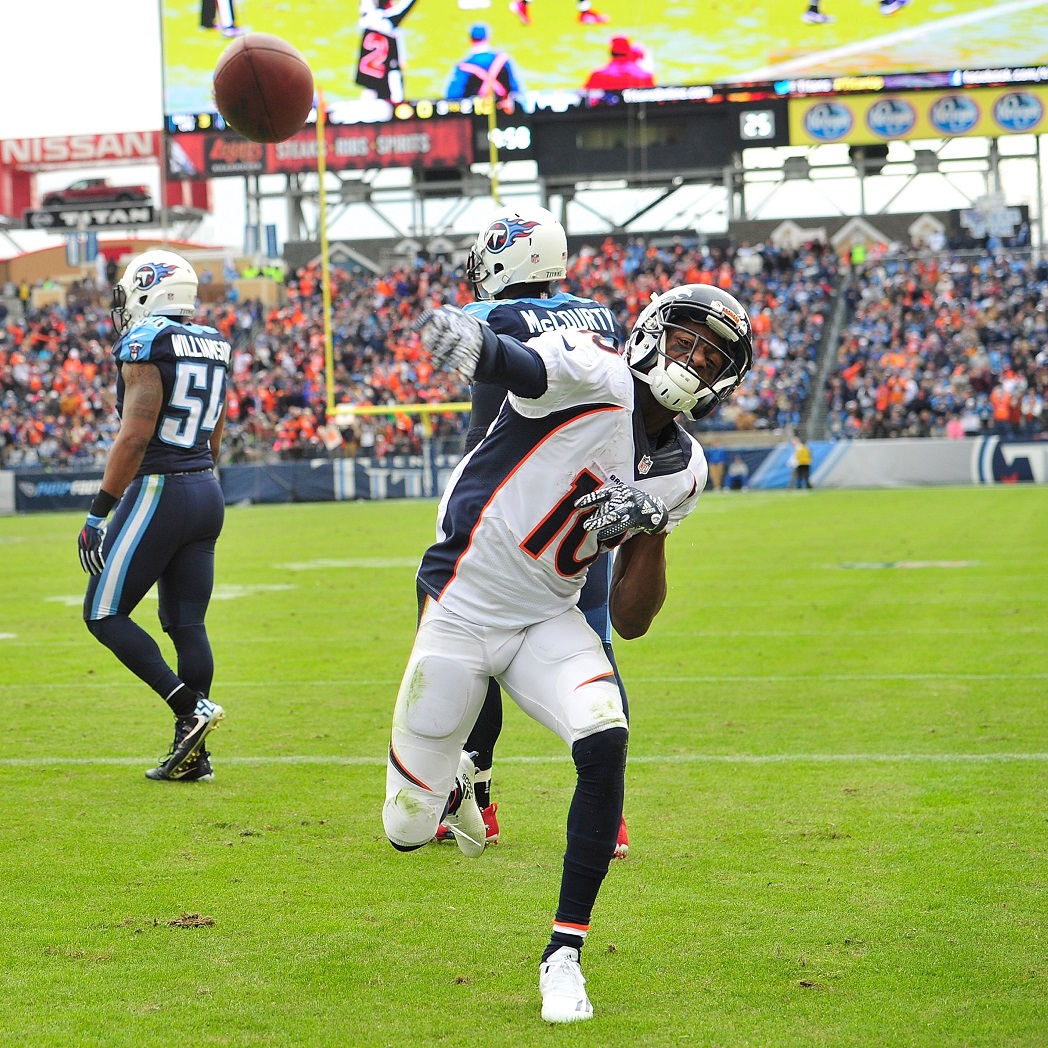 NASHVILLE, TN - DECEMBER 11: Emmanuel Sanders #10 of the Denver Broncos throws the ball in celebration of scoring a touchdown against the Tennessee Titans during the second half at Nissan Stadium on December 11, 2016 in Nashville, Tennessee. (Photo by Frederick Breedon/Getty Images)
The fantasy football trade market is the fastest way to upgrade your team and the most efficient one. You can take advantage of poor tendencies and logic from other owners in your league who tend to overreact to past performance.
Every week we'll take a look at the top players to buy or sell in fantasy football. An elite fantasy owner is active in the trade market and always looking for value (plus ways to take advantage of his competition). We want you to become that elite manager and our goal is provide you with the players who you should be looking to trade for or away each week.
Buy
Eli Manning, QB, New York Giants
The failing Giants offense narrative has turned many off from their offensive players in fantasy, but the passing game has quietly gotten back on track over the past two weeks with Sterling Shepard returning to the lineup and offensive coordinator Mike Sullivan working in vertical passing concepts. Manning has thrown for 493 passing yards and four touchdowns over his past two games and two of those scores have come in garbage time. Manning could end up as 2017's version of Blake Bortles circa 2015 in garbage time when the Giants team has already folded.
DeMarco Murray, RB, Tennessee Titans
The Titans still want to win football games by dictating the game on the ground and controlling the clock. Murray gives them their best chance to do that and that's why he played the most snaps of any RB in Week 10. Murray is not creating the breakaway runs (rushes of 15 yards or more) like he did in 2016, but he's still heavily involved in the passing game, in the red zone, and overall.
Melvin Gordon, RB, Los Angeles Chargers
Gordon owners are panicking given his recent injury history and the emergence of Chargers running back Austin Ekeler in the passing game. This creates the perfect buy-low situation for an RB who continues to dominate snaps. In Week 10, despite Ekeler playing a larger role, Gordon saw the fourth-most snaps of any RB. The explosive weeks should return soon enough for Gordon owners.
Rex Burkhead, RB, New England Patriots
Burkhead is everything the Patriots usually find in a committee of running backs all packed into one. That doesn't mean he's going to take all of the snaps from James White or Dion Lewis, but he will continue to play a major role in the passing game, especially if injuries continue to plague the wide receiver corps. Burkhead is tied for the fifth-most targets among all RBs over his past two games.
Alfred Morris, RB, Dallas Cowboys
Morris owners are already panicking after a terrible start to his run as the Cowboys featured back. Rod Smith certainly saw more snaps than Morris in Week 10, but that is unlikely to continue. Morris is not matchup independent like Ezekiel Elliott, but as long as the Cowboys have favorable game script, he will be an excellent bet to create breakaway runs and possible touchdowns in the red zone. The Cowboys schedule gets a lot easier after this week with matchups against the Redskins, Giants, Chargers, and Raiders.
Chris Thompson, RB, Washington Redskins
The season-ending injury to Rob Kelley leaves the Redskins thin at running back, but that's not why they'll continue to lean heavily on Thompson. The injuries on the offensive line have forced Washington's hand and their adjusted offense is best fit for Thompson. Over the past three games, only four running backs have played more snaps than Thompson and only Carlos Hyde has seen more targets in the passing game. Thompson remains highly elusive, having forced six missed tackles on 32 touches over that three-game span while also averaging nearly 4.0 yards per carry after contact. If the touchdowns break right, he could be a legitimate RB1 down the stretch run.
Sterling Shepard, WR, New York Giants
If you read this column just a few weeks back, you would have seen me make a strong case to trade for Shepard just before the Giants' bye week. In two games back, Shepard has racked up 214 receiving yards since. It's not too late to trade for the wide receiver who led all WRs in targets last week. The Giants are moving Shepard all around from the slot to the boundary and using him more on vertical routes under offensive coordinator Mike Sullivan. With the Giants set to play catch up football the rest of the way, Shepard could emerge as a true WR1.
Corey Davis, WR, Tennessee Titans
Davis' second game back was rusty as he works on regaining his timing with Marcus Mariota, but the flashes were still there. More importantly, he led the Titans with 10 targets in the passing game. His volume has been consistent when he's in the lineup and that alone makes him a nice buy low.
Emmanuel Sanders, WR, Denver Broncos
Brock Osweiler leaned on Sanders despite his reputation for heavily targeting Demaryius Thomas and he was rewarded. Sanders turned 10 targets into six receptions and 137 receiving yards in a difficult matchup against Malcolm Butler. There's no reason to believe Sanders won't continue to get a large target share moving forward.
Jamison Crowder, WR, Washington Redskins
Crowder returned from injury in Week 10 and was once again making big plays for the Redskins passing game. The Redskins are using Crowder on more vertically oriented routes since making the plea that they would get him more involved. With Jordan Reed no lock to return healthy at all this season, Crowder could emerge as an excellent PPR asset during every week of the final stretch run.
Sell
Jared Goff, QB, Los Angeles Rams
Goff has turned it on over the past two games to the tune of 766 passing yards and seven passing touchdowns, but those performances game against the collapsing Giants and Texans defenses. Reality strikes for Goff this week in Minnesota and continues with the Saints, Cardinals, Eagles, and Seahawks defenses down the stretch.
Lamar Miller, RB, Houston Texans
We advised to get rid of Miller a few weeks back and now might be your last chance to salvage any value. As predicted, without Deshaun Watson's threat of the run (and ability to move the offense consistently), Miller's production has fallen off. Use his high snap count on the season as the selling point as your drive home consistency as the reason your trade partner should grab Miller to help his struggling RB corps.
Robert Woods, WR, Los Angeles Rams
In addition to an increasingly difficult schedule down the stretch, Woods simply doesn't have the volume to keep up his incredible run of elite WR1 play over the past two weeks. There are 28 wide receivers who have seen more targets than Woods this season, and once the Rams passing game slows downs as a whole, Woods could end up better left on benches down the stretch run.
Robby Anderson, WR, New York Jets
Anderson is starting to score touchdowns at a high rate and that makes him an excellent sell-high candidate because we know that touchdown rates tend to regress. With that said, Anderson's difficult upcoming schedule that includes matchups with Marshon Lattimore, Aqib Talib, and Marcus Peters is the real reason for panic. If the Jets decide to play for their future and bench Josh McCown, then things could really go off the rails.
Will Fuller, WR, Houston Texans
Fuller is set to potentially miss this week with a rib injury, but it's not a long-term concern. What is a long-term concern for Fuller is his quarterback and his diminishing role in the offense since Deshaun Watson got hurt. DeAndre Hopkins has sucked up 30 targets over the past two games and that trend should continue with Tom Savage. Deal Fuller now while he still has some value.