Making bold predictions for fantasy football isn't about hot takes. I could say that Sam Darnold will finish the year as the No. 1 fantasy quarterback, and while that's bold, it's just words. I'm not going to lose my job for a bad prediction (I hope? Don't read this, bosses), so I can say just about anything.
No, making bold predictions that have some basis in fact is the important thing. That's what I'm doing today. These are my bold predictions for fantasy football for the 2019 season, three per position.
Here's how to read what follows:
Bold predictions are ones I genuinely believe will happen. I might be right, I might be wrong, but what I've written in that space is literally what I think will happen.
Bolder predictions are ones that I think are upper-echelon finishes; I might not nail each of these to the letter, but it's definitely a navigational thing and I think they'll be close.
Boldest predictions are my out-on-a-limb calls. I'm pointing you toward where I think these players could get to if things go exactly as it works out, but this is more about looking a specific way than a dictionary-definition crystal-ball thing.
In short, "bold" means "will happen," "bolder" means "should happen," and "boldest" means "could happen." Check out this year's predictions.
Quarterback
Bold: Josh Allen finishes outside the top-20 fantasy quarterbacks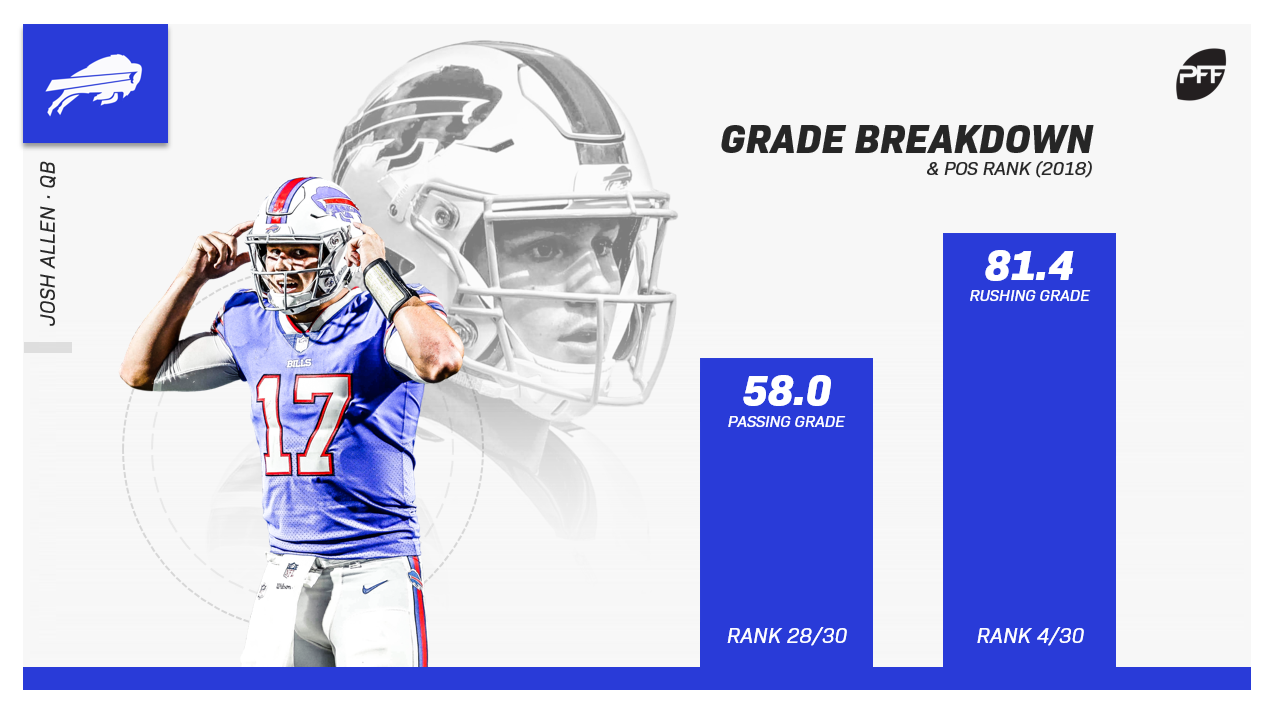 What Allen did well as a rookie: Run the ball. He had the fourth-highest rushing grade among qualified quarterbacks and led the position with eight rushing scores. What Allen didn't do well as a rookie: Play quarterback. He had a lower passing grade than Lamar Jackson (really) and had more games with a passing grade under 60.0 (six) than over 70.0 (five). He only had two games with more than one passing score and had a 67.9 passer rating for the year. With a bolstered offensive line that should lead to fewer scrambles and improved weapons that should lead the team to call more passes, I expect Allen to be exposed in his second season.
Bolder: Russell Wilson finishes outside the top-10 fantasy quarterbacks
It's free to debate just how bold this is, given Wilson is currently going 15th at the position in Fantasy Football Calculator ADP. But I've seen him ranked as high as sixth some places, and that doesn't compute. This is a guy who barely sneaked into the top-10 a year ago despite flirting with the league lead in touchdown percentage, a number that we more or less know tends to regress to the mean from any direction. Wilson will need to up his rushing performance (with a better group of running backs than he's had since the Marshawn Lynch heyday) and/or his passing quantity (with the least-prolific group of targets he's maybe ever had) to reach the top-10 this year.
Boldest: Jameis Winston finishes inside the top-five fantasy quarterbacks
One thing to note: Winston does not have to be as good as Ryan Fitzpatrick was last year to finish here. Winston's 2018 fantasy points plus Fitzpatrick's would have been 393.6, second-best to Patrick Mahomes and easily enough to lead the league most years. The line to be a top-five fantasy quarterback over the last decade has typically been in the 300- to 330-point range, so [Tampa Bay quarterback] could drop off by 20% from last year and still be a top-five contributor. Add in the fact that Winston's No. 2 this year is Blaine Gabbert (a far, far cry from Fitzpatrick), the team still doesn't have a competent backfield, and Bruce Arians should at the very least help to maintain the offensive status quo, and Winston's ceiling is insanely high.
Running back
Bold: Todd Gurley finishes as a top-five fantasy running back
The No. 5 running back in 2018 (Ezekiel Elliott) scored 331.1 PPR points last year. That's excellent, and it's also roughly 40-50 points better than the No. 5 back has scored in any year in the last decade. So you can roughly say that 300 points is as close to a guarantee of a top-five performance as you're likely to get. Gurley, who has led the league in PPR points per game each of the last two years, averages 26.1 points per game in that time. That would be 417.6 points over 16 games. 300 points for a season is 18.8 points per game. In other words, you could cut Gurley's per-game numbers down by almost a third and he'd still have an easy shot at a top-five performance. I don't care how good you think Darrell Henderson is, Gurley's well within top-five range.
Bolder: Le'Veon Bell doesn't finish as an RB1
We'll never know for sure whether Adam Gase wanted Bell on the Jets, but every indication is that he didn't (what the heck else was he going to say after he had the dude on the roster?). Gase's track record as a head coach is that he doesn't rely on one back the way Bell was often leaned on in Pittsburgh, and with Ty Montgomery, Bilal Powell, and Elijah McGuire sharing the backfield with him, his touches per game could easily hit a career low. Add in any chance of rust from a year's absence and an inferior offense overall to the one that he played in with the Steelers, and Bell's floor is as low as its ever been.
Boldest: No running back tops 350 PPR points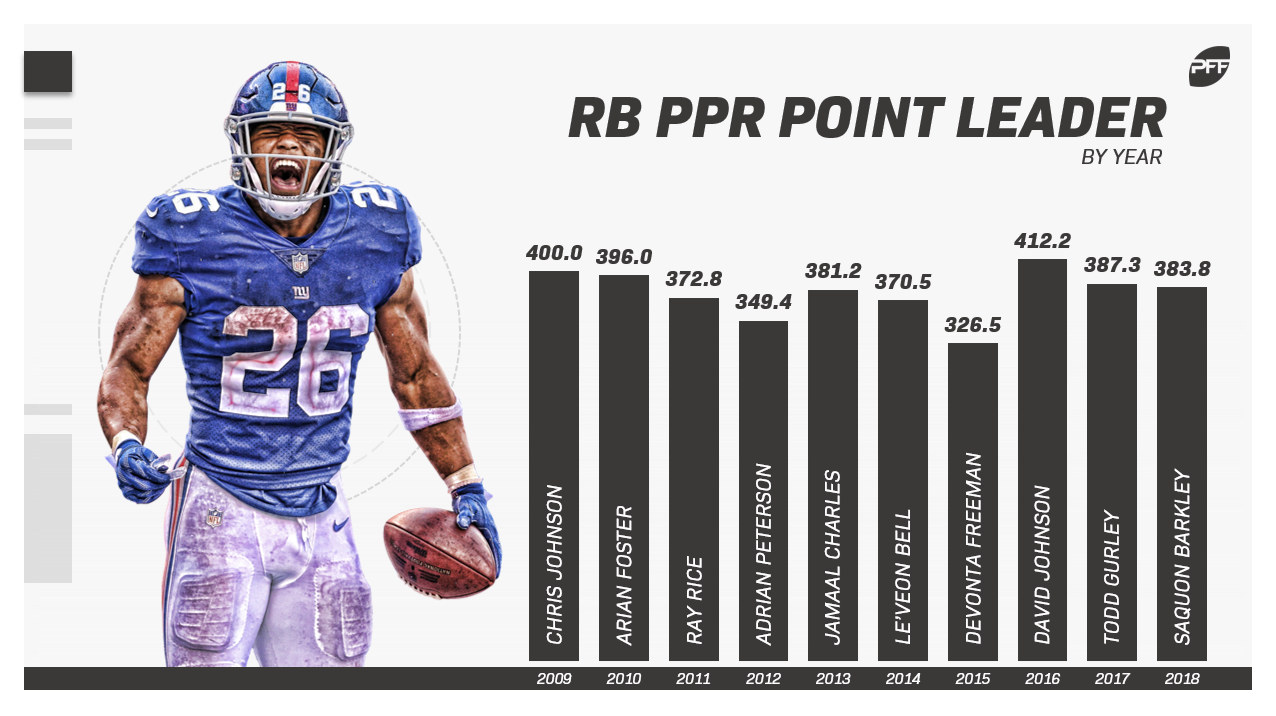 At least one running back has topped 350 PPR points in eight of the last 10 years, and in one of the two exceptions Adrian Peterson led the way at 349.4. In other words, 350 would be a pretty conservative top end, especially with a top-four like Saquon Barkley, Christian McCaffrey, Alvin Kamara, and Elliott (in whatever order). But between the awful team around Barkley, the presence of Latavius Murray and Javorius Allen in New Orleans, the potential for a holdout out of Elliott, and improved receivers around McCaffrey, these guys all have downsides that could cost them. Truth be told, I have McCaffrey as my No. 1 player in fantasy this year and I think he'll still get there, but if he slides even a little, I worry about the position's ceiling.
Wide receiver
Bold: Deebo Samuel is the leading rookie receiver for fantasy
There were 28 wide receivers selected in this year's draft, and of that list, the only ones who even have a reasonable chance at being one of his team's top-two targets are Marquise Brown (who is on the run-happy Ravens), D.K. Metcalf (who is on the run-happy Seahawks), Terry McLaurin (who is on the bad-at-football Washington team) … and Samuel. There's no guarantee Samuel is one of San Francisco's top two targets either, but he has a direct line on being the No. 2 to George Kittle and, in a year with no obvious choice for top rookie receiver, he's my pick.
Bolder: Corey Davis finishes as a top-15 fantasy receiver
Among 32 players with at least 100 targets last year, only Jarvis Landry (2.9%) and Saquon Barkley (3.5%) scored on a lower percentage of their targets than Davis' 3.7%. Among those 32 players, the average touchdown percentage was 5.8; across the league, it was 5.1. If Davis had scored at that 5.1% mark, he'd have scored another 1.5 touchdowns last year, carrying his WR27 finish to WR23. Considering he had a higher percentage of his targets (43%) come when lined up against top-25-graded corners than any other receiver and the additions of Adam Humphries and A.J. Brown and return of Delanie Walker should help divert that, and Davis' ceiling is much higher than popular opinion has it.
Boldest: Curtis Samuel finishes as a top-20 fantasy receiver
If there's been a more buzzed-about young player than Samuel in training camps so far, he's ascended to a higher level of being, because I haven't heard about him. Samuel has drawn worlds of praise. And it makes sense; he's entering the famous breakout-laden third year, he missed almost his entire first season to injury and had to fight his way up the depth chart last year (before performing as WR16 in Weeks 11-14), and he's lightning fast. Top-20? It's bold, but then that's what we're doing here. He could easily leapfrog D.J. Moore for targets, and with question marks in Chris Hogan and Greg Olsen around him, Samuel could reap the benefits of his immense talent.
Tight end
Bold: Tight end as a position has a big fantasy rebound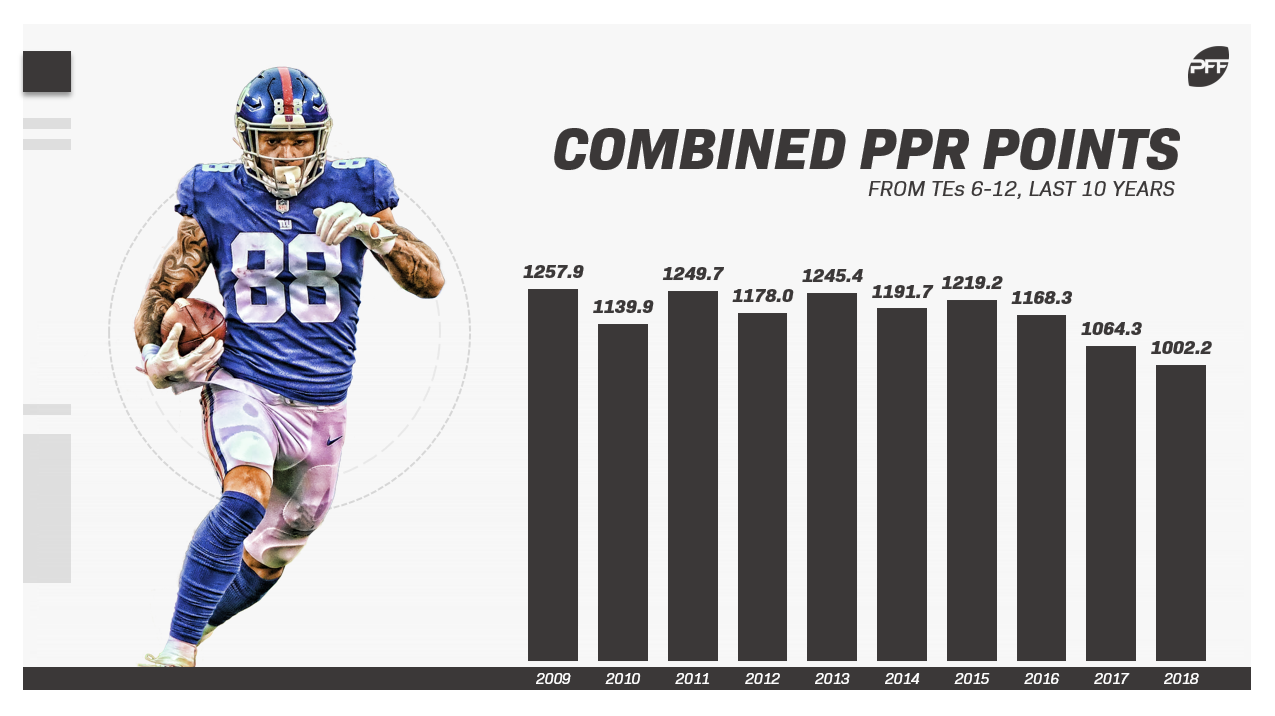 My most-cited statistic this offseason (probably, I haven't actually counted) is the fact that, after the top five tight ends, every single ranking slot last year (sixth, seventh, on down) had its worst PPR performance in a decade. The top three were of course amazing. But after that, it fell off so fast, and tight end overall was so bad. Well this year, the top three should still be elite. O.J. Howard and Hunter Henry are healthy, Evan Engram doesn't have Odell Beckham Jr. to contend with. Jared Cook could build on his breakout; Vance McDonald could have his. Delanie Walker and Greg Olsen are back. It goes on and on. Trey Burton was the No. 6 tight end in ADP a year ago because we knew it was going to be bad even entering this season. That he finished eighth is fine, but it is more representative of the position than his own performance. Expect the position to improve, even with Rob Gronkowski gone.
Bolder: Zach Ertz doesn't finish as a top-three fantasy tight end
I'm on an island to myself ranking Ertz third among tight ends this year in our PFF Fantasy staff rankings, but truth be told, I'm closer to moving him down to the second tier at the position than I am to jumping him back up with Travis Kelce and George Kittle. The problem for Ertz is that his big year in 2018 was far more quantity-dependent than his positionmates; he had 15 more targets than Kelce and 26 more than Kittle, but lagged well behind both of them in yards per reception, yards after the catch per reception, and PFF receiving grade. With Dallas Goedert set to take a step forward in his second year and DeSean Jackson and JJ Arcega-Whiteside better secondary receivers than those the Eagles offered last year, someone's target load has to go down … and Ertz has already said you can expect some of them to be subtracted from him.
There were 270 flex players who had at least 19 touches last year (you'll see why that number is relevant shortly). Of those, the highest percentage of touchdowns per touch belong to John Ross, at 28.0%. Only five players cracked 20.0%, only 14 cracked 15.0%. In games Doyle was active last year, Ebron touched the ball 19 times (there's that number) and scored eight. That's 42.1%, absolutely blowing away the field. When Doyle was out, Ebron scored six touchdowns on 50 touches. That's also very good! Over the full year, that 12.0% rate would have ranked 25th. But it's also not that ridiculous other number. Ebron's playing time was roughly cut in half when Doyle was active, and if his scoring rate comes back to a human level, he won't repeat his breakout.