When you draft a player in fantasy football, there is a reasonable expectation, that his draft slot is a fair range for him — a guy drafted 10th is likely to finish anywhere between, say, seventh and 15th (just to pick some numbers).
As such, players fit into tiers. There are the surefire starters, the above-average starters, the probable starters, and the rest of the guys. If every player you draft ends up in his designated tier, you'll have at least an average fantasy season. When they rise, that's how you win.
And when they fall short, that's how a season gets ruined.
Those are the pitfalls, the players who can just about singlehandedly knock you out of contention. Obviously, we can't know who those players are in advance — otherwise, they wouldn't be drafted where they are. But we can identify the ones who carry that risk. I've (subjectively) defined the tiers below. It's a framework.
| | | | | |
| --- | --- | --- | --- | --- |
| | QB | RB | WR | TE |
| Tier 1 | 1-5 | 1-10 | 1-10 | 1-3 |
| Tier 2 | 6-10 | 11-30 | 11-30 | 4-6 |
| Tier 3 | 11-20 | 31-50 | 31-50 | 7-20 |
| Tier 4 | 21+ | 51+ | 51+ | 21+ |
Tier 4 players obviously can't fall to a lower tier. So we're looking for players above Tier 4 who could fall to a lower tier. Today, we're looking at tight ends. Check out the quarterbacks piece from Monday, the running backs piece from Tuesday, or the wide receivers piece from Wednesday.
(All ADP data comes from Fantasy Football Calculator.)
Tier 1 to Tier 2
Tight ends are so segmented at the top that our tiers have to be especially small. There are three names in Tier 1 and then three more in Tier 2. They are also such clearly defined tiers that you have to get really nitpicky to identify candidates to fall. So take everything in these first two sections with a grain of salt.
(Current ADP: TE2)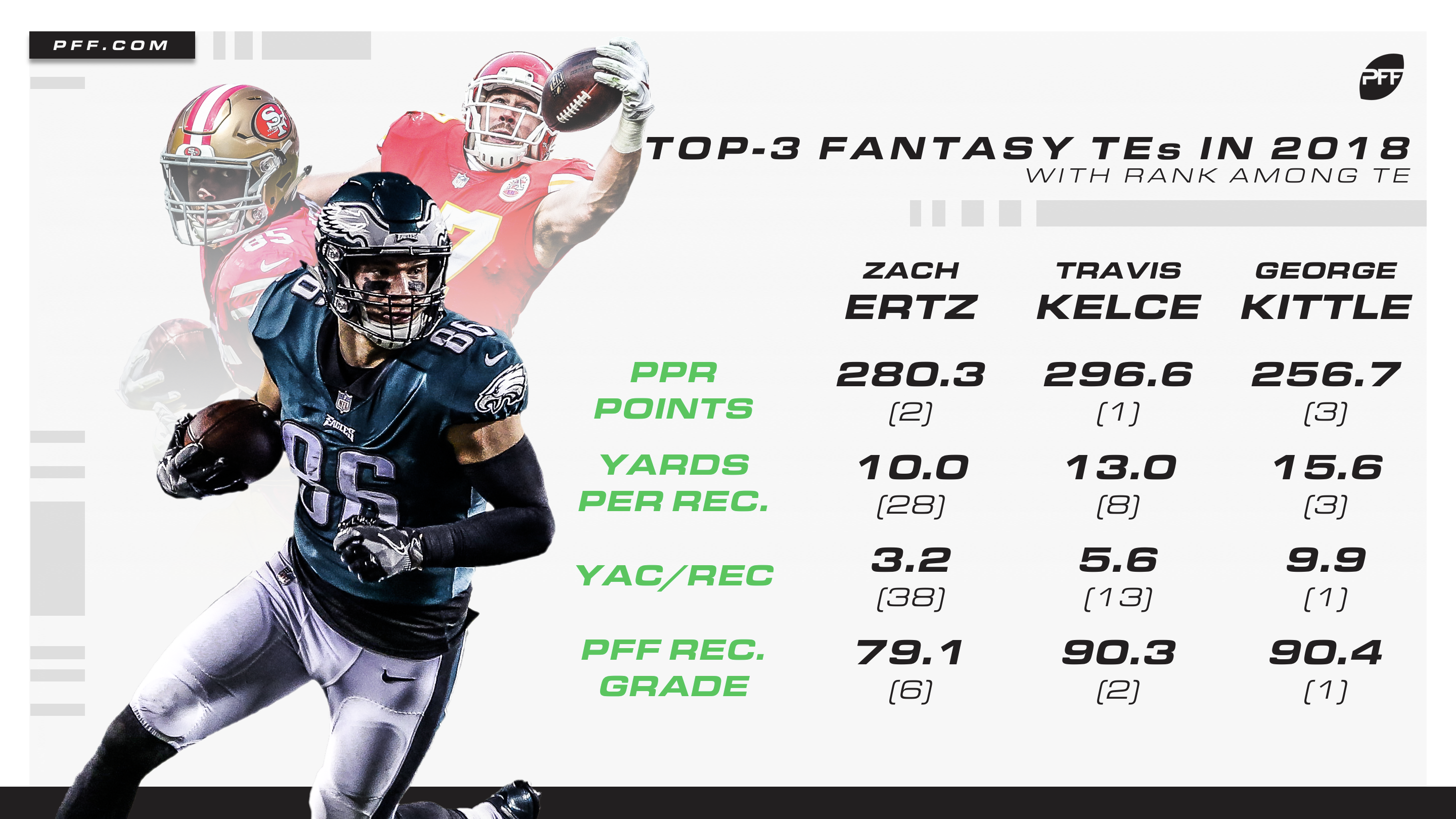 I don't expect Ertz to fall out of the top group, but for my money, he's the riskiest. He had the lowest PFF grade, receiving grade, yards per target, yards after the catch, and passer rating when targeted of his group (Ertz, Travis Kelce, and George Kittle), but his target total (15 more than Kelce, 26 more than Kittle) helped keep him afloat, as did his better catch percentage (75.3 for Ertz, 74.1 for Kelce, 68.8 for Kittle). If you think the Eagles give more targets to Dallas Goedert in his second year and/or you think DeSean Jackson and JJ Arcega-Whiteside take on a significantly higher target load than Nelson Agholor and half a season of Golden Tate a year ago, then Ertz' target load could fall, taking his fantasy ceiling with it. Like I said, I still think he's a top-tier tight end. But he's the one who could fall.
Tier 2 to Tier 3
(Current ADP: TE5)
Like the top tier, the second tier of Engram, O.J. Howard, and Hunter Henry seems pretty secure. But Engram has the most warts. His PFF receiving grade climbed to 75.8 last year, a far cry from Howard's 90.1 or the 86.7 Henry put up in 2017. A lot of his production has come when Odell Beckham Jr. was hurt, meaning the Giants had to resort to Engram. If Sterling Shepard gets healthy and Golden Tate escapes suspension, Engram might not get his targets. If Shepard is hurt and Tate is suspended, the Giants might just crater. Neither one by itself is tremendously likely — Engram should be fine — but he carries the risk.
(Current ADP: TE8)
Obviously, Ebron doesn't fit neatly into the tiers as circumstance somewhat forced me to define them, but I'd be remiss if I didn't mention him as someone who could disappoint nonetheless. Ebron had a tremendously successful debut year in Indianapolis last year. But it's worth noting that in games Jack Doyle was active, Ebron scored eight touchdowns … on 19 touches. That's the most unsustainable thing you'll read anywhere today. If Doyle is healthy for 2019 and their usage continues like it did when they shared the field in 2018, Ebron's going to suffer.
Tier 3 to Tier 4
(Current ADP: TE9)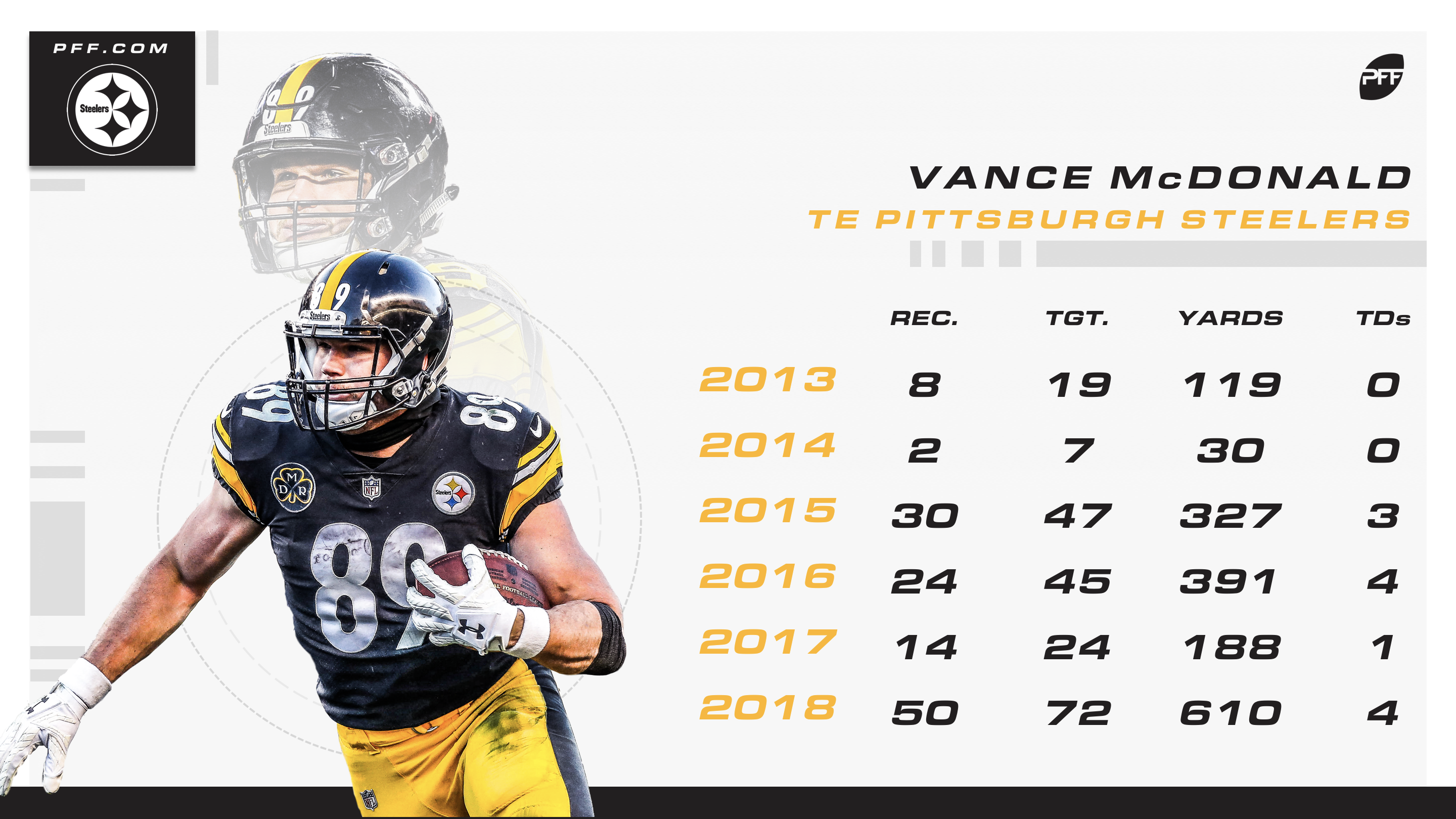 McDonald just turned 29 and is entering his seventh season in the league. His next season playing all 16 games will also be his first season playing all 16 games. He's never topped 50 receptions, 610 yards, or 4 touchdowns in a year. And yes, Antonio Brown and Jesse James are gone from Pittsburgh now, but development for James Washington and the arrivals of Donte Moncrief and Diontae Johnson could make up for their targets, leaving only so much for McDonald. I doubt he falls this far, but I feel like people haven't discussed his potential downside enough this drafting season.
(Current ADP: TE12)
Someone's going to have to explain this to me. Hockenson comes in with plenty of draft pedigree, true. On the other hand, he's at best the No. 3 target in a run-first offense (maybe No. 4 if Kerryon Johnson takes a leap as a receiver now that Theo Riddick is gone). And Hockenson's a rookie at the position that is famous for making it impossible for rookies to succeed. The future is bright for Hockenson. 2019 is not. This draft slot is ludicrous.