The SEC is losing an abundance of talent to the NFL next season. In my colleague Mike Renner's latest mock draft, half the players taken in the first round were from the SEC. Yes, that's right — half. As always, though, despite losing a phenomenal group of players, the conference still has an elite group returning in 2020:
1. CB Derek Stingley Jr., LSU
Not only is Derek Stingley Jr. the top returning player in the SEC, but he is also certainly the top returning non-quarterback in all of college football. In his 2019 true freshman campaign, Stingley produced a 91.9 coverage grade that led all FBS cornerbacks. There wasn't a better cornerback in the country at the catch point than Stingley. He forced tight coverage and contested targets at an absurdly high rate — over three-fourths of the time, in fact — and remained far and away the highest-graded cornerback on those plays. On contested targets, Stingley allowed just nine of 33 to be caught, while picking off five and forcing 19 as incompletions.
Many will be quick to say, "But what about the Alabama game? DeVonta Smith torched him," when they see this. But while that may be true, Stingley routinely shut down his opposition. Over the course of the season, Stingley allowed just a 38% catch rate on his 96 targets and showed press-man skills that NFL teams look for. The 'Bama game was a blemish and the worst of his season, but he came up huge in almost all of his other games against top-10 competition:
| | | | | | | |
| --- | --- | --- | --- | --- | --- | --- |
| Opponent | Cov. Snap | Tgts | Rec | Yds | TD | INT + PBU |
| #9 Texas | 64 | 4 | 2 | 20 | 0 | 2 |
| #7 Florida | 52 | 12 | 8 | 103 | 1 | 2 |
| #9 Auburn | 44 | 10 | 2 | 50 | 0 | 1 |
| #3 Alabama | 45 | 6 | 5 | 211 | 2 | 0 |
| #4 Georgia | 50 | 16 | 5 | 57 | 1 | 3 |
| #4 Oklahoma | 37 | 3 | 1 | 13 | 0 | 0 |
| #3 Clemson | 48 | 6 | 1 | 12 | 0 | 0 |
2. WR Ja'Marr Chase, LSU
LSU's Ja'Marr Chase was the fourth highest-graded wide receiver in the country last season and wasn't even draft-eligible. The reigning Biletnikoff Award winner bodied his opponents downfield and was near impossible to cover in single coverage. On those plays, Chase produced a 97.0 PFF receiving grade, 32 explosive plays (15-plus yard gains), 11 broken tackles and 14 catches on 28 contested targets. For perspective, the next closest receiver by grade was at 93.9, and those 32 explosive plays were seven more than anyone else.
Chase was among the five most productive receivers in the Power-5 conferences and is the best deep threat returning to college football. He had six more catches on 20-plus yard targets than anyone else and had the most receptions that resulted in a gain of 50-plus yards (9). LSU is going to miss Burrow, considering he had the best season we have ever seen in college football since PFF College's inception, but they'll be in great hands in the other two most valuable positions on the field with Stingley at corner and Chase out wide.
3. QB Jamie Newman, Georgia
Due to Joe Burrow, Tua Tagovailoa and Jake Fromm departing for the NFL, the SEC quarterbacks were beginning to look a smidge weak. That was until Jamie Newman transferred into the conference from Wake Forest. His situation at Wake wasn't necessarily the best — the offense was up-tempo and RPO-based and utilized Newman's rushing ability more than it probably should have. While the 6-foot-4, 230-pound Newman owns the athleticism to run with the ball, his arm is far better.
No quarterback was forced to throw into a tight window more than Newman last season, and he overcame that to produce the second-highest passing grade on those throws — behind only Joe Burrow — and the third-lowest rate of uncatchable passes. Newman's arm strength and accuracy will give Georgia an added boost in the deep passing game, an area it was average in at best last season. On throws of 20-plus yards, Newman once again trailed only Joe Burrow in PFF passing grade. Newman dropped some absolute bombs while giving the defense minimal opportunities to make a play on the ball downfield. With Newman, a run at the National Championship is realistic for Georgia.
4. WR DeVonta Smith, Alabama
Everyone had their eyes peeled on Jerry Jeudy and speedster Henry Ruggs III when tuning in to Alabama this past season, but DeVonta Smith was just as good as those two soon-to-be (likely in Ruggs' case) first-round picks.
There were 42 plays in 2019 when Alabama put out Jerry Jeudy, Henry Ruggs, DeVonta Smith and Jaylen Waddle (@PFF). Results:

Jeudy 7/8 122 yds 1 td
Ruggs 6/8 148 yds 1 td
Smith 7/10 176 yds 3 td
Waddle 5/6 118 yds 2 td

Might be best personnel pack to ever take the field in CFB. pic.twitter.com/aSvDYuwjCf

— Anthony Treash (@PFF_Anthony) December 13, 2019
Smith was lethal after the catch and could generate separation against any cornerback he faced with his elite speed, especially so against press coverage. On those reps, Smith posted the highest raw PFF grade per snap and averaged nearly 30 yards per catch, five yards more than any other receiver. With his ability to create after the catch (fifth-most yards after catch per reception and 15 broken tackles on 67 catches), great hands (zero drops when targeted beyond the sticks) and crisp route-running, Smith is not only the fourth returning player in the SEC, but the second top returning wide receiver in the entire country.
5. WR Jaylen Waddle, Alabama
He has seen limited action behind Alabama's stacked wide receiver unit, but Jaylen Waddle has had very few negatives in his play in his first two collegiate seasons. Over the past two years, only one other wide receiver has generated more wins above average and a higher slot receiving grade than Jaylen Waddle: CeeDee Lamb. That's pretty good company to be in considering Lamb is about to be a top-15 pick in the 2020 NFL Draft. If given an open field, Waddle, who reportedly ran a 4.37 40-yard dash coming out of high school, would surely take advantage of it and explode after the catch. On targets in the slot with "open" separation (more than a couple of steps), Waddle averaged 13.0 yards after the catch per reception while also tacking on 14 broken tackles when defenders tried to catch him. We didn't see him go up against some of the elite corners, but he made some players on the opposing defense look like they belong on a JV squad.
6. LB Nick Bolton, Missouri
In losing Cale Garrett midseason due to injury, Missouri was without the highest-graded linebacker in coverage. But Nick Bolton stepped up and shined in every facet of play. In his only collegiate season as a starter, he finished as one of the three highest-graded players at his position. When it mattered most in coverage, Bolton was at his best, posting an elite 90.4 coverage grade, and allowing just 180 yards on 352 coverage snaps with 10 combined pass breakups and interceptions on his 29 targets. There was only one other off-ball linebacker to produce more WAA in 2019 than Bolton, and he is one of the best, if not the best, returning at the position.
7. WR George Pickens, Georgia
George Pickens' true freshman season could not have gone much better than it did. He finished as one of the 20 most valuable wide receivers in all of college football, displaying a massive catch radius and sure-fire hands. You would have thought that he had Stickum on his gloves because the man would catch any catchable ball thrown his way. In fact, he saw the third-most catchable targets without a drop among FBS receivers in 2019.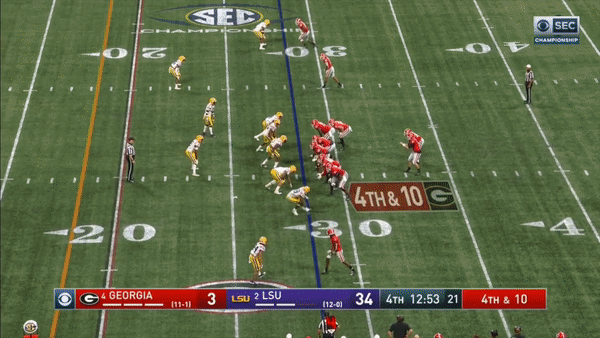 The fact that Pickens was able to generate a top-15 receiving grade on deep, 20-plus yard targets as a true freshman is quite impressive. Jake Fromm wasn't the sharpest deep passer, so with Jamie Newman now throwing Picken the ball, the Bulldogs have easily the best quarterback-receiver duo in the SEC and one of the best in the country.
8. RB Najee Harris, Alabama
With his past two seasons of play, Najee Harris could have easily declared for the NFL Draft and been among the first handful of running backs off the board. Harris had a two-year WAA total that was the fourth highest at his position and second highest among returning running backs — as well as a two-year rushing grade that was the fourth best. The biggest thing Harris needed to show in 2019 was just any ability to produce in the receiving game, as he was virtually non-existent in that area before. In 2018, Harris saw just four targets, and in 2019 he saw 33 and caught 27 with just one drop and seven touchdowns. Regardless of facet of play, Harris forced missed tackles regularly, doing so on over a quarter of his rushes and over a third of his catches.
9. CB Patrick Surtain II, Alabama
Patrick Surtain II has been an immediate-impact player for the Crimson Tide — he's started since Week 4 of his freshman 2018 season and has since produced a two-year coverage grade that is among the 10 best in college football. In his 28 career games, just twice has Surtain allowed more than 60 yards in coverage. In total, he's allowed a mere 0.69 yards per coverage snap over his career. That's pretty solid for an underclassman. At 6-foot-2, 203 pounds, it's near impossible to beat Surtain on contested targets. He's forced 34 such targets, allowing just nine to be caught with 18 forced incompletions. While Stingley is number one in the SEC, Surtain is still easily one of the top returning defensive backs in the entire country.
10. QB Kellen Mond, Texas A&M
Texas A&M's Kellen Mond has been one of few quarterbacks to be a reliable option in both as a passer and a rusher. Mond has been better than most at his position on the ground, particularly in his scrambling. Nearly a quarter of his scrambles the past two years have resulted in a gain of 10-plus yards, averaging 8.5 yards per scramble with 4.6 of those coming after contact. He won't "wow" you with his arm strength by any means, but Mond has routinely made positively graded throws on his intermediate and short passes, ranking among the 15 best in the past two years in that rate. The dual-threat signal-caller has produced a two-year WAA total that ranks among the 10 best in all of college football and is one of the top SEC quarterbacks in a rather depleted quarterback conference in 2020.