The 2021 NFL Draft brings with it yet another loaded wide receiver class, making this exercise far more difficult than I had originally planned. There were several times when it felt plain wrong to leave certain players out, but they will have to settle for shoutouts in the writeups below.
Here is your "best" everything at the receiver position.
View PFF's 2021 NFL Draft position rankings:
QB | RB | WR | TE | T | iOL | DI | EDGE | LB | CB | S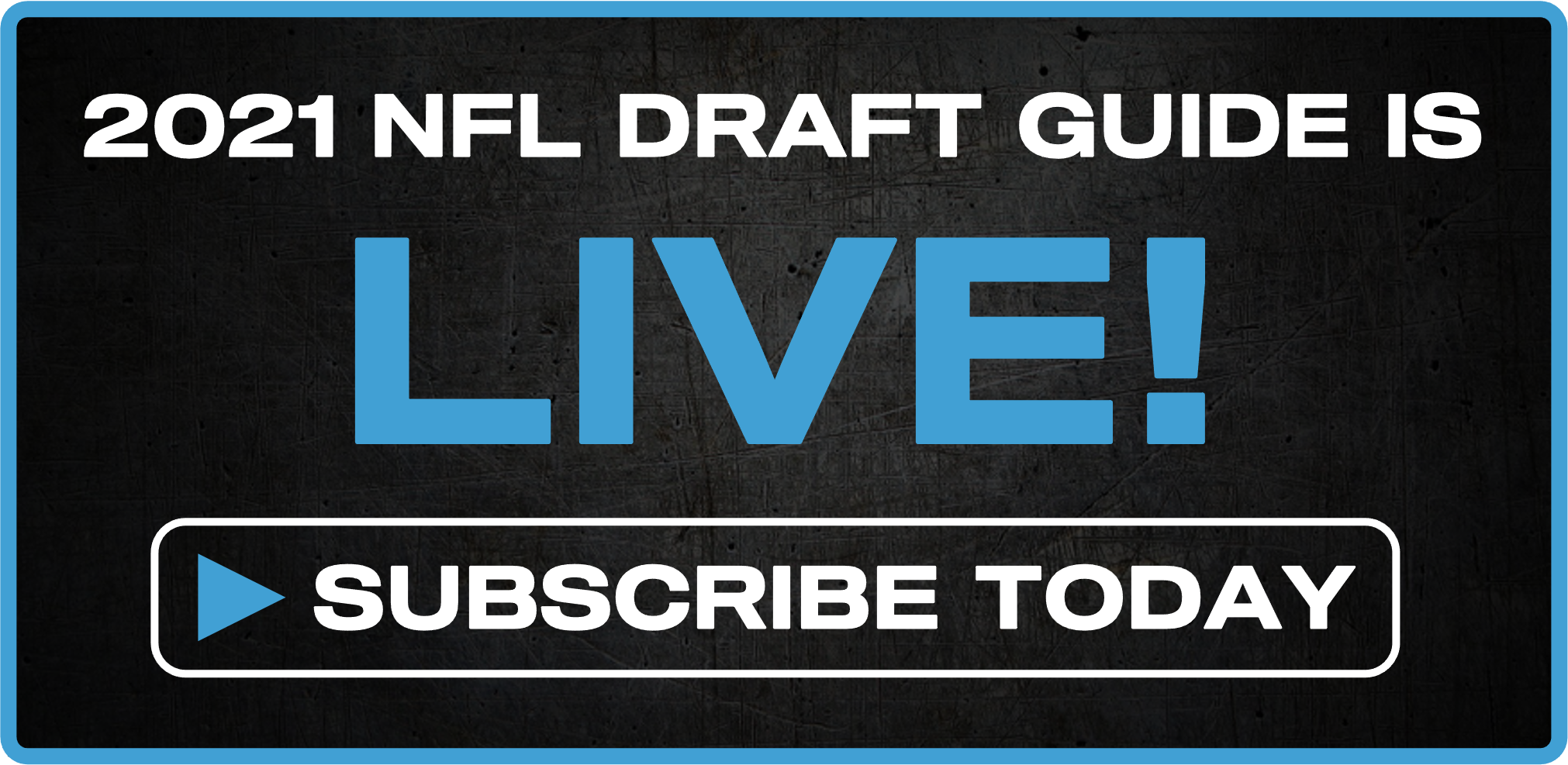 Ja'Marr Chase was the most productive deep receiver in 2019, and DeVonta Smith laid claim to that title this past year, but no one brings the "threat" quite like Waddle. In the four games prior to his injury in 2020, Waddle hauled in six deep receptions on seven deep targets for 329 yards. Extrapolate that out to a 13-game season, and that's 19.5 deep catches and 1,069 deep receiving yards — figures that would have far and away led college football. That's what some lucky NFL team is getting early in the first round.
No chance of catching Jaylen Waddle once he gets behind the defense.

Lays a well-executed double-move, using his timing, burst, and excellent deep speed to record an 87-yard touchdown. It's these traits that also makes him such a good route-runner. #TogetherBlue #NFLDraft pic.twitter.com/RfmzVg1slp

— WBG84 (@WBG84) January 23, 2021
This is how a 170-pounder can light college football on fire in a way we've never seen before. Smith simply doesn't let cornerbacks get their hands on him. The nuance and polish in his route-running is unlike anything we have seen from any receiver prospect we've graded. You won't find Smith "going through the motions" any time soon on tape.
DeVonta Smith, WR, #Alabama:

• A+ body control (+)
• RAC ability
• Creative releases at the LOS (++)
• Mature/Well rounded route tree
• Play patience and awareness pic.twitter.com/HcAqfu4HTp

— Jordan Reid (@Jordan_Reid) April 26, 2020
This one could have been Smith too, but Bateman has the added physical element to get off the line of scrimmage. It's why we feel so strongly about him as WR4 on the PFF draft board. His release package is NFL-ready, and it's why he led the country in yards per route from the outside as a true sophomore in 2019.
Rondale Moore, Tutu Atwell, Jaylen Waddle, Ja'Marr Chase and Jaelon Darden all have a case here, but none of them quite move the way Toney does. He broke 43 tackles on 120 career catches and added 23 more on 67 career rushes. Those are the kind of numbers you'd put up in NCAA Football with the difficulty on Freshman, not real life.
Behold All Of #Florida WR Kadarius Toney's Touchdowns From The 2020 Season

HT: 5'11"
WT: 195
PFF Stat: 39% Forced Missed Tackle Rate (1st Among WR)
2020 Stats (11 Games): 70 Rec, 984 Yards, 10 TD, 161 RuYards, 1 TD, 1 PR TD pic.twitter.com/0YS1PfGJjz

— Steve Frederick (@_SteveFrederick) December 29, 2020
Chase is PFF's WR1 because he's not just a contested-catch guy. But when he is asked to play through contact, nobody in the draft class is better. And to think he was bodying defenders to the tune of 16 contested catches in 2019 as a true sophomore. The way he attacks the ball in the air is nothing short of special for a prospect and is a must to be a top dog at the NFL level.
One thing that's very subtle and underrated about Ja'Marr Chase is the way he uses his body to shield defenders in contested catch situations. Look at this, I think most receivers just stick their hands out to catch it and get it knocked away. Chase shifts to block the defender. pic.twitter.com/go0OC3kuwS

— Max Toscano (@maxtoscano1) May 24, 2020
Sadly, we'll never get to see how a healthy Waddle would have tested at the combine or his pro day after breaking his ankle last season. On tape, though, he's truly the closest thing to Tyreek Hill from a size and twitch perspective that we've seen in recent years. Just look at the way he accelerates with the ball in his hands.
Who is your NFL comp for Jaylen Waddle?

— PFF Draft (@PFF_College) April 7, 2021
It's decidedly different, even from the other elite-tier receivers in the draft class. He has the highest career yards per route run average in the draft class, and the highlight reel he put up on only 588 career passing snaps is a sight to behold.
Jaylen Waddle is _____________. pic.twitter.com/s0xhSJbpsj

— Pro Football Network (@PFN365) April 6, 2021
While he can be much more than a "slot only," there's no better option in the draft class if that's what you want in your offense. Over the past two seasons, Moore has racked up 1,738 yards from the slot, the most of any receiver in college football. He's also done so without the advent of a ton of "phony" production, as only 86 of those yards came on screens. He can be a vertical threat from the slot with 4.35 speed or easily shake defenders underneath.
Elijah Moore = Separation
????????????????????????????????????#Titans #NFLDraft pic.twitter.com/mnVP7Tj0KT

— Wes On Broadway (@TitansDraftTape) April 4, 2021
While Kadarius Toney may have the slight edge after the catch, Moore gets the nod here for what his 4.29 speed can do as a gadget player. I feel bad lumping the Purdue receiver into such a role because he is so much more than that. If that's all you wanted him to do, though, Moore could still bring a ton of value to the table. He's not your everyday 5-foot-7, 180-pounder. Moore has legit play strength as well and can run through as well as around you.
Let us never forget the time that Rondale Moore ran over Ohio State.pic.twitter.com/u3GsJ4ttdc

— Connor O'Gara (@cjogara) August 6, 2020
Watkins isn't going to win any athleticism contests, and he may be a late-rounder, but I'm not sure there's an argument to be made for anyone else here. Watkins caught 99 balls with only one drop in his UAB career and went a ridiculous 19-of-31 in contested situations for his career. The man has ball skills for days. His separation ability doesn't quite match up, but if it's in his vicinity, he's coming down with it.
.@UAB_FB WR Austin Watkins Jr. making a name for himself in front of national ESPN audience and checking all the boxes for the @seniorbowl tonight. We see you @Golden_Ticket6! ????

*NFL body ✅
*Deep ball production ✅
*Red-zone skills ✅ pic.twitter.com/EpNpsmc1X5

— Jim Nagy (@JimNagy_SB) September 25, 2020