(With training camps starting soon around the league, we're looking ahead at the 2019 fantasy football season and attempting to answer the burning questions around the league. For each team, we'll ask, and hopefully answer, 3-4 questions about their season to come in fantasy. This is 100 Questions.)
As late as Week 10 last season, the Seattle Seahawks had a losing record, sitting at 4-5 after back-to-back losses to the two Los Angeles teams. Of the team's four wins, three had come over noncontenders (Arizona, Oakland, and Detroit). The team had a positive point differential, but that was it as far as serious positive points go. Tyler Lockett was the team's only flex option in the top 90 in flex PPR scoring.
And then the Seahawks went 6-1 the rest of the way, including wins over Minnesota and Kansas City, en route to winning the Wild Card (the first Wild Card, no less) and an ultimately ill-fated playoff appearance. The team still wasn't exactly a fantasy dynamo, but Lockett was joined as a producer by Doug Baldwin and Chris Carson and, ultimately, the team ended the season as a productive fantasy option despite the underwhelming first half. Baldwin is gone now, but for the most part, the rest of last year's contributors are still around, as are some new draft picks. Can the Seahawks offer much for fantasy in 2019?
#97: Sounds like Seattle will be run-heavy in 2019. What does that mean for Chris Carson and Rashaad Penny?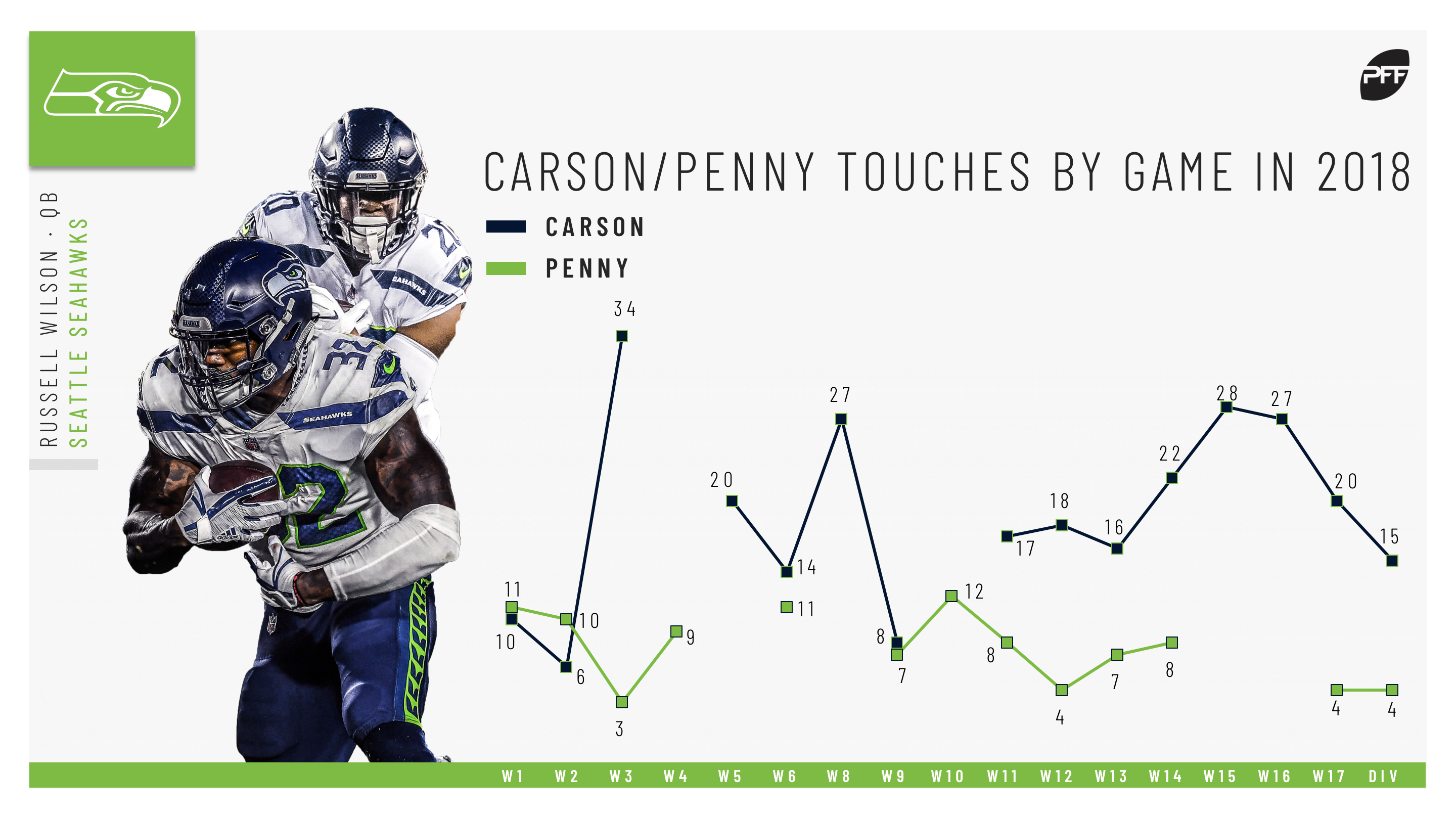 The fantasy drafting community is valuing the two Seahawks' running backs fairly similarly so far this drafting season. Per Fantasy Football Calculator, Carson's current ADP is 26th among running backs, compared to 33rd for Penny. This despite the Seahawks clearly preferring Carson last year over the first-round rookie Penny — Carson had 247 carries and 22 targets in 14 games, compared to 85 and 12, respectively, for Penny in 12. And the gap only got wider as the season went on — Penny had more touches than Carson in Weeks 1 and 2, then never again the rest of the season. From Week 11 on (including the playoffs), Carson never had fewer than 15 touches in a game (and averaged 20.4) while Penny never had more than eight (and averaged 5.8). So what is the drafting community seeing?
Best guess: There is the very tiniest of concerns about Carson's health after he had some work done on his knee earlier this offseason, but it doesn't appear likely to be a lasting concern. And with the Seahawks expressing every interest in running the ball as much as possible in 2019 (more on that later), there might be enough work for the both of them to be fantasy performers. But our rankers think the drafting community has overstated the value of the ex-first-rounder Penny; in the PFF Fantasy staff rankings, they are further apart than they are in ADP. Carson is 22nd among running backs, compared to 38th for Penny. That implies there is value to be mined out of Carson, while Penny could be overrated entering the season.
#98: With Doug Baldwin gone, what is Tyler Lockett's upside?
Lockett famously generated a perfect 158.3 passer rating when targeted in 2018, the first time we've ever charted that at PFF. He caught 57 of 65 targets for 965 yards and 10 touchdowns and didn't have a single interception thrown his way. The production was obviously incredible, but that was only 65 targets, tied with Christian Kirk for 87th in the league. He had fewer targets than guys like Ricky Seals-Jones, Kenyan Drake, and Michael Gallup. Baldwin, who had 73 targets despite being banged up most of the year, is gone now, which could open Lockett up for an increase in targets that would help to offset the almost-certain regression in efficiency.
Best guess: The problem with the above assumption is that the Seahawks have new mouths to feed that could themselves offset Baldwin's departure (and again, more on that shortly). There's only so much room for Lockett to increase in targets much, and with the Seahawks if anything getting more reliant on the run in 2019, Lockett's ADP (he's currently the No. 23 receiver off the board) might be aiming too high.
#99: So then, how will Baldwin's targets get split up between D.K. Metcalf and his fellow rookies?
Metcalf was the most talked-about receiver in this year's draft class, which is not the same as saying he was the best — note that he didn't get drafted until the end of the second round, the ninth receiver off the board. He was joined by Gary Jennings Jr. (in the fourth round) and John Ursua (in the seventh). Jennings has gotten some buzz around Seattle since the draft, and head coach Pete Carroll has already mentioned Ursua as a candidate for the team's slot role. There are a lot of moving parts behind Lockett, is what I'm saying.
Best guess: Among all the rookies (and incumbent David Moore), Metcalf is unsurprisingly the only one currently going in drafts, holding an ADP of 44th among receivers. Our rankers also have Metcalf the highest of the group though, at 58th, he's still not as valuable an asset as the drafting community believes. Moore is the only other Seahawks receiver ranked in our top 100. The simple truth is this: There is talent in Seattle, but the volume isn't likely to be there to support than one fantasy receiver, maybe one and a half.
#100: Our final question: Will there be enough passing for Russell Wilson to stay as a clear QB1?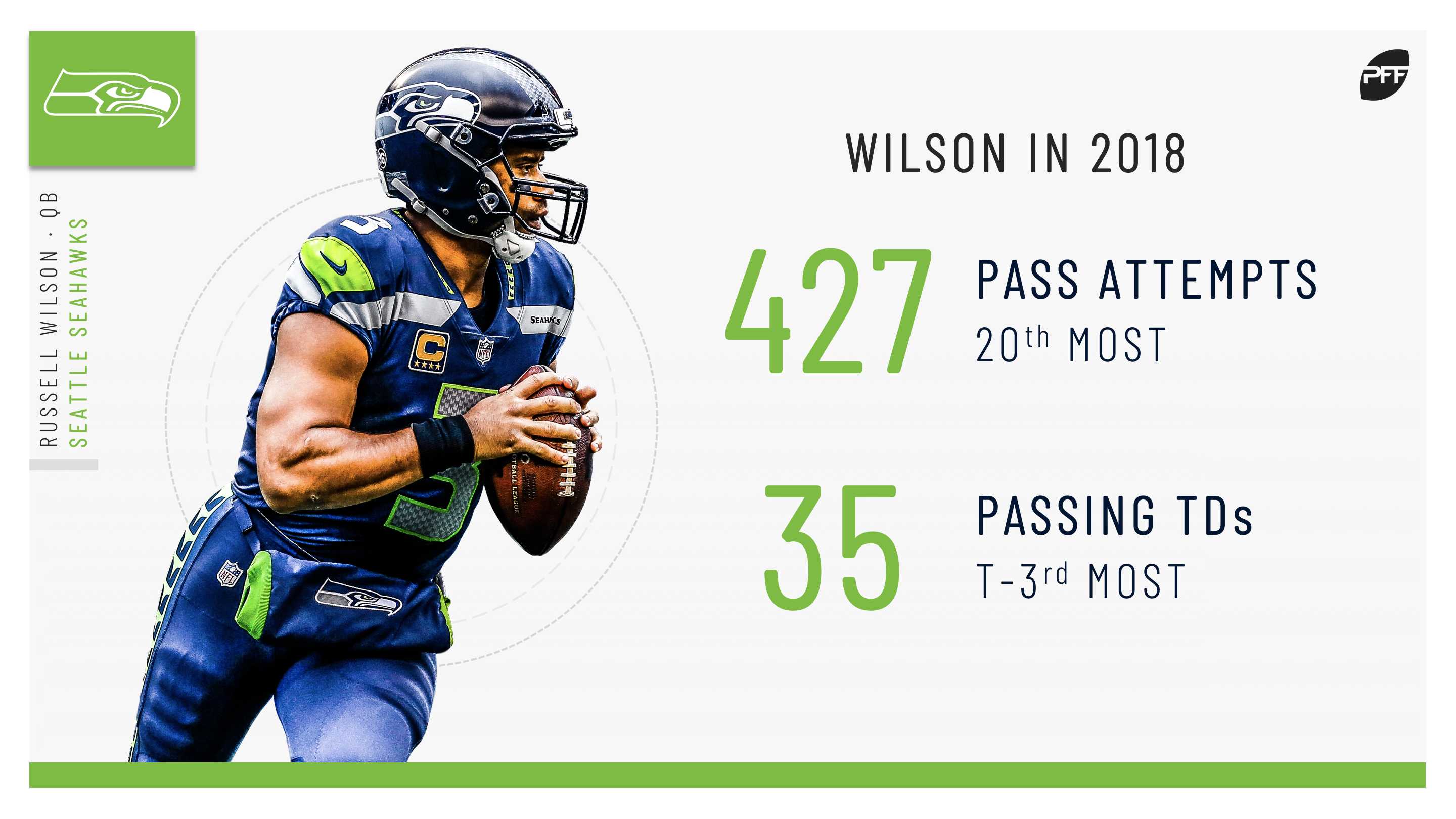 I noted in the Lions section of 100 Questions that Matthew Stafford's total of pass attempts has literally dropped each of the last six years. Even at that, his 2018 total of 555 would be the biggest total of Wilson's career (he peaked at 553 in 2017). Last year, Wilson attempted only 427 passes, his lowest total since 2013 and only the 20th-most pass attempts in the league. Even with that, and with him going the whole year without a rushing touchdown for the first time in his career, Wilson finished the year as the No. 9 fantasy quarterback.
Best guess: If the Seahawks remain as committed to the run as all indications say they will be, it's hard to see Wilson repeating his lofty fantasy finishes; his stock was only as high as it was by virtue of finishing tied for third in passing touchdowns (35) despite his 20th-place finish in pass attempts. That was an 8.2% touchdown percentage that was tops in the league and (to me at least) screams regression. Wilson is going off the board ninth among quarterbacks and is ranked the same in our staff rankings, but he's 13th in my ranks. For fantasy, he's riskier than he's ever been.