(With training camps starting soon around the league, we're looking ahead at the 2019 fantasy football season and attempting to answer the burning questions around the league. For each team, we'll ask, and hopefully answer, 3-4 questions about their season to come in fantasy. This is 100 Questions.)
From 2014 to 2017, the Detroit Lions went a combined 36-28 with three second-place finishes, three winning records, and two playoff appearances. It was an easy run of success to nitpick, but it was still a run of success. The team entered 2018 with three high-ceiling receivers, a second-round draft pick at running back, and a quarterback on a run of three straight (and six out of seven) top-10 fantasy finishes.
The problem was, 2018 didn't work out so well. The team went 6-10. That quarterback nearly fell out of the top 20. The rookie back had a decent stretch, but only played 10 games and finished as the No. 33 for fantasy. One of the high-ceiling receivers got traded away, one got hurt and played only nine games. The third had a perfectly fine season, but that's not a lot to hang a fantasy hat on. Heading into 2019, the Lions have much less excitement around them, including for fantasy. But should we be more interested than we are?
#79: Is there any fantasy upside left for Matthew Stafford?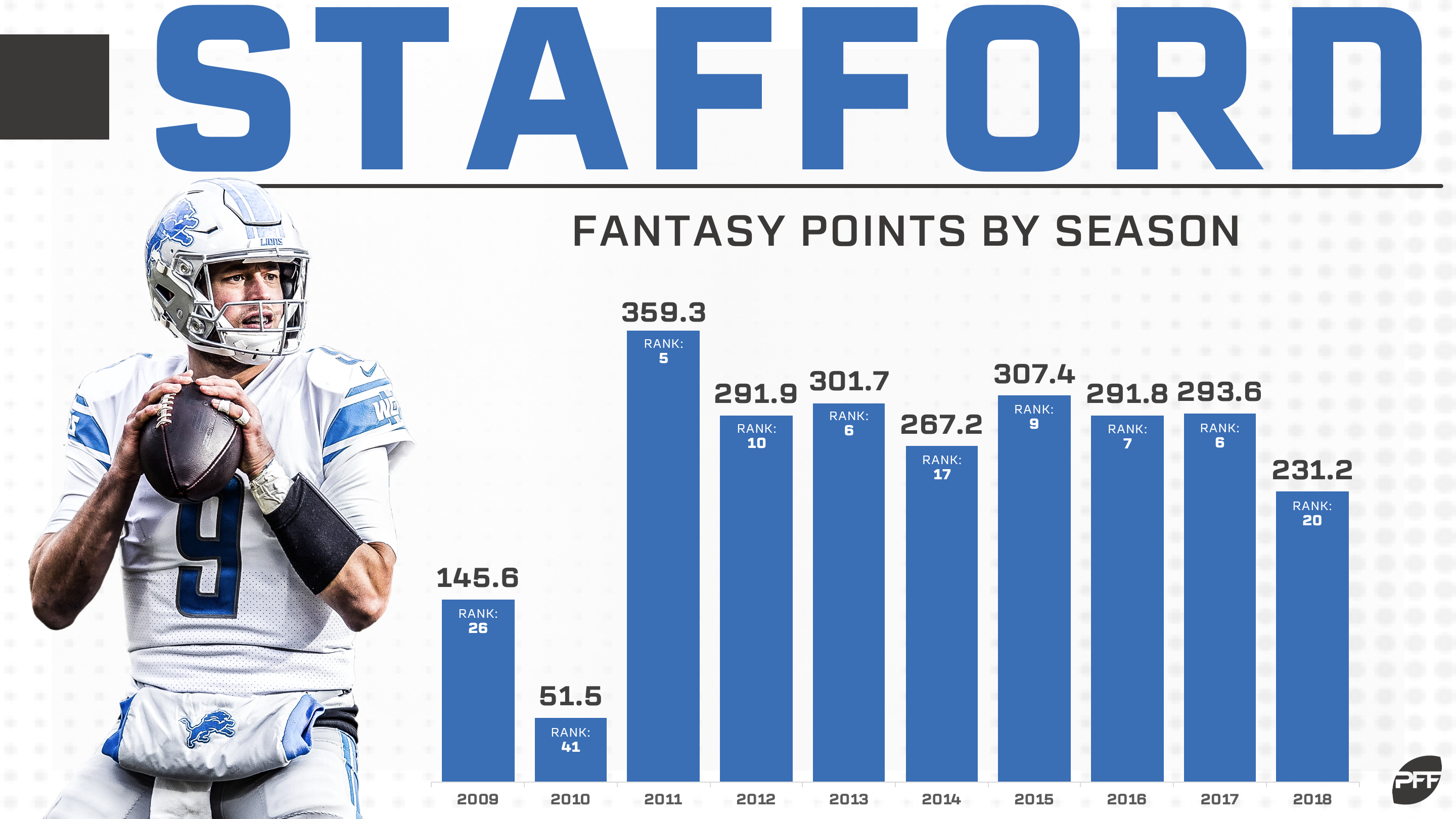 Stafford has never been among the league's elite quarterbacks in terms of PFF grading (his career-best qualifying grade was a seventh-best 81.6 in 2016), but for fantasy he more than held his own, finishing in the top 10 six out of seven years 2011-2017. In 2018, though, he had his lowest yardage total in that span (3,777, his first time under 4,000 yards since his injury-plagued 2010), his second-lowest touchdown total, his lowest yards per attempt. He even had his lowest rushing output of his successful stretch, with only 71 yards and no touchdowns. But the worst thing for Stafford was the raw lack of quantity. He attempted an all-time record 727 passes in 2012 and has seen that number fall in literally every season since. His 555 pass attempts in 2018 still ranked 11th in the league, but for a guy who has regularly hung out near No. 1, "11th" is pretty low.
Best guess: The Lions have given no indication that Stafford's total of pass attempts will rise back in 2019; on the contrary, all indications are that the team will be committed even more strongly to the run — new offensive coordinator Darrell Bevell has reaffirmed that several times this offseason. If Stafford is going to be passing the ball in the range of 550 times instead of 650 — and throwing it shorter than ever before at the same time — his efficiency just isn't high to offset that drop. He's going off the board 23rd among quarterbacks according to current ADP (per Fantasy Football Calculator) and is ranked 24th in our PFF Fantasy staff rankings, and even those might be on the generous side.
#80: So is this just a rushing offense now? What does that mean for the receivers?
We saw above that Bevell certainly thinks so. And it just became more run-heavy as the season went on last year; the Lions topped a 70% pass-play percentage in a game three times in the first half of the season, but topped out at 65% in the last half. Even accounting for gamescript, this was a run-heavy team. Kenny Golladay had a breakout year last year as the team passed more early and then Golden Tate was traded and Marvin Jones was hurt, but the team's increased reliance on the run hurt him as the year went on. He was an WR2 or better four times in the season's first five weeks, but then did it only three times in 10 games after the team's bye.
Best guess: Golladay is still around, Jones is back from injury, and Danny Amendola has been added. On top of that, the team signed Jesse James and drafted T.J. Hockenson to play tight end. Even if James does most of his work as a blocker and Hockenson performs like a rookie tight end, the three receivers are going to have to fight over measly offerings. Golladay is still going to be the No. 1 receiver from a quantity standpoint, though Jones is interesting because of his propensity for valuable targets (in games they both played last year, Jones had 12 end-zone targets, compared to four for Golladay). That doesn't leave much for Amendola. Current ADP (Golladay is 18th, Jones 38th, Amendola undrafted) is mostly right, although our staff rankings show there's a clear value to Jones as a value play (he's ranked 31st). No matter what, draft Lions receivers with the knowledge that there is low upside.
#81: So that should mean big things for Kerryon Johnson? Is he up for that workload?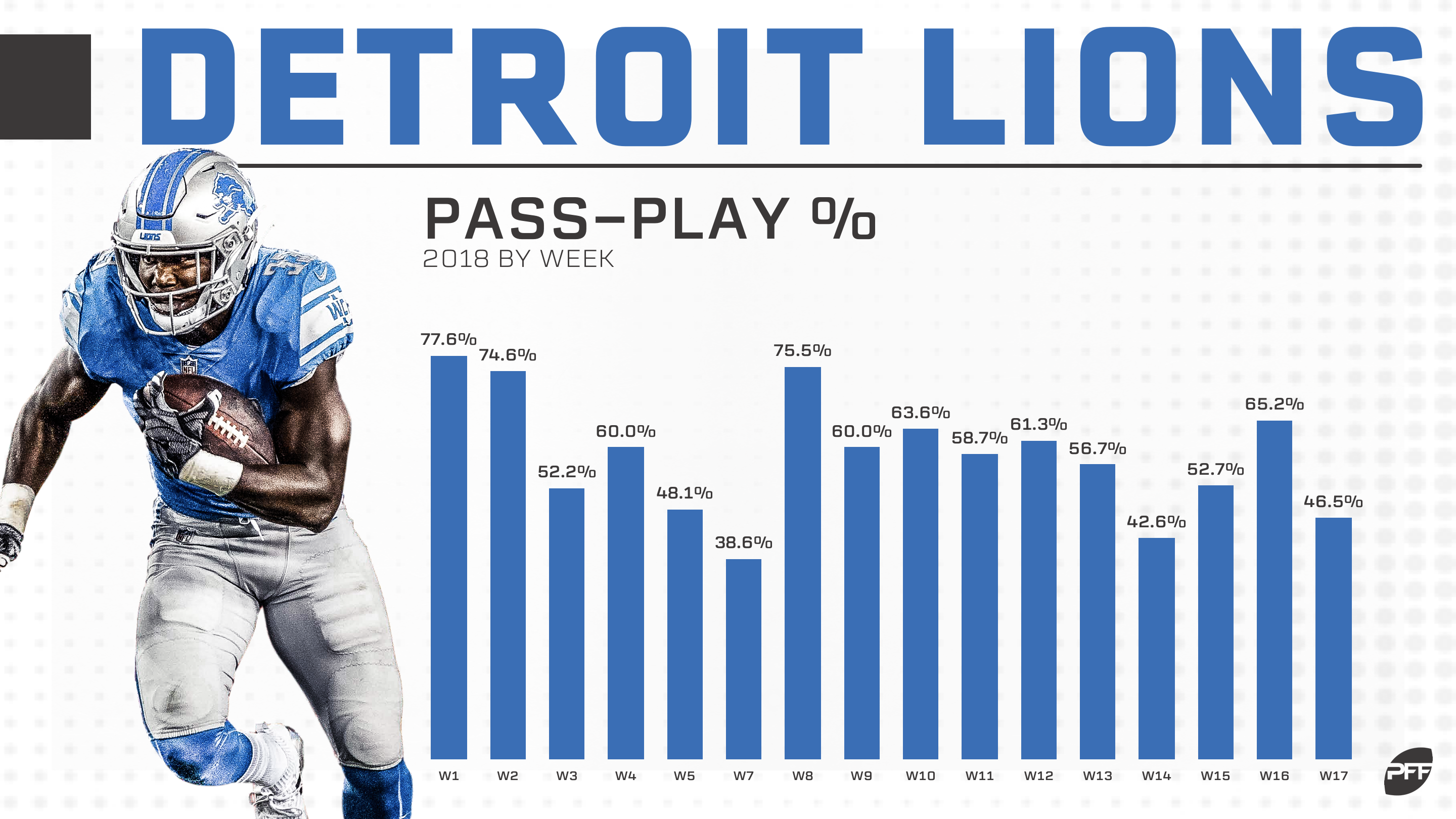 If the team is passing that much less, it stands to reason that it will be running more, and that should mean good things for the running game on the whole. That said, while Johnson will be the lead back, he's joined by holdover pass-catching back Theo Riddick and free agent signee C.J. Anderson. The Lions didn't go hard on Johnson as a rookie — he didn't top 16 carries in a game until Week 7, didn't top 40 offensive snaps until the week after. Yes, he dealt with injury on the year, but he still ended up only ninth among rookies in carries, behind backups like Josh Adams and Royce Freeman and a quarterback in Lamar Jackson.
Best guess: One part of Johnson's value will become clearer before the season starts, with some rumors Riddick is on the roster bubble and might not be a Lion come Week 1. If that happens, Johnson will soak up a lot of Riddick's targets and his value will spike. Absent that, he's definitely not going to be a bell cow and, even with the team's commitment to the run, might cede enough carries to Anderson to hurt his value. Johnson is going off the board 18th among running backs in drafts and comes in at 21st in our staff rankings. If Riddick is on the roster, he's probably going at his ceiling. If Riddick goes away? There's value there. He's 26th in my rankings, so clearly I think Riddick is sticking around.