(With training camps starting soon around the league, we're looking ahead at the 2019 fantasy football season and attempting to answer the burning questions around the league. For each team, we'll ask, and hopefully answer, 3-4 questions about their season to come in fantasy. This is 100 Questions.)
Maybe there was someone who predicted a playoff spot for the Indianapolis Colts last year. In a world of seemingly infinite football prognosticators, just about everything is predicted at some point or another. But I just spent a half-hour going back through Google search results of 2018 predictions, and I not only couldn't find anyone predicting them to make the playoffs, I couldn't even find anyone predicting them to finish outside of last place.
This was a team that was thought to be bad last year. Yes, a lot of that was uncertainty about ended-up-playing-16-games Andrew Luck's health, but that wasn't all of it. And then when the Colts started 1-5, they were written off … only to go 9-1 the rest of the way, win a playoff game, and spend this offseason being called maybe the team best set up for long-term success in the league. It was a quick turnaround. Can that be reflected in fantasy powerhouse numbers in 2019?
#17: Once and for all … Ebron or Doyle?
Eric Ebron had a career year in 2018 and was the TE4. Jack Doyle was TE5 in 2017. Other than the Aaron Hernandez-era Patriots, no team has made better use of multiple tight ends in recent seasons than the Colts. We've hit the Ebron/Doyle debate countless times this offseason, so there's no need to rehash the whole thing here.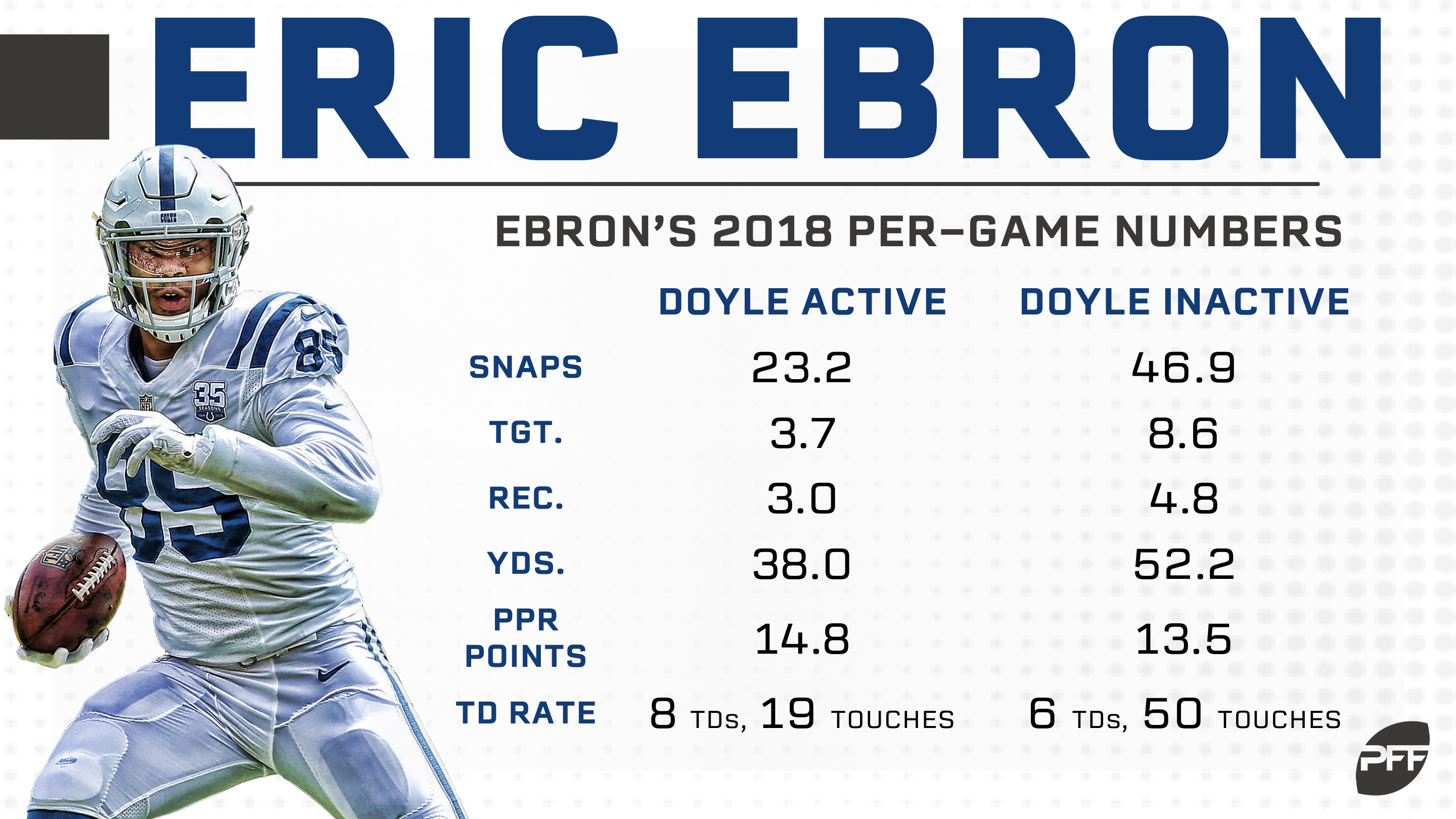 Best guess: It's Ebron, but it's much closer than current ADP (per Fantasy Football Calculator, Ebron is the TE7, Doyle is undrafted) would have you believe. I have them ninth and 12th, respectively, and they are eighth and 12th in the PFF Fantasy staff rankings. So much of Ebron's success in 2018 boiled down to (a) Doyle's absence and (b) touchdown luck, and we can expect both to regress. In a vacuum, you'd take Ebron. Considering cost to acquire? All I know is I'm ending up with Doyle on a lot of rosters this year.
#18: There will be a competent No. 2 receiver behind T.Y. Hilton, right?
Recent history says the Colts don't need a productive No. 2 receiver, especially considering the team's penchant for a productive tight end or two. Not since 2011 (Pierre Garcon and Reggie Wayne) have the Colts had multiple top-30 PPR receivers; the average finish of the team's second-best receiver in the seven years since is almost WR60. But with Devin Funchess a relatively high-profile signing and Parris Campbell a notable draft pick, the team is at least shooting for more depth at the position in 2019.
Best guess: Probably, and it's probably Funchess. Early reports out of Indianapolis have Hilton and Funchess manning the top two receiver roles in the offense, with Campbell operating more out of the slot and soaking up some of Nyheim Hines' looks, but not dominating the snap load. Funchess had a majorly disappointing contract year in Carolina, but with a current ADP of WR58, he could be a value in 2019.
#19: Can Marlon Mack take the next step?
Mack was the PPR RB21 in 2018. From his injury return in Week 6 to the end of the year, he was RB10. He wasn't among the elite fantasy backs in the league, but he was surprisingly close, especially for a guy who was at best in a fight for the starting job before the season with Hines and Jordan Wilkins (and Christine Michael, Robert Turbin … there were a lot of backs in Indianapolis). If there was a knock on him, though, it was receiving — Mack had only 24 targets on the season. The only backs ahead of him in the PPR ranks with fewer targets were Chris Carson (22) and Derrick Henry (18). As such, Mack's results were closely tied to gamescript. He topped 12 PPR points in a game five times, and the Colts in those games won by 22, 14, 28, 23, and 16. If you're going to have a gamescript-dependent back, it's good to have him on a good team, of course, but for Mack to reach the upper echelon of fantasy backs, he'll need to be more gamescript-agnostic.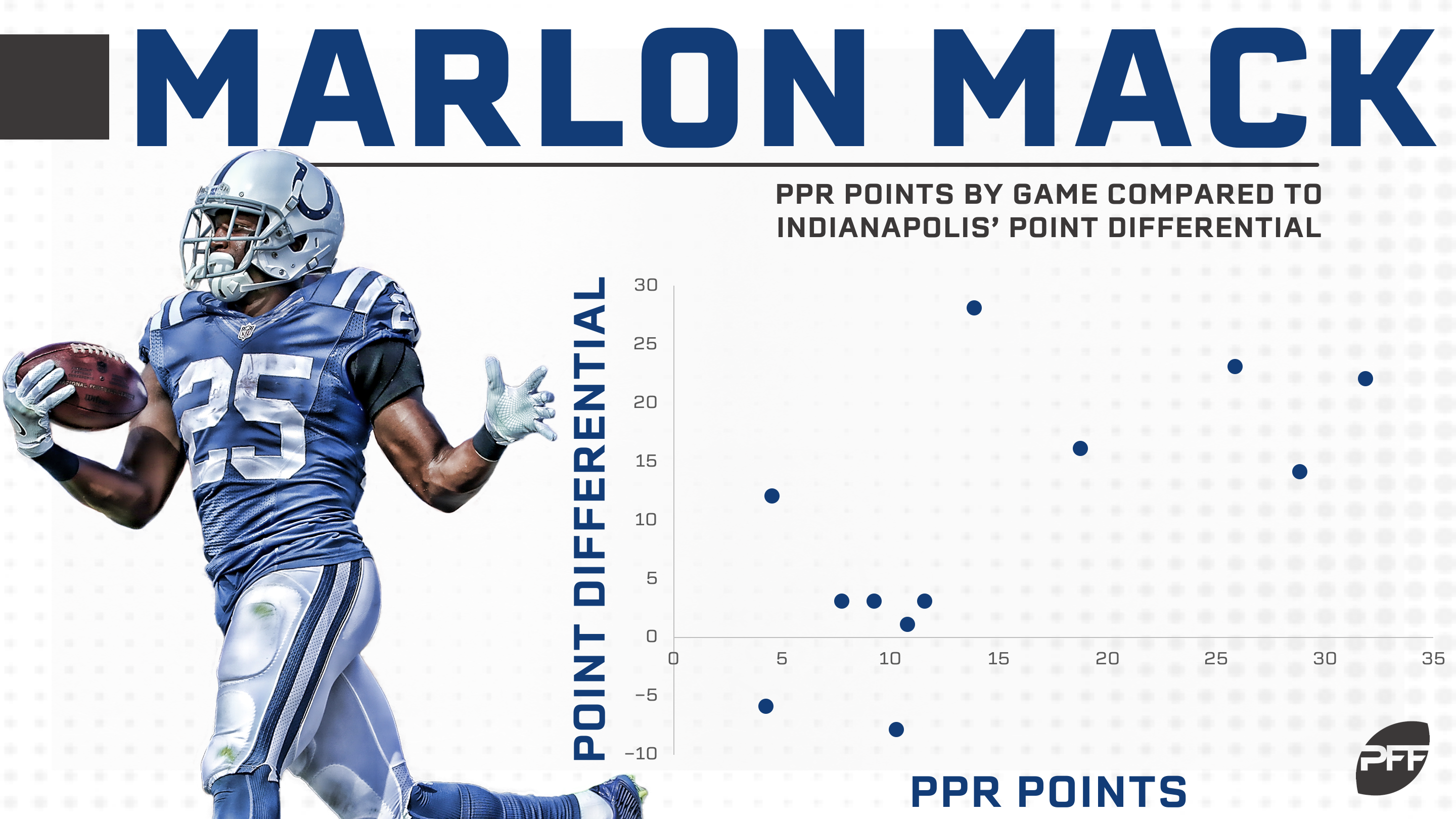 Best guess: Hines' presence means Mack still won't be a top-tier back, but he's close. He's the No. 17 back off the board in ADP, 16th in our staff rankings. There's a group of backs in that area — ranging from (about) Dalvin Cook at 11 to Henry at 19 — that could just as well be tossed into a Yahtzee shaker. Mack is an RB2, but where he is among the RB2s is fair to debate.