(With training camps starting soon around the league, we're looking ahead at the 2019 fantasy football season and attempting to answer the burning questions around the league. For each team, we'll ask, and hopefully answer, 3-4 questions about their season to come in fantasy. This is 100 Questions.)
If recent history holds, the Dallas Cowboys won't be winning the NFC East in 2019. After all, the team has alternated division wins and not-wins every year since 2013, including a second-half surge in 2018 that propelled them from also-rans to a 10-6 record and a playoff win. Obviously, that's not a predictive history, but it's worth noting just for the curiosity factor.
More relevant: We know how the Cowboys turned their season around when Amari Cooper joined the roster. They were 3-4 prior to acquiring Cooper, then went 7-2 the rest of the season. That's a dramatic turnaround. On the other hand, the team didn't actually score that many more points. The pre-Cooper Cowboys scored 20.0 points per game; the with-Cooper team scored 22.1, including three games of 14 or fewer points (one shutout). This wasn't a dominant offense at any point, and while the team did produce big fantasy numbers from a few names, it wasn't one of the premier scorers in the league.
#51: Is Amari Cooper worth what it will cost to acquire him in drafts?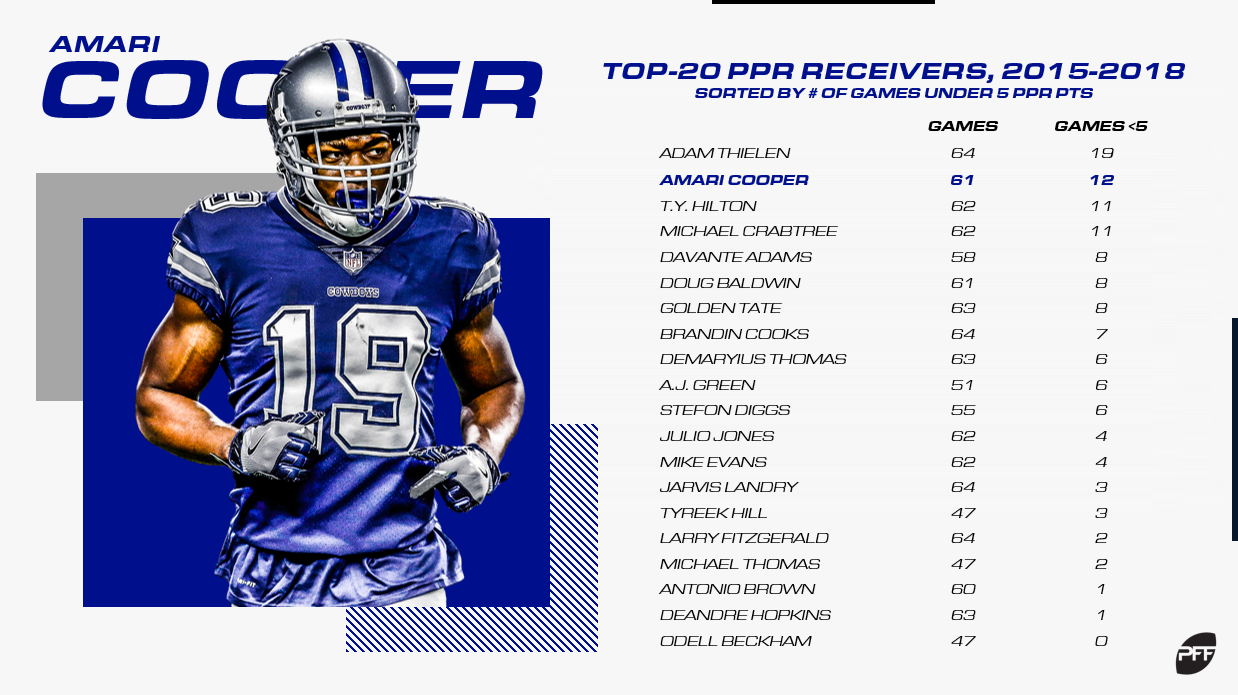 When Cooper is on, he is on. Over the last four years, only four receivers (Antonio Brown, Julio Jones, Tyreek Hill, and DeAndre Hopkins) have more individual games with 30 or more PPR points than Cooper. But he has an awful floor — among the top-20 PPR receivers over that same span, Cooper's 12 games of less than 5 PPR points is the second-most, behind only Adam Thielen's 19 (and remember, Thielen was a part-time player for some of that time). He was the No. 8 fantasy receiver over his time with the Cowboys, but with only three weeks out of nine as a top-20 weekly finisher.
Best guess: Obviously, Cooper is golden in best ball leagues. He has 14 top-20 finishes out of 45 games the last three years, compared to 12 games outside the top-60. If you can get the good and avoid the bad, Cooper is a monster. But for regular fantasy, Cooper carries so much frustration. He'll nigh on win you some weeks while leaving you high and dry in others. Considering where he's going in drafts (No. 12 WR off the board, according to Fantasy Football Calculator ADP), the risk is too great for my blood.
#52: Is Ezekiel Elliott's jump in receiving game involvement for real, and can that make him the overall RB1?
By total PPR points, only Todd Gurley has outscored Elliott since he entered the league. By points per game, Elliott trails being Le'Veon Bell, Saquon Barkley, and Alvin Kamara, none of whom appeared in all three seasons of the sample. And he did all that despite ranking only 29th in the league in running back receptions across the first two years of his career, totaling 58 receptions (Bell led the way over that span with 160). In 2018, though, Elliott became a bona fide receiving option, jumping from 58 receptions and 70 targets total across his two seasons to 77 and 91, respectively, in 2018 alone. A running back needs to be a part of his team's passing game to have legitimate consideration to be the No. 1. The Elliott of 2016-2017 didn't have that. The Elliott of 2018 did.
Best guess: There's no real reason to think Elliott won't continue to be a target like he was in 2018. His main pass-catching back, Rod Smith, is gone — not that he was a big part of the offense to begin with. And his passing-game work increased as the Cowboys' fortunes did; he averaged 2.3 targets a game before the team's bye and 2.7 after — not a big difference, but still an improvement. Elliott's never going to be James White as a receiver, but he's currently going off the board fourth among receivers, and all our PFF Fantasy rankers have him higher than that — including Jeff Ratcliffe having him ranked No. 1 overall.
#53: Can Michael Gallup put up better numbers in Year 2?
Gallup was a not-unreasonable sleeper candidate as a 2018 rookie. He was a third-round draft pick who had a legitimate argument as his team's No. 1 receiver and had been the No. 49 player on the 2018 PFF Top 250. Instead, he finished as the No. 77 PPR receiver, and even that was as much a product of playing all 16 games as anything to do with his actual performance; he only scored two touchdowns and barely cracked 500 yards. He was 11th in PPR points just among rookie receivers, including finishing behind players like Anthony Miller and Robert Foster, who started only four and three games, respectively.
Best guess: Gallup no longer has the virtue of being his team's No. 1 option because of Cooper. But with Cole Beasley gone and Allen Hurns out for who knows how long (maybe forever), the No. 2 job behind the star Cooper will fall to Gallup and/or the soon-to-be 29-year-old Randall Cobb. Gallup was a yards-per-route-run monster in college at Colorado State, finishing second in 2016 at 4.34 and then 15th in 2017 at 3.18. So there is definitely potential there. But until Gallup shows something and we see Dak Prescott prove he can support two fantasy-relevant receivers, Gallup's fantasy stock (he's the No. 62 receiver in our staff rankings) makes him just a guy to monitor, not one to draft.