There's no one winning strategy to fantasy football drafts, and anyone who tells you otherwise is wrong. Early in the drafts, you take what is there for you, and you let that dictate how the later rounds go.
In other words, you can start RB/WR or WR/RB or, I don't know, TE/QB, and if you play your cards right, you can still win. But one thing you have to do is prepare for whatever approach you end up with.
Today, I'm looking at the later options at running back if you go WR-heavy at the start. These are receivers going in the fifth round and deeper (according to current Fantasy Football Calculator ADP) who still have the potential to be reliable fantasy starters on a team that needs surefire starters and not lottery tickets.
(Wednesday I looked up wide receivers to target if you go RB-heavy early.)
(Current ADP: 5.03, 51st overall)
As I noted in my 100 Questions piece on the Seahawks, Seattle shaped up to split work between Carson and Rashaad Penny (and Mike Davis) last year, with Penny out-touching Carson in each of the first two games. And then he never did it again, with Carson out-touching Penny 164-56 in the nine games they shared the field the rest of the season. That's continued into training camp, per reports, with Carson looking like the best back. Davis' departure opens up 146 touches for the backfield, and Carson just finished fifth in the league in rushing yards. He's being criminally underdrafted.
(Current ADP: 6.08, 68th)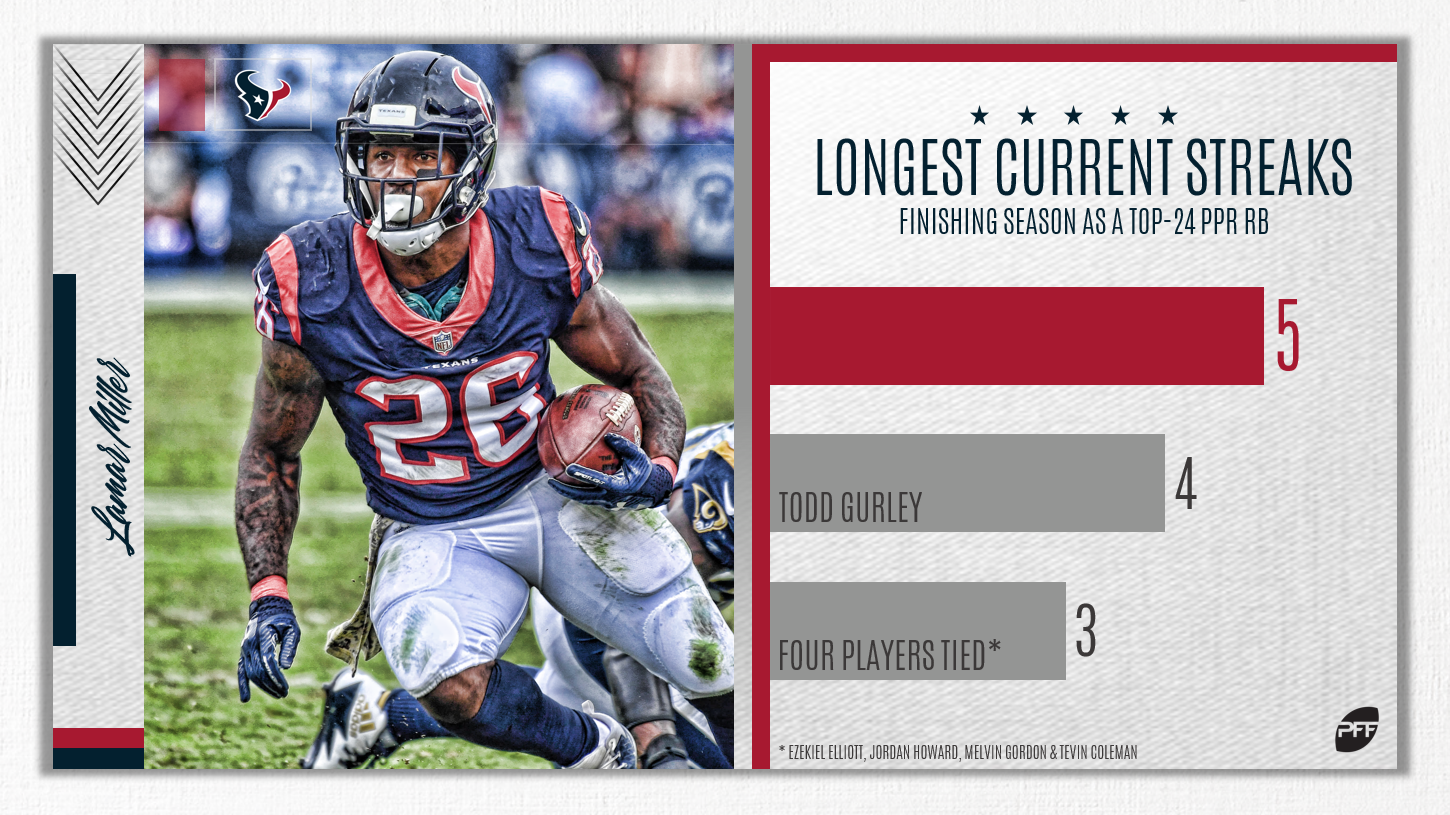 Miller's ADP will rise from this writing after the Texans released D'Onta Foreman on Sunday, but it's unlikely to really skyrocket, as the drafting community has by and large bailed on the once-hot name. But there's draft strategy to consider here. If you've gone receiver-heavy early in drafts, you likely have a super-strong core at the position, and what you need more than anything else at running back is a high floor. A high ceiling is nice as well, but it's more important to not get a zero. And Miller, with virtually no competition for touches in the Houston backfield, has a high floor in spades. He might not be a viable candidate to finish in the top-10, but it's really hard to envision him staying healthy and falling out of the top-30, and given the scenario here, that's valuable.
(Current ADP: 7.03, 75th)
Ekeler is roughly the inverse of Miller, in that he has a very low floor but a huge ceiling, and it mostly comes down to the status of his backfield mate. If Melvin Gordon holds out into the season or is traded elsewhere, Ekeler's ceiling skyrockets; he might not get as many carries as Gordon typically has managed in Los Angeles, but Ekeler's been a monster with the touches he's gotten in his career. And even if Gordon sticks around, Ekeler has shown he can be a fantasy contributor even sharing the backfield — he was the No. 25 PPR back just last year.
(Current ADP: 9.02, 98th)
The Buccaneers have to want Jones to take the starting role in 2019. His only real competition in the backfield is Peyton Barber, who finished last year only 31st at the position in PPR points despite being 12th in touches; he couldn't even crack 1,000 total scrimmage yards on those touches, which is hard to pull off. So Jones needs to get every opportunity to show he can realize the potential the team saw in him that had them take him in the second round just a year ago, because Barber just isn't a competent starter.
(Current ADP: 9.11, 107th)
Diving in on a member of the Patriots backfield is always a risky proposition. Taking Sony Michel or James White this year will take a fourth- or fifth-round pick. Harris, meanwhile, is going at the end of the ninth round. Michel has already been limited in training camp with knee issues that we saw limit him as a rookie a year ago. For all of White's virtues as a receiver, his touchdown prowess of a year ago seems hard to repeat (he scored 12 touchdowns in 2018 after never topping 6 in any other season). Harris, meanwhile, was someone the Patriots apparently liked enough to draft in the third round this year despite having those other guys in the fold, has drawn positive reviews in training camp, and again, he's going so late in drafts that the cost is small. If Bill Belichick goes all Belichickian on us, then you want the guy in the backfield who is the cheapest.
(Current ADP: 11.09, 129th)
The Dolphins have cycled through head coaches in recent seasons — the last time the team had a head coach for four full seasons in a row was Dave Wannstedt in 2000-2003 (and part of 2004). What hasn't changed for much of that time is the team's reluctance to commit to a single back. The Dolphins are one of only three teams (along with the notoriously RB-needy Lions and the committee-laden Saints) without a running back reaching 290 touches in a season in the last decade. So you aren't going to find a bell cow in Ballage. But it also means that you aren't going likely to find one in Kenyan Drake, going almost 70 spots higher in drafts. And with Ballage already taking work from Drake in the preseason, he could get a lot of touches for a back taken that low.
(Current ADP: Hill 12.08, 140th; Edwards undrafted)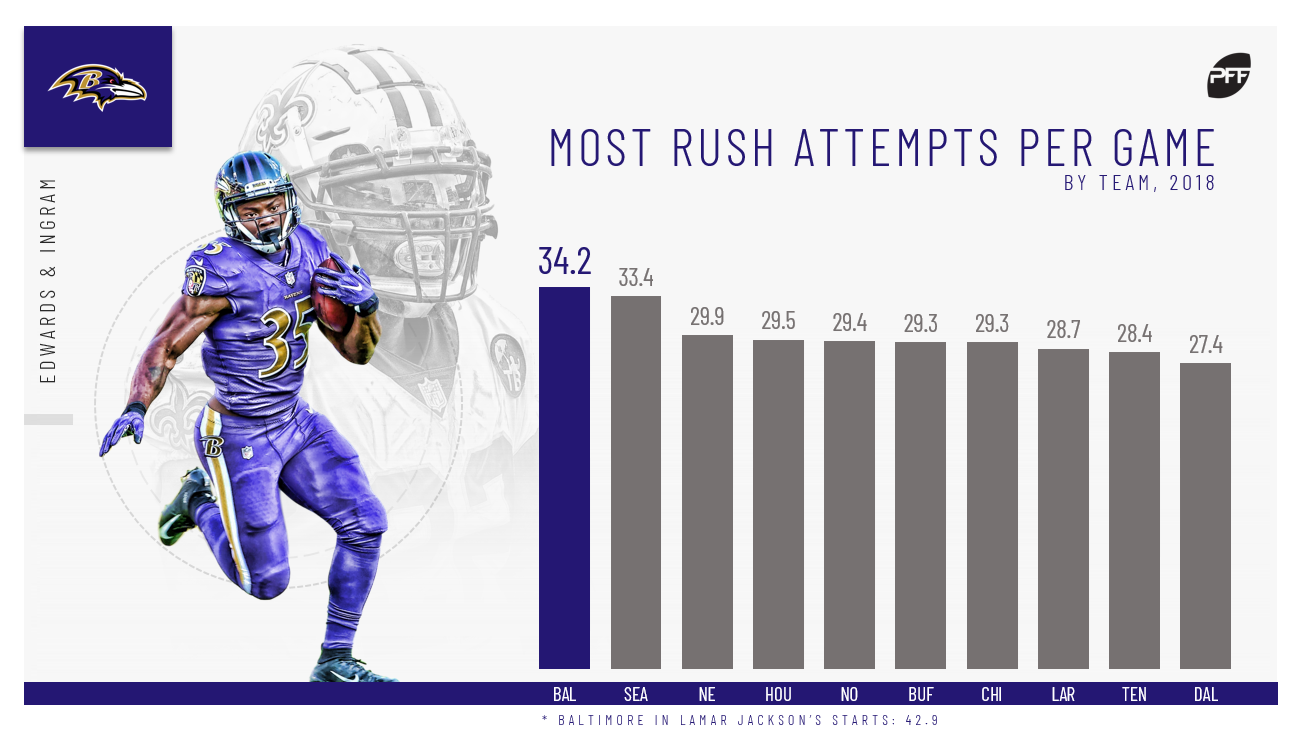 With Lamar Jackson as the starter last year (Weeks 11-17), the Ravens as a team averaged 42.9 carries a game, a total that would have blown away the league lead (the Seahawks, the non-Ravens leaders in rush attempts, averaged 33.4). Even if you take four or five per game away and give Lamar Jackson 10 rushes a game (all loose math to prove a point), that's conservatively 25-30 carries a game for the team's backfield. Mark Ingram isn't going to get all of those (his career-high is 17.4 and that's the only time he's ever topped 14.4), and early reports are that Kenneth Dixon is on the roster bubble. That leaves second-half load-carrier Edwards and this year's fourth-rounder Hill to get a fair load of carries as well. If one distinguishes himself from the other, there are plenty of touches to benefit from.
(Current ADP: 14.03, 159th)
I'm going to die on this hill this offseason, but if the Titans are going to be as run-heavy as they have talked about this offseason, they have gone about it in a very strange way — a tight end coach is now offensive coordinator, the team added a relatively big-name free agent receiver and drafted one in the second round, the team signed a competent passer as backup quarterback, and the team added zero running back help. I just don't buy that this is suddenly going to be the Derrick Henry show. That means Lewis, who was the No. 27 PPR back just last year, has similar potential in 2019, and he's going as a complete draft afterthought.
(Current ADP: 15.04, 172nd)
Damien Williams has (a) barely been seen so far this training camp with injury, and (b) almost no track record of success as a starting running back. He'll get his chances in the Chiefs backfield, but if he flames out, the next candidates are Carlos Hyde (who has been passed over by three different teams in the last year-plus), Darrel Williams (who had all of 16 touches as an undrafted rookie last year), and rookie sixth-rounder Thompson (who was an electric player in college at Utah State). He's a long shot for serious play right away, but he definitely has the offense to succeed in if he gets the shot, and there isn't exactly a huge roadblock standing in his way.