In a surprise move on Sunday, the Houston Texans waived third-year running back D'Onta Foreman. The report from John McClain the Texans beat says the Texans "weren't happy with his work habits." The move now leaves Lamar Miller without a viable competitor in the backfield and solidifies his fantasy value for the time being.
Foreman was in the midst of a breakout performance when he tore his Achilles in 2017. His recovery went spilling into the 2018 regular season, with Foreman only managing to get on the field for one game. He carried the ball seven times for negative-one yards in that contest, but did chip in two catches for 28 yards. While this isn't a good look for Foreman's fantasy stock, he's likely to land on his feet elsewhere. Stay tuned on that front.
With Foreman out of the mix, the Texans have a whole lot of nothing to compete with Miller on the depth chart. Former UDFA Buddy Howell and Colts castoff Josh Ferguson are there, as are journeyman Taiwan Jones and 2019 UDFAs Karan Higdon and Damarea Crockett.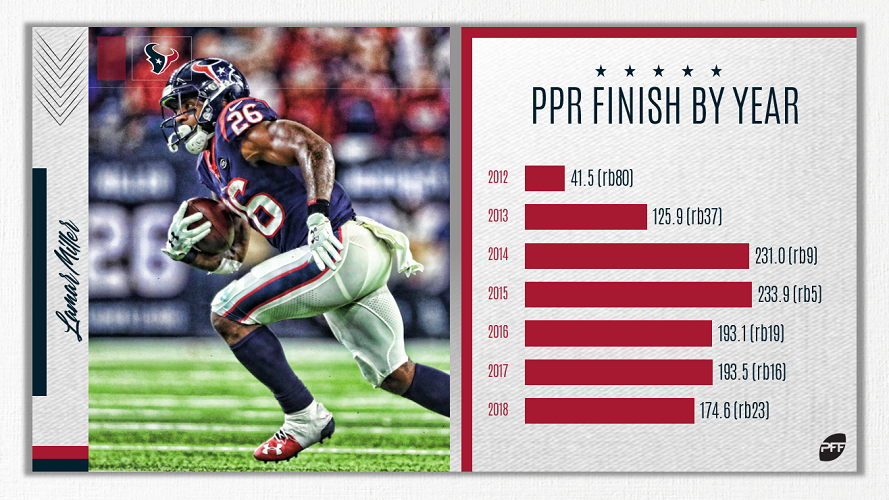 This lack of depth would suggest Miller is set up for a healthy workload in the Houston backfield, which at least sounds encouraging for fantasy purposes. However, it's important to keep in mind that Miller is entering his age-28 season and has scored just six combined touchdowns in each of the last three seasons. His lack of upside makes him an uninspiring RB2 option in upcoming fantasy football drafts. It's tough to get behind picking him any earlier than his current ADP in the sixth round of 12 team leagues.
Of course, this move has also inspired speculation from the fantasy community on social media that the Texans could be making room for a trade. The two obvious candidates would be Melvin Gordon and Duke Johnson since both players have made public their requests to be traded. While the thought of Gordon in the Texans offense is quite appealing, the fact that the Texans are already paying Miller the eighth-highest annual salary among running backs doesn't bode well for that deal getting done. Likewise, Johnson is currently the 10th-highest-paid back, so a deal may not be forthcoming their either.
At this point, any trade speculation is more fodder for sports talk radio than it is something we should be considering for fantasy football purposes. For now, Miller's value isn't significantly impacted, and we're in wait-and-see mode for Foreman. If you already drafted Foreman or have shares of him in best ball, there's still a chance he lands in a good situation.