There's no one winning strategy to fantasy football drafts, and anyone who tells you otherwise is wrong. Early in the drafts, you take what is there for you, and you let that dictate how the later rounds go.
In other words, you can start RB/WR or WR/RB or, I don't know, TE/QB, and if you play your cards right, you can still win. But one thing you have to do is prepare for whatever approach you end up with.
Today, I'm looking at the later options at wide receiver if you go RB-heavy at the start. These are receivers going in the fifth round and deeper (according to current Fantasy Football Calculator ADP) who still have the potential to be reliable fantasy starters on a team that needs surefire starters and not lottery tickets.
(Current ADP: 5.05, 53rd overall)
We can debate just how high Lockett's ceiling is — if he is as efficient as he was in 2018 and absorbs Doug Baldwin's vacated targets, his ceiling is monstrous; if those targets go elsewhere and he regresses, it's lower — but Lockett's floor is huge. Even on what looks to be a very run-heavy offense, Lockett will be the No. 1 receiver with an excellent quarterback, and that makes him a helpful player to lock into lineups.
(Current ADP: 6.07, 67th)
I mentioned Jeffery as having an outside chance at finishing as a bona fide WR1 in 2019, but even if he doesn't realize that chance, he's a strong bet to finish as a fantasy starter, given his role as the No. 1 receiver in what could be one of the league's best offenses.
(Current ADP: 7.02, 74th)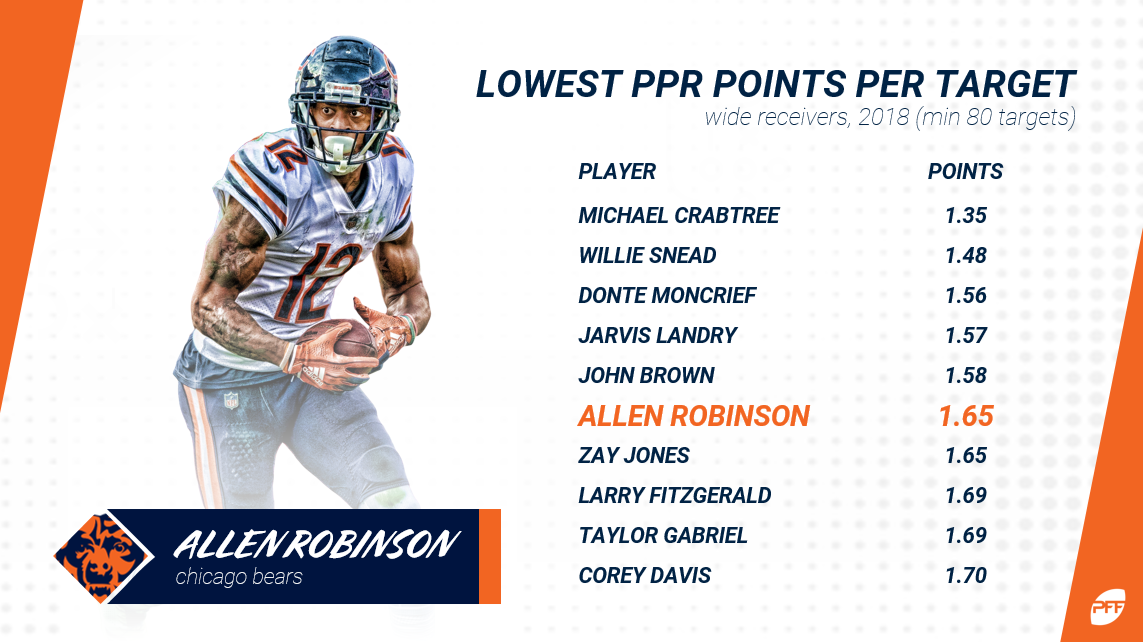 In 13 games last year, Robinson had 94 targets and finished as fantasy's No. 39 PPR receiver. The only receiver who had more targets than Robinson and fewer overall PPR points was Michael Crabtree. So it's not hard at all to argue that Robinson's fantasy finish last year was more or less his floor. Give him a full season of games, another 20-some targets, and anything like better touchdown luck, and Robinson could take a big leap.
(Current ADP: 9.01, 97th)
Jones' 2018 is remembered unfairly because he spent so much time injured; he was the No. 27 PPR receiver through Week 10 despite splitting time with Golden Tate and Kenny Golladay and seeing Theo Riddick soak up plenty of targets. Two of those three are gone now, replaced by not much. And Jones was out-targeting Golladay in the end zone by a 3:1 margin. He could return huge fantasy value in 2019.
(Current ADP: 9.04, 100th)
Somewhat under the radar, Westbrook actually had the four-most PPR points on slot receptions in 2018, behind only Tyreek Hill, Adam Thielen, and JuJu Smith-Schuster. With Donte Moncrief gone now, Marqise Lee still questionable as he works his way back from an ACL tear that cost him 2018, Keelan Cole playing himself out of favor in the Jacksonville offense, and no tight end to speak of, Westbrook should enter Week 1 as the clear No. 1 option in the offense, catching passes from Nick Foles, who has generated a 102.3 passer rating in his career throwing to the slot, easily his best passer rating targeting any position. Westbrook has huge sneaky upside.
(Current ADP: 9.07, 103rd)
Buried deep in my contract with PFF is a stipulation that I be allowed to mention Davis in every positive piece I write for the 2019 season. I made sure it got included. Davis was the No. 27 PPR receiver a year ago despite virtually everything working against him — hurt quarterback, awful backup, nobody else posing a threat in his offense, and one of the toughest CB slates in the league. In 2019, those are largely solved — his quarterback is healthy, the backup is way better, the team has brought in all sorts of reinforcements, and he has a much friendlier strength of schedule that includes one of the league's very best slates in the fantasy playoffs. I have Davis in every single league this draft season.
(Current ADP: 10.04, 110th)
Samuel actually outscored teammate D.J. Moore on a per-game basis, and while it's not quite that simple — Samuel had more touchdown luck, he missed three games to injury, Moore was a rookie — that alone is enough for me to be perplexed by the gap in their respective ADPs, with Moore going more than 50 spots earlier in drafts. He's clearly the team's No. 2 wide receiver, and he's closer to No. 1 than his draft stock might indicate.
(Current ADP: 10.07, 113th)
Coutee's rookie season was sporadic. He missed Weeks 1-3, then missed Weeks 8-10, then missed Weeks 13-17. Scattered in there, he was limited in Week 7 and Week 12. So, outside of that, Coutee played five games of 40-plus snaps (counting the Texans' Wild Card game) and averaged 17.2 PPR points per game — and it was even at 15.1 in games he shared the field with Will Fuller. Fuller has immense upside as well, but (a) he's going 30 picks earlier than Coutee and (b) has to prove he's fully recovered from his ACL tear. Coutee could be a sneaky mid/late pick.
(Current ADP: 10.09, 115th)
Maybe this one isn't fair? After all, between when I'm writing this and when I publish it, there's every chance Sanders continues to spike in ADP as his health continues to improve. Still, Sanders was a borderline WR1 last year through 13 weeks before missing the season's last month to an Achilles tear, and while a late-season injury like that is usually enough to crush any player's value, let alone a 32-year-old's, all indications are that Sanders has made a fast recovery; he isn't even starting training camp on the PUP list. If he's good to go in Week 1, Sanders has an immense ceiling.
(Current ADP: 16.02, 182nd)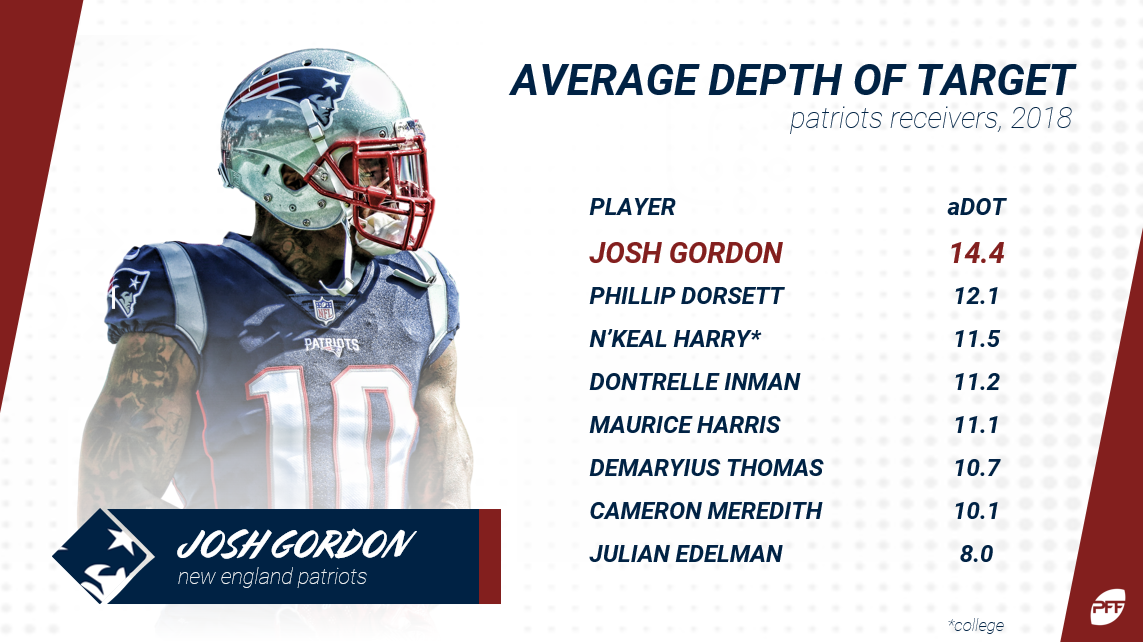 This one is fairly simple. If Gordon is available to the Patriots this season, he has an immense ceiling. After all, he led the team's receivers in 2018 in receiving grade, yards per reception, yards after the catch per reception, and deep receptions. He had a 14.4-yard average depth of target. On a team with a bunch of short targets (Julian Edelman) and wild cards (N'Keal Harry, Demaryius Thomas), an available Gordon would be a huge offensive boon. A lot of people advocate passing on a kicker and/or defense in the last rounds of the draft and taking a lottery ticket, just dropping someone to add a K or DST right before Week 1. Gordon is tailor-made for that.