Former Tennessee Titans wide receiver Corey Davis agreed to a three-year $37.5 million deal with the New York Jets on Monday night, according Adam Schefter. With the Jets unlikely to re-sign Breshad Perriman, Davis joins New York as the lead dog in the receiver room. 
More from PFF's live free-agency coverage: 
2021 NFL Free Agency LIVE Deal Grader | The 100 best available NFL free agents remaining | 2021 NFL Free Agency Tracker | PFF Improvement Index for all 32 teams | Fantasy Football Free Agency Tracker
Let's dive into Davis' fantasy outlook with Gang Green and hit on other players whose values have been affected by the signing. 
This is probably one of the worst spots I could imagine Davis landing for fantasy purposes. I was afraid a team would view him as a potential No. 1 receiver coming off a career year in which he finished sixth in yards per route run (2.46), eighth in PFF receiving grade (85.6) and 25th in fantasy points per game (14.2).
Davis simply operates better as a No. 2 wide receiver. His disappearing act at the end of 2020 — zero catches in two of his last three games — is a reminder that fantasy managers need to proceed with caution even if the Jets are willing to pay him like a WR1. Davis has benefited from playing alongside an alpha wide receiver in A.J. Brown and an uber-efficient QB in Ryan Tannehill.
My stance on Davis might alter slightly depending on who ultimately is under center for the Jets in 2021 — it would skyrocket with Deshaun Watson. For now, I'm going to be fading him if the market decides to chase his targets and perceived WR1 workload.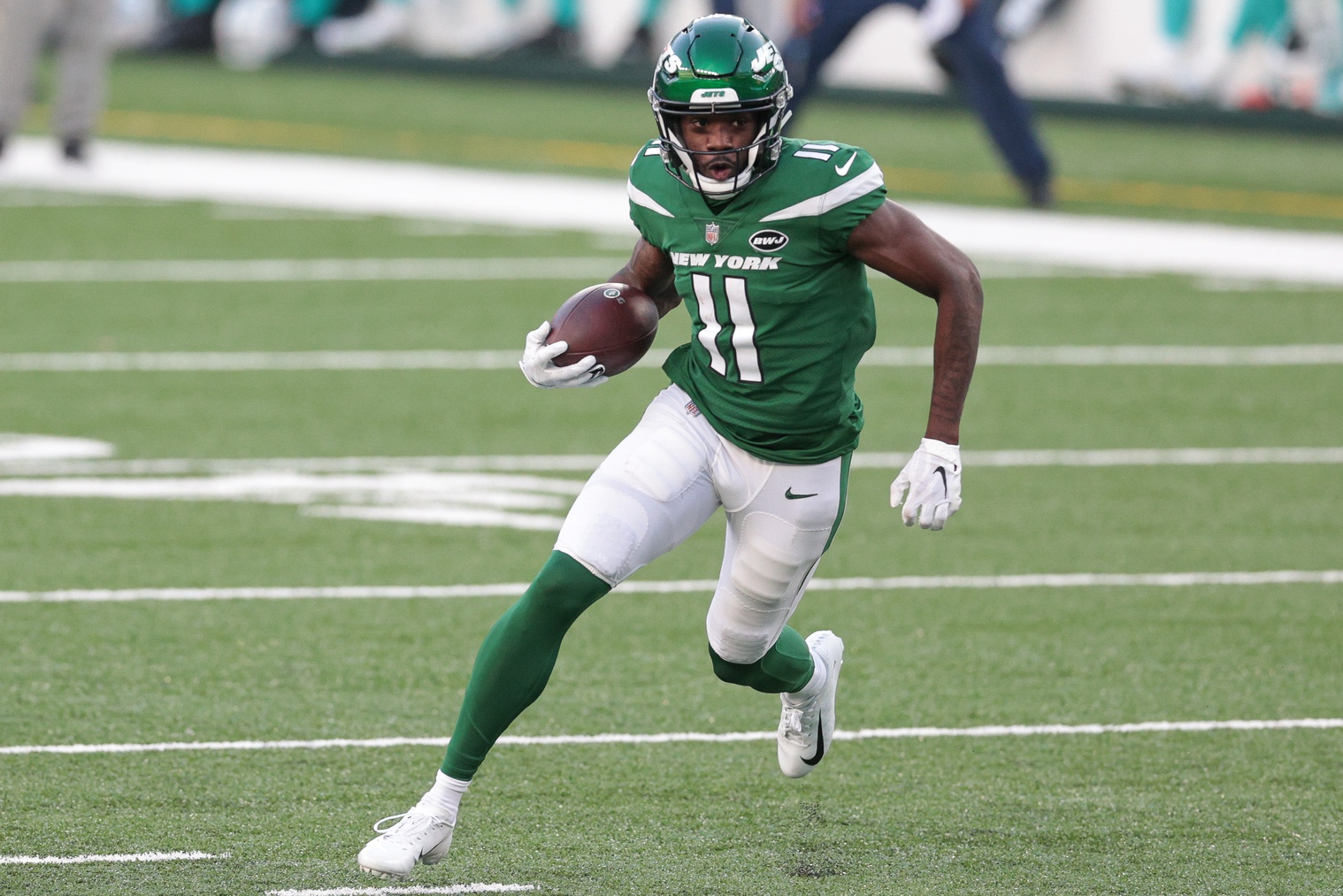 Second-year receiver Denzel Mims looks like a much better value for those dipping into the Jets' wide receiver pool. His cost of acquisition will be much cheaper, and he quietly performed well as a rookie, even if his 2020 stats weren't as impressive as some of the other hyped-up second-year players like Darnell Mooney and Gabriel Davis. Mims put up a better PFF receiving grade (70.4) and average yards per route run (1.45) than both of those guys. 
The team could still cut Jamison Crowder to save additional salary cap space, which would create more opportunities for Mims to play a larger role in the offense in 2021.
A.J. Brown is the biggest winner of this transaction — he's in line to be a straight-up target hog next season. He could finally see 120-plus targets with Davis and Jonnu Smith both long gone.
When Davis disappeared from the offense toward the end of the year, Brown commanded a 35% target share in the team's final five games.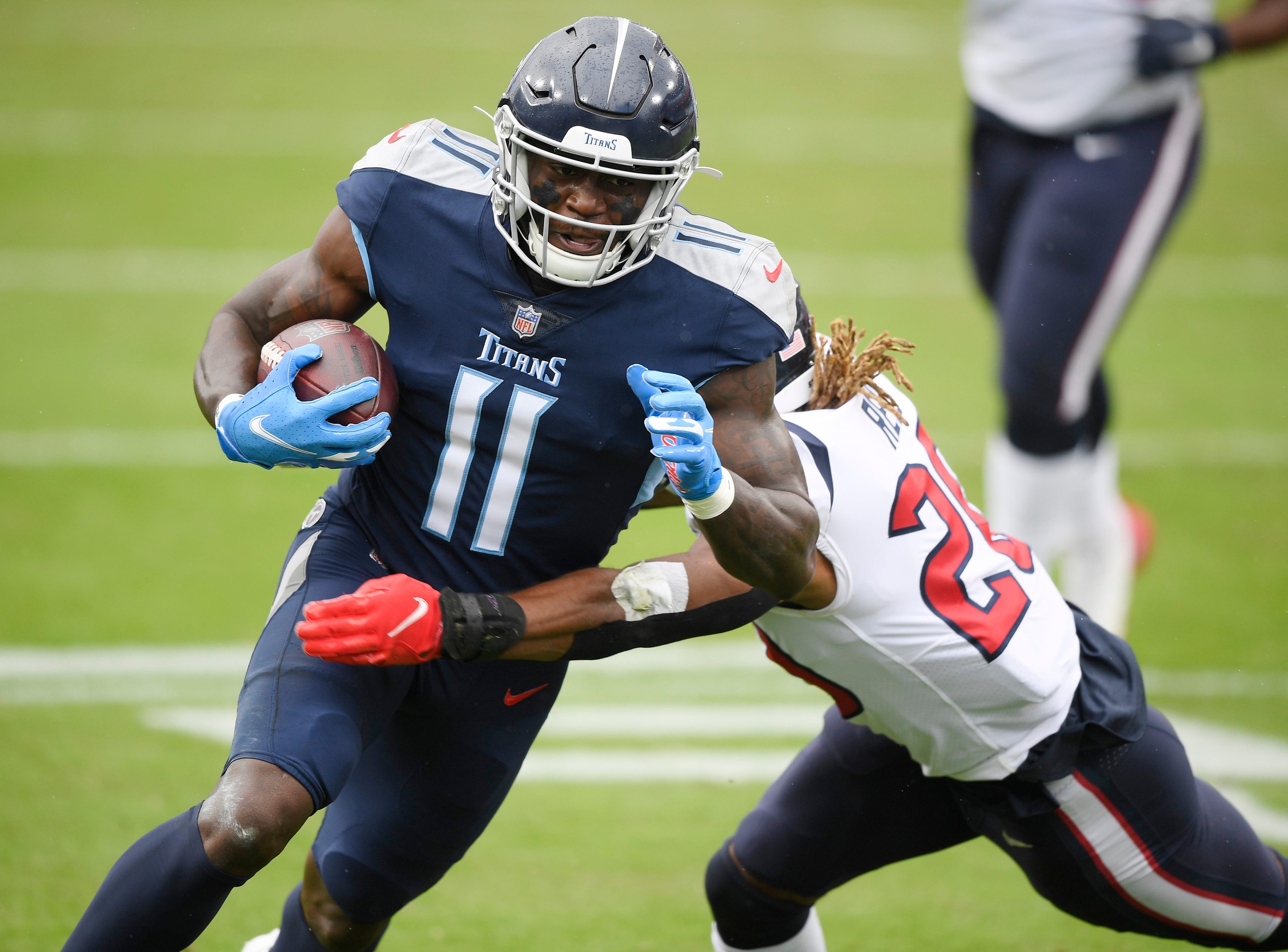 Brown is a no-doubt top-five fantasy receiver in 2021. All he has done through his first two NFL seasons is set a new standard of efficiency. Since he entered the league in 2019, Brown ranks fifth among all players in yards per route run (2.54)
He's currently my No. 4 overall WR.