Last month, I wrote a series of articles highlighting potential winners at the running back, wide receiver and tight end positions ahead of 2021 NFL free agency. Tight ends Irv Smith Jr. and Adam Trautman projected to be winners because their respective teams were likely to cut ties with Kyle Rudolph and Jared Cook. Lo and behold, both of the older players were released and their younger replacements have already seen an uptick in fantasy value.
But not everybody can be a winner in free agency — there will also be losers as far as 2021 fantasy football outlooks are concerned. Earlier this week I explained why Tampa Bay's franchise tag of Chris Godwin was not good for Mike Evans.
There will be plenty more to discuss when the dust settles on 2021 NFL free agency. For now, let's dive into why the following players could find themselves with less fantasy value as soon as next week.
Like most fantasy football players and gamers, I was disappointed when the Bears decided to franchise tag Allen Robinson. I had labeled Robinson a potential winner in free agency because I imagined a new team presenting him with something he has never had in his NFL career: a decent quarterback.
Consider the following QBs Robinson has caught passes from to this point: Blake Bortles, Mitchell Trubisky, Nick Foles and Chase Daniel.
Allen Robinson's QBs PFF Grade/rank by season:

2021 – ?
2020 – Trubisky: 63.5 (T-32nd)
2019 – Trubisky: 64.3 (27th)
2018 – Trubisky: 63.6 (32nd)
2016 – Bortles: 56.9 (28th)
2015 – Bortles: 65.2 (24th)
2014 – Bortles: 46.7 (34th) pic.twitter.com/Sb2dCtF5fz

— PFF (@PFF) March 9, 2021
With the franchise tag, we have to assume for now that he'll be back in Chicago, and that's not ideal. Trubisky is a free agent and Foles is the only other quarterback on the roster. 
Neither deserves the right to throw jump balls to A-Rob. 
But not all hope is lost for Robinson — there are still two potential scenarios in which he ends up a winner: The Bears could acquire another quarterback — fingers crossed it's Russell Wilson — or he could still be traded. 
There are a few cryptic signs on twitter suggesting that Robinson isn't thrilled about being tagged. Things could get ugly real quick here. The Bears' wide receiver mentioned his interest in a longterm deal during a recent appearance on The Cris Collinsworth Podcast.
But until either of those events transpire, it's hard to feel any different about Robinson returning to the Windy City. He's still going to be a fantasy WR1 — he has finished fifth (14.0) and eighth (13.8) among receivers in expected fantasy points per game the past two seasons — but the top-three potential with an upgrade at QB still seems just out of reach.
Robinson's return also halts the hype train for second-year breakout candidates Darnell Mooney and Cole Kmet. Robinson's 26% target share will almost surely carry over into the 2021 season, making it much less likely that any of the ancillary Bears pass-catchers see large target boosts. 
JuJu Smith-Schuster is a tough wide receiver to project for the 2021 season because we can't be certain how a new team will utilize him in its offense. If a team shells out a decent chunk of change to acquire Smith-Schuster in free agency, he might be thrust into a prototypical No. 1 wide receiver role, but that doesn't reflect the way he was used at his peak with the Pittsburgh Steelers.
Smith-Schuster's snaps from the slot increased every season in Pittsburgh. I'd assume a team that signs him would do the same, but that could change based on the other receivers on the team. Smith-Schuster might see his role in the slot reduced in favor or a larger role on the perimeter. 
JuJu Smith-Schuster Career Slot Snap Rate 
| | |
| --- | --- |
| Season | Slot Snap Rate |
| 2017 | 59% |
| 2018 | 62% |
| 2019 | 66% |
| 2020 | 86% |
There are real question marks as to whether Smith-Schuster can be a true alpha wide receiver on the outside. Since Antonio Brown's departure two years ago, Smith-Schuster has graded as PFF's 63rd-ranked receiver (68.1) and finished 61st in yards per route run (1.49) from the outside. 
His slot numbers aren't much better in terms of grade (67.0, 40th) and yards per route run (1.41, 38th), but the comparison reveals the larger issue.

Smith-Schuster's numbers have fallen off dramatically the past two seasons without an alpha WR and with less-than-efficient quarterback play.
In his first two seasons, JuJu finished 15th in PFF grade (76.9) and 13th in yards per route run (1.91) from the slot. From the perimeter, he finished 24th in PFF grade (79.3) and 14th in yards per route run (2.19).
All in all, Smith-Schuster appears to be extremely dependent on finding a good landing spot. He needs to go to a team with an efficient quarterback and an established alpha on the outside so he can thrive from the inside. 
One aspect of Smith-Schuster's game that I think will change for the better is his aDOT. I don't think he'll be pigeonholed into such a low-aDOT role on a new team. His 2020 average depth of target (6.8) is considerably lower than what it was during his first three seasons (9.9). 
Corey Davis picked the perfect time to have a career year. He finished the 2021 season sixth in yards per route run (2.46), eighth in PFF receiving grade (85.6) and 25th in fantasy points per game (14.2). 
The former No. 5 overall pick did all he could to earn a solid second contract in the NFL, but my one major concern with him is whether a team will view him as a true No. 1. His high-end draft pedigree shows how highly he was considered as a prospect, but his career has shown him much better suited for life as a No. 2 receiving option.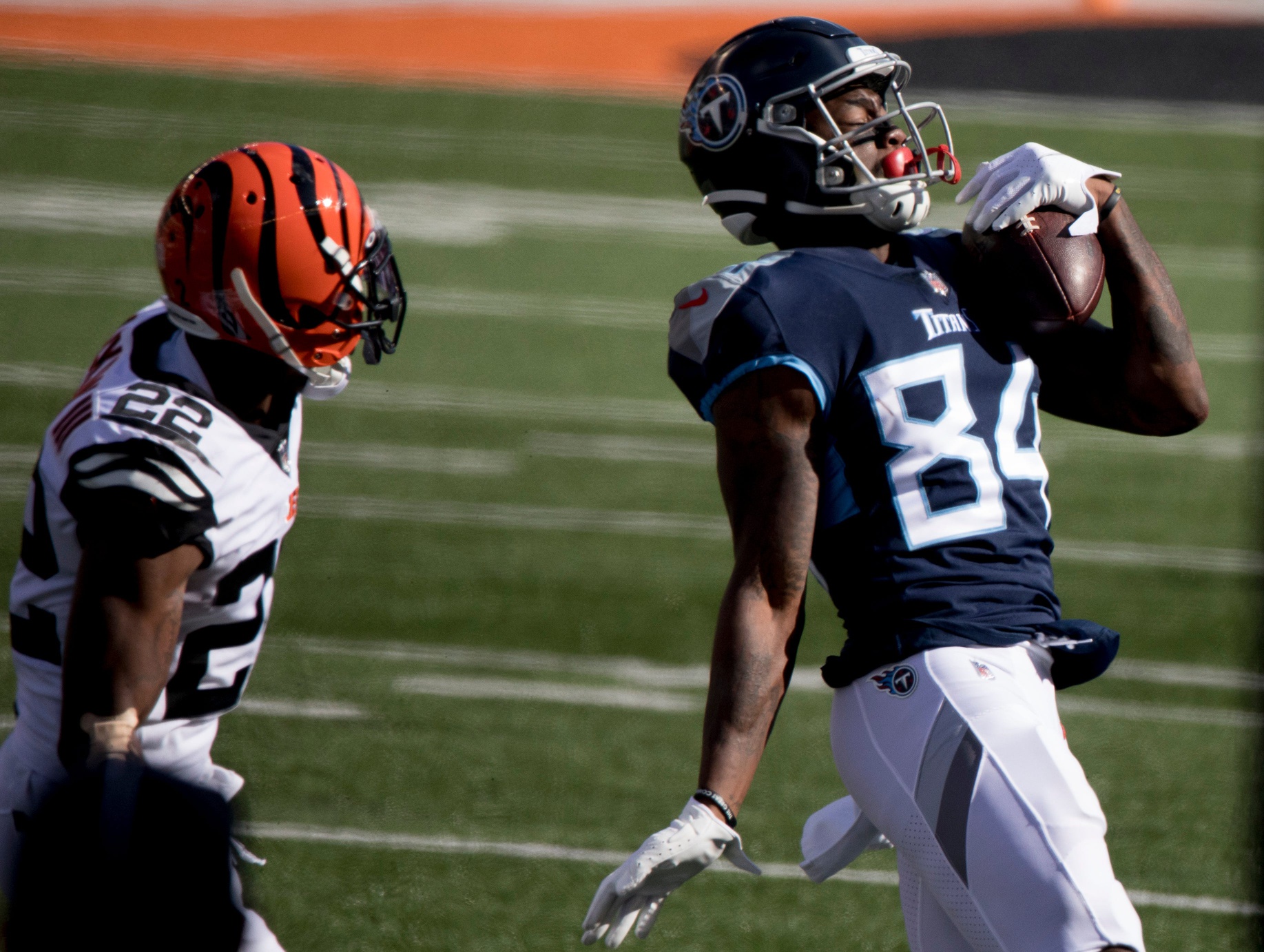 Davis' disappearing act at the end of 2020 — zero catches in two of his last three games  — is a reminder that he's not a true No. 1, and fantasy managers need to proceed with caution should a real NFL team view/pay him as such. He has clearly benefited from playing alongside an alpha wide receiver in A.J. Brown and an uber-efficient QB in Ryan Tannehill.
Arizona could be a sneaky good landing spot for Davis, playing alongside DeAndre Hopkins. 
Davis was PFF's 10th-highest-graded receiver (93.3) when targeted between 10 and 19 yards downfield last year, and Kyler Murray has struggled to throw at the intermediate level as a pro. Per PFF's QB Annual, Murray's 72.0 passer rating on attempts 10-19 yards downfield was well below average (97.6).
Kenny Golladay's fantasy value is hanging in the balance. He was not franchise-tagged by the Lions, so he's free to find a new home in 2021. Returning to the Lions on a new deal would be bad considering his ADP and Jared Goff at quarterback.

As I wrote in my fantasy fallout piece after the Matthew Stafford-Goff trade, Golladay thrives as a downfield and contested-catch receiver — two areas where Goff isn't particularly known for excelling.
Goff ranks 31st in pass-play percentage over 20 yards (9%) and 52nd out of 60 qualifying quarterbacks in aDOT (7.5) since 2019. That pales in comparison to Stafford, who ranks second in pass-play percentage over 20 yards (17%) and second in aDOT (10.7) over the same time span.
Golladay has all the traits of an alpha WR, and we can only hope he ends up with a team/quarterback that will consistently pepper him with targets regardless of whether he's open or not. 
The Indianapolis Colts, Jacksonville Jaguars, Miami Dolphins and New York Giants are some nice team fits where Kenny G could immediately step in and be the "guy." Big Blue might be my favorite landing spot — Golladay would fit in perfectly with Daniel Jones. 
Despite the Giants' OL finishing dead last in PFF pass-blocking, Jones was able to post the third-best grade and highest passer rating in the league (132.5) on throws 20-plus yards downfield.
Viewing Amari Cooper's outlook negatively after the Cowboys locked up Dak Prescott seems crazy. And for the 2021 season, I would agree. But looking at Cooper from a dynasty point of view, we need to realize that Prescott's huge contract makes it much more likely that the team moves on from Cooper in 2022. There's a potential out in his contract at the end of this season.
Michael Gallup is also a free agent after the 2021 season and will likely command significantly less than Cooper's $22 million cap hit. There's no question that Cooper has been the superior of the two over the past two seasons, but Gallup could set himself up with a nice payday with a strong 2021 campaign.
Amari Cooper vs. Michael Gallup | Since 2019
| | | | | | |
| --- | --- | --- | --- | --- | --- |
| Player | EPA/play when targeted | Success rate when targeted | PFF receiving grade | Yards per route run  | Fantasy points per game |
| Amari Cooper | 0.453 | 53.30% | 84.6 | 2.03 | 15.0 |
| Michael Gallup | 0.449 | 50.50% | 72.5 | 1.71 | 12.9 |
Denver Broncos head coach Vic Fangio has confirmed that the team is going to bring in competition for quarterback Drew Lock. With reports suggesting that PFF's highest-ranked free-agent QB Ryan Fitzpatrick is expected to return to the NFL in 2021 — original reports claimed he was retiring — it's hard to not see a match with Fitzmagic landing in Mile High.
The team would have zero obligation to start Fitzpatrick at first — continuing to evaluate Lock in Year 3 would make sense. But if/when Lock implodes with a four-interception game, it's easy to imagine Fitzpatrick steering the ship in the right direction, as he is a perfect fit in the Pat Shurmur offense.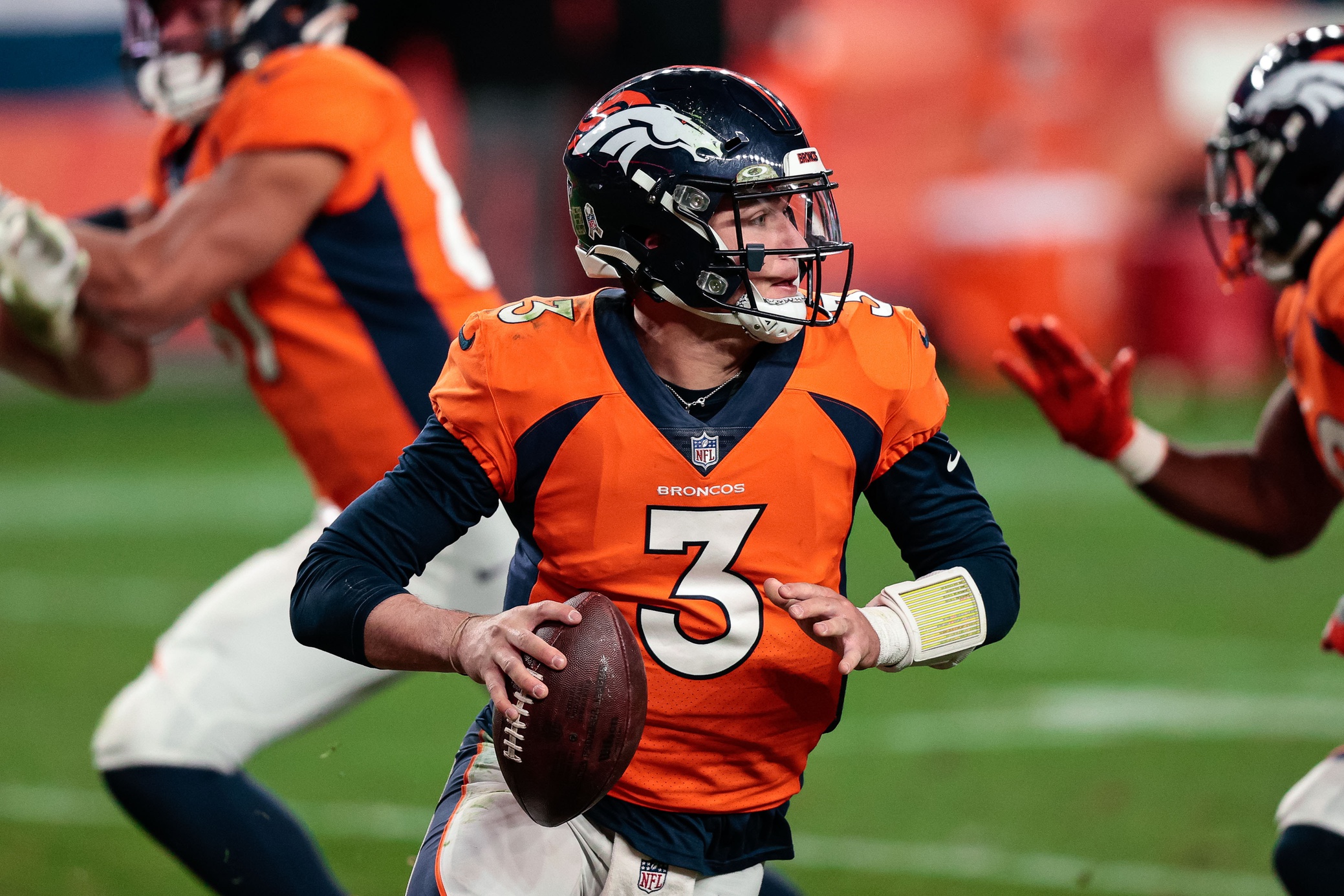 Lock led the league in deep-ball rate last season (16%), which isn't a far cry from Fitzpatrick's gunslinger mentality. No QB had a higher tight-window throw rate (24%) than Fitzpatrick did in 2020. 
We've also seen Fitzpatrick thrive in the past when surrounded by playmakers — and the Denver offense is blessed with Courtland Sutton, Jerry Jeudy, Noah Fant, Melvin Gordon III and K.J. Hamler.
Even if someone other than Fitzpatrick lands in Denver, fantasy managers should expect a short leash on Lock. 
Based on hype and draft capital last summer, Kenyan Drake was a big disappointment in fantasy football. He was being drafted as the RB10 overall but finished the year as RB15. In reality, Drake's performance was much less helpful for fantasy purposes, as he finished 27th in fantasy points per game (12.9).
The once heavily touted fantasy back ended the season with a 60.9 overall PFF grade, the lowest mark of his career, and averaged only 2.5 yards after contact per attempt. That ranked dead last among all running backs with at least 150 carries.
His lackluster season and status as a free agent have fueled the Chase Edmonds hype train (I'm on board), and Drake might be out of a starting RB job when the dust settles. Drake's only semblance of fantasy value last season was his volume — 239 carries, seventh-most among RBs — and that seems likely to crash faster than $GME stock in 2021. 
Drake seems like a logical candidate to end up in a running back timeshare somewhere, and that's a big drop-off from where he was at the start of last season. His best-case scenario is probably ending up back with the Arizona Cardinals, but the interest may not be mutual. 
Similar to Drake, James Conner entered the 2020 season with aspirations of functioning as a low-end RB1 but failed to deliver. The Steelers' running back has been trying to live up to his insane 2018 campaign when he averaged 21.5 fantasy points per game (seventh) but has been unsuccessful thus far.
Conner's fantasy points per game have fallen from to 14.8 in 2019 (17th) and bottomed-out last season at 12.7 (28th). He's not on the right trajectory for NFL teams to vie for his services.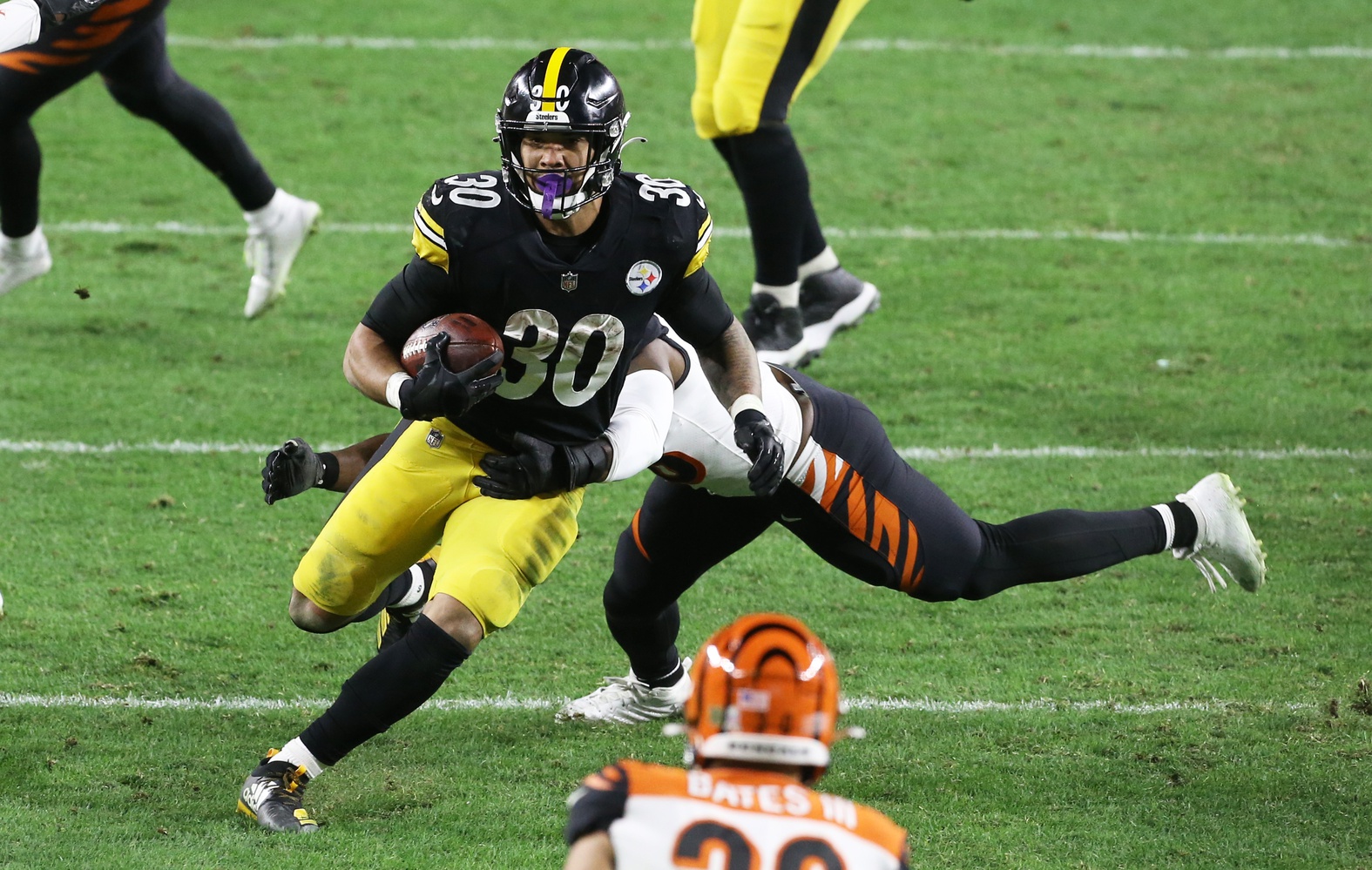 What mediocre fantasy value Conner mustered last season was tied to his 200-plus total touches. That seems like a long shot to repeat regardless of where he lands. Conner's long-documented history of injuries also makes it severely unlikely we ever see him reach true bell-cow status again. 
PFF's Ian Hartitz pointed out on a recent live stream best ball draft that Arizona could be a potential landing spot for Conner because he has familiarity with the team's running back coach, James Saxon. Saxon coached for the Steelers from 2014-2018, which means he was with Conner during the running back's breakout season. 
Robert Tonyan finds himself in an interesting position as a restricted free agent coming off a season in which he tied Travis Kelce for the regular-season lead in touchdowns (11) at the position. Another NFL team could bid aggressively on Tonyan, but I'd have to imagine that's unlikely.
Green Bay will probably lose veteran tight end Marcedes Lewis. The 37-year-old's $2.25 million contract just expired — I doubt the Packers will want to be without their top two tight ends from last season. 
Lewis is hardly a household name in fantasy circles, but he did play 41% of the snaps last season. The run-blocking tight end will likely be replaced by Josiah Deguara, whom the team drafted in the third round last year.
Tonyan is already a candidate to be hit by touchdown regression in 2021, as no tight end scored more fantasy points over expectation (52.2) than Big Bob. Aaron Rodgers' 9.1% touchdown rate in 2020 was the highest of his career and will almost certainly come down back toward his career 6.3% rate. 
Green Bay has been a popular candidate to add a pass-catcher of consequence, which could further hurt Tonyan's upside in the offense. 
It's a darn shame that O.J. Howard was hurt so early in the year because he started the season strong through the first four weeks. He was PFF's fourth-highest-graded tight end (85.3) and ranked third in yards per route run (2.39). Howard has been extremely efficient throughout his NFL career outside a disastrous 2019 campaign. 
It seemed like he had worn out his welcome in Tampa with the team bringing in Rob Gronkowski and financially attached to Cameron Brate. Splitting time with two other tight ends is not ideal — it would be best if Howard could somehow get out of Tampa. 
With reports surfacing that Gronk is returning for the 2021 season and the Bucs placing the franchise tag on Chris Godwin, things aren't looking any better near-term. But Howard is young and talented enough that he could be worth buying-low in dynasty with the hope that he is moved to another team at some point during the offseason. 
PFF's salary cap expert Brad Spielberger projects that Brate could be a surprise cut by the Buccaneers this offseason, which would be a small step toward fantasy relevance for Howard.