Two days of the 2020 NFL Draft are now in the books, so we're back to assess the night's biggest winners and losers using all the PFF data at our disposal.
Day 2 saw a fair number of teams making shrewd moves. It also left one team sticking out as a clear-cut loser, with it being tough to find anyone else having completely botched their selections in Rounds 2 and 3.
If you want to study up on the players that your team has taken so far and prepare for the final rounds to come on Day 3, make sure to check out all 1,250-plus pages of in-depth player breakdowns in the PFF Draft Guide. 
[Editor's note: Check out PFF's 2020 Mock Draft Hub, NFL Draft Big Board and NFL Mock Draft Simulator. PFF Elite subscribers can also download the 1,250-page 2020 NFL Draft Guide. For extensive coverage of the 2020 NFL Draft, check out all of PFF's 2020 NFL Draft coverage in one place.]
Winners
Dallas was one of the unquestioned winners from the first round of the 2020 NFL Draft — snagging CeeDee Lamb at 17th overall — and they kept the momentum going with two more solid value finds on Day 2. 
Trevon Diggs is good at the things the Cowboys want at cornerback. PFF's Mike Renner looked at the best scheme-prospect fits for the draft's top cornerbacks earlier this offseason, and Diggs fell under the press-zone label, a strong match with the Cowboys' Cover 3-heavy scheme.
While he may not have the speed or short-area quickness of someone like C.J. Henderson, Diggs is long and physical at the line of scrimmage with a history of strong production in single coverage (48.7 passer rating allowed since 2018). He figures to step in for the departed Byron Jones outside, providing real value as the No. 31 player on our big board coming off the board at pick 51. 
It's a similar story with Neville Gallimore at No. 82 — the 51st-ranked player on our board. The Cowboys added a couple of veterans inside in Gerald McCoy and Dontari Poe this offseason, but getting younger at the position was never going to hurt.
The name of Gallimore's game is penetration — getting into the backfield at all costs. While he is still largely unrefined as a pass-rusher technically, he has shown significant improvement there from a grading standpoint over the course of his career at Oklahoma. Gallimore improved his pass-rushing grade to a career-high 82.4 mark in 2019 and should work into a rotational role on the defensive line next season.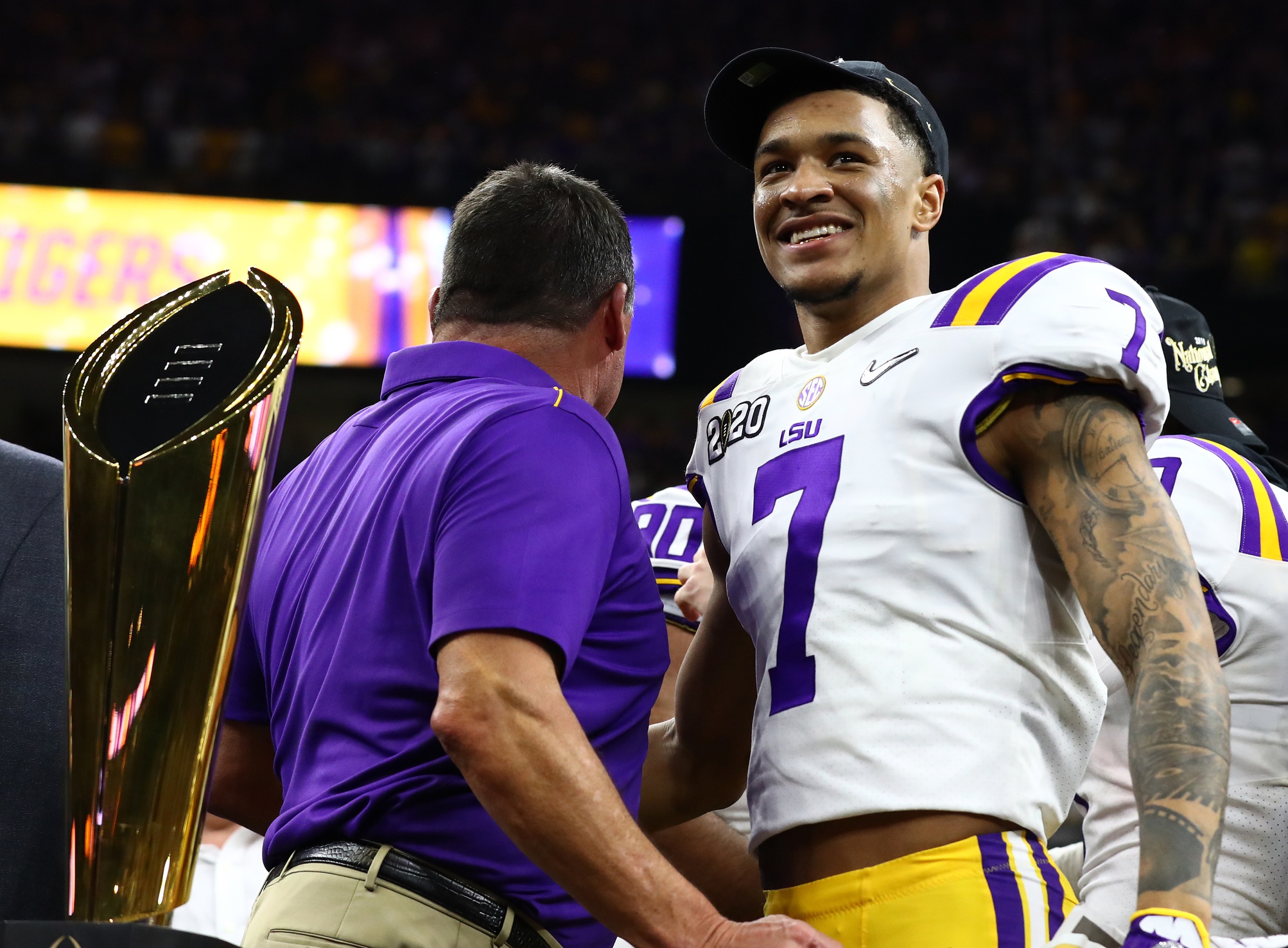 Any time you come away from the draft with three of the top-25 players on our big board with just one Round 1 and one Round 2 selection — as the Browns have — you're going to be a winner in our eyes. 
Teams were clearly concerned with Grant Delpit's ability as a tackler, and those concerns are real. For us, we simply care more about the special things he can do in coverage than we do about the limitations he might have after the catch. That's true from an instinctual standpoint — where he identifies routes better than nearly any safety in the class — it's true regarding how smooth he is in coverage and it's true for his length that allows him to come up in the slot and make tight ends uncomfortable. I'll take that multifaceted coverage weapon capable of playing the slot or dropping deep at pick 44 every day, tackling issues or not. 
The Browns then followed that up with an even bigger steal, grabbing Missouri's Jordan Elliott — the 23rd-ranked player on our board — with the 88th overall pick in the draft. The NFL was clearly lower on Elliott than we were. The question becomes: why, though? He has solid size and athleticism to pair with some of the best production in all of college football. Among interior defenders in this class, Elliott has the best overall grade since 2018, a pass-rush win rate that was right up there with Javon Kinlaw at the top of this class over that same two-year stretch, and he put up 90.0-plus grades as a run defender and pass-rusher last season. He should give a nice boost to that Cleveland defensive line. 
The Jacob Phillips pick was a bit of a reach given that there were linebackers who project better in coverage still on the board, but getting Delpit and Elliott at the spots they did more than makes up for it. 
Round 1: Isaiah Simmons.
Round 2: DeAndre Hopkins.
Round 3: Josh Jones. 
You take that draft 10 times out of 10.
The Cardinals only made one pick on Day 2 after trading away their second-round pick as part of the Hopkins trade earlier this offseason, but they made that one pick count with arguably the best value pick of the night. 
The reason why Jones — the 14th-ranked player on our board — slipped all the way to pick 72 in the third round is a mystery. But the fact that the Cardinals passed on an offensive tackle, a position that many thought they would address early, to take Isaiah Simmons in Round 1 and were still able to get our OT4 all the way in Round 3 is a massive win. There will be no complaints in Arizona. 
Jones might be a little raw from a technique standpoint, but he has the height, length, athleticism and grading profile of a four-year starter that you feel comfortable with playing out of the gates in the NFL. He graded out well throughout his career at Houston, elevating his game to a 93.4 overall grade in 2019 — the highest mark we've ever given to a Group of 5 tackle. He should compete with Marcus Gilbert at right tackle from Day 1.
---
Losers
The Packers' draft has been an unmitigated disaster. When trading up to take Jordan Love in the first round is arguably your best pick of the draft so far, it's tough to get on board with what's going on.
PFF's reaction to Packers drafting AJ Dillon is giving me life pic.twitter.com/eghIPHwU1A

— Ben Baldwin (@benbbaldwin) April 25, 2020
They pulled an absolute shocker by taking A.J. Dillon — a running back better suited for play in the 1970s — in the second round. Dillon is someone who wasn't even on our list of the top 250 players heading into the draft. While his combination of size and speed makes him an absolute unit in straight-line situations, that's about all he has. Dillon isn't going to scare you as a receiver, and he doesn't have much to speak of in the way of cutting ability or lateral agility. It was a beyond-questionable move with the Packers still in need of difference-makers at wide receiver.
Green Bay then followed that up by taking Cincinnati's Josiah Deguara at 94 overall — a player who came in at 191st on PFF's Big Board. His bottom line in the PFF Draft Guide says, "If you find a high-motor, plus special teamer like him on Day 3, you're more than happy." That's not exactly the situation that played out here, though. Sure, Deguara is a decent route-runner with some nice blocking ability and the versatility to play a couple of different roles on that offense, but he's undersized, doesn't have outstanding athleticism to make up for it and doesn't have great ball skills. Those things are going to limit him at the NFL level. 
On a night where I liked at least one move that pretty much every team made, the Packers were the unquestioned losers.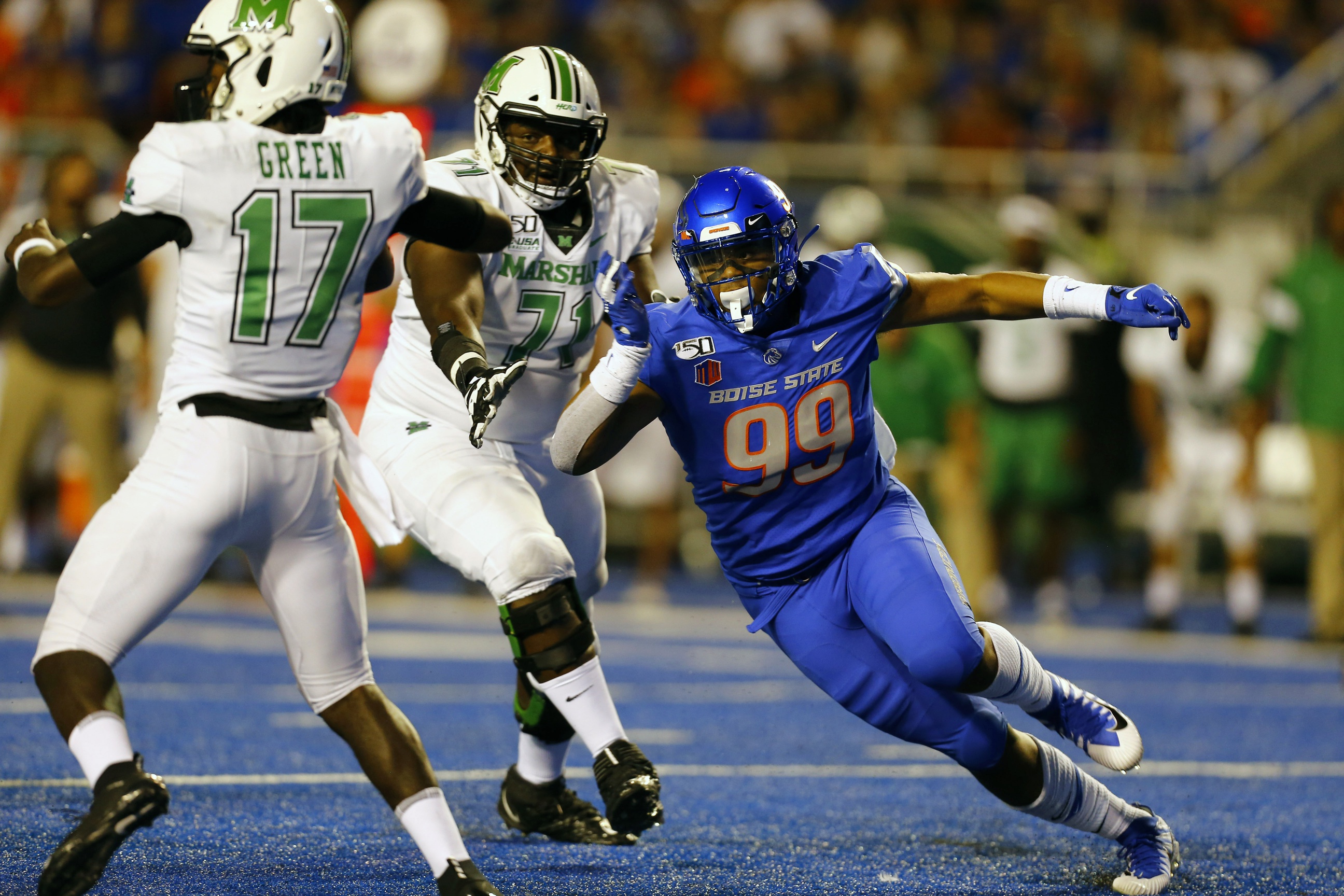 We knew that we were higher on Weaver than most, but why exactly did this guy falling out of Day 2? I'll give you that NFL teams don't like the way he's built and that he's not all that explosive. What Weaver did show at the 2020 NFL Scouting Combine, though, was that his bend and agility is legitimate with a three-cone time of 7.0 seconds and a 4.27-second mark in the short shuttle, both of which were at the 86th percentile or higher at the position. That bend is how Weaver is going to win off the edge. 
More importantly, it's just too hard to ignore how insanely productive he was at Boise State, even if that came in the Mountain West Conference. He put up pass-rushing grades of 92.0 or higher in both 2018 and 2019, with pass-rush win rates of 20% or higher both years. His 2018 numbers are just silly (31.1% pass-rush win rate and 21.6% pressure rate on 254 pass-rushing snaps).
In a class where all the edge defenders not named Chase Young have some form of limitation, we liked Weaver as our second-ranked edge defender. Some team out there is going to get a steal on Saturday.