This defensive interior class easily puts the edge class to shame. There's not only blue-chip prospects at the top of the draft, but also a bevy of talented options on Day 2 as all 10 of these prospects made PFF's latest top 100.
[Editor's Note: PFF's 2020 NFL Draft Guide is LIVE and available to all EDGE and ELITE subscribers. Download your copy today!]
1. Javon Kinlaw, South Carolina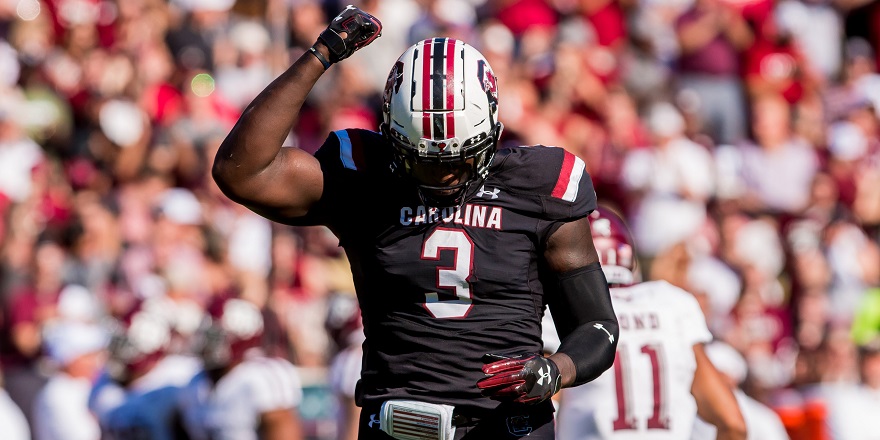 In terms of pure physical tools, Kinlaw has more than anyone else in this draft class. At 6-5, 315 pounds with 10 ⅛" hands and 34 ⅝" arms, Kinlaw looks as if he was built in a lab to play defensive tackle. The scary thing is, the senior is only scratching the surface. He doesn't have too much more than a push-pull and swim move in his pass-rushing arsenal at the moment. The fact that that's led to pass-rushing grades of 88.7 (2018) and 90.7 (2019) the past two seasons is what gets us so excited. As his skillset fills out with NFL coaching in the coming years, Kinlaw has a nearly limitless upper bound.
The issue with Kinlaw is still down-to-down consistency. Playing low at his size isn't always the easiest thing and he loses leverage battles more often than you'd like. It's something though we've seen improve by leaps and bounds even in his time at South Carolina. If you were to have Kinlaw above Brown on your board because of what the South Carolina product could be some day, I wouldn't argue.
2. Derrick Brown, Auburn
If you told me Brown was heading into his eighth year in the NFL, that would actually be more believable to me than saying he's a college senior. He's one of the strongest defensive tackle prospects I've ever scouted in my six years of doing this. His upper body strength is on another level from anyone else in this class — the term "ragdolling" was created specifically for him.
Brown's dominance is getting a tad overblown, however. His grades of 84.7 in run defense and 90.4 as a pass-rusher in 2019 are obviously impressive, but not close to some of the interior players we've graded in years past. Quinnen Williams had grades of 96.5 in run defense and 92.5 as a pass-rusher just last year. Add in the fact that Brown is one of the few top prospects to stay through his senior year and we don't quite view Brown in the rarified air that some do.
3. Jordan Elliott, Missouri
Elliott is one of the prospects that we've been banging the table for here at PFF for quite some time. The reason is fairly obvious: no defensive tackle graded higher in the FBS last season. Also, no defensive tackle graded higher in SEC play last season. Considering the top-four on our defensive tackle rankings all come from the SEC, that's no small feat. Elliott finished with grades of 91.1 in both run defense and as a pass-rusher.
Elliott checks the size, length, strength, and athleticism boxes you want at the position, although not necessarily to the degree that the men above him on this list do. He made his presence felt from pretty much every alignment you could think of this past season and is versatile enough for any sort of front you want to play.
Teams will no doubt be worried about his one-year wonder status. Elliott had played all of 484 snaps in his career prior to this season. We saw this dominance kick in toward the end of 2018 though when he put up grades of 90.8 (Tennessee) and 96.2 (Arkansas) in the last two games of the regular season.
4. Marlon Davidson, Auburn
Davidson looked like a tweener on tape this past season at Auburn, listed at 280 pounds but playing primarily off the edge for the Tigers. He played stand-up outside linebacker for nearly half his snaps this past season and only 66 of his 596 snaps came with his hand in the turf inside the tackles. Davidson showed up to the Senior Bowl 297 pounds though and dominated in his limited time there at 3-technique. Ultimately, that looks like easily his best position in the NFL.
There's always going to be some level of risk when projecting someone to a different role altogether at the next level, but just because someone hasn't done something, doesn't mean they can't. One of Davidson's biggest struggles on the outside was his ability to win the edge. That won't be the case on the interior. His hands and use of leverage were both fantastic last season. Those are winning traits to have on the interior.
5. Justin Madubuike, Texas A&M
Madubuike — like Blacklock and Gallimore — has all the athleticism to be a plus pass-rusher at the next level. Also like Blacklock and Gallimore though, Madubuike has inconsistent tape in that regard. His motor ran hot and cold as a pass-rusher and he only finished two games this season — Texas St. and Ole Miss — with pass-rushing grades over 75.0.
While some of the others on this list are position versatile, Madubuike looks pretty dead set at 3-technique in the NFL. He's much more of a playmaker in the running game than he is a space eater. Madubuike possesses some of the heaviest hands in the draft class and can throw offensive linemen to the side, but his leverage is inconsistent and can be moved off the line of scrimmage.
6. Neville Gallimore, Oklahoma
Gallimore reinvented himself this past season after dropping almost 30 pounds and adding some much-needed range at the nose tackle position. One-gapping defensive lines will fall in love with Gallimore's get off. He was ranked second to only Iowa offensive tackle Tristan Wirfs on Bruce Feldman's yearly "freaks" list and that burst shows up time and again on tape. He wrecked plays purely with his ability to fire off low at the snap this past season.
While his pass-rushing grade took a big step forward in 2019 from 75.0 to 82.4, there are still some concerns on tape. He hasn't shown much an ability to win late in the snap and is often shut down if his first move is ineffective. Gallimore very much still looks as if he's learning his pass-rushing moves as they're not quite second nature at this point.
7. Ross Blacklock, TCU
With all the stunts and slants TCU's defensive line throws at their opponents, properly evaluating their defensive linemen can be a chore. You simply don't get as many true one-on-one interactions to see how a guy wins. Even still, Blacklock showed of NFL-level physical tools on a consistent basis. He has as much range as any defensive tackle in the class to make plays up and down the line of scrimmage. His 8.3 run stop percentage ranked 12th among Power-5 defensive tackles in college football.
Blacklock was one of the most productive freshman defensive tackles in the country with a 68.9 overall grade back in 2017 before his 2018 season was cut short with an Achilles tear. He showed no ill effects from that injury in 2019 where his 89.5 run defense grade was one of the highest in the country.
8. Davon Hamilton, Ohio State
Hamilton was one of the biggest movers with his play at the Senior Bowl. He showed off a bull-rush that was darn near unstoppable en route to the highest grade of any defensive tackle in attendance in the one-on-ones. Hamilton has been one of the highest-graded run defenders in the country the past two seasons, but only earned a 75.5 pass-rushing grade in 2019. Showing that he could excel in that regard though down in Mobile was huge.
One of the biggest questions Hamilton has still yet to answer is whether he can hold up to a larger workload or not. He never played more than 357 snaps in a season at Ohio State with their healthy defensive line rotation. You'd like that number doubled next season if you're even considering taking him highly in the draft. For a 327 pounder, that isn't always an easy thing to do.
9. John Penisini, Utah
This year's draft class offers very little in the way of pure nose tackles. In fact, at the Combine, only three defensive linemen weighed in over 320 pounds and two of them were Derrick Brown and Javon Kinlaw. The other was Penisini's teammate Leki Fotu, and while many have him as the top pure nose in the class, we prefer Penisini. The Utah product was just better on the football field last year — he earned a 90.6 run-defense grade for the Utes in 2019 and an 83.2 in 2018. He's also got the squatty body type (6-foot-1, 318 pounds) you want against double teams while also having solid length (32 ⅞-inch arms). That's a big fella built to stuff the run.
10. Raekwon Davis, Alabama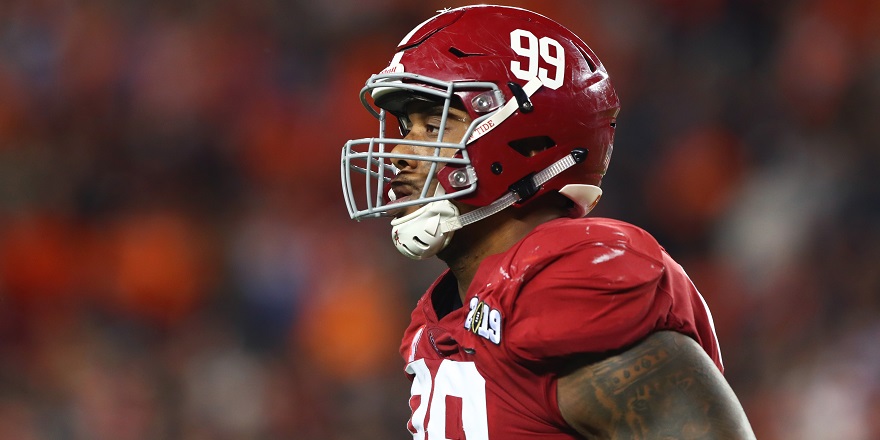 Twenty years ago, Davis would have likely been a first-round lock. He's got the quintessential 5-technique build with great size and absurdly long arms. In the running game, it's rare to see anyone other than Davis in control of one-on-one interactions. While he looks like a sure thing in that regard, it's a skillset that you can often find off the street. The needle movers along the defensive line nowadays affect the passing game, plain and simple. Davis has shown minimal development in that regard since first earning a starting job as a sophomore in 2017. He earned a 62.7 pass-rushing grade that season followed by 68.5 in 2018, and 71.1 this past year. Those are uninspiring numbers for a player with Davis' physical tools. He should have been bullying lesser college linemen and the fact that he didn't is a big red flag.