Not all progressions are linear. There's no guarantee a football player who plays well one year will do so again the next time around, as they are at the mercy of 10 teammates on the field and the coaching staff off the field.
Yet, we've seen college players look far worse in draft-eligible seasons than in prior years but still enjoy quality NFL careers.
Here are five players in this year's draft class whose 2020 seasons didn't go according to plan but have tremendous upside because we've seen them play at an elite level before. They are all going to fall in the 2021 NFL Draft but could be huge value picks for whichever team eventually gets their hands on them.
Subscribe to
2019 Grade: 90.7
2020 Grade: 67.7
Wilson was a force on the inside for Florida State in both 2018 and 2019, showing off a club move that left opposing guards dazed. Combined with a few other high-end prospects, the Florida State defense was supposed to carry the team while the offense found its footing under head coach Mike Norvell.
That didn't happen.
The whole team imploded, finishing last in the ACC in expected points added per play. Even with how bad the defense played, one could argue that at least three players on their roster will be future Pro Bowlers, and Marvin Wilson is among them.
A slight change in defensive scheme might be part of the culprit for Wilson's decline in 2020. The team went away from the three-down tite to play more of a four-down front in 2020. There's overlap, obviously, but Wilson aligned over the tackle — a regular spot for 3-4 defensive ends — just about 40% of the time in 2019 and then only 15% of the time in 2020.
Importantly for Wilson, his one-on-one win percentage didn't fall that drastically in 2020. His pass-rush win rate in 2019 was 16.8% and dropped to only 13.4% this past season. The 2019 mark had him tied for the seventh-highest win rate in the country among defensive interior players. He ranked 34th in 2020 — only a slight dropoff.
Wilson was dominant in both 2018 and 2019, and if you can blame the entire Florida State program for the collapse of the defensive unit, then buying low on him is a good deal. The 2019 player is a starting 3-technique in the NFL for 10 years, and an NFL team could now possibly get him in the third or fourth round. Sign me up.
2019 Grade: 92.1
2020 Grade: 77.1
Atwell broke out in Scott Satterfield's first year at the helm of Louisville, performing admirably in his head coach's wide zone play-action offense. The only other receiver in 2019 who graded near Atwell was potential top-five pick Ja'Marr Chase.
But Atwell's 2020 season was not quite what the world was expecting. He was probably never going to be a first-round pick due to his slight frame, but he could have made a splash as a second-round gadget and deep-ball type of player. Get the ball in Tutu's hands, and let him work. The problem is, he didn't go to work in 2020.
So many of Atwell's receiving metrics are similar — aside from a very important one. In 2019 and 2020, the average depths on his targets were 11.4 yards and 11.6 yards. His drop rate fell from 5.1% to 4%. He caught a slightly higher percentage of his catchable targets, going from 89.7% to 94% last season, and he even caught a higher percentage of contested targets, going from 25% to 41.7%.
So what exactly changed? His yards after the catch average went from 10.7 in 2019 to only 6.2 in 2020. From rivaling Ceedee Lamb, Henry Ruggs III, Brandon Aiyuk and a bevy of other formidable receivers in that stat, Atwell completely fell off. Louisville's quarterback play was definitely suspect, though, and the offense was changed to more of an inside zone scheme.
There are so many factors that led to this drop in play for Atwell, but if the 2019 version of himself ever returns, whichever NFL team takes him late in the draft is getting a steal.
2019 Grade: 90.1
2020 Grade: 79.9
There weren't many candidates for a quarterback on this list. Most of the draft-eligible players improved tenfold or played near the level of their previous seasons.
Ehlinger was an exception.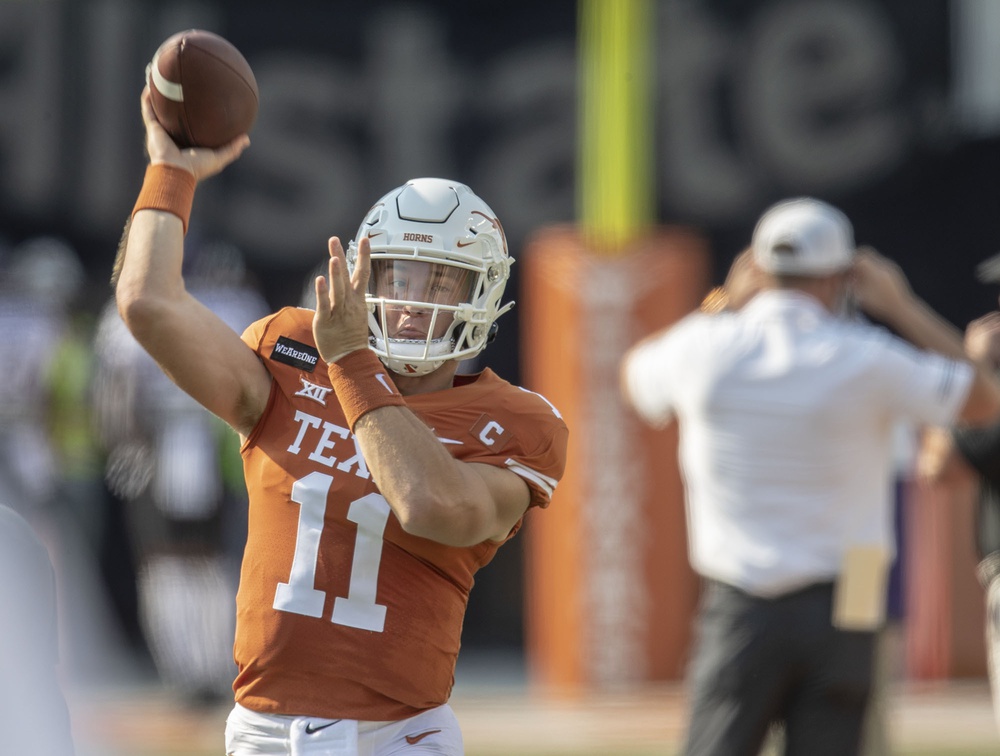 In a year where it looked like Texas could finally usurp Oklahoma for the Big 12 title, the Longhorns had another disappointing campaign. Ehlinger was probably never a great NFL prospect, but he graded so high going into 2020 that it might have been hard to ignore had he produced another elite season. He was a great college quarterback who threw deep and ran over people.
However, the bottom fell out this past season. He played in an offense that didn't really fit his strengths, but his stable statistics aren't bad. He has thrown the ball well in the all-important 10-to-19-yard range, posting grades of 93.4 and 90.0 in the past two seasons. His play when kept clean in 2019 was elite, as well. He was the fifth-highest graded quarterback in that facet. And both bode well for the future.
But in 2020, Ehlinger just stopped being able to hit the explosive plays. His grade on throws 20-plus yards downfield fell from 90.3 in 2019 to 73.2. Deep passing is unstable, and that low grade might not exactly be who Ehlinger is.
I don't know if he is an NFL quarterback, but I do know that if he had the same season in 2020 that he did in 2019, we would be talking about him a lot more. Ehlinger is definitely worth a late-round flier for a team looking to cultivate him for the future.
2019 Grade: 82.6
2020 Grade: 66.3
Davis is an excellent player who may have been let down by a small sample size of games in 2020. He can get pushed back a bit into his quarterback's lap at times, but he rarely gets beat by a skill move. And he did allow some pressure off twists and stunts, but it is sometimes not easy to tell which offensive line was at fault for those.
I don't see many concerns in terms of his pass-blocking game that changed in 2020. In the run game, though, he stopped mauling people. He felt a little slow-footed at times in 2020 and was beaten by finesse moves on occasion. Davis' percentage of negatively graded plays in the running game went up by five percentage points, and his rate of positively graded plays in the running game went down by three percentage points.
It wasn't a great season from Davis, but an NFL team snagging him in the second or third round would be fantastic value because the 2019 player is still there.
2019 Grade: 88.1
2020 Grade: 71.9
After a tumultuous offseason that saw the star running back rightfully call out his head coach, Hubbard had a 2020 to forget. Even with a better cumulative team run-blocking grade — 73.0 in 2019 compared to 79.8 in 2020 — the Cowboys' rushing attack could not get going.
Hubbard's rushing grade fell from 87.6 in 2019  to 71.8 last season. What did not change was his missed tackles forced per attempt. That figure fell, but from 24% to 17%. He was still breaking tackles; the problem was that he wasn't doing anything after. He went from 4.1 yards after contact to 2.5 yards. The explosive plays that we remember from the 2019 season dried up.
Hubbard is still a track star playing running back, so whichever NFL team gets him in the draft is still taking a speedster. It's more important that he's breaking those tackles at a similar rate because what he does after has a speck of randomness attached to it.
It was such a weird and sad season in Stillwater that it was almost inevitable that Hubbard was not going to replicate his 2019 campaign. Still, there is a really good running back under there somewhere.
---
Courtesy of PFF's 2021 NFL Draft Guide, find PFF's top draft prospect, biggest riser and wild card to watch at each position here: