Can the Detroit Lions make a Super Bowl run with new quarterback Jared Goff? Not unless they hit on all their draft picks. And wouldn't you know it, they do just that in this three-round NFC North mock draft.
The Green Bay Packers look to continue their dominance and fill their remaining holes. The Minnesota Vikings finally make a move to shore up their offensive line so that Kirk Cousins can sit pretty in the pocket, and the Chicago Bears select their quarterback of the future.
Because we are trying to create the perfect environment with our picks for each team, we refresh PFF's Mock Draft Simulator after each team has picked.
You can try your hand at building the perfect roster through the 2021 NFL Draft, too.
View PFF's 2021 NFL Draft position rankings:
QB | RB | WR | TE | T | iOL | DI | EDGE | LB | CB | S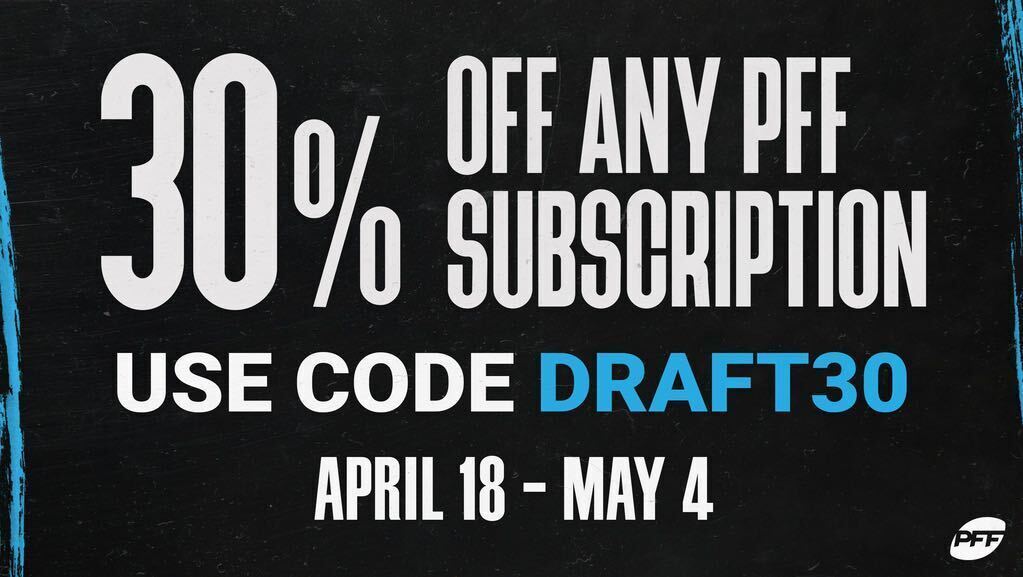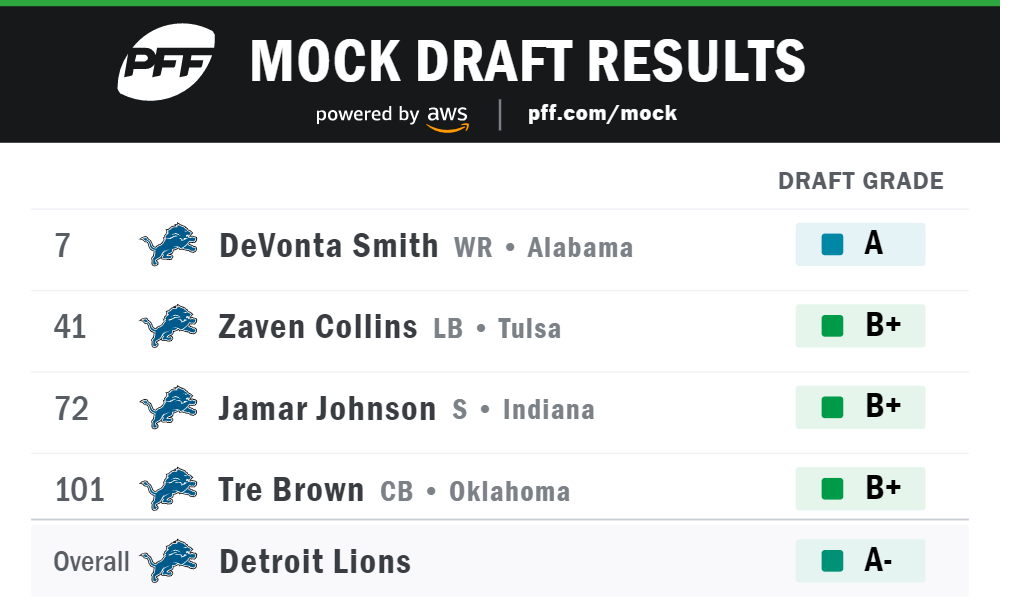 The Lions are devoid of receiver talent, and assuming they will spend a year running the Jared Goff experiment, taking the best available receiver at Pick 7 is the right move. They cannot start the season with the trio of Breshad Perriman, Tyrell Williams and Quintez Cephus catching passes for them.
Devonta Smith gives the Lions everything they'd want in a receiver minus the size. Yes, he is undersized, but his tape is stunning and his production is off the charts. Does his size present an issue versus press coverage in the NFL? PFF's Ben Linsey doesn't seem to think so:
"Smith wasn't just successful against press coverage — he was dominant against it. No other college receiver since 2016 has come within a half yard of Smith's second-best season against press coverage in terms of receiving yards per route run."
There you have it.
Highest single-season yards per route run averages vs. press since 2016, per @PFF:

1. DeVonta Smith, 2020 — 4.6
2. DeVonta Smith, 2019 — 4.3

3. Ja'Marr Chase, 2019 — 3.8

— Austin Gayle (@PFF_AustinGayle) April 8, 2021
The Lions could employ a "best player available" strategy for the entire draft if they wanted to. In the second round of this simulation, they take Zaven Collins, who embodies the modern linebacker for his ability against the pass both as a coverage player and a pass rusher.
He has the best pass-rush moves and ability of any off-ball linebacker and can also easily cover running backs and tight ends out of the backfield. Collins earned the third-highest pass-rush grade and the highest coverage grade among linebackers in 2020. He isn't the greatest run defender, though.
You can go through games without seeing Collins make a "professional" type play against the run, but his size and speed are still awesome on some plays, especially those run away from him. Collins' run-defense issues show up in his tackling grade, as PFF's Anthony Treash notes:
"Tackling has never been Collins' forte. He posted a tackling grade below 69.0 in each of his three years with Tulsa, with 37 misses on 253 total attempts. That career missed tackle rate of 14.6% is the worst of any player on this list."
Johnson, known for his coverage ability, has been rocketing up draft boards in recent weeks. Around March 20, his average draft position on PFF's Mock Draft Simulator was in the 240s. Now a month later, it's in the 80s.
Johnson shows really good quickness and an ability to play both as a half-field safety and as a deep safety. He also played in the slot in 2019. He's not the best tackler, but he is definitely a willing one.
Pick 101: CB Tre Brown, Oklahoma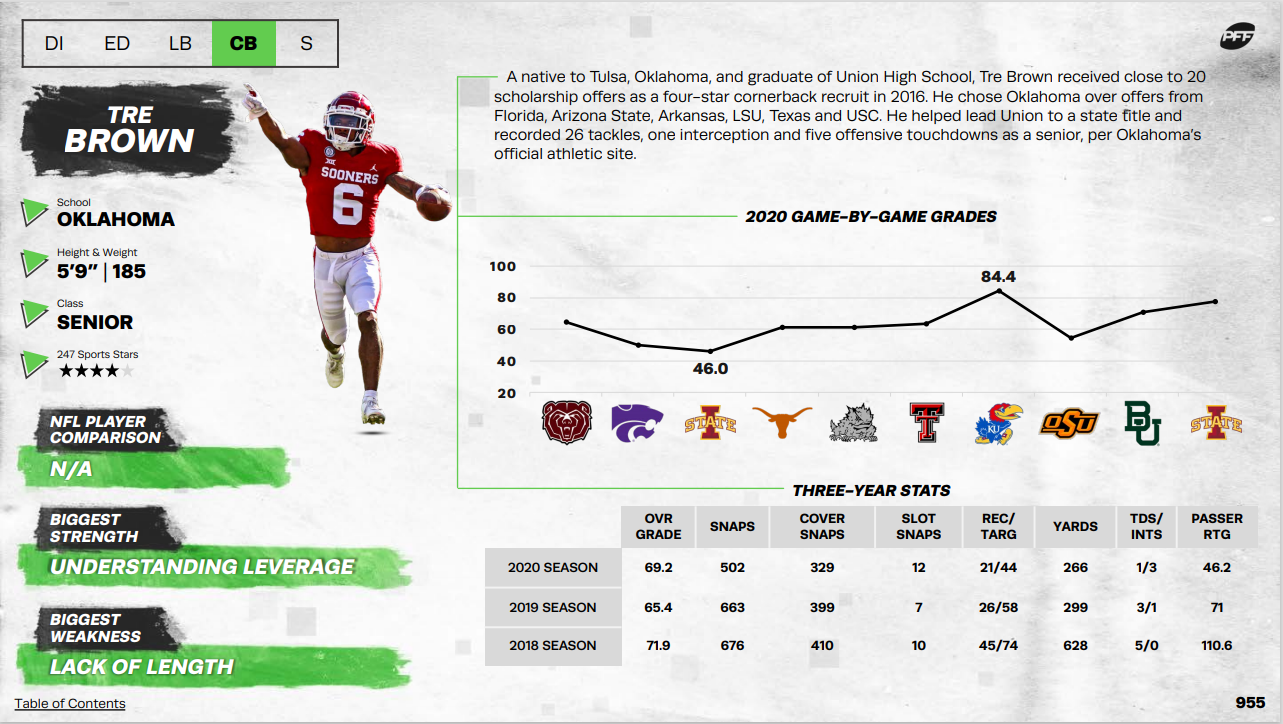 Guess what? We improve Detroit's secondary again, this time with Tre Brown. He's not the biggest cornerback in the world; his 5-foot-9 stature and 185-pound body put him in the fifth and 20th percentiles, respectively. His speed and agility aren't great, either. Brown's 4.4-second 40-yard dash time ranks in the 82nd percentile, and his 4.27-second shuttle ranks only in the 35th percentile.
Yet, he doesn't allow big catches. Brown is a fantastic technical player who made a ton of plays on the ball this past season. He generated a 21% forced incompletion rate and allowed a 44.2 passer rating over the past two seasons.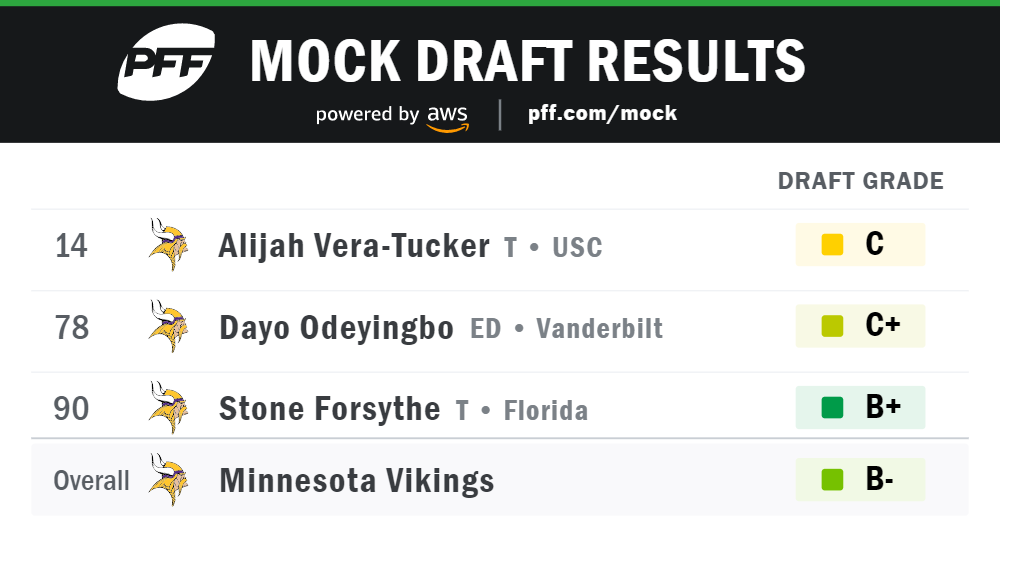 I'm sure Vikings fans will be pleading with their team to draft as many offensive linemen as possible this year. It would be nice to see one season where Kirk Cousins isn't under pressure immediately after the snap.
Vera-Tucker is an interesting case. He played tackle in 2020 at USC but projects as a guard in the NFL because he played there in years prior. The Vikings need help at both positions, so they can't go wrong with this pick. He has good strength and strike timing, but he could stand to improve his feet quite a bit, and that's why he is thought of as a guard at the next level.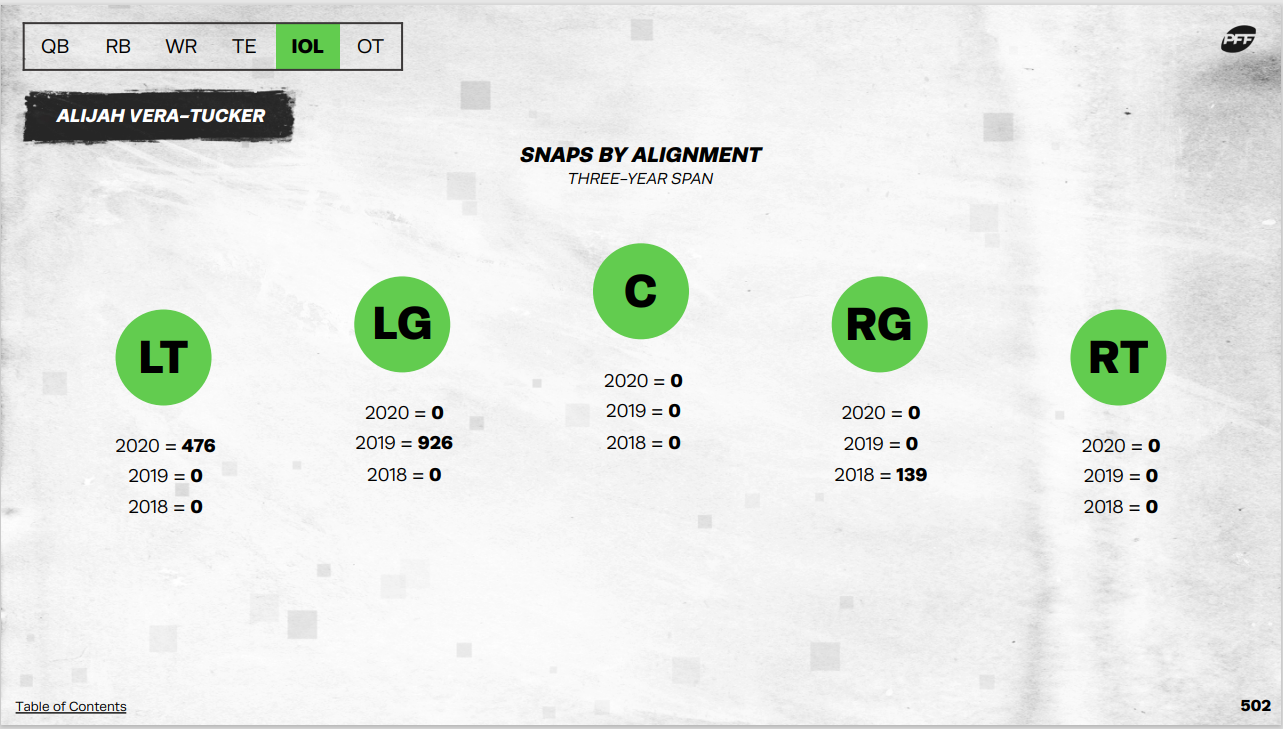 PFF's Mike Renner had this to say about the young Trojan:
"We already knew Vera-Tucker was a very good guard, but it took him kicking out to tackle in 2020 to see just how much of an all-around player he really is. He put on a clinic at left tackle this past season, allowing only two pressures in his first five games before being exposed by future first-rounder Kayvon Thibodeaux of Oregon in the Pac-12 championship game."
Odeyingbo moved all around the Commodores' front line over the past few seasons. His biggest problem is that he didn't produce much, notching only 45 hurries over the past three seasons combined. You'd like to see that number be quite a bit higher.
Of course, you look at Odeyingbo on tape and see a dynamite athlete who can play multiple positions with violence, which is what you want from a defensive lineman.
If Vera-Tucker is to play guard at the next level, then the Vikings still need a tackle. They get one here in Stone Forsythe. The Florida product is gigantic, standing at 6-foot-9 and weighing in at 312 pounds. He might be better suited to play center in the NBA.
For his size, Forsythe has very good feet. He's able to constantly mirror his opponent, and when he gets his hands on defensive ends, they are cooked. Unfortunately, pass rushers can get under his pads because of his height. He'll need to figure out a way to anchor better at the next level, but his size is so intriguing that he'll get picked earlier than his production and skill set say he should.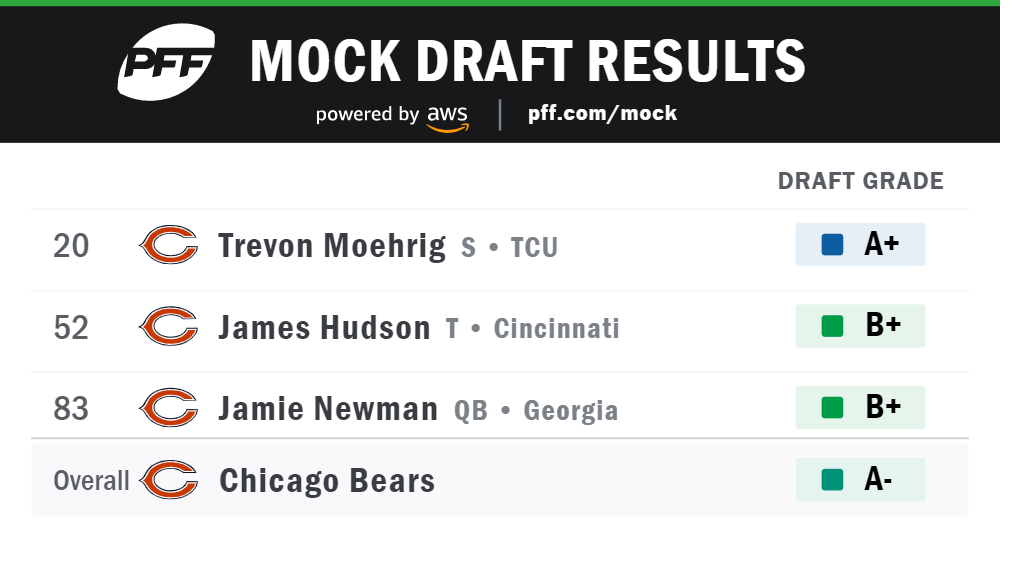 Moehrig is the best safety in this class by far. He plays every aspect of the safety position at a high level, from rolling down and covering receivers in man coverage to being a deep centerfield player. His Pro Day wasn't particularly impressive, but that doesn't matter.
Trevon Moehrig forced an incompletion on 25% of targets since 2019.

Highest among all safeties. pic.twitter.com/NRjhlWBa7P

— PFF Draft (@PFF_College) March 8, 2021
Safeties aren't supposed to make that many plays on the ball. He does, and we even believe he could be a serviceable linebacker if needed. He plugs a hole for the Bears, as their safety and slot players, outside of Eddie Jackson, have atrophied over the past few seasons.
With just one year as a full-time starting tackle under his belt, Hudson is an interesting prospect. He started his career at Michigan before transferring to Cincinnati. He is a project to a certain degree because he's not quite ready to use his hands in pass protection and his feet can get him out of position often enough.
He's not a great run blocker yet, posting a below-average 56.9 grade in that facet last season. But guess what? He's a 6-foot-5, 310-pounder who can run. He'll get picked early.
Pick 83: QB Jamie Newman, Wake Forest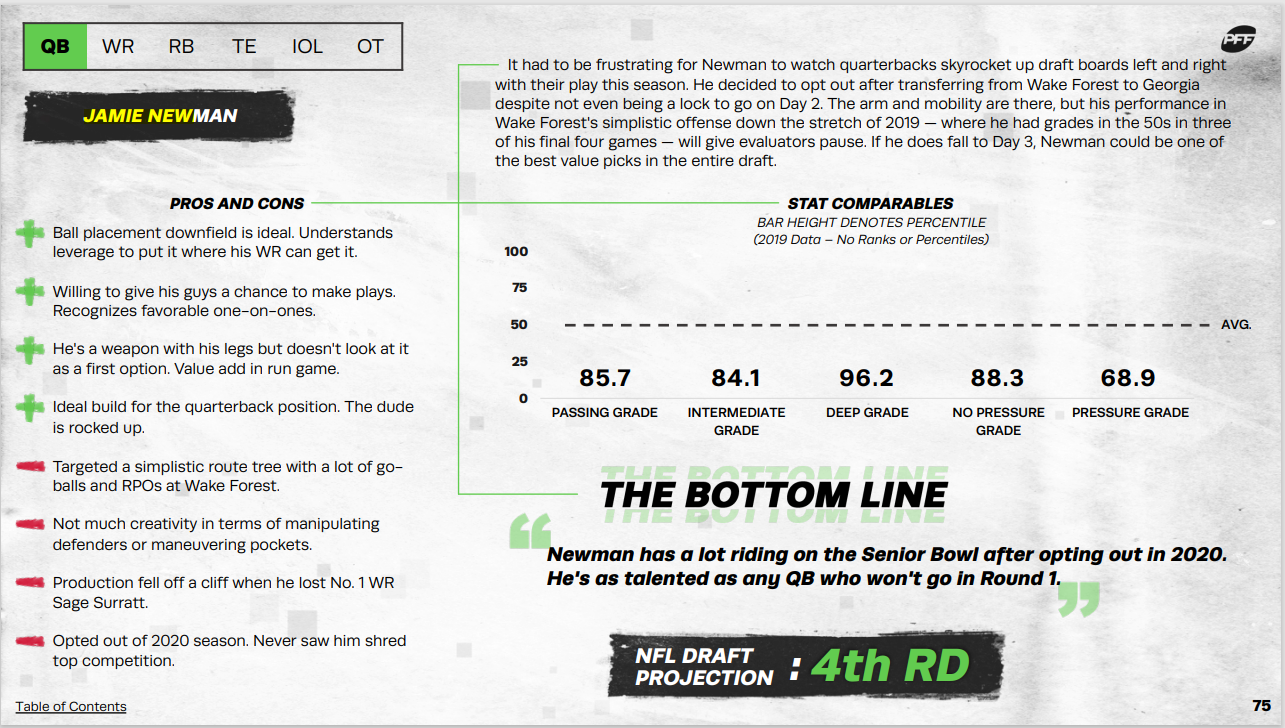 Eventually, the Bears are going to have to take some swings at quarterback — unless their plan is to tank and get a top-five pick next season. They will probably win too many games with the duo of Andy Dalton and Nick Foles to potentially even be in the top 10 next season. They need to get a head start and see if there are any quarterbacks on Days 2 or 3 of the 2021 NFL Draft who might be the future of the franchise.
Newman is a good start. He has all the athletic ability and put up elite production despite playing in a tough Wake Forest dropback passing system. In 2019, the last time we saw Newman, he recorded the third-highest deep passing grade in college football (96.2).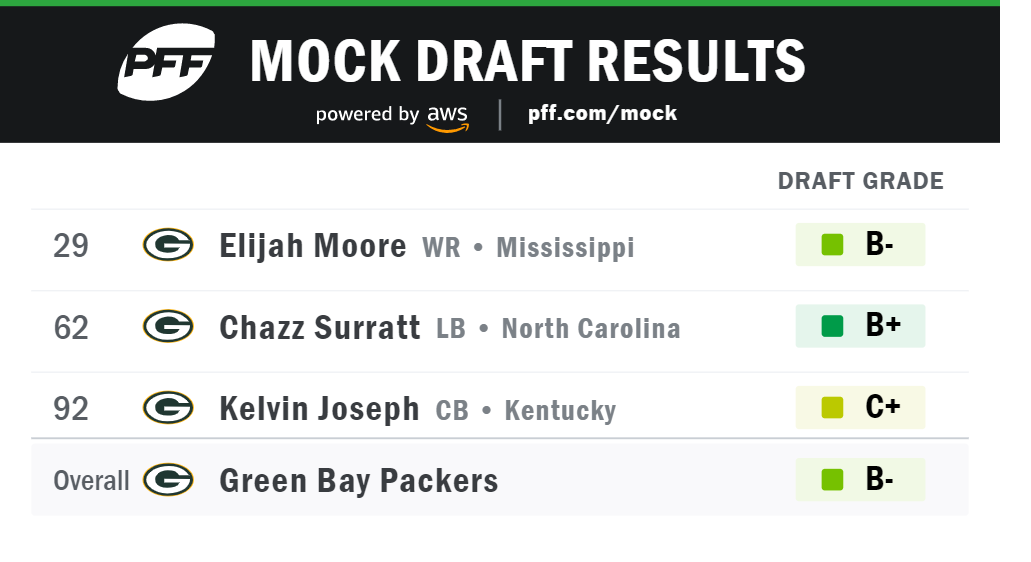 The Packers will inevitably not draft a receiver because that would go against all logic. In our fantasy land, they do actually take the receiver. Moore is a fantastic slot weapon who can still win on the outside but fits well with Green Bay, which already has an elite outside receiver in Davante Adams.
We recently called Moore the best slot receiver in the draft, with PFF's Mike Renner writing, "Over the past two seasons, Moore has racked up 1,738 yards from the slot, the most of any receiver in college football. He's also done so without the advent of a ton of 'phony' production, as only 86 of those yards came on screens. He can be a vertical threat from the slot with 4.35 speed or easily shake defenders underneath."
When Blake Martinez left the Packers after the 2019 season, it felt like it was addition by subtraction for Green Bay at the linebacker position. Yet, Martinez went on to have a career-best season while the Packers spent 2020 still struggling at linebacker. That changes with the addition of Surratt.
PFF's Mike Renner recently called Surratt the "wild card" of the draft among linebackers:
"After switching from quarterback — of all positions — to linebacker just a couple of years ago, Surratt made his presence felt quickly in the Tar Heels' defense. He racked up a ridiculous 56 stops in his first season as a starter but had a disastrous missed-tackle problem. That was something that had to get cleaned up in 2020, and he did, with only one miss in his final five games (47 attempts). He's still not the most adept at his run reads and fits between the tackles, but he's a playmaker with modern-linebacker athleticism."
Even though the Packers re-signed Kevin King, there is still room for them to get better at cornerback. They swing the bat here at Pick 92 by selecting Joseph.
The Kentucky corner made some really nice plays in zone coverage, but we didn't see much in terms of straight man-to-man coverage. The potential is there, but he's not quite the finished product, as PFF's Anthony Treash writes:
"He played exceptionally well against a dominant Alabama offense with an 85.9 coverage grade, an interception and a goose-egg in the yards allowed column. But not every game was like that for Joseph. He was jumpy at times, and there were several instances of him being caught out of position in zone coverage. Joseph's performance against Alabama and the out route he jumped against Tennessee that he took to the house make him look like a first-round prospect, but his game needs more polish."
---
More of PFF's 2021 NFL Draft tools here: 
2021 NFL Draft Big Board | 2021 NFL Draft Guide | 2021 NFL Draft Stats Export | NFL Mock Drafts | NFL Mock Draft Simulator