NFL draft season always comes with its fair share of outlandish takes. And while some of these takes are quickly dismissed as fiction, several others permeate draft coverage and start to gain traction.
The glaring example in this draft cycle pertains to Ohio State quarterback Justin Fields. The Buckeyes' two-year starter has been labeled as someone who struggles to get through his progressions, drawing lazy comparisons to former Ohio State quarterbacks Cardale Jones and Dwayne Haskins. I didn't include that particular narrative in this piece because of the effort that has already gone into disproving it.
The narrative simply isn't founded in reality, as Fields' tendency to hold onto the football is more a product of his belief in himself to produce magic than an inability to get through his reads. It is exactly the kind of narrative I sought out for this piece.
We'll kick things off with another one of the top quarterbacks in this draft class.
View PFF's 2021 NFL Draft position rankings:
QB | RB | WR | TE | T | iOL | DI | EDGE | LB | CB | S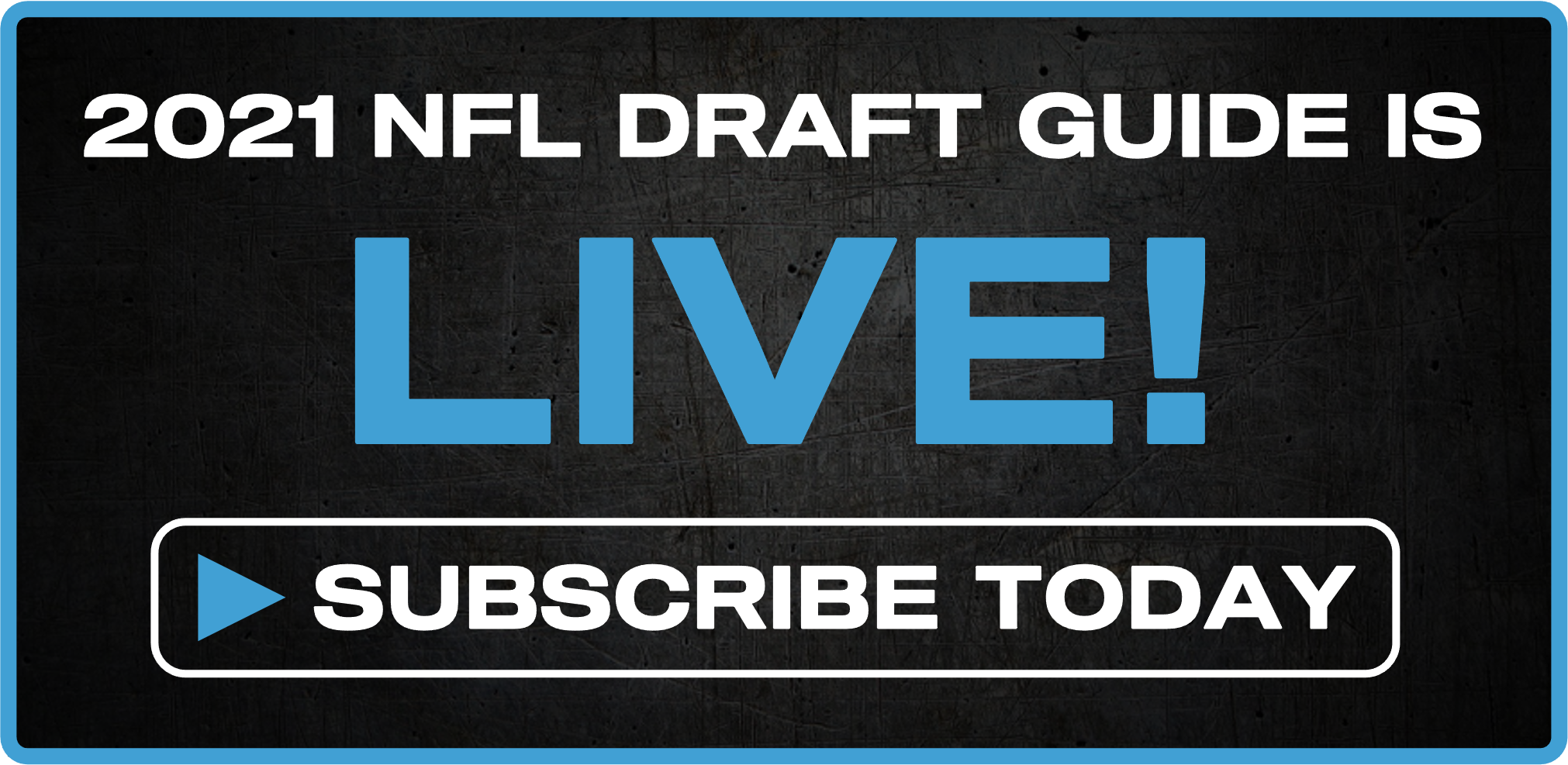 Narrative: Trey Lance is a developmental quarterback, while Mac Jones is "pro-ready"
Lance has just one full season of FCS starting experience under his belt. That season came in a run-heavy offense in which Lance attempted just 18 passes per game, so it's not difficult to see why many think a year on the bench would do him well. It certainly could.
The bigger issue here is the disconnect between how Lance's readiness for the NFL is compared to Jones'.
The Alabama signal-caller started just four games in 2019 before leading the Crimson Tide to a national championship as the starter in 2020. He possesses an advantage in some of the more traditional quarterback traits — accuracy, timing on throws, etc. — but Lance is often pigeonholed as a prospect who only brings physical traits to the table. That's simply not true.
PFF's Seth Galina explored Lance's ability to get through his progressions and orchestrate quick-game concepts several months ago. Galina also discussed Lance's control over protections at North Dakota State with Quincy Avery, Lance's quarterback coach, on PFF's College Football podcast.
In addition to those two mental aspects of playing the position, Lance possesses two traits that should help compensate for some of the accuracy issues he struggled with in college: high-end rushing ability and avoidance of turnovers.
As the PFF Draft Guide says, Lance has a tight end build and athleticism that should translate to him being effective in the designed run game. His 821 rushing yards on designed run plays in 2019 were over 250 more than any other quarterback in this draft class.
Fewest turnover-worthy plays in a season | Quarterbacks in the 2021 draft class with 250 or more dropbacks
| | | |
| --- | --- | --- |
| Season | Dropbacks | Turnover-worthy plays |
| Zach Wilson (2020) | 365 | 4 |
| Eric Barriere (2020) | 253 | 5 |
| Trey Lance (2019) | 335 | 5 |
| Trevor Lawrence (2018) | 424 | 6 |
| Justin Fields (2020) | 281 | 6 |
Lance also did a tremendous job of protecting the football in 2019. Even in a run-heavy FCS offense, finishing an entire season with no interceptions on the stat line is an impressive feat.
The 20-year-old quarterback may be inexperienced, but he isn't necessarily raw. A firm grasp on the mental aspect of playing the game's most important position paired with his rushing ability and tendency to take care of the ball gives the North Dakota State product an opportunity for success early in his NFL career if he falls into the right situation.
Related Posts: Why I vibe with North Dakota State QB Trey Lance via Seth Galina | Can Mac Jones break the trend and succeed in the NFL despite lack of high-end traits? via Sam Monson
---
Narrative: Kyle Pitts won't contribute as a blocker
You will be hard-pressed to find anyone who doesn't think Pitts will become an excellent NFL player. His combination of size, athleticism and college production is rare. He is fresh off an incredible 96.2 PFF grade, the highest grade PFF has ever given to a college tight end.
There's no reason to believe Pitts won't immediately challenge the upper tier of receiving threats at the position. However, some have argued that the Florida product will be more wide receiver than tight end simply because he was so effective when lined up in the slot or out wide.
It's true that Pitts' blocking doesn't match what he can offer as a receiver. But that doesn't mean Pitts can't block; his receiving ability just sets a lofty bar.
The 6-foot-6 and 245-pound Philadelphia native showed real signs of improvement as a blocker in 2020, as his 65.8 run-blocking grade this past season at Florida was a clear step above the 42.6 grade he earned the year prior.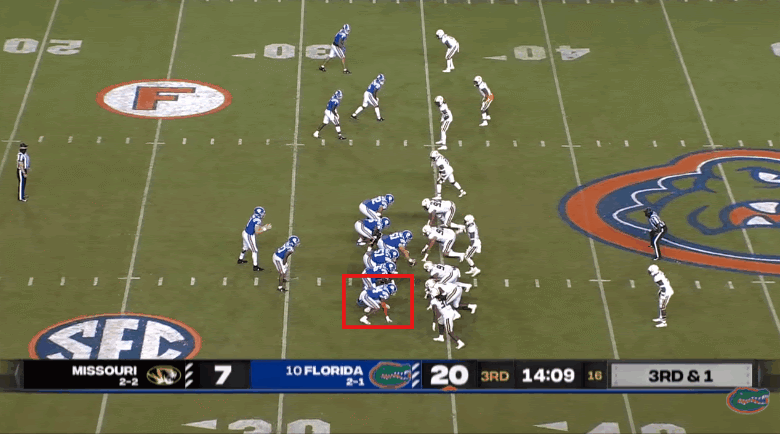 There were multiple examples on his tape — such as the one above — that showed he was a willing blocker when lined up inline. He helps clear a lane here for Kyle Trask to break off a 20-plus-yard gain on third-and-short.
It's also important to remember how young Pitts still is. He won't turn 21 until October, which means he should continue to get stronger and fill out his frame. Couple that with the willingness and improvement Pitts flashed as a blocker in 2020, and there is reason for optimism that he can be more than just a dynamic receiving threat in the NFL.
Related Post — 2021 NFL Draft: Florida TE Kyle Pitts is the best receiving prospect in the draft, regardless of position via Sam Monson
---
Narrative: DeVonta Smith will struggle against press coverage in the NFL at his size
There is no getting around the fact that Smith would be the outlier if he goes on to enjoy a long and successful career at his size. It's just easier for physical NFL cornerbacks to control skinny receivers like Smith at the line of scrimmage and throughout routes. However, Smith has shown nothing in his collegiate career that indicates he can't be that outlier.
The 6-foot-1, 170-pound receiver plays way above his weight at the catch point, and his releases and routes make it difficult for opposing cornerbacks to capitalize on their size advantage. Take the data point below, for example.
Highest single-season yards per route run averages vs. press since 2016, per @PFF:

1. DeVonta Smith, 2020 — 4.6
2. DeVonta Smith, 2019 — 4.3

3. Ja'Marr Chase, 2019 — 3.8

— Austin Gayle (@PFF_AustinGayle) April 8, 2021
Smith wasn't just successful against press coverage — he was dominant against it. No other college receiver since 2016 has come within a half yard of Smith's second-best season against press coverage in terms of receiving yards per route run.
PFF's lead draft analyst Mike Renner summarized it well in the 2021 NFL Draft Guide:
"It's difficult to find on-field cons for Smith. His weight will be brought up again and again over the course of the spring, but that's it. That's his con. Not his routes, his ball skills, his releases, his body control or his speed. When that's your only concern — and it hasn't even come to light as an issue on a college football field — then there's not much to be worried about. Smith is a versatile game-breaker who just wins. That's a fit for any scheme in the NFL."
Until Smith shows that press coverage causes him any kind of resistance, it's not something to be overly worried about in his evaluation.
Related Post: 2021 NFL Draft Film Study — Alabama WR DeVonta Smith via Sam Monson
---
Narrative: Jayson Oweh was an ineffective pass-rusher in 2020 because he didn't record any sacks
Oweh still has a long way to go technically as a pass-rusher, but the current narrative around what he offers likely overstates how far he has left to go.
Oweh's goose egg in the sacks column is the first data point called out in those arguments, but it isn't a fair representation of his impact on the passing game. He finished the 2020 season with an 80.3 pass-rushing grade in his seven games for the Nittany Lions, nearly identical to his 81.8 mark in 2019. Those aren't elite marks, but they still reflect a strong overall performance.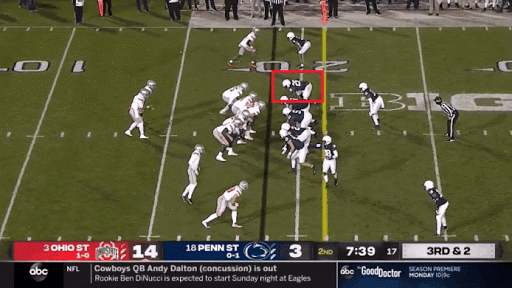 A relatively quick release from Justin Fields in the play above from last season keeps Oweh from getting home for the sack, but you can see the kind of explosion he brings. That's PFF's No. 2 returning offensive lineman (Thayer Munford) Oweh is driving back.
Despite the lack of sacks, Oweh did notch 20 quarterback pressures — 15 hurries and five hits — to go along with 10 plays where he beat his blocker without recording a pressure.
Considering Oweh didn't start playing football until his junior season of high school, there is reason for NFL teams to expect continued improvement technically. He has been a far more effective pass-rusher across these last two seasons than his stats would suggest. With his physical skill set, the sky is the limit.
---
Narrative: Rashawn Slater should move to guard because of his size
Slater doesn't hit many of the benchmark size measurements for the offensive tackle position. Here are his height, weight and arm length measurements from his March 9 pro day with corresponding percentiles at the tackle position:
Height: 6-foot-4 (14th percentile)
Weight: 304 pounds (18th percentile)
Arm length: 33 inches (13th percentile)
Even at that size, and with that arm length, Slater's tape was good enough at tackle in 2019 that NFL teams should want to at least see how he fares outside before kicking him inside to guard. Slater earned a 90.0 PFF grade across 11 starts at left tackle in his final season at Northwestern. And as you've undoubtedly heard at this point of draft season, he also performed better against Ohio State's Chase Young than just about any tackle in the country that year.
The way to overcome less-than-ideal arm length is with technique. Slater is one of the most technically sound prospects in this class, and he also happens to be an elite athlete. He finished in the 83rd percentile or higher in every athletic test he performed at his pro day.
Tackle is the most valuable position on the offensive line. If you're picking Slater in the top half of the first round, teams should make him prove that he can't hang outside before moving him inside, where he profiles as a high-floor interior offensive lineman. There's a good chance that Slater — like some of the top tackles in the NFL — can overcome below-average size and sub-34-inch arms to find success outside.
Related: 2021 NFL Draft OL Superlatives: Best feet, most versatile, best pass sets and more via Michael Renner
---
More of PFF's 2021 NFL Draft tools here: 
2021 NFL Draft Big Board | 2021 NFL Draft Guide | 2021 NFL Draft Stats Export | NFL Mock Drafts | NFL Mock Draft Simulator