NFL draft season is always full of debate. Obviously, not everyone is going to agree when it comes to draft prospects. We all assess traits, pro-day data, production and positional value differently, which is why no two big boards or mock drafts are identical.
Yesterday, we created a list of players we feel are being undervalued by analysts, scouts and media outlets. Today, we are doing the opposite. With the help of PFF's Top 300 2021 NFL Draft Big Board, we'll examine the 2021 NFL Draft prospects who we feel are being overvalued by scouts, executives and draft analysts across the country.
If you turn on the right game, Nixon looks like a first-round talent. His outing against Northwestern this past season, when he racked up 10 defensive stops and three sacks, is a prime example. But if you turn on his tape against Minnesota, Illinois or Wisconsin (sub-60.0 grade in each), he seems like a sure-fire Day 3 pick.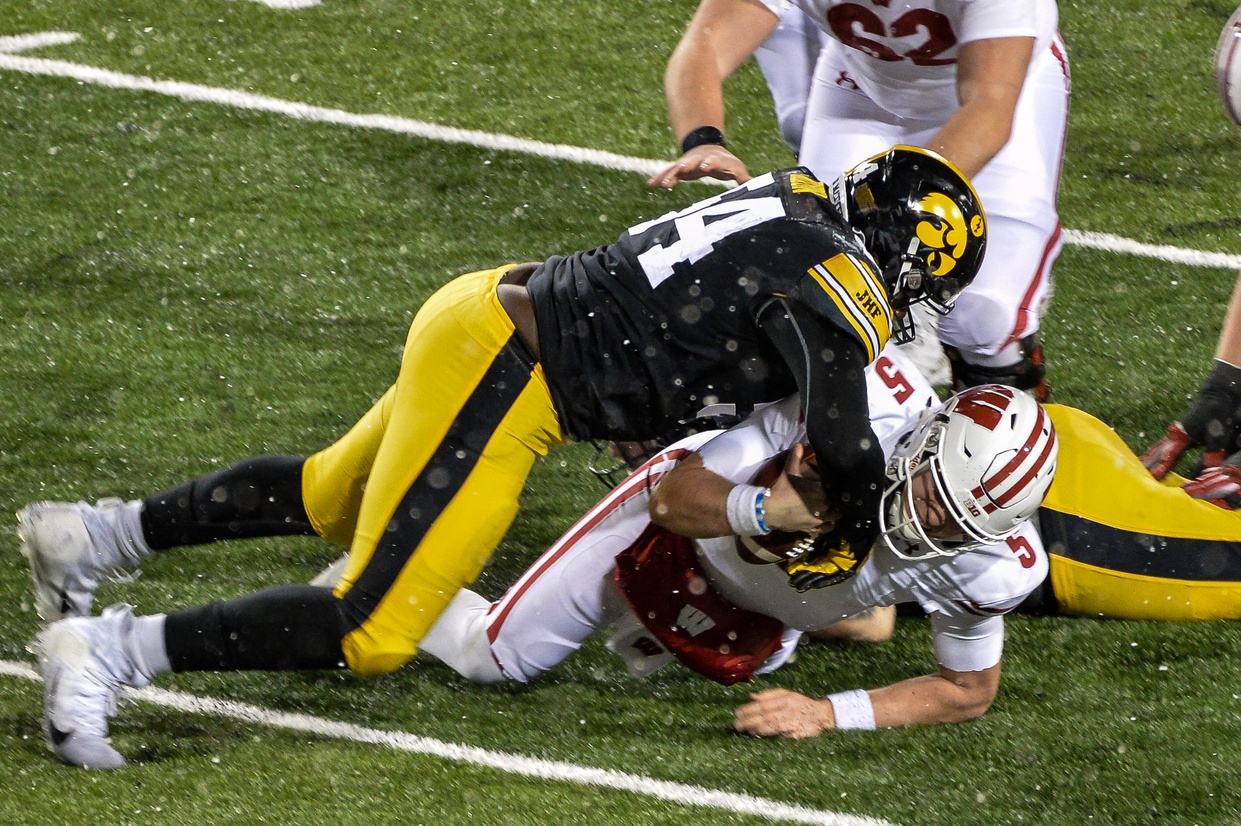 Nixon finished the 2020 season with a subpar 73.1 PFF grade that failed to crack the top five in the Big Ten. He is quick, explosive and attacks viciously, but the inconsistency in his lone year of starting experience and how often he got stuck on blocks are too big of concerns.
Mayfield is likely a tackle-to-guard convert at the next level. He'll be a project for whichever NFL team drafts him, but he is young (20 years old on draft day) and has a physical makeup that presents a lot of upside. That potential makes him a prospect worth taking a chance on during Day 2, but not in the first round.
Mayfield came to Michigan as a four-star recruit, according to 247Sports, back in 2018 and put together up-and-down performances. He was inconsistent throughout his only full season as a starter in 2019, flashing high-end reps but also constantly showing how unrefined he is technically.
In pass protection that year, he gave up 27 pressures en route to a 68.8 pass-blocking grade. As a run blocker, Mayfield flashed his power on several occasions, racking up the second-most big-time blocks among Power Five right tackles — behind only Jedrick Wills Jr. But Mayfield negated that with a negatively graded block rate that ranked in the 13th percentile at the position.
Our differences with Onwuzurike lie in his down-to-down consistency when he finally grabbed a starting job in 2019, the fact that we rarely saw him recover if his first move failed and how most of his dominant wins were a result of his explosiveness.
Onwuzurike shined in 2018 with a 90.8 PFF grade, but that was in a limited role while averaging roughly 28 snaps per game. In 2019, he rightfully grabbed a starting spot, increasing his average per-game snap count to approximately 39, but his production took a hit. His PFF grade dropped to 82.5. 
When watching Onwuzurike at Washington, it was apparent that he was one of the most explosive players at the position in college football. If he went up against lesser interior offensive linemen — and he saw a lot of them — it was game over. That, however, didn't fly against the one NFL-caliber offensive line he faced in 2019 (Oregon, 51.3 PFF grade), and it isn't going to fly at the NFL level, either. It's still a massive strength to have, but he needs more moves to pair with that.
Tryon is viewed as highly as he is because of his physical profile. He has the size, length and explosiveness for the position and is such a violent player with a menacing bull rush. The dominant reps he put on tape are easy to fall in love with.
That said, we didn't see those reps on a consistent basis, and his pass-rush plan was always errant. Tryon posted a middling 71.9 pass-rush grade in his final season at Washington in 2019 (opted out in 2020 with Onwuzurike), and nearly half of his 41 pressures were either unblocked or on clean-up plays. He's going to be a huge work in progress at the next level.
PFF Big Board Rank: 108
Joseph is perhaps one of the most intriguing prospects on this list. There are some who view the Kentucky corner as a first-round prospect, but he's outside the top 100 on PFF's big board. 
A former four-star recruit and LSU Tiger, Joseph was up-and-down throughout his first season with Kentucky. He played exceptionally well against a dominant Alabama offense with an 85.9 coverage grade, an interception and a goose-egg in the yards allowed column.
But not every game was like that for Joseph. He was jumpy at times, and there were several instances of him being caught out of position in zone coverage. Joseph's performance against Alabama and the out route he jumped against Tennessee that he took to the house makes him look like a first-round prospect, but his game needs more polish.
The potential is certainly there, but so is a lot of risk.
PFF Big Board Rank: 118
Brown boasts incredible size at 6-foot-4, 350 pounds. With that frame comes incredible power, which makes him damn near impossible to beat in a phone booth when he pulls. At the same time, though, Brown has poor quicks and has shown an inability to recover in pass protection. Those flaws showed up against more athletic defensive tackles, resulting in a 64.9 PFF grade in his final year at Alabama and throughout the Senior Bowl.
Brown ranked in the bottom half of the offensive linemen in grade during one-on-ones at the Senior Bowl and gave up four pressures on 27 pass-blocking snaps en route to a 37.4 pass-blocking grade in the game.
Needless to say, I'd expect his pass-protection woes to continue at the next level.
PFF Big Board Rank: 120
The entire college football world waited for Smith — a 2017 five-star recruit — to develop into one of the best offensive linemen in the country, but that never came to fruition due to a variety of reasons. Health was at the forefront, as he was diagnosed with blood clots in his lungs in 2018. But he also consistently failed to recognize stunts and blitzes in pass protection and would far too often be looking for that next big block.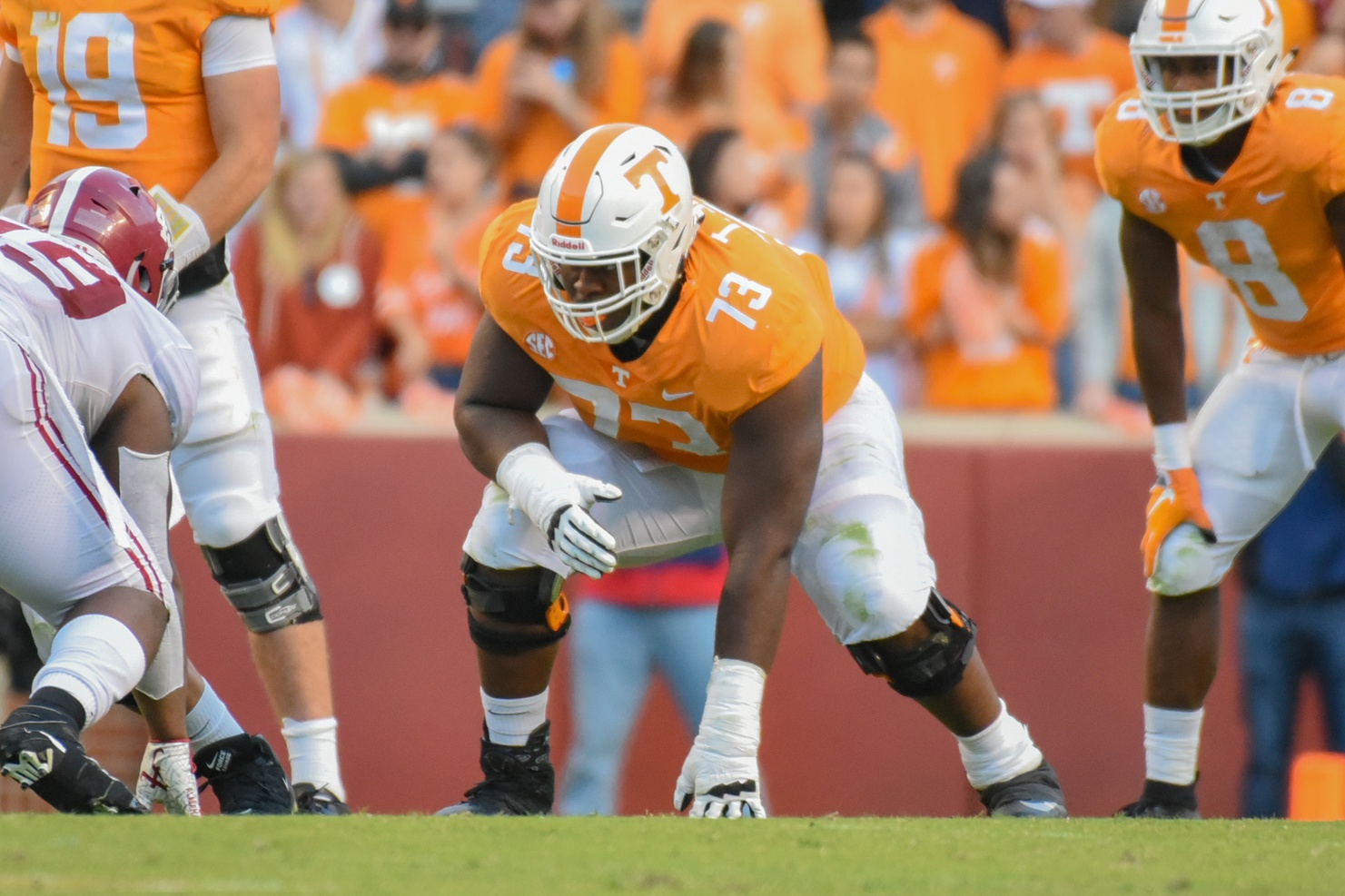 Still, Smith landed some eye-popping blocks and was one of the nastiest run blockers in the nation. His No. 2 positively graded run-block rate among Power Five guards throughout his college career backs that up. But he was also incredibly inconsistent. Smith sits at the 25th percentile among that same group in negatively graded run-block rate, and he netted just a 69.3 pass-blocking grade while at Tennessee. His Senior Bowl didn't help matters, either (bottom-10 pass-blocking grade among offensive linemen for the week).
PFF Big Board Rank: 138
Jones has been a faller ever since the start of the 2020 season. He was uber-productive in 2019 with an 84.2 pass-rush grade and 62 pressures on 415 pass-rushes. However, Jones' pass-rush grade plummeted to 68.9 in 2020, and he gathered only 37 pressures on 358 pass-rush snaps. His fall was even steeper on PFF's big board following the 2021 Senior Bowl, as he had one of the lowest win rates of the week in one-on-ones — as shown in PFF's 2021 NFL Draft Guide. He also came in with shorter arms than expected.
Jones' pass-rush move repertoire is right where it needs to be, but there's not much power to his game and his inability to dip and corner tackles is a huge concern. Jones went from having a chance to be a first-round selection to likely going very late on Day 2 prospect at best.
PFF Big Board Rank: 144
Collins' calling card at Michigan was his 6-foot-4, 218-pound frame. He couldn't separate, but it didn't matter; he earned his cheddar by bodying undersized corners at the catch point.
In Collins' final two years of college action in 2018 and 2019 (opted out in 2020), exactly one-third of his targets were contested. And he hauled in an impressive 56.5% of them. That, however, won't hold up at the next level where the corners are bigger, faster and stronger. Plus, his sluggish starts and breaks combined with an inability to create after the catch give us pause.
PFF Big Board Rank: 149
It's easy to see why Hufanga is being propped up by some following his 2020 campaign; the safety made plenty of big plays in just six games. He intercepted four passes and forced a couple of fumbles en route to an 83.9 PFF grade. That being said, there were a lot of low plays from Hufanga scattered throughout that stretch, and his interception total is being touted a little too much when it comes to projecting him to the NFL.
Hufanga is likely to be limited to a box safety role at the next level, and that's not as valuable as other spots. He's not fluid enough to play deep and can't be trusted in space.