It is officially 2021 NFL Draft week. PFF's Big Board is set, and player profiles abound in a monstrous draft guide that extends nearly 1,300 pages. I encourage everyone to go out and find some of their own favorites in this draft class with the help of those tools and all of PFF's draft analysis. For this piece, I wanted to put my own spin on things.
These are some of my favorite prospects at each position in the 2021 NFL Draft, ranging from comfortable top-10 picks to prospects who will likely be available on Day 3.
View PFF's 2021 NFL Draft position rankings:
QB | RB | WR | TE | T | iOL | DI | EDGE | LB | CB | S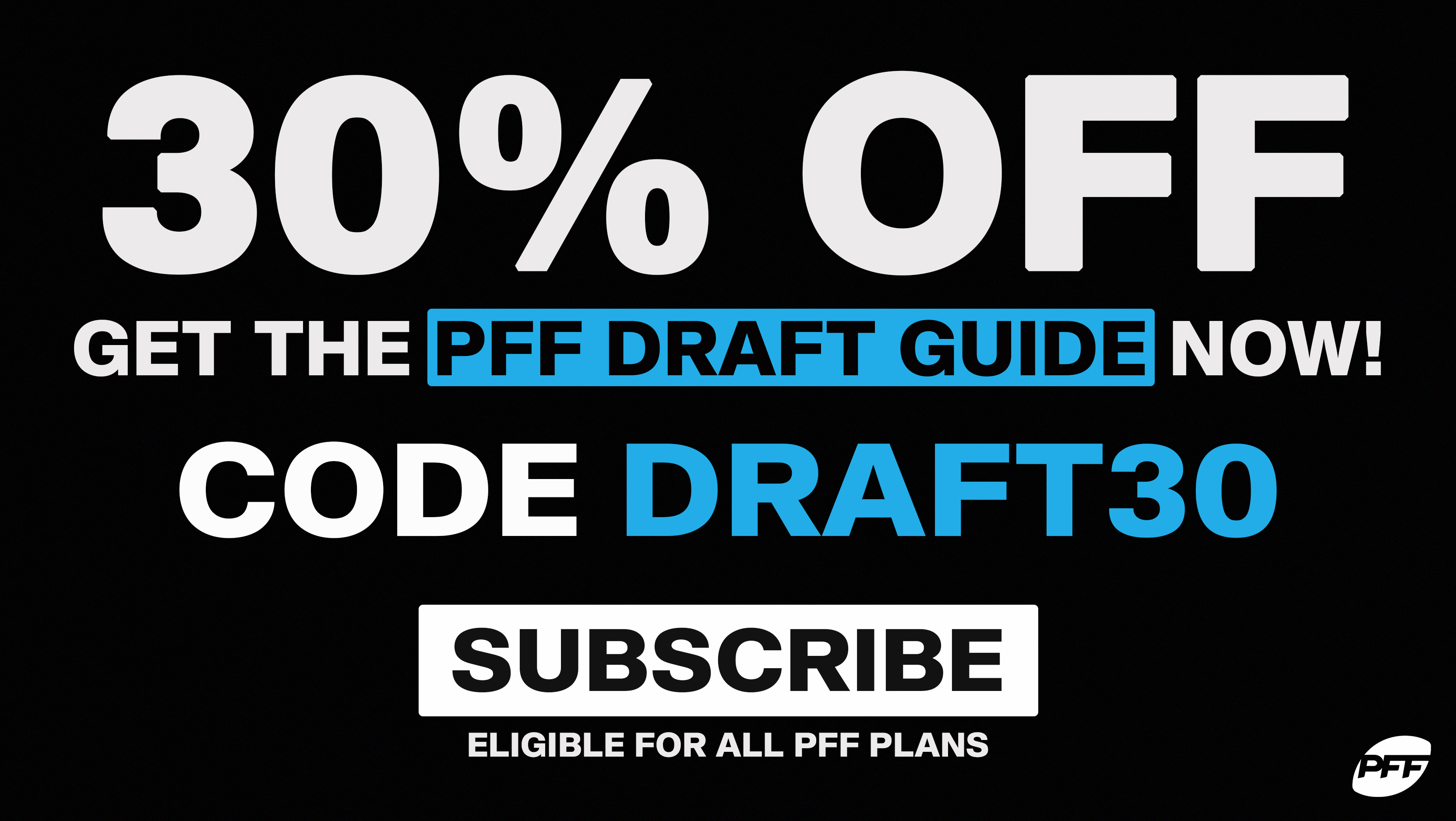 PFF Big Board rank: 10th
There's a narrative in draft circles that Lance needs to sit for a year or two before starting in an NFL offense. While a more gradual transition to a starting job could be beneficial for his NFL career, it's not fair to say he needs time on the bench. All reports indicate that Lance is one of the more intelligent quarterbacks in this draft class. And he pairs that intelligence with high-end rushing ability one of the lowest turnover-worthy play rates in all of college football.
Fewest turnover-worthy plays in a season | QBs in 2021 draft class with 250-plus dropbacks
| | | |
| --- | --- | --- |
| Season | Dropbacks | Turnover-worthy plays |
| Zach Wilson (2020) | 365 | 4 |
| Eric Barriere (2020) | 253 | 5 |
| Trey Lance (2019) | 335 | 5 |
| Trevor Lawrence (2018) | 424 | 6 |
| Justin Fields (2020) | 281 | 6 |
It's difficult for me to believe that, with those three traits in tow, Lance's floor isn't higher than most are giving him credit for. Lamar Jackson's 2019 MVP season was built on the back of his elite rushing ability, big plays in the passing game and limited turnovers despite grading out as one of the least accurate quarterbacks in the NFL. Lance doesn't offer the same dynamic rushing ability as Jackson, but he can follow a similar blueprint to success.
The concerns about Lance's experience (319 career passing attempts in college) and accuracy (just 36% of passes 10 or more yards downfield were accurate) are legitimate. I'm just willing to bank on what he can do at 20 years old as opposed to harping on what he can't do yet.
PFF Big Board rank: 171st
Stevenson doesn't have nearly the same production on his resume as many other running backs in this draft class. He didn't have the same kind of opportunity, seeing 165 FBS carries in a college career that began at Cerritos College. Stevenson delivered for Oklahoma, though. 
Rhamondre Stevenson cooked the entire Florida defense

— PFF Draft (@PFF_College) December 31, 2020
He's a big back at 230 pounds, but he brings some elements of a smaller running back's game with him in that frame. As the play above shows, bringing Stevenson to the ground was not an easy task. He ranked in the 92nd percentile of NCAA running backs in missed tackles forced per attempt over the past two seasons, and that is a skill we've seen translate to the NFL. Stevenson's elusiveness helped him record PFF grades of 86.6 and 90.4 in his two seasons at Oklahoma.
He has lead-back potential in the right offense. Concerns about limited experience and lack of explosiveness will likely drop him down draft boards, but that just leads to a better value opportunity for a team that misses out on the Najee Harris/Travis Etienne/Javonte Williams tier early in the draft.
PFF Big Board rank: 124th
Several weeks ago, I looked at five wide receiver prospects in this year's class who had to overcome unfavorable college situations. Smith-Marsette was among them, and it was because of plays like the one below.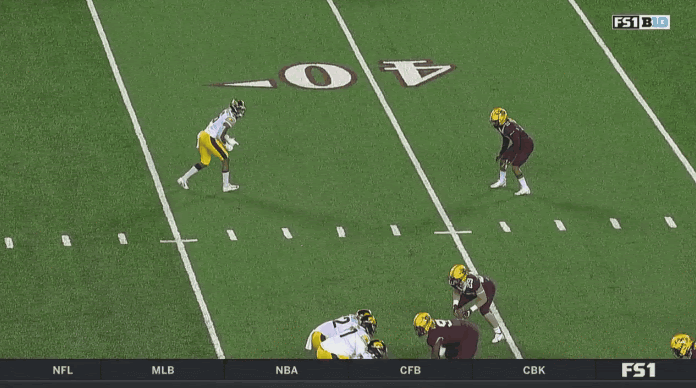 His 4.5-second 40-yard dash isn't an accurate representation of the speed that shows on tape. His two top strengths in PFF's draft guide are:
Real-deal juice. Can crank it up hot down the field. 

Doesn't lose speed on his breaks. Deadly on a vertical route tree.
Teams looking to add a vertical threat — and someone with legitimate return ability — aren't going to do much better than Smith-Marsette on Day 3. He's one of my favorite wide receivers in this class to outperform his expected draft slot.
PFF Big Board rank: 5th
He's my guy. He's everyone's guy. The truth of the matter is that there just aren't many tight ends beyond Pitts in this class who are exciting receiving threats. It's a big reason why bucketing in Pitts with traditional tight ends when discussing the value of the position is doing him a disservice.
He would be an upgrade at "X" receiver for a number of teams in the NFL, but defenses can't label him simply as a wide receiver when matching personnel. That ability to create mismatches as a tight end who can join the Travis Kelce–George Kittle–Darren Waller echelon is what separates Pitts. And it's why he should be a lock to be drafted inside the top 10 despite the recent disappointing history of first-round tight ends.
PFF Big Board rank: 74th
If you've been following the 2021 NFL Draft, you've probably heard somebody reference the massive pockets that Zach Wilson worked from this past season. Christensen deserves plenty of credit. His 96.0 overall grade during the 2020 season was higher than any other tackle in college football. It was even higher than Penei Sewell's 2019 season at Oregon (95.8). 2020 was the bow on a three-year career of continuous improvement at BYU for Christensen.
He ranks in the 98th percentile of all NCAA tackles in pass-blocking grade on true pass sets since 2019. He pairs that with a 99th percentile run-blocking grade on zone runs over that same time span, falling just short of Sewell.
Christensen in a zone scheme ???? https://t.co/C9LC5XWDd2 pic.twitter.com/Hil82iBsxo

— Brandon Thorn (@BrandonThornNFL) March 10, 2021
He also happened to have one of the more impressive pro days of any offensive line prospect in this draft. I listed him at tackle here, seeing that he started three years at left tackle for the Cougars, but sub-33-inch arms might force him to kick inside. He has a good chance to please whichever team takes him on Day 2, regardless of where he ends up along the offensive line.
PFF Big Board rank: 95th
Cleveland has one of the more absurd builds of any offensive lineman in this year's draft class. There isn't much fat on his 6-foot-6, 343-pound frame. He has the size and strength to bully interior defensive linemen in the run game (92nd percentile in positively graded run plays since 2018), and he also put up better pass protection numbers than you might expect. Alijah Vera-Tucker and Aaron Banks are the only two notable interior offensive linemen in this draft class to grade out higher than Cleveland on true pass sets over the past three seasons.
Cleveland also showed at his Pro Day that he's a plus athlete for his size. His skill set projects well in a gap-heavy scheme with a team looking for Day 2 help at guard.
PFF Big Board rank: 93rd 
Odighizuwa may be undersized at 282 pounds, but he doesn't play like it. That was evident at the Senior Bowl, where he was the highest-graded interior defensive lineman both during the week of practices and in the game itself.
That performance joined a resume that already included four seasons of solid play at UCLA. Odighizuwa graded out at 74.0 or higher in run defense on at least 250 defensive snaps in each of his campaigns with the Bruins, and he showed signs of improvement the past two seasons as a pass rusher.
Odighizuwa grades by season at UCLA
| | | | |
| --- | --- | --- | --- |
| Year | Snaps | Run-defense grade | Pass-rush grade |
| 2017 | 257 | 74.0 | 60.8 |
| 2018 | 391 | 83.2 | 67.4 |
| 2019 | 631 | 80.6 | 79.1 |
| 2020 | 450 | 78.4 | 77.5 |
Odighizuwa has the explosiveness (10-foot broad jump), length (34-inch arms) and strength to make up for his size in the NFL. In a weak interior defensive line class, he's one player who I feel fairly confident will provide value when he ends up coming off the board.
PFF Big Board rank: 63rd
Weaver's athletic testing numbers at his Pro Day didn't come close to reaching Paris Ford or Jalen Twyman levels of disappointment. But they also didn't show the same kind of explosiveness as several athletic freaks atop this edge defender class.
Weaver did impress was in the change-of-direction and agility drills, posting a sub-seven-second three-cone (84th percentile) and a 4.3-second shuttle run (74th percentile). It was reminiscent of PFF favorite Curtis Weaver's athletic testing coming out of Boise State last season — lacking explosiveness but showing good agility.
Pittsburgh's Weaver also has two years of high-level production on tape with PFF grades of 83.1 in 2018 and 89.5 in his return from a knee injury this past season. He didn't disappoint against top-level competition, either.
Consensus Big Board Top 200 EDs Pass Rush Grade on snaps against Consensus Big Board Top 200 OTs (2019-20, min. 50 snaps):

1. Jonathon Cooper – 79.6
2. Rashad Weaver – 76.7
3. Jaelan Phillips – 75.2
4. Quincy Roche – 72.7
5. Chris Rumph – 72.1

Cont…

— Brad Spielberger (@PFF_Brad) April 23, 2021
His size and length should allow him to immediately contribute in run defense, and there are few better edge defenders in this class technically. He stands out as having one of the highest floors of any prospect in this class, even if a lack of high-end athletic traits makes it difficult for him to reach the elite tier at the position.
PFF Big Board rank: 97th
PFF's Seth Galina explored how modern football was changing the linebacker position earlier this offseason. You should read the full piece here, but the short version is that the linebacker position is becoming increasingly difficult, especially for limited athletes.
Werner projects as one of the better athletes in this class after posting a sub-seven-second three-cone, a 4.52-second 40-yard dash and a 40-inch vertical at 6-foot-3 and 238 pounds during his Pro Day. That combination of size and athleticism is what defensive coordinators are looking for.
His production as a three-year starter at Ohio State wasn't great from a PFF grading standpoint, but he has the ability to take on blocks in the run game and not stick out as a liability in coverage. He's the kind of athlete I would want to take a chance on Day 2 after the first wave of linebackers comes off the board.
PFF Big Board rank: 90th
The first takeaway with St-Juste is his length at 6-foot-3 with a wingspan over 80 inches. There aren't many NFL cornerbacks with that kind of length.
Every team in league is looking for taller outside CB help and one longer-bodied corner getting buzz among NFL scouts right now is @GopherFootball Benjamin St. Juste (@Benj_Juice). Hard to throw over and hit downfield explosives on CB that are 6033v with 80 1/4 wingspan. ???????????? pic.twitter.com/juBmahog4R

— Jim Nagy (@JimNagy_SB) February 17, 2021
St-Juste put that length to use at the Senior Bowl, where he was the highest-graded cornerback in the one-on-ones during the week of practice. While his length itself is rare, his agility at that size is even rarer. St-Juste recorded marks at the 92nd percentile or better in both the shuttle (4.00 seconds) and three-cone (6.63 seconds) at his Pro Day.
There just isn't much tape on him; he played 420 career coverage snaps despite already turning 24 years old in September. The interceptions weren't there in his two years at Minnesota, either. St-Juste did force 12 incompletions on 62 career targets (19.4%), getting his hands on the football without the interceptions to show for it.
He's an interesting name beyond the first tier of cornerbacks expected to come off the board, particularly for a team that will allow him to use his length at the line of scrimmage in press coverage.
PFF Big Board rank: 50th
It's easy to forget just how good Holland was as a starter in Oregon's secondary across the 2018 and 2019 seasons after he opted out of the 2020 campaign.
Holland played deep at free safety more than any other alignment in 2018, ending the year with an 89.6 coverage grade and 11 combined interceptions and pass breakups. Nearly 600 of his 881 defensive snaps in 2019 came from the slot, highlighting a shift in responsibilities. Holland delivered once again in that new role. He recorded a second straight PFF coverage grade above 85.0 with improved run support and tackling. 
His nose for the football, size and processing speed should allow him to continue to find success in a versatile role in the NFL. Players who can thrive both in the slot and as a safety, as Holland has proven capable of, bring value to NFL defenses that are increasingly turning to nickel and dime looks.
---
More of PFF's 2021 NFL Draft tools here: 
2021 NFL Draft Big Board | 2021 NFL Draft Guide | 2021 NFL Draft Stats Export | NFL Mock Drafts | NFL Mock Draft Simulator