The PFF team has been grinding away at the draft for months, and now it's finally here. But even after all of the work, we still have plenty of burning questions that must be answered. From positional battles to finally seeing each team's strategy, the 2020 NFL Draft has numerous storylines to follow.
To further prepare for Thursday night, we asked eight of our analysts to come up with their five biggest questions ahead of the draft and give a brief explanation as to why each question is important.
[Editor's note: Check out PFF's 2020 Mock Draft Hub, NFL Draft Big Board and NFL Mock Draft Simulator. PFF Elite subscribers can also download the 1,100-page 2020 NFL Draft Guide.]
How much is speed worth?
We've seen NFL teams lose their minds when it comes to speed at the receiver position. This year, no one has more of it than Henry Ruggs III. Even though it's an incredibly deep receiver class, will a team that covets that 4.27 move up to secure Ruggs' services? He's a fairly big projection at this point with limited downfield production at Alabama, but you won't find a more explosive receiver in the class.
Will this be the year Dave Gettleman finally trades back?
If the New York Giants are dead set on taking a tackle in this class, they'd be silly not to try and move down to accumulate picks. While it takes two to tango, the Giants could even get below chart-value to move back a few spots with how evenly we see the top of this tackle class. If they stick at No. 4 and draft a tackle, it's safe to say Gettleman will never trade back in his life.
Who's the first to complain?
I think it's an accurate assessment to say that the NFL isn't big on change. The vast majority of complaints about the draft going through as planned have boiled down to "because it's different." With technology today, this truly should be no crutch or excuse for decision-makers. That's why I believe it will be interesting to see who, if anyone, complains about the process afterward.
Is the fifth-year option still worth trading for?
With the alterations to the fifth-year option in the latest CBA, it'll be worth seeing if teams are still willing to move up into the back of the first round for it. The fifth-year option is now fully guaranteed at the time it's exercised and has more performance-based escalators that can put it on par with even the franchise tag.
Is analytics creeping into more front offices?
We've been hammering the concept of positional value into our readers' heads all draft season, but has that reached NFL decision-makers? Will we see less valuable positions like running back, interior line and tight end still be taken highly in the draft? I can't wait to see!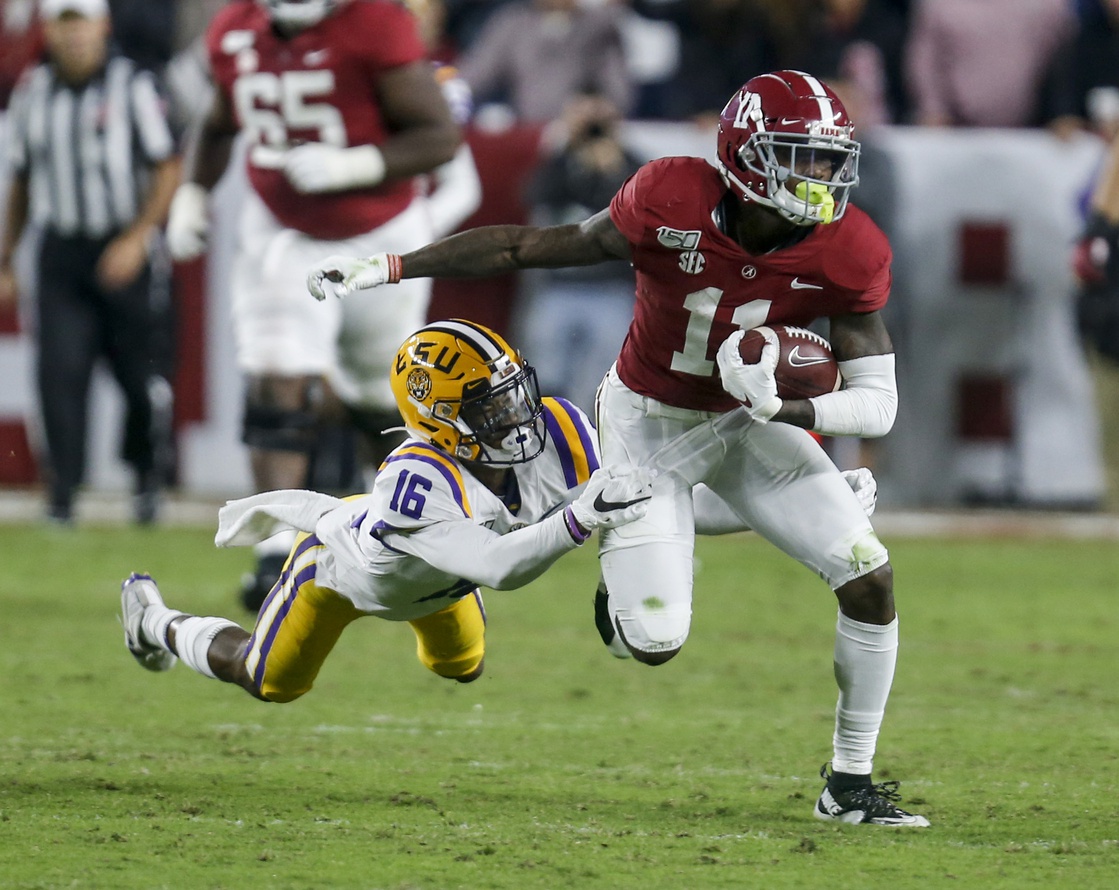 Does the strength of the draft class push the wide receivers down?
Nobody drafts in a vacuum. The quality of players isn't the only thing that determines who gets drafted where, as each team is also drafting against the rest and weighing the quality of player against the drop-off from one player to the next. This is widely agreed to be one of the best receiver classes ever, but does the depth in the group push almost all of them down because teams know they can get players who would ordinarily be Day 1 picks in the second or third round? I can even see players like Jerry Jeudy slipping lower than he should — from a sure-fire top-10 player to the middle of the first round — because the flaws teams can nitpick in his game combined with the quality of players who will be available later may cause some teams to address a different position with their first pick.
Where does Henry Ruggs III go?
One of the most divisive players in the draft, Ruggs has supporters who think he should go in the top five but also analysts who believe he belongs as the fifth-best receiver in the draft. Ruggs is a fascinating case study in projection over production, which is only made more intriguing by the obvious comparison to his own teammate, Jerry Jeudy. Ruggs has spectacular athleticism above and beyond the 4.27 forty time, and he has experience playing on the outside and running the most impactful and valuable routes. There is reason to be excited about his potential if he can get anywhere near his ceiling as a player, but that is an oft-told story around this time of year, and there is a long list of underproductive, speedy receivers who never justified it littering the history books before him. 
Who will be the one random name called in Round 1?
No matter how high or low you are on a prospect, there is somebody else who is either higher or lower. Almost every year, there is that one player who hears his name called a round or two earlier than expected, leaving everyone else wondering what on earth just happened. NFL teams may subscribe to plenty of groupthink, but there is also plenty of belief in their own ability to identify a diamond everybody missed, however misplaced that confidence may be. As interesting as the rest of the first round is, I'm always most excited for the first name that makes everybody else stop back and say, "wow!"
How far off is the media from the NFL this time around, given all the in-house work?
This season is a unique draft as the world copes with COVID-19 and everything associated with that. NFL teams have been largely working remotely, which changes how they operate in any number of ways beyond simply having to improvise what are usually face-to-face meetings with prospects. Their usual interaction with the media and the outside world has also changed, and it will be interesting to see if that has had any effect on how well the media has managed to keep its finger on the pulse of what teams are thinking. I've spoken to NFL sources who are typically in the know when it comes to a team's view on prospects at this time, and they are significantly more in the dark because of the disruption. That likely has a knock-on effect on the media.
Will we see a running back selected in Round 1?
Running backs have become a big hobby horse of analytics and data-driven team building. Their value is definitely falling — Christian McCaffrey's monster deal notwithstanding — but it takes 32 NFL teams to buy in for their value to fall all the way. Teams still consistently draft running backs in the first round, no matter how much evidence points to why they shouldn't. This draft has some top quality backs in it, and if all positions were created equal, they would deserve a spot in the first round. But all positions are not created equal, and running back is quickly becoming the least equal of them all. Is that knowledge enough to stop a single team pulling the trigger in the first round, or will some team simply be unable to stop themselves snagging one of these exciting ball-carriers?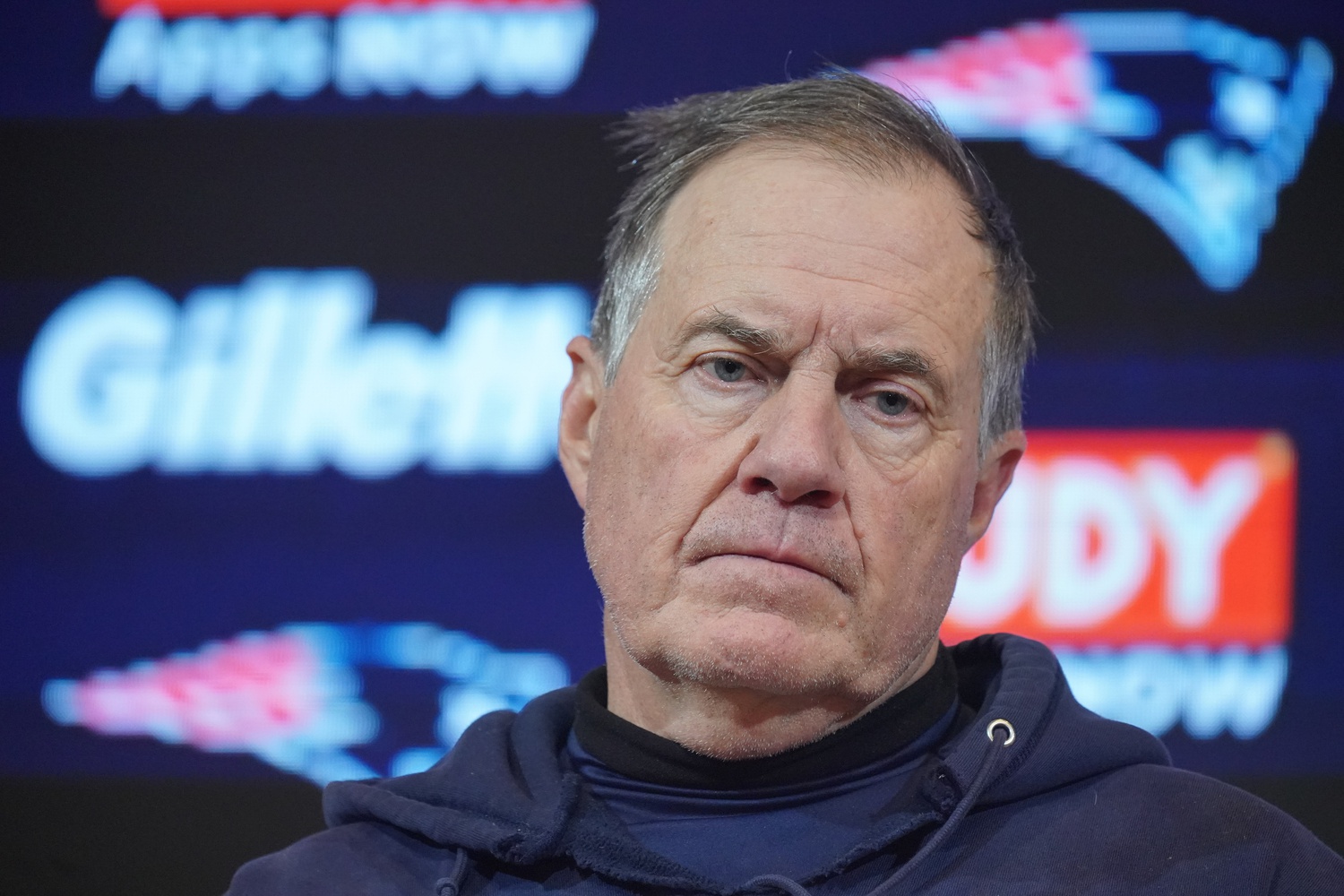 Offensive line help or new playmakers for the NEW YORK JETS?
No matter the strategy, the Jets enter the draft with major holes at the most valuable positions on the field. If they're going to get the most out of Sam Darnold, they need to improve along the offensive line and especially at wide receiver. Normally, I'm all for getting a receiver who gets open quickly, mitigates the holes in pass protection and gives the quarterback a trusted option to all levels of the field. However, the offensive line must be at least an average unit or it's a huge detriment to the offense, and the Jets made numerous moves in free agency that still may have them ranking among the bottom half of the league. So at No. 11 overall, do the Jets look to one of the top offensive tackles? Or do they come away with one of the top receivers? In my perfect world, they go offensive tackle in the first then take advantage of the wide receiver depth in the second.
As a part of their rebuilding effort, the Raiders had three first-round picks last year and have two more in this year's draft. Last year, we were uninspired by their selection of our No. 5 edge defender at No. 4 overall before taking a running back and a box safety to round out the first round — all moves that are not great for long-term team-building strategies. The Raiders still lacked in the two most important non-QB areas of the field last season: receiving and coverage. Those holes must be shored up in this draft if the Raiders are going to maximize the return on the Mack trade, which wasn't as crazy as many media members made it seem. Adding three or four starters in exchange for one superstar is good business in the NFL, but those starters are better served if they're at valuable positions. The Raiders are poised to take advantage of the deep group of receivers while also adding a starting cornerback in this draft, and that would be a huge win that closes the book on the Mack chatter.
Bill Belichick hasn't had to worry about a starting quarterback for as long as he's been head coach of the Patriots, so we now get to see what the greatest coach of all time sees in this quarterback class and beyond. Tom Brady and Belichick have been the best pairing of all time, but obviously having an elite quarterback allows for some buffer room from a team-building standpoint. Belichick has never had to find an immediate starter in New England, though he did draft Brady's expected successor in Jimmy Garoppolo in 2014. It's now time to get into Belichick's mind from a team-building standpoint. Is a veteran quarterback still in play? Will he trade up in the first round? Will he still let the draft come to him? Which quarterback does he value in this class? This is the first time we'll really get into Belichick's head when it comes to quarterback.
How do the LOS ANGELES CHARGERS handle the quarterback position?
At No. 6 in the draft, the Chargers will either be sitting at a pivotal point in the draft or a lucky one. Based on the PFF Draft Board and evaluations, we see two clear cut top quarterbacks in Joe Burrow and Tua Tagovailoa, with Justin Herbert and others living in a distant second tier. If Burrow and Tua are off the board, would the Chargers consider Herbert with the sixth overall pick? Or, if the rumors are true, Los Angeles could stumble into an opportunity to draft Tua if the Dolphins select Herbert at No. 5 overall. If that's the case, it could be the biggest payout in the entire draft, as the Chargers roster is strong and Tua has the potential to maximize their solid group of playmakers. The Chargers could walk away with Tua, Herbert or incumbent starter Tyrod Taylor plus one other quarterback for competition, and this draft will define the franchise for years to come.
Where does ISAIAH SIMMONS land, and how is he deployed?
We'll only get the answer to the first part on Thursday night, but Simmons is one of the more fascinating stories of the draft as his skill set is exactly what an NFL defensive coordinator would draw up in order to combat the evolving offenses that have taken over the league. Simmons played part safety, part linebacker and part slot cornerback for Clemson, performing well in all areas and testing out as one of the best athletes in the draft at the combine. The question becomes, where does he best fit? Simmons could be an excellent strong safety, a chase-and-run linebacker or a gameplan-specific chess piece used to cover tight ends or bigger receivers, spy mobile quarterbacks or match up with speedy running backs. Whichever team drafts Simmons must have a specific plan for maximizing his value, and we'll at least hear from his new team in their post-draft press conference to glean any insight into how he'll be used.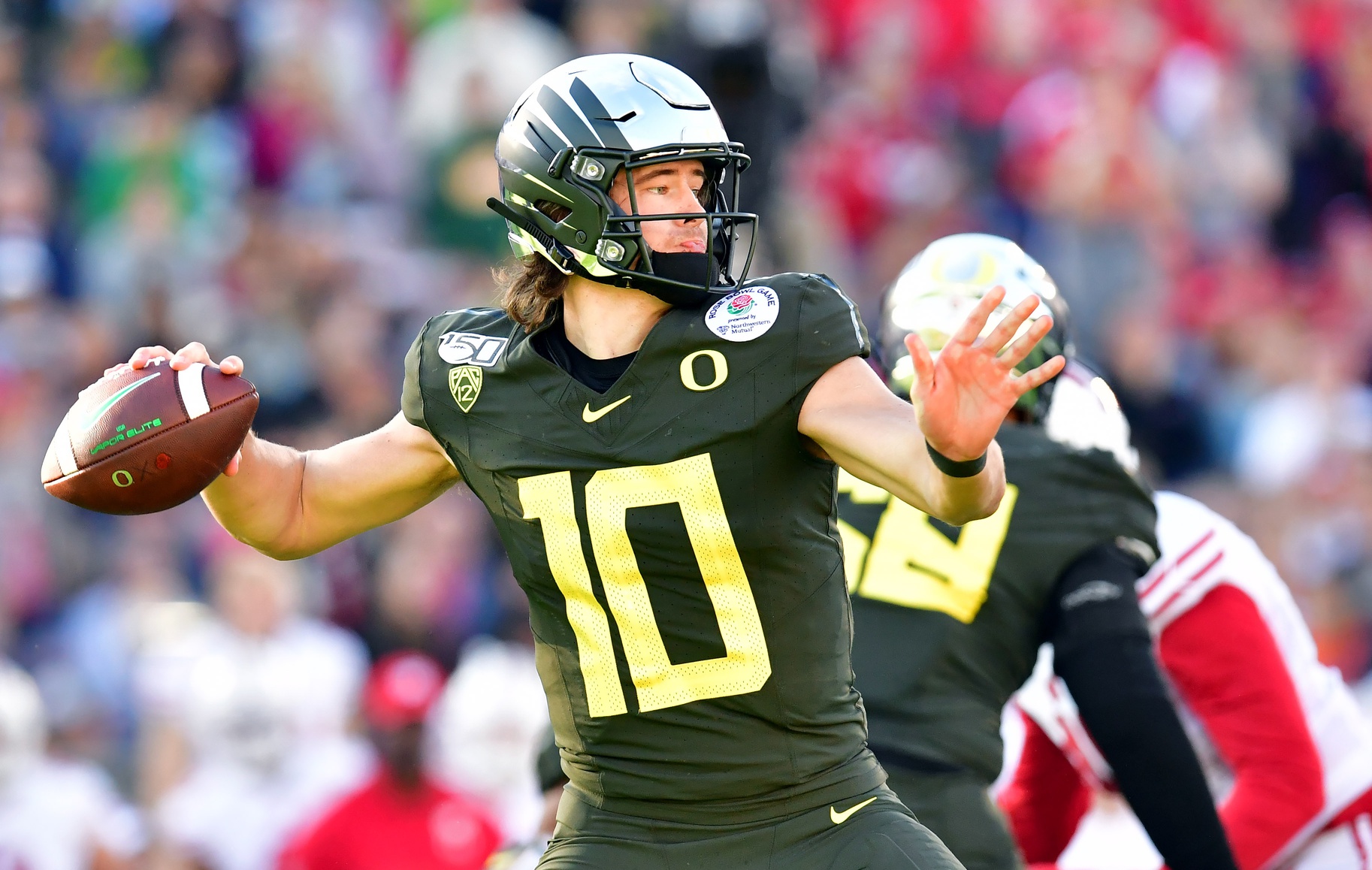 Are the MIAMI DOLPHINS actually enamored with JUSTIN HERBERT despite his inaccuracy, or are they just trying to keep another team from trying to trade up?
It's hard for me to believe that anyone with a fully functioning brain could draft Justin Herbert over Tua Tagovailoa. So, either the Dolphins are out of their mind, or they are doing a great job making sure they don't get jumped by a team picking behind them. If it's the latter, they deserve the prize of getting Tua and keeping the rest of their NFL-best draft capital, which might put them on a fast track to go from worst to first in the AFC East.
Will the supposed lack of groupthink created by the COVID-19 pandemic result in more Clelin Ferrells?
The Raiders taking Clelin Ferrell fourth overall in last year's NFL Draft was one of the most hilarious moments of 2019. Just because you like a player a lot doesn't mean you need to overpay for him; I love In-N-Out burgers (3×3, animal style, plus chopped chiles), but I'm not handing over $100 bills for a $6 burger. I am very skeptical of whether the "stay at home" order is changing much of anything. However,  if the pandemic does make an impact, it could be that teams know less about how their rivals' value players, meaning more of them will be willing to spend high picks on prospects who do not even remotely deserve them. 
Will anyone make a major trade up for a non-QB
Yesterday we were reminded of perhaps the worst draft-day trade of all time — when the Mike Ditka-led New Orleans Saints sent every single draft asset they could find to trade up and draft a running back.
Imagine if Twitter was around in 1999 when the Saints traded an entire year's draft (and a 1 and a 3) to draft RB Ricky Williams at No. 5. pic.twitter.com/WzEvsTHkxh

— Ben Fawkes (@BFawkesESPN) April 19, 2020
Trading up is almost always a losing proposition because drafting players — regardless of how certain you are in your evaluation — is super risky no matter where you pick. You are better off just drafting more players than you are drafting one a few spots higher in the pecking order. The one area where this does work is when you trade up to select the most valuable position in sports — a quarterback. While many teams have made major moves to move up and acquire the stud QBs, this particular draft class has only two quarterbacks who are worth trading up for and a bevy of talented wide receivers and offensive tackles who could tempt a foolish organization to pay a pretty penny to select "their guy" in lieu of letting the draft come to them. 
Which team, if any, among the Redskins, Lions or Giants will extract fair value for their top-four pick?
If I were the general manager of either of these three teams, I wouldn't hesitate while striding to the Zoom podium to select Tua. Should someone offer me a king's ransom in a trade on my way to making that pick, I would certainly listen closely. The one thing I wouldn't do is spend the pick on any other position (full disclosure: I think Chase Young and Jeff Okudah are absolute studs). The value of that top-four pick resides simply in the ability to procure a quarterback capable of playing at an elite level and thus raising your franchise from irrelevant to playoff contender. While it would be great to have Young, Okudah or any of the top tackles, either of those franchises would be far better off leveraging the value of the QB and acquiring more draft capital or simply taking Tua and letting him compete for their starting job. The ability to make the right decision could go a long way for any of these three teams, and failure to do so would be vastly selling their hard-earned high-pick far short of its true worth.
Will teams take advantage of the deep WR class by investing multiple times in the early rounds?
Having done about a million mock drafts using the PFF Mock Draft Simulator, it seems likely that the offensive tackles will be the more prized possession early on in the first round while many decide to wait to take a wide receiver later on because of how deep the class is. I certainly don't disagree with selecting a wide receiver later in the draft, but why not pick one early as well. Wide receiver value should not be understated — the value of throwing to an open receiver is nearly twice that of throwing to one who is in tight coverage, and there is no rule against double-dipping in a deep class.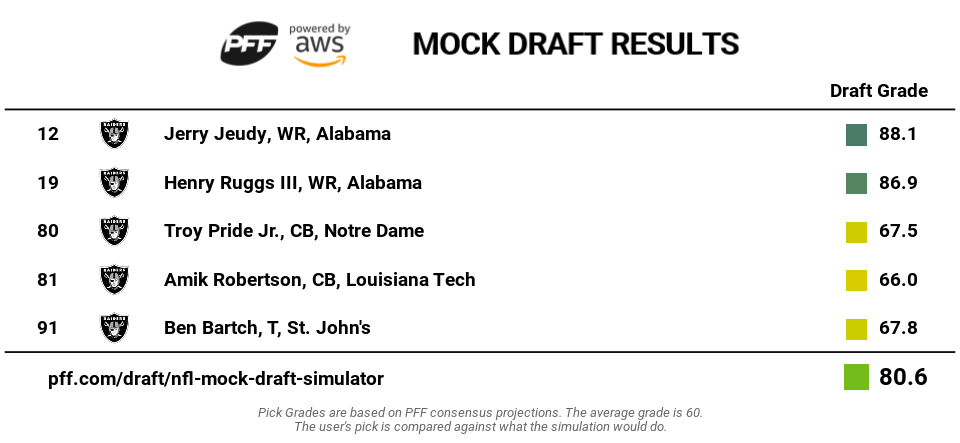 Will the perceived higher uncertainty caused by the COVID-19 pandemic lead to fewer trades on the first two days of the draft?
NFL teams are reportedly not happy about the circumstances surrounding this year's draft. The lack of pro days and in-person meetings with prospects has general managers believing they know less about the prospects than in prior years. A natural consequence would be that teams are not willing to give up additional draft capital to move up for a player they not only liked on tape but liked as a locker room presence. In the last two years, we've seen significant trades into the middle of the first round with the New Orleans Saints drafting Marcus Davenport and the Pittsburgh Steelers drafting Devin Bush. Will teams temporarily suspend this type of move in this year's edition?
When will the run on the second wave of wide receivers begin?
While the top three of this year's deep wide receiver class seems to be set in stone with Jerry Jeudy, CeeDee Lamb and Henry Ruggs, III evaluations of players within the next tier(s) are most likely all over the place across teams. Will the Philadelphia Eagles and Minnesota Vikings start a run on these players in the early 20s, potentially starting a dynamic that could exceed 2014's run when 12 receivers were drafted in the first two rounds? Or will teams hesitate, banking on talent being available long enough in this deep class?
How will the TAMPA BAY BUCCANEERS handle the balance between helping Brady win now and thinking about the future?
Signing Tom Brady has answered the Buccaneers' question mark at quarterback for the time being, but this solution is obviously one or two seasons at best. While selecting a quarterback with the 14th overall pick or even by trading up has become a lot less likely, taking a shot at a future signal-caller on Day 2 of the draft looks like a realistic and worthwhile option. On the flip side, this could cost them a potentially good player to help them win in the years 2020 and 2021, as Tom Brady could still use a reliable option at right tackle as well as another solid option at wide receiver behind the two studs Mike Evans and Chris Godwin. Brady reportedly asked for a voice in player personnel decisions — would he approve of drafting his successor with a relatively early pick?
How many interior offensive linemen will go off the board in the top 50?
With standout Quenton Nelson leading the pack, the last two years featured a lot of interior linemen at the top of the draft, but this year is different. We have three interior linemen in the top 50 on our PFF Big Board with Netane Muti, Jonah Jackson and Cesar Ruiz. And that's just because we are higher on Muti and Jackson than the public, as public mock drafts imply only one Cesar Ruiz being drafted in the top 50. Will Ruiz really be the only interior offensive lineman selected that early? This has happened only once since 2000: In 2017, Forrest Lamp was the only guard lucky enough to get his name called within the first 50 picks of the draft.
When will the first running back go off the board?
After NFL teams didn't select running backs in the first round in 2013 and 2014, at least one running back had his name called on Day 1 in each year since 2015. There is some chatter about the Dolphins selecting either D'Andre Swift or Jonathan Taylor with the 26th pick, but both running backs have fallen out of the first round in terms of expected draft position. Since the Dolphins would most likely get one of those two backs (or another running back with enough talent) in the second round, 2020 could be the first year since 2014 that doesn't see a running back being selected on the first day of the draft.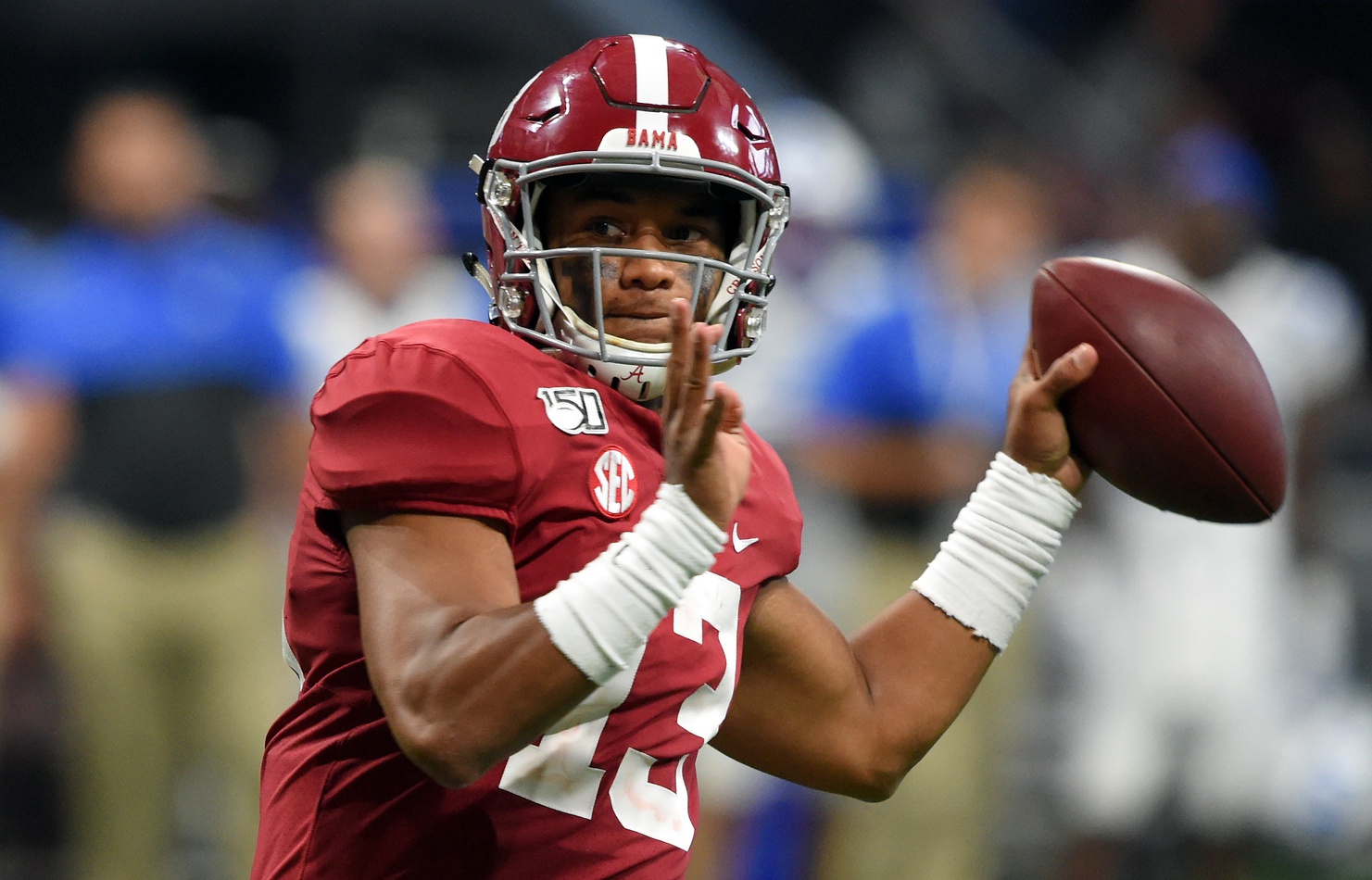 Will Tua Tagovailoua fall far enough to put him in play for teams we hadn't expected?
The implied odds in betting markets for Tagovailoua being drafted after the sixth pick (Chargers) have moved from practically zero weeks ago to roughly 30%. If he falls that far, he's firmly in play to be drafted by the Jaguars, Raiders or even possibly the 49ers, and the cost of trading up becomes palatable for teams like the Saints and Patriots. After all the talk connecting Tagovailoua to the Dolphins and Chargers, could he end up landing with a team no one is talking about?
The upside talk on Love has moved from fringe first-round pick to possibly going before any quarterback but Joe Burrow. Love has everything that tools-lovers worship, and all it takes is one team fooling themselves into thinking that their coaching and development will turn him into the next Patrick Mahomes.
Will teams be less willing to trade during the draft because of technical issues?
Fifteen minutes can seem like an eternity waiting for the next draft pick, but it's probably a lot more nerve-racking in NFL draft room when a team is on the clock, weighing different options to trade back and needing to fill the requisite paperwork in on time or get jumped by the next team picking. For general managers who are typically overconfident in getting their guy, questions about their new environments could be enough for them to pass on all trading opportunities and simply default to the best player available, sending trading activity plummeting.
Will any team punt on this draft and collect 2021 picks to tank for Trevor (or Fluke for Fields)?
The Dolphins famously collected 14 picks for 2020, but it's possible they and others would rather shove that draft capital a year forward to have a shot at trade up for Trevor Lawrence or Justin Fields than settle for any non-Burrow quarterback in this draft. There isn't always a chance to trade up for a franchise quarterback, but in three of the last four drafts where multiple quarterbacks were selected in the first three picks, one was acquired via trading up. Perhaps the Dolphins — or another team drafting early — will decide to use their early draft capital to position for 2021 rather than grab an injury-prone Tagovailoua or inconsistent Herbert.
Do teams with young quarterbacks surround them with linemen or weapons?
The Giants, Cardinals, Jaguars, Browns and Jets will all likely be faced with the decision to take a top offensive tackle or wide receiver in the first round, and how they choose will say a lot about changing perceptions of value in the NFL. The value of a stud tackle was once seen as second on offense to the quarterback, but now our WAR metric has shown that wide receivers are really the second most valuable pieces on the football field and offensive linemen are valuable because of steady play, not greatness. Adding a tackle also only solves one-fifth of protection, whereas a dynamic wideout can become a meaningful threat from Day 1. The decisions these teams make, with perceived depth at the wide receiver position, will reveal if attitudes are shifting in NFL front offices.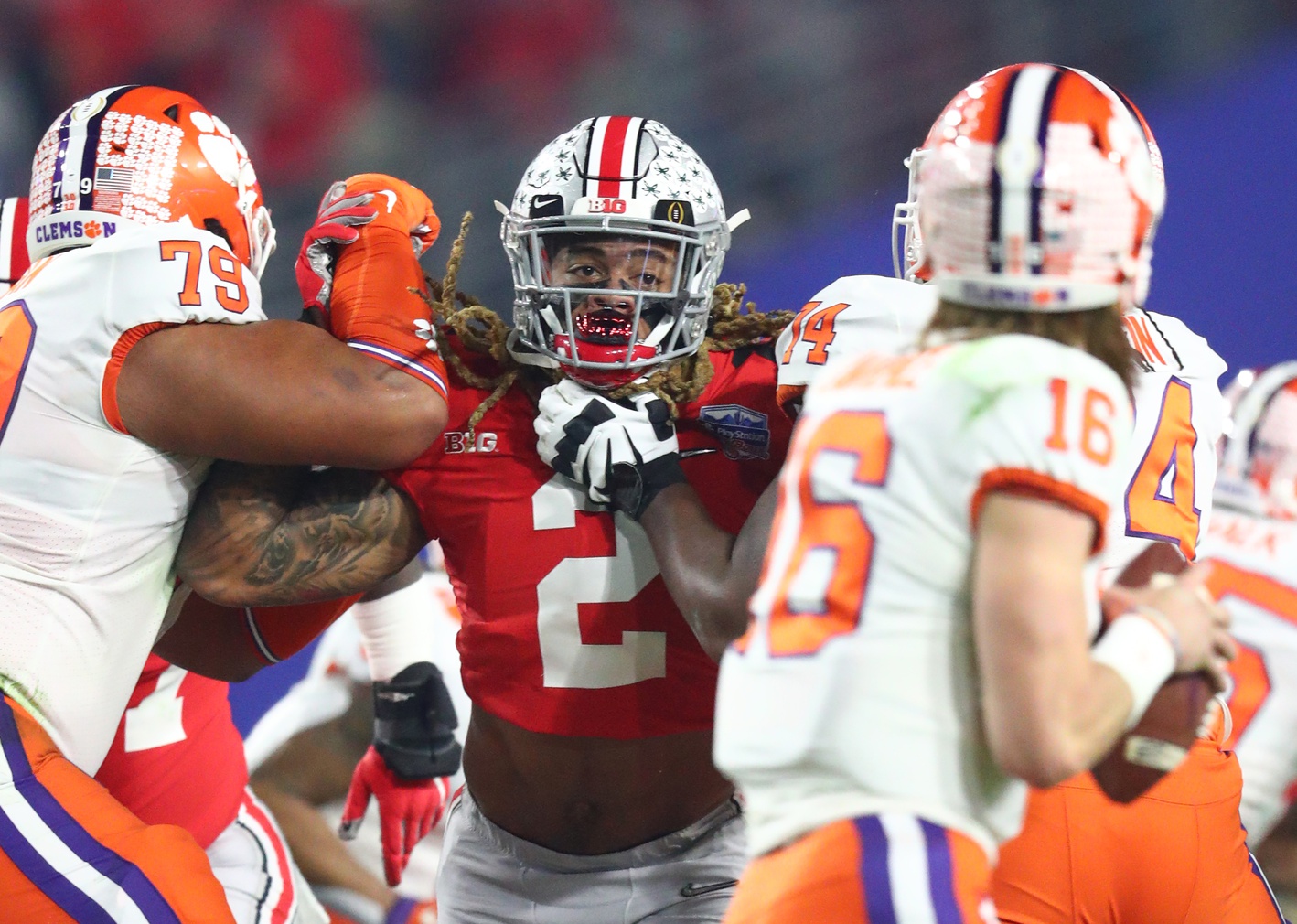 Ben Linsey's Five Questions
To what extent will teams overdraft edge defenders in a weak class?
Chase Young has everything that you want from an edge defender. As it says in the PFF Draft Guide, he's the best edge prospect we've scouted since 2014. Behind him, though, things get murkier with question marks attached to the next group of players at the position. Will Curtis Weaver's production in the Mountain West Conference translate to the NFL against better athletes? Why did players such as K'Lavon Chaisson and Yetur Gross-Matos fail to show signs of dominance in college despite dominant physical traits? The lack of depth behind Young, coupled with team needs for edge rushers, will likely see players like Chaisson and Gross-Matos come off the board in the middle of the first round as front offices buy into their athletic upside. We see both as better fits on Day 2.
How far down the board will injury concerns push Laviska Shenault?
There appears to be little chance that Shenault comes off the board on Thursday, with much of the "second wave" of wide receivers drawing considerably more buzz than the Colorado product. The injury history is certainly a concern for Shenault, but that hasn't stopped him from coming in at WR4 on PFF's Big Board. He's simply electric with the football in his hands, drawing a player comp to Saquon Barkley in the PFF Draft Guide, and he has the tools on tape that show he could be a plus route-runner even if he's not there right now. If he manages to stay healthy, some team out there is likely to get a steal on Day 2.
Does Dave Gettleman have everyone fooled?
On Barstool Sports' Pardon My Take podcast, Buffalo Bills general manager Brandon Beane said that he thinks Gettleman is intentionally fooling media members into thinking he isn't smart. This comes at the same time that Gettleman is talking about wanting to trade down (smart) and saying that you can never have too many great players at one position (it depends). If that is in reference to a possible Derrick Brown selection at fourth overall — as many have theorized — it would hardly qualify as smart. Run-first interior defenders are low on the totem pole of positional value. That appears to be where Brown fits in, and the Giants are already set there with players like Dexter Lawrence, B.J. Hill, Dalvin Tomlinson and Leonard Williams. Then again, maybe Gettleman is just laying down some smoke as part of his master plan.
How does the cornerback position shake out after Jeffrey Okudah and C.J. Henderson?
There is a pretty clear one-two punch at the top of the CB board — Jeffrey Okudah (Ohio State) and C.J. Henderson (Florida). Both players figure to have the kind of skill set to stick with the NFL's top wide receivers in man coverage, which is a valuable skill to have. Behind those two, though, opinions differ. Kristian Fulton, PFF's CB2, isn't getting the love around the media and NFL community that we feel he deserves. Jaylon Johnson has risen up draft boards and figures to hear his name called in Round 1. A.J. Terrell has the kind of length and speed that you look for in a man-coverage cornerback who can match up with the opposing team's top option. I'm interested in seeing how the NFL values the different options and where they end up coming off the board.
It may be on the back burner right now, but the NFL draft is also a time for moving some of the league's established big-name players. Jamal Adams and Desmond King II are two of the names that have been thrown around to possibly be on the move over the course of the draft. Both of those players are among the best at their position. Adams can line up all over the defense, bringing positive play with him wherever he goes, while King has been one of the best slot cornerbacks in the NFL since joining the Los Angeles Chargers as a fifth-round selection in 2017. If either of them were to be shopped, one of the bigger acquisitions in the 2020 NFL Draft could come from outside the draft class.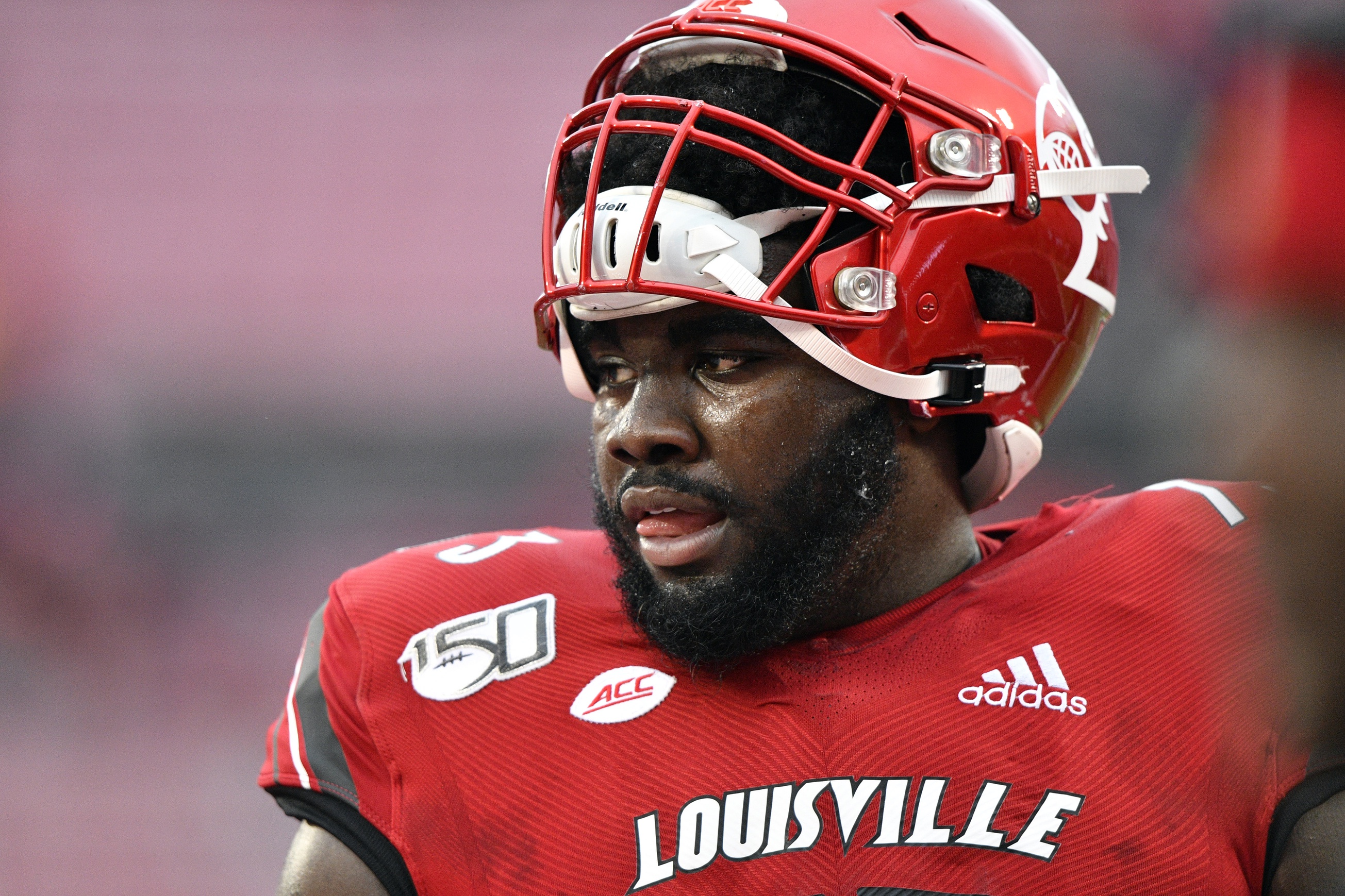 Do teams with "older" QBs — like the Steelers, Packers, Colts and Saints — consider the future and take a QB?
The Steelers, Packers, Colts and Saints all have two things in common: their starting signal-caller is on the final stretch of their top-tier playing years, and they have all been rumored to be interested in one of the second-tier quarterbacks like Jalen Hurts or Jordan Love. It's more likely the Colts, who signed 38-year-old Philip Rivers to a one-year deal, will take one of the second-tier quarterbacks, but teams like the Steelers, Packers and Saints could all possibly take a guy like Hurts, Love, Jake Fromm or Jacob Eason in this draft.
At what point do we see teams start investing in non-FBS prospects?
Last year we saw one non-FBS player taken in the first round in Alabama State's Tytus Howard and another taken in the second round in Delaware's Nasir Adderley. We probably won't see a non-FBS prospect come off the board in the first round this year, so at what point do we see start seeing the FCS, D-II and D-III products start to come off the board? There are five non-FBS prospects within the top 120 of the PFF Draft Board entering the draft: safety Kyle Dugger (Lenoir-Rhyne), tackle Ben Bartch (St. John's), tight end Adam Trautman (Dayton), safety Jeremy Chinn (Southern Illinois) and wide receiver Isaiah Coulter (Rhode Island). With the cancellation of pro days and visits due to COVID-19, will teams be less willing to invest in the small school guys early?
Which team overdrafts on potential first?
Every single year we see a team draft a prospect early in the draft because of character or physical tools instead of collegiate production. One of the prospects likely to go early because of their "potential" is offensive tackle Mekhi Becton of Louisville. Becton is 6-foot-7 and 364 pounds with 35 5/8-inch arms; he is a certified unit that offensive line coaches would dream of having on the roster. However, the physical profile is really all he has going in his favor. He struggled on his true pass sets (eight pressures on 73 such reps) and didn't perform well when he went up against talented edge rushers (Week 1 against Notre Dame). Justin Herbert is another prospect who will likely go early because of his potential. Which team will reach on one of these guys first? Will it be the Giants taking Becton fourth overall? Or will it be the Dolphins taking Herbert fifth overall?
Who swings the bat on an interior defensive lineman first?
By now, you'll know that running backs don't generate enough value to be taken early in the draft, and it seems like the league has caught wind of that. There is, however, another position that doesn't quite generate enough value to warrant an early selection in the draft: Interior defensive linemen. In fact, you won't find a single interior defensive lineman in the first round of the PFF analytics mock draft. Auburn's Derrick Brown and South Carolina's Javon Kinlaw are two interior defenders who could be taken within the first 15 picks of the 2020 NFL Draft, but as great as they are at the position, it's still just too early for them. So, who will it be? The Jaguars at No. 9 overall? The 49ers at No. 13 overall?
How do the MINNESOTA VIKINGS address their depleted cornerback unit?
One of the most intriguing storylines of this draft is how the Minnesota Vikings will handle their cornerback unit. After cutting Xavier Rhodes and losing Trae Waynes and Mackensie Alexander to the Cincinnati Bengals in free agency, the Vikings are now left with Mike Hughes (who produced a poor 59.6 coverage grade in 2019), Nate Meadors (11 career snaps) and Holton Hill (who performed well in a small sample size in 2018 but poorly in a small sample size in 2019) as their top cornerbacks on the roster. They now have two first-round picks (22nd and 25th overall) thanks to the Stefon Diggs trade and have their own second- and third-round selections as well as a third-round comp pick, so at what point do we see them address this glaring need? Do they do what they likely should and take two cornerbacks in the first round? Or do they risk waiting to see if one falls to them on Day 2?