Tua Tagovailoa looked like a natural from the first time he stepped onto the collegiate field in mop-up duty in 2017. There was something about his feel for the passing game that suggested something special might be on the horizon. The Alabama passing offense took on a new feel and a quicker pace, even with a true freshman at the helm.
Fast forward to the 2017 National Championship game: Jalen Hurts is benched in favor of Tagovailoa, who goes on to throw the game-winning touchdown in one of the most dramatic finishes in college football history.
The following season saw Tagovailoa firing the ball all over the field to NFL-caliber receivers. His junior year was more of the same until injury struck, ending his 2019 season before he could add a second championship to the mantle. 
Before the hip injury, Tagovailoa was widely considered to be the coup of the 2020 NFL draft class. Ongoing reports about his health will determine whether we're talking about a top-10 pick come April or a potential mid-to-late first-round steal.
When healthy, Tua is quick-minded with a lightning-fast release to go with excellent accuracy to all levels of the field. He can win from the pocket while also creating magic outside of it, but there are still some questions about just how much of his production came from a star-studded group of receivers who consistently created huge windows in the secondary.
Let's have a look.
The Good
While Tagovailoa is generally quick and decisive in the pocket, his best work comes when he can confirm his receiver's leverage and put the ball in a good spot where his guy can get it. This skill translates well to systems with option routes where Tua can take the extra split second to ensure that his receiver is on the same page before throwing with accuracy against the leverage of the defender. This isn't to say that he can't throw without anticipation, but he has an excellent feel for seeing his receiver and then throwing accurately with his quick release. 
Watch as Tua turns down the pass to the flat before seeing TE Irv Smith creating just enough separation on his out-route. Tua resets his feet and puts the ball in a place where only Smith can make a play on it for the touchdown. 
Look at the precision on this throw by Tua pic.twitter.com/vDTfNn9bjf

— Steve Palazzolo (@PFF_Steve) September 15, 2018
It's a similar story against South Carolina last season as Tua sees WR Jerry Jeudy start his break and puts the ball right where it needs to be, even when throwing from the far hash.
I think one of Tua's best attributes is his ability to see/confirm leverage from his receiver and put the ball right where he wants it.

"See it, throw it" pic.twitter.com/V8CzZaGy9p

— Steve Palazzolo (@PFF_Steve) February 21, 2020
Tua has shown impressive accuracy to all levels of the field. He is No. 3 in the draft class in overall accuracy percentage (using actual ball location) over the last two seasons, and he ranks second in both 10-plus yard throws and throws in the 1- to 5-yard range. He also has a feel for changing velocity on the ball, from zipping in a dig route to layering it over a linebacker to dropping it in a bucket down the field. Those various throw types allow Tua to use the entire field, making him extremely difficult to defend.
Here's a look at a pass with excellent touch over the linebacker.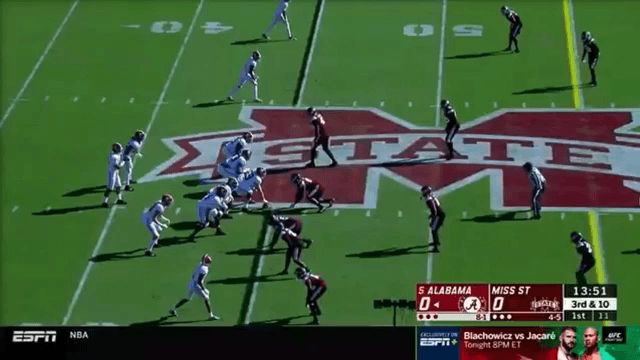 And here's one where he has to zip it in over the middle of the field. Tua showed improved velocity during the 2019 season.
When we look at the most important metrics for projecting quarterback play, Tagovailoa ranks among the best in the class in all categories. 
| | | |
| --- | --- | --- |
| Category | PFF Grade | Rank |
| All Passing | 91.8 | 2 |
| Clean Pocket | 93.2 | 2 |
| Early Down | 90.6 | 3 |
| No Play-Action | 91.9 | 2 |
| Standard Dropback | 92.1 | 3 |
Over the last two years, Tagovailoa ranks no worse than third in PFF's most stable quarterback metrics — the ones that translate best to the next level. The most important numbers are the ones we see most often at both the college and NFL level, and Tua ranks highly in clean pockets, on early downs, with no play action and on passes from the pocket (standard dropback).
All of this bodes well for Tagovailoa's projection, and when you factor in the level of competition in the SEC, it boosts one's confidence even further. 
Tagovailoa possesses all the strengths necessary to produce at the next level. 
Room to Improve
On the other side, there are a few concerns to Tua's game and a few general questions. The first question to answer is how much he was aided by a fantastic supporting cast at Alabama.
While we can certainly isolate the quarterback's decision-making and accuracy outside of the work of his receivers, it's fair to point out that he's had four 4.4 or better receivers flying around the field over the last two years. The numbers bear this out as he had the second-highest percentage of open throws last season (87.2%) and the highest percentage of throws at or beyond the sticks that were open (79.2%). 
There are also some head-scratching decisions on Tua's film. As quickly as he gets to the top of his drop and works through progressions, there are also several plays in which he's either a tick late, misreading the middle of the field or simply holding the ball too long in the pocket. 
Here's an example of two plays in which Tua did not account for middle-of-the-field defenders: He allowed an easy red-zone interception against Texas A&M and didn't see an underneath linebacker in the LSU game.
On the negative side, Tua has some rough decisions in the middle of the field.

See: Garoppolo comp pic.twitter.com/yGAY1Q7b5z

— Steve Palazzolo (@PFF_Steve) February 21, 2020
The other part of Tua's game that could go either way is his work outside the pocket. The stats are nice as he has the highest passer rating in the class (115.4), 11 touchdowns and only two interceptions to go with the No. 4 grade in the class (72.8) on plays outside the pocket over the last two years. But he also has five turnover-worthy plays. 
We may remember Tua's first start — when he fired a touchdown in a Russell Wilson-like heave: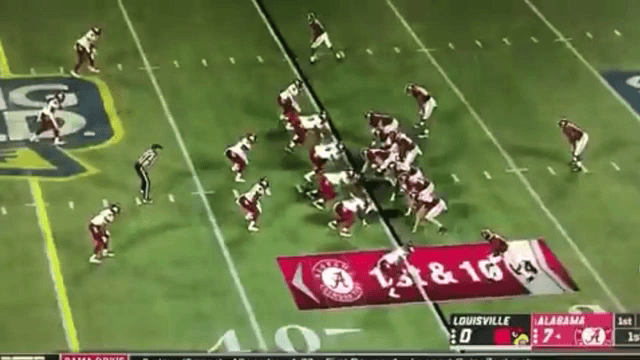 But there is also this play against Tennessee last season, in which Tua tries to do too much and it results in another red-zone turnover.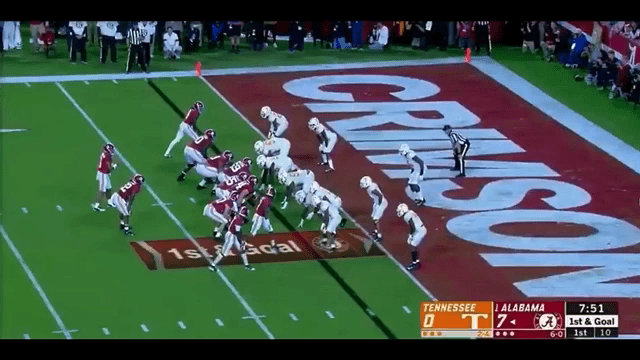 The ability, willingness and creativity to work outside the structure of the offense is a nice skill to have, and I'd argue that it's almost necessary in today's NFL. But the results of those plays will vary from game to game and season to season, even for the Russell Wilsons of the world.
Tua's willingness to make plays outside the pocket will pay off more in some years than others.
Final Word
As great as it is to break down Tagovailoa's tape, his projection hinges on health. And even if his health checks out, we have a history of varying degrees of injury that are a concern for Tua at the next level.
If he does get cleared, Tagovailoa projects well at the next level with a chance to become a high-end starter. More realistically, he reminds of Jimmy Garoppolo in many areas. Of course, no player comparisons are perfect. But, like Garoppolo, Tagovailoa has a quick release combined with good accuracy to all levels of the field — both players also mix in just enough poor decisions to instill a little doubt in their respective games.
Still, Garoppolo and Tagovailoa are both quarterbacks who can win games at the next level, especially when supported by strong playmakers and a play-action-heavy scheme. Tagovailoa should be right in the mix at the top of the draft behind Joe Burrow, assuming his health checks out.