Hey you cool cats and kittens! We knew we did something right based on the mass amounts of love and affection that came flowing in after the PFF Analytics Mock Draft 1.0. Now that the bulk of free agency is over, there are some major changes that need to be made after the San Francisco 49ers swooped in to the 13th spot and the Arizona Cardinals stole DeAndre Hopkins from the Houston Texans. We're also adding trades this time around.
[Editor's Note: PFF's new college-to-pro projection system is powered by AWS machine learning capabilities.]
Here's a recap of the methodology: We're not trying to predict what will actually happen. Rather, these are the picks we would make if we were in charge of each team. We have two primary concerns when making each pick:
1. Positional value – Our goal isn't to pick the eventual rookie of the year, it's to win a Super Bowl. Saquon Barkley is awesome at his job, but his job doesn't contribute to winning nearly as much as that of his quarterback. Players who impact the passing game have the most value, and that is reflected here.
2. Our college-to-pro projections – We take into account how each player grades in different situations in college and train algorithms to project performance into a set of NFL situations. We also take into account the prospect's athletic profile with respect to each facet of play. Here is a more in-depth look at these projections for stud playmaker Isaiah Simmons from Clemson, for example.
We also give consideration to team needs when there is a close call between two equally valuable picks. However, football is a war of attrition, so need is abundant for most teams. Prepare your trigger fingers. Let's mock.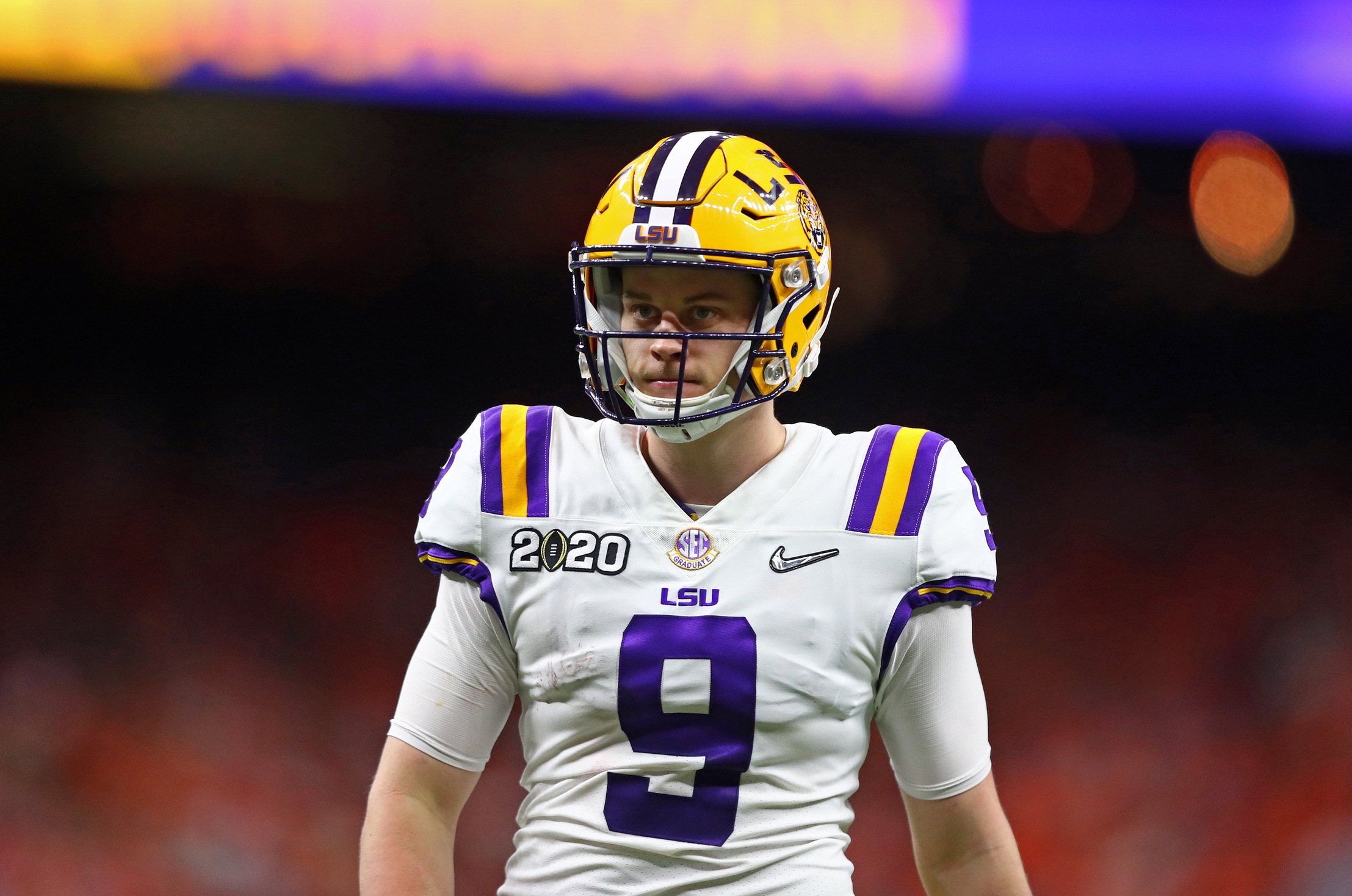 Eric Eager: No change since the last mock, as Burrow continues to be the best prospect in this draft — and the best quarterback to choose from over the next two years.
George Chahrouri: A trade up only makes sense if you are picking a quarterback with the selection, and that is indeed what Miami should do. If they don't, then they will have descend into NFL purgatory with a roster and quarterback in Ryan Fitzpatrick that is not going to be awful enough to tank for either Justin Fields or Trevor Lawrence. Tua's injury concerns feel like a thing of the past at this point, and his on-field play was nothing short of stellar.
3. Detroit Lions – Jeffrey Okudah CB OSU 
EE: This doesn't change from the first mock, with Darius Slay out (but Desmond Trufant in). Okudah is a great prospect as a press-man corner, which should allow the Lions to rush more players than they did in 2019. 
GC: You will get no argument that Chase Young is a better football player than Henry Ruggs. We aren't trying to draft the ROY, though — we are trying to add the most valuable players to each team. Ruggs plays a much more valuable position than Young and projects as the best wide receiver based on our college-to-pro projection system. As we wrote in version 1.0, the worst thing that can happen to the Giants is ending up in a position where they don't quite know about Daniel Jones because he has yet to throw to a legit set of receivers.
EE: Sometimes things work out, as Young ends up in Washington after all, with Detroit and New York vying for more valuable positions with their picks. (Here's our article on Young's statistical comps.) Getting a player of Young's caliber, along with Landon Collins and Montez Sweat last year and Kendall Fuller this year, will be a great start towards rebuilding their defense in a weak NFC East.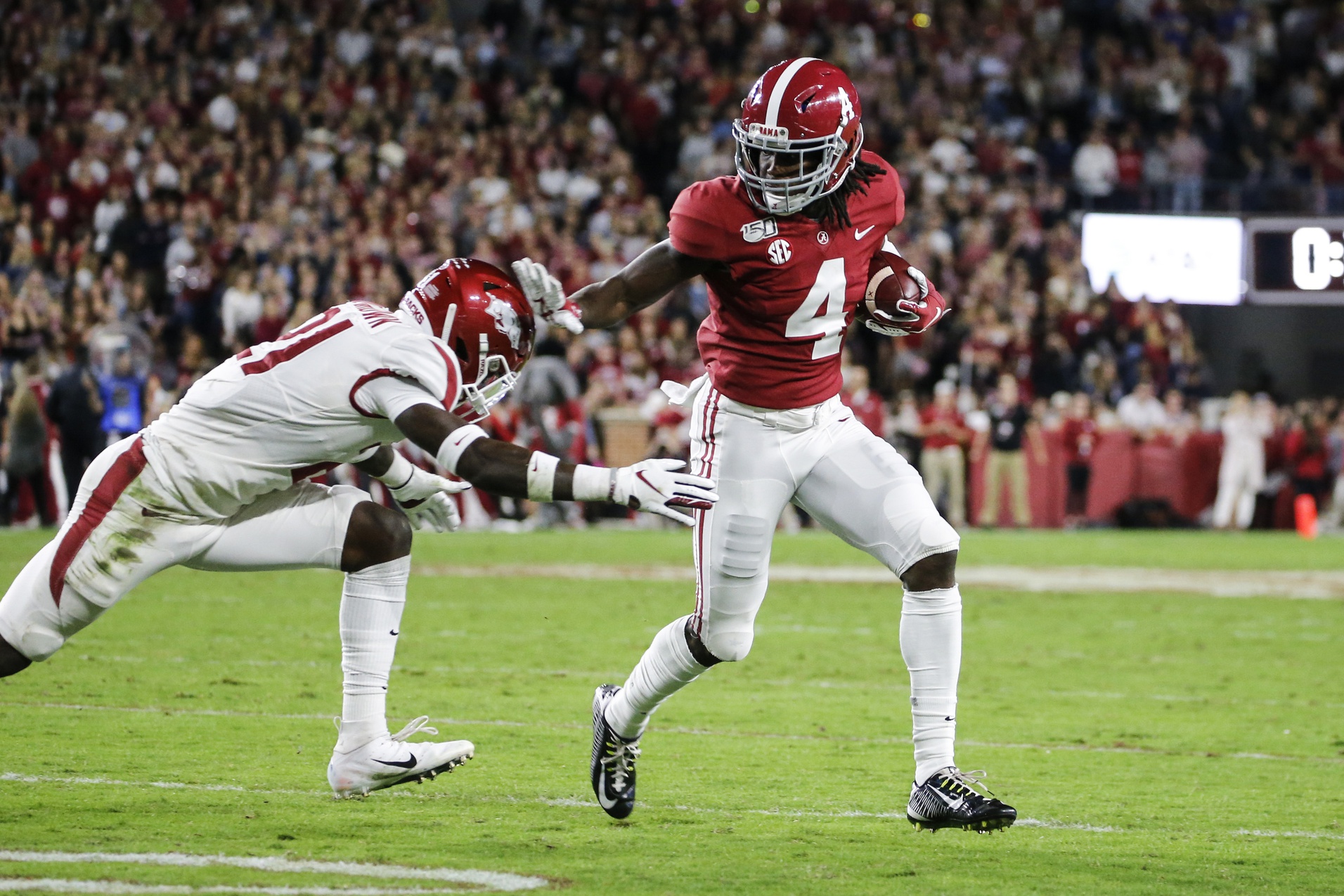 GC: The Chargers should take a flyer on a quarterback named Cam Newton, not one of stragglers left over after Burrow and Tua are gone. Jeudy gives the Chargers perhaps the best combo of secondary and receiving threats in the league, which is exactly what they need to compete with Kansas City.
7. Carolina Panthers – Isaiah Simmons Playmaker Clemson
EE: Same place we had him in our first iteration: Simmons is an absolute steal at seven to replace Luke Kuechly. (Here's an article on his statistical comps.)
GC: We had the Cardinals taking Jerry Jeudy in our first edition, and even though CeeDee Lamb is still available, the addition of DeAndre Hopkins makes taking the best tackle a no-brainer. Wirfs has incredible athleticism and should be a perfect fit for what is shaping up to be an incredible offense in the desert.
EE: Prior to the combine, Thomas had the best projection of any tackle in the class, meaning the Jaguars would be getting a good value should the combine be faded. This pick did not change from version 1.0 to version 2.0.
GC: The Browns signed Jack Conklin, who played right tackle in Tennessee. While Conklin helps their pass protection situation, he certainly does not solidify it. Jones earned the second-highest grade of any tackle we graded last season and impressed at the Senior Bowl.
11. New York Jets – CeeDee Lamb WR Oklahoma 
EE: Lamb was the fifth-most-valuable wide receiver in college football last year and the second-most-valuable WR who played less than 700 snaps. This pick remains the same, since Robby Anderson indeed left for Carolina in free agency.
GC: Okudah is getting all the hype, but Fulton is not far behind him. He earned a top-20 PFF grade in each of the last two seasons. Coverage is the most valuable facet on the defensive side of the ball (yes, more so than pass rushing), and the top wide receivers are all off the board. Fulton's versatility makes this a massive win for a team that hasn't been able to cover a $5 check for quite some time.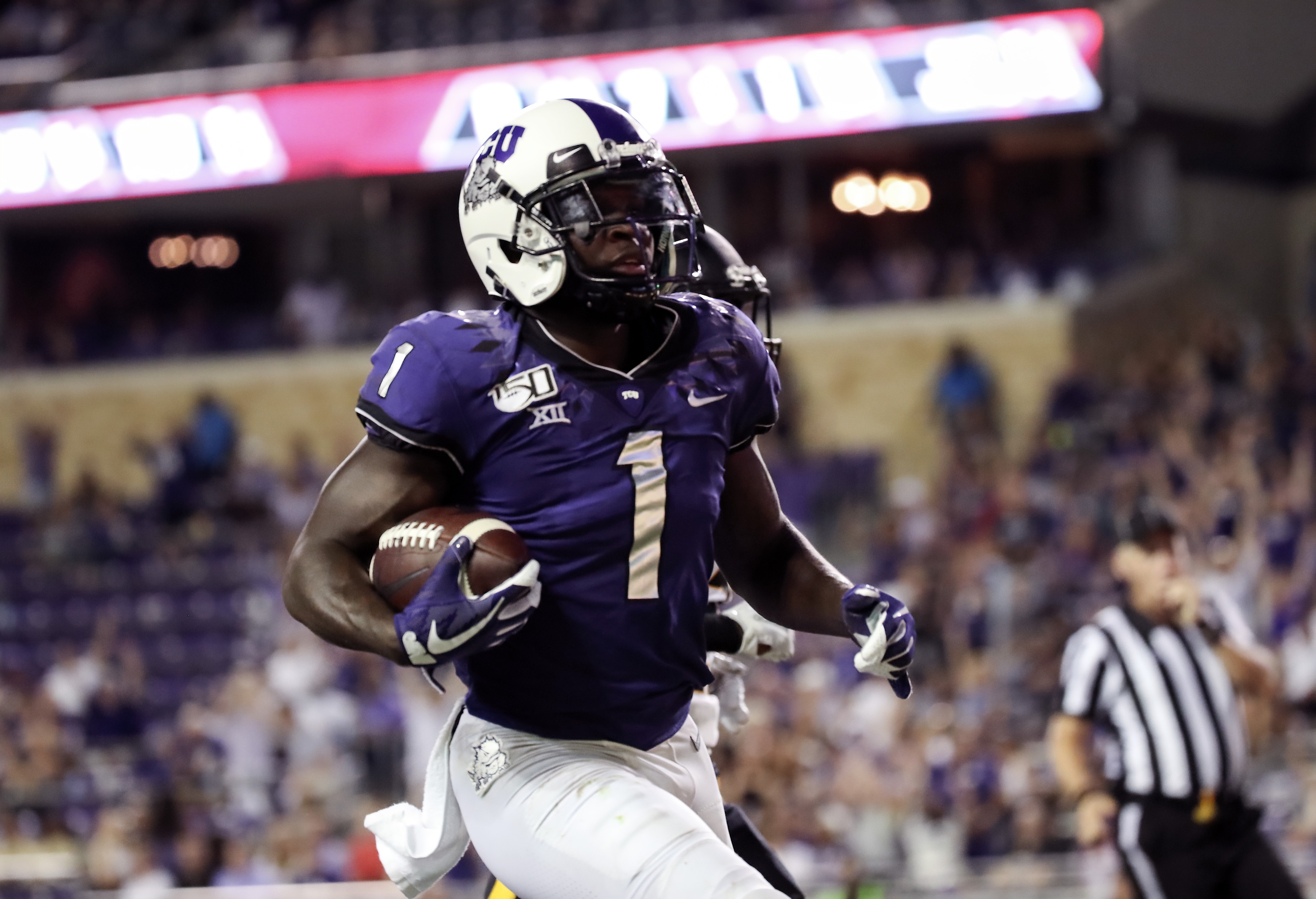 EE: The 49ers were already pretty shallow at wide receiver and lost Emmanuel Sanders in free agency. However, they picked up this selection by virtue of dealing stout interior defender DeForest Buckner and his (large) pending extension. Reagor had some issues during his time at TCU, mostly with injuries and inconsistency at the quarterback position, and followed them up with a good — but not great — combine. One of his analytical comps, though, is Allen Robinson, the type of receiver who would compliment an offense that acquired big-play threat Deebo Samuel in last year's haul.
GC: Now that Tampa Bay is in full win-now-with-Brady mode, there is some question about whether they need a slot receiver to fill out their weaponry. With Justin Jefferson on the board, he is an enticing pick, but we're not so sure Brady is ready to try out any rookie receivers after last season. (And something tells me Julian Edelman might wiggle his way down south.) Delpit projected to have the best playmaker rate (pass breakups plus interceptions) of any safety in this class and comps to the likes of Devin McCourty and Earl Thomas. He would join a defense that is suddenly full of playmakers in the secondary to complement the explosive offense.
15. Denver Broncos – Laviska Shenault WR Colorado
EE: Whether Drew Lock actually played as well as his 4-1 record as a starter or not, he's the Broncos' quarterback, and they would be smart to surround him and superstar wideout Courtland Sutton with another playmaker. Shenault statistically comps to Robert Woods, who has been a revelation for the Rams' offense since coming over from Buffalo in 2017.
16. Atlanta Falcons – C.J. Henderson CB Florida
GC: Having lost Desmond Trufant, the Falcons might actually make a move that we advise and select a corner. Diggs would have been a nice fit here, too, but Henderson has a little more versatility thanks to his athleticism, which lands him one spot ahead of Trevon.
EE: The Cowboys play a ton of press coverage and a lot of cover 1 and cover 3 concepts, which is exactly the environment we'd expect the long, rangy Diggs to thrive in. Diggs had a tremendous final season at Alabama, and while some are choosing to focus on his limitations, we'd rather take advantage of his tremendous production.
GC: Cleveland's impressive combine workouts put his pass-blocking athleticism score in the same ballpark as Tyron Smith, David Bakhtiari and Laremy Tunsil. While he projects to give up a slightly higher pressure rate, beggars can't be choosers, and the Redskins may need to provide some protection to their young quarterback. With Trent Williams ever the question mark, Cleveland helps build a strong line in the capital while making a trade more feasible.
EE: After a year in which the Raiders used their first-round picks on players that were not necessarily proven, they get a good value here in the former slot receiver from the national champion LSU Tigers. Jefferson earned almost seven-tenths of a win above average a season ago, which was better than all but two collegiate wide receivers. Whether Derek Carr or newly acquired Marcus Mariota start for Las Vegas, they'll need more than just Darren Waller patrolling the middle of the field, and Jefferson provides that.
GC: The Jags are on the verge of having the worst coverage unit in the league only a few short seasons after being the best. Gladney had tremendous production at TCU, allowing a sub 50% completion rate.
EE: This is a position of need for the Eagles, and luckily the draft is deep enough at the position for the Eagles to get some value on the outside for Carson Wentz. With DeAndre Hopkins and D.J. Chark as two of his comps, Mims projects as the all-around WR the team has lacked since Jeremy Maclin left for Kansas City in 2015.
GC: While our projection system was a little lower on Higgins than we anticipated, we are always taking into account what our good buddy and PFF's lead draft wizard, Mike Renner, has to say. Mike really likes Higgins and his ability to win at all levels of the field. Higgins will need to shine in order to make up for the many Vikings first-round wide receiver busts before him.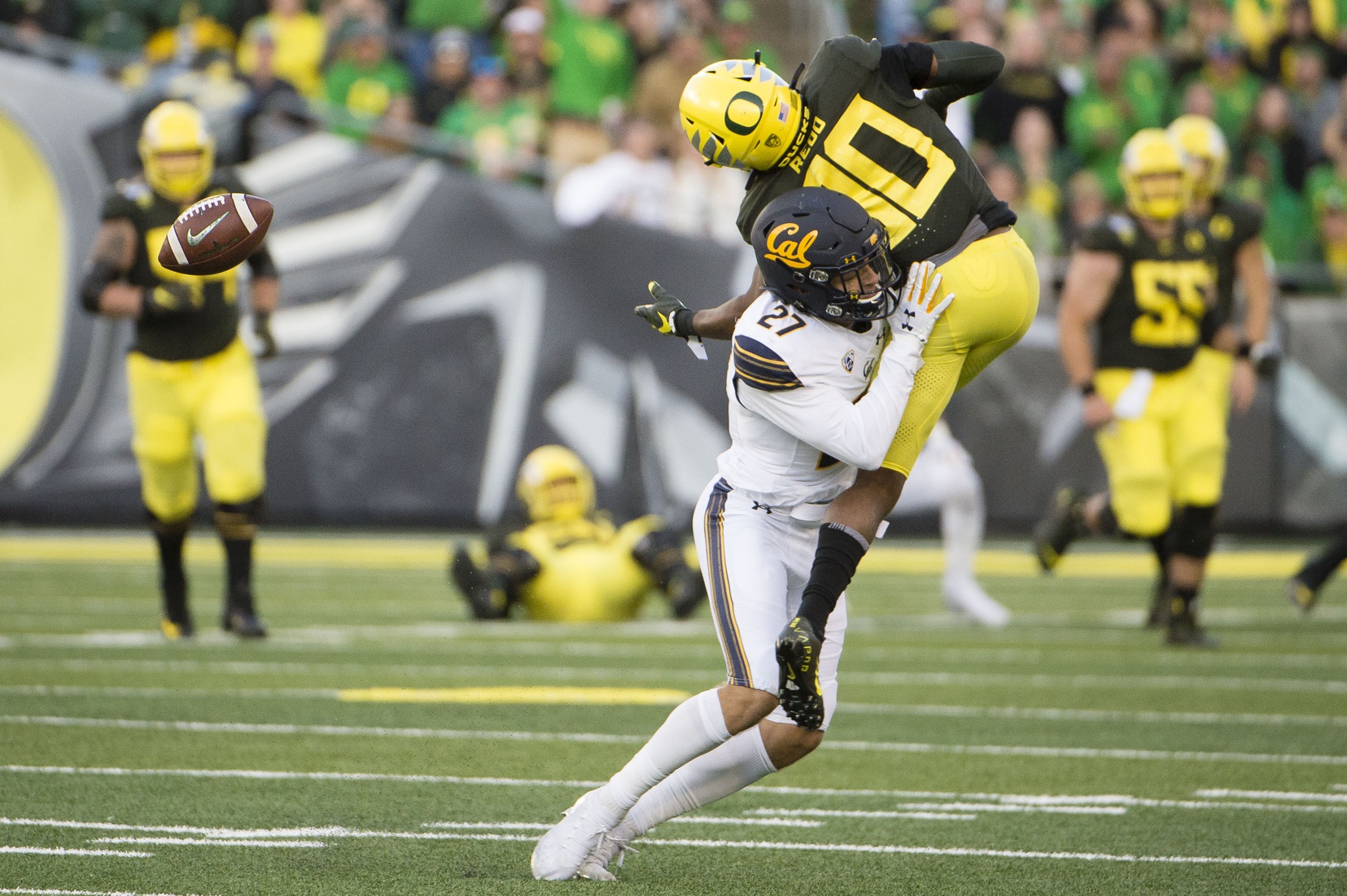 EE: The Patriots just dealt longtime deep safety Duron Harmon to Detroit, so they replace him here with the former Cal deep guy. As we wrote about last week, Harmon's former role is perfect for Davis. As the Patriots appear to go full-on into their one-year tank, they can start to rebuild for 2021 with the number-23 pick next to Devin McCourty on the back end.
GC: Claypool figures to be exactly the amorphous offensive weapon that Sean Peyton loves in New Orleans. With the addition of Emmanuel Sanders and now Claypool, the Saints will make sure Drew Brees doesn't struggle through his last few seasons without a potent offense.
25. Minnesota Vikings – Cameron Dantzler CB Mississippi St.
EE: With Anthony Harris franchise tagged and Ashtyn Davis just off the board, the Vikings go with a cornerback here. Dantzler struggled at the combine, but he represents what head coach Mike Zimmer likes in a cornerback — a tall player who has covered against great competition. Danztler allowed less than 45 percent of the passes into his coverage to be completed last season against stiff SEC competition. He will go a long way towards filling one of the three starting cornerback roles the Vikings are tasked with replacing this offseason.
26. Miami Dolphins – Jack Driscoll OT Auburn 
GC: Instead of getting overly excited about some serious projects like Mekhi Becton, let's take a guy who performed very well against strong competition and in situations that project will to the next level. Driscoll is exactly that and provides some much-needed protection for the young and not always so durable Tua.
27. Seattle Seahawks – Kenny Robinson Jr CB XFL/WVU
EE: Kenny Robinson is a great story, having left West Virginia for the XFL to help take care of his mother, who was diagnosed with cancer. Robinson followed up an impressive, albeit shortened, collegiate career with the Mountaineers by intercepting two of the eight passes into his coverage for the revitalized XFL's St. Louis Battlehawks this spring. His acquisition would allow the Seahawks to play Quandre Diggs in the slot more than he did a season ago and get Seattle out of the base defense it played in more than any team in the NFL in 2019.
28. Baltimore Ravens – Curtis Weaver Edge Boise State
GC: Aside from Young, no edge projects better than Weaver in the current draft class as an all-around player. The Ravens decided to franchise tag Matthew Judon, but they are still a team that blitzes at the highest rate in the league. Adding another pass rusher shouldn't be a problem.
GC: The 6-foot-7 tackle allowed just seven total pressures during his final season as a Huskie. After letting Conklin go and investing major money in Ryan Tannehill, the Titans also need to invest in keeping their quarterback upright. Peart projected very well thanks to his solid play during his college career.
EE: With Bryan Bulaga gone to Los Angeles, the Packers go with a tackle in the first round of the draft, forgoing the option to trade up and get one of the blue-chip receivers that could probably help their offense more. Wills is a good prospect, with Trent Williams and Nate Solder as statistical comparisons for his first five years.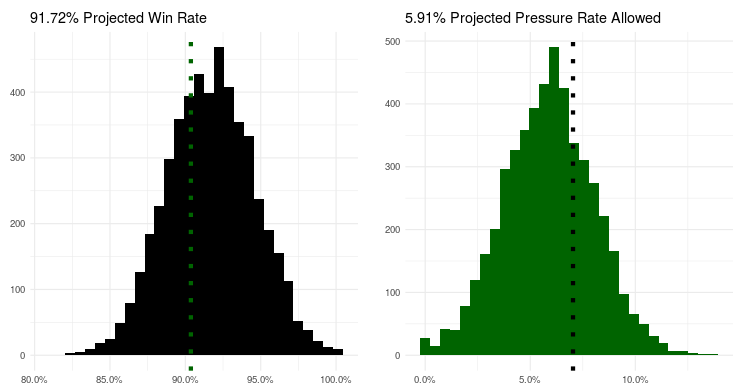 Jedrick Wills' projected win and pressure rate allowed during the first five years of his NFL career in a context-free environment.
GC: The 49ers addressed receiver at 13, and while some might think they need to replace DeForest Buckner here, that would be a foolish choice given how much more value there is to be had from having a deep coverage unit. San Francisco was lucky that Emmanuel Moseley played so well after Ahkello Witherspoon kept the Vikings in the NFC divisional-round game for a quarter and change. They would be wise to continue investing in coverage depth. Johnson allowed a passer rating of 57.9 during his entire career at Utah.
EE: Aside from re-signing Damien Wilson, the Chiefs have not addressed linebacker in free agency, making the athletic Taylor a good option here (as he was in version 1.0 of this mock draft).