With the NFL combine officially in the rearview mirror, all that remains for the top prospects from now until the 2022 NFL Draft in late April are pro-day workouts for prospects that want another opportunity to show off their skills.
---
Click here for more PFF tools:
Draft Guide & Big Board | Mock Draft Simulator
Dynasty Rankings & Projections | Free Agent Rankings | 2022 QB Annual
Player Grades
---
However, NFL free agency kicks off in less than a week with the legal tampering period opening on March 14th, and every team's draft board will change depending on who they sign. 
In a year with a weaker quarterback class and less of a consensus up and down the draft board, the 2022 NFL Draft could be chock full of surprises. 
The Jaguars keep left tackle Cam Robinson in the fold with a second franchise tag or a multi-year extension — or perhaps go after a big-name free agent such as left tackle Terron Armstead — paving the way for Hutchinson to be the No. 1 overall pick. 
Hutchinson recorded 74 quarterback pressures from just 429 pass-rush snaps in 2021 — a staggering 17.25% pressure percentage — which help him earn an elite 93.3 pass-rush grade. Hutchinson was just as good against the run with a 90.8 run defense grade. 
---
Big Board Rank: 22
The Lions get a jumpstart on their future, selecting quarterback Willis with the No. 2 overall pick while keeping quarterback Jared Goff in the fold for the 2022 season so that Willis has time to learn the NFL game. 
Willis had his ups and downs in 2021 but finished the season with a 91.6 overall grade and an 11% big-time throw rate while playing behind a shaky offensive line. Of all the quarterback prospects in this year's class, Willis has the highest upside by a good margin. 
---
With uncertainty surrounding left tackle Laremy Tunsil's long-term future, Houston lands a blue-chip tackle prospect here in Ekwonu. 
It's entirely possible Ekwonu is the first player off the board in this year's draft, as he has posted three straight 80.0-plus season grades capped off with an elite 91.6 in 2021. Ekwonu's technique is still a bit raw, as evidenced by issues in pass protection earlier in his college career, but he didn't allow more than two quarterback pressures in any game in 2021 en route to a career-best 78.1 pass block grade. 
---
Jets head coach Robert Saleh's defense is built front to back while emphasizing defensive line talent that can get home with just four rushers. After the Jets' marquee free-agent signing in edge defender Carl Lawson suffered a torn Achilles before the 2021 season, more reinforcements are desperately needed even when he returns. 
While there are apparently some questions about Thibodeaux's motor in league circles, his talent speaks for itself. Thibodeaux has three straight college seasons where he generated a quarterback pressure on over 10% of his pass-rush snaps, culminating in a 91.5 pass-rush grade in 2021. 
---
Giants 2020 No. 4 overall pick Andrew Thomas showed great strides to close out the 2021 campaign… With the Giants moving on from veteran tackle Nate Solder, Neal could potentially slide in as the Day 1 starter at right tackle. Neal started 13 games at left guard in 2019 and 12 at right tackle in 2020 at Alabama, so he has proven positional flexibility. 
Neal weighed in at 337 pounds at the NFL combine and doesn't appear to have an ounce of body fat on his massive frame. He allowed just 15 quarterback pressures over a 15-game season. 
---
The Panthers have made it very clear that their top priority this offseason — outside of landing a starting quarterback — is beefing up the protection for whoever will be under center in 2022. With Ekwonu and Neal off the board, the Panthers take the next best available player in Cross.
Cross finished the 2021 campaign with an 84.9 pass-blocking grade and 87.2 run-blocking grade, making him the most well-balanced of the three top tackle prospects. 
General manager Scott Fitterer showed during the 2021 draft that he is not afraid to trade down, so perhaps this becomes the first target for teams looking to move up. 
---
Big Board Rank: 11
Gardner likely solidified his status as the No. 1 cornerback in this year's draft class with his NFL combine performance, running a 4.41 40-yard dash at 6-foot-3. In addition, his 33 1.2-inch arms will surely entice a lot of teams as well. 
Throughout his time in Cincinnati, Gardner never allowed a touchdown pass even while garnering tough matchups and playing a heavy dose of man-to-man coverage. He's the exact type of cornerback that new Giants defensive coordinator Don "Wink" Martindale is looking for in New York. 
---
Big Board Rank: 23
Walker stays in his home state of Georgia and provides a huge boost to a pass-rush unit that ranked dead last in 2021 with a paltry 52.0 grade, offering inside/outside versatility with off-the-charts athleticism. 
Walker accumulated seven quarterback pressures in the national championship against an Alabama offensive line that is always brimming with talent, and many feel he was playing out of position for most of the year, indicating he could be an even better professional than he was a college player.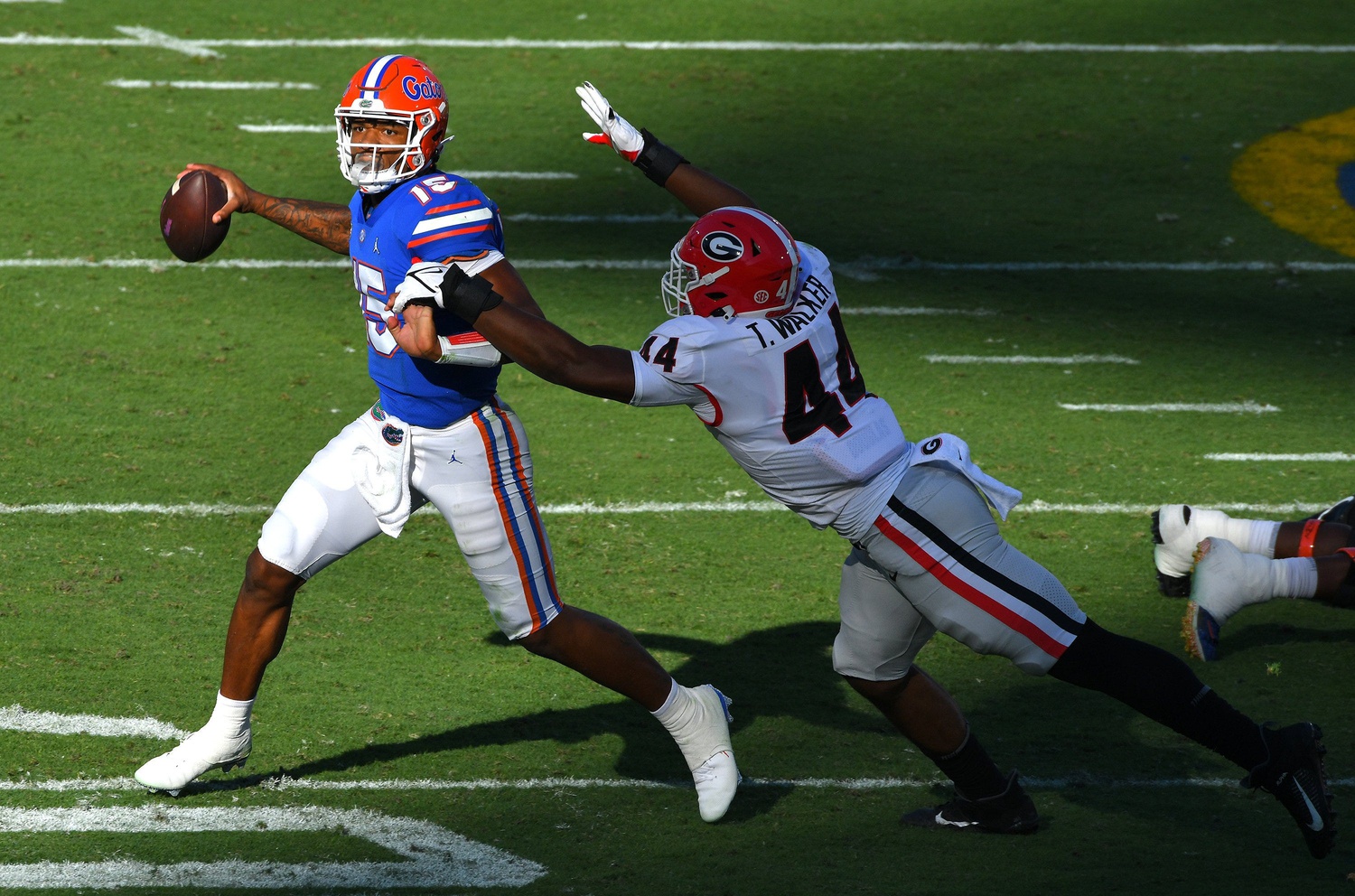 ---
Big Board Rank: 27
Johnson's stock has been on a meteoric rise following a dominant performance at the Senior Bowl in Mobile, which was capped off with a remarkable 1.55-second 10-yard split on his 40-yard dash at the NFL combine. Johnson's explosiveness and quick first step will make him one of the most coveted pass-rushers in this year's class. 
Johnson was always a strong run defender but took his game to another level in 2021 with 46 quarterback pressures and 14 sacks after transferring to Florida State. 
---
The Jets use the Seattle Seahawks first-round pick acquired in their trade for safety Jamal Adams on… an elite safety prospect in Hamilton. While it may seem silly to do the same thing after the Jets traded Adams away, the state of the team at the time of the trade perhaps had more to do with their refusal to engage in extension talks than their view of the player's on-field value. 
Hamilton is a dynamic playmaker who can cover the deep third, line up in the slot and make plays down in the box. If not for positional value, he'd probably be going off the board earlier in this mock. 
---
Big Board Rank: 47
Washington has not been shy about their goal of acquiring their next franchise quarterback this offseason, whether that be via trade or in the draft. The Commanders were rebuffed by the Seahawks in their attempt to land quarterback Russell Wilson, and they could make a run at 49ers quarterback Jimmy Garoppolo — a player general manager Martin Mayhew spent time with in the Bay Area — but if their trade options fall short, Pickett is their guy here. 
Pickett's 92.2 grade was the second-best mark out of 291 quarterbacks in 2021, and his stock continues to rise because he is apparently impressive in team interviews. 
---
Big Board Rank: 26
Vikings edge defender Danielle Hunter's future in Minnesota is to be determined, but regardless of the outcome, the Vikings need to add premium edge rush talent.
Ojabo has all the traits of an elite stand-up pass-rusher but has effectively one season of college football under his belt. Nevertheless, that one season is a very strong one, as Ojabo racked up 42 quarterback pressures and earned an 87.3 pass-rush grade despite hardly playing before 2021.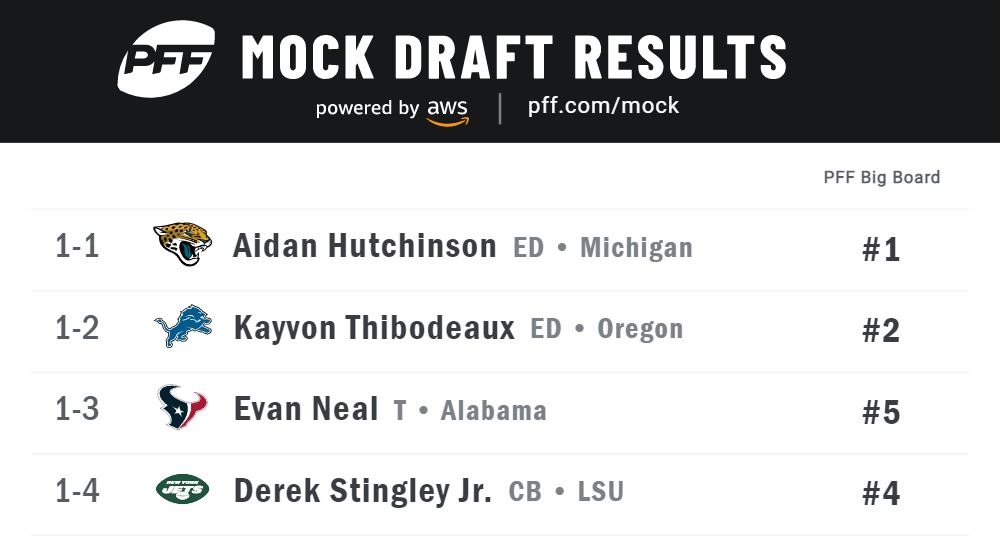 ---
Big Board Rank: 13
Wilson is a silky-smooth route runner who has great hands, and his blazing fast 4.38 40-yard dash may have vaulted him into the No. 1 wide receiver conversation in this class.
With the Browns moving on from wide receiver Odell Beckham Jr. during the 2021 season and perhaps parting ways with slot receiver Jarvis Landry before the 2022 season begins, Wilson slots in as the immediate No. 1 option in the passing game.
The native Ohioan earned back-to-back 80.0-plus grades and averaged 15.76 yards per reception in 2020-21. He is a big play waiting to happen every time he stepped onto the field who stays in the birthplace of football for his next chapter. 
---
Big Board Rank: 24
Penning's buzz truly took off at the Senior Bowl, where he displayed his nastiness by finishing every rep through the whistle. The FCS product will have some growing pains as he takes a major step up in competition at the NFL level, but he has all the traits of a potential stalwart tackle. A 4.89-second 40-yard dash at 6-foot-7 and 325 pounds coupled with strong agility scores at the NFL combine should cement Penning as a top-20 pick. 
Penning's 97.3 grade in 2021 just underscores how much better he was than his competition. He was truly in a class of his own at the FCS level, as he earned a maxed out 99.9 run-blocking grade. 
---
Big Board Rank: 25
As the second (of three) Georgia defensive linemen picked in the top 20,Wyatt earned a career-best 84.0 pass-rush grade to go along with his fourth consecutive 72.0-plus run-defense grade. 
---
Big Board Rank: 29
There has been a steady drumbeat around the possibility of Burks being the first wide receiver taken in this year's draft, as his 6-foot-3, 225-pound frame and yards-after-catch (YAC) ability remind many of Titans wide receiver A.J. Brown. A poor showing at the combine and questions around his capacity to consistently win on the outside dropped his stock a bit but not too far.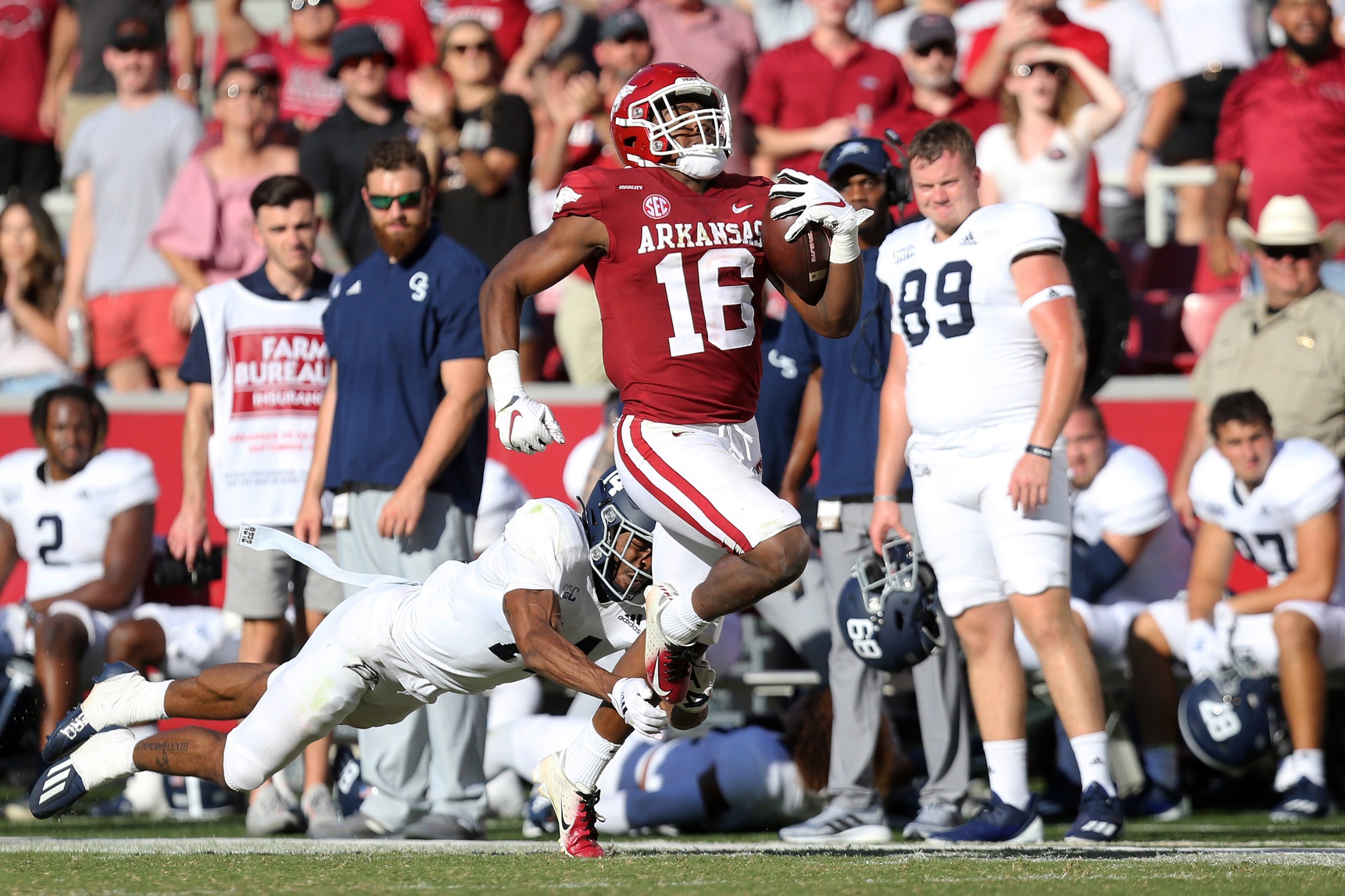 ---
Big Board Rank: 39
The story of the NFL combine was Davis' 4.78-second 40-yard dash at 341 pounds, but his 10-foot-3 broad jump — the best mark of any defensive tackle since 2010 — was arguably just as remarkable. Davis never played even 400 snaps in a college season but is the type of early-down run-stuffer who changes the entire complexion of a defense. He's a perfect fit in Chargers head coach Brandon Staley's system, enabling him to deploy two-high safeties while Davis eats blocks along the interior.  
---
Big Board Rank: 14
Lloyd may not make it this far, but if he does, new Saints head coach Dennis Allen may run this pick in to bolster a stout unit from 2021 that is getting older at several key spots. Lloyd recorded 31 quarterback pressures and eight sacks in 2021 en route to an 88.4 pass-rush grade, leading many to compare him to Cowboys breakout rookie linebacker Micah Parsons. A smart, creative defensive coach like Allen could unlock Lloyd's potential at the next level. He and 2020 third-round pick Pete Werner could be a dynamic linebacker duo in New Orleans for the foreseeable future. 
---
A rare football talent, Stingley has dropped a bit in recent mocks as he recovers from foot surgery that will keep him from training at full speed until his pro day on April 6th. Stingley earned an elite 91.7 grade as a true freshman at LSU and even pushed to play wide receiver in subsequent seasons. While he never quite lived up to his debut college campaign, he has the potential to be an impact player from Week 1.  
---
Big Board Rank: 12
The elite center prospect out of Iowa that was consistently landing in the top-10 takes a bit of a slide here because of positional value at center. Over the last three seasons, Linderbaum has been PFF's No. 1, No. 1, and No. 5 highest-graded center in the country. It's entirely possible a team ignores positional value and takes a very good football player in Linderbaum earlier, but top center prospects tend to get snatched up around pick No. 20 over the past few years. 
---
2022 NFL Draft position rankings:
Top 10 players at every position
QB | RB | WR | TE | iOL | OT | DI | EDGE | LB | CB | S
---
Big Board Rank: 18
With the New England Patriots not expected to franchise tag pending free agent cornerback J.C. Jackson, and after trading Stephon Gilmore to the Carolina Panthers during the 2021 season, outside cornerback becomes a glaring need for Bill Belichick's defense.
Booth has the size and athleticism to line up in man coverage, and the playmaking ability to hopefully emulate Jackson's lofty interception numbers over the last few years in New England.  Booth earned a 78.6 coverage grade in 2021 and had more interceptions (three) than touchdowns allowed (two). 
---
Big Board Rank: 19
Olave's decision to return to college for the 2021 season was questioned by some, but he certainly didn't hurt his draft stock with a career-best 936 receiving yards and 13 touchdowns to go along with his 79.9 receiving grade. Olave rarely drops a ball thrown his way, accumulating just nine total over 251 college targets, and can haul in deep balls in an acrobatic fashion. 
---
Big Board Rank: 10
As difficult as it is to go under the radar as a wide receiver at USC, London did just that in 2021 as the best offensive weapon on the roster by a good margin. The 6-foot-5, 210-pound wideout earned an elite 91.8 receiving grade by going over the 1,000-yard mark in just eight games before suffering an injury, racking up at least 130 receiving yards in six games with 19 total contested catches. 
---
Big Board Rank: 16
The Cowboys have had a lot of turnover at the off-ball linebacker position recently, and 2018 first-round pick linebacker Leighton Vander Esch is also a pending free agent this upcoming offseason. With Parsons deployed more as an edge defender as the season went on, a true Mike linebacker could still provide value for Dan Quinn's defense.
Dean has rare sideline-to-sideline speed, can stick with running backs and tight ends in coverage, and racked up eight sacks and 31 quarterback pressures in his final season at Georgia. He and Parsons could be a scary linebacker tandem for years to come.  
---
Big Board Rank: 41
Johnson's 32 repetitions on the bench press led all offensive linemen at this year's NFL combine, and he also demonstrated his explosiveness with a 32-inch vertical that ranked fourth across the position. Johnson played left guard in 2021 and earned an 81.6 pass-blocking grade to go along with an 84.4 run-blocking grade, but he is also willing to kick inside to center. He's a plug-and-play starter along the interior who should be a first-round lock at this point.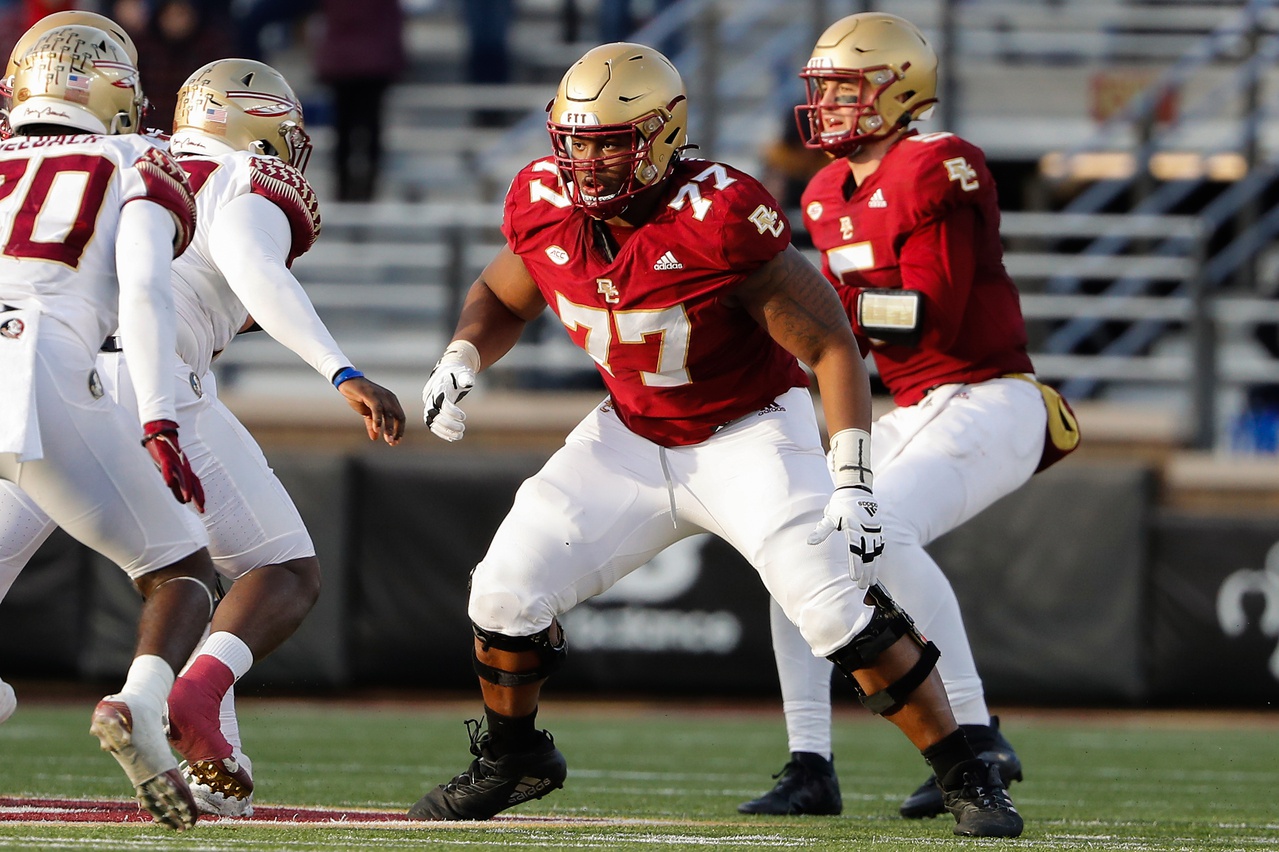 ---
Big Board Rank: 15
A native of Austria, Raimann didn't start playing organized football until he was 14 years old, and he then returned home to complete his compulsory service in the military before enrolling at Central Michigan. He took a huge leap in 2021, earning an elite 94.6 overall and run-blocking grade. While his advanced age may be a bit of a concern for some teams, Raimann tested off the charts at the NFL combine and could be a great fit in Tennessee's wide zone offense with a 92nd-percentile short shuttle and 85th-percentile three-cone, which demonstrated his lateral agility. 
---
Big Board Rank: 32
Buccaneers head coach Bruce Arians and general manager Jason Licht have not been shy in discussing the quarterback position following Tom Brady's retirement, expressing trust in journeyman Blaine Gabbert while making it pretty clear the next leader of the franchise may not be on the roster. 
Ridder earned an elite 90.7 grade in 2021 and is arguably the most pro-ready quarterback in the class. His 4.52-second 40-yard dash opened some eyes around the league with respect to his top-end athletic ability.
---
Big Board Rank: 48
With the Packers likely moving on from edge defender Za'Darius Smith and maybe moving on from edge defender Preston Smith, an influx of young defensive line talent would be welcome in Green Bay. Mafe is explosive off the line, as his 1.59-second 10-yard split landed in the 89th-percentile, 38-inch vertical leap in the 91st percentile, and 10-foot-5 broad jump ended up in the 90th percentile. The testing numbers show up in his college production, as he recorded four straight 75.0-plus pass-rush grades. Ultimately, he generated 42 quarterback pressures and seven sacks in 2021. Much like Rashan Gary, Mafe could be a better professional than he was a college player.
---
Big Board Rank: 75
Karlaftis logged at least 50 quarterback pressures twice at Purdue. In 2021, he posted a dominant 90.1 pass-rush grade to go along with a solid 75.1 run-defense grade. Karlaftis is big and physical, fitting well opposite Miami's 2021 first-round edge defender Jaelan Phillips. He may not become a 15-plus sack player at the next level, but he offers a high floor due to his strength on the edge. 
---
Big Board Rank: 104
Watson is the latest North Dakota State product who could end up being a first-round pick come April, as his 1.46 second 10-yard split and 11-foot-4 broad jump both landed in the 99th percentile at 6-foot-4 and 208 pounds. Watson earned a career-best 89.7 receiving grade in 2021 while averaging 18.6 yards per reception and 4.33 yards per route run in an offense built around running the football. Watson averaged over 20 yards per reception for his college career — a remarkable feat no matter where he played.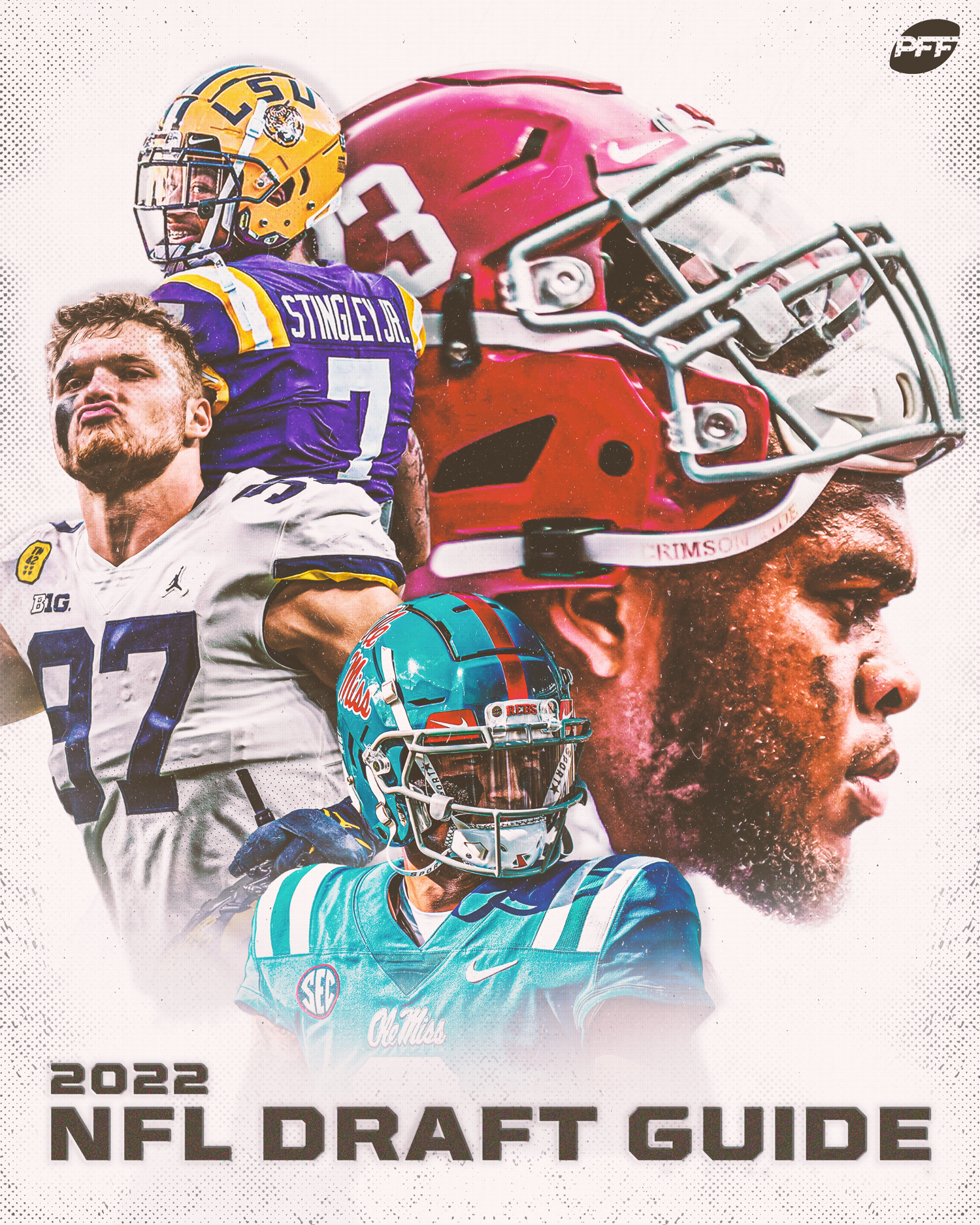 ---
Big Board Rank: 21
Green offers positional flexibility along the offensive line but fits best at guard, where he can be a mauler in the run game as evidenced by three straight 70.0-plus run-blocking grades. The Bengals can use all the help they can get along the interior of their offensive line, and Green could be a plug-and-play starter at left guard. He allowed just three quarterback pressures over his final seven college starts. 
---
The Lions could use help at a number of spots on their defense, but cornerback sticks out as a major position of need. McDuffie earned 80.0-plus grades in three straight college seasons, recording an interception, five pass breakups and zero touchdowns allowed over his final two college seasons. While he may be best lined up in the slot, he deserves a shot to prove himself on the outside from the outset.