This year's edge defender class is one of the best position groups, as a handful of such players could go in the top 20 of the 2022 NFL Draft.
Michigan's Aidan Hutchinson is the presumed favorite and possible first overall pick. He is the number one pass-rusher on my board but doesn't quite fit the criteria for the top pick. He's trailed just slightly by Oregon's Kayvon Thibodeaux, and that battle is an argument about pro-readiness and potential. The surprise in the group is Penn State's Arnold Ebiketie, who flashes every time he rushes the passer.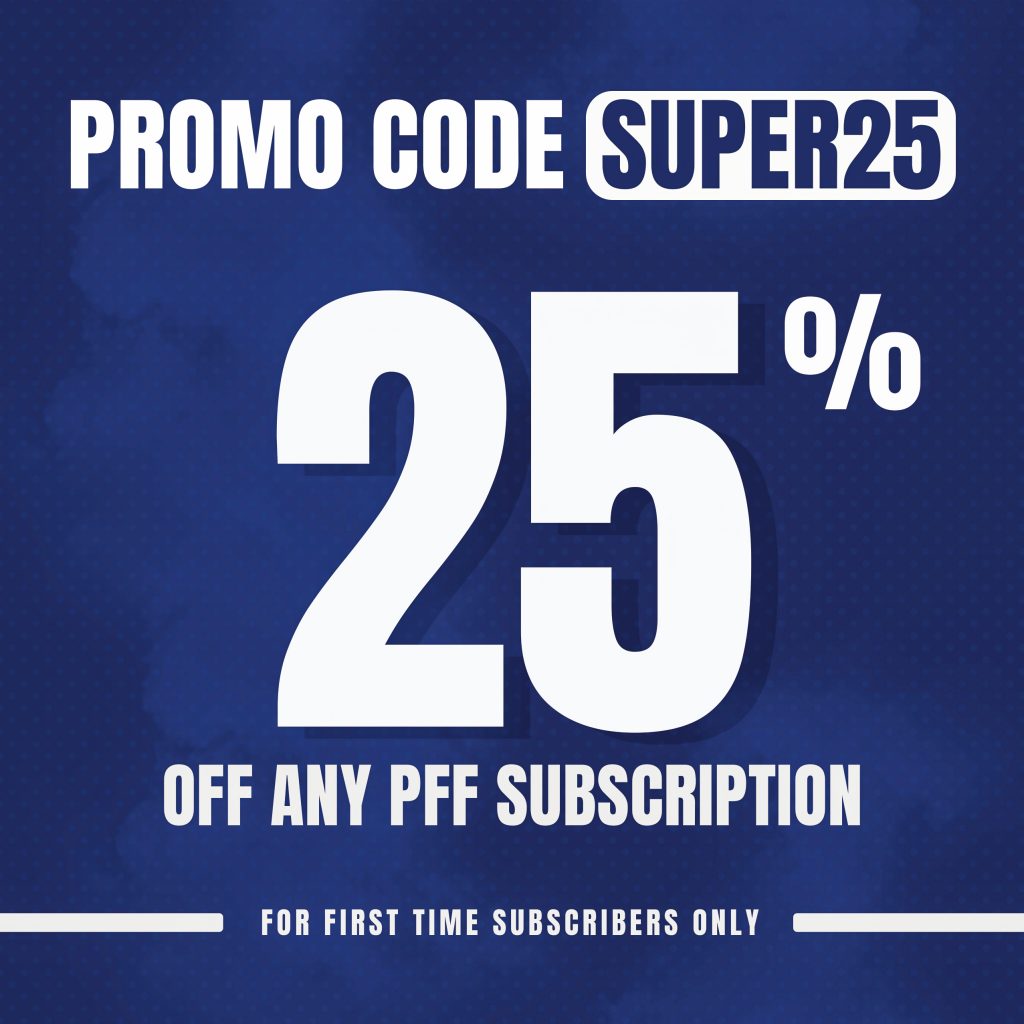 Click here for more PFF tools:
Rankings & Projections | WR/CB Matchup Chart | NFL & NCAA Betting Dashboards | NFL Player Props Tool | NFL & NCAA Power Rankings
Best Bets Tool
---
"Most pro ready"
This is not as cut and dry as some might think. Hutchinson probably could have contributed on an NFL team during the 2021 season — that's how good his technique and strength are. He plays the run as well as anybody. Against base blocks, he uses his power and doesn't get washed down before ripping inside to make a play on running backs.
In the national semifinal against Georgia, he showed off some finesse to play outside base blocks and then make plays from outside-in quickly. He's explosive in his pass rush, using his quick feet to set up tackles before being able to go inside or outside on his rush.
The issue is that Hutchinson isn't the bendiest. He doesn't turn like Thibodeaux or even David Ojabo can. In the NFL, where some tackles can match an explosive first step, edge rushers need a bit of bendiness. Myles Garrett came into the league as the No. 1 pick without the craft that Hutchinson has, but it didn't matter because he could also work around tackles.
Hutchinson is the best edge rusher right now in this class, but he is not the first overall pick for me. 
Projection: Top-5 to Top-10 Pick
"Everything you want in a rusher"
One of the first aspects of Thibodeaux's game you notice on tape is how different his usage and alignment are from some of the other top rushers. In Oregon's 3-4 defense, Thibodeaux played outside linebacker with a defensive end inside of him. This put him further away, in actual distance, from offensive tackles.
Hutchinson and George Karlaftis, among others, lined up much tighter in their teams' 4-2 defenses. In fact, Hutchinson and Karlaftis kicked down inside when their teams did switch up to a 3-4. With Thibodeaux further away, it's harder for him to affect the run game like those other two, but he can drop in coverage more regularly and is actually solid at that.
As a pass-rusher, he has everything you'd want as an athlete — but maybe not all the moves quite yet. Going back to the Myles Garrett reference from above, if Thibodeaux had that kind of athleticism, he would easily be the first overall pick. You could even make the argument that Garrett has become the best edge rusher in the league in spite of not being the best technical player still. Thibodeaux is close to that, but not close enough. The potential is there for him to be the best out of this group. 
Projection: Top-5 to Top-10 Pick
---
2022 NFL Draft position rankings:
Top 10 players at every position
QB | RB | WR | TE | iOL | OT | DI | EDGE | LB | CB | S
---
"Herculean strength"
Karlaftis is probably the strongest edge rusher in this top-tier class. He's able to play inside and outside, as noted, and does a great job getting underneath pad levels and standing offensive tackles up before being able to shed and make a play in the run game.
The strength shows up in his pass-rush ability as well, but you'd still like to see him gain more pass-rush hand usage knowledge. Unlike Thibodeaux, Karlaftis doesn't have that quick first step that mitigates the lack of hand usage, but he can push tackles back into their quarterback right now and can most likely do that at the NFL level. He's still young for the position, too.
NFL scouts had their eyes on Karlaftis after a 74.1 PFF grade as a freshman in 2019, and after playing only three games in 2020, he put it all together with an 87.2 grade this past season. Again, if you can project some pass-rush moves, he has everything needed to be a top rusher in the NFL. 
Projection: Top-10 to Top-15 Pick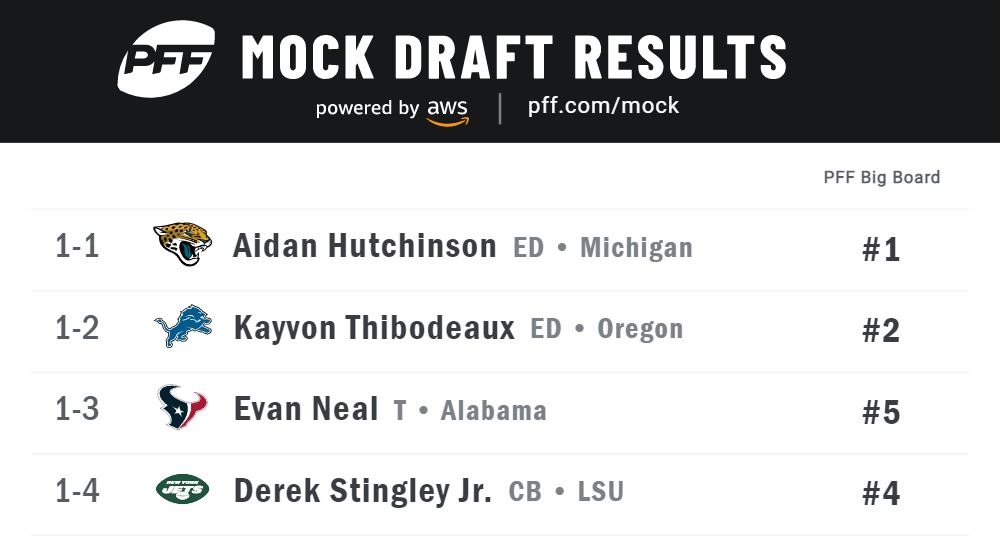 "Raw but freaky"
One of the draft's highest risers, Ojabo played just 26 snaps in his career before this season. He finished 2021 with 591 snaps and a 79.3 PFF grade. Ojabo has the bend that teams covet at the position, and his lack of reps will have teams drooling for the chance to mold him into their ideal pass-rusher.
One of Ojabo's issues right now is that he's still not a great run defender, and the Michigan coaching staff knew that very well. He played just four run snaps against Georgia while seeing 19 against the pass — a game in which the Bulldogs had 33 runs and 36 passes. In the same vein, he produced an 87.0 pass-rush grade compared to a 70.2 run-defense.
All the traits are there for Ojabo, he's just very young for the position. But if you want to bet on athletic talent mid-way through the first round, he's the guy. 
Projection: Top-15 to Top-20 Pick
"Bendy"
If anyone outside of the obvious top group of edge defenders has "the juice," it's Ebiketie. The Temple transfer has really nice hand usage and explodes off the ball. He possesses the bend teams are looking for. He'll get to the edge quickly and then be able to dip underneath tackles to attack the quarterback.
If Ebiketie had started his career at Penn State, he might even be talked about in that upper echelon of edge rushers this year. He posted a 78.3 pass-rush grade in 2019 at Temple and then an 88.3 pass-rush grade the next year. Winning in the Group of Five is certainly not the same as winning in the Power Five, so all he did was up his pass-rush grade to 90.5 in 2021 at Penn State. He's hot and cold against the run and is an older prospect, but his tape is the real deal. Whoever gets him in the back half of the first round is in for a treat. 
Projection: Top-15 to Top-20 Pick