It's the most wonderful time of the year.
No other event on the NFL calendar generates more optimism and excitement than the NFL draft. And no matter what happens over the three-day event — which PFF will be covering LIVE —  your team will have added talent, and that's something to celebrate.
Here's how I see Round 1 playing out on Thursday, April 29.
View PFF's 2021 NFL Draft position rankings:
QB | RB | WR | TE | T | iOL | DI | EDGE | LB | CB | S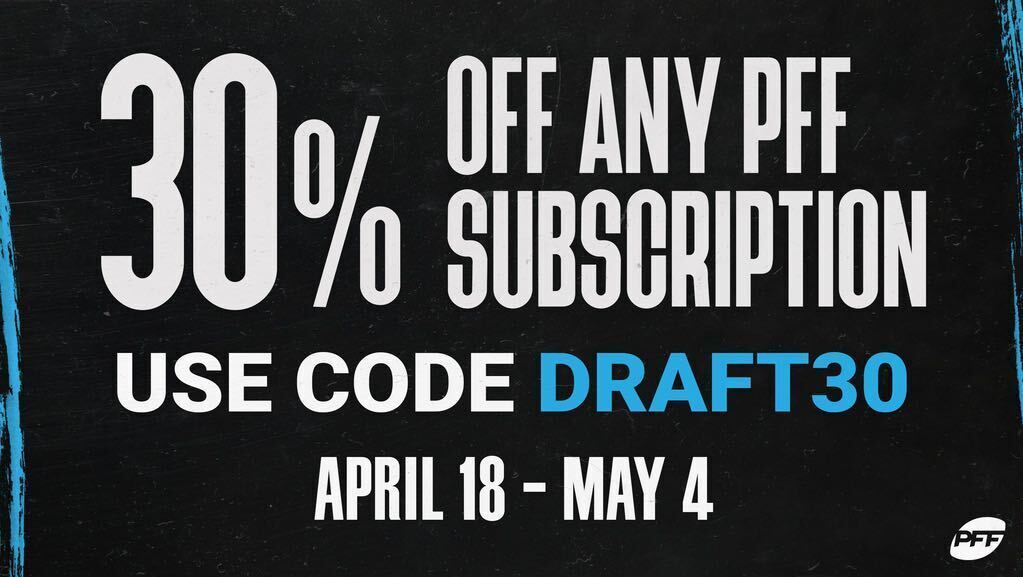 Three straight years of 90.0-plus overall grades. His NFL readiness and experience really set him apart in a talented QB class.
Related: How the Jacksonville Jaguars can build their offense around QB Trevor Lawrence via Seth Galina
It seems all but written in pen at this point. Wilson was the highest-graded quarterback in the country this past season when throwing into tight windows and when forced off his spot, a good combo when projecting signal-callers to the NFL.
Lance almost feels like an NBA draft pick after averaging only 18 dropbacks a game in 2019. The FCS product may have only 319 career passing attempts to his name, but he has the strongest arm and best pure running ability in the class. You give up so many picks because of the player he could become.
Related: Trey Lance has some of the best tools in the draft via Sam Monson
Maybe it's wishful thinking, but this makes too much sense for both sides. The Falcons desperately need a bevy of young, cheap talent, given their cap situation, and not just one cheap guy. On the other hand, the Broncos have the sixth-best roster in the NFL, and even if Drew Lock remains mediocre, they still won't be in a position for the 2022 quarterback class.
Related: Projecting Ohio State QB Justin Fields' impact as an NFL player via Eric Eager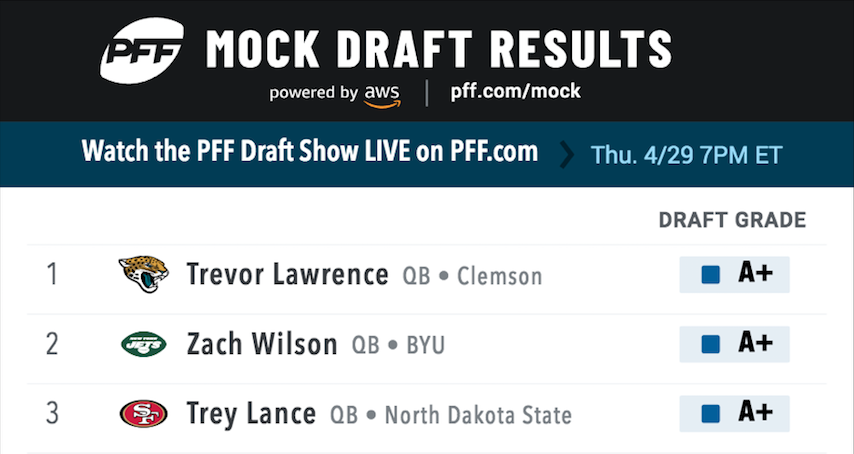 After spending gobs of cash on the defensive side of the ball in free agency, the Bengals have to do something to appease their young franchise quarterback. That means Chase is the pick, as the LSU wideout combined with Joe Burrow to set the PFF College record for deep receptions in 2019 (24).
Related: Don't forget about Ja'Marr Chase — PFF's WR1 via Mike Renner
This is why they didn't want to move too far down from the No. 3 spot. There are a few blue-chip passing-game weapons in this class, and the Dolphins nab the rarest of them all. The biggest thing that sets Pitts apart is that we've already seen him beat cornerbacks one-on-one. He averaged the third-most yards per route run in the country against man coverage last year.
Related: Kyle Pitts is the best receiving prospect in the draft, regardless of position via Sam Monson
If the Pats wait too long, the Football Team and Bears get in the mix here. Spending all that cash in free agency doesn't work too well if they have to pay Cam Newton big money, as well.
Related: Can Mac Jones break the trend and succeed in the NFL? via Sam Monson
Sewell's tape is exceedingly special for a true sophomore, but sadly we never saw his development after he opted out in 2020. The Panthers are quite obviously in the market for protection for Sam Darnold, given that last year's left tackle, Russell Okung, remains unsigned.
Related: Oregon offensive tackle Penei Sewell is one of the best tackle prospects we have ever seen via Eric Eager
Horn may not be CB1, but he has the rarest skill set of the bunch with his press-man ability. The South Carolina product allowed only four catches for 51 yards across 15 man-coverage targets and 109 man-coverage snaps last year.
Waddle averaged the most career yards per route run of any player in the draft class — he shined when he got the opportunity. Waddle is the closest thing to Tyreek Hill we've seen since Hill came out, and that's a nice type of player to pair with Kyler Murray.
Need matches up with value too well here, with Slater being the 11th-ranked player on the PFF draft board. The Giants simply can't afford to protect Daniel Jones the same way they did in 2020.
Passing on DeVonta Smith may sting a bit, but Surtain is no slouch as a consolation prize. He's been starting since his true freshman year at Alabama and was the highest-graded cornerback in coverage this past season.
Even if he can't stick at left tackle, you're still getting one of the most solid offensive linemen in the draft class. Vera-Tucker earned the highest grade on true pass sets of any lineman in college football over the past two seasons.
The Vikings pigeonholed themselves into this pick to a degree, but Darrisaw is well worth it. He was the highest-graded offensive tackle in the Power Five last year.
Between the size concerns and the deep class allowing teams the chance to wait until Round 2, Smith falls into the mid-teens. The Lions are the beneficiaries, though, as Smith is fresh off the highest-graded receiving season in our seven years of college grading.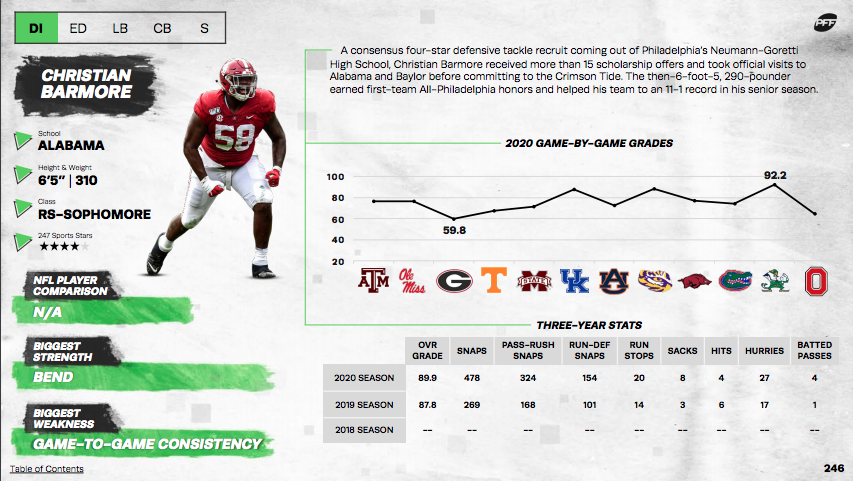 The Cowboys quite obviously need defense, and the value just doesn't make sense at Pick 10. They get unquestionably the top defensive tackle on PFF's board here, a guy who earned a higher pass-rushing grade his final season than Derrick Brown and Javon Kinlaw did coming out.
Parsons produced the second-highest single-season run-defense grade in the PFF College era as a true sophomore before opting out in 2020. Off-field issues will likely cause him to fall, but the talent is well worth much more than Pick 17.
Paye's rare ability to move in space will play in the Dolphins' blitz-heavy defense. He is the ultimate stunt and slant weapon on the edge, even if his pure pass-rushing prowess needs some work.
Owusu-Koramoah completes the league's most imposing front seven. JOK put up the second-highest coverage grade of any player from the slot last season — and he's a linebacker.
Phillips is the most NFL-ready edge defender in the class, and he is fresh off earning an 83.0 run-defense grade and an 87.6 pass-rushing grade in 2020 for the Hurricanes. The best part is that he got appreciably better as the season went along. Phillips' concussion issues will have to be vetted, though, as he was forced to medically retire from UCLA early in his college career.
The Packers have traded up in each of the past three first rounds. Newsome has the kind of feet and athleticism that won't last long. The junior gave up fewer than 100 yards this past season.
Moore was the most productive receiver in the country on a per-game basis in 2020, putting up nearly 150 receiving yards per game. He's got elite athleticism as well as legit play strength and went 20-for-33 in contested situations over the past two seasons.
Jenkins is an absolute mauler in the run game and earned a 93.6 run-blocking grade this past season. Pairing him with Mekhi Becton would give Zach Wilson one heck of a tackle duo for years to come.
Harris is a Steelers-esque running back through and through. He's also got some of the best hands in the draft class, with only three drops on 83 catchable targets over his entire career.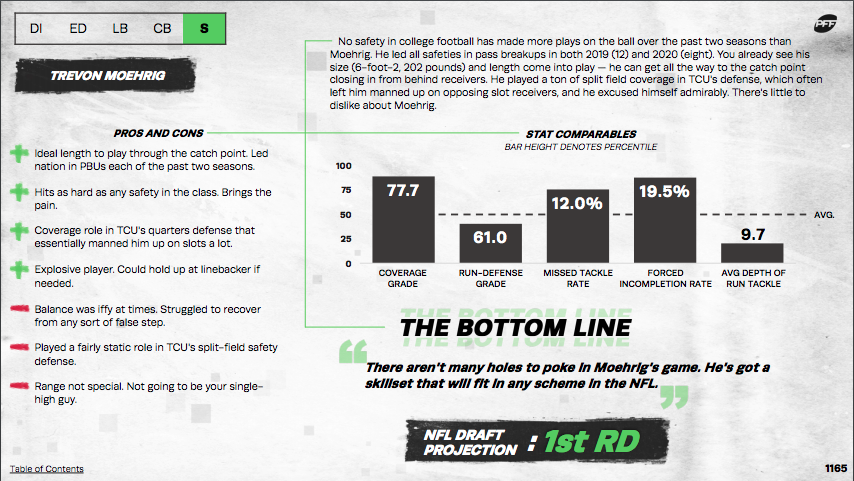 Moehrig has the best ball production of any safety in the draft class, as he led the country in pass breakups in each of the past two seasons. He goes to a Joe Cullen-coached defense that requires versatile safeties in Baltimore.
Davis is a one-year wonder who blew up in his lone year as a starter this past season. It's worth asking why it took until his redshirt junior year to gain that starting role, but he played exceptionally well against the run, producing an 87.5 grade in that regard. He's got the speed (4.4-second 40 at his pro day) to develop in coverage, as well.
One of the most complete receivers in the draft, Bateman led the country in yards per route run on the outside in 2019. He has the big catch radius necessary to pair with Lamar Jackson.
The cornerback need is real around the NFL, and the Saints currently have Patrick Robinson penciled in on the outside. Samuel's play style and instincts take after his father.
Related: Florida State CB Asante Samuel Jr. is a top-20 player in the draft class via Sam Monson
The Colts quite obviously need a left tackle, and they've even said there's a lot of guys they think can step in and start right away. There's no bigger wild card than Little, who has only played 72 snaps over the past two years.
Stokes has been stacking up ball production ever since he recorded six pass breakups on only 25 targets as a freshman in 2018. He's also got elite speed, as he clocked a 4.3-second 40 at his pro day.
No one has a better track record of developing edge talent than the Ravens, and no one at the position in this class has better physical tools than Oweh. You might not even have to say "in this class" after Oweh put up an all-time pro day, with a sub-4.4 40, a sub-7.0 three-cone and an 11-foot-2 broad jump.
Basham is an elite athlete with inside-outside versatility who can see the field immediately for a fairly complete roster. The worry is that he took a bit of a step back as a senior, earning a PFF grade of only 71.2.
---
More of PFF's 2021 NFL Draft tools here: 
2021 NFL Draft Big Board | 2021 NFL Draft Guide | 2021 NFL Draft Stats Export | NFL Mock Drafts | NFL Mock Draft Simulator