NFL fans have a love-hate relationship with mock drafts. They are consumed rapidly and criticized just as quickly, with many of those criticisms falling along this line of thinking:
How can you have [insert favorite team here] drafting a [insert position here] when they really need a [insert position here]?
It's an understandable criticism. With the first wave of NFL free agency in the rearview mirror, the draft is now the only event left for franchises to fill glaring holes on their rosters. However, forcing needs in the draft is the easiest way for a team to miss out on value. It should be less about filling immediate needs and more about adding young, cost-controlled talent that a team believes in.
We've seen rosters turn over quickly in the NFL. What appears to be a strength can become a weakness in as little as a year's time. That is the inspiration for this piece.
I went through all 32 teams and tried to identify current areas of strength that may become areas of need in the next one to two years. The respective prospect pairings for those teams all stand out as good value for where they would be selected, and their selection would serve as a preventative measure to maintain strength at that position for years to come.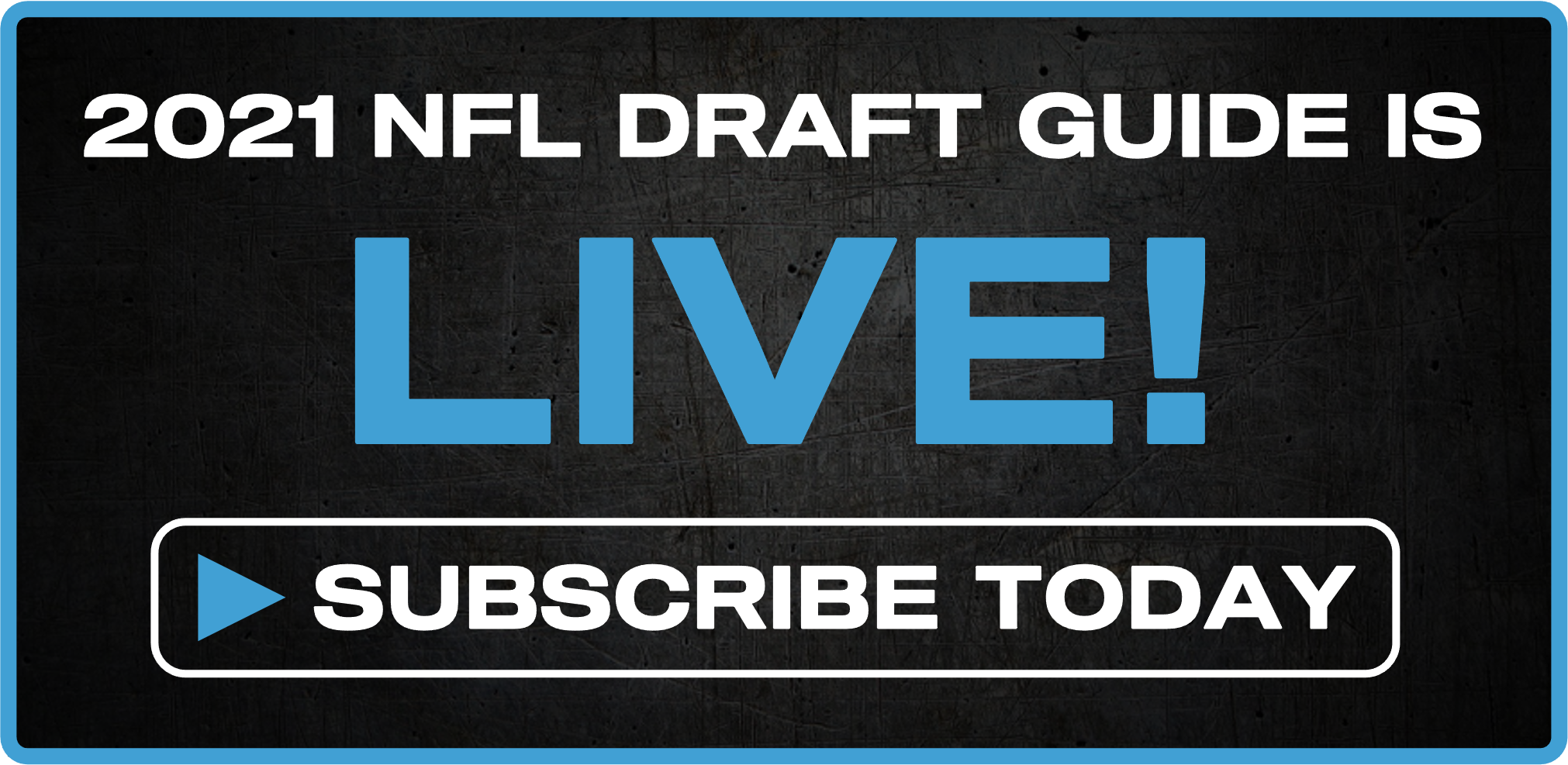 ARZ | ATL | BLT | BUF | CAR | CIN | CHI | CLE | DEN | DAL | DET | GB | HOU | IND | JAX | KC | LVR | LAC | LAR | MIA | MIN | NE | NO | NYG | NYJ | PHI | PIT | SF | SEA | TB | TEN | WFT
The addition of J.J. Watt to join forces with Chandler Jones returning from injury and the re-signed Markus Golden makes the edge defender position a strength for the Cardinals heading into 2021. However, Watt, Jones and Golden are all at least 30 years old.
There is a very good chance that we could be discussing Phillips as a sure-fire top-half-of-the-first-round prospect if it weren't for the concussion history that has already led him to retire once before. Phillips returned with Miami in 2020 to post an 86.6 overall grade in over 500 defensive snaps. He was a former five-star prospect coming out of high school and has the kind of power, speed and explosiveness necessary to be a top-flight edge defender in the NFL.
---
Matt Ryan ended the 2020 season as a top-12 quarterback by PFF grade, and his contract structure makes it unlikely that he'll be going anywhere in the next two seasons without the Falcons eating a large amount of dead money. In other words, they don't need a quarterback, but they may take their quarterback of the future all the same early in the 2021 NFL Draft.
Lance has all the tools you could want at the quarterback position. There is a strong argument to be made that he is both the best runner and has the best arm in the class. Lance's quarterback coach Quincy Avery also noted that Lance was responsible for making protection calls at North Dakota State in a recent conversation on the PFF College Football Podcast. That's plenty to build around.
The biggest concern with Lance is that he has posted some of the worst accuracy numbers in the class. Less than 50% of his passes in the 2019 season were accurate, per PFF's charting. Landing in Atlanta would minimize some of those concerns and take the pressure off Lance to contribute early as he continues to develop in Arthur Smith's new offense.
---
Farley is not a name that has been frequently linked with Baltimore. That's partially because cornerback isn't one of the team's biggest needs, but the primary reason was that there seemed to be little chance Farley would drop out of the first half of the first round. That has since changed with recent reports about Farley's recent back surgery — his second in as many years.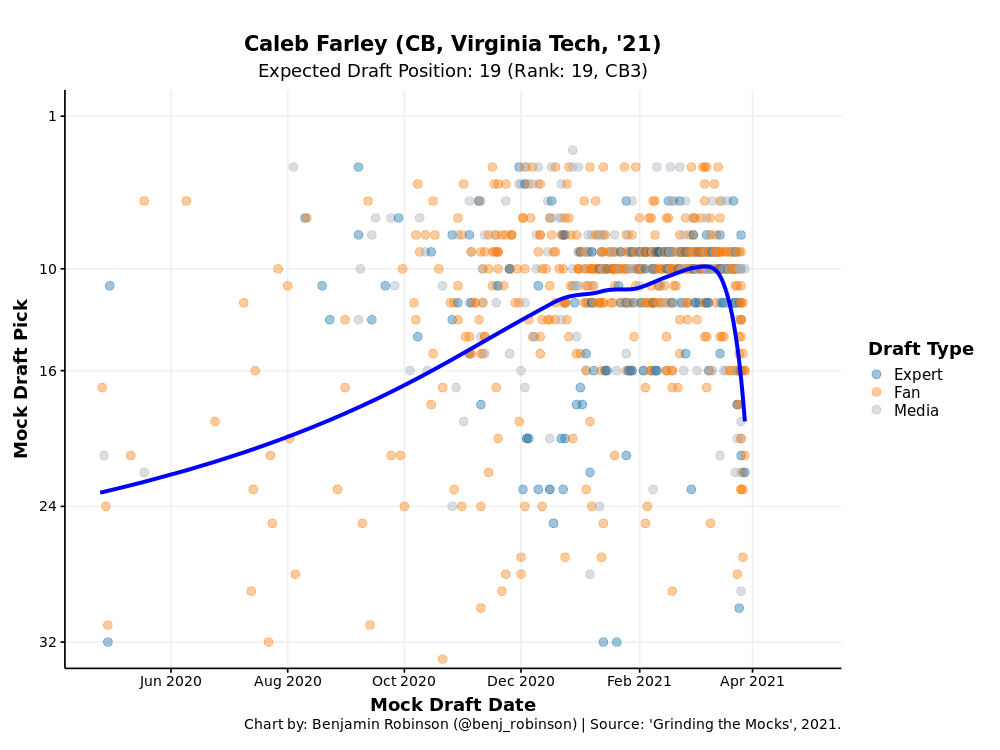 The above chart from Benjamin Robinson's Grinding the Mocks project shows that the back surgery has led to a steep drop in public perception of Farley's draft stock, opening the door for a potential slide to a team like Baltimore in the back end of the first round.
That's the kind of value that could tempt the Ravens even with Marlon Humphrey, Marcus Peters, Jimmy Smith and Tavon Young on the roster. Farley's bottom line in the PFF Draft Guide reads, "Farley has the physical tools necessary to be an elite NFL corner, and he played like one in 2019." He earned a 90.5 coverage grade that season, allowing a passer rating of just 26.8 on throws into his coverage.
Farley could potentially start with Peters and Humphrey as a rookie while also giving Baltimore the flexibility to move on from some of their cornerback contracts next offseason. It's hard to have too much depth in the secondary.
---
The Penn State pro-day numbers need to be taken with a grain of salt. But Oweh's numbers are still freaky even after some mental adjustment, and that explosiveness showed up on his tape last season.
Oweh may not have recorded any sacks in 2020, but he did end the year with an 80.3 pass-rushing grade and an 89.7 run-defense grade. His pass-rushing repertoire and physicality are both areas where he needs to improve. Then again, that's to be expected for a player who only started playing football in 2016.
Buffalo has its starters penciled in at edge defender — Jerry Hughes and Mario Addison — with 2020 draft pick A.J. Epenesa rotating in, as well. Hughes and Addison are both getting up there in age and will be free agents following this season. That means edge could quickly become a need for Buffalo.
The Bills are in a sweet spot to grab a talented player like Oweh in the back end of the first round to prevent that from happening while allowing him to continue developing in a part-time role.
---
The Panthers did bring in former Seahawks receiver David Moore to replace Curtis Samuel at WR3, but that doesn't necessarily mean they should be out of the market for one of the top-flight receiving prospects in this year's draft class. Robby Anderson and D.J. Moore will both be unrestricted free agents after this season, likely commanding sizable contracts on the open market. If Carolina chooses not to make a move for a quarterback in the first round, some of the best value will be at receiver.
The concerns about Smith's weight and frame have some validity. There just aren't many receivers you can point to who are as light as Smith and have gone on to have successful NFL careers, especially without elite speed. Smith's play at Alabama points to the idea that he can become that outlier, though. From fluidity in his routes to ball skills to Heisman-caliber production, Smith has proven that he is deserving of a top-10 selection. He would give Carolina a loaded receiving corps in 2021 and security should Moore or Anderson sign elsewhere next offseason.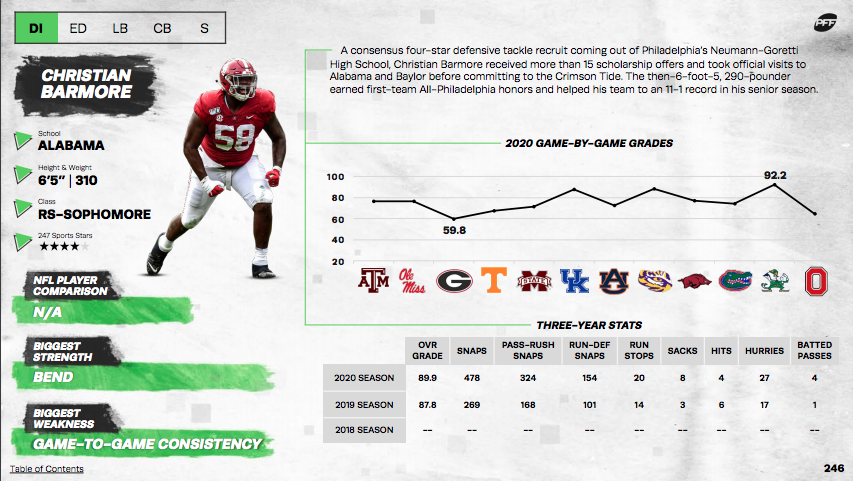 The incoming interior defender class is pretty easily one of the worst positional groups in the 2021 NFL Draft. There isn't a strong consensus about who the best prospect is at the position, but it's comfortably Barmore atop the group on PFF's Big Board (15th overall).
Barmore was at his best on the biggest stages in 2020, earning a 92.2 overall grade in the playoff game against Notre Dame and 12 combined pressures across Alabama's two playoff matchups. As the PFF Draft Guide notes, Barmore has special bend for a man his size.
The Bears have more pressing needs at positions such as tackle and cornerback, but the defensive line could also quickly join that group. There has been much discussion about Akiem Hicks' future with the team as he enters the last year of his contract at 31 years of age. Beyond Hicks, the Bears lost rotational players like Roy Robertson-Harris and Brent Urban this offseason to free agency. Barmore is the only interior defender with a first-round grade on PFF's Big Board and could be the pick for Chicago to get ahead of that potential need in 2022.
---
All of the focus in Cincinnati is on the offensive side of the ball as we head toward the 2021 NFL Draft. Who will they add on the offensive line to help protect Joe Burrow entering his second season? Will the Bengals add Burrow's former teammate Ja'Marr Chase to their receiving corps at the top of Round 1? There is no doubt that Cincinnati should look toward the offense in the first round, but there are areas they could still look to address defensively on Day 2.
Edge defender is one of them after the team essentially swapped Carl Lawson for Trey Hendrickson in free agency. Cincinnati's second projected starter (Sam Hubbard) is scheduled to hit free agency in 2022, and Hendrickson's contract is structured to give the Bengals a potential out next offseason should he be unable to replicate his 2020 performance. Adding depth at the position makes sense if the value is right. Basham would be solid value at the top of the second round.
Basham is one of the most powerful edge rushers in this class at 285 pounds. He really can push the pocket, as evidenced by the 112 pressures across the 2018-19 seasons before a slight downtick this past season.
---
The Browns ended the 2020 season ranked first in PFF's end-of-the-year offensive line rankings. That group will return to the field in 2021, making the offensive line far from a pressing need in Cleveland. However, the Browns saw toward the end of last season just how quickly depth can be tested up front.
Meinerz has risen up draft boards over the last few months after dominant showings at both the Senior Bowl and his pro day. Here are some of the numbers and corresponding percentiles from that pro-day workout:
7.33-second three-cone (92nd percentile)
4.86-second 40-yard dash (100th percentile)
4.47-second shuttle (84th percentile)
32-inch vertical (89th percentile)
111-inch broad (90th percentile)
And this is all at 320 pounds. He checks all the boxes athletically and showed in Mobile that he could hold his own against NFL-caliber talent. An important side note is that whatever team drafts Meinerz should feel comfortable in his ability to play any of the three interior positions — crucial should he begin his career in a reserve role.
Cleveland will have a decision on Wyatt Teller following this season, with Teller set to become an unrestricted free agent. The Browns are already heavily invested in the interior offensive line with the contracts given to Joel Bitonio and J.C. Tretter. Selecting Meinerz in the second round would provide some depth in the short term while also giving Cleveland the flexibility to move on from one of Teller, Bitonio or Tretter next offseason for cap savings if necessary.
---
The Cowboys' offense is already a few steps ahead of their defense heading into the 2021 season. While improving on their 2020 defensive effort should be a priority, an elite offense can make up for a whole lot of defensive shortcomings. There's no reason Dallas can't have an elite offense next season with better health luck.
The starting group along the offensive line projects relatively well right now, with Tyron Smith, Connor Williams, Tyler Biadasz, Zack Martin and La'el Collins from left to right. However, Smith has shown in recent seasons that it's difficult to rely on him to remain healthy. Dallas could also be looking to upgrade at left guard over Williams (career-high 70.8 overall grade in 2020) with his rookie contract coming to a close after this season.
Slater gives them insurance at tackle should Smith or Collins go down with injury again, and he profiles as an elite guard prospect should Dallas choose to play him there early in his career. He lit his pro day on fire earlier this month with close to 90th-percentile showings across the board. Slater pairs that athleticism with a 90.0 overall grade back in the 2019 season — the last he played, given that he opted out in 2020 — which included a strong showing against Ohio State's Chase Young.
A month or two ago, it would have seemed near impossible that Sewell would fall to Denver's draft slot at ninth overall. As time goes by, it looks more and more likely that as many as five quarterbacks will go in the top eight picks in the draft and that the other teams inside the top 10 could be targeting pass-catchers.
Tackle isn't a glaring need for Denver with the recently extended Garett Bolles at left tackle and 2020 opt-out Ja'Wuan James expected to return in 2021. Yet, James has played just 63 offensive snaps since signing a four-year, $51 million contract two offseasons ago. His contract makes it such that Denver won't be able to release him this year, but that could be an option in 2022 if he doesn't return to play a full season at a high level.
Sewell is just too good of a value to pass up at the ninth overall pick should he drop to Denver with the top five quarterbacks off the board. He isn't quite as polished as Slater, but he has the kind of physical profile you rarely find at the position. He dominated the competition with a 95.8 overall grade in 2019 as a 19-year-old.
---
Jared Goff may have been a contract dump for the Rams, but Detroit seemingly values what he can bring to the table as their starting quarterback. That doesn't mean they should pass on an elite quarterback prospect like Fields should he be the quarterback who ends up sliding in the upcoming draft.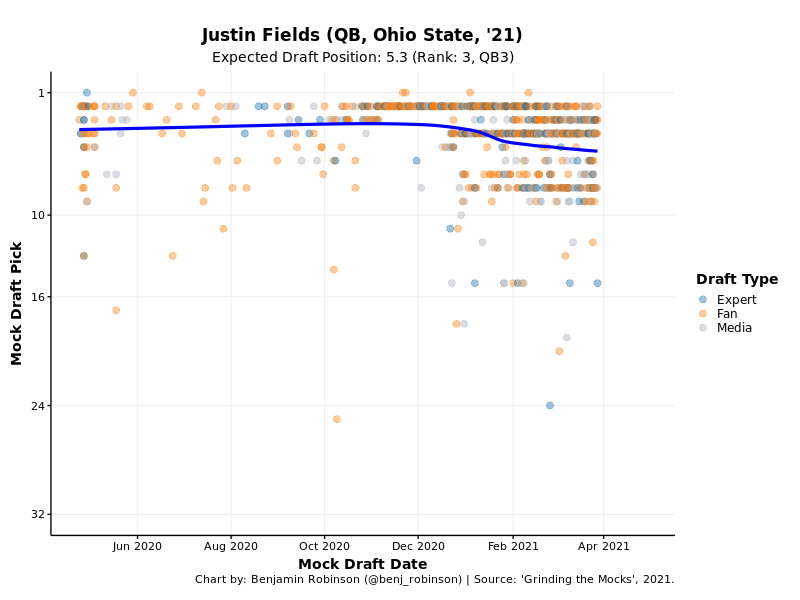 Fields' dip in draft stock of late, using Benjamin Robinson's Grinding the Mocks project as a reference, doesn't make a whole lot of sense. The most recent information we have on him is two playoff games where he recorded overall grades of 93.5 (vs. Clemson) and 85.4 (vs. Alabama). In each of the 2019 and 2020 seasons, Fields earned PFF grades of 91.5 or higher with the Buckeyes. He's arguably the most accurate quarterback in the class and a high-end athlete for the position.
That's not the kind of quarterback you pass on outside the top five just because you already have Goff.
---
Adrian Amos and Darnell Savage make up one of the better safety duos in the NFL. Amos is the most valuable safety in the league since joining Green Bay in 2019, per PFF WAR, and Savage is coming off an improved 2020 season in which he posted a 72.1 overall grade. There's still room for more talent at safety, though.
Green Bay ran dime personnel packages on 49.7% of their defensive snaps in 2020. That was easily the highest total in the NFL, with Carolina (41.2%) and Kansas City (35.2%) as the only two other teams over 30%.
Adding Moehrig would give them three talented, versatile safeties to move around the field. He earned coverage grades of at least 77.0 in each of his three seasons with TCU and consistently found himself making plays on the ball. As the PFF Draft Guide notes, Moehrig led the nation in pass breakups in each of the past two seasons. He has the explosiveness to play in the box and the coverage ability to hold his own in the slot. There are certainly worse options for the Packers.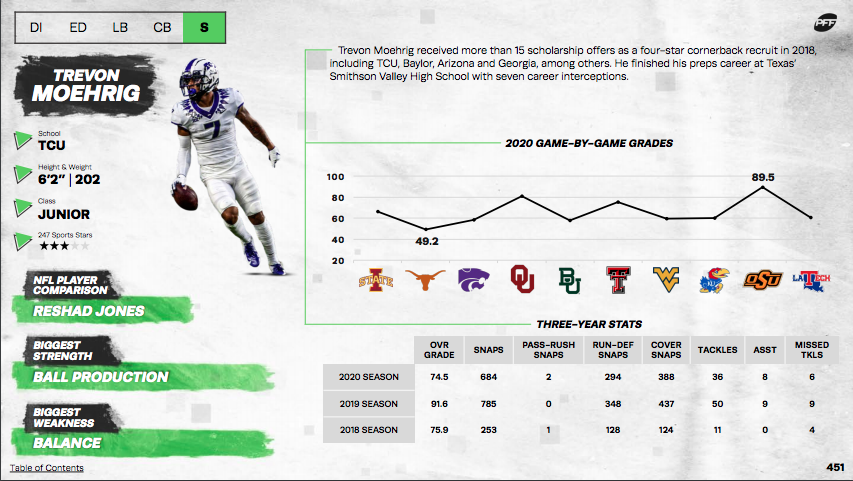 Finding areas of strength for Houston to fit the format of this piece is not the easiest of tasks. They also don't own a draft pick until the top of the third round, thanks to the Laremy Tunsil trade.
The defensive front is an area they've invested in recently, with Charles Omenihu, Ross Blacklock and Jonathan Greenard in the draft, Shaq Lawson and Jacob Martin via trade and Maliek Collins and Jordan Jenkins in free agency. That group still consists primarily of shots in the dark, highlighted by Blacklock's disappointing rookie season in 2020.
McNeill is PFF's DT2, but there's a good chance he comes off the board later than several other interior defenders in the class. He has the combination of size and explosiveness that should translate to the NFL, and he is capable of pushing the pocket without a complete repertoire of pass-rushing moves. McNeill is coming off a 2020 season with N.C. State in which he earned a 90.7 overall grade.
Houston has needs throughout its roster and is heading towards a large-scale rebuild. McNeill would be a solid piece inside to add in the third round as they look toward the future.
---
It's no secret that Indianapolis is still in need of a left tackle following the retirement of Anthony Castonzo earlier this offseason. If Sam Tevi and Julie'n Davenport are the answers heading into 2021, Carson Wentz may be in trouble in his first season with the team.
Vera-Tucker played that left tackle position this past season for USC, but his 32-inch arms will mean that most teams could project him at guard. That's simply a measurement distinction because Vera-Tucker did play well at left tackle for the Trojans in 2020 (81.8 overall grade). The Colts could opt to see how he performs first at tackle if he's their pick in the first round.
Vera-Tucker is considered a top-20 prospect in the 2021 NFL Draft by many analysts, even if he does come in at 34th on PFF's Big Board. The Colts could view him as an upgrade over Mark Glowinski, who is set to become an unrestricted free agent next offseason, at right guard if he does need to slide inside.
Offensive tackle went from a pressing need for Jacksonville to merely an area they could address early with the decision to franchise tag left tackle Cam Robinson. That doesn't mean they shouldn't look to improve the position should the value be there with one of their three selections between Pick 25 and Pick 45.
Jenkins is a first-round talent on PFF's Big Board — the 29th ranked player overall. If you want someone to set the tone up front, he's your guy. Jenkins threw defenders around last season at Oklahoma State en route to a 92.0 overall grade.
In Jacksonville, he could challenge Jawaan Taylor (56.5 PFF grade in 2020) for the starting right tackle job while providing a reason for the Jaguars not to overpay Robinson next offseason coming off the franchise tag. There's also the possibility that Jenkins could kick inside to guard alongside Robinson and Taylor as a rookie. It's a position he played early in his career with Oklahoma State.
---
The Chiefs couldn't have hoped for much more out of L'Jarius Sneed as a rookie last season. The fourth-round pick delivered both on the outside and in the slot, building a solid case for being the top rookie cornerback in the NFL, but it's still a position that Kansas City could look to add talent this offseason.
With Bashaud Breeland still a free agent, Charvarius Ward, Rashad Fenton and DeAndre Baker are the only cornerbacks on the team with any real experience. It remains to be seen whether Baker is a viable option after struggling in his rookie season with the Giants and breaking his leg in his only game with the Chiefs last season. Both he and Ward will be free agents in 2022, meaning that adding depth to the position would be the prudent move this offseason.
Samuel is undersized for an outside cornerback, but his skill set gives him a real chance at overcoming that at the NFL level. He had a strong 2019 season with Florida State where he allowed a passer rating of 75.0 into his coverage and earned a coverage grade of 78.7. Samuel followed that up in 2020 by improving both of those marks to 46.2 and 82.8, respectively. He would bring some of the best "feel" in this cornerback class to Kansas City.
---
The Raiders' struggles along the defensive line haven't been for lack of effort. They continued to add to the group this offseason with Yannick Ngakoue, Quinton Jefferson and Solomon Thomas in free agency. Ngakoue is the headliner of that group, but he's going to give you very little against the run. That isn't the case with Paye.
Paye is the top-ranked edge on PFF's Big Board. There isn't a whole lot that separates the upper tier of edge rushers in this class, but it's difficult not to see Paye's tools translating to the NFL. He earned an impressive 86.3 overall grade in his four games with Michigan this past season, continuing to round out his overall game around a freakish physical skill set.
Maxx Crosby took a step back in his second year last season, and Clelin Ferrell hasn't been inconsistent as a pass-rusher across his first two years in the league. Edge may now look like a relative strength on Las Vegas' defense, but it's not as if they shouldn't be looking to add a talent like Paye to a Gus Bradley defense that relies on its front four to get after the quarterback.
---
The Chargers' passing offense has centered around Keenan Allen and Mike Williams over the last two seasons. Andre Patton in 2019 and Jalen Guyton in 2020 — the third option at the position in each of those years — both failed to clear one receiving yard per route run. Add in that Williams will be playing on his fifth-year option in 2021, and it isn't a bad idea for the Chargers to give Justin Herbert a dynamic receiving threat like Waddle with their first-round pick.
Waddle is firmly in the upper tier of wide receiver prospects in this year's draft class, coming in two spots behind Ja'Marr Chase and one place ahead of DeVonta Smith on PFF's Big Board. He not only has straight-line speed, but he also has the quickness that will terrify defenses in the open field. His 4.38 receiving yards per route run in 2020 was the highest mark in his career, and that includes the national championship game in which he was playing hurt.
---
The Rams will be one of the last teams to make their first selection in the 2021 NFL Draft — the 57th overall pick. Los Angeles' offensive line bounced back nicely in 2020 following a down season the year prior, but at some point, 39-year-old Andrew Whitworth is going to stop denying Father Time.
Carman played tackle in college, but many are projecting him to guard because of his lack of length and 32.5-inch arms. However, Carman said in an interview on PFF's 2 for 1 Drafts podcast in early March, "Every team I've talked to has told me personally that they view me as a left tackle." It's a position where he improved his PFF grade every season at Clemson. And at 21 years old with good movement ability at his size, he's likely not done improving.
The Rams could view Carman, PFF's 49th-ranked player, as good value should he be there at the back end of Round 2 as Whitworth's eventual replacement at left tackle.
---
The Dolphins' decision to trade back up to the sixth overall pick after initially trading down with San Francisco to 12th overall indicates that they have their sights set on one of the elite, blue-chip talents in this year's draft. While that could be a tackle like Sewell or a wide receiver like Chase, it could also be Pitts — a player who many believe to be the best non-quarterback in the draft.
Yes, Miami already has Mike Gesicki on the roster at tight end. If that keeps them from drafting Pitts, they're missing the point on the former Florida Gator. He can step in and immediately be the team's best X receiver. That's how talented he is as a receiving threat coming off a 96.2 overall grade in 2020.
Gesicki isn't a true tight end, either. His 68.8% of routes run from the slot last season were more than any other tight end in the league with at least 250 routes. There is room for both Gesicki and Pitts on the field. Pitts' addition would give Miami a very talented receiving corps when including DeVante Parker and Will Fuller V at wide receiver. We should also note that Gesicki is set to become a free agent next offseason.
---
The focus in Minnesota has been on the offensive and defensive lines for good reason, but what happens if Parsons, PFF's seventh-ranked player overall, drops to the Vikings in the first round?
Granted, the Vikings do already have Eric Kendricks and Anthony Barr in place. Barr recently restructured his deal to become a free agent next offseason, though. Parsons could theoretically give Minnesota a talented trio of linebackers in 2021 while stepping in for a departing Barr the following season. Mike Zimmer would be able to use Parsons' freakish athleticism and pass-rushing ability early on, even with Kendricks and Barr in the fold, considering that the Vikings ran base defense at a top-five rate in the NFL in 2020.
Parsons earned PFF pass-rushing grades of 85.0 or higher in each of the 2018 and 2019 seasons. Just because he plays off-ball doesn't mean he can't give a boost to Minnesota's pass rush. He's also a safer bet as a prospect than many of the edge defender prospects in this draft class. The pick would give the Vikings immediate short-term help while keeping the linebacker position a strength moving past this season.
---
As things stand right now, cornerback remains one of the stronger positions on the Patriots' roster. Stephon Gilmore, J.C. Jackson and Jonathan Jones make up a strong starting trio at the position, but both Gilmore and Jackson are unrestricted free agents next year. Coming in at 31 years of age by then, Gilmore might not be in the Patriots' future plans.
Horn marries the ideal press-man cornerback mentality with high-end athletic traits. A sub-4.4 40-yard dash with vertical and broad jumps above the 95th percentile are freaky numbers before you get to the fact that Horn is 6-foot-1 and 205 pounds with 33-inch arms. All of that combined led to a 2020 season in which he allowed just eight completions on 24 passes thrown into his coverage at South Carolina.
It's hard to see a better fit for Horn than Belichick's defense in New England.
---
The Saints' defensive line lost some depth in free agency with the departures of Trey Hendrickson, Sheldon Rankins and Malcom Brown. There is still plenty of talent when it comes to the starting group between Cameron Jordan, Marcus Davenport, David Onyemata, but New Orleans can't bank on that starting group remaining healthy throughout the season.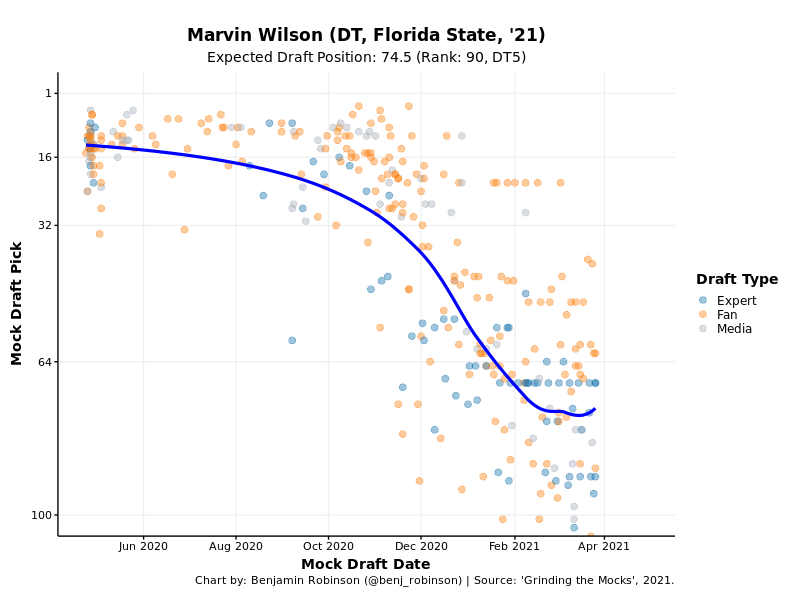 As the chart above from Grinding the Mocks shows, Wilson's draft stock has dropped precipitously since last offseason when he was considered a clear-cut first-round prospect. A big part of that was that he just wasn't the same player this past year that he was across the 2018 and 2019 seasons, seeing his overall grade dip below 90.0 down to 67.7 in 2020.
Wilson isn't a guy who is going to win with explosiveness. It's going to have to be with technique and power. If he is available toward the back end of Round 2 or Round 3, it wouldn't be a bad idea for the Saints to add him for depth in their interior defender rotation.
---
The Giants already have two starting-caliber tight ends on the roster in Evan Engram and the newly signed Kyle Rudolph on his two-year deal. Neither player is likely to factor into the Giants' long-term plans at the position.
Rudolph will turn 32 years old next season, and Engram will be playing on the fifth-year option on his rookie contract in 2021. Injuries and inconsistent play have led to disappointing results for the former Ole Miss Rebel throughout that contract.
Freiermuth is a clear tier below Pitts in this tight end class, but he's also a tier above any other tight end available as the 43rd-ranked player on PFF's Big Board. The next-closest tight end prospect is Miami's Brevin Jordan at 97th overall. Freiermuth has the size and ball skills to contribute early in a passing attack over the middle of the field, and he was a strong run-blocker for much of his collegiate career at Penn State.
His addition in the second round would allow the Giants to run plenty of varied personnel groupings with three capable tight ends in 2021 while giving them a young, cheaper option at the position moving forward.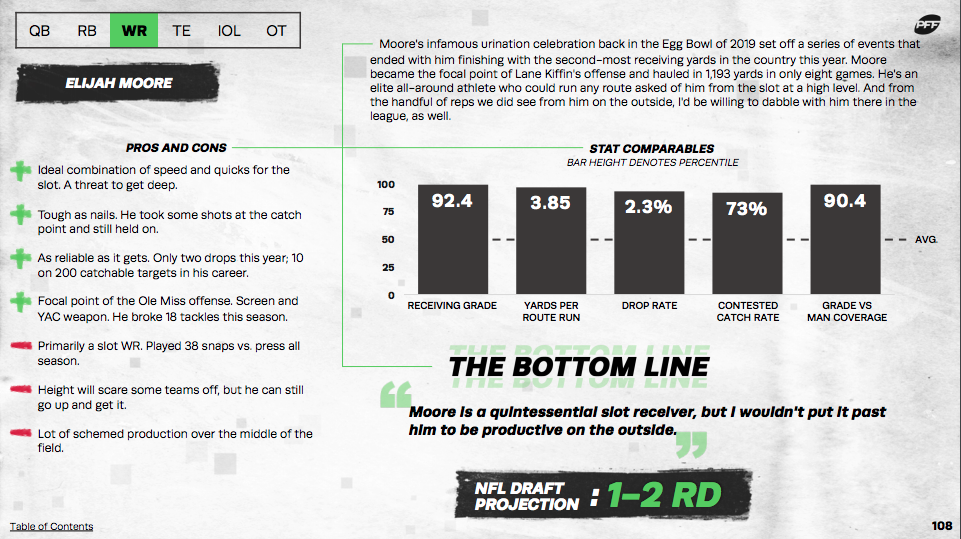 The wide receiver position became less of a priority for the Jets when they added both Corey Davis and Keelan Cole in free agency to join a group that included Denzel Mims and Jamison Crowder. Those additions still shouldn't preclude New York from adding a dynamic slot threat like Moore early in the 2021 NFL Draft.
Moore showed out in his recent pro day with 93rd percentile finishes or better in each of the 40-yard dash, three-cone and shuttle. That speed and quickness showed up on his tape, helping him put up outrageous numbers in Ole Miss' offense this past season. Moore ended the year with 86 receptions and nearly 1,200 receiving yards in just eight games.
Crowder and Cole are both more than capable options in the slot for the Jets next season, but both players also enter next offseason as free agents. Moore would give New York some more big-play ability inside on a rookie contract for what should be Zach Wilson at quarterback.
---
Philadelphia's offensive line was hit hard last season, with 11 different offensive linemen playing at least 50 snaps for the team. The one man who remained in place throughout the year was center Jason Kelce, but he will enter the 2021 season at 33 years of age, with a real possibility that his best football is behind him after earning pass-blocking grades below 70.0 in each of the past two years.
Dickerson doesn't necessarily ease any durability concerns, considering he will be coming off a torn ACL in the SEC championship game. However, he does bring the quintessential offensive-lineman mentality to go along with the strength and size to impose his will on opposing defensive lines.
Dickerson played all over the offensive line at Alabama and could theoretically fit in anywhere on the Eagles' interior, potentially serving as a long-term replacement for Kelce or Isaac Seumalo. Dickerson mentioned that he has spoken to Philadelphia in a recent interview.
---
JuJu Smith-Schuster's return will keep Pittsburgh's young, deep receiving corps intact for at least one more year, with Diontae Johnson, Chase Claypool and James Washington all returning on their rookie contracts. With Washington and JuJu hitting free agency next offseason, the Steelers could look to go back to the well at a position they've hit frequently over the past decade in the draft.
Brown would be a potential Day 2 target for the Steelers coming off a career-high 82.9 receiving grade with North Carolina in 2020. His release package and what he generally showed as a route runner indicate he can run a complete route tree, even if that wasn't what the Tarheels had him running in college. Pittsburgh may see an opportunity to add another talented receiver on a rookie contract to maintain a trio of Johnson, Claypool and Brown heading into 2022 for whoever starts at quarterback.
---
The 49ers' outside-zone rushing attack prioritizes speed and explosiveness at the running back position. We've seen that in the running backs Shanahan has brought into San Francisco, whether that be Raheem Mostert, Jerick McKinnon or Tevin Coleman. Of that trio, only Mostert remains under contract, and his deal runs out following the 2021 season. Perhaps the 49ers look to their next starting running back a year early with the selection of Etienne, should he be on the board where San Francisco is set to select in Round 2.
Etienne recorded a 4.41-second 40-yard dash and a 128-inch broad jump at Clemson's pro day. He has the kind of speed and explosiveness that the 49ers have looked for at the position. He also brings with him four years of production in Clemson's offense, earning 82.0 overall grades in each of the past four seasons on at least 250 offensive snaps. Etienne even flashed legitimate improvement as a receiver this past season with a 90.9 receiving grade.
As the PFF Draft Guide puts it, Etienne is not a plug-and-play NFL running back, but he's the most dynamic threat at the position in the class. He's the top running back and 42nd-ranked player overall on PFF's Big Board.
---
Little is one of those players who will likely go much lower in the draft than where PFF values him. He currently sits as OT4 behind only Sewell, Slater and Darrisaw on PFF's Big Board despite appearing in just one game over the past two seasons with injury and opt-out. That's how impressive his physical traits are. His 81.2 pass-blocking grade as a sophomore in 2018 was impressive, and that was likely only going to continue to improve had he played the last two seasons.
The Seahawks aren't in desperate need of offensive tackle help, with Duane Brown and Brandon Shell holding up well in 2020. However, Brown will turn 36 years old before the start of the regular season and hits free agency in 2022. Shell is also set to become a free agent in 2022. A situation where Little can come in without pressure to start right away like Seattle's seems to be an ideal fit. And the Seahawks aren't going to find a more talented tackle prospect than Little, who could potentially be available at the back end of the second round when they make their first pick.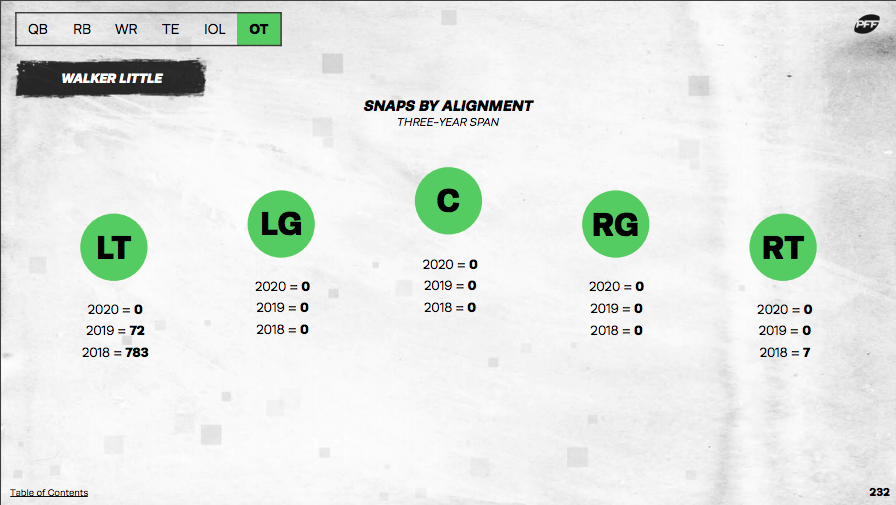 Tampa Bay fielded the deepest receiving corps in the NFL last season. Chris Godwin's return on the franchise tag maintains the group's top-end strength, but there is the potential that Antonio Brown isn't brought back. There are certainly internal options to step into larger roles (Scotty Miller, Tyler Johnson, etc.), but the Buccaneers could also look to add a different skill set to their offense.
Few teams posed less of a receiving threat from the running back position than Tampa Bay last season, with drop issues plaguing Leonard Fournette and Ronald Jones. Moore isn't a running back, but he does profile as someone who could immediately help the Buccaneers' underneath passing attack with his after-the-catch ability.
Moore is a freakish athlete whose strength isn't defined by his height. Back as a true freshman in 2018, Moore forced 37 missed tackles on his 114 reception — peppered with screens and targets around the line of scrimmage. The pick would also protect Tampa Bay somewhat if Godwin does end up leaving next offseason.
---
Dennis Kelly's release and the short-lived tenure of 2020 first-round pick Isaiah Wilson means that tackle is a more glaring need than interior offensive line heading into the 2021 NFL Draft. That doesn't mean the interior offensive line can't also quickly become a need as soon as next offseason. Rodger Saffold will turn 33 years old before the 2021 season, and Ben Jones will turn 32, entering the last year of his contract. It wouldn't hurt Tennessee to add some youth alongside Nate Davis at right guard.
The PFF Draft Guide notes that Humphrey has the body type and skill set to play any position on the interior despite playing center at Oklahoma. He comes with plenty of experience with nearly 2,500 snaps in that Sooners' offense throughout his career and picked up PFF grades of at least 80.0 in two of his three seasons as a starter.
The Titans could view him as interior depth early in his career, with the potential to step into a starting spot on the interior in 2022.
---
Landon Collins' return to play alongside 2020 rookie surprise Kamren Curl has the safety position in Washington in good hands at first glance. The issue is that the team still doesn't have a true free safety, with both Collins and Curl better suited to playing closer to the line of scrimmage.
Johnson is a late riser on PFF's Big Board but now sits as the second-ranked safety overall behind only Trevon Moehrig. He has played fewer than 800 total defensive snaps over the last two seasons for the Hoosiers but flashed in that playing time. Johnson improved his coverage grade from 76.4 in 2019 to 81.9 this past season. The 21-year old had nearly as many pass breakups and interceptions (eight) as he did receptions allowed into his coverage (11) in his deep role for Indiana.
He's the kind of playmaker Washington could be looking to add to give the secondary a boost both deep and in the slot, given his strong tape at both spots across the last two years.
---
View PFF's 2021 NFL Draft position rankings: