We see a new crop of 300-plus players entering the league every year at the NFL draft, but not all draft classes are created equally. Just because a player is drafted at a certain pick, it doesn't mean that's where the league viewed his talent level.
Whenever a particular position is weak with talent, players toward the top will often get pushed up even further because of the scarcity of difference-makers. When a class is strong, certain positions get deflated and NFL teams can find talent later in the draft than they would have otherwise.
For example, take Tampa Bay Buccaneers offensive tackle Tristan Wirfs last year. Wirfs was on par with some of the best tackle prospects we've seen in our six years of grading, but he fell all the way to Pick 13 because there were several tackles in that tier, as well.
If you're a fan of a team that needs one of the positions high on this list, you're in luck.
View PFF's 2021 NFL Draft prospect rankings:
QB | RB | WR | TE | T | iOL | DI | EDGE | LB | CB | S
If you've been following PFF's coverage of the draft, you shouldn't be surprised that the new hot rumor is that quarterbacks will go 1-2-3-4 in the draft for the first time ever. We've been beating the drum for just how special this class is for some time. You don't find quarterbacks as talented as North Dakota State's Trey Lance every year, and he's only QB4 on the PFF 2021 NFL Draft Big Board.
As things stand, PFF has a first-round grade on seven offensive tackles and Day 2 grades on six more. That's a LOADED class. While last year's group was top-heavy, this year's has serious depth. There's a chance you'll be able to find immediate starters leaking into the second round, which is something that rarely happens at the position.
Before you say, "you say it's a great receiver class every year," just know that this likely won't be the case in 2022. If you want that game-changing wide receiver, this is the year to do it. Ja'Marr Chase, Jaylen Waddle and DeVonta Smith all rank inside PFF's top 10 players. There are three more receivers in the top 32 and five more in the top 100. The class has got a little bit of everything, too, with several different body types represented.
This might be cheating to a degree because it includes a number of guys who played tackle last year yet profile well to the interior in the NFL, players such as USC's Alijah Vera-Tucker and Michigan's Jaylen Mayfield. At least three guys in this class would have been the top-ranked iOL on PFF's board in 2020 had they declared: Vera-Tucker, Ohio State's Wyatt Davis and Alabama's Landon Dickerson. While there are some injury concerns with many players, it's still a deep class.
The fifth overall ranking here doesn't quite do the cornerback class justice. That's how good the classes listed from No. 1 to No. 4 are. The cornerback group features 16 guys in PFF's top 100, although there are not too many true blue-chippers at the position in the class. The strength is quite clearly throughout Day 2, where there are a ton of intriguing skill sets.

What's unique about this year's linebacker class is the number of different body types represented toward the top. You have a do-it-all 245-pounder in Micah Parsons from Penn State, a hybrid 215-pounder in Jeremiah Owusu-Koramoah from Notre Dame, a modern-sized middle linebacker in 230-pound Nick Bolton from Missouri and a throwback strongside linebacker in the 260-pound Zaven Collins from Tulsa. All have first-round grades, but all will play vastly different roles in your defense. After that, there are four more top-100 players at the position.
The tight end class was the most difficult one to slot into this list. The position's saving grace is the existence of Florida's Kyle Pitts. Pitts is a top-10 player on PFF's draft board, even though PFF is notoriously low on the position from a draft-value perspective. The vast majority of tight ends simply don't move the needle in the NFL, but Pitts is different, and those guys don't come around every year. After him, however, only Penn State's Pat Freiermuth and Miami's Brevin Jordan crack the top 100 on the draft board. The crazy thing is that even though it is a middling class, it's still lightyears better than the all-time bad class we saw a year ago.
The edge class is one of the scariest position groups in this draft, as it has far more boom-or-bust players per capita than any other position in 2021. That's because so few guys from it produced at a high level on college football fields. Oklahoma's Ronnie Perkins was the only guy in PFF's top 150 at the position who earned over a 90.0 overall grade last season — and he only played six games! There's physical talent to be had, but every single guy needs significant development.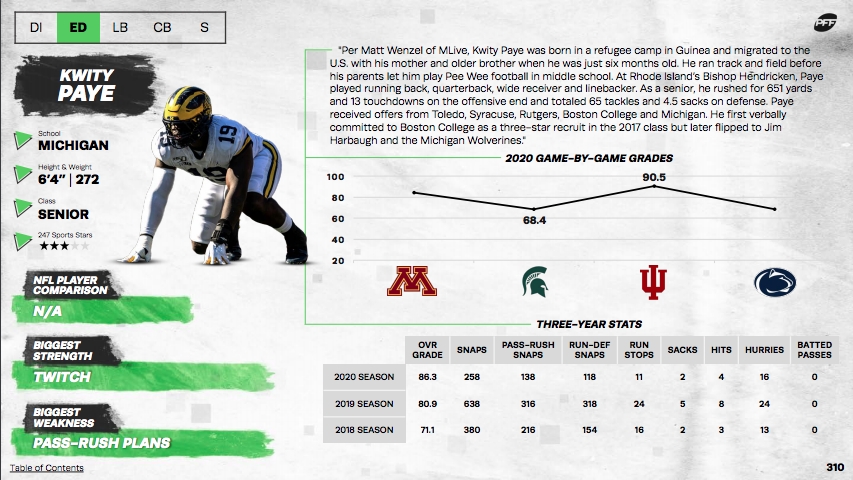 This has nothing to do with our valuation of the running back position and everything to do with the depth of talent. Last year, we saw a group of five or six at the top who could be do-it-all starters. This year, that number is three, with Clemson's Travis Etienne, North Carolina's Javonte Williams and Alabama's Najee Harris. After that, there's a number of intriguing undersized and scat backs but not a lot of guys you can plug and play from Day 1.
There are far more question marks than answers in this safety class. Outside of TCU's Trevon Moehrig and UCF's Richie Grant, very few guys offer a versatile skill set without some serious concerns. We like TCU's Ar'Darius Washington, but he only weighs 178 pounds. We like Washington's Elijah Molden, too, but he only ever played in the slot during his career. We also like Syracuse's Andre Cisco, but he is a roller coaster on tape and tore his ACL. There are roles a lot of these guys can be successful in, but teams really covet the do-it-all safeties nowadays.
There is one first-round grade (Christian Barmore, Alabama) and one second-round grade (Alim McNeil, N.C. State). That's your 2021 defensive tackle class. That's not saying there isn't talent to be found, but at this point, it is the weakest DI group we've seen in our seven years of doing this.