Justin Fields is one of the most talked-about prospects in the 2021 NFL Draft, in part because the hype surrounding Mac Jones and his reported rise up draft boards comes with a corresponding slide in hype for the Ohio State product.
Almost every year, there is one quarterback who gets picked apart and questioned for no good reason. This year, Justin Fields seems to be that quarterback.
I still think Fields is a very live option to be selected by the San Francisco 49ers at No. 3 overall, but the bigger point to me is that his other potential landing spots represent excellent opportunities for him to succeed and thrive in Year 1. He has a chance to enter the league with a major chip on his shoulder in an environment that will allow him to prove people wrong immediately and potentially dominate from his very first dropback.
There is a growing list of players who have been successful from Day 1, as the college and NFL games are moving ever closer together and the transition between them is less all-encompassing than it once was.
We don't need to revisit Fields as a prospect here. Instead, let's focus on his most likely landing spots and how good those situations are for him right away.
View PFF's 2021 NFL Draft position rankings:
QB | RB | WR | TE | T | iOL | DI | EDGE | LB | CB | S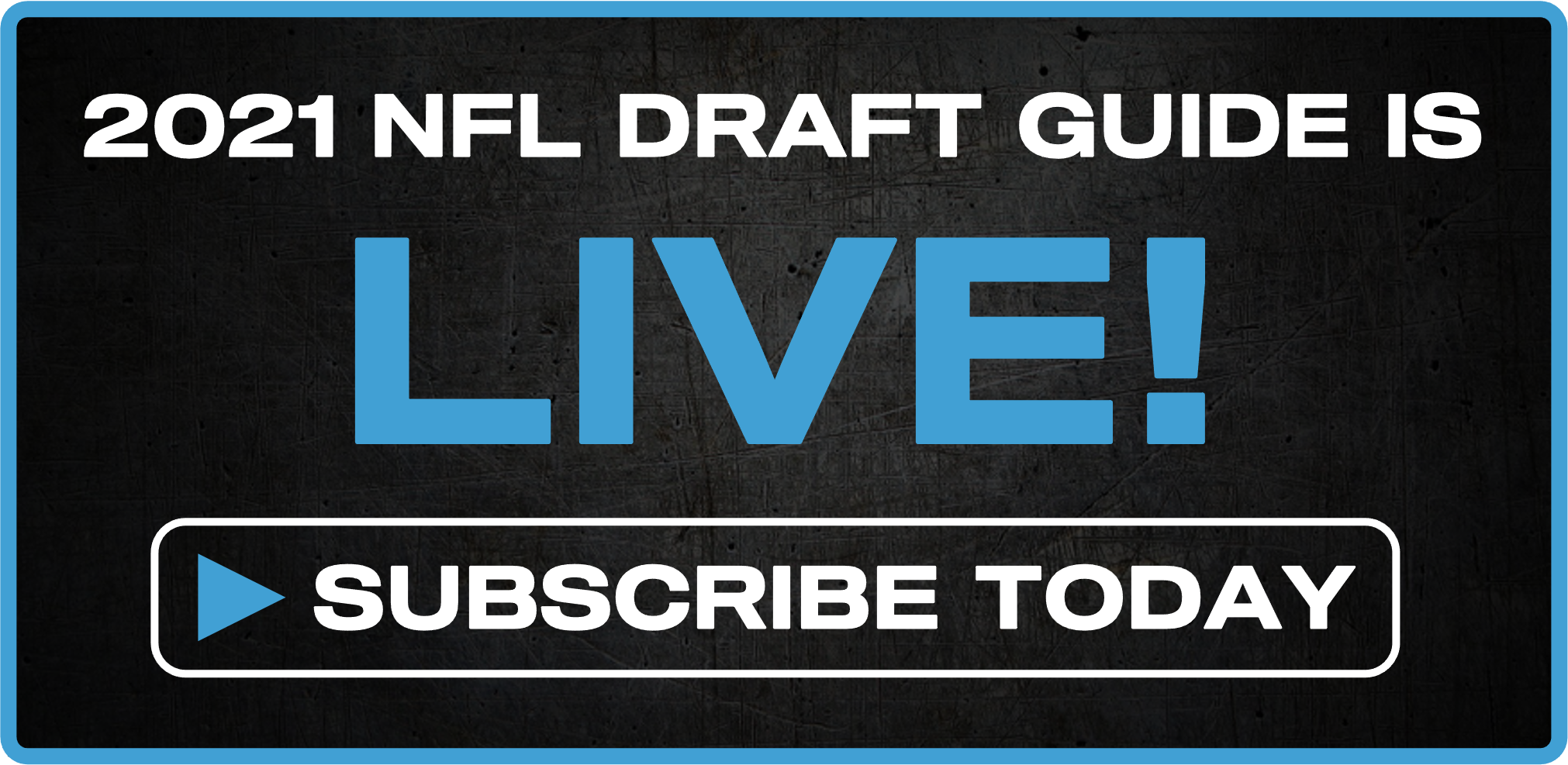 Kyle Shanahan stands out as arguably the most quarterback-friendly offensive coach in today's NFL. At the very least, he sits in a tie with Kansas City's Andy Reid at the top.
The 49ers were the most injury-ravaged team in football last season, yet there were still games when the undrafted Nick Mullens produced on the field and looked good while doing it. Mullens has passed for 7.9 yards per attempt for his entire NFL career — the same as Ryan Tannehill in 2020 — totaling 4,700 passing yards in what amounts to effectively one high-volume passing season in today's NFL. It hasn't always been pretty, but Shanahan's offense, even shorn of playmakers, has been productive even with the likes of Mullens and C.J. Beathard at the helm.
Shanahan's ability to weave the run and pass games together is the bedrock of an offense that schemes players open with frightening regularity. Even with no quarterback or receivers for most of last season, the 49ers passing game still generated open targets at the 11th-best rate in the NFL.
Fields would bring a rushing threat to the offense that could further enhance the terrifying spectrum of what defenses need to try and cover at any one time. He would actually make his own life easier as a passer because of what he can do on the ground in a way not dissimilar to Lamar Jackson, Jalen Hurts or Josh Allen over the last few seasons.
I loved what Denver did this time a year ago. They accepted that Drew Lock was what they had to work with and tried to surround him with as much talent as humanly possible to give him the best chance of success.
They double-dipped in the NFL draft at receiver, bringing in Jerry Jeudy and K.J. Hamler to add to an already potent group of receivers. Both players win through separation and speed, and they did so even in an underwhelming first year in which they ranked among the worst five culprits for dropped passes.
Lock struggled, and the Broncos must be pretty desperate to replace him this offseason to ensure that he doesn't drag those receivers down with him. But the environment that Lock is struggling within is perfect for a player like Fields to succeed.
Jeudy showed in his first year that his route-running savvy is just as applicable to the NFL as it was against college corners, and Hamler has speed to burn. Tim Patrick also made some huge plays, and the team will welcome back Courtland Sutton, who has the ability to become a top-five receiver in the league.
Denver is also putting together a very good defense, and with the additions they have made and Vic Fangio at head coach, Justin Fields could walk into a team that is ready to contend if he is capable of catalyzing that kind of performance from everybody else, even in a division that features the Chiefs.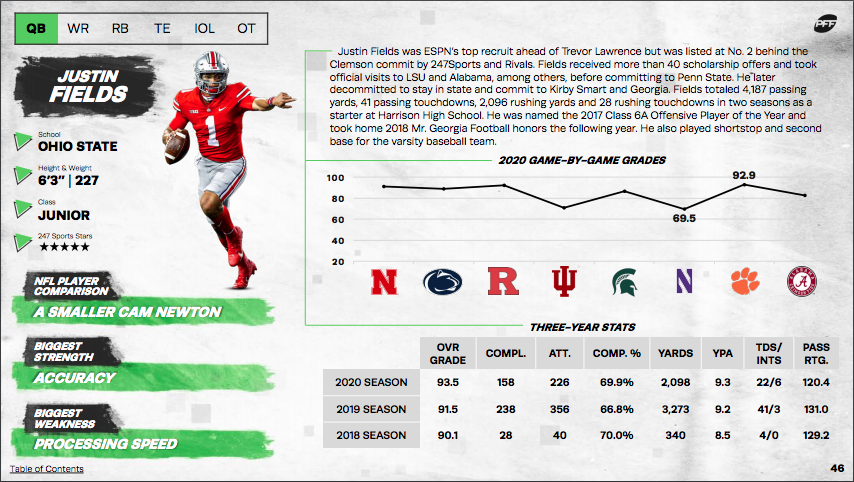 The Patriots are the wild card in all of this. The team is showing a degree of aggressiveness and desperation this offseason that we haven't seen from them in a long time during their decades-long dynasty.
They have already committed $168.5 million in total guarantees to players in free agency, by far the most in the NFL. And they have done much of their spending on offense in a way that speaks to a change in strategy on that side of the ball.
The Pats made both Hunter Henry and Jonnu Smith the joint third-highest-paid tight end in the league within 24 hours of one another despite running the fewest number of snaps in the league with two tight ends in 2020. Obviously, this is a franchise that had one of the best offenses in football using two tight ends not that many years ago, and they surely intend to pivot back in that direction.
They should expect both the new additions and the players returning from opt-out seasons to bolster their defense, leaving the team with just a big question mark at quarterback, where Cam Newton was retained on only a marginally less team-friendly deal than last season.
Newton showed he could have flashes and present a unique problem to defenses in 2020, but also that he is unlikely to rediscover his MVP-caliber form any time soon.
New England knows that it needs a new future at quarterback and feels it even more acutely than they did a season ago now that the entire organization had to watch Tom Brady win another Super Bowl ring in his first season away from the team. The Patriots aren't ready to give up on the idea of winning in a post-Brady world, which means they need to make something aggressive happen to find that new answer.
I'm not sure that extends to trading all the way to No. 4 overall, but if Fields did begin to slide, I think the Patriots would look to jump into the top 10 or just behind Denver if the Broncos somehow let him continue to fall. Fields would then step into an offense with new playmakers and a unique scheme run by an experienced coordinator in Josh McDaniels.
The Patriots, even in their fall from grace in 2020, still won seven games. It wouldn't take much to believe that Fields can outperform the 27th-ranked 70.9 overall PFF grade Newton managed last year. And if he did so, he would be doing it with a vastly superior supporting cast around him.
I think there's a good chance that Washington has punted on quarterback for this offseason. A playoff team in 2020, Washington wasn't well-positioned to grab a passer and did what teams in that spot do: they signed veteran Ryan Fitzpatrick to get by with passable play this year and will see if they can find a better answer in the future.
Fitzpatrick owns the 15th-best overall PFF grade since the start of 2018, and the team also kept Taylor Heinicke, whose 92.0 PFF single-game grade in the playoffs — against the Super Bowl champion Tampa Bay Buccaneers, no less — was the highest grade posted by any quarterback in the postseason.
The team also made significant moves to improve the receiving options for whoever ends up under center to take the pressure off Terry McLaurin, the one star receiver they have already.
Washington likely isn't going to do anything crazy to chase a quarterback but could be spurred into action if a player like Fields does begin to slide on draft night.
Justin Fields is still a phenomenal prospect. We aren't far removed from analysts suggesting that it wouldn't be crazy to see him jump Trevor Lawrence as the No. 1 overall player in the class, and Fields himself has done little in the way of negative play to change that take.
The team that drafts a quarterback and the environment they can surround them with may be just as important as the player themselves. While the rest of the draft community ties themselves in knots trying to nail down how good Fields is right now, it's worth paying attention to the reality that the four teams most likely to grab him all have fantastic environments for him to succeed within.
---
More of PFF's 2021 NFL Draft tools here: 
2021 NFL Draft Big Board | 2021 NFL Draft Guide | 2021 NFL Draft Stats Export | NFL Mock Drafts | NFL Mock Draft Simulator