With the 2021 NFL Draft set to kick off on April 29, the time has finally come for me to highlight some of my favorite prospects in the 2021 draft class.
The players listed below aren't necessarily the best overall prospects in the class, nor do I consider these NFL hopefuls to be the best at every position. The 10 players below are simply the draft prospects I like more than most, those whom I feel are being undervalued and have a chance of going later than I believe they should.
View PFF's 2021 NFL Draft position rankings:
QB | RB | WR | TE | T | iOL | DI | EDGE | LB | CB | S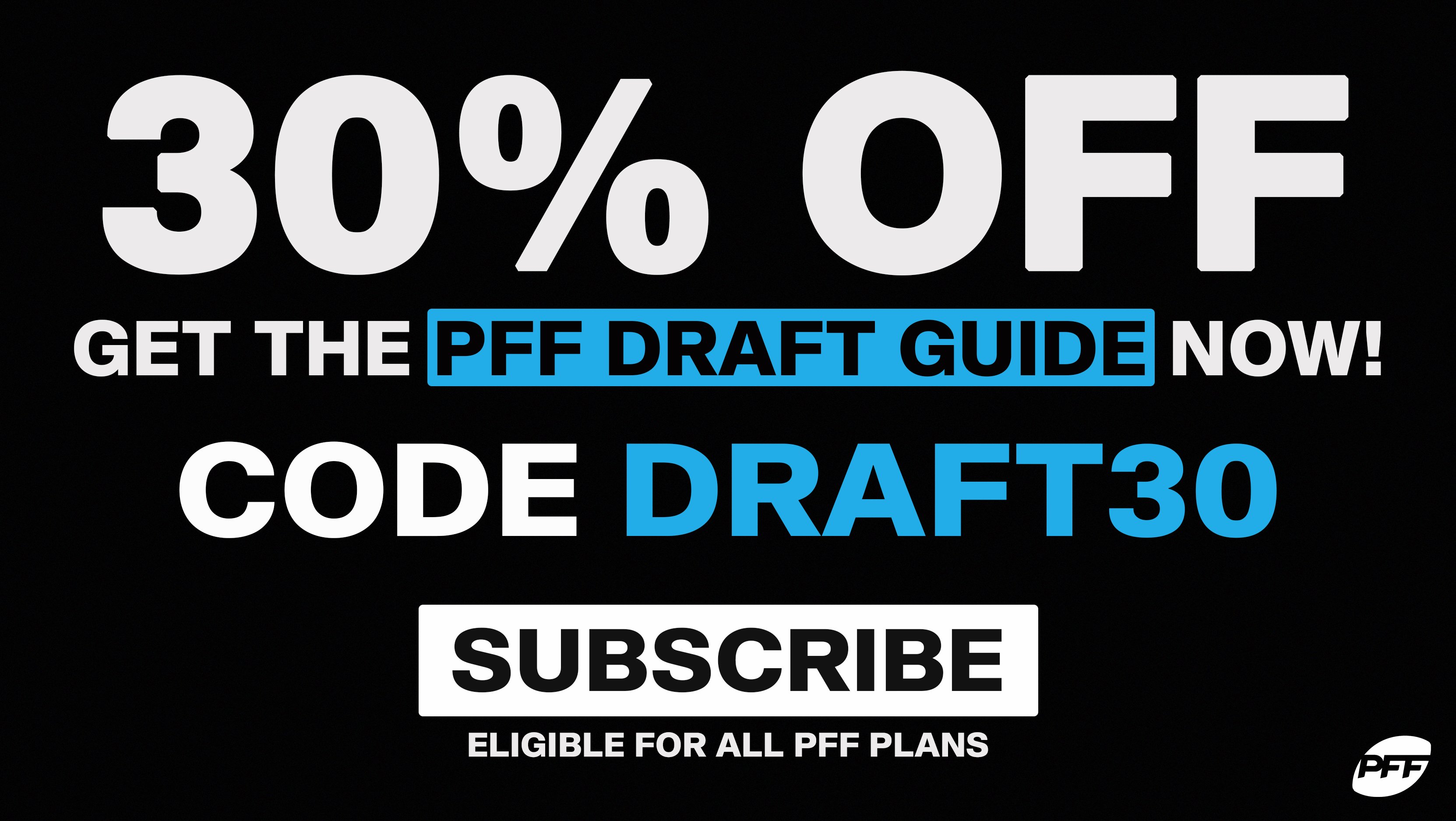 DAY 1 & 2 PROSPECTS
Molden profiles as a full-time slot cornerback at the NFL level, and that's scaring away some potential suitors. In the words of the great Stephen A. Smith, this is blasphemy. I say this for three reasons: 1.) Slot corners are the most undervalued players in football, 2.) He was one of the best slot corners of the PFF College era, and 3.) He has all the traits to achieve a similar level of success in the NFL.
Of the 75 Power Five defensive backs who have logged at least 500 snaps in the slot in the PFF College era (since 2014), no one has earned a higher slot coverage grade (91.2), forced more incompletions (21) or recorded more passing stops (36) than the Washington Huskies defensive back.
Despite his 5-foot-10, 190-pound frame, Molden is one of the most physical tacklers in the class. He pairs that with short-area quickness and fantastic eyes in coverage. There's no reason to think he won't be a quality slot corner at the next level, and just because that's all he is going to be doesn't mean he will be any less valuable than the man covering the outside next to him. To me, Molden is a first-round prospect.
---
The consensus on Toney as a prospect is about as split as one can be. NFL Network's Peter Schrager joined PFF's 2 for 1 Drafts Podcast and said we might see Toney go inside the top 15, even ahead of Alabama receiver DeVonta Smith, while some big boards don't even have him as a first-round product.
I don't see him as a better prospect than Ja'Marr Chase, DeVonta Smith and Jaylen Waddle, the three blue-chip wide receiver prospects in the draft class, nor do I see him leapfrogging Minnesota's Rashod Bateman as WR4. But I do think there's a reasonable case to be made that he is the WR5 and a top-20 pick.
It's no secret that Toney is extremely raw from a route-running perspective. He showed improvement as a route-runner throughout the 2020 season and at the Senior Bowl, but those glimmers are all we can go off at this point. That's where the opinions on Toney's draft stock start to diverge.
However, I'd be happy to draft Toney early and wait for him to develop as a route-runner because of the trump card he'll bring to the table from Day 1: his after-the-catch ability.
Toney's explosiveness, balance and flexibility will make him an almost immediate problem for NFL defenses — it's almost hard to believe the way he can move and make guys miss with the ball in his hands. The Florida wide receiver touched the ball 187 times over his college career, breaking a grand total of 66 tackles and averaging 8.5 yards after the catch per reception.
I'm willing to bet that he develops into the route-runner he needs to be in the NFL, giving him the potential to develop into an elite all-around threat in just a few short years.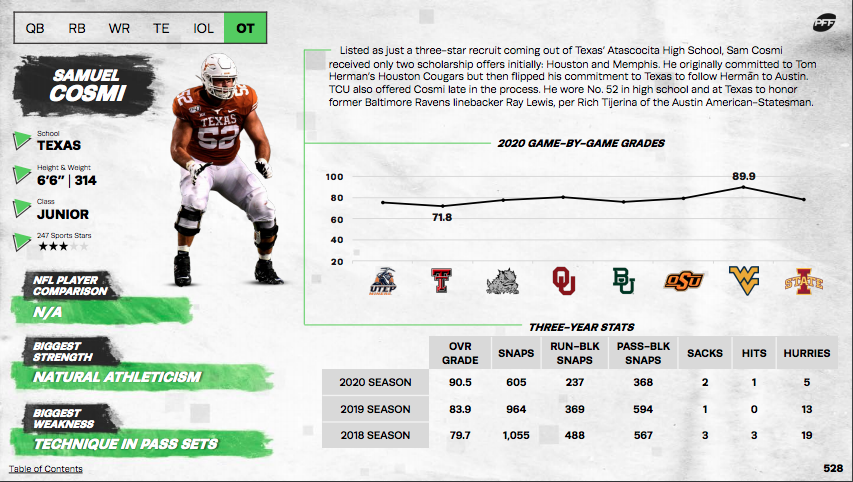 There is a chance that Cosmi hears his name called as a first-round pick on Thursday night, but he could also end up as the forgotten man in a loaded tackle class and slide into the back half of Round 2.
The 6-foot-7, 309-pound tackle performed exceptionally well in college, earning a pass-block grade of 82.8 in 2018, 86.0 in 2019 and 90.7 in 2020. However, his lack of polish and technique has likely pushed him down draft boards across the league.
The landing spot will be critical for the Texas product, as his pass sets almost need to be rebuilt from scratch. He often finds himself off-balance due to a poor kick slide or by bending at the waist and getting his nose too far in front. He also tends to play way too high. So, from a technical perspective, it's easy to see why teams and scouts may be less enthused with him as a draft prospect.
The truth is that Cosmi is also a very rare athlete at the position, capable of stepping into the league as one of the NFL's best tackles in that department. He notched a 117-inch broad jump, 4.84-second 40-yard dash, 4.39-second pro agility and 7.35-second three-cone at his pro day, and all four of those figures sit above the 94th percentile for offensive tackles historically. The tools are there for Cosmi to be a quality tackle. I expect him to get there with the right coaching.
---
Holland would have featured higher on draft boards had he not opted out of the 2020 season. His stock also isn't helped by the fact that he doesn't "wow" from an athleticism standpoint and won't hold up in the box.
Neither of those should be a major issue. The Oregon product is still a capable all-around athlete, and with how well he sees the game, he shouldn't need a "special" athletic trait to justify an earlier selection. He is one of the more instinctive defensive backs in this class, a true ballhawk who racked up 20 combined pass breakups and interceptions while splitting time between safety and slot cornerback from 2018 to 2019, the second-most in the FBS over that period.
As PFF lead draft analyst Mike Renner said in our 2021 NFL Draft Guide, Holland is a high-floor player and should be an immediate starter. He processes at an elite level and will be a playmaker in the NFL ranks, just as he was for Oregon.
Trevon Moehrig is the best safety in the class and will likely come off the board in the first round. But it wouldn't shock me if Holland ends up as the best player at the position from the 2021 safety class.
---
St-Juste presents an interesting case study. A former four-star recruit from the class of 2017 who ended his recruitment by giving his word to Michigan in 2015, he went on to play just three snaps on defense for the Wolverines before a Michigan spokesman reported that St-Juste would be medically retiring from football. Instead, St-Juste, a Montreal native, announced his transfer to Minnesota.
St-Juste earned a starting job just a few games into his 2019 season with the Golden Gophers. He thrived from there on out, earning a 78.2 coverage grade from 2019 to 2020.
His performance in press coverage was particularly impressive. He earned one of the five highest press coverage grades in the FBS from 2019 to 2020, allowing only three first downs while forcing six forced incompletions across 122 coverage snaps.
Given the bulk of his snaps came in 2019 — his first time seeing the field on defense since his senior year of high school — it's a pretty astonishing feat. He then maintained his success at the Senior Bowl, where he posted the highest grade of any defensive back in the one-on-ones.
St-Juste is a massive corner at 6-foot-3 and 202 pounds with 32 ⅝-inch arms, and he knows how to use that length to his advantage at the line of scrimmage and at the catch point.
He may not be the fastest player on the field, but St-Juste has the skill set of an NFL corner. He shouldn't escape Round 3.
DAY 3 PROSPECTS
PFF Big Board Rank: 100
Hainsey played 2,686 snaps over his four-year Notre Dame career, and every single one came at right tackle. He even made significant strides this past season, earning an 89.6 PFF grade that ranked third among qualifying right tackles from the Power Five.
The Notre Dame product is unlikely to play at tackle in the NFL because he profiles best on the interior, specifically at center. This is where he balled out at the Senior Bowl and posted one of the highest win rates of the week.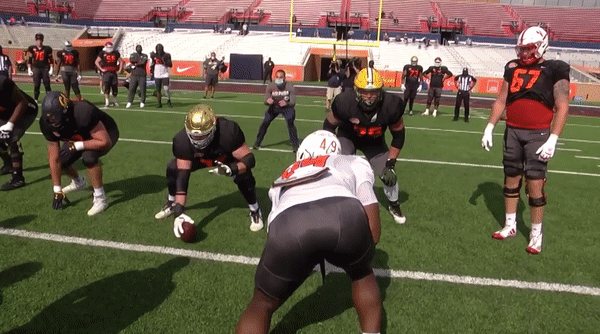 Standing at 6-foot-4 and 306 pounds with 32 ¼-inch arms, Hainsey has the body type to play inside the tackles at the NFL level. And while he isn't on the same level as some of the other top centers in this class athletically, he gets by with a firm grounding in the technical fundamentals.
Hainsey's hands are his greatest strength. He strikes quickly and is fast to reset to low positioning. He also possesses the typical lineman mindset: he wants to put guys on the ground.
For a team that misses out on Landon Dickerson, Quinn Meinerz or Creed Humphrey, Hainsey is a pretty good consolation prize likely to be available on Day 3.
---
PFF Big Board Rank: 158
One of the biggest negatives on Rodarius Williams' scouting report is his age. After all, he will turn 25 in September, and he is the older brother of 2019 second-round pick, Greedy Williams. But given Rodarius' late-career breakthrough at Oklahoma State in 2020, I don't think his age should be much of a concern.
After three years of so-so play on the outside, Williams looked like a completely different player in 2020. He started nine games, allowing 10 or fewer yards in six of those appearances. He also ranked second among all FBS corners in forced incompletion rate at 33.3% and first in yards per coverage snap in press coverage at 0.17.
Williams could stand to add some more to his frame, but outside of that, he has all the tools necessary to be a quality press-man corner. He could very well end up as a big Day 3 steal.
---
PFF Big Board Rank: 174
The 2020 season was supposed to be Newman's swansong, a season for draft analysts and scouts to discover the answers to all the pressing questions surrounding Newman's NFL prospects. But shortly after transferring from a stereotypical college offense at Wake Forest to a pro-style attack at Georgia, Newman decided to opt-out of the season due to COVID-19 concerns, returning only for a roller-coaster week at the Senior Bowl.
In just a year, Newman went from a potential first-round pick to a likely Day 3 prospect.
I think we should place Newman in the same bracket as other late-round quarterback options in this class, prospects such as Davis Mills, Kellen Mond and Kyle Trask. And that's mostly because there is so much unknown with him due to how limited he was by the Wake Forest offense, not only by its design but also by its receiving unit.
In 2019, no quarterback in college football had to throw a higher rate of their passes into a tight or closing window, yet he ranked second to only Joe Burrow in PFF passing grade on such throws. His downfield ball placement was also exceptional, helping him produce the Power Five's second-highest deep passing grade.
Newman is accurate, has a strong arm and can also add value in the run game, but his ability to make NFL reads and manipulate defenders remains under debate.
Newman won't come in and produce right away, but the tools are there for him to be one of the rare Day 3 quarterbacks who ends up as a quality starter. It's no guarantee, but considering the position he plays, Newman is worth taking a chance on.
---
PFF Big Board Rank: 186
Smith started his college career as a highly coveted four-star recruit who chose Florida over Clemson, Georgia, LSU, Ohio State, Notre Dame, and many others. However, his time in Gainesville didn't last long, as an off-field issue eventually forced him to leave the program and enroll in JUCO.
Smith did make his return to the FBS ranks with UAB in 2019, and he immediately looked like the player Gator nation was expecting to see. He posted a 91.5 pass-rush grade in his first year on campus then followed it up with a 91.4 mark in 2020. He was one of two FBS edge defenders who earned a 90.0-plus pass-rush grade in both 2019 and 2020.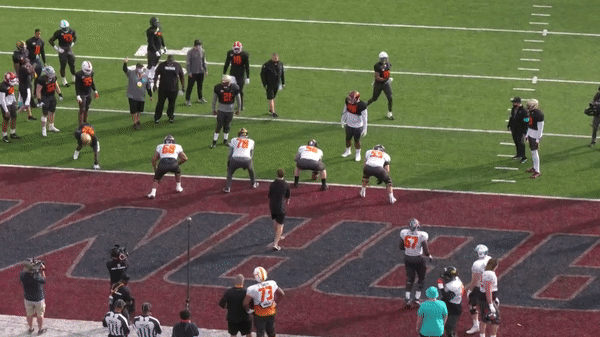 His poor pro-day performance led to a rapid fall down draft boards, but he has a prototypical frame at 6-foot-6 and 264 pounds with 33 5/8-inch arms. He also has a fantastic get-off, good bend for a lanky man and possesses advanced-level hand usage. If he's still on the board on Day 3, teams should consider taking a shot on Smith whether they need an edge rusher or not.
---
PFF Big Board Rank: 235
Jean-Charles is fresh off one of the best seasons we have ever seen by a Group of 5 cornerback, which is no small feat. He ranked seventh among all FBS corners in coverage grade (84.3), third in forced incompletion rate (32.7%) and tied for the highest differential in plays made on the ball to first downs allowed (+7).
Jean-Charles also allowed 25 or fewer yards in each of his last 10 starts, allowing just a 32.7% catch rate over the year. The latter figure is the third-lowest in the PFF College era among cornerbacks with at least 50 targets in a single season.
The App State product is still somewhat limited from a traits perspective. He's firmly in the "undersized" territory when it comes to outside cornerbacks in the NFL, and unlike prospects such as Asante Samuel Jr., who is nearly identical to Jean-Charles in size, he doesn't have elite-level athleticism to make up for it.
He'll likely find a home as a full-time slot cornerback at the NFL level, but that's still a valuable position to any defense, and Jean-Charles has the traits to hold up there.
---
More of PFF's 2021 NFL Draft tools here: 
2021 NFL Draft Big Board | 2021 NFL Draft Guide | 2021 NFL Draft Stats Export | NFL Mock Drafts | NFL Mock Draft Simulator