The 2021 NFL Draft will kick off exactly two weeks from today, and most fans and draft analysts expect no fewer than five quarterbacks to go in the first round, potentially within the first 10 picks.
The race to draft a top option at the game's most important position will leave some NFL teams standing without a chair when the music stops. These teams will then have to forget about their dream prospect and move on to Plan B.
Let's look at the best late-round options for teams that aren't able to snag a slam-dunk first-round quarterback like Trevor Lawrence, Zach Wilson, Justin Fields and Trey Lance.
View PFF's 2021 NFL Draft position rankings:
QB | RB | WR | TE | T | iOL | DI | EDGE | LB | CB | S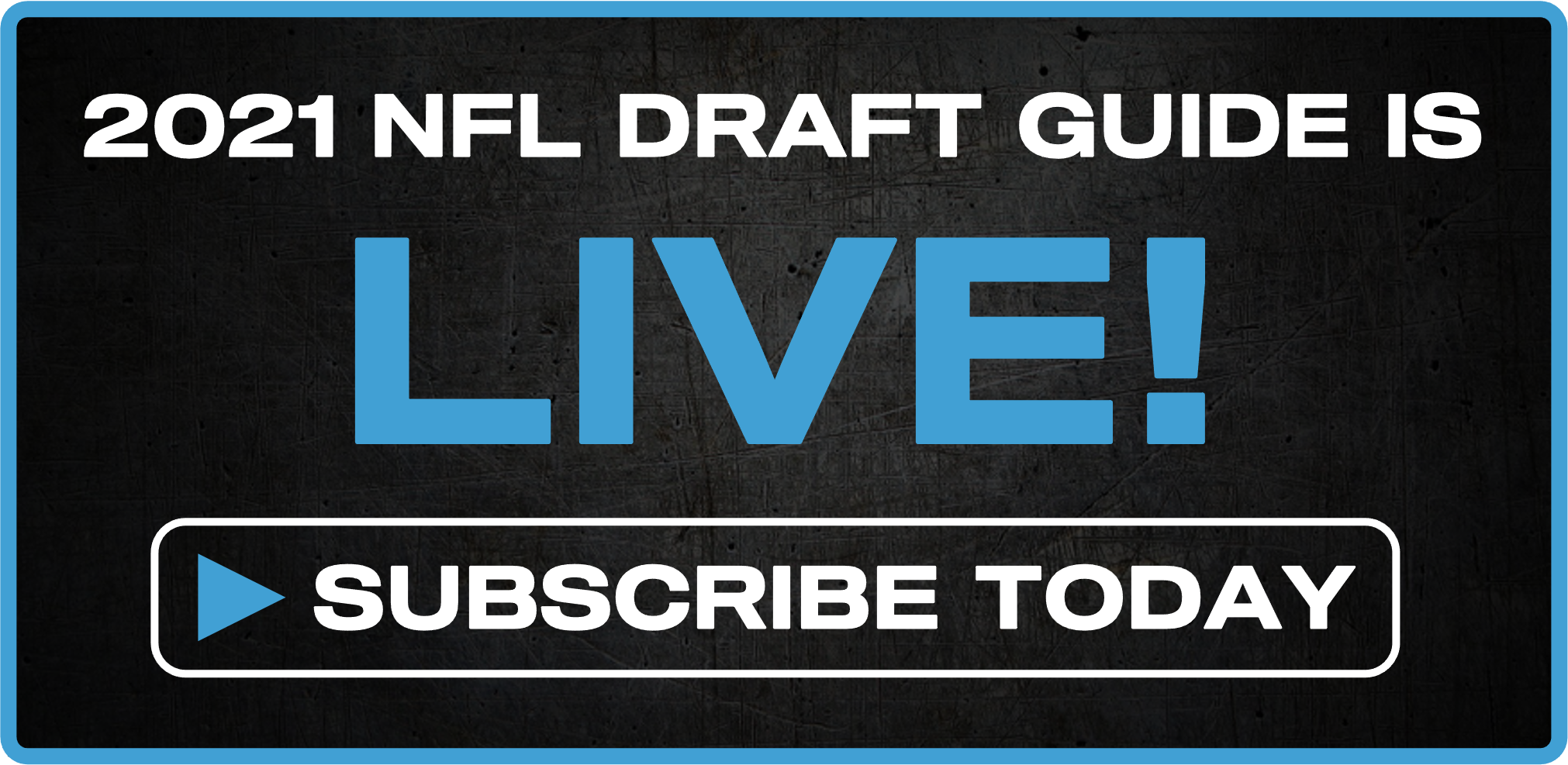 My favorite of the second-tier quarterback options, Texas A&M's Kellen Mond has polarized analysts in the lead-up to the draft. Pundits such as Chris Simms have ranked him among the top tier of passers, even going as far as suggesting that he could be a first-round player, while others view him as "just a guy" whose career never really took off the way it could have.
In a draft class that has no shortage of inexperienced passers, Mond has a lot of starting experience from his time in college, and that remains something NFL teams covet.
His PFF grades show three straight seasons of good but not great play, but his tape offers a complete skill set that is waiting to be fully assembled. His accuracy numbers aren't spectacular, but he is consistently dead-on with a lot of short or intermediate throws over the middle. Mond is also athletic enough to add value on the ground, which is an important base for a young quarterback who might not be the finished article right away.
The biggest area of concern for a player with his physical tools is a lack of aggressive big plays. He recorded just 25 big-time throws over the last two seasons combined. Kyle Trask posted 41 in 2020 alone.
There is no reason that Mond can't develop that area of his game, but at the moment, he trends toward being a little too conservative with the football, and that's something an NFL team will need to coach out of him if they want to reach his potential.
The Texas A&M signal-caller could succeed in the right system, but he reminds me a little bit of Robert Griffin III, who was certainly aided by the Shanahan offense before a knee injury cast the rest of his career into doubt.
Trask is one of the most interesting prospects in this draft class because he has many of the same traits Alabama's Mac Jones has. The buzz around draft circles is that Jones will still end up going in the first round, but Trask isn't viewed in nearly the same light.
The Florida product has marginal NFL tools in terms of arm strength and athleticism, even if he has good size. His time in the 40-yard dash places him in the fourth percentile among quarterbacks, as does his short-shuttle time.
He also has just one season of high-quality play under his belt, though it did come this past season when he earned an impressive 92.2 PFF grade. In fact, he has just a very limited amount of experience, period, which could be argued from either angle as both a positive and a negative for his prospects.
The 6-foot-5, 211-pound quarterback eventually took hold of the Gators starting job in 2019, but before that, he backed up Miami quarterback D'Eriq King in high school and sat behind Feleipe Franks on the Florida depth chart as a freshman and sophomore.
He wasn't great in that 2019 season before taking a huge leap in 2020, but he had attempted a total of just 538 passes since his freshman year of varsity football before this past year. It would be madness to expect the finished article in a player with so little actual game experience, which can also be used to excuse some of the flaws that still showed up in 2020.
Kyle Trask: College grades (rank among FBS quarterbacks)
| | | | | |
| --- | --- | --- | --- | --- |
| Season | Dropbacks | Pass attempts | PFF grade | PFF grade rank |
| 2020 | 470 | 438 | 92.2 | 5 of 146 |
| 2019 | 389 | 355 | 69.9 | 87 of 147 |
| 2018 | 23 | 22 | 64.7 | — |
His worst performances tended to come against his best opposition, though he graded above 90.0 in games against the likes of Georgia, as well.
Trask played exceptionally well in 2020, and he should have room to get better given how little actual playing experience he has. Still, his physical tools aren't great, which may cap his ceiling at the next level. I would be all over Trask as an option if I needed a good backup, but my hopes of him being a high-end starter in the NFL wouldn't be high.
I hate to put it this simply, but I have a tough time imagining Mills becoming a viable NFL quarterback, which is especially wild because he is the one who is currently attracting the most hype — some analysts are even suggesting that he could jump into the first round.
I guess you could construct that case if you focus solely on what he can do over what he so evidently can't. He has NFL-caliber tools, and his big-time throws look extremely pretty. He also rips those throws off at a pretty good rate, with a career big-time throw percentage of 6.0% that isn't far behind Trevor Lawrence or Mac Jones, who both recorded a mark of 6.9%.
However, he is significantly more turnover-prone than those players and seems intent on putting the ball in harm's way at times. Against Colorado, his first game of 2020, he put the ball in harm's way three times on almost the same pass before finally hitting the Cover 2 shot he was looking for later in the contest.
Mills just has little about his game that makes you think he can become a top-tier passer, but the comparisons to Josh Allen, or any of the other raw quarterbacks with high-end tools who have developed well in recent years, make it easy for analysts to talk themselves into him.
Recent college football seasons have provided a very extensive list of players who were a better collection of traits than college quarterback. For teams looking to take advantage of that untapped potential, Newman might be the best starting point.
Newman didn't play in 2020 after transferring to Georgia, which is a shame because he didn't get the chance to show one more year of improved play in a different system and really put his name among the better players available in the draft.
He has ideal tools in terms of size, arm and athleticism, and he improved his PFF grade each year of his career, topping out with an overall mark of 85.1 in 2019.
Grade on Deep Throws (20+ yards):

1. Joe Burrow: 98.5
2. Jamie Newman: 96.5
3. Dustin Crum: 96.3

— PFF Draft (@PFF_College) January 11, 2020
What makes Newman unusually exciting as a ball of clay for a new team to work with is his exceptional deep-passing ability.
Joe Burrow led the country in PFF grade on deep attempts (passes thrown 20 or more yards downfield) in 2019. Newman was second, with just one turnover-worthy play from 71 attempts.
Accurate deep passing can offset many inefficiencies elsewhere because those are chunk plays that flip field position or put up points. That season, Newman put up 36.2 yards for every one of those deep completions.
I'm not saying I have a huge degree of confidence that Newman will put it all together at the next level, but I think he certainly has all of the required elements to do so. That's exactly what quarterback-needy teams will be chasing if they miss out on a first-round talent.
Just like the pass of the same name, we're now reduced to throwing up a prayer and hoping it works out.
With the history of late-round quarterbacks succeeding in the NFL, it would be foolish to declare that none of the remaining options can become a great NFL quarterback. However, a realistic analysis would show that none are likely to.
SMU's Shane Buechele has a loyal following of supporters and improved his PFF grades over his college career. He took off when he landed with SMU, posting an 88.1 overall mark in his final season in 2020.
Feleipe Franks may have the strongest arm in the class, but he has a pretty extensive resume of average-at-best tape. He earned a career-best passing grade of 79.1 this past season and earned just five single-game grades above 80.0 over his 36-game college career.
K.J Costello has all the physical tools but struggled within one of the most quarterback-friendly systems on the planet under Mike Leach at Mississippi State, earning an overall PFF grade of 50.7 before getting himself benched in 2020.
If you make it as far as this group without an answer at quarterback, you shouldn't be expecting to find one this year in the draft. Then again, somebody wins the lottery pretty much every week — maybe it'll be you.
---
More of PFF's 2021 NFL Draft tools here: 
2021 NFL Draft Big Board | 2021 NFL Draft Guide | 2021 NFL Draft Stats Export | NFL Mock Drafts | NFL Mock Draft Simulator