Fantasy football is about extracting value. If every player you draft returns exactly the value at which he was drafted, you'll have a fine season, but you aren't likely to win your league. You want guys who will exceed their value. One way to do that is to capitalize on guys the drafting community has soured on.
As I noted in my recent pieces on the perception/production gap, the fantasy community loves to overcorrect. If a player is drafted highly one year and disappoints, he's likely to be drafted low the next year even if his expected production is at or near the same as the year before. Sometimes that's a bounceback. Sometimes, it's a post-hype sleeper. (And sometimes, the line between those two is too blurry to differentiate.)
Today, we're looking at some post-hype sleepers for the 2019 season, players who the drafting community might be down on who might help you return value.
Quarterback
Whether Winston is truly a post-hype sleeper is fair to debate, but I think he qualifies. He was drafted eighth among quarterbacks, per Fantasy Football Calculator, in 2017 and finished only 19th (although 14th in points per game). His ADP likely would have been high in 2018 had he not entered the season with a suspension to deal with. As it was, he was drafted 20th and finished 22nd. Entering 2019, his ADP is up to 12th, but his ceiling is even higher. He has a new head coach in Bruce Arians who has helped make several quarterbacks into big-time performers before (most notably and recently, Carson Palmer), one of the better group of pass-catchers in Mike Evans, Chris Godwin, and O.J. Howard, and no running game to speak of. Our early projections have Winston finishing with the sixth-most fantasy points at the position.
The hype for Garoppolo entering 2018 might have been a little over the top, given his status as a relatively unproven commodity, but his hot end of 2017 and his status as Kyle Shanahan's top weapon gave him a lofty ADP of QB10. Now after basically a lost year, his ADP has slipped to 15th. His wide receivers aren't worse this year (they might not be better, but they aren't worse), and now we know he has one of the league's top tight ends in George Kittle. Meanwhile, Shanahan coaxed moderate performances out of C.J. Beathard and Nick Mullens, two quarterbacks who don't have Garoppolo's skills. If you believed in Garoppolo entering 2018, you should probably believe in him in 2019.
Running back
Obviously, Johnson's stock hasn't fallen that far. But this is a back who carried an ADP among running backs of first or second each of the last three years. He's finished as a top-10 PPR back in each of his last three seasons. And now he's being drafted eighth at the position. Our own Scott Barrett recently broke down why 2019 could be a bounceback year for Johnson, but it's also worth knowing that even in a year that, short of injury, really couldn't have gone any worse for him, he was still a top-10 back. You want safety with upside that high at the position, and Johnson carries both of those facets as much as any back.
Fournette was drafted eighth among running backs in 2018 after a rookie year in which he finished 10th at the position in PPR scoring. Obviously, the season was largely a disaster for Fournette (and the Jaguars as a whole), but there were some signs that, when healthy, Fournette might be a bigger contributor in the passing game than he was as a rookie. If he is, obviously his ceiling is that much higher. But even if he is who he was as a rookie, that was the No. 10 PPR back in only 13 games played. His ADP has slipped to 14th at the position.
Freeman was overdrafted in 2018 — he went off the board 15th at the position — but that was largely because we didn't really know who Phillip Lindsay was or that he'd be such a good back as an undrafted rookie. Freeman finished as the No. 46 PPR back and is now going off the board as the No. 37 RB. If Lindsay continues to dominate the workload in 2019, Freeman still might not get enough playing time to be a huge fantasy contributor. But Lindsay got a lot of his success before contact last year, and C Matt Paradis left in free agency. Freeman obviously shouldn't be drafted as a fantasy starter, but he has a higher ceiling than we're giving him credit for.
Wide receiver
Davis' rookie year was basically a wash, drafted 46th among receivers and finishing only 84th, with 375 yards and no touchdowns. He had support last year, going 27th at the position. And he finished … 27th. If you drafted Davis a year ago, you weren't exactly over the moon for him — he didn't return positive value — but you can't call him a loss. And now, with the best second receiver he's had in his career in Adam Humphries and with an actual competent No. 2 quarterback in Ryan Tannehill in case Marcus Mariota gets hurt again, Davis is going off the board … 36th. He had one of the toughest slates of opposing corners in 2018 (running the fifth-highest percentage of his routes against top-30-graded cornerbacks) and saw shadow coverage five times from five high-end names. It almost has to get better for him.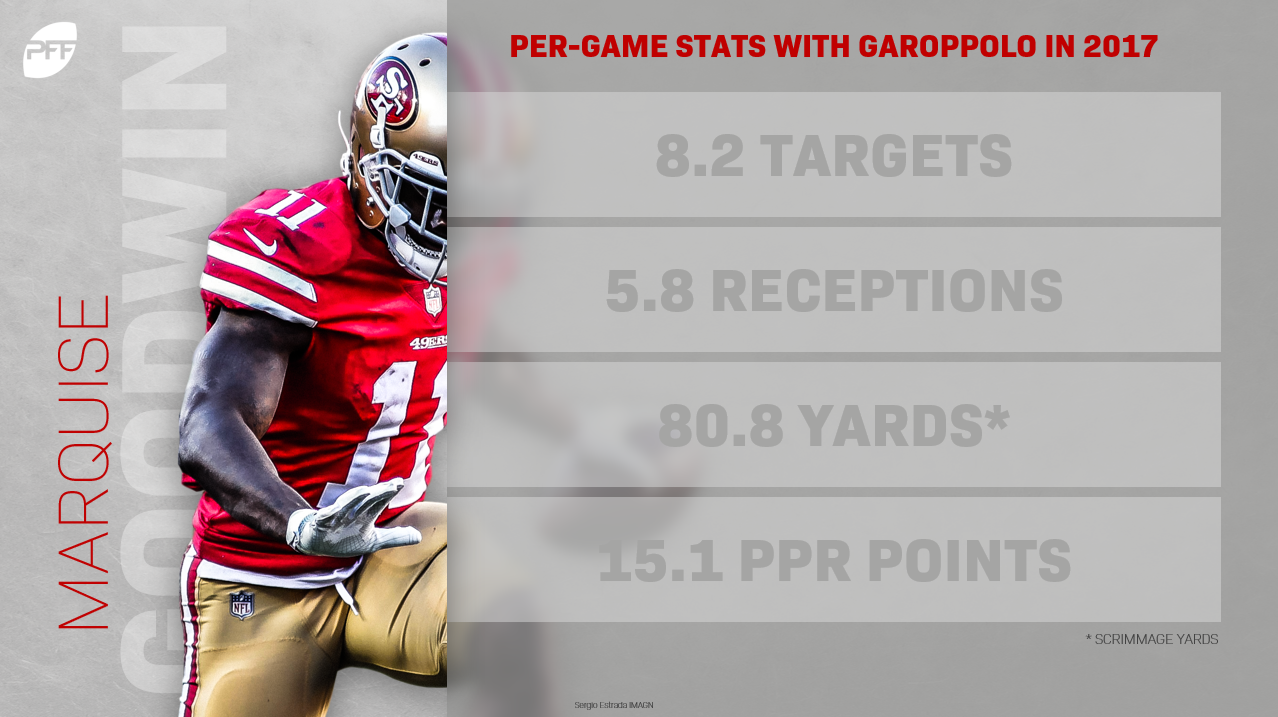 Goodwin was a popular pick a year ago, drafted 23rd among wide receivers coming off a 2017 season in which he finished 29th despite catching most of his passes from Beathard and Brian Hoyer. His 2018 was largely a wash, though, as he played in only 11 games, wasn't even healthy for that many, and was back to fill-in quarterbacks very early in the season. Just like Garoppolo, everything we liked about Goodwin a year ago we should still like now (Dante Pettis had a strong rookie season, but the team's biggest receiver addition so far this offseason is Jordan Matthews), and he's now available 50th at the position.
Tight end
Free from playing in the shadow of Zach Ertz, Burton was a hit commodity in drafts a year ago, going off the board sixth. He did return reasonable value on that, finishing as the No. 8 fantasy tight end, but he didn't leave anybody feeling over the moon about his performance. He's in a virtually identical situation to the one we liked so much entering 2018, only with an extra year of seasoning for Mitchell Trubisky, and now he's available as the 13th tight end off the board. At a frustrating position, he's (relatively) safe.
Eric Ebron was the 1A to Doyle's 1 in the Indianapolis pecking order entering the 2018 season, with Doyle drafted 12th at the position, Ebron 18th. But with Doyle hurt for most of the season, Ebron came through with a career year. If Doyle is healthy in 2019, though, is Ebron guaranteed to be the No. 1 now? Remember that Doyle out-snapped and out-targeted Ebron in the games they both played.  Now, Ebron is going off the board fourth at the position and Doyle 18th. Those numbers should be closer.